This Glazed Chocolate Donut Bundt Cake tastes just like everyone's favourite coffee shop donut! It's the perfect chocolate bundt cake recipe: quick and easy, moist and fluffy, and oh so chocolatey! And the simple and easy sugary glaze just puts this dessert over the top!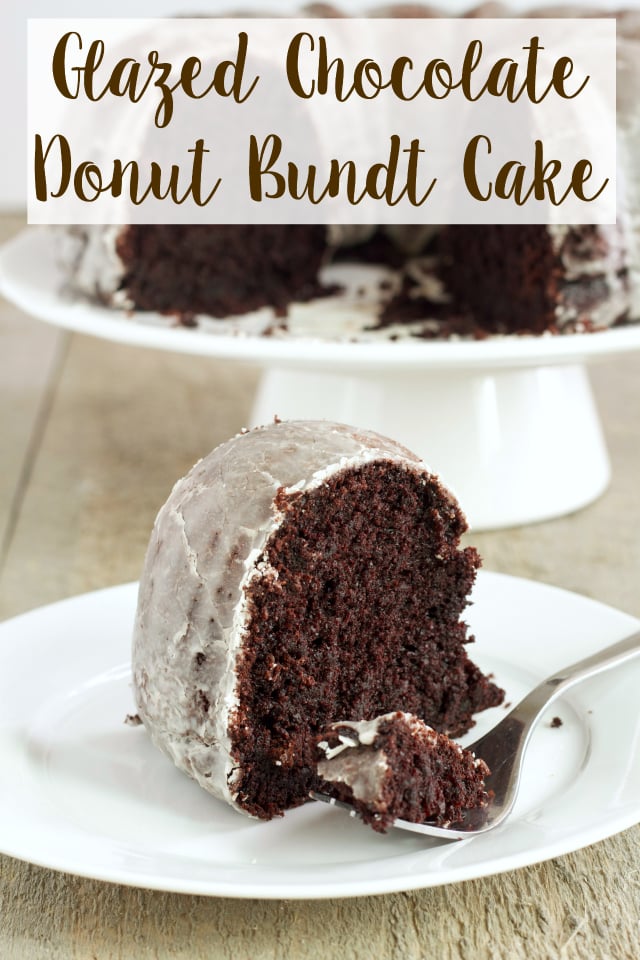 Looking for more decadent desserts? Find all my favourite decadent dessert recipes here!
Hungry for more?
Pin this recipe on Pinterest!
Follow me! Like my page on Facebook!
Subscribe! Click here to get free recipes by email!
I've mentioned before that if I had to choose between salty and sweet I'd choose salty every time. Given the choice between a bowl of buttery popcorn and a piece of cake the popcorn would win, hands down, every single time. But donuts? Now that's another story entirely.
I don't know exactly what it is about donuts that makes them so much more delicious than other sweet treats, but whatever it is is fine with me!! I've actually already shared my love of donuts with you several times, like when I shared these yummy Skinny Chocolate Donuts with you, or my all time favourite (and one of the most popular recipes on my blog) these Old Fashioned Cinnamon Sugar Cake Donuts. To be honest, I don't think I've met a donut recipe I haven't liked!
When it comes to donuts I don't discriminate, but one of my all time
favourite donuts is a tender chocolate cake donut coated in a crispy,
crackly, sugary glaze. I've been trying for years to perfect a glaze like this for my home baking and I'm happy to say I'm finally pleased with the texture – it's perfectly sweet and thin, not at all like a frosting – it may just be the best glaze ever. And paired with tender, moist chocolate cake…who could resist??
The recipe for this cake is actually the same recipe as my No-Fail Chocolate Layer Cake. It's pretty much the best chocolate cake recipe you'll ever come across, and as they say – if it ain't broke, don't fix it. I use different versions of this recipe for cakes and cupcakes of all shapes and sizes and it turns out perfectly every single time. It's been in my recipe collection for over ten years and it's not going anywhere anytime soon! I even made a version of it for a friend's birthday here in Romania a few weeks ago without measuring cups and measuring spoons and it still turned out beautifully! If that's not a good cake recipe, I don't know what is!!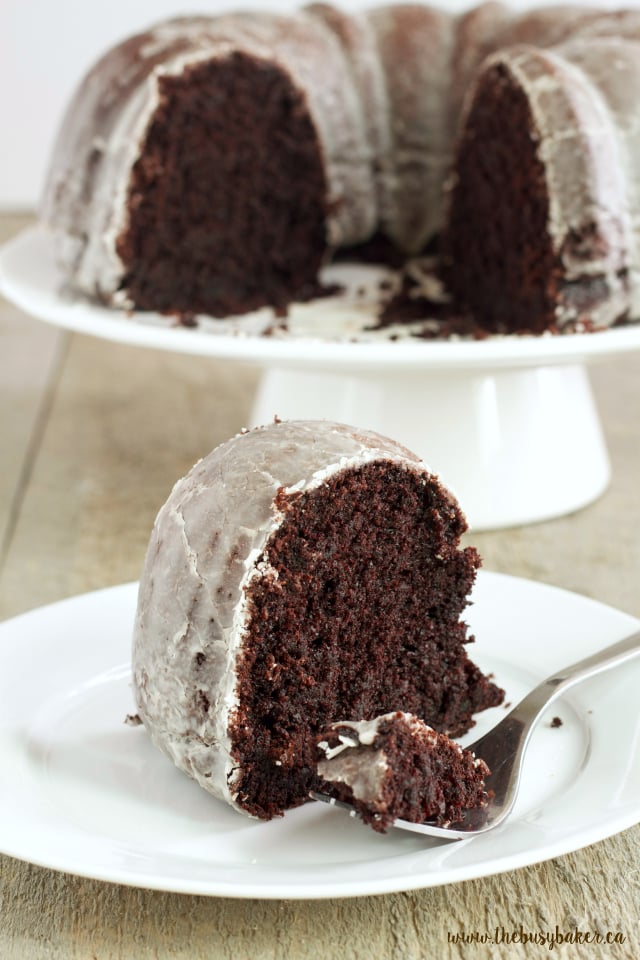 And don't think for a second about skipping the last ingredient in the cake – trust me, it is what makes this cake something special! Between this amazing chocolate cake and the perfect glaze, you're going to be in donut-inspired heaven before you know it!
Glazed Chocolate Donut Bundt Cake (serves 12)
You'll need:
For the cake:
1 3/4 cups all-purpose flour
1 1/2 cups white sugar
1/2 cup brown sugar (packed)
1 cup cocoa powder (dutch processed is best)
1 1/2 teaspoons baking powder
1 1/2 teaspoons baking soda
1 teaspoons sea salt
1 1/4 cups low-fat buttermilk
1/2 cup vegetable oil
1 teaspoons vanilla
2 large eggs
1 cup boiling water
For preparing the bundt pan:
2-3 teaspoons butter or margarine
2 tablespoons cocoa powder
For the glaze:
2 cups powdered sugar
6 tablespoons whole milk
1/2 to 1 teaspoon vanilla extract
To make:
Preheat your oven to 350 degrees Fahrenheit.
Next, prepare your bundt pan by greasing it well with 2-3 tsp
butter or margarine and "flouring" it with cocoa powder. Tap our as much of the excess cocoa powder as you can – you only want a very thin layer to coat
the inside of the cake pan so it disappears as the cake bakes.
After the bundt pan is greased and floured, measure the flour, white
sugar, brown sugar, cocoa powder, baking soda, baking powder and sea
salt into a large mixing bowl. Give the
mixture a stir with a wire whisk to combine all the ingredients.
To a separate bowl add the buttermilk, vegetable oil, eggs, and vanilla and whisk them together with a fork.
Dump the wet ingredients into the dry ingredients and stir them together with a rubber spatula to combine.
Set your kettle to boil and once it's boiled, measure out one cup of boiling water.
Add the boiling water to the cake batter in a slow stream, whisking as you add it. Continue adding the boiling water and whisking until the boiling water is all combined and the batter is smooth.
Pour the batter into the prepared bundt pan and bake at 350 degrees Fahrenheit for 36-40 minutes, or until a toothpick inserted into the cake comes out clean.
Let the cake cool almost completely on a wire rack in the bundt pan. While it cools it should pull away slightly from the pan, making it easy to remove when it's cool.
Carefully flip the bundt pan upside down on top of a wire rack to remove the cake.
Add some parchment paper under the wire rack once you've inverted the cake (this will catch the extra glaze you're about to make!).
In a medium bowl, whisk together the powdered sugar, milk, and vanilla extract until smooth.
Slowly pour the glaze over the cake, using a pastry brush to make sure every last inch of the cake is covered in the glaze.
Let the glaze dry completely before slicing into the cake to achieve that perfect, crispy, sugary crust!
Serve the cake as soon as the glaze is dry, and enjoy!
This cake keeps well in an airtight container for several days but it is best enjoyed the day or the day after it's made.
I hope you enjoy this recipe! Let me know in the comments below, what's your favourite indulgent dessert to make at home?
Looking for more delicious desserts???
These Double Chocolate S'mores Cookies are extra decadent!
My Grandma's Fudge Brownies are the easiest brownies you'll ever make and they're SO delicious!!
This Perfect Pavlova is the dessert that never disappoints!! And it's gluten-free!!
Hungry for even more?
Pin this recipe on Pinterest!
Follow me! Like my page on Facebook!
Subscribe! Click here to get free recipes by email!