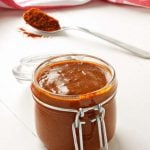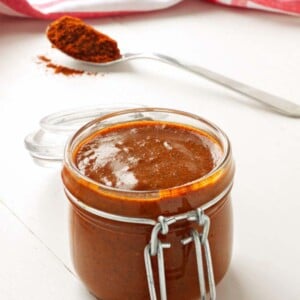 Easy Homemade Enchilada Sauce
This Easy Homemade Enchilada Sauce is easy to make with basic pantry staples and it compliments a variety of Mexican dishes!
Heat a large skillet over medium heat.

Add the oil to the skillet and once it's heated sprinkle the flour into the oil and whisk to combine.

Continue whisking as the flour toasts over the heat and add the chili powder, paprika, salt, cumin, oregano, garlic powder, and the tomato and red pepper pastes (feel free to leave out the red pepper paste), whisking to combine.

Continue whisking for another minute or so, until the spices become fragrant.

Slowly pour in the broth, a tablespoon at a time at the beginning, just to be sure the mixture doesn't develop any lumps.

Once the broth has been added continue to whisk every minute or so, letting the sauce cook over the heat for about 7 more minutes to reduce.

Once the sauce has reduced, use it immediately in any of your favourite Mexican recipes or add it to a freezer-safe container for long-term storage.
This sauce will keep in the fridge for about 3 days and in the freezer for 2 months.