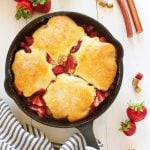 Strawberry Rhubarb Skillet Cobbler
This Strawberry Rhubarb Skillet Cobbler is everybody's old-fashioned family favorite summer dessert recipe featuring fresh sweet strawberries and rhubarb!
Preheat your oven to 400 degrees Fahrenheit.

Heat a medium (8-9 inch) cast iron skillet over medium heat and add the 2 tablespoons of butter. In a large bowl, toss the fruit with the 2 tablespoons of white sugar and add the fruit to the skillet once the butter has melted. Toss the fruit in the melted butter, then remove the skillet from the heat.

In a medium bowl combine the flour, baking powder, white sugar and sea salt with a wire whisk. Add the melted butter, whole milk and beaten egg and stir the mixture until it's combined and smooth.

Spread out the fruit into the bottom of the skillet and dollop the topping over the fruit in 4-6 large dollops.

Bake the cobbler at 400 degrees Fahrenheit for 22-26 minutes, or until the top is golden brown and the fruit is bubbly.

While the cobbler is hot, sprinkle the top with 1-2 teaspoons of white sugar.
Serve with a big scoop of ice cream or whipped cream after the cobbler has cooled slightly.