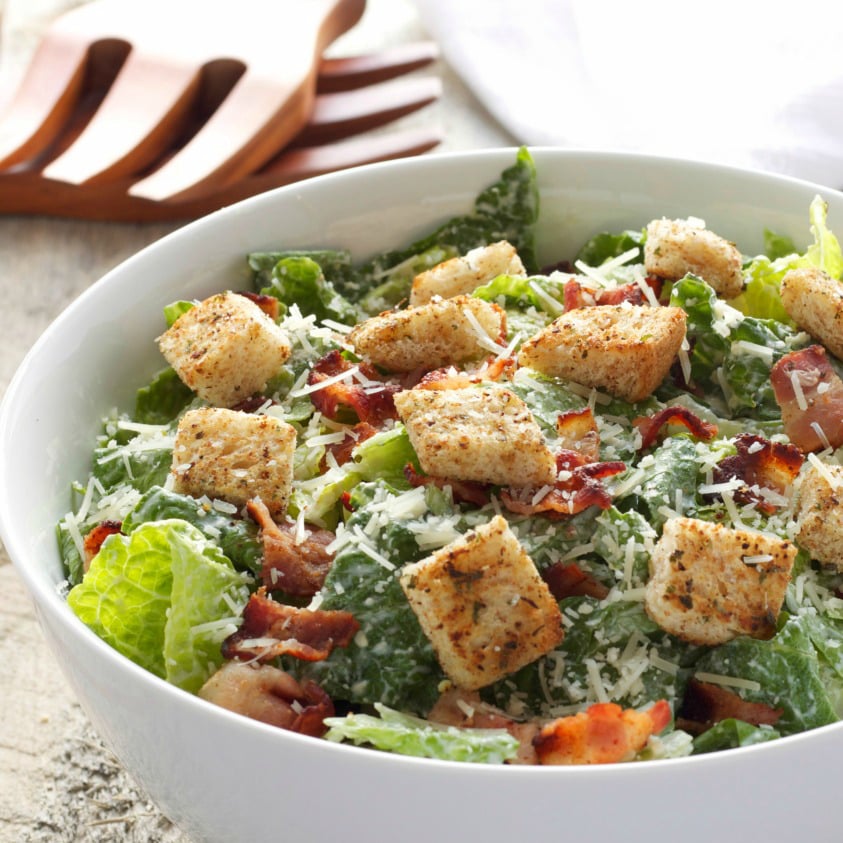 Greek Yogurt Caesar Salad
This Greek Yogurt Caesar Salad is a healthy and low fat alternative to traditional Caesar salad! It's ultra creamy and delicious and it's so easy to make!
For the salad:
1

large head of Romaine lettuce

3

slices

of bacon

cooked until crisp and crumbled

1/4

cup

grated Parmesan cheese

for garnishing

Croutons

optional
To make the salad dressing:
Find a medium-sized mason jar with a lid and add the Greek yogurt, Parmesan, Worcestershire sauce, lemon juice, Dijon mustard, salt and pepper, and olive oil.

Zest the skin of about a quarter of a lemon (washed, of course) using a microplane zester and add it to the jar. Adding citrus zest to a recipe intensifies the citrus flavour much more than simply adding citrus juice, so be careful not to add too much zest! 3/4 tsp is lots.

Press 3 cloves of garlic using a garlic press and add that to the jar as well.

Screw the lid on nice and tight and shake it up very well.
To assemble the salad:
Wash and dry a large head of Romaine lettuce and rip it into salad-sized pieces. Toss the lettuce with the dressing until it's well coated. Add the crumbled bacon, the croutons and the grated Parmesan cheese on top, and serve!
Make the dressing a day or two ahead of time for an extra burst of flavour. Store it in a tightly closed jar in the refrigerator.
For best results, add the dressing to the salad right before serving.
For an extra smooth Caesar dressing, add all dressing ingredients to a blender and blend on high speed until smooth.