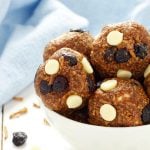 Blueberry White Chocolate No Bake Energy Bites
This easy no bake recipe is for energy balls with dates, nuts, fiber-packed cereal, white chocolate and dried fruit. They're a healthy sweet treat!
Add the dates and the walnuts to your food processor fitted with the blade attachment. Process them on high speed for several minutes until the mixture has a fine, crumbly appearance.

With the food processor still on high speed, slowly drizzle the water in one tablespoon at a time until the mixture appears a bit lighter in colour and the water has been fully incorporated (the mixture will be very sticky at this point).

Scrape the sticky date and walnut mixture into a large mixing bowl and add the Kellogg's All-Bran Cereal and the cinnamon. Mix well with a wooden spoon or a heavy-duty rubber spatula (the mixture will feel a little tough!) until everything is combined well.

Add the white chocolate chips and the dried blueberries and mix them in well. Using your hands at this point is helpful, since you'll be rolling the balls with your hands anyway -  it really helps you work the dried blueberries and the white chocolate chips into the mixture evenly.

Roll the mixture into 18-20 balls using the palms of your hands and refrigerate them for a few hours before you enjoy them, just to help them set. If you're short on time, 30 minutes in the freezer should do the trick!
Recipe yields 18-20 energy balls