These healthy breakfast recipes are easy-to make and delicious. Plus, they're packed with nutritious, wholesome ingredients, for a breakfast everyone loves!
If you browse the Internet at all, chances are, you've seen breakfast recipes. While they may appear healthy, for what it's worth, not all of them are. Here's the truth; words can be deceiving.
What defines a good healthy breakfast?
By our standards, breakfast isn't healthy if it includes refined sugar or excessive carbohydrates and calories. Therefore, let's define what healthy means. To us, a healthy breakfast should:
Be made with wholesome (real food) ingredients
Be a good source of vitamins, minerals, prebiotics, and/or probiotics
Include fruits and/or vegetables – Tip: Fruits and veggies that are high in fiber will help to kick start your internal engine, especially your digestive system.
Be able to provide enough fuel for our body to run well until lunchtime. This means, healthy sources of protein and carbohydrates are important.
If that list seems intimidating, don't worry. Your breakfast doesn't have to include ALL of those things to be considered healthy. Basically, we're just looking to add some healthy benefits to the most important meal of the day.
Here are some of the best foods you can eat or drink in the morning.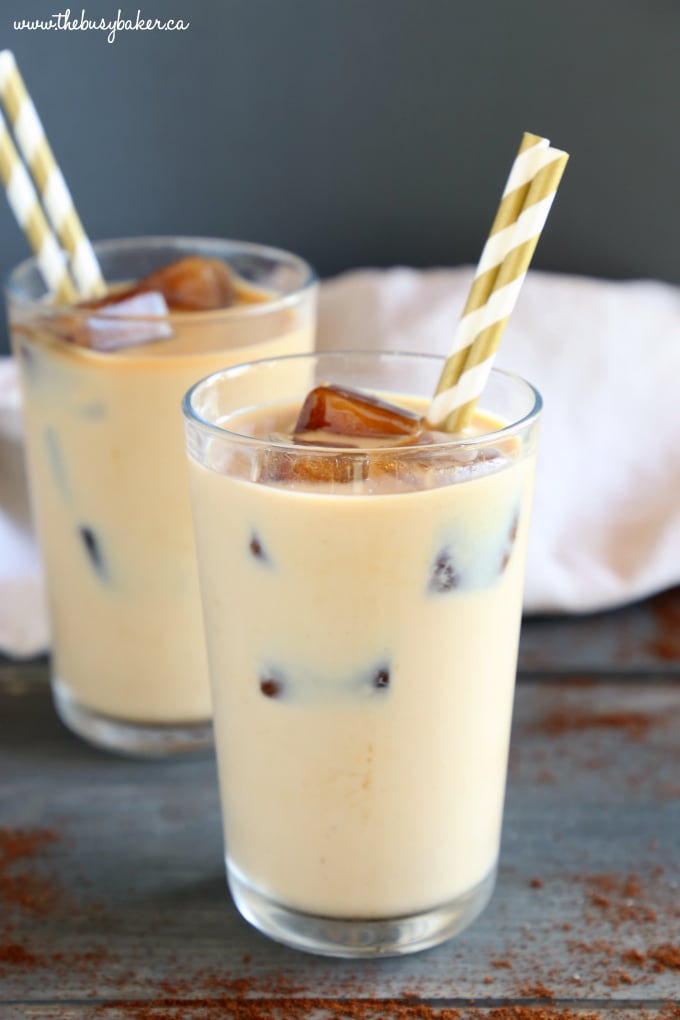 Coffee – There are some amazing health benefits of coffee! It doesn't matter if you prefer it hot and black, bulletproof, or iced. What IS important, however, is to monitor the amount of sugar and creamer you add to it. A healthy iced coffee can turn into an unhealthy sugar overload pretty quickly.
Eggs – The healthiest way to eat eggs is to combine them with vegetables and lean meats. When you cook eggs, use oils with health benefits, such as extra virgin olive oil or coconut oil.
Nuts and seeds – Seeds with great health benefits include chia seeds, flax seeds, pumpkin seeds, and sunflower seeds. Choose nuts that are low in saturated fat, such as almonds or walnuts.
Greek yogurt – Yogurt is a good source of protein and calcium, and its fermented cultures are great for a healthy gut. Furthermore, studies show that eating a portion of Greek yogurt every day may help prevent Osteoporosis.
Lean protein – Unless you're on a low carb diet, try to stay clear of proteins that are high in fat and cholesterol. Good proteins for a healthy breakfast include turkey, chicken, fish, and even protein powder.
Now that you know what types of foods are best for a nutritious breakfast, here are some of our favorite healthy breakfast recipes!
---
Healthy breakfast smoothie recipes
These breakfast smoothies and smoothie bowls are filling, low in refined sugar, and packed with antioxidants!
Mango Citrus Smoothie Bowl – This healthy breakfast recipe makes a delicious vegan breakfast. Plus, it's ready to eat in just 5 minutes!
Winter Berry Breakfast Smoothie – This cranberry smoothie with strawberries has a sweet-tart taste that kids love, and it's naturally sweetened
Berry Vanilla Breakfast Smoothie – With several servings of fruit and protein, this smoothie will keep you going until lunchtime. Pure goodness, with a smooth vanilla flavour.
Healthy breakfast muffin recipes
To keep muffins at their healthiest, make them with natural sweeteners, such as applesauce or raw honey. Add some fiber to them, too; both chia and flaxseed are delicious ways to do that!
Bacon and Egg Breakfast Muffins – These are the perfect make-ahead breakfast for busy mornings! They're packed with veggies and all your favourite breakfast flavours!
Apple Carrot Ginger Muffins – The perfect healthier snack, these muffins are packed with fruit and veggies! And they're so easy to make, in only one bowl!
Healthy Toddler-Friendly Mini Muffins – These muffins make a great snack for kids! They're sweetened only with fruit and they're full of vegetables and whole grains!
Healthy egg breakfast recipes
As mentioned earlier, eggs are one of the healthiest breakfast choices you can make. An additional bonus: eggs are delicious!
Grab and go and other healthy make-ahead breakfast recipes
Don't let your busy mornings prevent you from having a nutritious breakfast! Many of these make-ahead breakfasts can be ready to grab on your way out the door!
Blueberry White Chocolate No Bake Energy Bites – This healthy breakfast treat has dates, nuts, fiber-packed cereal, white chocolate and dried fruit. They're a healthy sweet treat!
3-Ingredient Chia Seed Strawberry Jam – A healthy alternative to conventional jam, this strawberry jam has healthy, natural, whole-food ingredients. Plus, it's quick and easy to make.
Honey Lime Fruit Salad – This fruit salad is healthy and delicious. Sweetened with honey and lime juice, it's the perfect wake up your body needs in the morning!
Healthy breakfast recipes with yogurt
A day that starts with Greek yogurt, fresh fruit, and healthy homemade granola… what's not to love?!
Healthy Pancake Recipes
Look at these gorgeous, fluffy pancakes! Don't let their indulgent appearance fool you; these are healthy pancake recipes.