This Healthy 3 Ingredient Broccoli Soup is everything its title suggests: it's SUPER healthy, SUPER easy to make, and only calls for 3 simple ingredients, yet it's one of the most delicious soups I've ever made. Grab yourself some fresh broccoli and you'll be well on your way to enjoying the most delicious and healthy broccoli soup you'll ever taste!

Looking for more delicious, healthy recipes?  
NEVER MISS A POST! FOLLOW ME ON:

Don't you just love those recipes you come across one day that make you think to yourself, "Why didn't I think of that???" Well, this is one of those. It's simply genius, yet so easy to make I've found myself making it over and over and over again!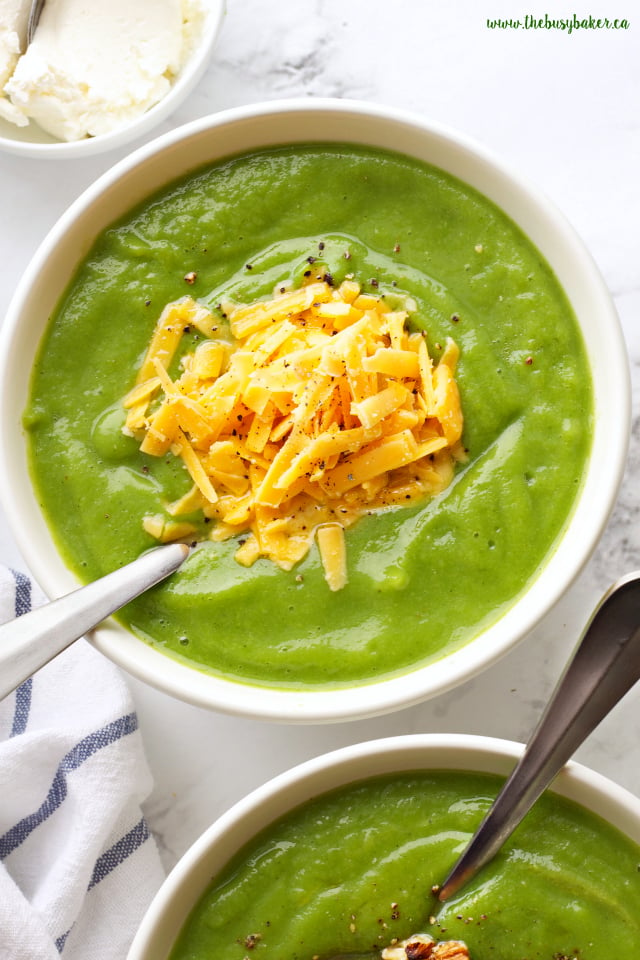 Unfortunately I can't take credit for this Healthy 3 Ingredient Broccoli Soup recipe at all…I first discovered it while watching one of Gordon Ramsay's shows on the Food Network and while I'm not necessarily a huge fan of him, I am a huge fan of his recipes. I've never made anything of his that I didn't absolutely love, and this 3 Ingredient Broccoli Soup is absolutely no exception.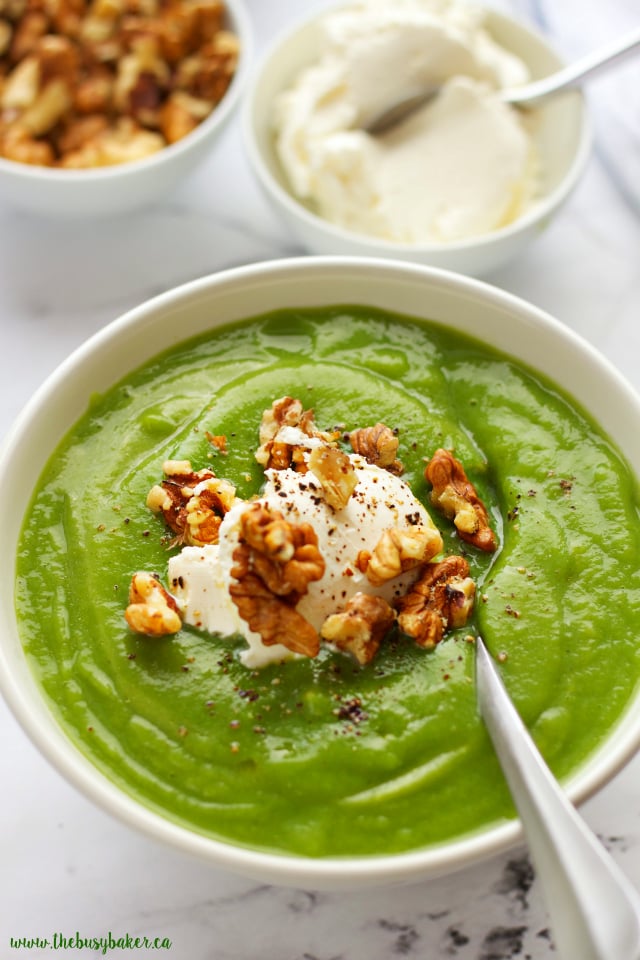 There's definitely something to be said about simplicity and if you've been around here for any length of time you know I love to keep it simple. Sometimes out of necessity, because I have two little ones, a busy working husband, and a food blog to run, but also because sometimes the simplest and freshest foods just taste the best. And keeping it simple often means you're making a healthy choice – and we all know how important that is, don't we?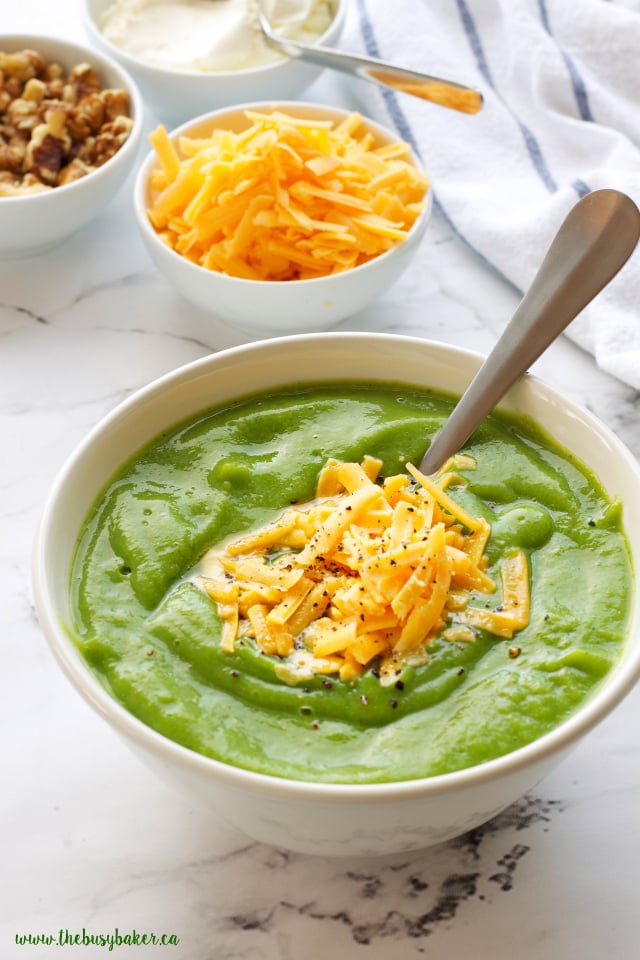 All you'll need for this Healthy 3 Ingredient Broccoli Soup recipe is a very short list of ingredients, a good sturdy pot, a slotted spoon and a blender. That's it! And feel free to experiment with whatever garnishes you prefer. I've shared a list of my favourite ways to enjoy this soup, but if you're feeling the Parmesan cheese vibes or you feel like adding some roasted vegetables with balsamic vinegar on top, or maybe even some roasted chickpeas for even more added nutrition, go right ahead!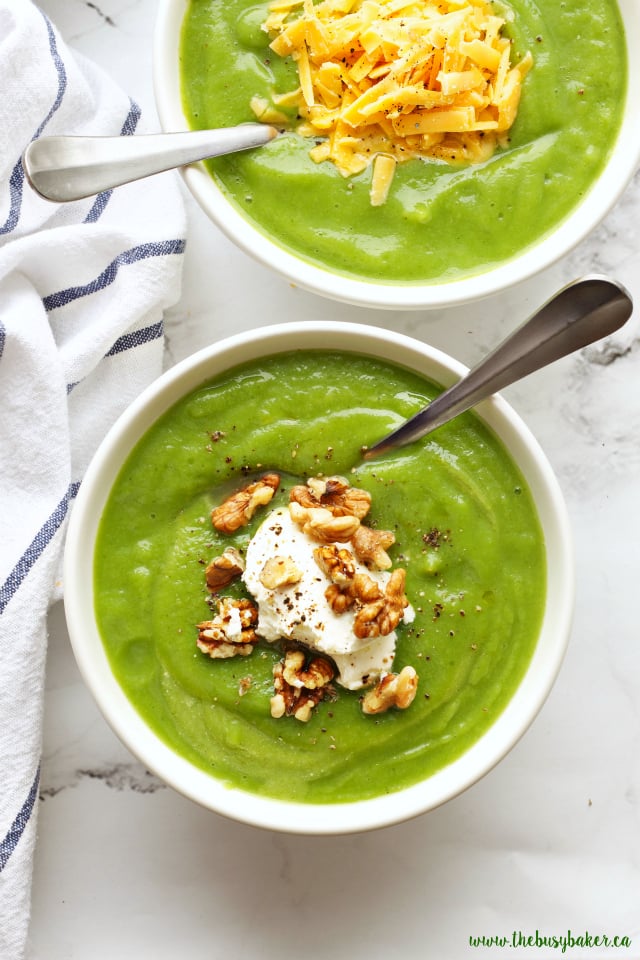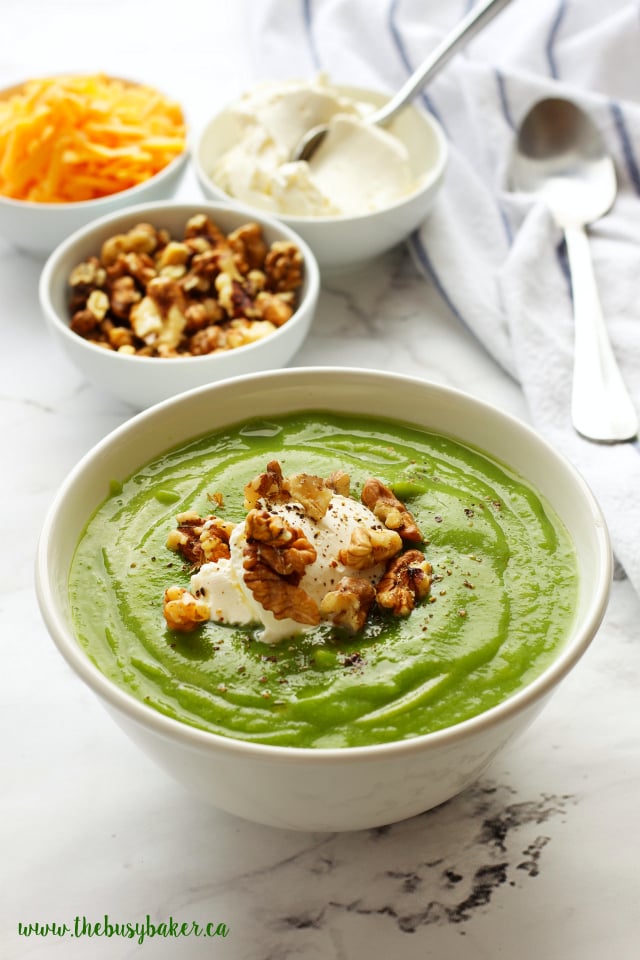 I hope you enjoy this Healthy 3 Ingredient Broccoli Soup recipe as much as I do! My kids don't know it yet, but they're having it for lunch again tomorrow!!
Let me know in the comments below, what's your favourite super easy, super healthy recipe?

NEVER MISS A POST! FOLLOW ME ON:

Like this recipe? Don't forget to check out a few more of my favourite soups linked below!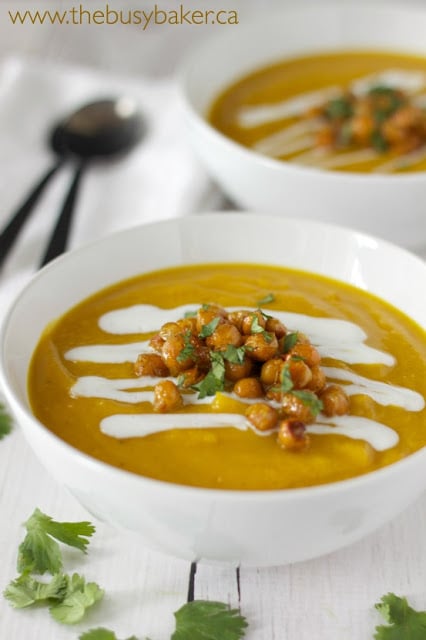 Try this Butternut Squash Red Lentil Soup with Coconut Cream and Honey Curry Roasted Chickpeas for a protein-packed lunch!
This Garden Fresh Tomato Soup is a delicious way to enjoy fresh tomatoes!
Healthy 3-Ingredient Broccoli Soup
This Healthy 3-Ingredient Broccoli Soup is a super easy recipe that makes the perfect healthy soup!

Ingredients
2-3

large heads of broccoli

washed and cut into chunks

a generous pinch of sea salt

up to 2 teaspoons

water

grated cheddar cheese

freshly cracked black pepper

goat cheese

creme fraiche, sour cream, or coconut cream

chopped walnuts

olive oil for drizzling
Instructions
Boil a large pot of water and add the sea salt to the water.


Add the broccoli chunks into the water for about 3 minutes, just enough time for them to become slightly soft.


Remove the broccoli from the water with a slotted spoon and add it to your blender. Keep the broccoli water.


Add enough of the broccoli water to the blender to fill it up to about the half-way mark, or slightly less.


Blend on high speed until smooth, adding more water to loosen the soup if necessary.


Serve with whatever toppings you wish, a drizzle of olive oil, chopped walnuts and goat cheese, cheddar cheese, etc.

Nutrition Facts
Healthy 3-Ingredient Broccoli Soup
Amount Per Serving (1 serving)
Calories 103
Calories from Fat 9
% Daily Value*
Fat 1g2%
Sodium 100mg4%
Potassium 961mg27%
Carbohydrates 20g7%
Protein 9g18%
Vitamin A 1894IU38%
Vitamin C 271mg328%
Calcium 143mg14%
Iron 2mg11%
* Percent Daily Values are based on a 2000 calorie diet.
Save
Save