This Easy 3-Ingredient Strawberry Chia Jam recipe is the perfect healthy homemade jam made with chia seeds and fresh fruit. Only 3 healthy, natural, whole-food ingredients and it's quick and easy to make!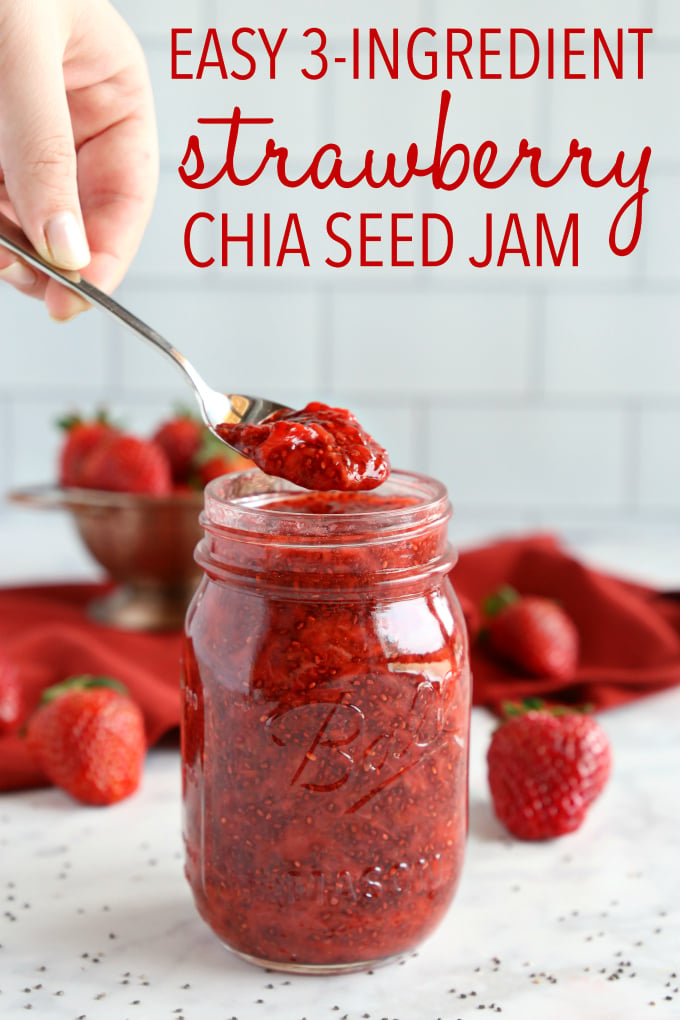 ---
Limiting refined sugars is such a tough job these days because almost all processed foods contain refined sugar in some form. On our family's journey to healthy eating, conventional jam is one of the foods I completely eliminated from my diet almost immediately because it's so high in refined sugar and low in nutrients.
I grew up with my mom and grandmothers making jams and jellies every spring and summer for our family to enjoy all year around and because I was spoiled with homemade jam, I had no problem giving up the store-bought stuff.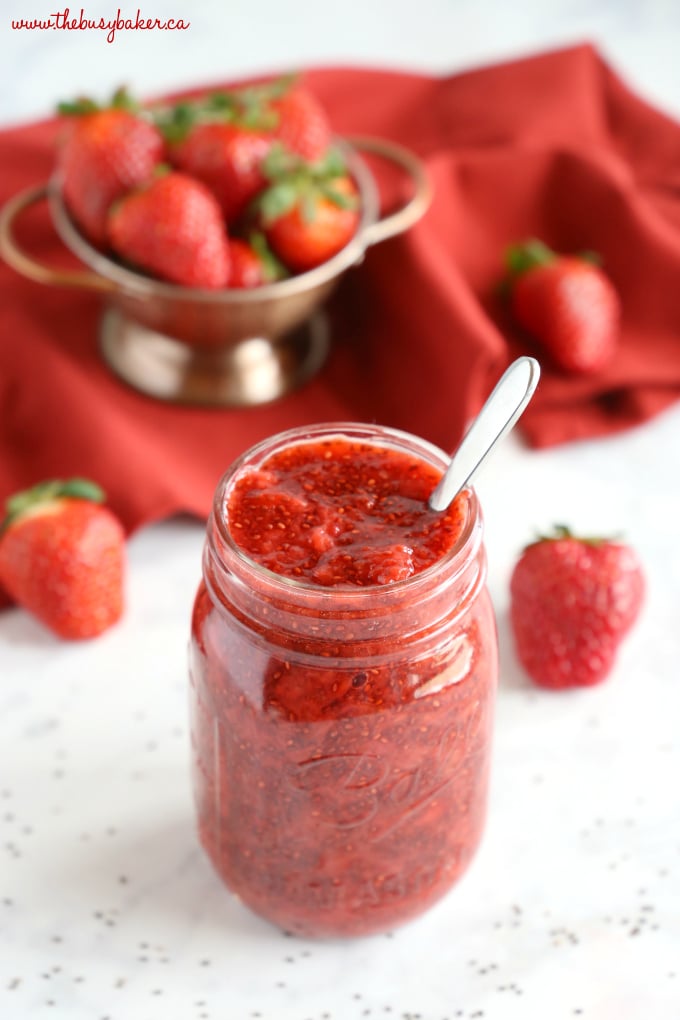 I'm so excited to be sharing this Easy 3-Ingredient Chia Seed Strawberry Jam with you today, because it's become one of our family's favourite snacks. My husband's favourite treat is a slice of homemade bread slathered in nut butter and jam, so giving up jam like I did just wasn't an option for him.
And since I didn't want our little ones filling their bellies with all that refined sugar, I knew there had to be a better option. I was skeptical that any jam recipe I found could compete with conventional jam in the taste department, but this Easy 3-Ingredient Strawberry Chia Jam REALLY does!!
This Easy 3-Ingredient Strawberry Chia Jam is made from only 3 ingredients: strawberries, chia seeds and honey! That's it! No refined sugar, no gelatin, no pectin. Just healthy, simple ingredients packed with nutrition. The chia seeds do all the hard work of creating a jam-like texture, and the honey brings just enough sweetness. I've been making this delicious recipe for years and I was originally inspired by this recipe and this recipe.
If you're looking for a plant-based recipe that doesn't call for honey, feel free to add maple syrup or even agave nectar in place of the honey in this recipe.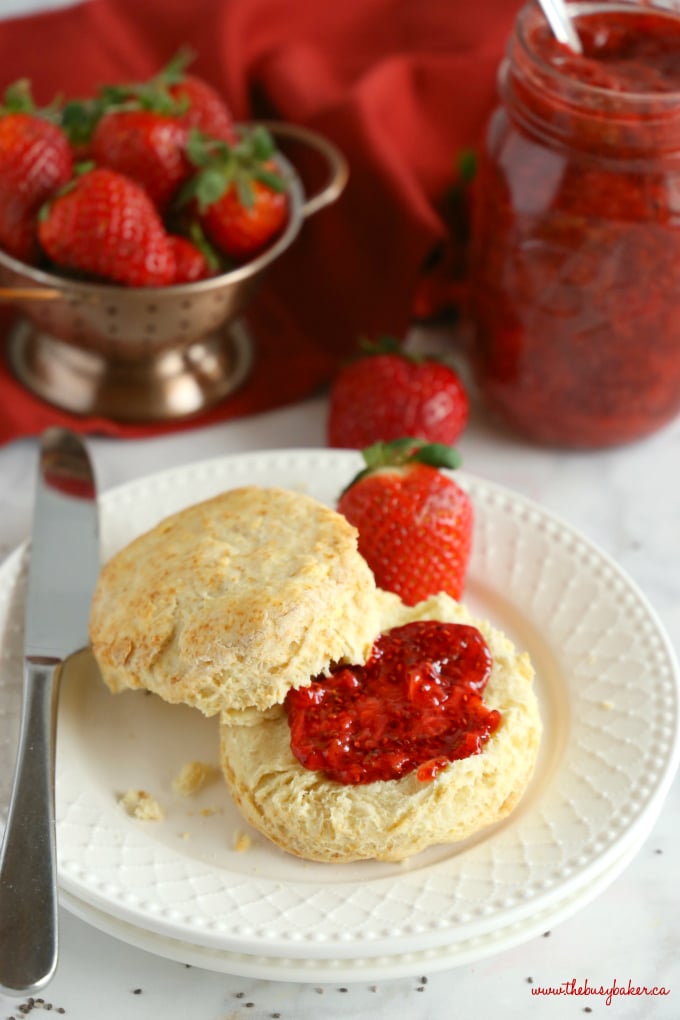 To make this healthy jam at home, you'll need (affiliate links):
To make this strawberry chia jam recipe you'll need:
fresh strawberries
chia seeds
honey (or use maple syrup or agave nectar for a vegan version of this recipe)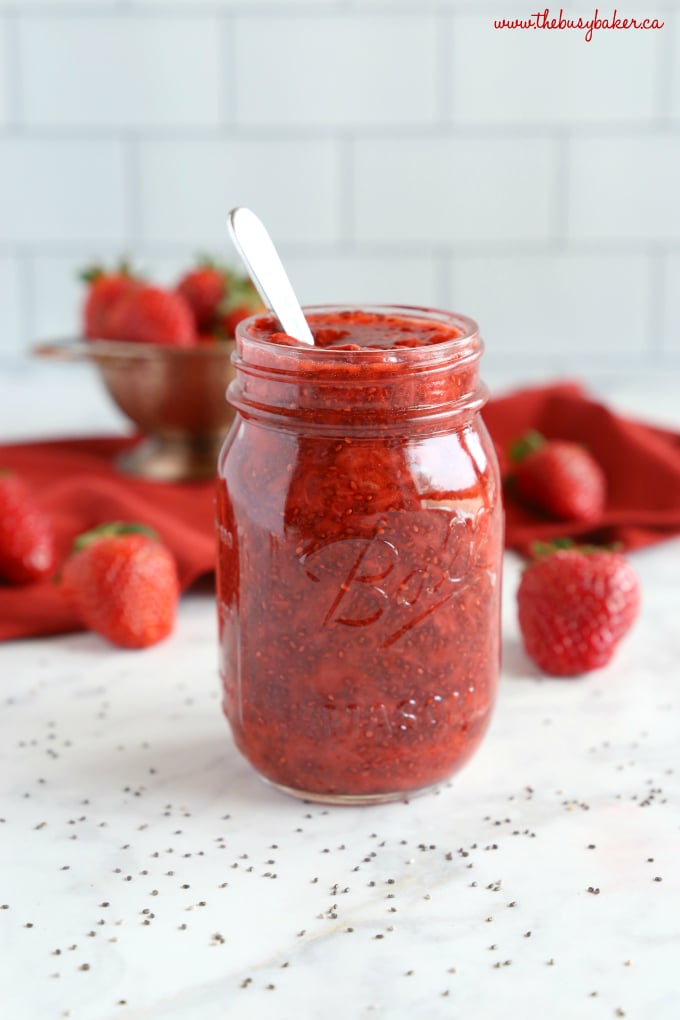 Time needed: 40 minutes
Follow these steps for the BEST healthy jam recipe with chia seeds!
Cook the fruit and honey first.

Cook the fruit and honey in the pot until boiling.

Mash the fruit once it's hot.

Mash the strawberries as they come to a boil.

Add the chia seeds after boiling.

Add the chia seeds to the hot fruit and reduce the heat.

Simmer on low.

Cook on low for 15 minutes after adding the chia seeds.

Blend to remove chunks, if desired.

If you like a smoother jam, pulse the jam in the blender just to remove large chunks. Or, you can mash the jam in the pot with a potato masher.

Let it cool.

Add the jam to a jar and let it cool before storing it in the fridge or freezer.
Is this jam shelf-stable?

No. It does not contain enough sugar to become shelf stable. Please follow food safety guidelines, and prepare the recipe as directed.
Is it safe to can chia seed jam?

No, we do not recommend canning this recipe as the sugar content is too low for it to be shelf stable. We recommend storing it in the fridge for up to 2 weeks, or in the freezer for up to 6 months.
Can I freeze this healthy jam?

Yes. This jam can be frozen in an airtight container or in a freezer jam jar for up to 6 months.
Can I make this jam with other types of fruit?

Yes! If you like this jam, you'll love our Healthy Chia Seed Peach Jam, our Easy 3-Ingredient Chia Seed Raspberry Jam, or our 3-Ingredient Blueberry Chia Seed Jam.
Can I use chia seeds instead of pectin?

No. It's best to follow a traditional jam recipe if you're using pectin, and to follow a chia seed jam recipe if you're making jam with chia seeds. You should not use chia seeds and pectin interchangeably in jam recipes.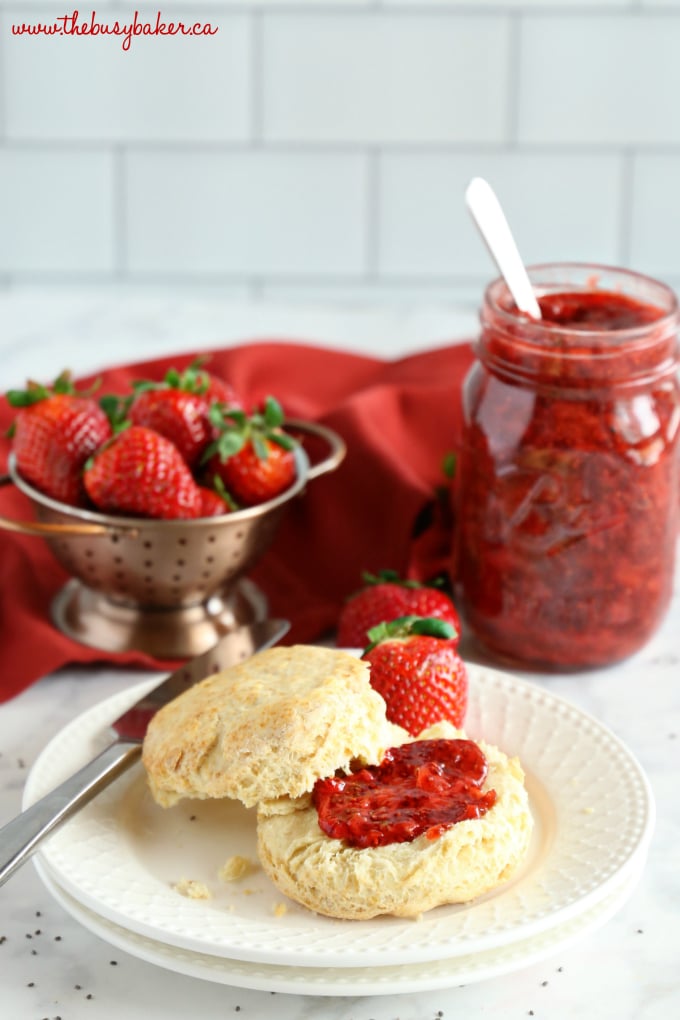 ---
I hope you enjoy this jam as much as our family does! Let me know in the comments below, what's your favourite jam flavour? I'd love to know!
Watch the video below to see exactly how I make this fruity spread recipe. You can find more delicious recipe videos on my YouTube channel.
If you made this, share a photo!
Are you trying this recipe? Use the comment form below to share your take; now with support for image uploads and comment voting!
Share a photo
Easy 3-Ingredient Strawberry Chia Jam
This Easy 3-Ingredient Strawberry Chia Jam recipe is the perfect healthy homemade jam made with chia seeds and fresh fruit.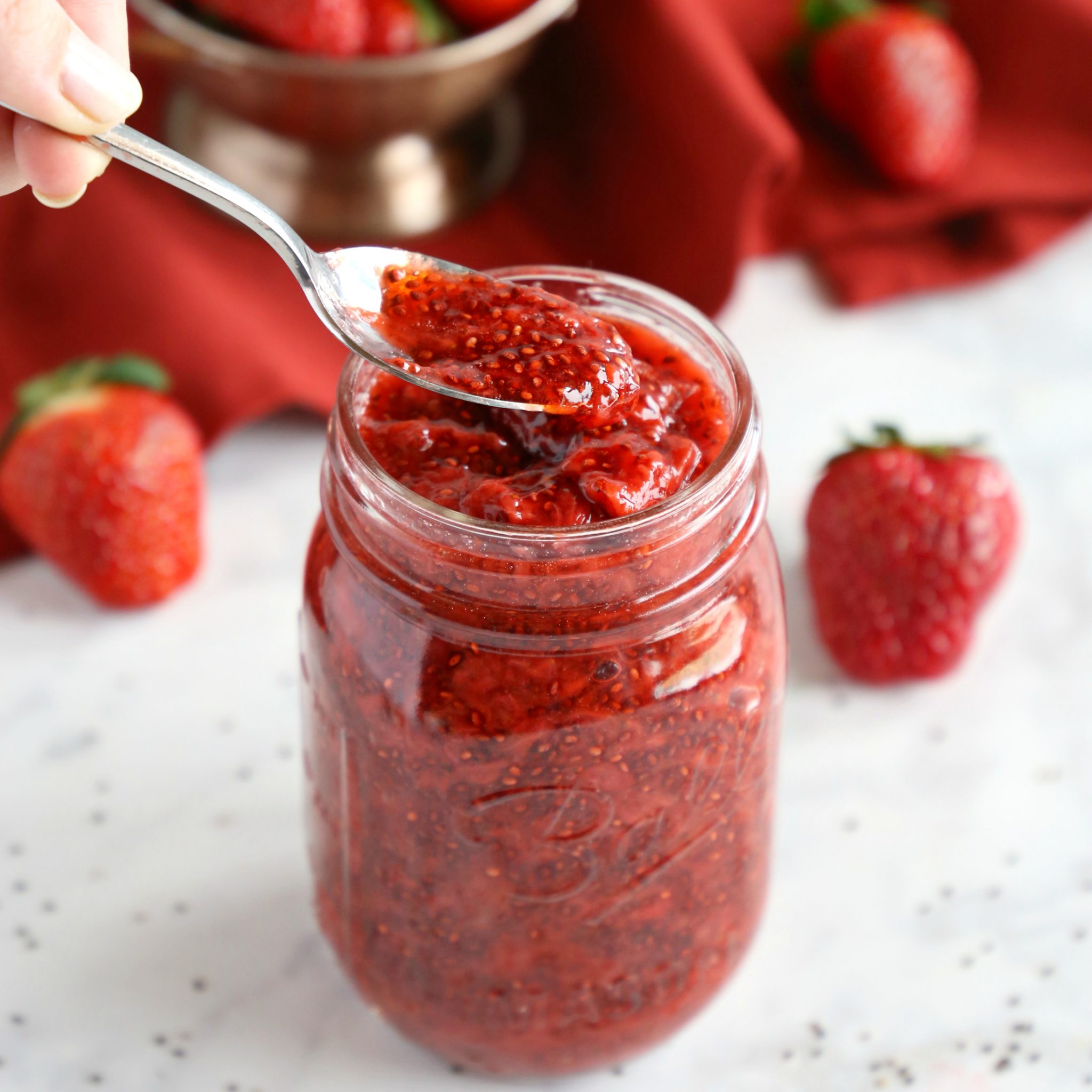 Recipe:

Ingredients
1

pound

fresh strawberries, washed, hulled, and sliced

3

tbsp

honey

add 1 more tablespoon if you like your jam very sweet, or other vegan honey substitute

2

tbsp

chia seeds
Recipe:

Instructions
Heat a medium saucepan over medium heat and add the strawberries. Add the honey and place on the stove over medium heat.

As the strawberries begin to soften over the heat, stir them around in their juices and the honey.

Once the berries have softened to the point that they're starting to fall apart, use a potato masher or fork to break them up even more.

Let the mixture come to a slow boil, stirring almost continually. Once you see some big bubbles break the surface, add the chia seeds.

The chia seeds will help the jam achieve a gelatinous texture while also adding fibre, protein and healthy Omega-3 fats.

Continue stirring the mixture over low heat for about 15 minutes, and then remove the pan from the stove.

If you enjoy jam with small chunks of fruit in it, then you're done! Simply pour the mixture into a mason jar and cover it tightly with a lid.

If you'd prefer jam with a smoother texture, feel free to add the mixture to your blender and pulse it a few times before pouring it into a mason jar. Or, use an immersion blender and pulse only a few times.

While the jam is still hot it may seem more fluid that you would expect. The chia seeds need a bit of time to do their work, so let the jam cool to room temperature in the jar and then put your jar of jam in the fridge for a few hours and it will achieve the perfect texture.

Enjoy on toast, gluten-free crackers or scones, over yogurt or even ice cream.
Recipe:

Notes
Storage Instructions
This jam keeps for up to 2 weeks in the fridge, but beware: since it doesn't contain any preservatives, has a low sugar content, and hasn't undergone the proper canning process it must be kept refrigerated or frozen.
We do not recommend canning this jam as it does not have a high enough sugar content to be shelf stable.
Freezer Instructions
This jam can be frozen for up to 6 months.
Recipe:

Nutrition

Nutrition Facts

Easy 3-Ingredient Strawberry Chia Jam

Amount Per Serving (2 tbsp)

Calories 38

Calories from Fat 9

% Daily Value*

Fat 1g2%

Sodium 1mg0%

Potassium 69mg2%

Carbohydrates 8g3%

Protein 1g2%

Vitamin A 6IU0%

Vitamin C 22mg27%

Calcium 19mg2%

Iron 0.3mg2%

* Percent Daily Values are based on a 2000 calorie diet.

Notice: Nutrition is auto-calculated, using Spoonacular, for your convenience. Where relevant, we recommend using your own nutrition calculations.