These Best Ever Ginger Molasses Cookies are EXACTLY what their name suggests: they're crispy on the outside, oh so chewy on the inside and bursting with sweetness and a sharp ginger flavour. They're one of my most popular recipes ever and they're pretty easy to make too! Try these Best Ever Ginger Molasses Cookies like hundreds of thousands of my readers have, and see for yourself!!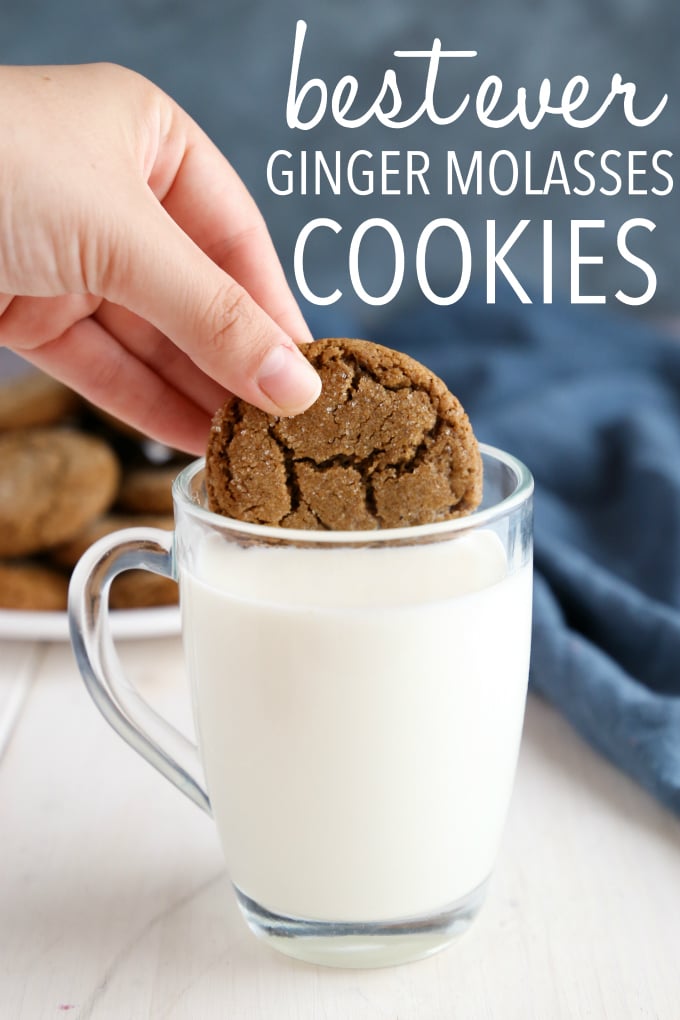 NEVER MISS A POST! FOLLOW ME ON:
*I first shared this recipe in October 2015. I'm re-sharing it today with brand new photos and a brand new video tutorial! Enjoy!
It dawned on me recently that I've been making cookies for almost 25 years. Now, I realize that doing something for a long time doesn't necessarily make you an expert, but I would like to think that I've learned a thing or two about baking cookies over the years and that I have at least a few cookie recipes that I've perfected…and these Ginger Molasses Cookies definitely fall into the perfection category!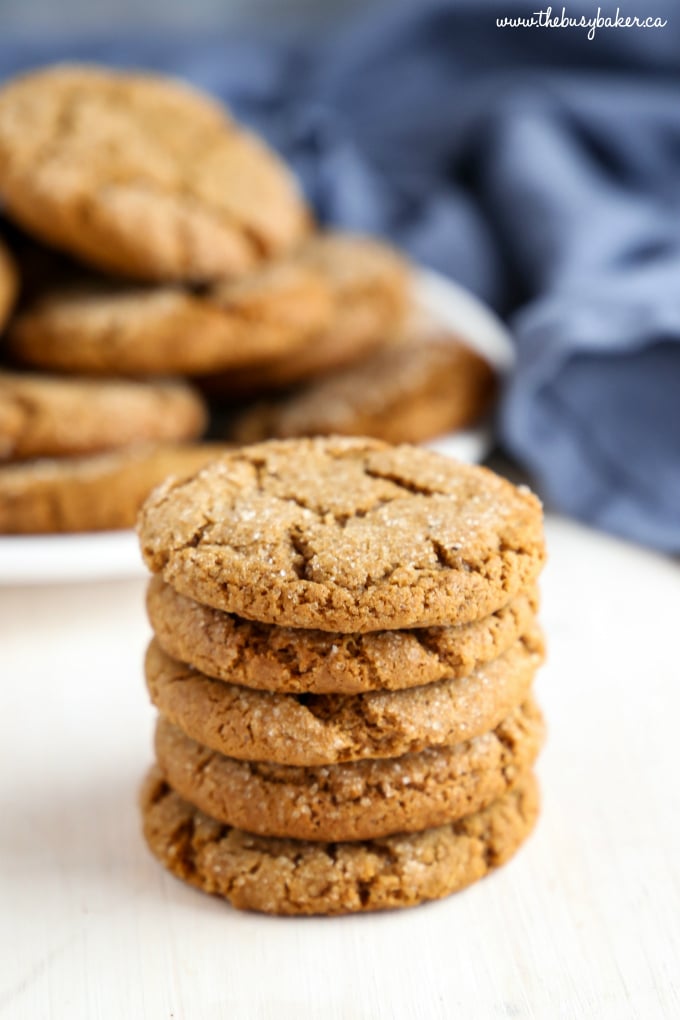 I remember my mom making these cookies when I was very young and calling them Gingersnaps, even though my dad affectionately referred to them as "Ginger-bends" because they're so moist and soft and chewy and don't have that traditional biscuit "snap" quality. They're not dry like some ginger-flavoured cookies tend to be and they've got the perfect balance of sweet molasses, spicy ginger, and warm cinnamon. They're so soft that they almost melt in your mouth. If you're still buying the Starbucks' Ginger Molasses cookies with your morning coffee then you obviously haven't tried this recipe!

I'm telling you, once you try these cookies you won't find yourself in the Starbucks drive thru line up anymore (unless it's to get a latte to dunk these bad boys in)!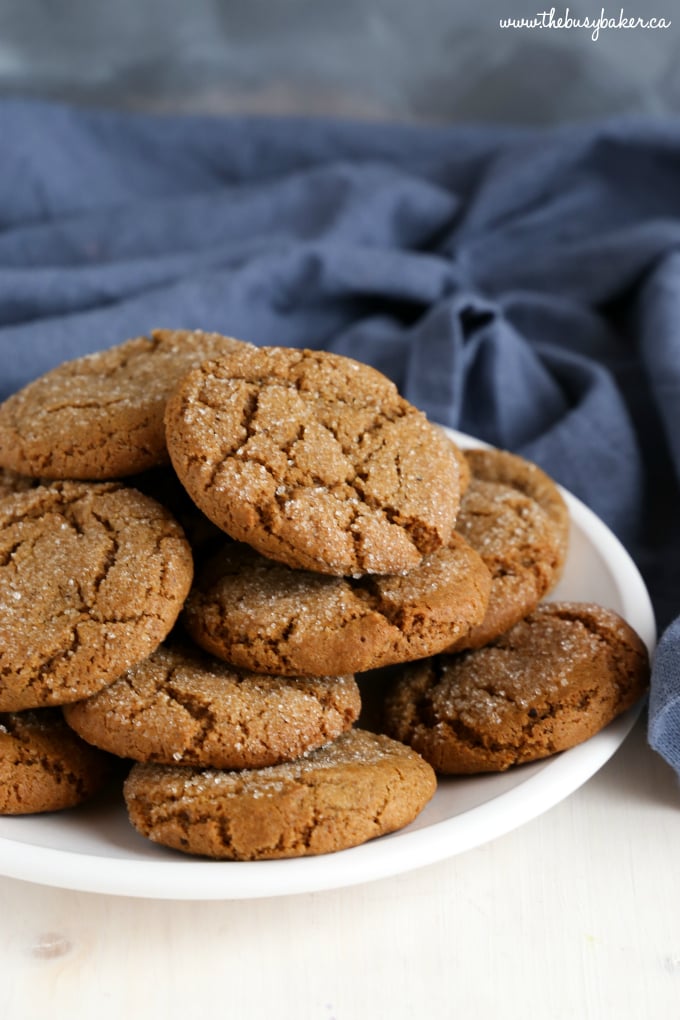 And a little pro tip for you: Be sure to let these cookies cool on their baking pans!! If you attempt to remove them from the pans too soon they'll be raw in the middle and they'll probably fall apart since they actually finish baking completely AFTER they've been removed from the oven (the heat of the pan continues to bake the cookies even out of the oven). If you can muster up the patience to let them cool before moving them, you'll be absolutely amazed at the result…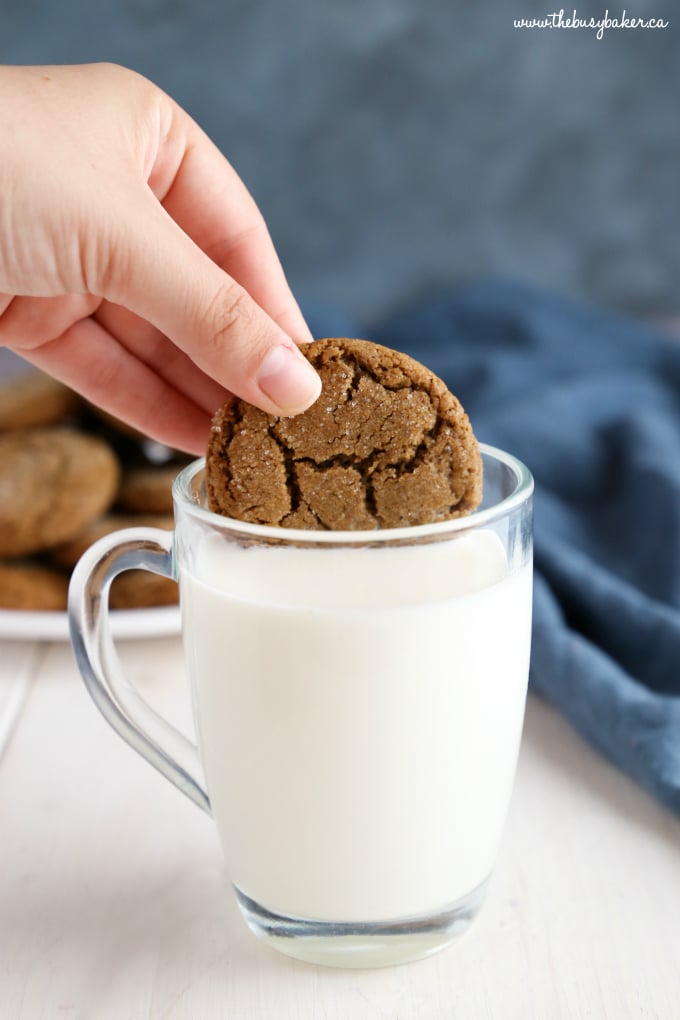 …a crispy, sugary exterior with a soft, chewy interior. Yum!
I hope you enjoy this Best Ever Ginger Molasses recipe below! Let me know in the comments below, what's your favourite cookie? I'd love to know!
NEVER MISS A POST! FOLLOW ME ON:
Kitchen Tools I Recommend:
Looking for even more cookie recipes? You'll LOVE these:
Recipe Video
Watch the video below to see exactly how I make this homemade treat. You can find more delicious recipe videos on my YouTube channel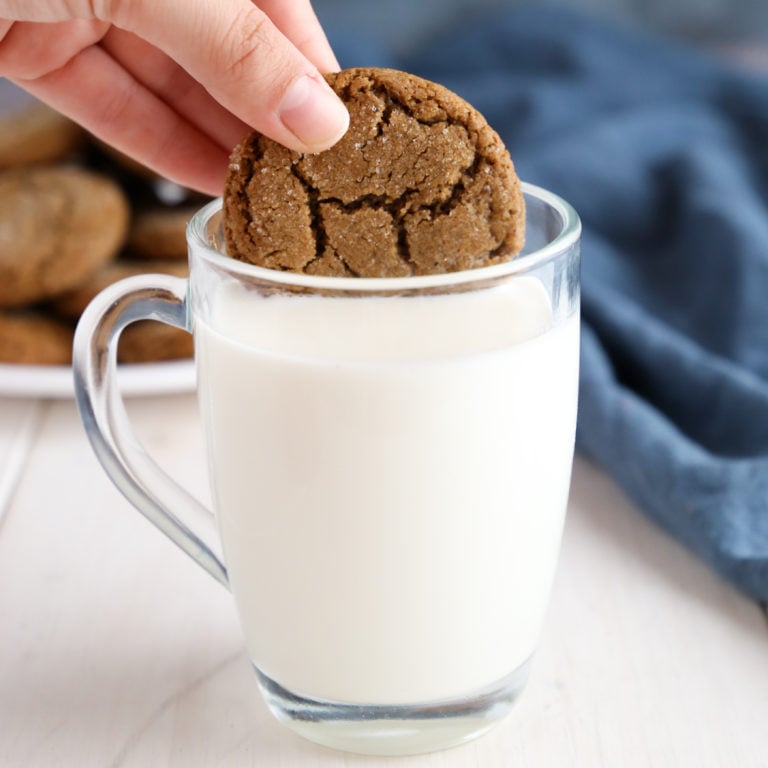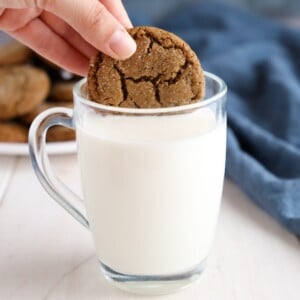 Best Ever Ginger Molasses Cookies (Better than Starbucks!)
These Best Ever Ginger Molasses Cookies are crispy on the outside, chewy on the inside and perfectly flavoured with ginger!
Print
Pin
Rate
Ingredients
1 1/4

cup

unsalted butter

at room temperature

2

cups

white sugar

2

eggs

1/2

cup

molasses

4

cups

all purpose flour

1/2

tsp

salt

4

tsp

baking soda

2

tsp

ground cinnamon

1

tsp

grated fresh ginger

or powdered ginger

1/2

tsp

ground cloves

1/3

cup

white sugar for rolling
Instructions
Add the butter to the bowl of your stand mixer fitted with the paddle attachment. Cream the butter on medium high speed until it is soft and creamy and the colour begins to turn pale (use a hand mixer if you wish).


Add the sugar and beat on medium high speed for 2 minutes, scraping down the sides of the bowl a few times.

Beat in the eggs on medium high speed one at a time, scraping down the bowl after each addition.

Beat in the molasses and scrape down the bowl to ensure everything is evenly combined.

In a separate bowl, combine the flour, baking soda, grated ginger, cinnamon, cloves and salt. Whisk these ingredients together until they're combined and dump the mixture into the bowl of the stand mixer with the butter mixture.

Combine the butter mixture and the dry ingredients on low speed just until no streaks of flour remain. You'll have to scrape down the sides of the bowl a few times to make sure everything is incorporated.

Cover the dough with plastic wrap and chill in the fridge for one hour.

After one hour has passed, preheat your oven to 350 degrees Fahrenheit.

Remove the dough from the fridge and shape it into about 36 balls with your hands, rolling each ball of dough in the white sugar and placing it on a baking sheet prepared with some parchment paper. Remember to space the cookies out appropriately...this recipe makes about 3 dozen cookies so you'll likely need to bake 3 or more sheets of cookies.

Bake each sheet of cookies for 10-11 minutes at 350 degrees Fahrenheit.

When you remove the baking sheet from the oven, let the cookies cool on the baking sheet until they've cooled almost completely. This will help them achieve that soft and chewy texture as they continue to bake on the inside even after they've been removed from the oven.
Nutrition
Serving:
1
serving
|
Calories:
175
kcal
|
Carbohydrates:
27
g
|
Protein:
2
g
|
Fat:
7
g
|
Saturated Fat:
4
g
|
Cholesterol:
26
mg
|
Sodium:
160
mg
|
Potassium:
89
mg
|
Fiber:
1
g
|
Sugar:
16
g
|
Vitamin A:
210
IU
|
Calcium:
16
mg
|
Iron:
1
mg