This Classic Strawberry Pie is the perfect summer dessert recipe made with an all-butter crust and fresh strawberries. It's a simple pie recipe that's easy enough for anyone to make – even beginners! Be sure to follow my pro tips below for the perfect old fashioned strawberry pie!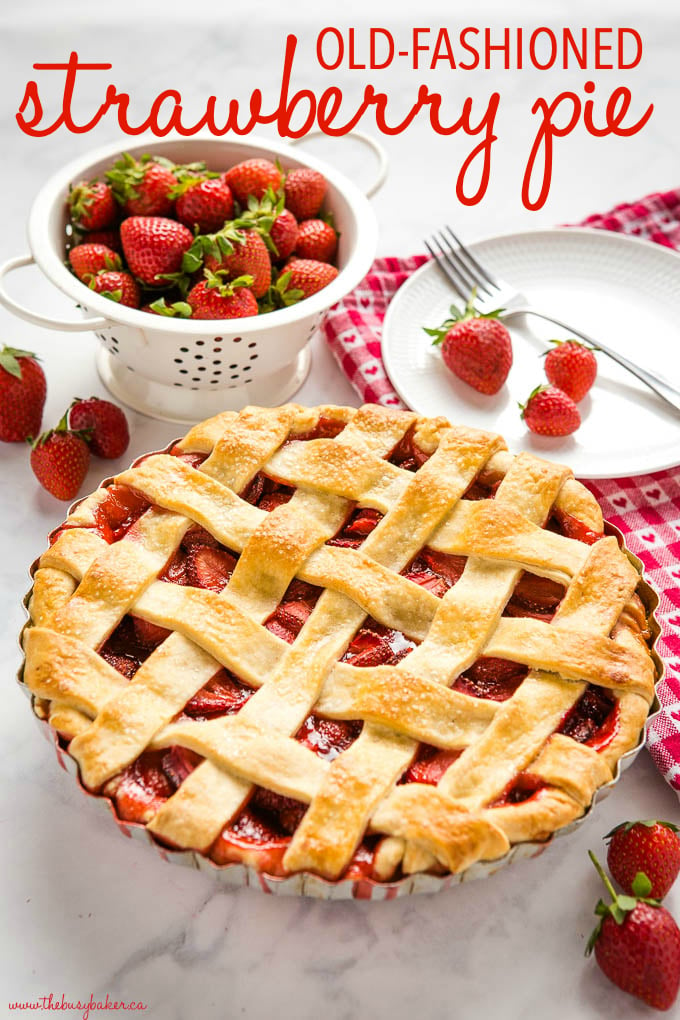 NEVER MISS A POST! FOLLOW ME ON: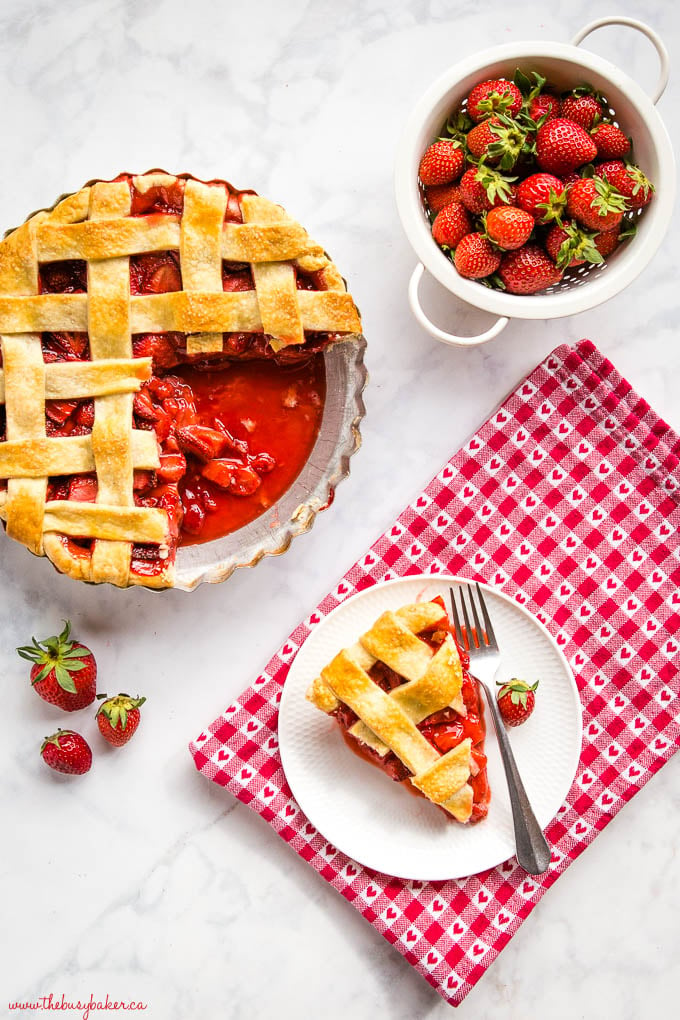 I don't know about where you live, but here in Romania we're in the heart of strawberry season. And let me tell you – I am here for it! I've been baking up a storm with ALL the strawberries I can get my hands on from the farmer's market (read more about my farmer's market adventures here!) and I've got a few more delicious strawberry recipes coming your way this summer after this Classic Strawberry Pie that I'm sharing with you today!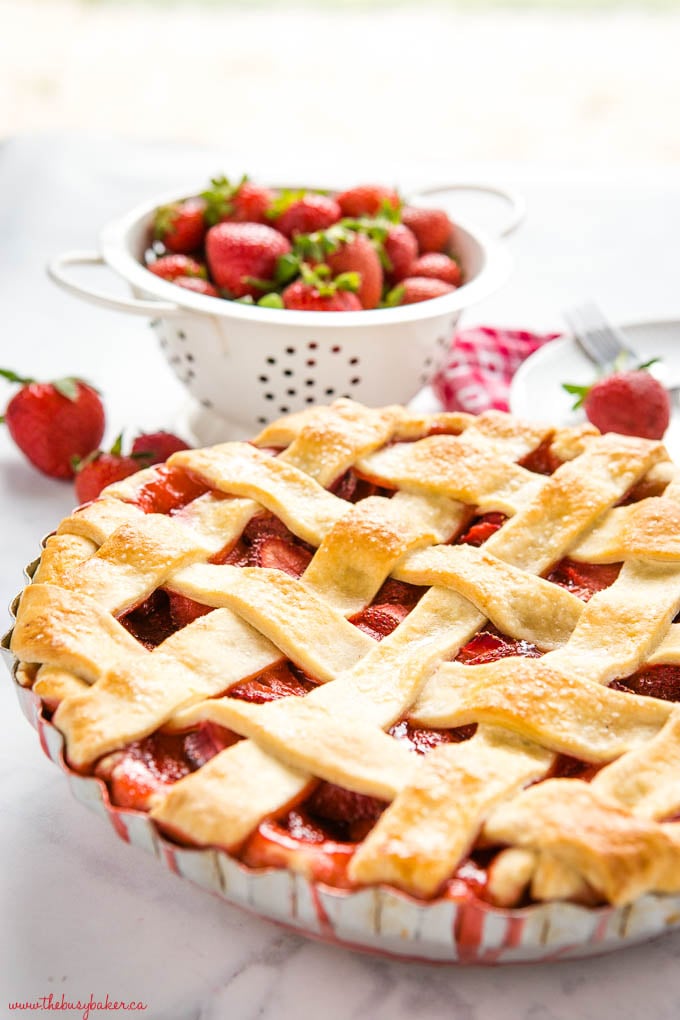 Pies are one of our favourite summer desserts and this Classic Strawberry Pie is an old favourite. The filling is simply divine made with fresh strawberries and served with a scoop of vanilla ice cream on a hot summer day…it's just the best summer dessert that no one will be able to resist!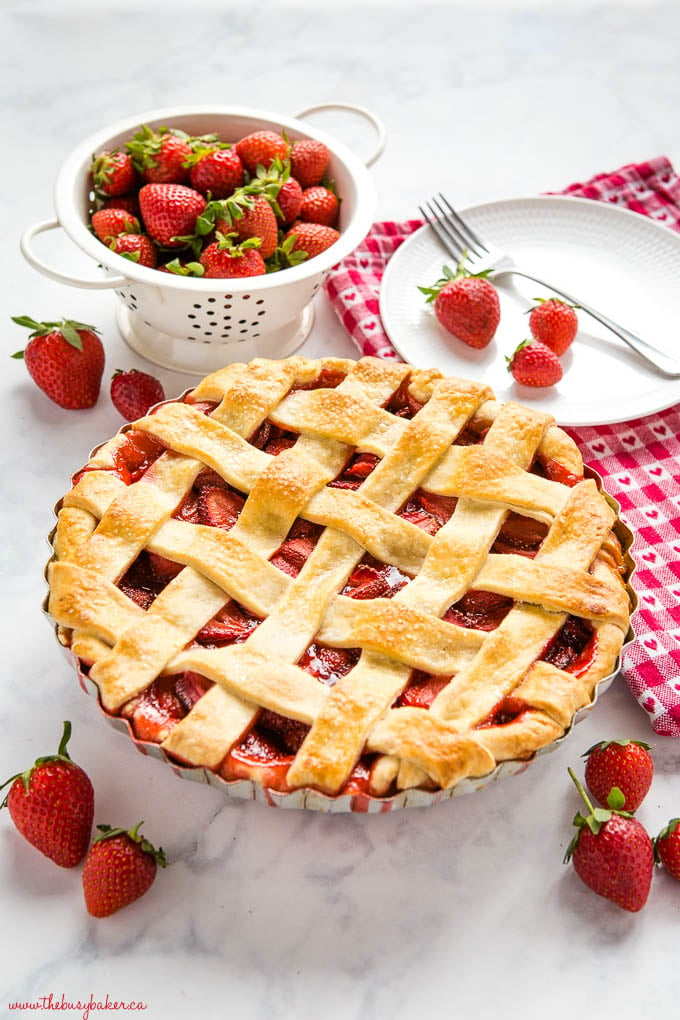 In the recipe card below you'll find all the instructions you need to make this stunning pie yourself, but here's a list of all my pro tips to make your strawberry pies spectacular!
How to Make the Perfect Strawberry Pie
TIP #1: Use your food processor and COLD butter. Use COLD butter. And COLD water. This will help the butter stay in small, solid pieces as you mix which will create a flaky crust (and who doesn't love a flaky pie crust??). Using your food processor to make the crust helps the butter stay cold and creates a nice tender dough, plus it makes making your own pie crust from scratch super easy and low maintenance! TIP #2: Work quickly and gently when you handle the dough. If you do work the butter into the flour mixture using your hands, make sure you use quick motions, flattening the pieces of butter between your hands as you slide your hands apart (one toward you, one away from you). The goal here should be to handle the butter as little as possible because the heat from your hands will cause it to soften and even melt. It's ideal for the butter to remain cold and hard but be distributed throughout the flour mixture in small pieces. TIP #3: Shape the dough into discs. Once the dough comes together, divide it in half and gently form it into 2 round disc shapes. This makes it easy to roll out later in a round shape! TIP #4: Use a thickening agent in the filling. Adding cornstarch to your pie filling will create a deliciously thick and silky sauce around the fruit and it will help the filling stay together a little better when you cut into the pie. You'll still have that gorgeous juiciness oozing out of each slice, but it won't look like soup on your dessert plate.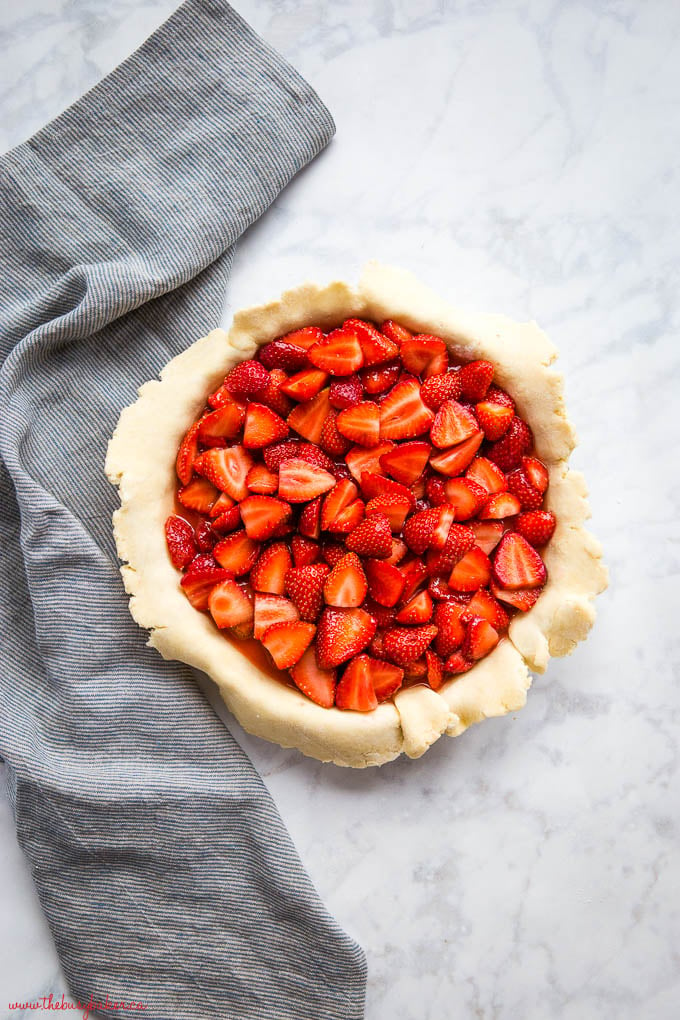 TIP #5: Create a lattice top crust. Topping your pie with a lattice crust is both beautiful and practical. It creates that classic fruit pie look while allowing the pie to vent and the excess water from the fruit to evaporate during baking. Use a pastry cutter or a pizza cutter to cut long strips and layer them in an alternating pattern.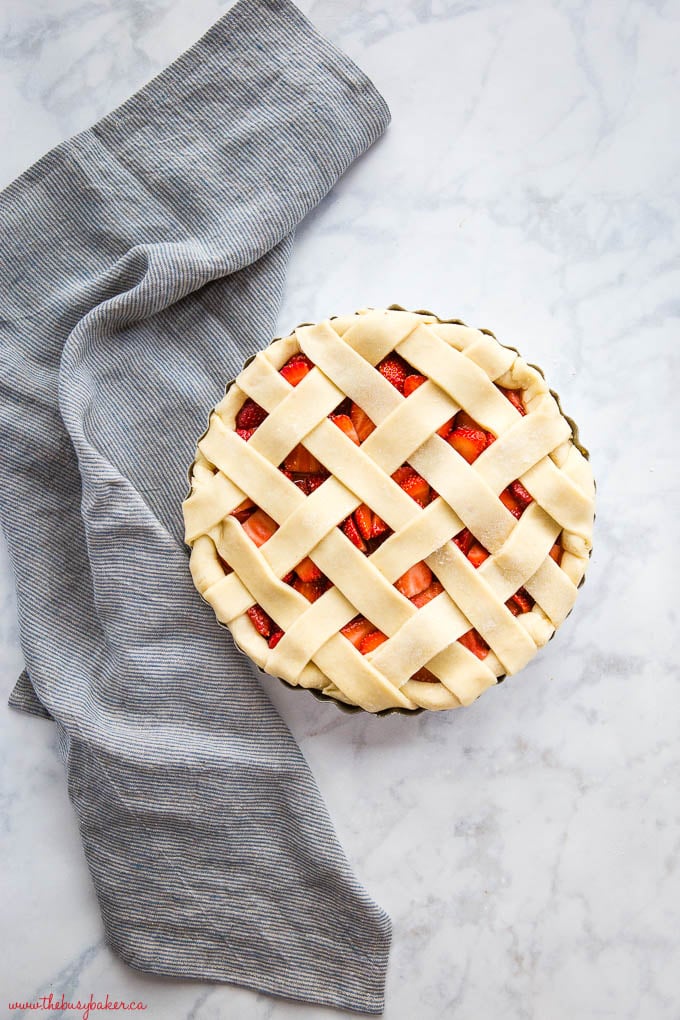 TIP #6: Create a clean edge. There's nothing worse than a pie with uneven, over-browned edges. Creating nice clean edges is easy! Just fold the edges of the dough under and tuck them into whatever pie dish you're using.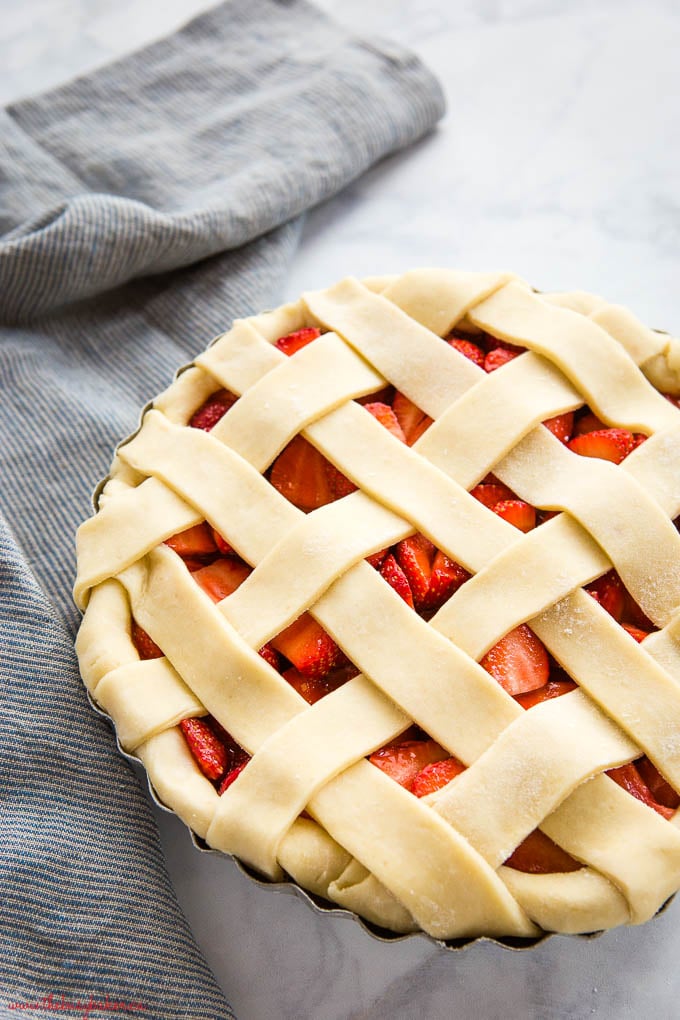 TIP #7: Use an egg wash. Combine an egg and 1 tablespoon of water in a small dish and whisk them together. Using a pastry brush, brush on a SMALL amount of egg wash onto the top crust of the pie and around the edges. Don't overdo it! Cooked egg on the top of a pie is never tasty. The idea is to brush a very light coating of the egg wash over every surface of the crust before it bakes. This will create a shiny finish and it will help the upper crust to brown perfectly and evenly in the oven. TIP #8: Sugar the crust. Sprinkle a little bit of turbinado sugar or other coarse sugar onto the top of the pie after you've brushed on the egg wash. This will create a beautiful finish on the upper crust, but it will also add a nice crunch and a beautiful texture to the pastry. TIP #9: Heat Things Up Bake your pie at 400 degrees Fahrenheit for the first 10 minutes and then reduce the heat to 375 Fahrenheit and bake for 45-50 minutes longer. Baking at a higher heat at first allows the crust to brown beautifully and baking at a lower heat afterwards allows the filling to cook evenly without the crust over-browning in the process. It's also a great idea to bake your pie with a baking sheet on the rack below, just to catch any stray drips before they burn onto the bottom of your oven (been there, done that…more times than I'd care to admit!)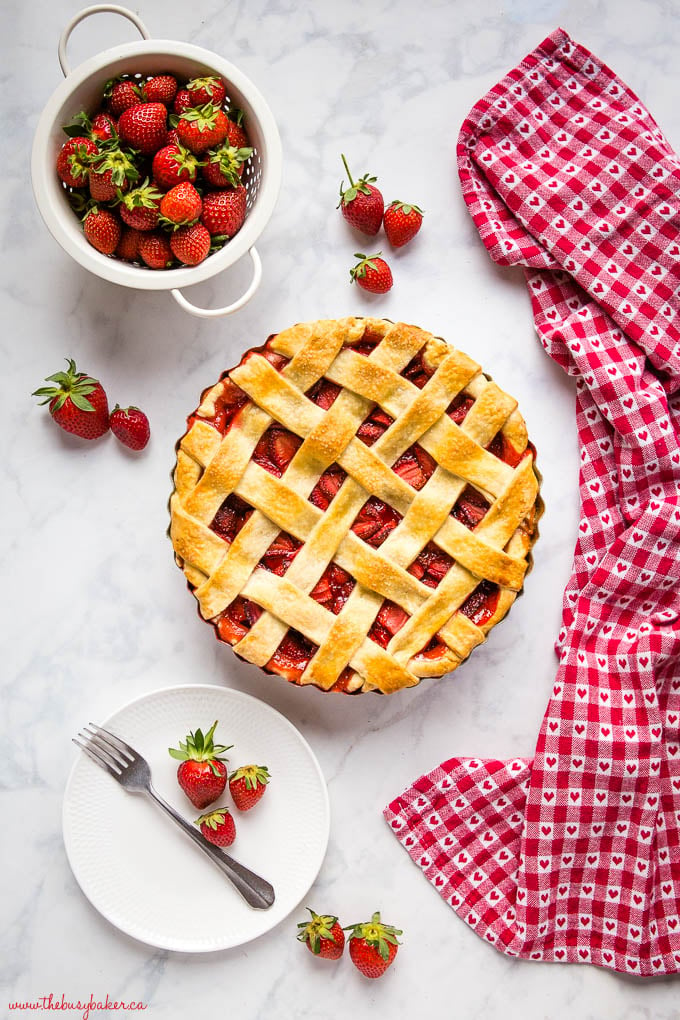 TIP #10: Let it cool before slicing! Cutting into a hot pie may seem like a good idea, but all it will leave you with is a steamy hot soupy mess. Be sure to let the pie to cool to room temperature before slicing – this will make sure your slices are juicy but keep their shape. If you take your time and follow these no-fail tips on how to make the perfect pie, when you remove your Classic Strawberry Pie from the oven, it should look just like this!!
Looking for even more PRO PIE BAKING TIPS? Check out my Apple Cranberry Pie Recipe and my TOP 10 PRO PIE BAKING TIPS!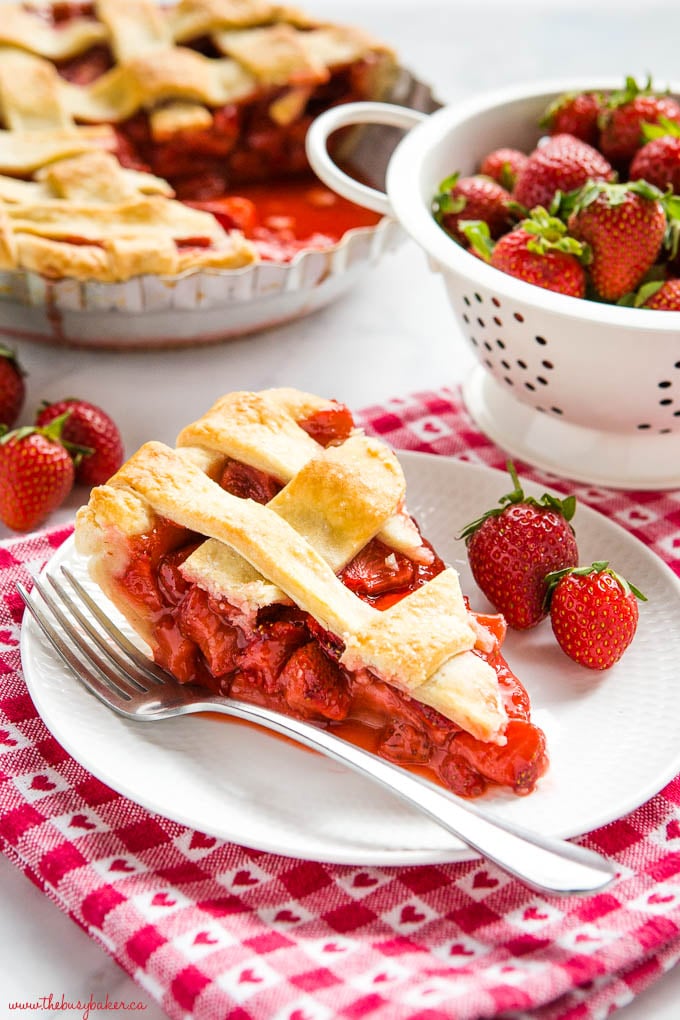 NEVER MISS A POST! FOLLOW ME ON: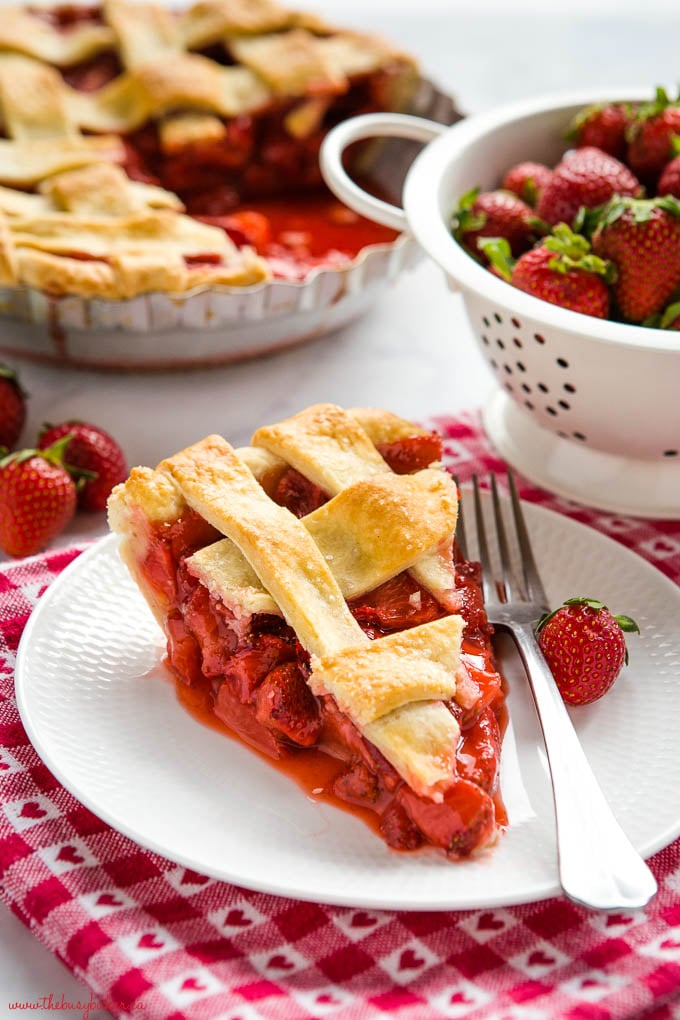 I hope you love this homemade pie recipe as much as we do! Let me know in the comments below, what's your family's favourite summer pie? I'd love to know!
Kitchen Products I Recommend:
Looking for more recipes featuring fresh summer fruit? You'll love these:
Recipe Video
Watch the video below to see exactly how I make this recipe. You can find more delicious recipe videos on my YouTube channel
If you made this, share a photo!
Are you trying this recipe? Use the comment form below to share your take; now with support for image uploads and comment voting!
Share a photo
Classic Strawberry Pie
This Classic Strawberry Pie is the perfect summer dessert recipe made with an all-butter crust and fresh strawberries. It's a simple pie recipe that's easy enough for anyone to make - even beginners!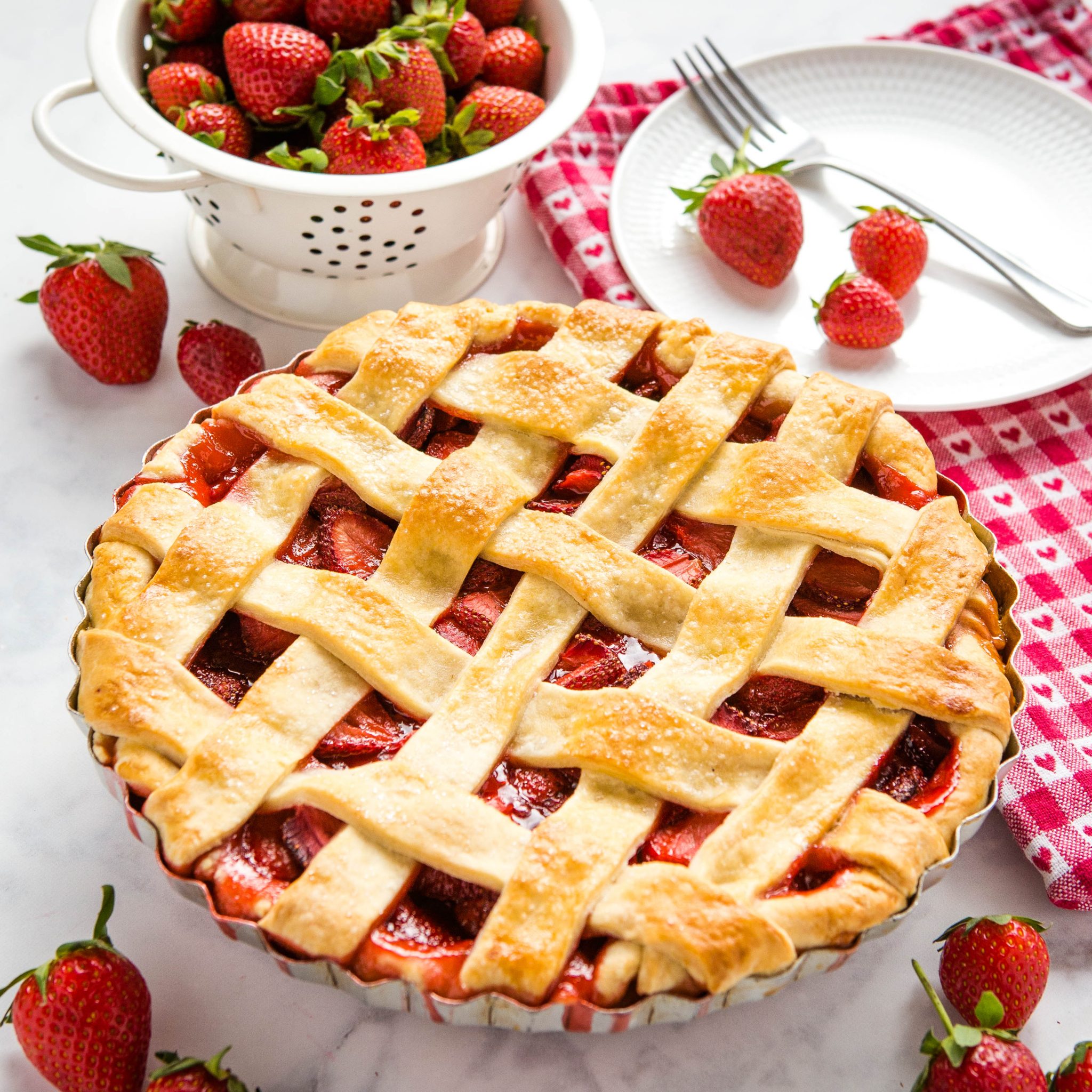 Recipe:

Ingredients
For finishing:
1

egg

1

tablespoon

water

1-2

tablespoons

coarse sugar
Recipe:

Instructions
For the crust:
Add the flour, sugar and salt to the bowl of your food processor (or a large bowl if your making the dough by hand).

Turn the food processor on low speed and add the chunks of cold butter one at a time while the food processor runs until all the butter is added and the mixture resembles coarse crumbs.

If making by hand, use a pastry blender or your hands to work the butter into the dough until the mixture is crumbly. Try not to handle the butter too much (the heat from your hands will soften it) - use quick movements and don't worry if some larger chunks of butter still remain.

Add the lemon juice and the water slowly as the food processor runs on low, just until the dough comes together and pulls away from the sides of the bowl. Depending on the weather and even on the brand of flour, I use anywhere between 5 and 8 tablespoons of water.

If making by hand, use your hands to form the dough gently and quickly using just enough water for the dough to come together.

Dump the rough dough onto the counter and divide the dough into two disc shapes and wrap each one separately in plastic wrap, placing it in the fridge to chill for 45 minutes or overnight.
For the filling:
Add the sliced strawberries to a bowl, along with the cornstarch, sugar, salt and lemon juice. Toss just until combined.

Set the filling aside while you prepare the crust for baking.

Assembly:
Preheat your oven to 400 degrees Fahrenheit. If your oven runs hot, set it to 375 degrees Fahrenheit. (Use an oven thermometer to ensure the correct temperature)

Remove the chilled pie dough from the fridge and let it sit for about 10 minutes before rolling.

Roll out one of the balls of dough into a large circle using a rolling pin. Add a generous amount of flour to the rolling surface and to the rolling pin, to prevent sticking and cracking.

Peel the rolled out dough off the counter surface gently by rolling it backwards onto the rolling pin.


Transfer it to a 9-inch pie plate and gently press the dough into the bottom of the pie plate and over the edges (try for a 1-2 inch overhang if possible).


Add the strawberry filling to the pie crust and smooth out the top.

Repeat the rolling out process with the second ball of dough, this time slicing it into about 10 long, thin slices using a pizza cutter (or a pastry cutter, if you have one).


Create a lattice pattern using the strips of dough, overlapping every second vertical strip with every second horizontal strip.


Trim any dough that hangs over the edge of the pie to 1-2 inches past the edge (try to keep the overhang amount even all the way around). Tuck any overhanging dough under and into the pie plate to create a clean edge.

If your pie plate has a wide edge, seal the edge of the pie by creating a fluted pattern - press into the edge of the pie from the outside with your left  thumb and index finger while pressing into the edge of the pie from the inside with your right index finger. Do this all the way around the edge of the pie to create a fluted pattern (and see my tutorial HERE for how to create a beautiful fluted edge to your pies!)

Beat the egg and 1 tablespoon of water and brush it lightly onto the unbaked crust. Use a light hand while brushing - too much egg wash creates an eggy texture after baking.


Dust the crust with the coarse sugar and bake at 400 degrees Fahrenheit for about 10 minutes, and then reduce the heat to 375 (350 if your oven runs hot) and bake for an additional 35-45 minutes or until the crust is evenly browned and the filling is bubbly.

Let cool to room temperature before slicing and serving with a scoop of vanilla ice cream.
Recipe:

Notes

Watch the pie closely as it bakes to ensure it bakes and browns evenly. Feel free to turn the pie halfway through baking so it browns evenly in your oven.

Bake this pie on a baking sheet to prevent the filling from spilling out of the pie as it bakes and burning to the bottom of your oven.
Recipe:

Nutrition

Nutrition Facts

Classic Strawberry Pie

Amount Per Serving (1 slice)

Calories 344

Calories from Fat 144

% Daily Value*

Fat 16g25%

Cholesterol 54mg18%

Sodium 206mg9%

Potassium 135mg4%

Carbohydrates 46g15%

Protein 4g8%

Vitamin A 500IU10%

Vitamin C 35mg42%

Calcium 21mg2%

Iron 2mg11%

* Percent Daily Values are based on a 2000 calorie diet.

Notice: Nutrition is auto-calculated, using Spoonacular, for your convenience. Where relevant, we recommend using your own nutrition calculations.