These Amaretti Cookies are deliciously sweet and crunchy! They're my favourite recipe from Emily Richards' cookbook Per La Famiglia and I can't wait to share them with you!

Hungry for more?
Follow me! Like my page on Facebook!
Subscribe! Click here to get free recipes by email!

I'm thrilled to be joining forces with some amazing Canadian bloggers today to bring you a review of Emily Richards' cookbook Per La Famiglia: Memories and Recipes of Southern Italian Home Cooking and an awesome Prize Pack GIVEAWAY! Stay tuned to the end of this post for all the giveaway details.
Let me just say, this is a gorgeous cookbook. Believe it or not, I'm not one of those food bloggers who's never met a cookbook she didn't like. I'm pretty picky when it comes to cookbooks and not just any cookbook makes its way onto my shelf. But this cookbook? This cookbook is a keeper!
Aside from the gorgeous and rustically-styled photography, the collection of recipes in this book represent everything I've ever loved about cultural cuisine. I adore authentic Italian food for its comforting, earthy flavours and its freshness, but I adore simple, easy-to-prepare food made with healthy ingredients even more. This book is the best of both those worlds and it's opened the door to authentic Italian cooking for me while at the same time maintaining a spirit of simplicity, making these authentic Italian recipes accessible to even the most inexperienced home cook.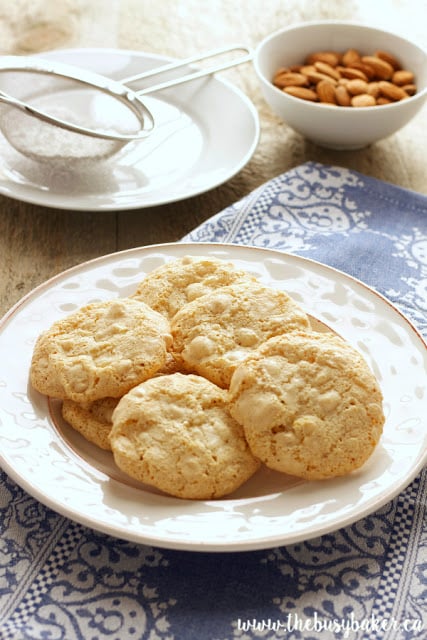 Per La Famiglia is peppered with family stories and old photographs and it's a beautiful read. There's nothing like getting a glimpse into someone else's family recipe collection to make you want to get into the kitchen, and that's exactly what this book has done for me.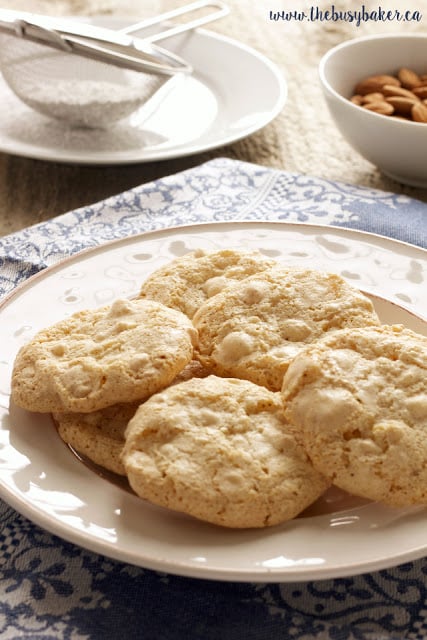 The recipe I'm sharing today is a new favourite of mine. These Amaretti Cookies are simple and delicious, and they represent the spirit of this book perfectly. They contain only 6 ingredients and if you own a food processor you can make these cookies. They're delicate and sweet with a nice crunch, and they're great on their own or topped with some powdered sugar. I promise, you will love them!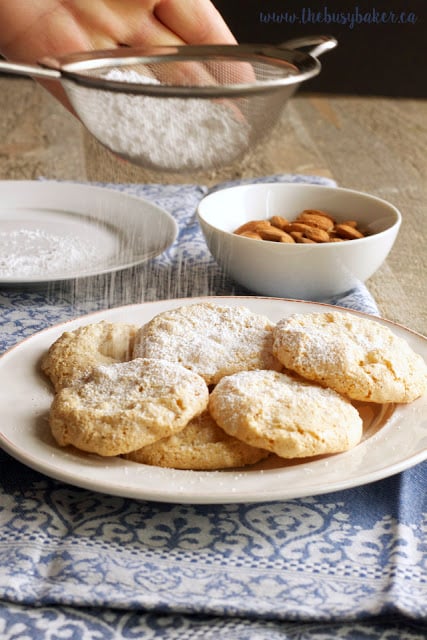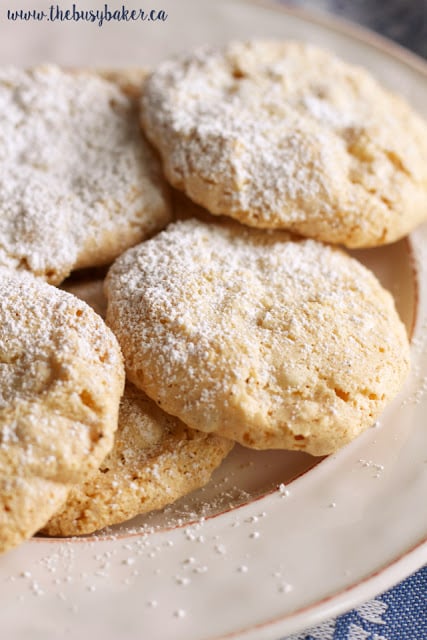 Amaretti Cookies (makes 30-40 cookies)
You'll need:
2 cups unblanched whole almonds
2 egg whites
1 cup sugar
2 tbsp all purpose flour
1 tbsp almond extract
1 tsp baking powder
1 tsp powdered sugar (optional, for dusting)
To make:
Preheat your oven to 350 degrees Fahrenheit (180 Celsius). Line 2 baking sheets with parchment paper and set them aside. The author warns against using dark metal baking sheets for these cookies to prevent over browning and I have to agree.
Add the almonds to your food processor and blend until they're in small pieces with some powdery granules. Set the almonds aside.
Beat the egg whites to soft peaks in a large bowl. Gradually beat in the sugar until ribbons fall from the beaters when you lift them out of the mixture.
Stir the almonds into the egg white mixture, along with the flour, almond extract and baking powder.
Drop level tablespoons of the batter onto the prepared baking sheets about 2 inches (5 cm) apart. If you need to, shape each mound of batter into a neat circle.
Bake them in the centre of the oven for about 10-12 minutes or until the cookies are a light brown colour and crisp on top. The author suggests 12 minutes as a baking time, but mine were always done after 10 minutes.
Let the cookies cool on the baking tray for a few minutes before transferring them to a cooling rack to cool completely.
Sprinkle some icing sugar on top, if you wish, and enjoy!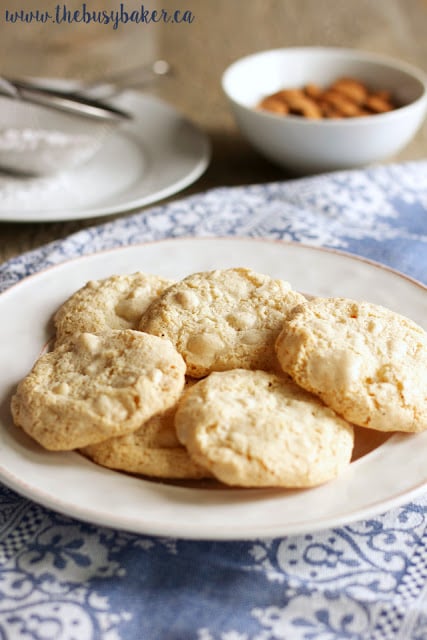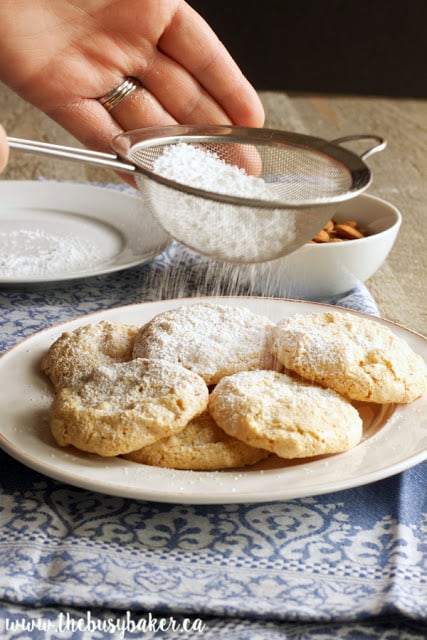 These cookies are the perfect little sweet treat for dunking in a cup of coffee or tea, and they keep well in an airtight container for 2 weeks at room temperature and about a month in the freezer.
I hope you enjoy this recipe! Let me know in the comments below, what's your favourite family recipe that's been passed down to you through generations?
Hungry for more?
Follow me! Like my page on Facebook!
Subscribe! Click here to get free recipes by email!
Void in Quebec.
No purchase necessary to enter.
Giveaway will run from Wednesday, March 23, 2016 at 12:01am to end on Wednesday, March 30, 2016 at 11:59pm. Winner is chosen at random via Rafflecopter. Winner will be contacted via email and given 48 hours to respond. If not, a new winner will be chosen. Winner selected MUST correctly answer a skill-testing mathematical question. Winner's name will be displayed on Rafflecopter widget. Email address will never be given out to any third party or anyone for that matter.
Prize value is approximately $75CDN.