*This post is sponsored by The Egg Farmers of Canada who represent over 1000 Canadian farmers working hard to produce fresh, local eggs among the highest quality in the world. I have been compensated monetarily but as always, all opinions are mine.
The holidays are a time for decadent desserts, bold flavours, and tasty treats, and sometimes in our quest for culinary greatness during the holidays we're reminded that things don't always work out the way we've planned! The Egg Farmers of Canada have teamed up with a few Canadian food bloggers to share some egg-inspired holiday recipes along with hilarious stories of scrambled holiday plans. I'm excited to be sharing my #ScrambledPlan story with you today, along with this deliciously decadent Chocolate Spice Meringue Torte with Mulled Cranberry Compote. It's a recipe that's sure to impress any of your holiday dinner guests, along with a not-so-impressive story of the kitchen disasters (yes, more than one!) behind it. I know you're going to love this recipe and I hope you can have a little chuckle at my meringue mishaps too!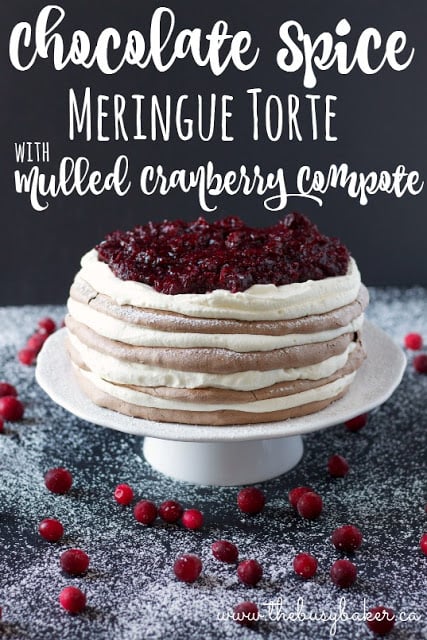 Looking for more holiday baking ideas? Try my Chocolate Caramel Shortbread Bars or these Ginger Molasses Cookies!
MY LATEST VIDEOS
You'll need:
6 egg whites (at room temperature)
1 1/3 cup white sugar
1/3 cup unsweetened cocoa powder
1 tbsp + 1 tsp cornstarch
1 tsp cinnamon
1/4 tsp cloves
a pinch or two of cayenne pepper
750ml heavy whipping cream
1/4 cup sugar
(OR 4-5 cups low fat whipped topping of your choice)
500g fresh or frozen cranberries
3/4 cup brown sugar
2 tsp cinnamon
1/2 tsp cloves
1/2 tsp nutmeg
1/2 tsp allspice
powdered sugar for dusting
shaved dark chocolate for garnish
To make:
Preheat your oven to 275 degrees Fahrenheit.
Prepare two baking sheets by lining them with parchment paper, tracing two 7.5 or 8-inch circles on the underside of each piece of parchment (you'll have 4 circles in total, two on each baking sheet). It's best to use a dark marker on the underside of the parchment so that when you flip it over, the circles are visible through the parchment but the marker won't transfer onto the meringue.
Add the egg whites to the bowl of your stand mixer fitted with the whisk attachment. Whip the egg whites on high speed just until foamy. Slow the mixer to low speed and begin adding the sugar in a constant slow stream until you've added all 1 1/3 cups of it. Increase the speed of the mixer to high again and let the egg whites and sugar whip until they reach stiff peaks (about 5 minutes). This means that when you stop the mixer and remove the whisk attachment from the mixture, the egg whites stick up and form a peak that doesn't fall to the side.
Once the egg white and sugar mixture appears to have reached the 'stiff peak' stage, remove a very small amount of the mixture from the bowl using a small, clean spoon and rub the mixture between your fingers. If it feels smooth and you can't feel any sugar granules then this means it's time to add the rest of the ingredients. Another way to test this is to taste a little bit of the mixture to make sure the sugar is completely dissolved.
Once the mixture has formed stiff peaks and the sugar is dissolved, sift the cocoa powder, cinnamon, cloves, cornstarch and cayenne pepper through a sieve into a small bowl to remove any lumps and to combine the dry ingredients. Turn the mixer to medium-high speed and add the dry ingredients to the egg white mixture very slowly.
Turn the mixer off and VERY carefully fold any stray dry ingredients into the meringue mixture.
Divide the meringue mixture between the 4 parchment circles on the baking sheets and smooth the mixture out to the edges of each circle using an offset spatula. Make sure the meringue mixture is spread out as evenly as possible, since you'll be stacking the meringues on top of each other to create a torte that's as level as possible. When you assemble the torte you'll be adding cream between the meringue layers so they don't have to be perfectly even, just try your best. Because of how the meringue bakes there will be some slight variations in each layer that will create a rustic look when the torte is finished.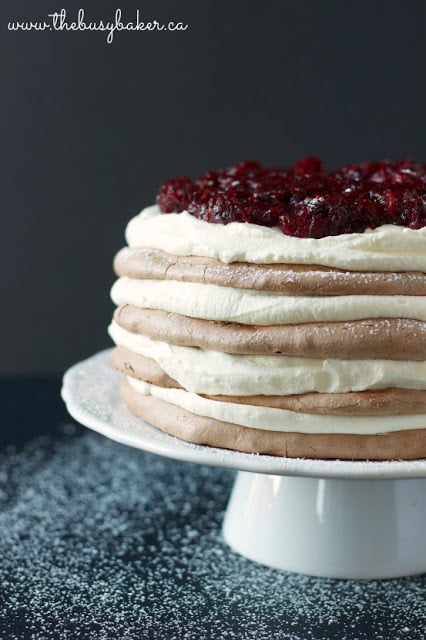 Add the baking sheets to your oven preheated to 275 degrees Fahrenheit. My oven won't accommodate 2 baking sheets on one rack, so I have to use 2 oven racks as close to the centre of my oven as possible, making sure that the meringues on the bottom rack have room to rise a little bit.
Bake the meringue layers for 50-55 minutes at 275 degrees Fahrenheit, and rotate the baking sheets after 30 minutes if you have the pans on two racks.
Now before we go any further, I need to tell you that I have made a few meringue mistakes in my day that have taught me a thing or two about baking these delicate desserts. Last year I had grand plans to make impressive individual meringue desserts for a holiday party with friends. I carefully prepared the egg white and sugar mixture and I had such high hopes for my little meringue birds nests, making sure they didn't burn. I removed them from the oven much to soon for fear of over-baking them and before they had even cooled they collapsed into a liquidy mess. I had under-baked them and there was no way to recover.
Thankful I still had time to try again (and that no one had been home to witness my disastrous kitchen fail), I prepared another batch even more carefully than I had the first time and put them in the oven, feeling confident that I definitely wouldn't under-bake them this time. I probably should have seen it coming, but in my quest to avoid under-baking I actually over-baked my beautifully piped meringue bird nests, burning the bottoms to a crisp. They were hard as rocks!!
Because I had now run out of time and because I had about 12 egg yolks left over after ruining two batches of meringue, I decided to call it a day and make a big batch of Crème Brûlée instead. In case you're wondering, it was very well received and no one ever knew of my scrambled plans that day. Well, that is, until now…
But today I'm proud to share #ScrambledPlan story with you since we all know that nobody is perfect, and because I've always learned my biggest kitchen lessons after my biggest kitchen mishaps! In fact, it was shortly after this meringue mess that The Busy Baker was born!
So, learn from my mistakes and watch the meringues carefully toward the end of the baking time, making sure they don't begin to brown. It's a really good idea to use an oven thermometer when you're baking delicate desserts like this because if your oven temperature is off it can prevent you from achieving the result you're hoping for.
Remove the meringues from the oven and let them cool completely on the baking sheets. If they crack a little bit around the edges it's to be expected, and leaving them to cool completely before moving them will stabilize the cracked areas if there are any.
While the meringues are cooling, prepare the cranberry compote by adding the cranberries, brown sugar, and spices to a pot over medium high heat. As the mixture comes to a boil, turn the heat to medium and stir often until the cranberries break apart and the mixture becomes thick. Remove it from the heat and transfer it into a bowl to cool completely.
If you're using real whipped cream (because, why not? It IS the holidays after all!), add the whipping cream and sugar to a bowl and whip on high speed just until firm peaks form.
When the meringue layers and the cranberry compote have cooled, assemble the torte by spreading the whipped cream (or whipped topping if you prefer) between the meringue layers, leaving some for the top. Carefully spoon the cranberry mixture over the whipped cream on top of the last meringue layer and dust the whole torte with a thin layer of powdered sugar.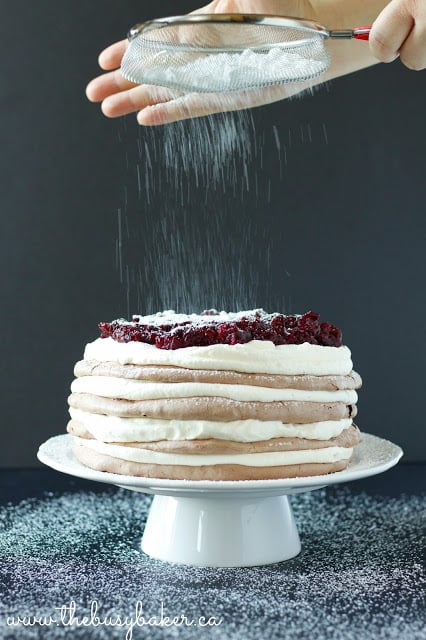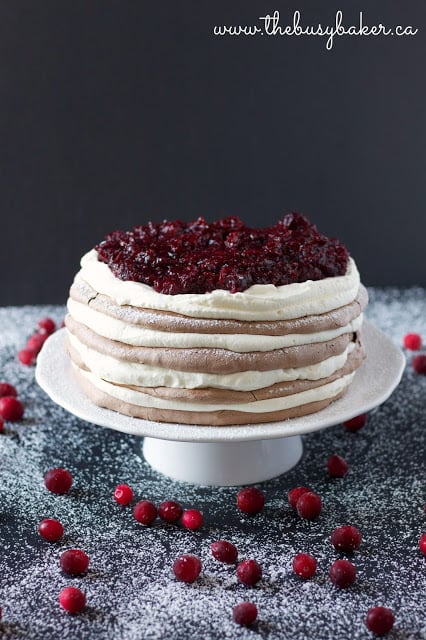 Isn't it just so rustic and beautiful?!?
This dessert is the perfect holiday-inspired dessert with winter
flavours. The addition of the cinnamon, cloves, and cayenne in the
chocolate meringue layers creates a subtle warmth that lingers after
every bite, and it's perfectly balanced with the cool cream and the
sweet, but slightly tart cranberry compote. The meringue layers are
crunchy on the outside and soft and marshmallowy on the inside. This
dessert is divine!!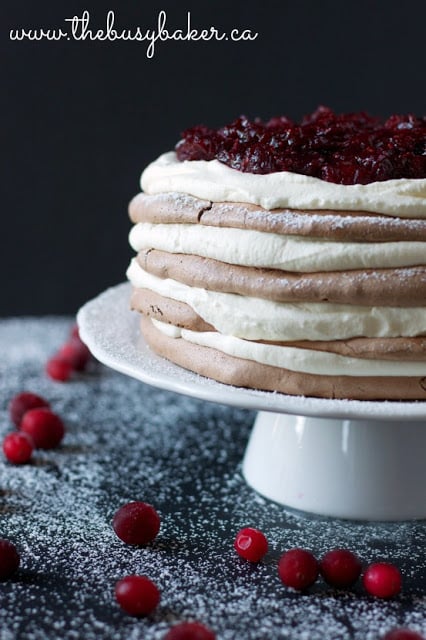 This torte best served immediately after assembly because the
meringue layers are delicate and absorb the moisture from the whipped
cream pretty quickly. The meringue layers and the cranberry compote can be made a day
ahead of time. Just store the meringue layers on their baking sheets
over night and cover them very loosely with a clean kitchen towel. The
cranberry compote can be stored in the fridge, but be sure to bring it
to room temperature before adding it to the top of the torte.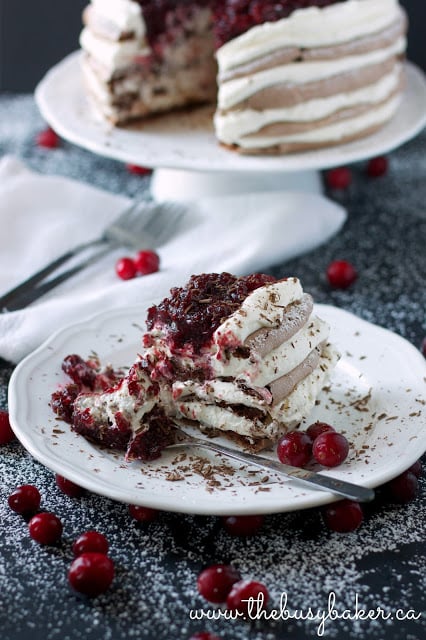 Oh, and topping each slice with some dark chocolate shavings is always a good idea too. Just sayin'!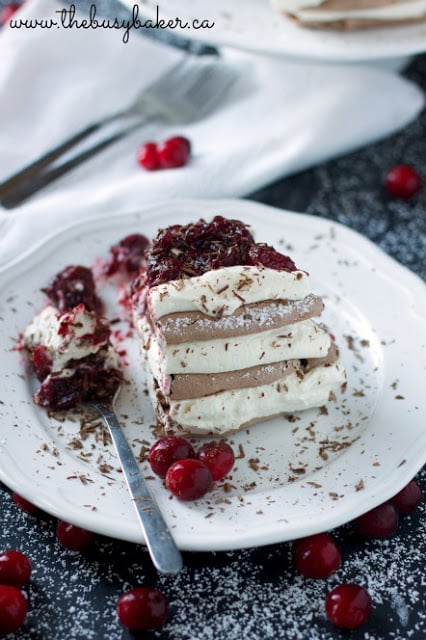 This torte serves 12, and at only 6 Weight Watchers PointsPlus per slice (if you use low fat whipped topping instead of whipping cream) it's a great choice for your next holiday party! And just to keep it real, if you use whipping cream instead of whipped topping it's 11 PointsPlus per slice.
I hope you enjoy this recipe and my #ScrambledPlan story, and I'd love to hear yours! Leave me a comment below sharing your latest kitchen mishap or share it on social media using the hashtag #ScrambledPlan to take part in the Egg Farmers of Canada #ScrambledPlan fun as we celebrate the good, the bad and the tasty of holiday entertaining!
Like the look of this dessert? Check out this delicious Chocolate Layer Cake or my Vanilla Bean Rosette Cake!