Custard fruit tarts like these Honey Glazed Fruit Tarts with Vanilla Bean Custard Filling are a delicious sweet treat for summer! The individual fruit tarts feature fresh seasonal fruit with a sweet honey glaze and an easy homemade vanilla bean custard. They're a gorgeous dessert and they make a beautiful addition to any brunch buffet!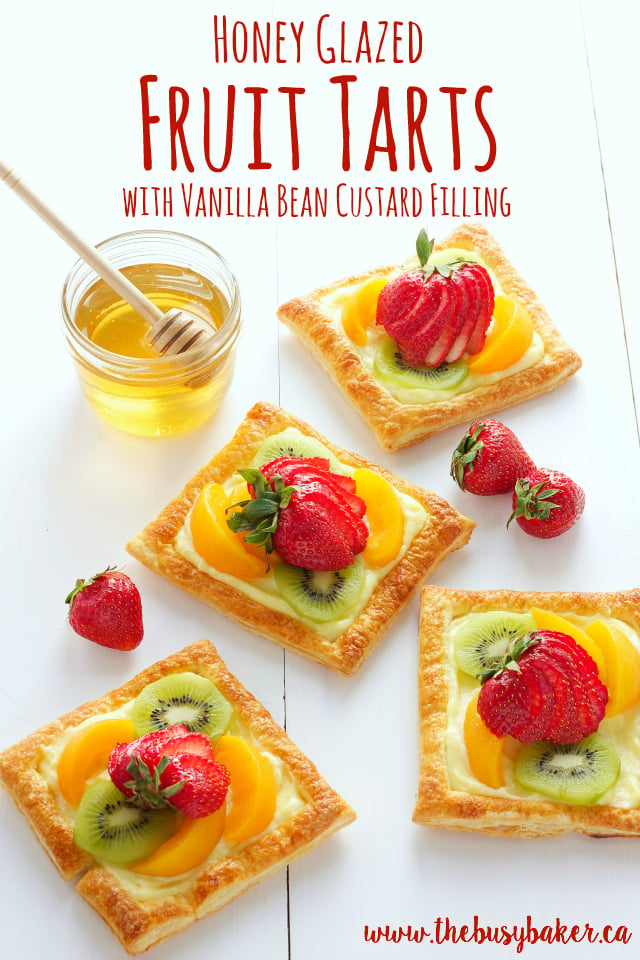 Looking for more summer recipes? You'll love this
Almost No-Bake Cheesecake
or these
Cherry Cheesecake Popsicles
!
NEVER MISS A POST! FOLLOW ME ON:
Do you ever have those days in the kitchen where you feel endlessly creative, like you could accomplish anything? For me, days like that don't come very often but when they do it is a beautiful, beautiful thing. Being a food blogger I have more than my fair share of recipe flops. But the other day I looked in my freezer, saw a package of frozen puff pastry and all of a sudden these Honey Glazed Fruit Tarts were born. It was a glorious day in my kitchen, and let me tell you – these tarts are to die for!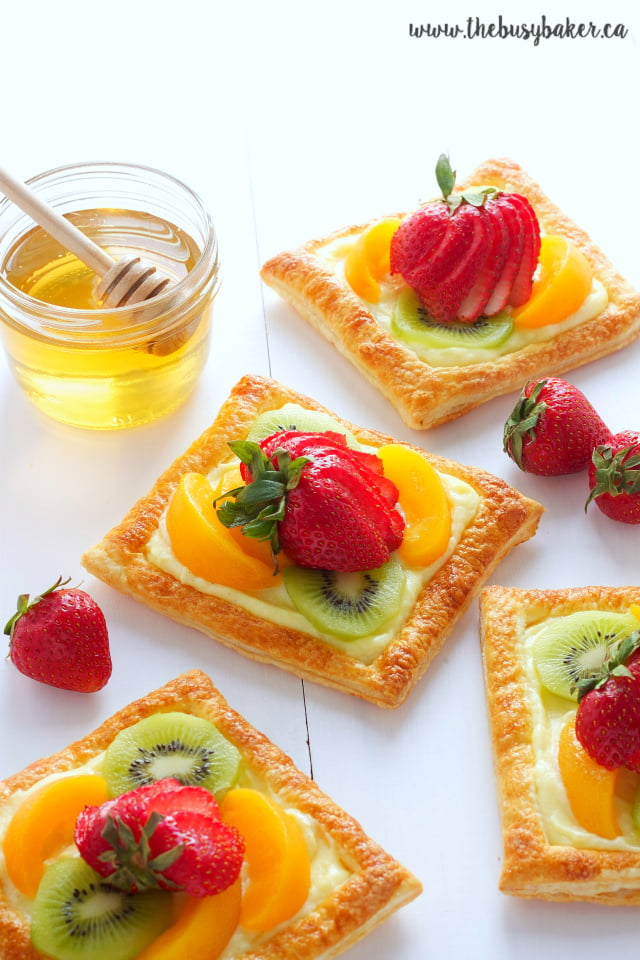 Laminated Dough Desserts
I've always admired beautiful, intricate laminated dough pastries like
croissants
and
puff pastry
, and the chefs who make them. I live just down the street from a french patisserie and aside from the temptation it is, it's always inspiring to study their pastries…how do they get all those gorgeous flaky layers?? I've attempted homemade pastries with laminated dough a few times and I'm happy to say it wasn't a total disaster, but it certainly didn't look quite as good as anything I've ever enjoyed in a bistro or bakery (and believe me, I've had my fair share of pastries!).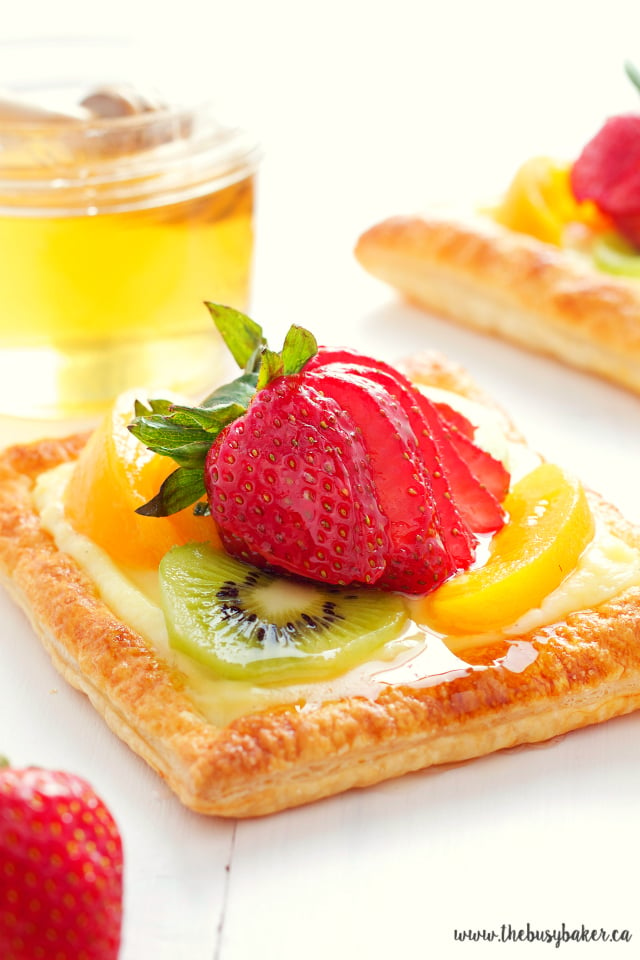 If you've been around here for any length of time you'll probably know that I try my best to cook and bake from scratch as much as possible, but today…we're using frozen puff pastry because, let's be honest, sometimes it's just easier. If you've ever made homemade puff pastry you'll know how hard and labour-intensive it is and with two little ones running around, I just don't have time for that at the moment. One day I will…but not today. But even though this custard fruit tarts recipe calls for frozen puff pastry, the vanilla bean custard filling is all homemade! And really, when it comes to custards there's no reason to cut corners. Custard is SO easy to make from scratch and custard from a box just doesn't even compare to the silky, smooth result of a homemade custard or fruit curd. And even if you've never made homemade custard before, just follow my tips and you'll be just fine! It's a lot easier than it sounds.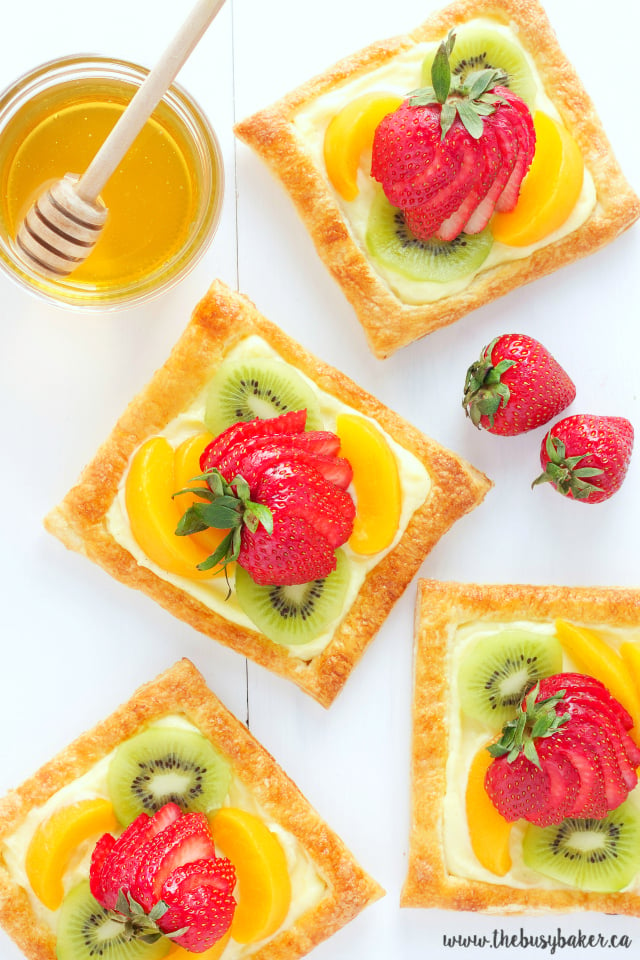 Vanilla Custard Fruit Tarts Recipe
These custard fruit tarts are just gorgeous and they're a great, easy way to wow your brunch guests or impress your friends at a casual summer dinner party. And feel free to customize the honey glazed fruit to your own tastes! I love peaches, strawberries and kiwi at this time of year but you could use nectarines, blueberries, blackberries, oranges, grapefruit, or any other fruit you'd like!
Strawberry Swirl Cupcakes with Fresh Strawberry Buttercream
or this
Berry Walnut Spinach Salad with Maple Vinaigrette
!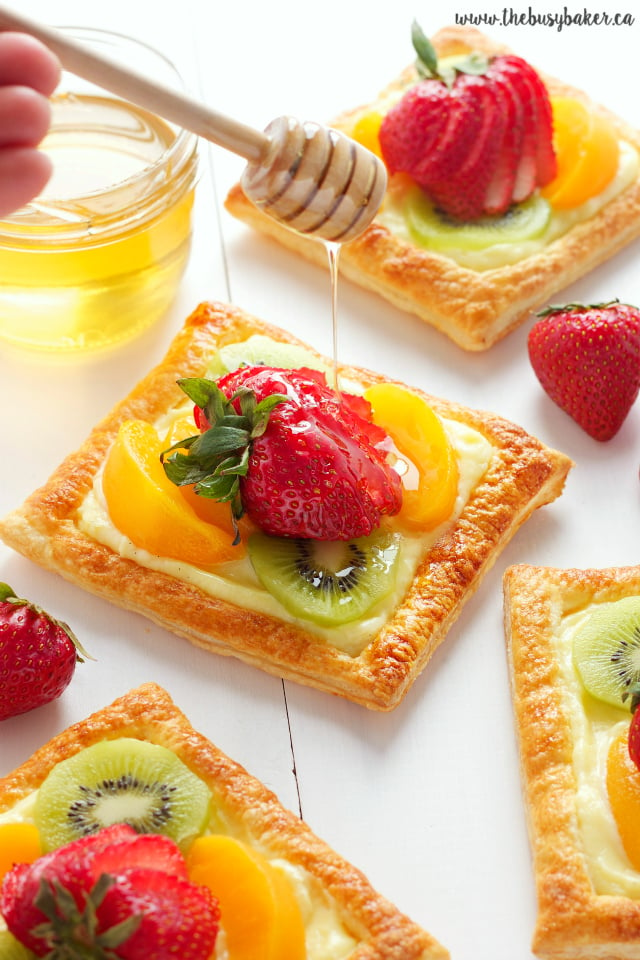 Equipment Needed to Make Individual Custard Fruit Tarts
To make the custard fruit tarts, you'll need:
Pastry cutter or pizza cutter
rimmed baking sheet
pastry brush
parchment paper or a puff pastry
If you made this, share a photo!
Are you trying this recipe? Use the comment form below to share your take; now with support for image uploads and comment voting!
Share a photo
Vanilla Bean Custard Fruit Tarts with Honey Glazed Fruit
Vanilla bean custard filled puff pastry tarts topped with honey glazed fresh fruit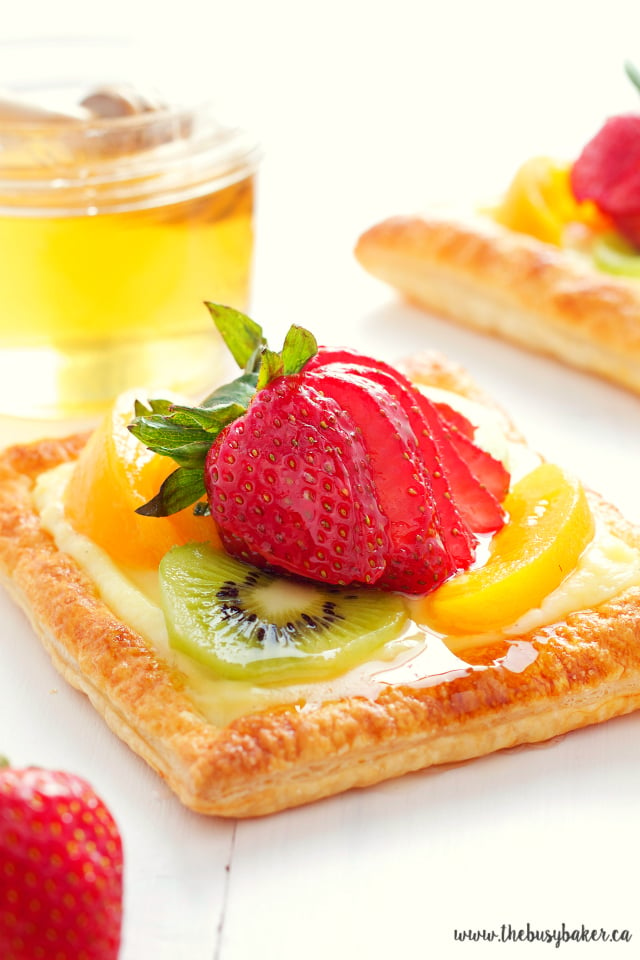 Recipe:

Ingredients
1

sheet

frozen puff pastry

thawed in the fridge overnight

1

egg

1

tbsp

water

2

tsp

white sugar
For the custard:
1

cup

whole milk

1

vanilla bean

2 tsp vanilla bean paste or vanilla extract works too!

3

egg yolks

3

tbsp

sugar

1 1/2

tbsp

cornstarch

2

tbsp

unsalted butter

a few slices of your favourite fruit

I used 4 strawberries, about half a peach (skinned and 2 kiwis)

2

tbsp

liquid honey

a few drops of water
Recipe:

Instructions
Preheat your oven to 400 degrees Fahrenheit and prepare a baking sheet with a piece of parchment paper.

Using a pizza cutter (or a pastry cutter if you're lucky enough to have one), cut the sheet of puff pastry into 4 squares equal in size and shape and arrange them on the prepared baking sheet with ample space between them.

Use the pizza cutter again to slice a smaller square inside the larger one, creating a 1.5cm border around the edge of each piece of the puff pastry dough. Be careful not to slice all the way through the dough - just about halfway through the thickness of the dough.

Use a fork to dock the inner square of puff pastry dough (poke holes in it). This will prevent the inner square from rising up as much as the outer border will when it's baking and it will create the perfect shape for the fillings.

Beat the egg and the 1 tbsp of water and brush the borders of the puff pastry dough very lightly with this mixture. You'll have tons of the egg wash left over...don't overdo it, or you'll end up with very egg-y edges.

Sprinkle the borders of the puff pastry dough with the white sugar and bake at 400 degrees Fahrenheit for about 15 minutes, or until the pastries are a light golden brown, especially around the edges.

When you take them out of the oven, immediately push down the middle square lightly with the back of a spoon or fork. It will probably have risen up a bit during baking and it's important that it's lower than that beautiful border you've created.

Let the pastries cool to room temperature while you prepare the custard.
For the Vanilla Bean Custard
Open the vanilla bean pod and scrape out the seeds. Add the seeds to a small saucepan with the milk and throw in the whole vanilla bean pod too. Heat the milk and vanilla until it reaches a simmer over medium heat and then remove it from the heat.

While the milk is heating, add the egg yolks, the sugar and the cornstarch to a bowl and whisk them together until smooth.

Once the milk has reached a simmer, remove the vanilla bean pod and pour the milk extremely slowly into the egg yolk mixture, making sure to whisk continually while adding the milk. This method is called tempering - adding the milk slowly while whisking brings the temperature of the egg mixture up slowly so they don't scramble. Continue adding the milk slowly until everything is combined.

Pour the mixture back into the pot and add it back onto the stove over medium heat, whisking continually until the mixture thickens (this will only take a minute or two).

Add the butter to a separate bowl and place a sieve over that bowl. Once the milk/egg mixture has thickened, pour it through the sieve over the butter and press it through with a spatula. You may notice a few small chunks of cooked egg in the sieve - this is totally okay! As my favourite

Canadian pastry chef Anna Olson

always says, "Pastry chefs ALWAYS strain their sauces!" and for good reason!

Grab your whisk and whisk the custard and the butter together just until combined. Cover the mixture with a piece of plastic wrap, making sure the plastic wrap is directly covering the surface of the custard. This may seem like a weird step, but it prevents that yucky custard skin from forming on the surface while it cools (and nobody wants that!).

Cool the custard in the fridge for a few hours until it's completely cool.
To Assemble Tarts
To assemble the tarts, just divide the custard evenly between the 4 puff pastry tart shells you've made and spread it smoothly into the base. Add your sliced fruit on top in whatever formation you wish.

Whisk the liquid honey with a few drops of water, just to thin it out a tiny bit. Brush it over the fruit with a pastry brush to create a sweet, shiny glaze!
Recipe:

Notes

The great thing about this recipe is that the custard has such a neutral flavour that really any fruit would work! Try blueberries, blackberries and strawberries, or your favourite citrus fruits. Anything goes!

Serve with a cup of tea for a delicious treat, or double the recipe to add to your next brunch buffet!
Recipe:

Nutrition

Nutrition Facts

Vanilla Bean Custard Fruit Tarts with Honey Glazed Fruit

Amount Per Serving (1 serving)

Calories 573

Calories from Fat 324

% Daily Value*

Fat 36g55%

Cholesterol 209mg70%

Sodium 203mg9%

Potassium 148mg4%

Carbohydrates 54g18%

Protein 10g20%

Vitamin A 528IU11%

Calcium 99mg10%

Iron 2mg11%

* Percent Daily Values are based on a 2000 calorie diet.

Notice: Nutrition is auto-calculated, using Spoonacular, for your convenience. Where relevant, we recommend using your own nutrition calculations.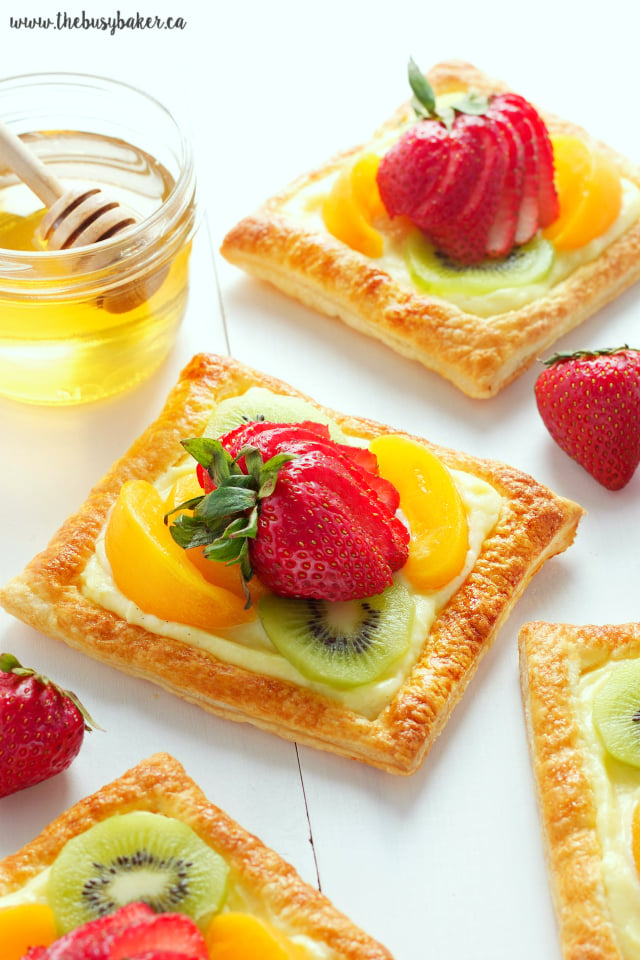 I really hope you enjoy this custard fruit tarts recipe!
Let me know in the comments below, what's your favourite seasonal fruit this time of year
?
NEVER MISS A POST! FOLLOW ME ON: