*This post is sponsored by Que Pasa Mexican Foods. As always, all opinions are my own! #EverydayFiesta #CincoDeMayo
These Mexican Taco Dip Wonton Cups are the perfect addition to your Cinco De Mayo fiesta! They're everybody's favourite taco dip in a bite-sized cup! And stay tuned to the end of the post where you'll have a chance to enter to win a Que Pasa Mexican Foods Prize Pack!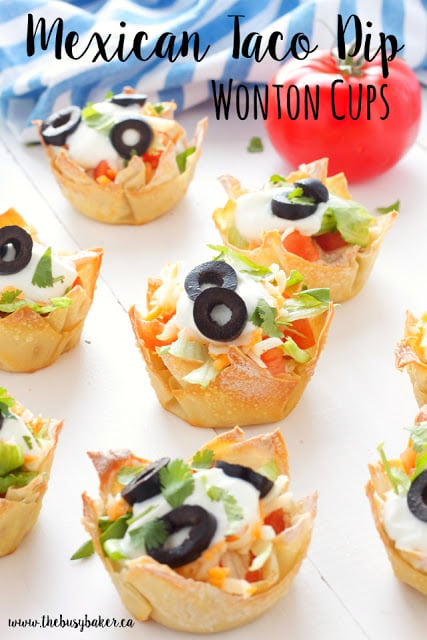 Hungry for more?
Pin this recipe on Pinterest!
Follow me! Like my page on Facebook!
Subscribe! Click here to get free recipes by email!

Mexican food is one of my go-to, favourite foods to make for my family. We love fish tacos, enchiladas, these amazing Oven Chicken Fajitas, and my personal favourite: this Tex-Mex Mac and Cheese. I love making our family meals fun for the kids whenever I can and Mexican food is so great for that – it's fresh and colourful, and the kids love helping me prepare all the toppings and ingredients!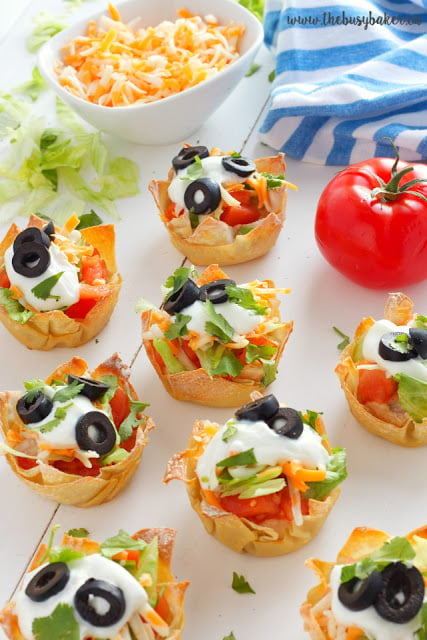 And of course, since it's Cinco De Mayo this week I had to share my latest Mexican favourite…these Mexican Taco Dip Wonton Cups! I don't know about you, but my favourite party dish is always the Mexican layered dip. There are a thousand different ways to make it and they're all equally delicious (in my humble opinion!), so when Que Pasa Mexican Foods contacted me to join in their #CincoDeMayo celebrations I knew it was the perfect time to share this recipe with you!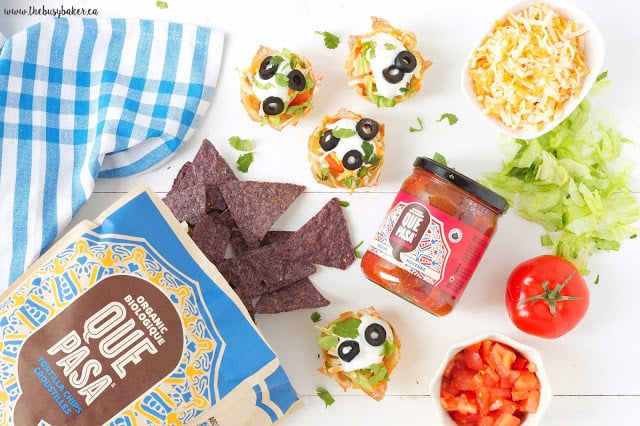 I have been a long time fan of Que Pasa Mexican foods since the first
time I tried their tortilla chips about thirteen years ago and their
salsa is out of this world! It's the perfect addition to the creamy
layer of these wonton cups but it's also great all on its own as a dip
for the Que Pasa organic non-gmo corn tortilla chips, or as a topping
on any of your favourite Mexican dishes. And lucky for you, you'll have a
chance to enter to win an awesome Que Pasa prize pack at the end of
this post!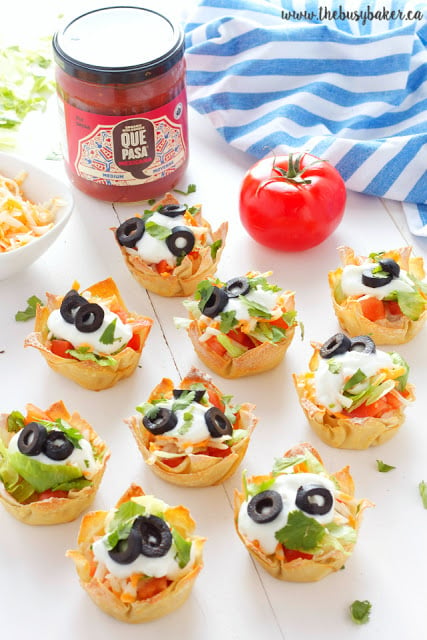 These Mexican Taco Dip Wonton Cups are so simple to make and they're always a huge hit at parties. And they're super easy to customize, so if you have a tried and true family recipe for taco dip feel free to turn it into this bite-sized version!!
Looking for more Mexican recipes for your Cinco De Mayo celebration? Try this Easy Mexican Tortilla Soup or these Mexican -Style Quinoa Stuffed Peppers!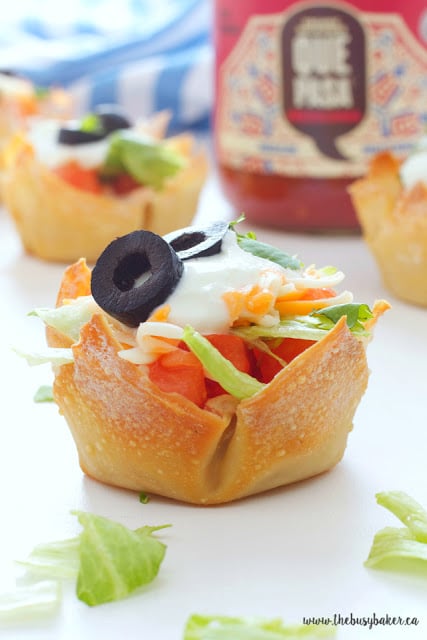 Mexican Taco Dip Wonton Cups (makes 12)
You'll need:
24 wonton wrappers
vegetable oil spray
8 oz cream cheese, softened
3/4 plain fat-free Greek yogurt
1/2 c. Que Pasa salsa, any flavour
1 tbsp low-sodium taco seasoning
1 cup chopped tomatoes
1 cup shredded lettuce
1 cup shredded cheddar cheese
1/2 cup plain fat-free Greek yogurt (sour cream works too!)
1/4 cup sliced black olives for garnish
1/4 cup chopped cilantro for garnish (optional)
To make:
Preheat your oven to 350 degrees Fahrenheit. Spray a 12-cup muffin tin with some vegetable oil spray and layer 2 wonton wrappers inside each muffin cup, offsetting them to create a flower shape. Push the wonton wrappers down well into each of the muffin cups and spray the inside with a little bit more vegetable oil spray.
Bake the wonton cups for about 10 minutes at 350 degrees Fahrenheit or until the edges are crispy. Let them cool completely in the muffin tin.
Add the cream cheese to a large bowl and stir with a rubber spatula until it's smooth and creamy. Add the salsa, Greek yogurt and taco seasoning and stir well to combine.
Remove the wonton cups from the muffin tins when they're completely cooled and spoon the cream cheese and salsa mixture into the bottoms of the cups, distributing it as evenly as possible.
Top the cream cheese and salsa mixture with the chopped tomatoes, shredded lettuce, and shredded cheese in layers. Add small dollop of Greek yogurt to each wonton cup and top with a few slices of black olives and some chopped cilantro!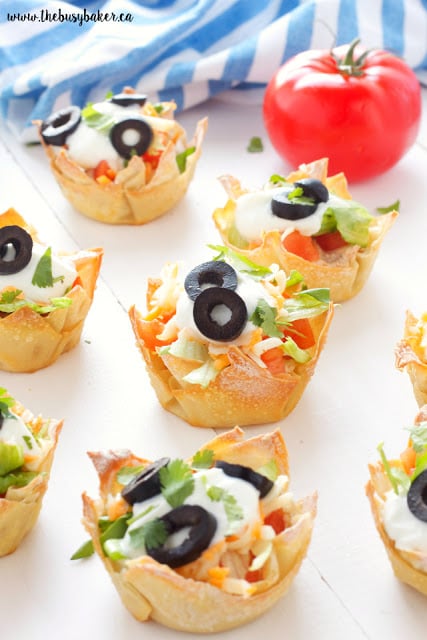 How fun are these, right?? They're perfect for Cinco De Mayo or any fiesta, anytime! Pair them with this Agua Fresca-inspired Watermelon Green Tea Refresher for the perfect party! And don't forget to enter the awesome Que Pasa giveaway below!!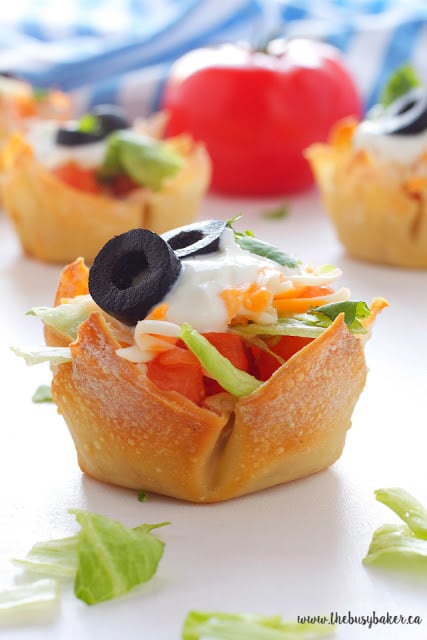 I hope you enjoy this recipe! Let me know in the comments below, what's your favourite recipe to celebrate Cinco De Mayo?
Like this recipe? You'll love my Easy Guacamole recipe or these super easy Creamy Bruschetta Bites!
Hungry for more?
Pin this recipe on Pinterest!
Follow me! Like my page on Facebook!
Subscribe! Click here to get free recipes by email!
Enter the Que Pasa Mexican Foods #CincoDeMayo #EverydayFiesta Giveaway!
The winner will receive:
– Assortment of
Que Pasa organic, non-GMO chips crafted
from whole kernel corn ground with real volcanic lava stone – the
traditional way they've been made in Mexico for generations. They're
also
gluten free, vegan, low sodium, and delicious!

– Assortment of
Que Pasa organic salsa, including medium Mexicana, Mild, and smoky Chipotle flavours
– Free product vouchers so that you can keep the fiesta going on summer long!
There are several ways to enter the GIVEAWAY when you use
the form below, so
use any or all of them to enter as many times as you can! Remember, this
giveaway is open to residents of the US and Canada, 18 years of age and older. The winner will
be chosen at random and will have to answer a skill testing question.
The winner will be notified within 24 hours of the end of the giveaway
and will be required to respond within 48 hours or a new winner will be
chosen. There's no purchase necessary to win, and the giveaway is open
from May 2nd at 12am CST until May 13th at 12am CST.