These Peanut Butter Chocolate Swirl Brownies are a super easy recipe that's ultra decadent and sweet! If you love peanut butter and chocolate as much as I do, you're going to LOVE these Peanut Butter Chocolate Swirl Brownies!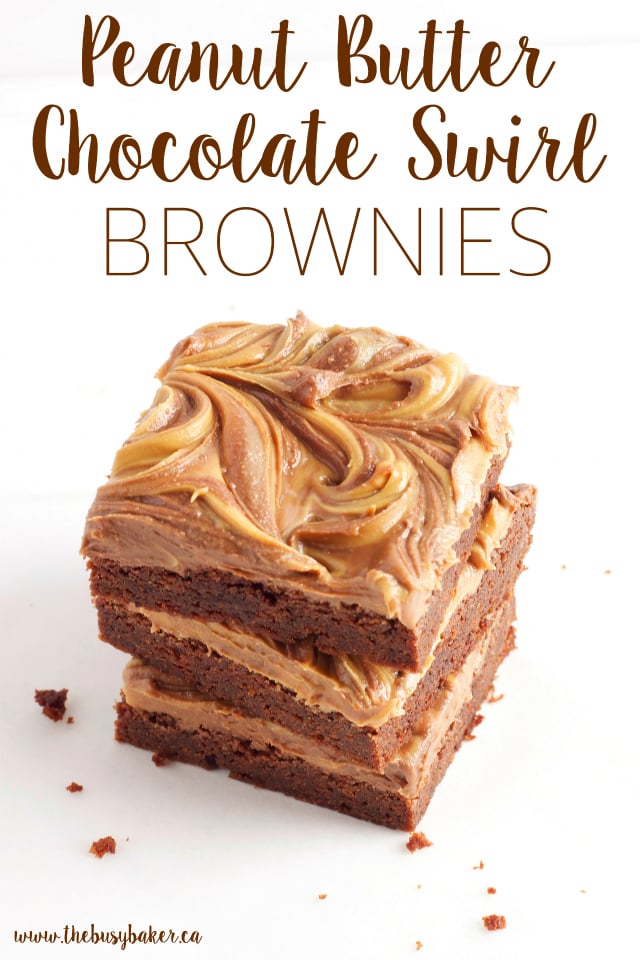 NEVER MISS A POST! FOLLOW ME ON:

I can't believe I actually remember this, but the first chocolate bar I ever tried was a Reese's Peanut Butter Cup. And naturally, it was all downhill from there because is there anything better than the wonderful, glorious combination of chocolate and peanut butter? No. No there isn't. I've shared with you all before that I'm definitely a person who enjoys salty over sweet, but do you know what I enjoy even more than that? Salty AND sweet! And who could blame me???
Now I should start out by saying that this post is NOT sponsored. I know I've shared some sponsored recipes with you before, and I've even had the pleasure of working with Reese in the past (on these delicious Chocolate Peanut Butter Sandwich Cookies…SO good!!), but I'm sharing these delicious Peanut Butter Chocolate Swirl Brownies with you today because Reese spread is a product I believe in and a product that I love to use when creating decadent desserts like this one. To be clear, I don't believe in it because it has any significant nutritional value (because it doesn't. At all.). But because it is just THAT tasty. If you like Reese Peanut Butter Cups even a little bit or enjoy the occasional peanut butter chocolate combination, you're going to go crazy for this stuff. And lucky for you, it's readily available in most North American supermarkets. Just don't try eating it with a spoon because trust me, you won't be able to stop.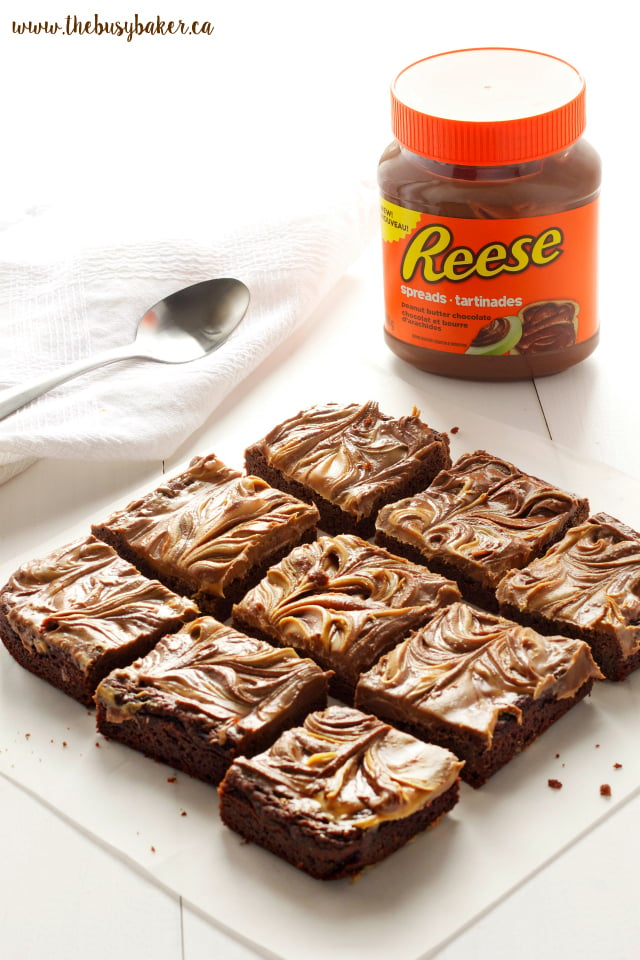 It's the perfect addition to these brownies, both in the batter and as a topping, and it provides the perfect salty-sweet taste to these rich, decadent brownies. Of course this isn't a treat I'd enjoy every day, as much as I would like that, but for a once-in-awhile indulgence these brownies are a clear winner. And now that I'm living in Europe (we moved from Canada a few months ago, in case you're new around here!), I'm a little bit sad that this Reese Spread isn't available over here. But until I can get my hands on it again, I'm happy to console myself with plain old Reese Peanut Butter Cups which ARE readily available here. It's like they knew I was coming or something.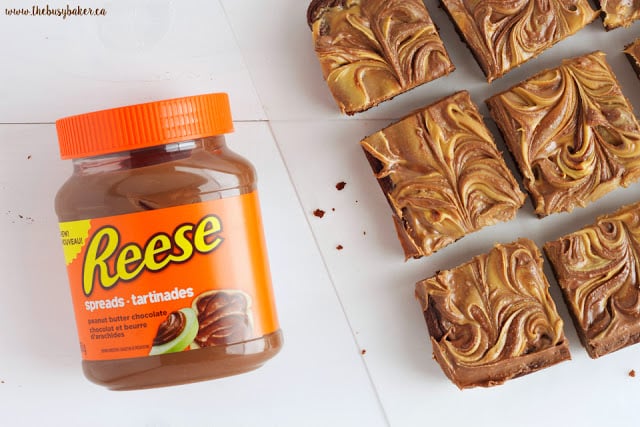 And if the delicious peanut butter chocolate combination wasn't enough for you, these brownies are crazy easy to make. One bowl and only 9 basic ingredients and you're good to go. I made this batch with my kids and we had a blast! It's actually a miracle that the swirls on top turned out so well given how much they "helped" me (they're age 2 and 4), so that's further proof of just how easy this recipe is. I hope you give it a try and let me know how it goes for you!!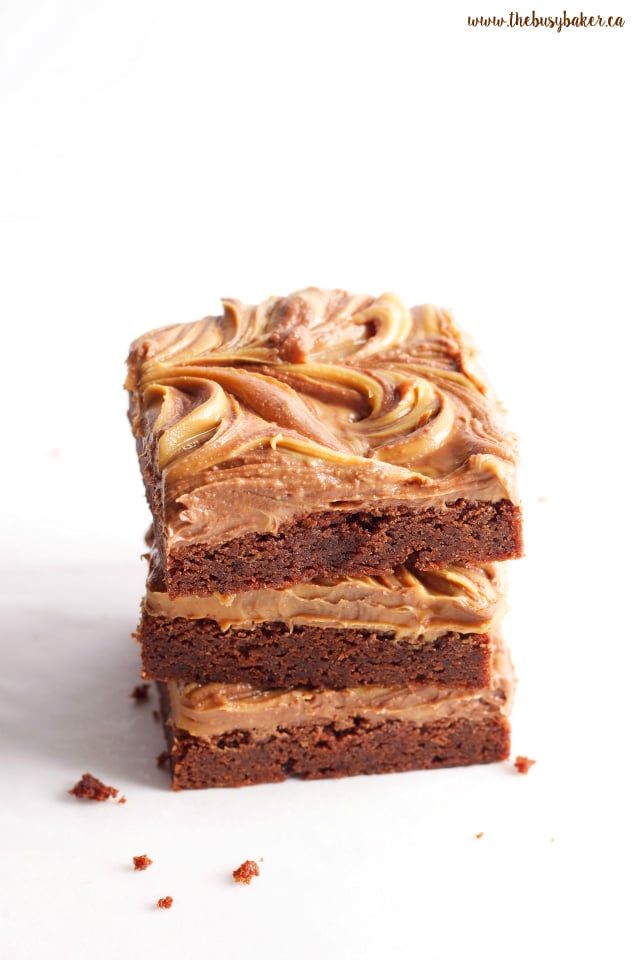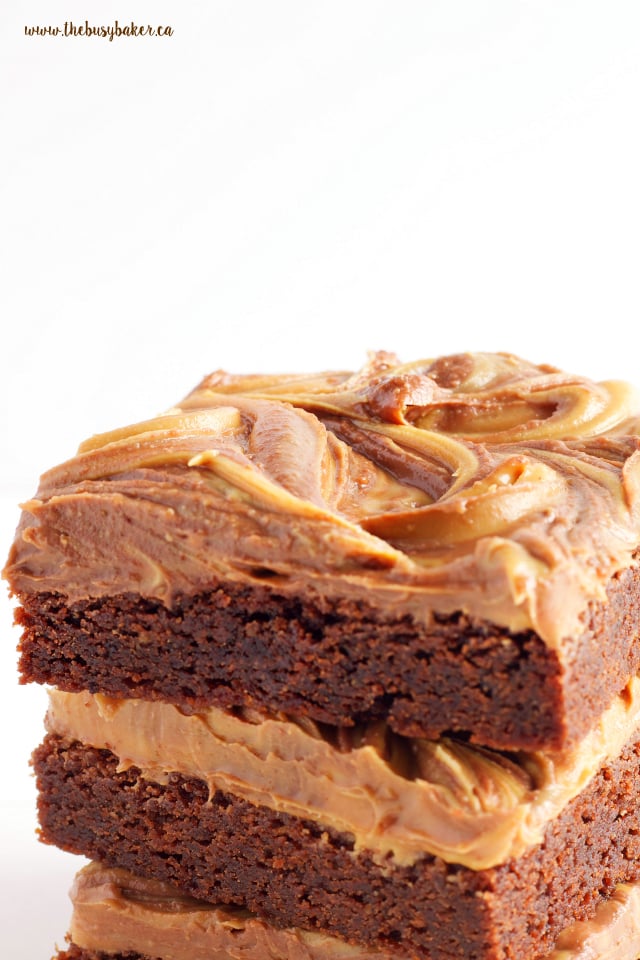 Would you look at that SWIRL??!?! That's some peanut butter chocolate perfection if I do say so myself!!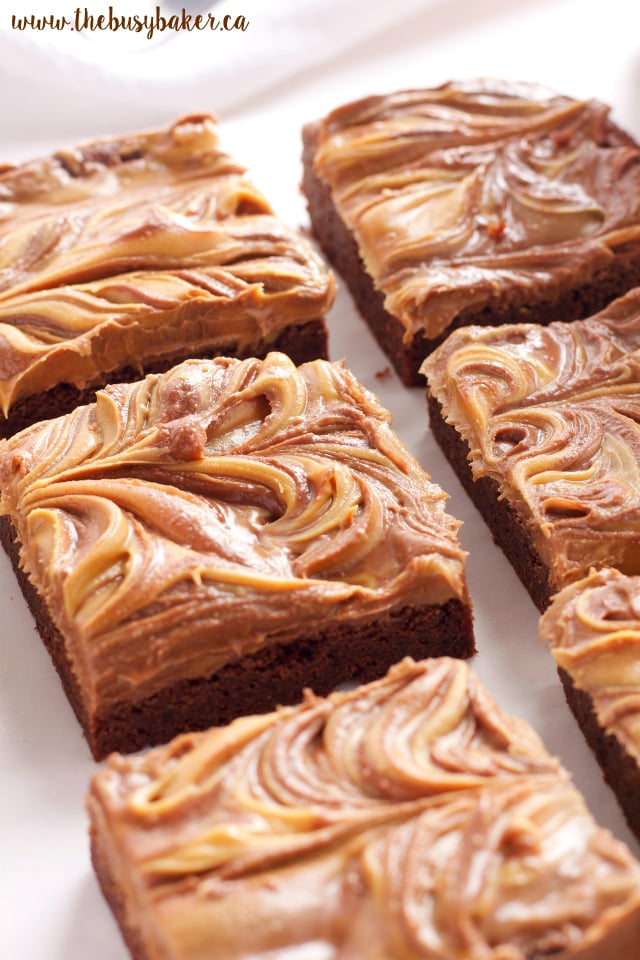 I hope you enjoy this recipe! Let me know in the comments below, what's your favourite way to enjoy peanut butter and chocolate together? I'm dying to know!!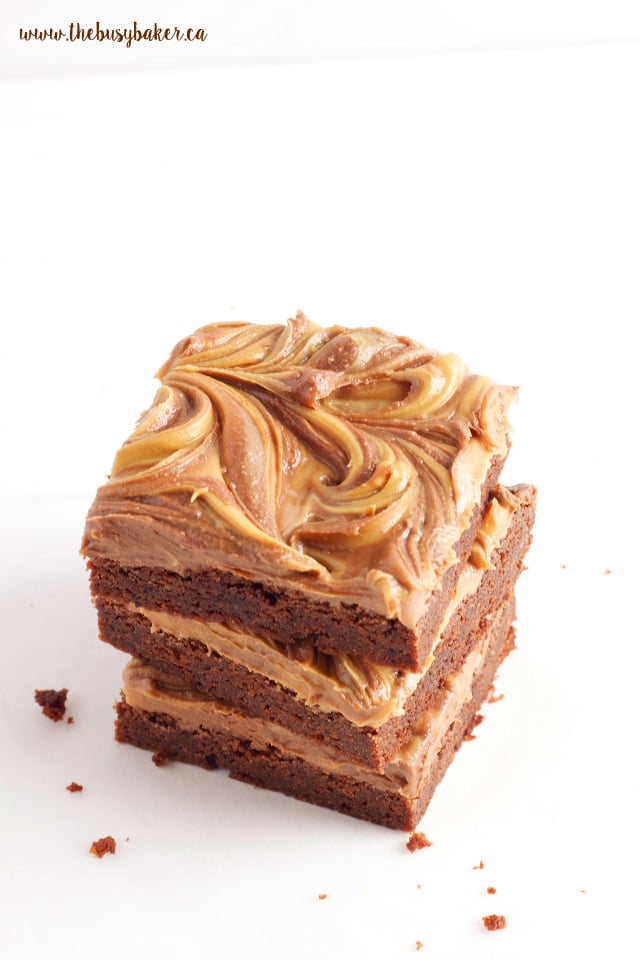 Looking for more great recipes just like this one? Check out some of my favourites below!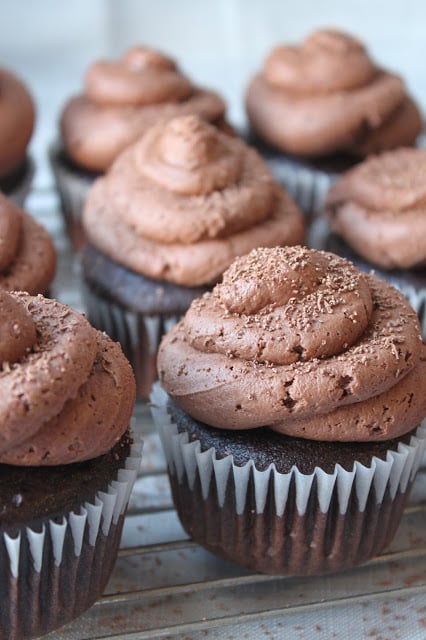 These Chocolate Cupcakes with Dark Chocolate Buttercream are absolutely divine!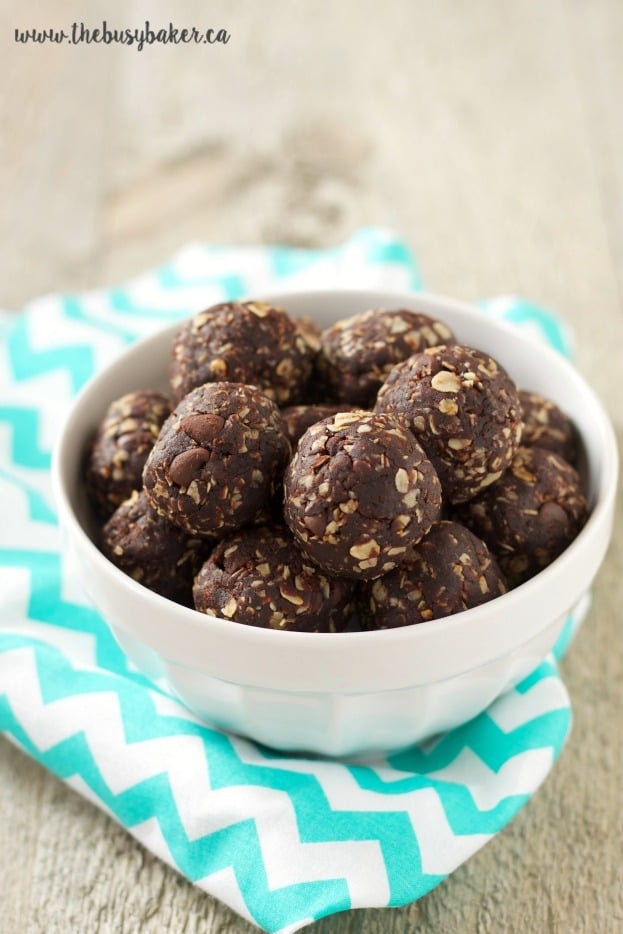 I absolutely love these Dark Chocolate Peanut Butter Energy Bites for a healthy snack on the go!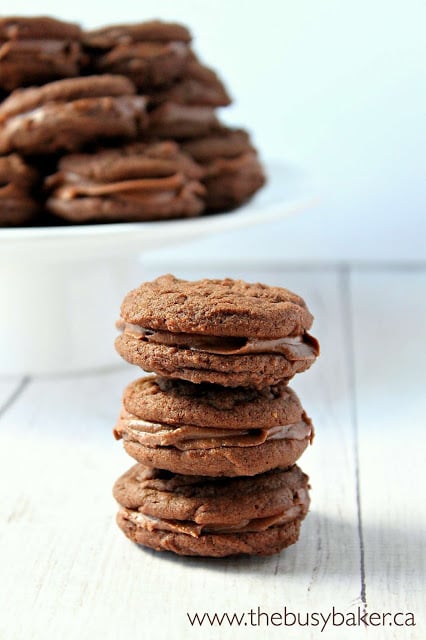 These Chocolate Peanut Butter Sandwich Cookies are the perfect sweet treat!
NEVER MISS A POST! FOLLOW ME ON: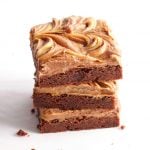 Peanut Butter Chocolate Swirl Brownies
The perfect brownies for Peanut Butter and Chocolate lovers!

Ingredients
1/3

cup

melted butter

1/3

cup

Reese peanut butter chocolate spread

2/3

cup

brown sugar

2

tablespoons

unsweetened cocoa powder

1

egg

1

teaspoon

vanilla extract

3/4

cup

all purpose flour

1

teaspoon

baking powder

6

tablespoons

Reese peanut butter chocolate spread

6

tablespoons

all natural peanut butter

butter for greasing the baking pan
Instructions
Preheat your oven to 350 degrees Fahrenheit and prepare a square baking pan (I use an 8-inch square paby greasing it with some butter.

In a medium bowl, combine the melted butter, Reese spread, brown sugar, unsweetened cocoa powder, egg and vanilla with a wire whisk until well combined.

Add the flour and baking powder and fold it into the wet ingredients with a rubber spatula just until no streaks of flour remain.

Scrape the batter into the prepared baking pan and smooth out the top as well as possible.

Bake the brownies for about 20-25 minutes at 350 degrees Fahrenheit until they appear set in the middle.

Let the brownies cool in the pan for about 10 minutes.

After they've cooled for about 10 minutes, dollop the Reese spread and the all natural peanut butter on top of the brownies and use a knife or wooden skewer to carefully marble the two toppings together to create a swirl pattern. Since the brownies will still be warm the peanut butter and Reese spread will begin to melt slightly, which will make the swirling easier.

Let the brownies sit at room temperature to cool completely before cutting to serve. Alternatively, place the brownies in the fridge for an hour to set, and then remove to room temperature for about 15 minutes before serving.

The result will be an ultra-chewy brownie with a hint of peanut butter flavour and a super sweet-and-salty topping that will satisfy any peanut butter chocolate craving!
Save
Save