Pomegranate Granola Parfaits are a healthy fruit and Greek yogurt parfait, made with homemade granola and fresh pomegranate arils. This layered granola parfaits recipe makes an easy, healthy and quick breakfast for busy mornings.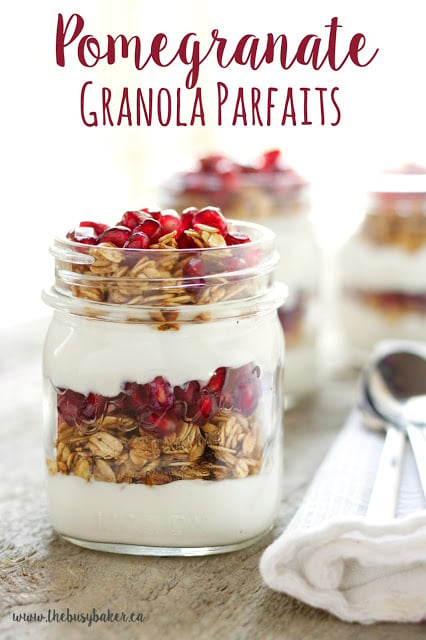 NEVER MISS A POST! FOLLOW ME ON:
Quick Healthy Breakfast Solutions
easy to throw together
naturally sweet and delicious, and
they're the perfect breakfast for busy people!
Of course I love a good lazy breakfast too, like this Apple Cinnamon French Toast Casserole, but these days we just have too much winter fun going on and these parfaits are a quick healthy breakfast that we can eat on the go! I know you're going to love them too!
Like this easy granola recipe? Try my Blueberry Pumpkin Seed Granola or my Chocolate Coconut Granola!
Granola Parfaits Ingredients
To make these parfaits, you'll need:
For the homemade granola:
2 tsp canola oil (or other oil of your choice)
2 cups large flake oats
1 tsp cinnamon
6 tsp honey
1/2 tsp vanilla extract
You'll also need:
1 large or 2 small pomegranates
3 cups plain fat-free Greek yogurt
Feel free to use whatever flavor yogurt you prefer (vanilla, fruit flavoured, etc.) but because pomegranate seeds are so sweet and juicy, plain Greek yogurt works just fine!
These granola parfaits will store well in the fridge for a few days. The granola doesn't quite retain all its crunchiness, but it's certainly still a tasty breakfast for busy mornings!
Are the Granola Parfaits Healthy?
One of these granola parfaits is only 8 Weight Watchers SmartPoints, making it a great healthy breakfast recipe to reach for this month! The parfait will keep you full until lunch time and give you lots of energy to get through your busy days. Or to play outside in the snow with the kids!
NEVER MISS A POST! FOLLOW ME ON:
Looking for more healthy breakfast ideas? Try this Winter Berry Smoothie or my Fat-Free Sugar-Free Healthy Buttermilk Pancakes!
I hope you enjoy this recipe! Let me know in the comments below, what's your favourite healthy breakfast right now?