These Pumpkin Swirl Skillet Brownies are the perfect easy fall dessert! Try this super simple pumpkin brownie recipe that pairs chocolate and pumpkin – the most delicious fall-inspired combination! You're going to love this easy fall recipe that's as sweet and decadent as a fall dessert should be!
NEVER MISS A POST! FOLLOW ME ON:
>
Hey guys! I'm back from the Black Sea!! I mentioned in my last post that we're living in Bucharest, Romania right now and because the Black Sea is where Romanians go for their holidays (and because it has been over 30 degrees Celsius here every day so far this fall!), we decided to check it out this weekend! Spoiler alert: it is amazing!! If you ever find yourself in this corner of the world, I'd definitely recommend Constanța and the surrounding area for a beach vacation with some serious European flair.
I've been on a few European beach vacations in the past including several places in Greece, Italy, Spain and Croatia, and I'm happy to report that the Romanian Black Sea coast did not disappoint! And since we arrived back in Bucharest after our little getaway the weather has turned cold and rainy which is a welcome change from the heat! And it's making all my favourite pumpkin recipes even more appealing.
The recipe for these Pumpkin Swirl Skillet Brownies is one I adapted from Laura Fuentes, but the recipe originally came from Martha Stewart Magazine. I made a few changes to the ingredient amounts and swapped out the typical baking dish for a cast iron skillet for a crispier brownie crust and a chewier, moist interior topped with delicious pumpkin brownie batter. Trust me, this is not a fall recipe you're going to want to pass up!!
And when it comes to fall food (ok, well, all food I guess) I always lean toward rustic dishes over perfectly polished ones. I've had my fair share of fine dining experiences but my favourite food moments are always enjoying delicious home-cooked meals and desserts, or as close to home-cooked as possible. Baking these delicious pumpkin brownies in a cast iron skillet adds so much texture and flavour and there's just something special about rustic dessert recipes like this one. Especially when you can top them with ice cream!!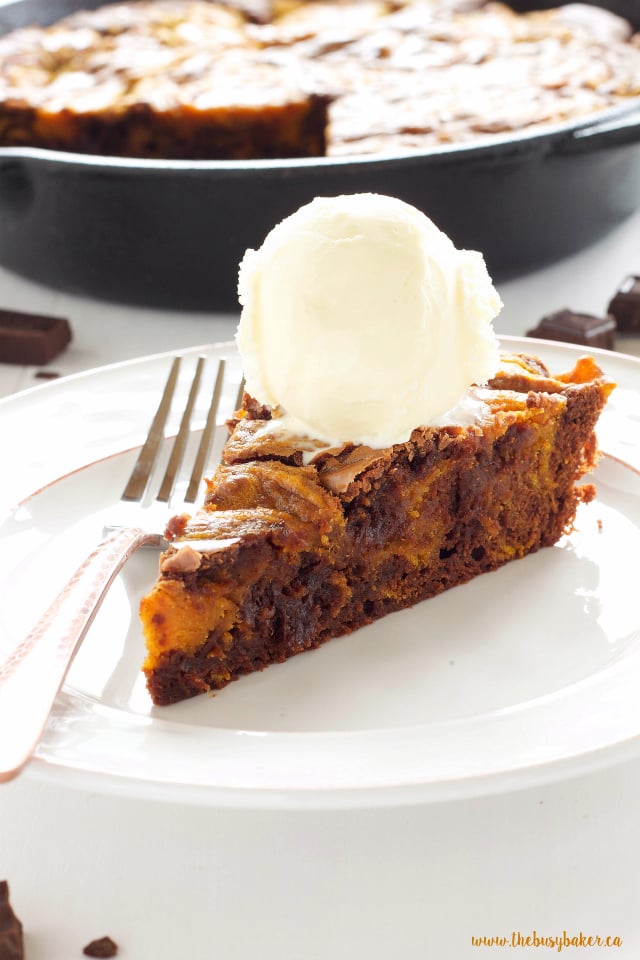 Don't forget the ice cream!!
I hope you enjoy this Pumpkin Swirl Skillet Brownies recipe! Let me know in the comments below, what's your favourite pumpkin dessert for fall?
If you love pumpkin everything as much as I do, you'll love my other favourite Pumpkin recipes!!
This Healthy Pumpkin Spice Frappuccino is my go-to pumpkin beverage for fall!
Try these No-Bake Pumpkin Spice Mason Jar Cheesecakes!! They're the perfect easy dessert for fall!
These Pumpkin Spice Cupcakes with Fluffy Cream Cheese Frosting are one of my most popular recipes!
NEVER MISS A POST! FOLLOW ME ON:
Save