These Pumpkin Swirl Skillet Brownies are the perfect easy fall dessert! Try this super simple pumpkin brownie recipe that pairs chocolate and pumpkin – the most delicious fall-inspired combination! You're going to love this easy fall recipe that's as sweet and decadent as a fall dessert should be!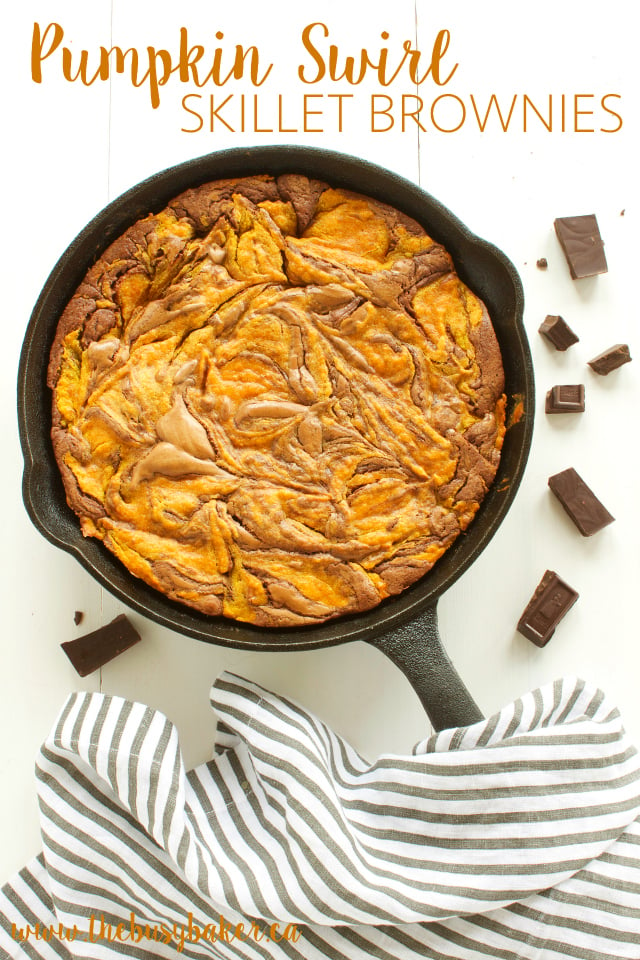 NEVER MISS A POST! FOLLOW ME ON:
>

Hey guys! I'm back from the Black Sea!! I mentioned in my last post that we're living in Bucharest, Romania right now and because the Black Sea is where Romanians go for their holidays (and because it has been over 30 degrees Celsius here every day so far this fall!), we decided to check it out this weekend! Spoiler alert: it is amazing!! If you ever find yourself in this corner of the world, I'd definitely recommend Constanța and the surrounding area for a beach vacation with some serious European flair.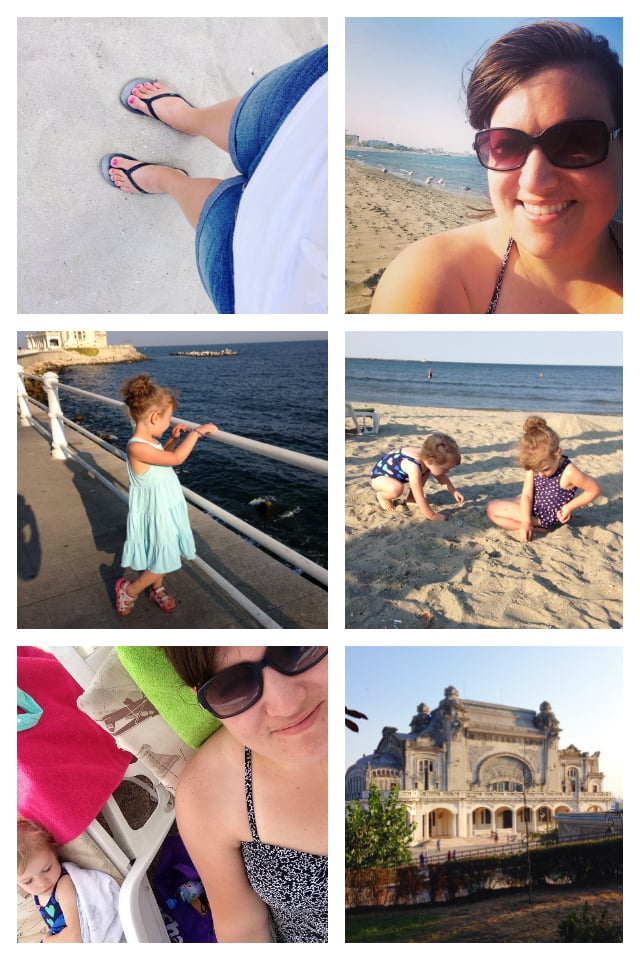 I've been on a few European beach vacations in the past including several places in Greece, Italy, Spain and Croatia, and I'm happy to report that the Romanian Black Sea coast did not disappoint! And since we arrived back in Bucharest after our little getaway the weather has turned cold and rainy which is a welcome change from the heat! And it's making all my favourite pumpkin recipes even more appealing.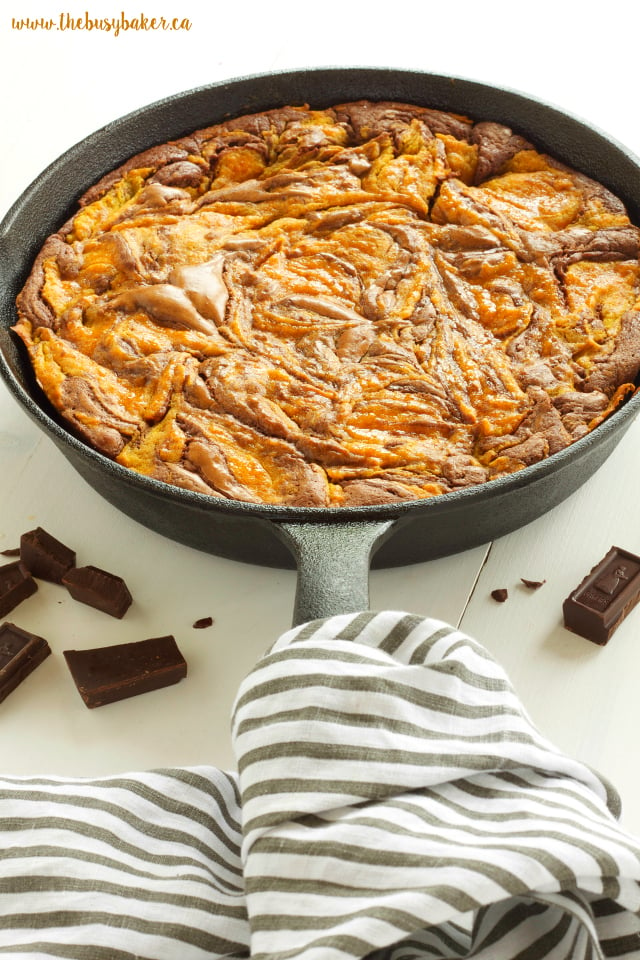 The recipe for these Pumpkin Swirl Skillet Brownies is one I adapted from Laura Fuentes, but the recipe originally came from Martha Stewart Magazine. I made a few changes to the ingredient amounts and swapped out the typical baking dish for a cast iron skillet for a crispier brownie crust and a chewier, moist interior topped with delicious pumpkin brownie batter. Trust me, this is not a fall recipe you're going to want to pass up!!
And when it comes to fall food (ok, well, all food I guess) I always lean toward rustic dishes over perfectly polished ones. I've had my fair share of fine dining experiences but my favourite food moments are always enjoying delicious home-cooked meals and desserts, or as close to home-cooked as possible. Baking these delicious pumpkin brownies in a cast iron skillet adds so much texture and flavour and there's just something special about rustic dessert recipes like this one. Especially when you can top them with ice cream!!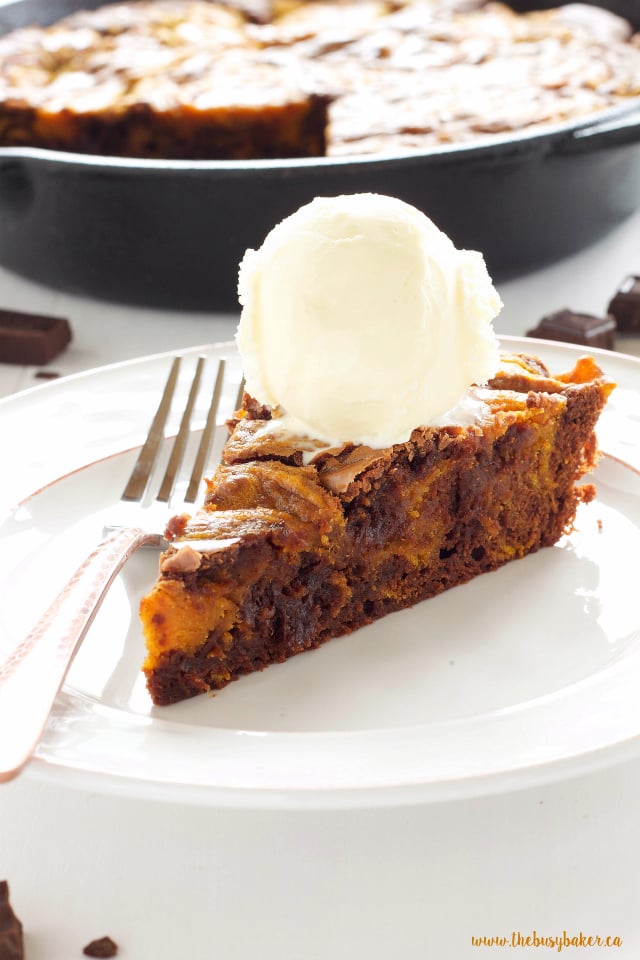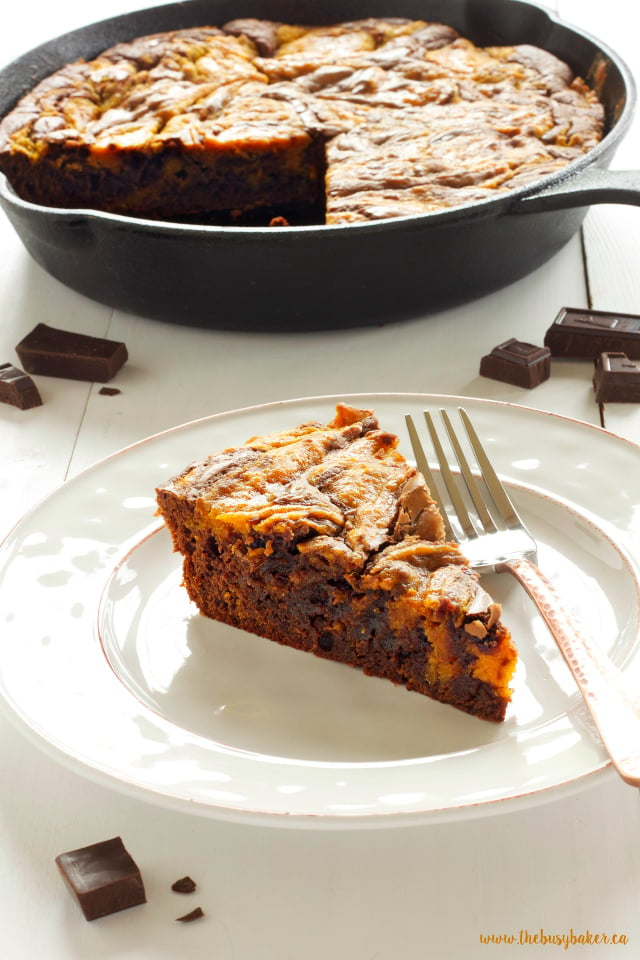 Don't forget the ice cream!!
I hope you enjoy this Pumpkin Swirl Skillet Brownies recipe! Let me know in the comments below, what's your favourite pumpkin dessert for fall?
If you love pumpkin everything as much as I do, you'll love my other favourite Pumpkin recipes!!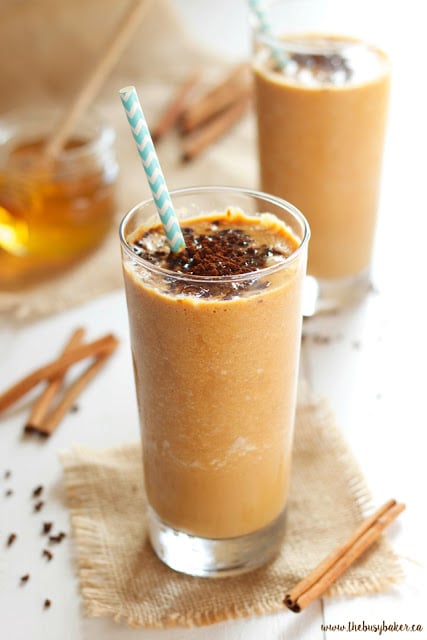 This Healthy Pumpkin Spice Frappuccino is my go-to pumpkin beverage for fall!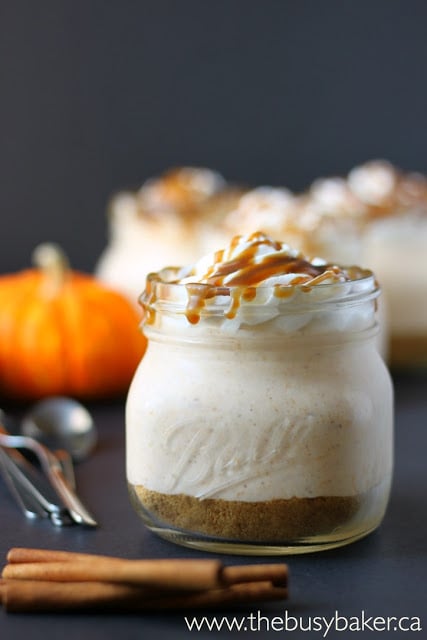 Try these No-Bake Pumpkin Spice Mason Jar Cheesecakes!! They're the perfect easy dessert for fall!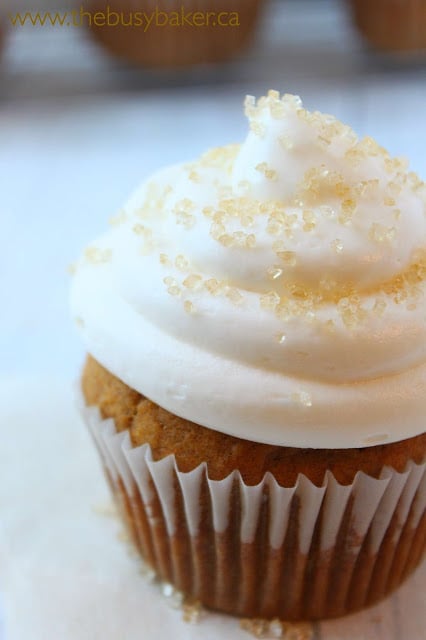 These Pumpkin Spice Cupcakes with Fluffy Cream Cheese Frosting are one of my most popular recipes!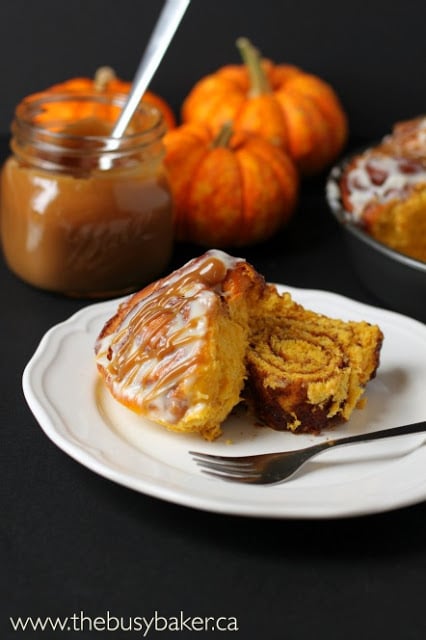 NEVER MISS A POST! FOLLOW ME ON:
Pumpkin Swirl Skillet Brownies
These Pumpkin Swirl Skillet Brownies are the perfect delicious fall dessert!

Print
Pin
Rate
Ingredients
7

ounces

bittersweet or dark chocolate

1/2

cup

butter

1 1/2

cups

granulated sugar

4

eggs

1

tablespoon

vanilla extract

2

cups

flour

1/2

teaspoon

salt

1

teaspoon

baking powder

2

tablespoons

canola oil

1

teaspoon

cinnamon

1/2

teaspoon

nutmeg

3/4

cup

pureed pumpkin

a cast iron skillet

a square 8 or 9 inch baking dish also works
Instructions
Preheat your oven to 350 degrees Fahrenheit.

Melt the bittersweet chocolate and the butter in a bowl in the microwave on 50 percent power (three 30-second increments should do it!) or in a heat-proof bowl over a pot of gently simmering water. Stir the melted chocolate and butter together until combined and set the mixture aside to cool slightly.

Beat together the sugar, eggs and vanilla extract in a large bowl using your stand mixer or hand mixer until the mixture is smooth.

Add the flour, salt and baking powder to the bowl with the egg mixture and stir just until combined.

Measure out 3/4 cup of the batter you've just created into a separate bowl and set it aside.

Add the chocolate mixture to the remaining batter and stir just until combined.

To the 3/4 cup of batter you set aside, add the oil, cinnamon, nutmeg, and pureed pumpkin and stir to combine.

Heat the cast iron skillet over medium-high heat on the stove top and melt a small knob of butter in the pan. Once the skillet is hot and the butter has melted, remove the skillet from the heat and use a pastry brush to grease the skillet bottom and sides. Dollop the chocolate brownie batter into the skillet and smooth it out as best you can with a rubber spatula. Spoon the pumpkin batter over the brownie batter and use a butter knife or a wooden skewer to swirl the two batters together to create a marble pattern on the top.

Bake the brownies for about 30-35 minutes at 350 degrees Fahrenheit. When they've finished baking the centre may still seem very slightly underdone.

It's a good idea to let the brownies cool just a bit (10-15 minutes) until they're set in the middle, but be sure to serve them warm (with a generous scoop of ice cream!) for the perfect ooey gooey pumpkin chocolate treat!
Notes
If you're skipping the cast iron skillet, simply grease a square baking pan with butter and swirl the batter as directed above before baking for approximately 35 minutes.
Nutrition
Serving:
1
serving
|
Calories:
468
kcal
|
Carbohydrates:
60
g
|
Protein:
7
g
|
Fat:
22
g
|
Saturated Fat:
12
g
|
Cholesterol:
90
mg
|
Sodium:
229
mg
|
Potassium:
271
mg
|
Fiber:
3
g
|
Sugar:
36
g
|
Vitamin A:
3246
IU
|
Vitamin C:
1
mg
|
Calcium:
55
mg
|
Iron:
4
mg
Save