This quick no knead bread is easy to make with 4 ingredients and a Dutch oven! No overnight rise and no kneading. It's soft and fluffy bread with a crispy crust! You'll love making this easier version of classic artisan bread!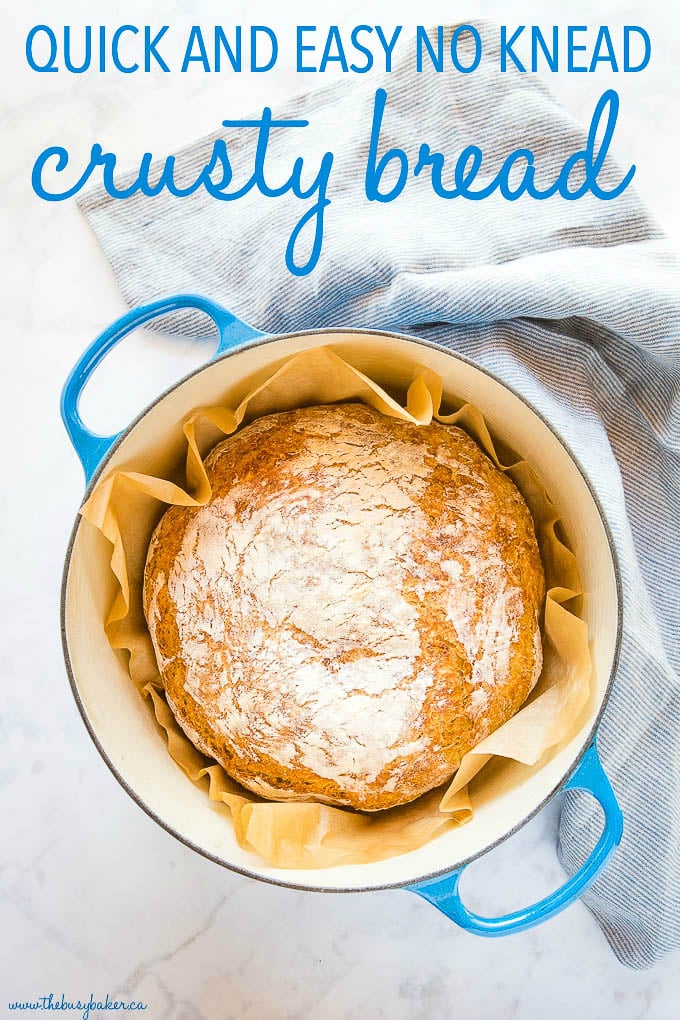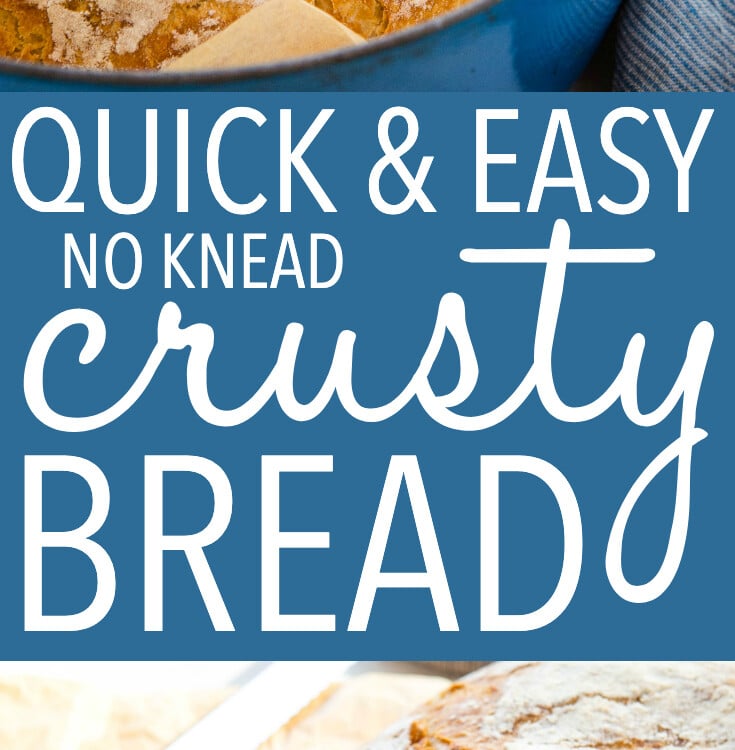 NEVER MISS A POST! FOLLOW ME ON: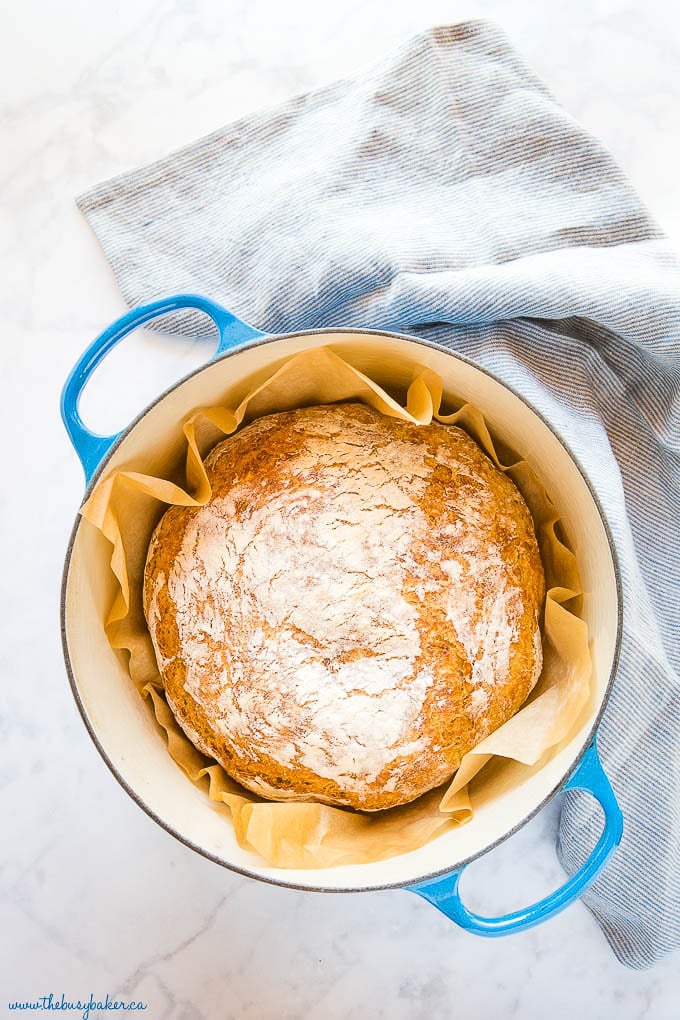 There's never been a better time to bake bread and I've been busy in my home kitchen these last few weeks baking up a storm of new bread recipes to share with YOU, my dear readers. I hope you are safe at home, staying healthy during this worldwide pandemic, and that you're also enjoying some extra time in your kitchen! This easy and quick no knead bread recipe is one of my FAVOURITE bread recipes. So, I'm thrilled to be sharing it with you today!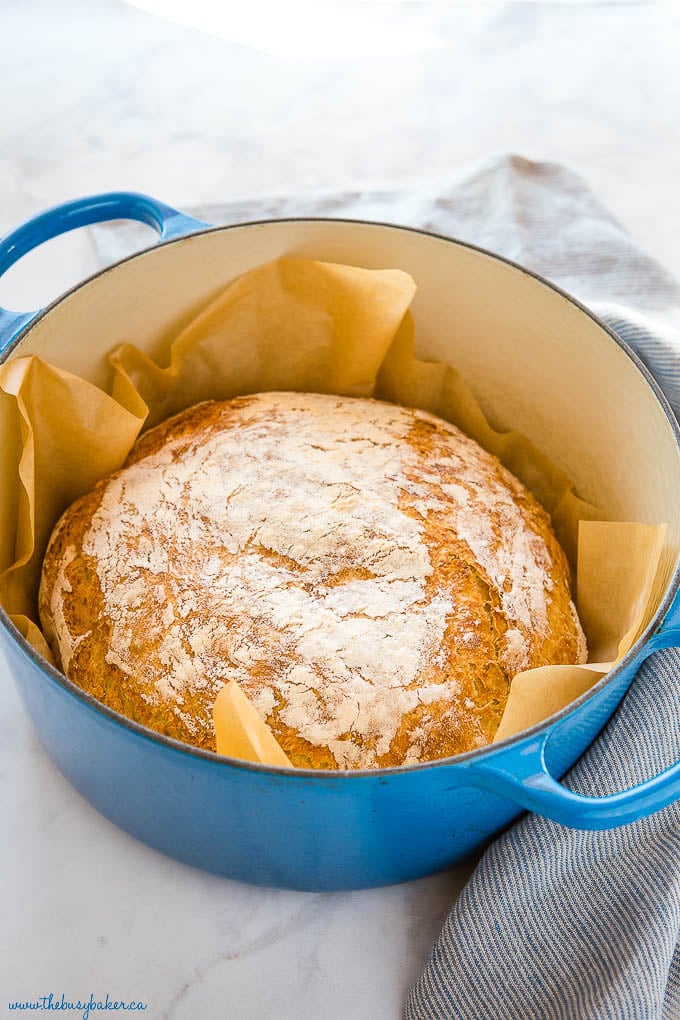 It's no secret I've been making no-knead artisan bread for YEARS, and one of the first recipes I ever shared with you was this No Knead Artisan Bread. There are a few different approaches to the no-knead technique that yield a very similar result. This Quick No Knead Bread recipe I'm sharing with you today is a faster and simpler version of that original recipe. It yields a slightly bigger loaf and it's on your table in about 2 hours. It doesn't require a long overnight rise and it's just as delicious!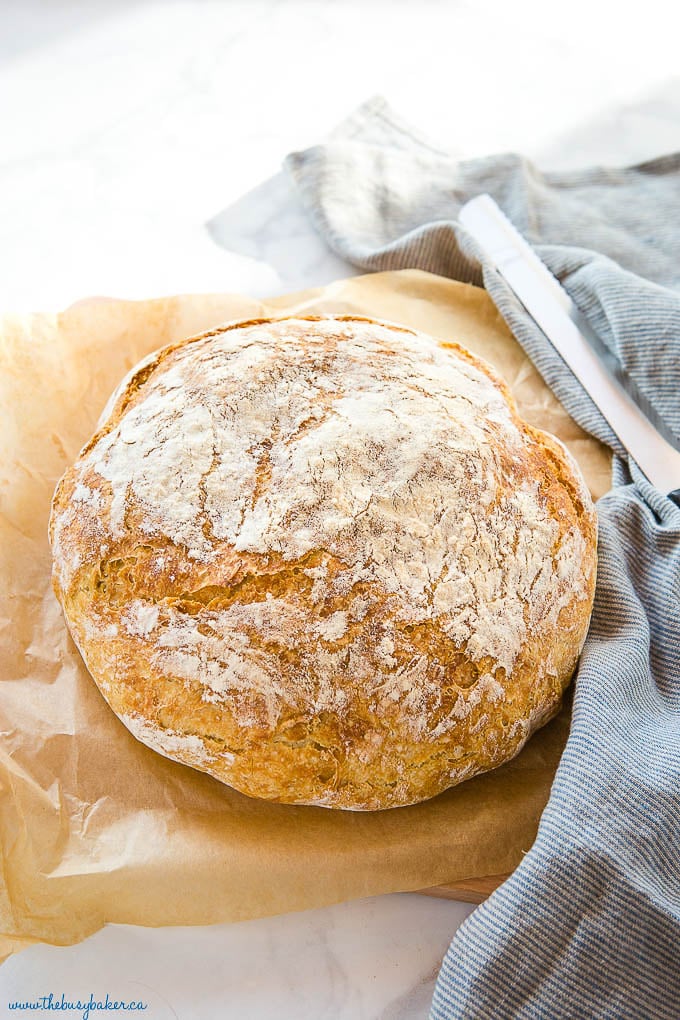 Tips for baking quick no knead bread
Pro tip#1: Preheat your Dutch oven pot before baking. This will help you create a loaf that's fluffy and soft on the inside, with the perfect crispy crust. The bread is baked in an oven-safe Dutch oven pot which traps in steam, making the crust of the loaf extra crispy. Preheating the pot before baking helps make the crust even more crispy and golden brown! If you're looking for a great Dutch oven pot, I will tell you that it's one of the best investments you can ever make for your kitchen. Mine is a total beauty from Le Creuset (affiliate link) and I use it at least weekly throughout the entire year for soups, stews, sauces, curries, and of course for baking bread. (if you want my original Dutch Oven Crusty Bread recipe, find it HERE!). A pot like this one is definitely a financial investment for your kitchen, but considering how much I use mine and considering its high quality, it's definitely a worthy investment. I've also used similar cast iron pots from other brands, like THIS ONE from KitchenAid and THIS ONE from Lodge Cast Iron (both affiliate links) if you're looking for something a little less expensive but still high quality that will work just as well.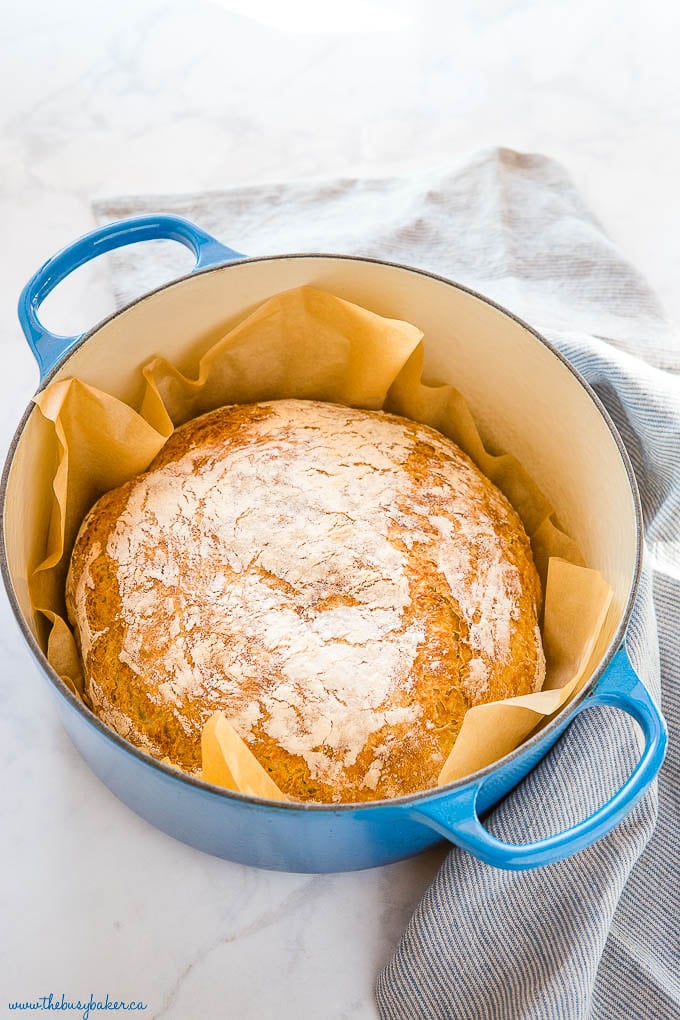 How to Measure Flour For Bread Baking
Pro Tip #2: Measure your flour properly! One of the biggest mistakes people make when baking is in how they measure flour. To measure flour correctly for most bread-making, aerate the flour by tossing it with a spoon or measuring cup in the bag or container to "fluff it up". As a result, it prevents the flour from becoming too densely packed. Scoop your flour very gently with a dry measuring cup, making sure it's nice and fluffy and rounded at the top. If you scoop too harshly the flour will become packed into the measuring cup, adding more flour than is needed. Simply use the flat side of a butter knife and scrape off the excess flour, leveling out the top (scrape across the top of the measuring cup to level it out). Some recipes call for you to weigh the flour in grams – this is a different method of bread-making that requires ultra-precise measurements. This easy recipe is very flexible and forgiving, but it's still important that you measure the flour properly. Aerating the flour before measuring (as outlined above) will ensure your cup of flour weighs about 120 grams. You can check it using a kitchen scale, but following this method of measuring will ensure your measurements are as accurate as possible without the use of a scale.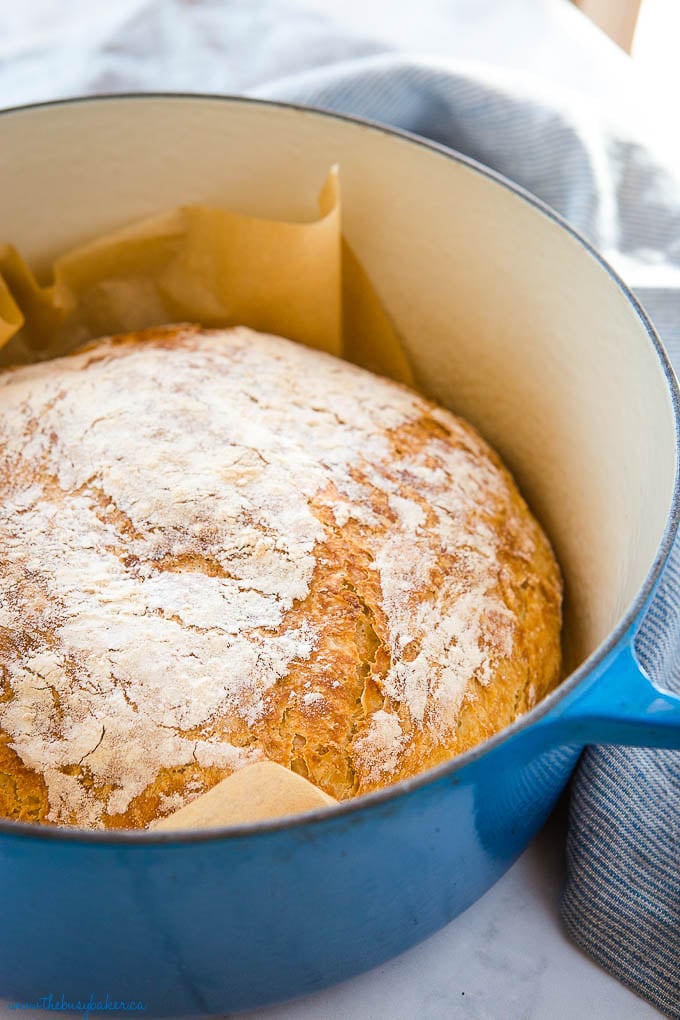 Shaping the loaf Pro Tip #3: Shape your loaf firmly but gently, and dust the top of the loaf with flour. Creating a round shape will help the loaf bake evenly. Also, dusting the top with flour will create a gorgeous, bakery-style appearance that everyone loves! Work the dough as little as possible. As a result, you'll have a loaf with a shaggy exterior and an interior with LOTS of bubbles. If you shape the loaf a little bit more with your hands and roll it around into a tighter ball, the interior will be softer and the outside will be smoother, with fewer cracks. Both techniques work well – it's up to your personal preference!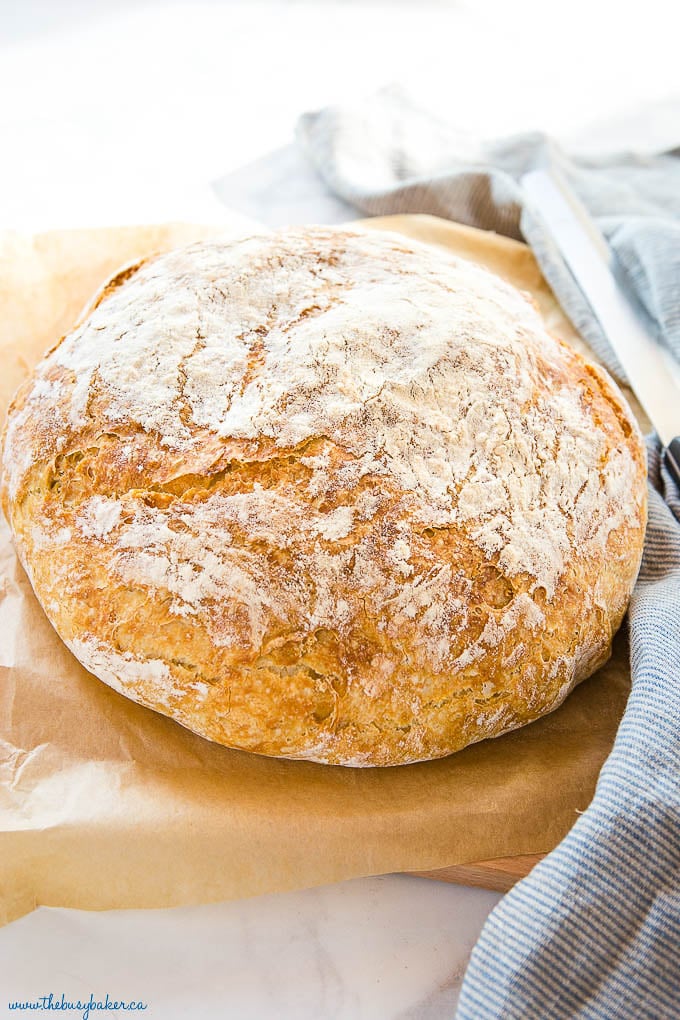 Pro Tip #4: Allow the loaf to cool completely before cutting into it!! Resist the urge to slice the bread while it's hot. Do you know that after removing a loaf of bread from the oven, it continues to bake inside as it cools?? Slicing into the gorgeous loaf too early will cause the inside of the loaf to be under-cooked and gummy. Allowing the loaf cool completely before slicing ensures the perfect fluffy texture when you slice into it!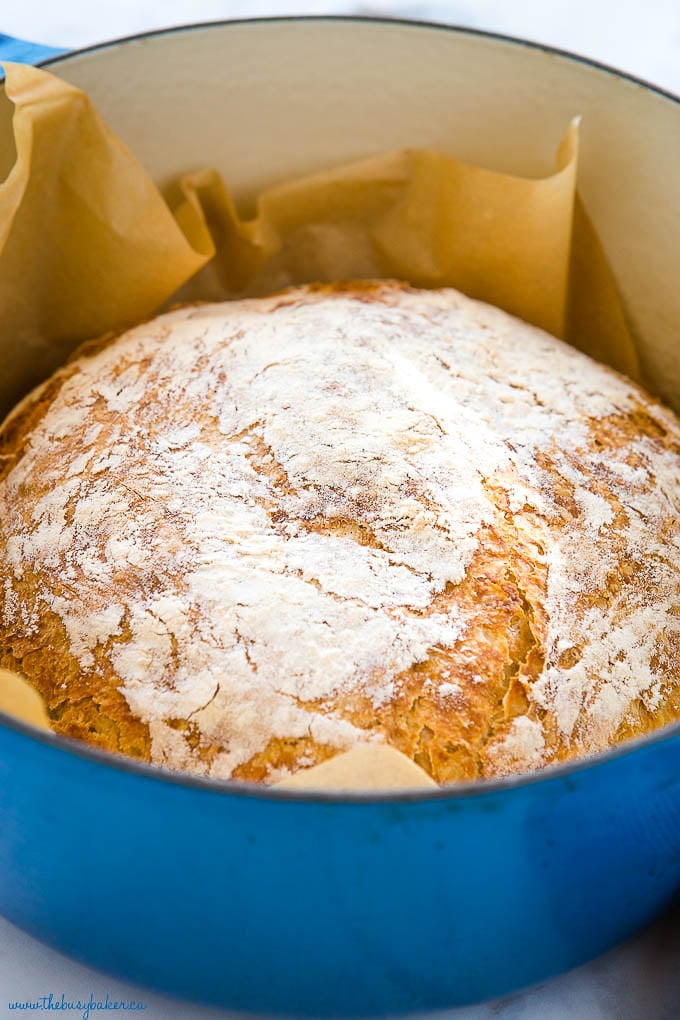 Looking for more no knead bread variations?
Make this recipe for No Knead Jalapeno Cheese Artisan Bread or this Easy No Knead Whole Wheat Artisan Bread!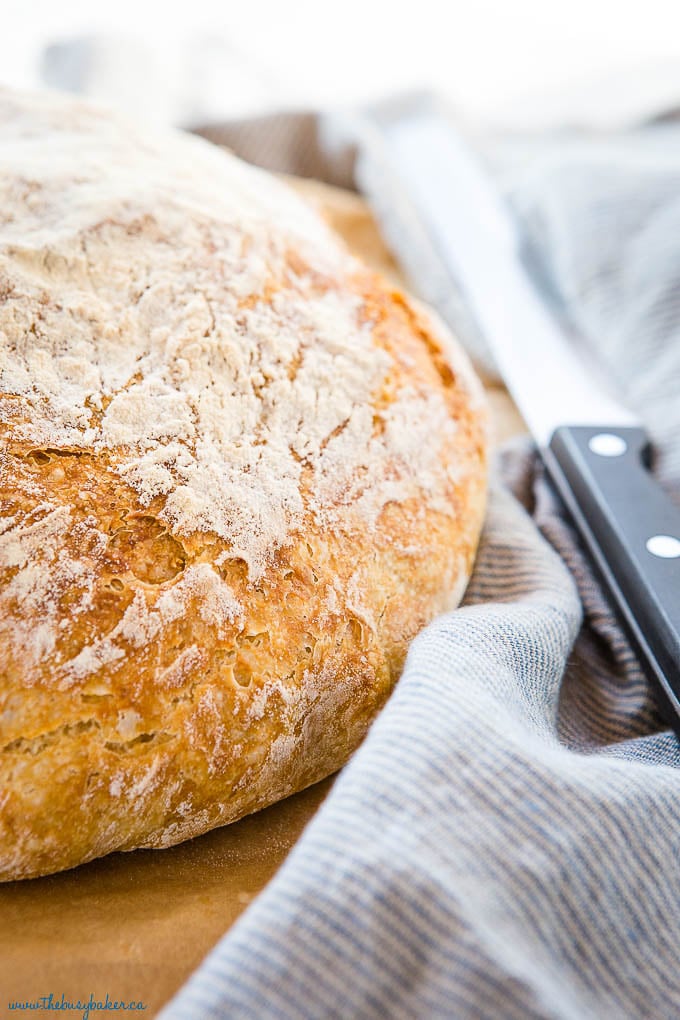 NEVER MISS A POST! FOLLOW ME ON: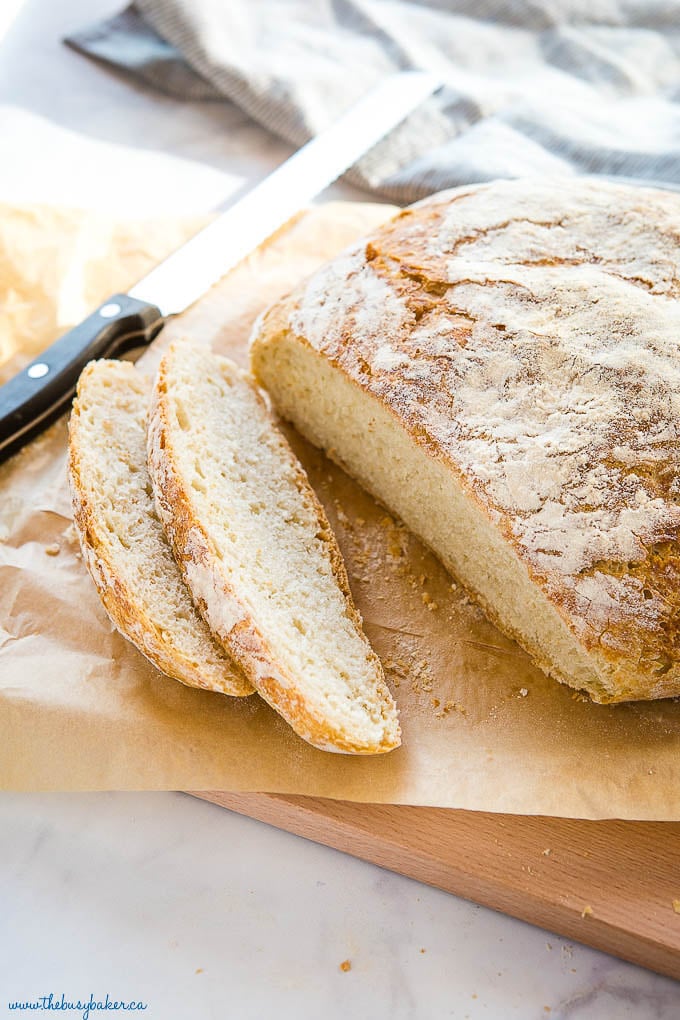 I hope you love this homemade bread recipe as much as we do! Let me know in the comments below, what's your favourite homemade bread to make in your own kitchen? I'd love to know!
KITCHEN PRODUCTS I RECOMMEND:
Even more no knead bread variations:
Recipe Video
Watch the video below to see exactly how I make this recipe. You can find more delicious recipe videos on my YouTube channel
If you made this, share a photo!
Are you trying this recipe? Use the comment form below to share your take; now with support for image uploads and comment voting!
Share a photo
Quick No Knead Bread for Dutch Oven
Make this quick no knead bread with 4 ingredients and a Dutch oven! No overnight rise and no kneading. Soft inside, with a crisp crust!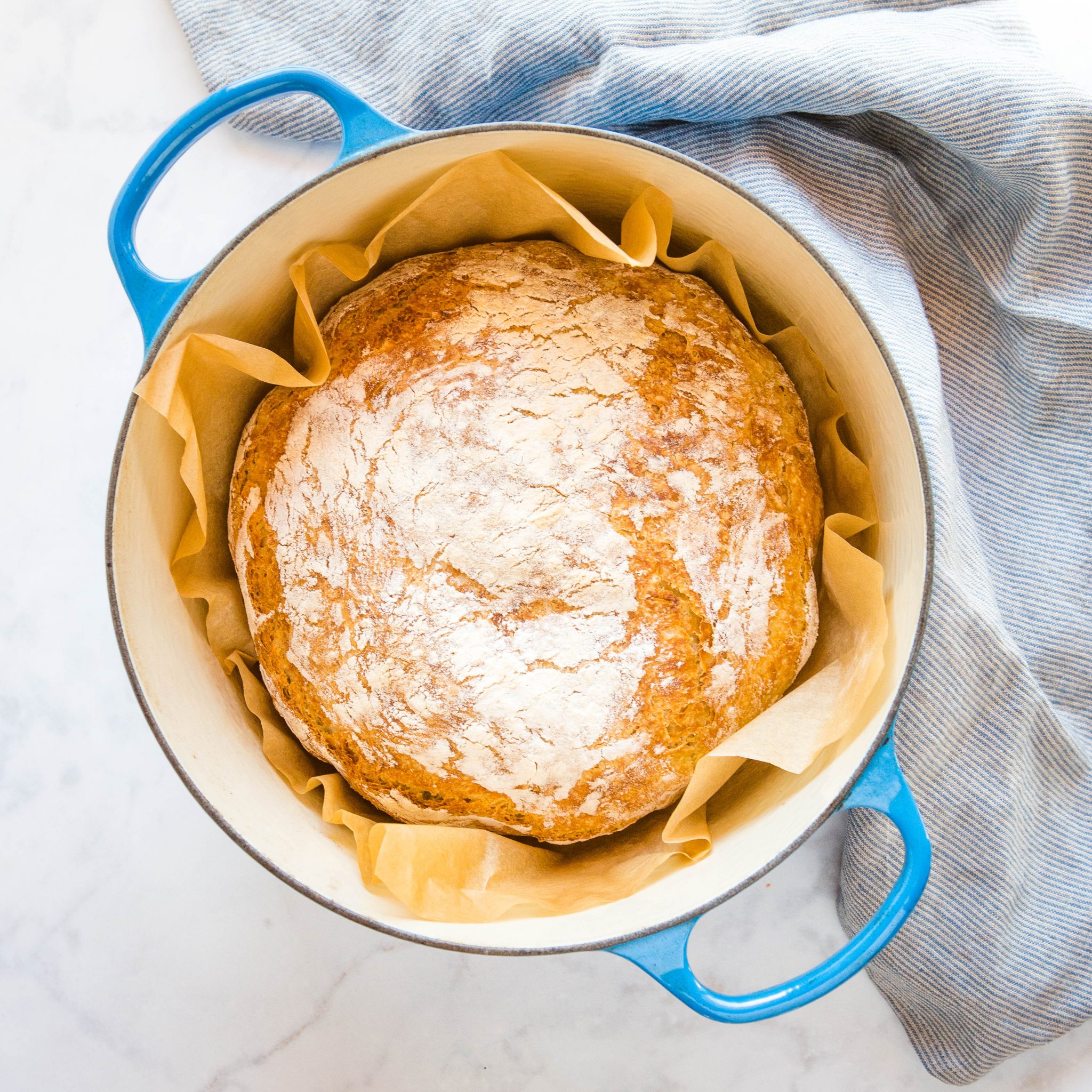 Recipe:

Ingredients
4

cups

all purpose flour

2 1/4

teaspoons

active dry yeast

instant or rapid rise yeast also works

1 1/2

teaspoons

salt

2

cups

warm water

just above room temperature

more flour for shaping the loaf
Recipe:

Instructions
Start with a large bowl and a wooden spoon, and add your flour to the bowl. Measure the yeast and add it to one side of the bowl. Measure the salt and add it to the other side.

Using a wooden spoon, stir the yeast into the flour on its side of the bowl first and then stir the salt into the flour on its side of the bowl. This will prevent the salt mixing directly with the yeast. Give the whole mixture a few good stirs to make sure everything is combined.

Measure the water. Make sure the water is just above room temperature; water that is too warm or too cold can kill the yeast and prevent the bread from rising at all.

Pour the water in and stir with a wooden spoon. The dough will be rough and a bit sticky, but that's normal.

Stir until all the flour is combined. This is not normal bread dough (there's no kneading involved in this recipe), so you don't need to be too concerned about the appearance of the dough at this point. Just make sure the ingredients are combined well.

Cover the bowl with plastic wrap. It's a good idea to ensure there's adequate space left in the bowl for the dough to at least double in size. Place the bowl in a warm, draft-free place and let it rise for about 1 and a half hours.

After the dough has risen, preheat your oven to 450 degrees Fahrenheit. Place your Dutch oven with the lid on in the cold oven and let it heat up with the oven. If your dutch oven is black on the inside, set your oven to 425 degrees Fahrenheit instead of 450.

Place a piece of parchment paper on the counter and dust it with flour. Rub flour on your hands and scrape the dough away from the sides of the bowl, gathering it in your hands as best you can (it may feel kind of strange and not at all like regular bread dough) and forming it into a circular loaf on the parchment paper. Don't worry if it still looks a little rough in places. This lends to the rustic look of this loaf.

Once you have it shaped, the dough needs to undergo a short second rise. The goal is to handle the dough as little as possible at this stage because any amount of tugging at the rough can cause it to deflate after it has undergone its second rise. The next few steps will help prevent this. But don't worry if it deflates a bit. This bread dough is pretty forgiving.

Sprinkle flour over the top of the loaf and loosely cover it with a clean kitchen towel. The flour you sprinkle on top also prevents the towel from sticking to the dough so when you take it off at the end of the rise, it doesn't disturb the dough and wreck the rustic shape you've created. Let the dough rise for about 30 minutes. Your oven will also be preheating during this time (and so will your pot).

Remove the preheated pot from the oven and transfer the dough into the pot as carefully as possible by handling only the parchment paper. Place the lid on the pot and return it to the oven for 30 minutes. Don't open the oven during this time, and certainly don't take the lid off the pot; the crispness of the crust develops because of the steam that builds up in the pot during this 30 minutes.

After 30 minutes have passed, remove the lid from the pot and continue baking for another 10 minutes. After the 10 minutes have passed, remove the pot with bread from the oven and place the bread on a wire rack to cool. You'll probably hear the loaf crackling as it cools - this is normal.

If you can, resist the urge to cut into the bread until it has pretty much cooled completely. The bread continues to bake on the inside even after it has been removed from the oven and cutting it too early could result in the inside becoming gummy or rubbery.
Recipe:

Notes
No Knead Bread Troubleshooting Tips:
If your dough seems too fluid after the first rise, simply add 1/3 cup of flour to the top of the dough and mix it in, shaping the loaf into a round shape to rise again while the oven pre-heats.
If your loaf falls or flattens during the second rise, simply re-shape before baking into as tight a ball as possible (creating surface tension should prevent the dough from falling). 
Add 1 tablespoon of Vital Wheat Gluten to the dough with the flour to create a very voluminous dough that rises beautifully every single time and isn't too dense. 
If the bottom crust of your bread burns or becomes too hard or tough, it's likely that the bottom burner of your oven is too hot OR you're using a pot that's black on the inside (these conduct heat more efficiently than one that's a light colour on the inside). Try lowering your oven temperature by 25 degrees, using the convection setting, or using a different pot that's light in colour on the inside.
Use an oven thermometer to make sure your oven temperature is correct. If your oven runs hot, lower the temperature of your oven by 25 degrees to be sure you don't burn the bread.
Recipe:

Nutrition

Nutrition Facts

Quick No Knead Bread for Dutch Oven

Amount Per Serving (1 slice)

Calories 136

Calories from Fat 9

% Daily Value*

Fat 1g2%

Sodium 251mg11%

Potassium 57mg2%

Carbohydrates 28g9%

Protein 4g8%

Calcium 5mg1%

Iron 2mg11%

* Percent Daily Values are based on a 2000 calorie diet.

Notice: Nutrition is auto-calculated, using Spoonacular, for your convenience. Where relevant, we recommend using your own nutrition calculations.