Stuffed sweet potatoes are a quick and easy dinner. For this recipe, delicious slow cooker vegan chili is stuffed into baked sweet potatoes for the perfect healthy comfort meal!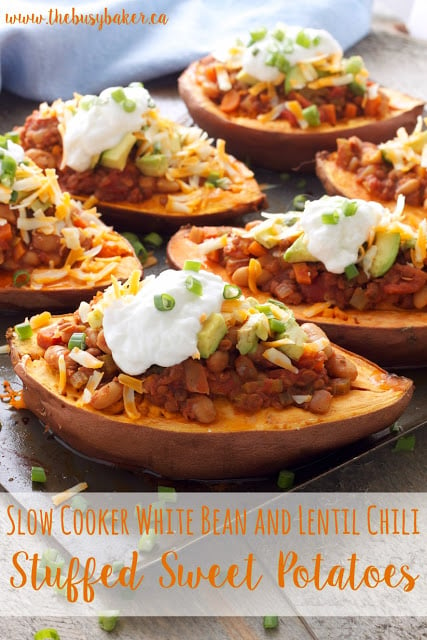 NEVER MISS A POST! FOLLOW ME ON:
Slow Cooker Vegan Chili Stuffed Sweet Potatoes
I've recently re-kindled my love affair with my slow cooker. I sometimes go months without using it and then I'll start using it several times a week, which is what I've been doing these last few weeks! It's really a work-at-home-mom's best friend…a healthy, warm meal at the end of a busy day with hardly any effort? Sign me up!!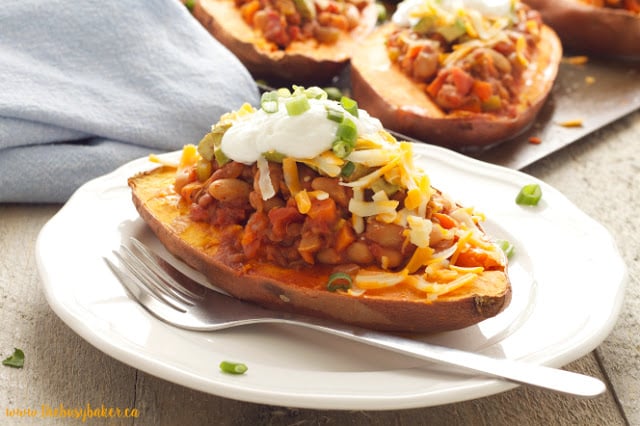 And you should see my slow cooker…We got it as a wedding gift almost 12 years ago and since we've moved 4 or 5 times over the course of our marriage, my slow cooker is a little banged up. Both handles are cracked and busted and the temperature dial is completely gone, so I have to turn the dial using a pair of my husband's pliers. I would absolutely love a new slow cooker, but fortunately, the inside pot and lid of mine are still in fantastic condition, so it's still completely usable (otherwise I would have gotten a new one a LONG time ago)!!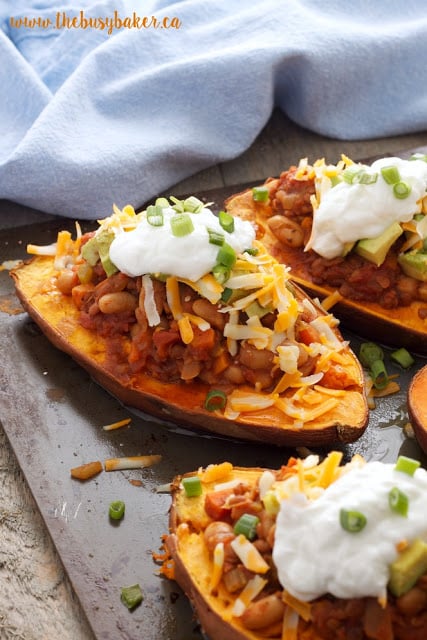 And it's a good thing too, because I just had to make this Slow Cooker White Bean and Lentil Chili. I don't know about where you live, but here the ground is still covered with snow and the temperature is still below zero degrees. In other words, it's the beginning of March and I'm just not quite ready to give up some of my favourite warm, winter comfort foods yet! Especially this slow cooker vegan chili recipe. And can you blame me??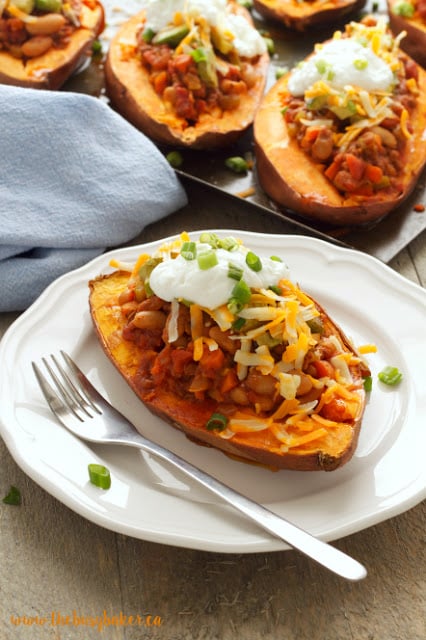 I'm working really hard lately to add more pulses into our family meals, especially after taking the Pulse Pledge earlier this year. Chili is a great way to enjoy beans and lentils because they're so good at soaking up all the delicious chili flavours! You won't even miss the meat in this meal, I promise!
Like the look of this recipe? You'll love my One-Pot Ricotta Pasta Primavera or this delicious Italian Sausage and Brown Rice Stuffed Acorn Squash!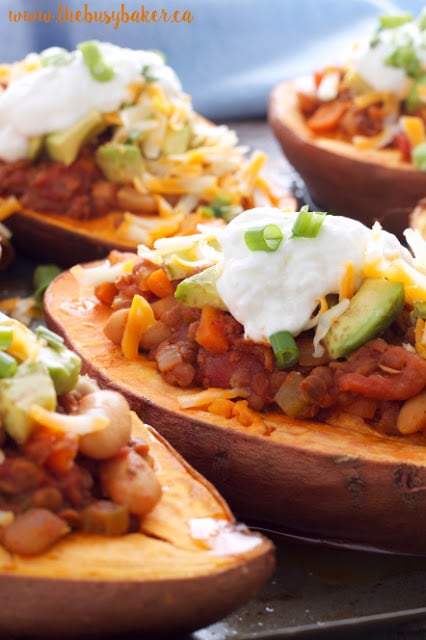 Slow Cooker Vegan Chili Stuffed Sweet Potatoes
Stuffed sweet potatoes are a quick and easy dinner. For this recipe, slow cooker vegan chili is stuffed into baked sweet potatoes for a healthy dinner!
Total Time
4
hours
20
minutes
Ingredients
28

oz

canned diced tomatoes

796 ml

19

oz

cooked brown lentils, rinsed and drained

540 ml

19

oz

canned white beans, rinsed and drained

540ml

2

stalks

celery

finely chopped

2

medium

carrots

finely chopped

1

medium

onion

finely chopped

1

tbsp

chili powder

a pinch or two of salt and pepper

1/2

tsp

dried basil

1/2

tsp

dried oregano

2

tsp

smoked paprika

1

cup

vegetable broth

3

large

sweet potatoes

2-3

tsp

olive oil

a pinch of salt
Instructions
Add the diced tomatoes, lentils, white beans, chopped celery, chopped carrots, chili powder, salt, pepper, basil, oregano and paprika to your slow cooker.

Add the vegetable broth and stir all the ingredients together. Turn on the slow cooker and cook the chili on high heat for 2-3 hours or on low for 4-5 hours, stirring every hour or so.

About 1 hour before the chili is done, preheat your oven to 350 degrees Fahrenheit. Slice the sweet potatoes in half lengthwise and arrange them insides-up on a baking sheet.

Drizzle the olive oil over the sweet potato halves and sprinkle the tops with a pinch or two of salt and pepper. Bake the sweet potatoes for about 40-50 minutes, or until they can be pierced easily with a fork.

When the sweet potatoes are cooked through, slice them down the centre about half way to make room for the chili. Top each one with as much of the White Bean and Lentil Chili as each sweet potato half will hold.

Add a dollop of Greek yogurt or sour cream on top of each one, along with some shredded cheese of your choice and some chopped green onions for colour and freshness.

Serve while hot, and enjoy!
Recipe Notes
Serve with Greek yogurt (or sour cream), shredded cheese, and chopped green onions for garnish
Nutrition Facts
Slow Cooker Vegan Chili Stuffed Sweet Potatoes
Amount Per Serving (1 serving)
Calories 413
Calories from Fat 27
% Daily Value*
Fat 3g5%
Sodium 494mg21%
Potassium 1728mg49%
Carbohydrates 82g27%
Protein 19g38%
Vitamin A 28537IU571%
Vitamin C 21mg25%
Calcium 200mg20%
Iron 9mg50%
* Percent Daily Values are based on a 2000 calorie diet.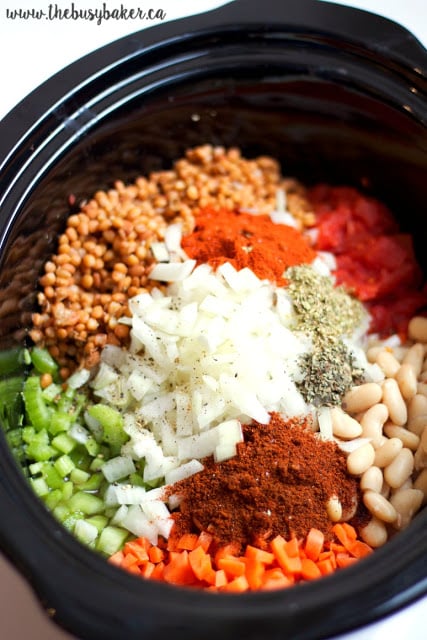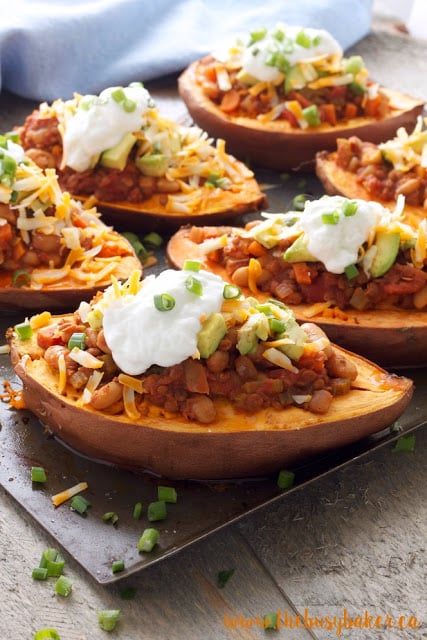 This is a fantastic slow cooker recipe for an easy, healthy meal that's almost entirely plant-based! These stuffed sweet potatoes are always a hit for dinner and I know your family will love it as much as ours does!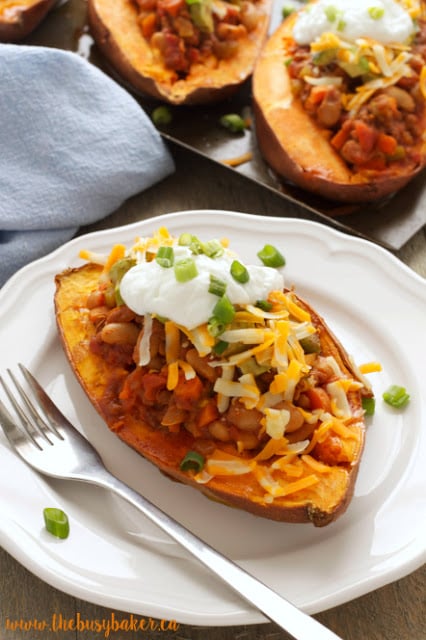 I hope you enjoy this stuffed sweet potatoes recipe! Let me know in the comments below, what's your favourite slow cooker recipe?
Like this recipe? Check out my Easy One-Pan Roasted Chicken Dinner or this Butternut Squash Red Lentil Soup with Honey Curry Roasted Chickpeas and Coconut Cream!
NEVER MISS A POST! FOLLOW ME ON: