Smoothie bowl recipes are sort of a cross between a delicious healthy smoothie and a granola and fruit parfait. Enjoy this Strawberry Kiwi Smoothie Bowl recipe for breakfast, a mid-morning snack, or even as a lighter dessert!
*This shop has been compensated by Collective Bias, Inc. and its advertiser. All opinions are mine alone. #CarnationSweepstakes #BetterBreakfast #CollectiveBias
Skipping breakfast will be a thing of the past with this quick and easy
Smoothie Bowl recipe featuring Carnation Breakfast Essentials®!
NEVER MISS A POST! FOLLOW ME ON:
How to Make a Healthy Breakfast on the Go
You've probably heard it said that breakfast is the most important meal of the day, but it can also be the most challenging, especially for busy families. At our house, my husband goes to work very early each morning so I'm the one who's in charge of getting the rest of the family ready for the day. Getting up early is almost always a guarantee that my morning will run smoothly, but for this sleep-deprived mommy sometimes that just isn't an option! Thankfully my kids aren't old enough to be in school yet, so every now and then we're able to have a nice slow morning at home. Most days, however, we're rushing to get out the door to run errands, go to the gym, or go to a play date or the park leaving little time for a nutritious breakfast to keep us all going until it's finally time for lunch. I can't even count the number of times I've skipped breakfast lately, just because I lack the time it takes to prepare a nutritious meal in the morning.
Carnation Breakfast Essentials®
7-day breakfast challenge comes in! Just one pouch of Carnation Breakfast Essentials® contains all the nutrition your body needs to get started in the morning. It's as easy as stirring it up with your favourite milk and drinking it down (or grab one of their Ready to Drink bottles for an even easier wake-up!), but if you have just a little bit more time the breakfast possibilities are endless. I was so glad to find the cereal aisle at my local Wal Mart store well stocked with Carnation Breakfast Essentials® powder so I could begin the 7-day breakfast challenge!
Healthy Smoothie Bowls for Breakfast
Carnation Breakfast Essentials® to the rescue! It's so easy to grab a Ready to Drink bottle out of the fridge to throw in your diaper bag or purse, and adding some of the Carnation Breakfast Essentials® powder to a mason jar with some milk is just about as easy. Just shake, and drink on the go! But for those mornings when all you have is 5 minutes, put down the
cinnamon sugar donuts
! I've got a delicious and nutritious Strawberry Kiwi Smoothie Bowl recipe that you've gotta try. My kids and I enjoyed preparing this delicious breakfast together during our 7-day breakfast challenge, and we enjoyed eating together it even more!!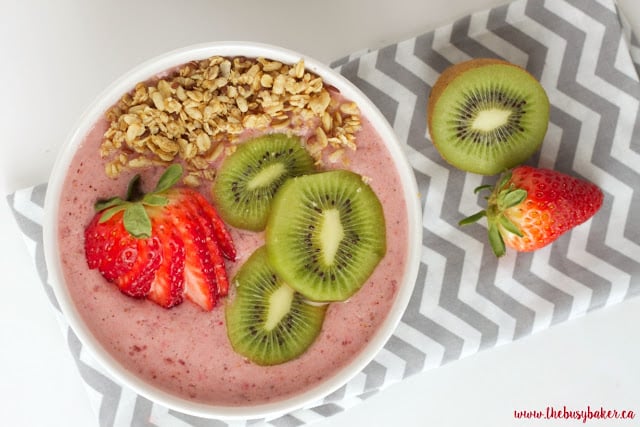 Nutritional Information for the Strawberry Kiwi Smoothie Bowl Recipe
This strawberry kiwi smoothie bowl recipe makes 2 servings, and each serving is only
240 calories
(not including any toppings), making it a great choice for breakfast on the go! I hope you enjoyed this recipe! Let me know in the comments below,
what's your favourite way to grab breakfast on the go?
Like this recipe? Try this
Mango Citrus Smoothie Bowl
or my
Very Berry Vanilla Smoothie
!
NEVER MISS A POST! FOLLOW ME ON:
Here's all the information you need to enter the Carnation Breakfast Essentials® Sweepstakes! Ready to get started? Follow these easy steps: 1. Sign up at CarnationBreakfastChallenge.com 2. Complete a simple yet fun breakfast mission for a chance to win. New prizes will be revealed every day! 3. Come back any day in February to complete missions and see new prizes. The prizes range from a Fitbit to a GoPro and other awesome stuff! 4. Head to your favorite store to purchase a Carnation Breakfast Essentials® Nutritional Product and upload your receipt for five extra entries per day. Visit the
Carnation Breakfast Essentials® Facebook Page
to stay up to date! Good luck!