*This post is sponsored by Canadian Lentils. I have received compensation, but as always all opinions are my own.

These Vegetarian Red Lentil Sausage Rolls are the perfect party appetizer for the holidays! They're easy and inexpensive to make and flavoured with delicious red lentils, roasted red peppers and fragrant spices. Skip the sausage meat and try these Vegetarian Red Lentil Sausage Rolls at your next holiday party, or for a healthy and delicious appetizer any time of the year!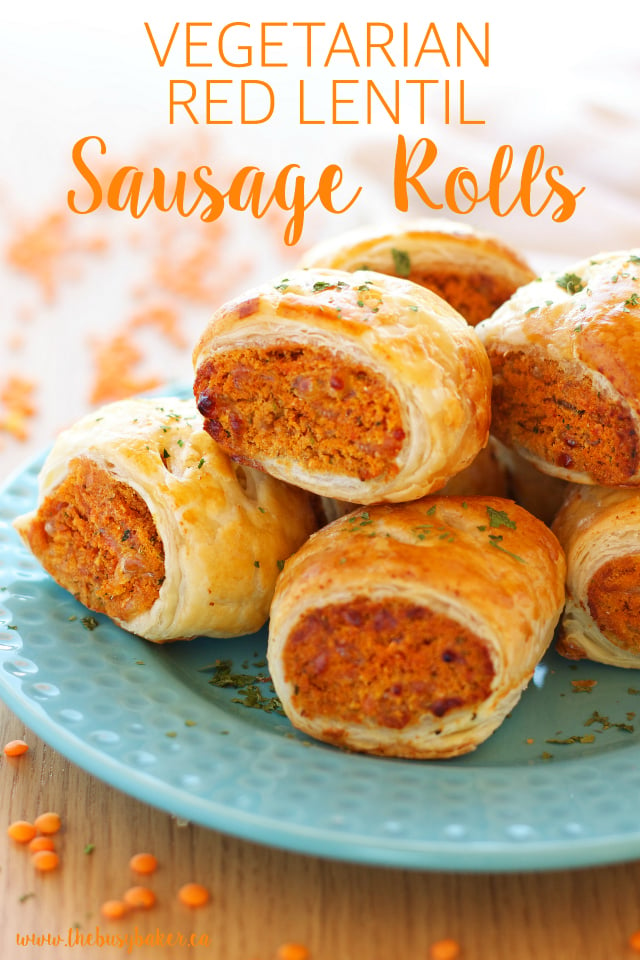 NEVER MISS A POST! FOLLOW ME ON:
'Tis the season for holiday parties and friends, if there's one thing I enjoy more than holiday desserts it is definitely holiday appetizers and finger foods. Our family has our big Christmas celebration on the 25th of December and so our Christmas Eve tradition every year has always been a very low-key, casual family get-together with appetizers as the main event. That's right, we celebrate Christmas Eve by sitting around enjoying some of the best made-from-scratch appetizers and hors d'oeuvres I have ever tasted, which is probably the reason behind my love for finger foods…our Christmas Eve appetizer tradition is one of my earliest memories.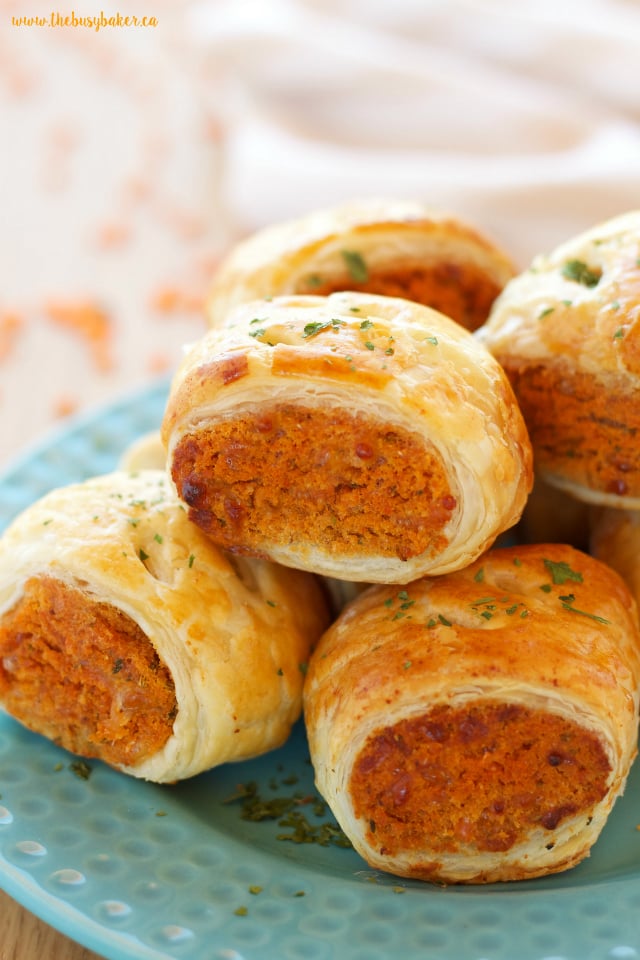 So when Canadian Lentils reached out to me and asked me to share a few of my favourite holiday-inspired lentils recipes, I knew these Vegetarian Red Lentil Sausage Rolls would be the perfect holiday appetizer to share with you, my dear readers. I've shared a few of my favourite lentil recipes with you before, like these delicious Slow Cooker White Bean and Lentil Chili-Stuffed Sweet Potatoes, or my Red Lentil Carrot Cake Granola, and I'm so excited to be sharing with you not one, but TWO amazing holiday appetizers with you this holiday season, featuring Canadian Lentils. Stay tuned next week for my Red Lentil Curry Hummus, and watch my Instagram page for a sneak peek coming soon!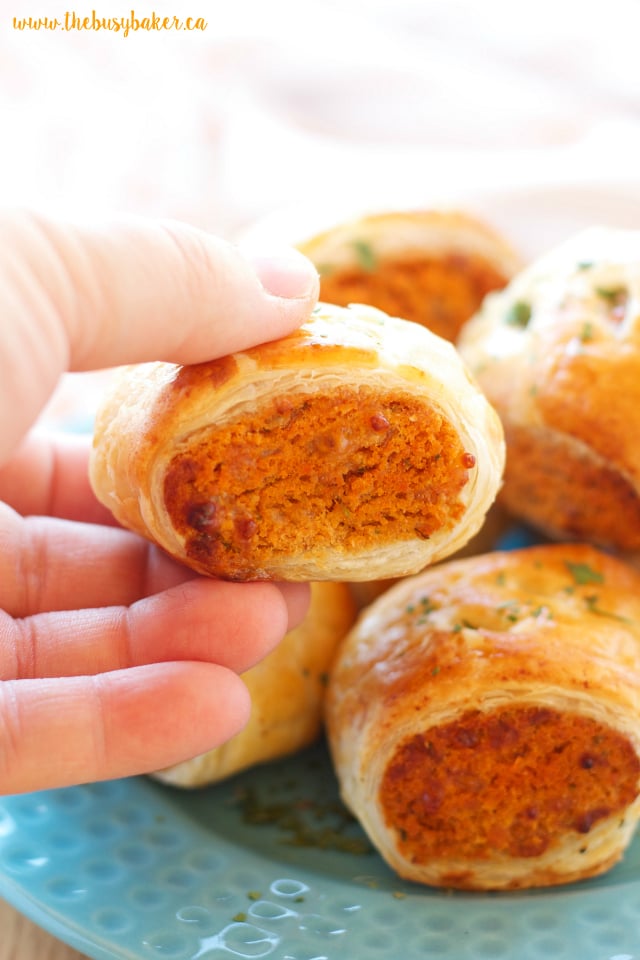 Our family absolutely loves lentils and they make their way into our diet several times every week, sometimes in the obvious ways like in soups and curries, but other times I throw them into pasta sauces for some added fibre and protein, I add them to dips, salads and wraps, and I do my very best to use them in place of meat whenever possible – especially in burgers and meatballs. Although it doesn't happen as often as I would like, these Vegetarian Red Lentil Sausage Rolls were an absolute stroke of genius that turned out even better than I had imagined they would. The filling contains roasted red pepper which adds a delicious smoky flavour, and by adding spices that are typically found in Italian sausage, these vegetarian sausage rolls can really complete with their meaty counterparts in the flavour department.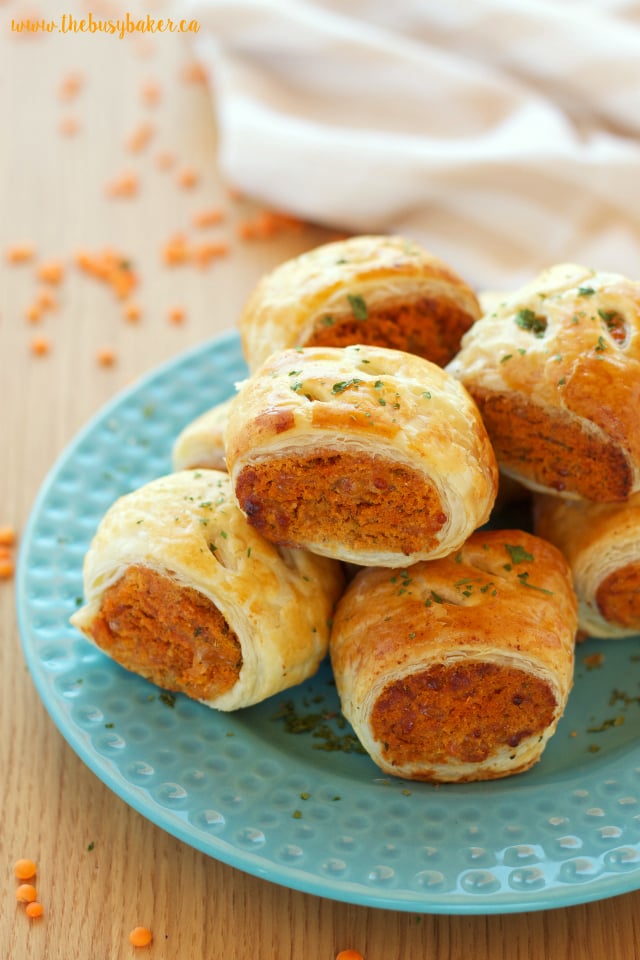 And as delicious as sausage is, with 27 grams of protein and 18 grams of dietary fibre in a 100 gram serving of lentils, there's just no competition as far as I'm concerned! Lentils are also unbelievably easy to prepare – just rinse, simmer for about 5 minutes, and add to whatever dish or recipe you desire! Since the filling for my Vegetarian Red Lentil Sausage Rolls has a smooth texture, I pureed the cooked red split lentils along with many of the other ingredients to achieve the perfect flavour and texture for the sausage roll filling. I cannot wait to serve them on my holiday appetizer platter this year to both my vegetarian and meat-loving guests, and I just know your family and friends will enjoy them too!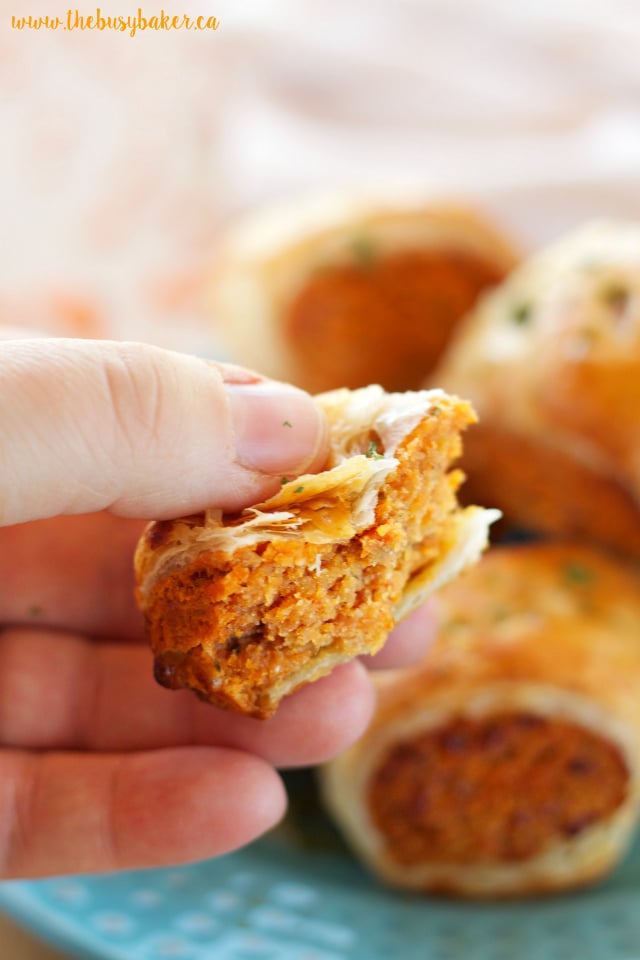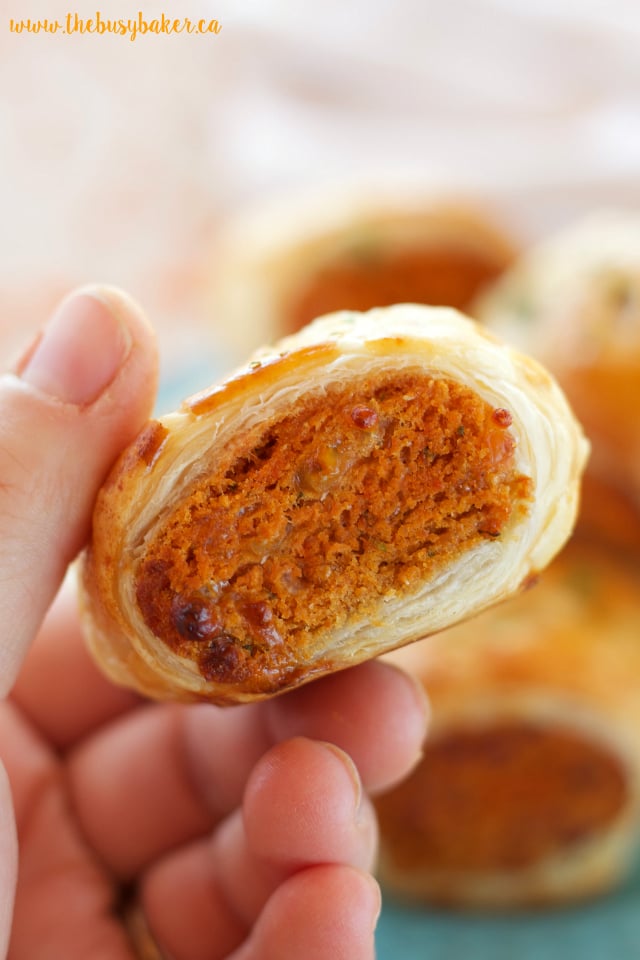 The lentil filling crisps up perfectly, leaving the inside moist and flavourful. These Vegetarian Red Lentil Sausage Rolls really are a delicious holiday treat!
I hope you like this recipe! Let me know in the comments below, what's your favourite way to enjoy lentils during the holidays?
Looking for even more delicious lentil recipes? Try some of my favourites linked below!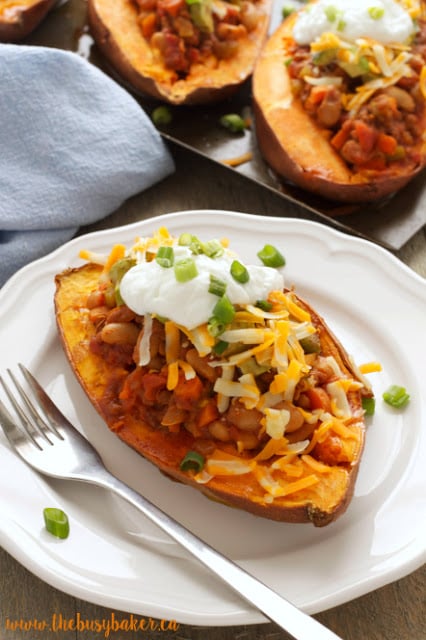 These White Bean and Lentil Chili-Stuffed Sweet Potatoes are the most delicious vegetarian dinner I've ever made!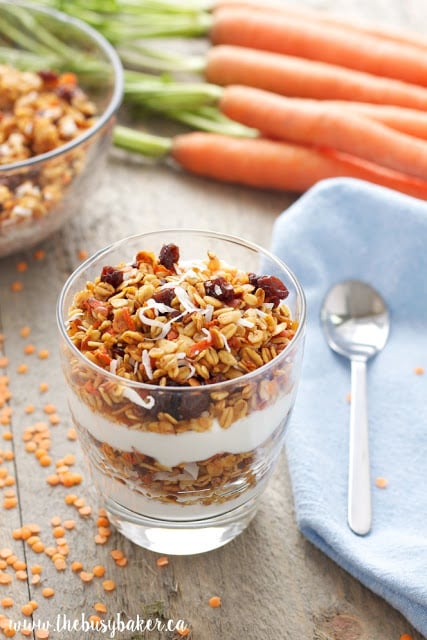 Try my Red Lentil Carrot Cake Granola for a protein and fibre-packed breakfast that will go the distance but taste like dessert!!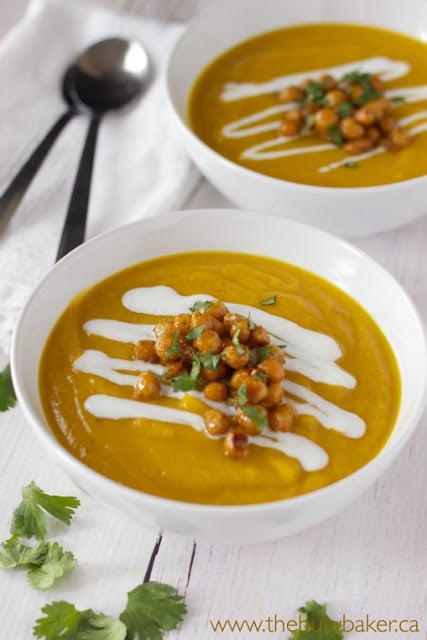 This Butternut Squash and Red Lentil Soup with Honey Curry Roasted Chickpeas and Coconut Cream is one of my favourite ways to enjoy lentils!
NEVER MISS A POST! FOLLOW ME ON:
Vegetarian Red Lentil Sausage Rolls
These Vegetarian Red Lentil Sausage Rolls are the perfect vegetarian appetizer! You won't even miss the meat!

Ingredients
2

cups

cooked red split lentils

2

large red bell peppers

roasted and skin removed

3

cloves

garlic

2

teaspoons

chopped fresh parsley

1 1/2

teaspoons

smoked paprika

a pinch of cayenne pepper

1/4

teaspoon

ground fennel seeds

sea salt and pepper

1

cup

shredded mild cheddar cheese

I use a mild white cheddar

3/4

cup

dried breadcrumbs

300

grams

frozen puff pastry

thawed

1

egg

1-2

tablespoons

water
Instructions
To the bowl of your food processor (or high powered blendeadd the cooked lentils, roasted red peppers (stems, seeds and skin removed), garlic, parsley, paprika, cayenne, ground fennel and sea salt and pepper.

Process or blend until smooth, making sure to scrape down the sides so all the ingredients are incorporated.

Transfer the mixture to a large bowl and add the shredded cheese and the breadcrumbs. Mix everything together well with a wooden spoon or rubber spatula until the breadcrumbs and the cheese are evenly distributed.

Divide the mixture into 3 equal pieces and roll each piece into a long, thin sausage shape the same length as the width of your puff pastry sheet.

Wrap each piece tightly in plastic wrap and refrigerate for at least 2 hours (refrigerating overnight also works well!).

After your filling has sufficiently chilled, remove it from the fridge and preheat your oven to 425 degrees Fahrenheit.

Unroll your puff pastry and slice it into 3 pieces to wrap around the rolls of lentil filling you've made. Wrap each piece of filling in puff pastry, making sure the seams are on the underside of the large rolls you're creating.

Slice each of the 3 long rolls into smaller 1 to 1 1/2 inch pieces and place the pieces on a baking sheet lined with baking paper (parchment paper). You'll end up with about 15-18 pieces.

Use a sharp knife to cut one or two small vents in the top of each mini sausage roll.

Combine the egg and water in a small bowl and whisk together until frothy. Brush a small amount of egg was over the top of each sausage roll.

Bake at 425 degrees Fahrenheit for 20-23 minutes, or until the puff pastry is golden brown.

Serve immediately, and enjoy!
Nutrition Facts
Vegetarian Red Lentil Sausage Rolls
Amount Per Serving (18 rolls)
Calories 159
Calories from Fat 72
% Daily Value*
Fat 8g12%
Cholesterol 15mg5%
Sodium 103mg4%
Potassium 132mg4%
Carbohydrates 14g5%
Protein 5g10%
Vitamin A 570IU11%
Vitamin C 17.3mg21%
Calcium 59mg6%
Iron 1.4mg8%
* Percent Daily Values are based on a 2000 calorie diet.
Save