These Whipped Shortbread Holiday Cookies are an old family recipe that's been around for a long, long time! These Whipped Shortbread Holiday Cookies are the perfect, easy shortbread cookies to make at Christmas time, and they're great for beginning bakers. And this shortbread recipe only calls for 5 ingredients!
Looking for more delicious holiday recipes? CLICK HERE for my favourite holiday recipes, all in one place!
NEVER MISS A POST! FOLLOW ME ON:

You guys, I can't even believe how fast this holiday season is going already!! The first week of December has come and gone, there's a blanket of snow on the ground outside and the Christmas parties and celebrations are in full swing! As usual, I'm spending lots of time in the kitchen baking up a storm and making lots of edible gifts to give to our friends and neighbours this Christmas.
Since we're living in Romania and this is our first Christmas here, we're not exactly sure how Christmas will look for us but we are really looking forward to starting some new traditions with our kids here. One of our big Christmas plans this year is team up with some missionary friends of ours for the week leading up to Christmas to help hand out Christmas packages and hampers to over 600 families in the local villages. As our kids grow older we're feeling a strong desire for a departure from the typical Christmas full of toys and presents, and an inclination toward providing opportunities for them where they'll learn what it means to have a generous heart toward those people who need it most. We're all really excited about this time we have planned and of course I'm baking lots of delicious cookies and other treats to share with our friends and all the new friends we'll meet along the way!
These Whipped Shortbread Holiday Cookies have been a part of my family's holiday traditions for as long as I can remember. My grandma and my mom made these Whipped Shortbread Holiday Cookies every Christmas in batches of 100 or more, and I remember them being on every tray of holiday treats I ever saw at any of our family Christmas parties. Once I had my own kitchen I started making them every year and now Christmas just wouldn't be the same without this recipe! I just know your family will love it as much as ours does!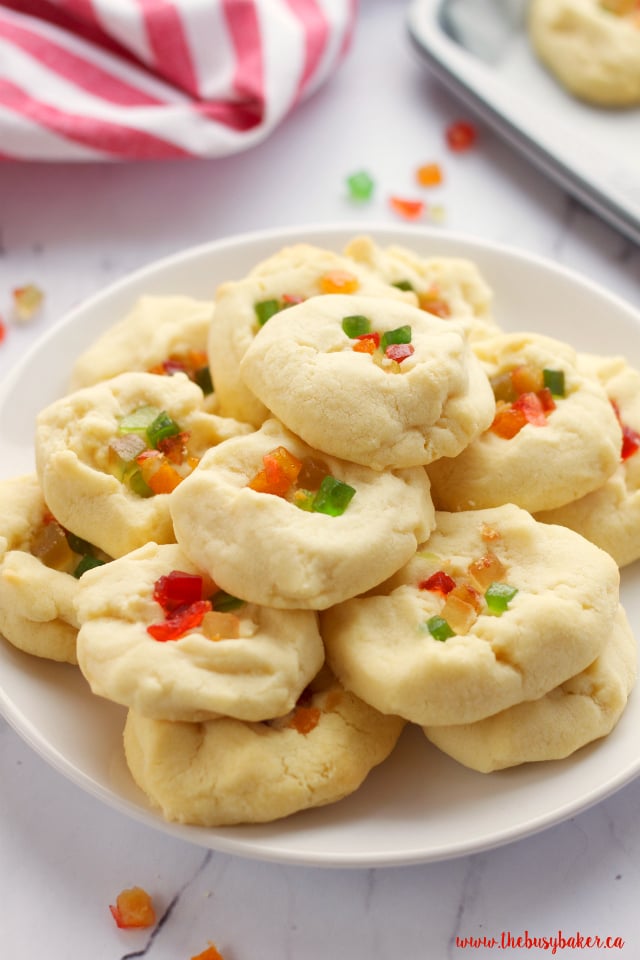 I hope you enjoy this Whipped Shortbread Holiday Cookies recipe! Let me know in the comments below, what's your family's favourite holiday treat recipe?
NEVER MISS A POST! FOLLOW ME ON:

Looking for more delicious holiday treats? Try some of my favourites, linked below!
These Best Ever Ginger Molasses Cookies are one of my most popular recipes ever!
Try these No Bake Oreo Cheesecake Truffles for a super easy-to-make Christmas treat!
These Peppermint Chocolate Snowball Truffles contain an unlikely secret ingredient that creates the perfect texture and flavour!!
Save