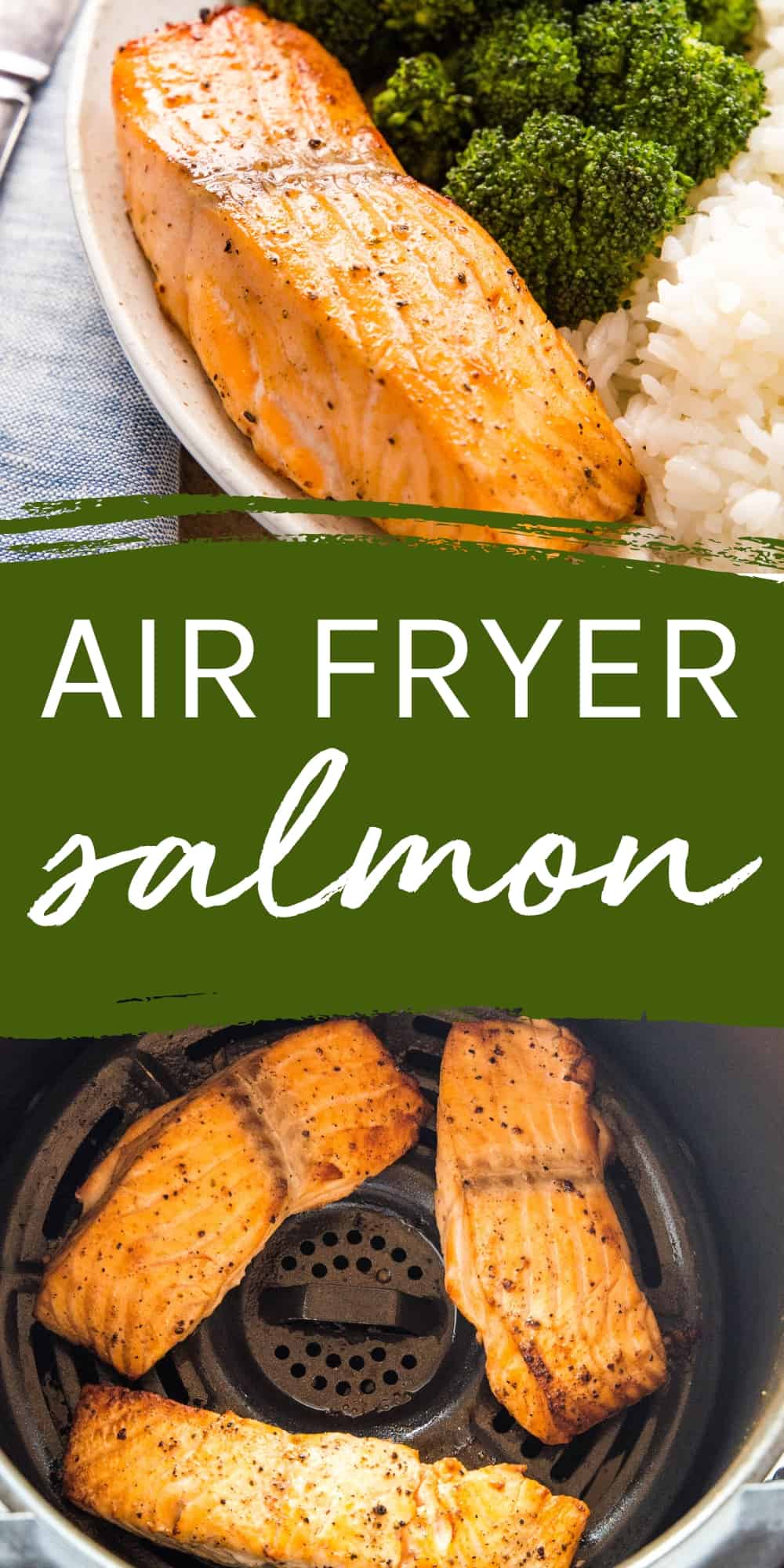 This Air Fryer Salmon is tender on the inside with a crispy exterior. Make it in 20 minutes or less with fresh or frozen salmon!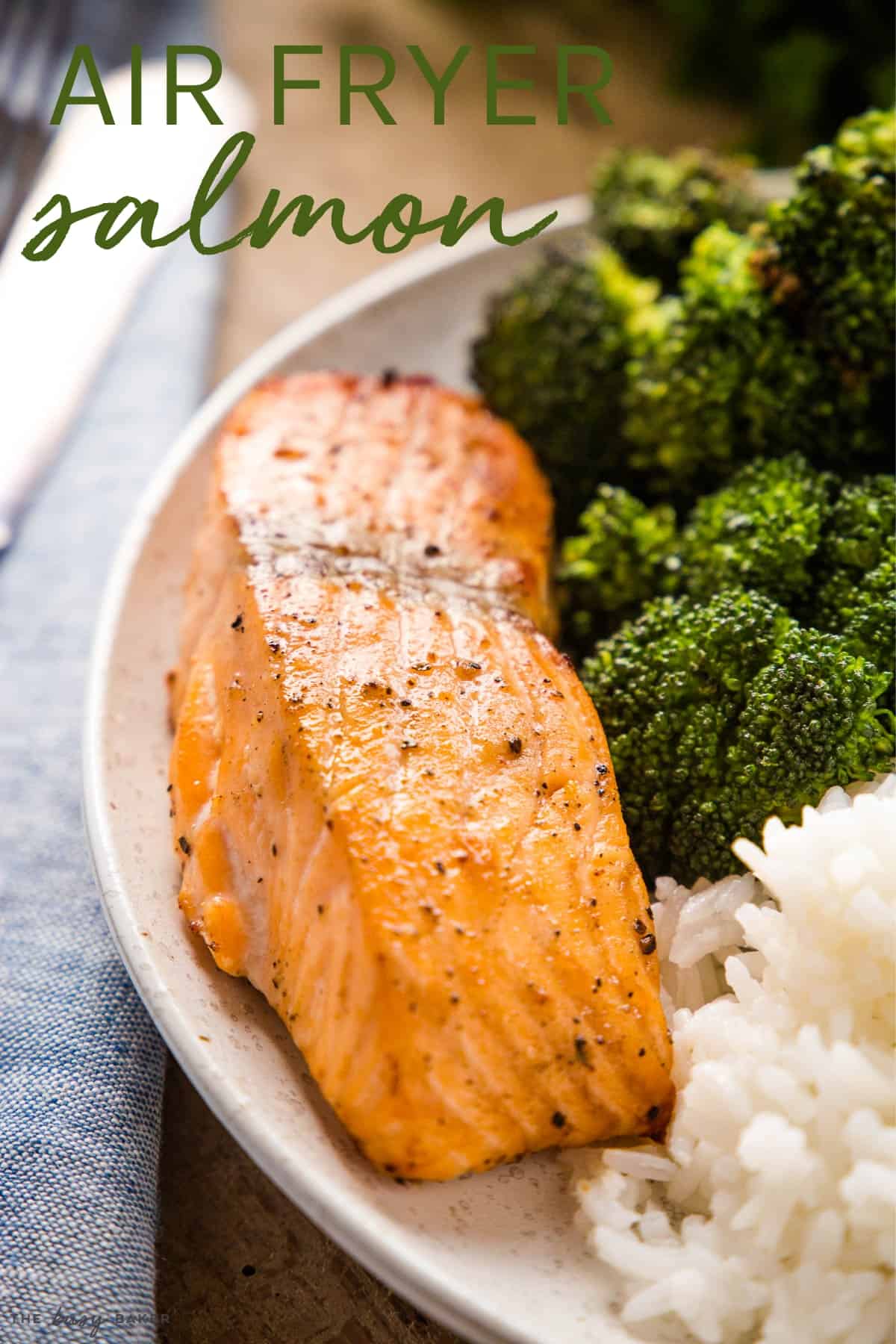 ---
Salmon is one of our go-to proteins for lunches and dinners. It's full of healthy fats, it's simple to make, and it's absolutely delicious with rice, potatoes, over a salad, or alongside delicious veggies.
We've shared many salmon recipes with you before, like this One Pan Herb and Garlic Butter Salmon, this Easy One Pan Cajun Salmon, and this Easy One Pan Maple Glazed Salmon. This Air Fryer Salmon is our new favourite way to make salmon and we just know you're going to love it too!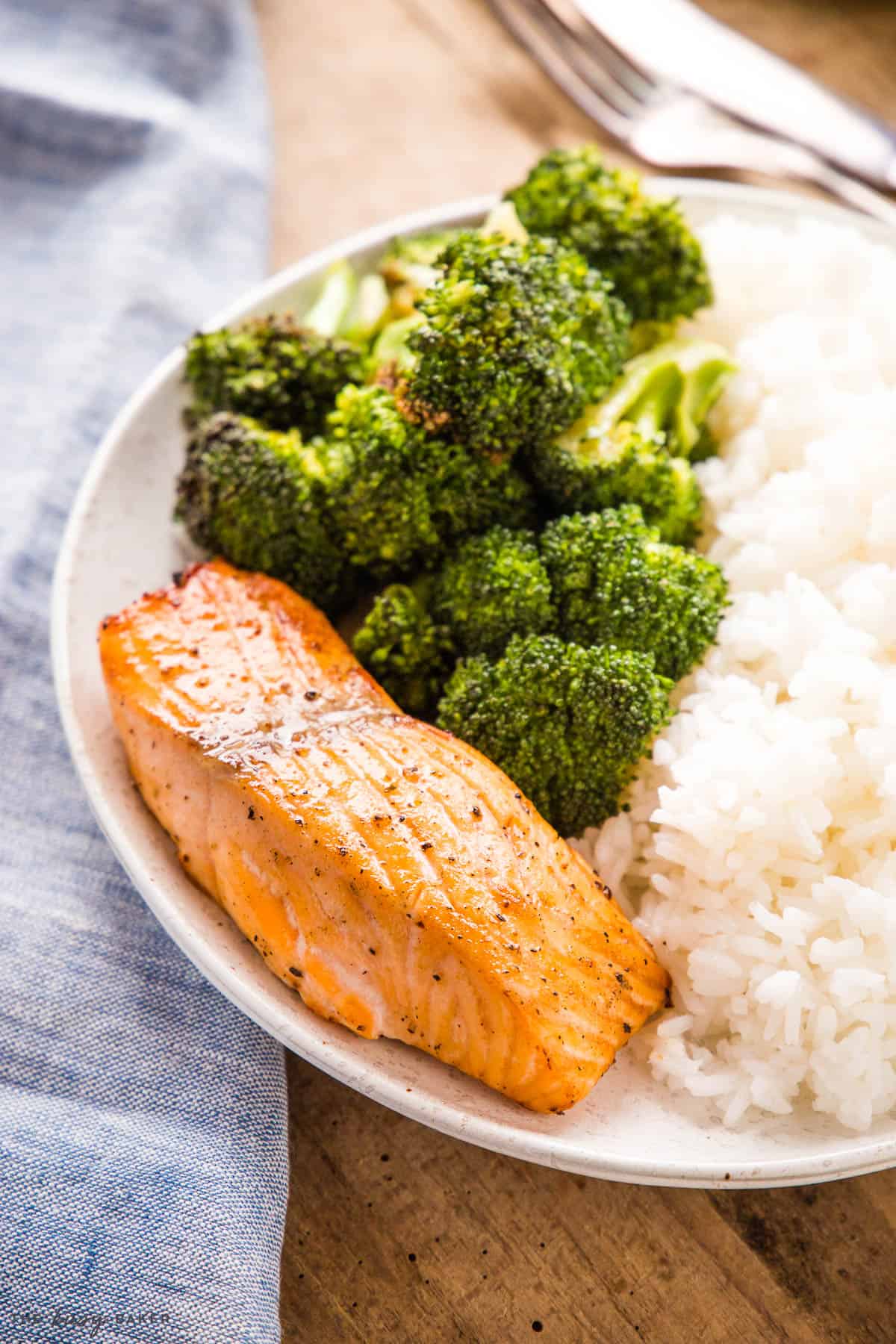 If you've been gifted an Air Fryer and it's been sitting on your shelf collecting dust, or if you've been thinking about picking up an Air Fryer for awhile but haven't yet, we'd HIGHLY recommend getting started.
An Air Fryer is a fantastic kitchen appliance for achieving that oven-crisp or fried texture in a fraction of the time with next to no added fat, and to be honest it's a kitchen appliance we'd have a hard time living without!
When making salmon in the air fryer, the salmon stays nice and juicy on the inside with a delicious crispy crust that's full of flavour. In our opinion, there's no better way to make salmon at home than in the air fryer!
If you're looking for more air fryer recipes like this, buckle up! We're going to be sharing SO many new Air Fryer recipes here on The Busy Baker, so sign up below so you don't miss a single recipe!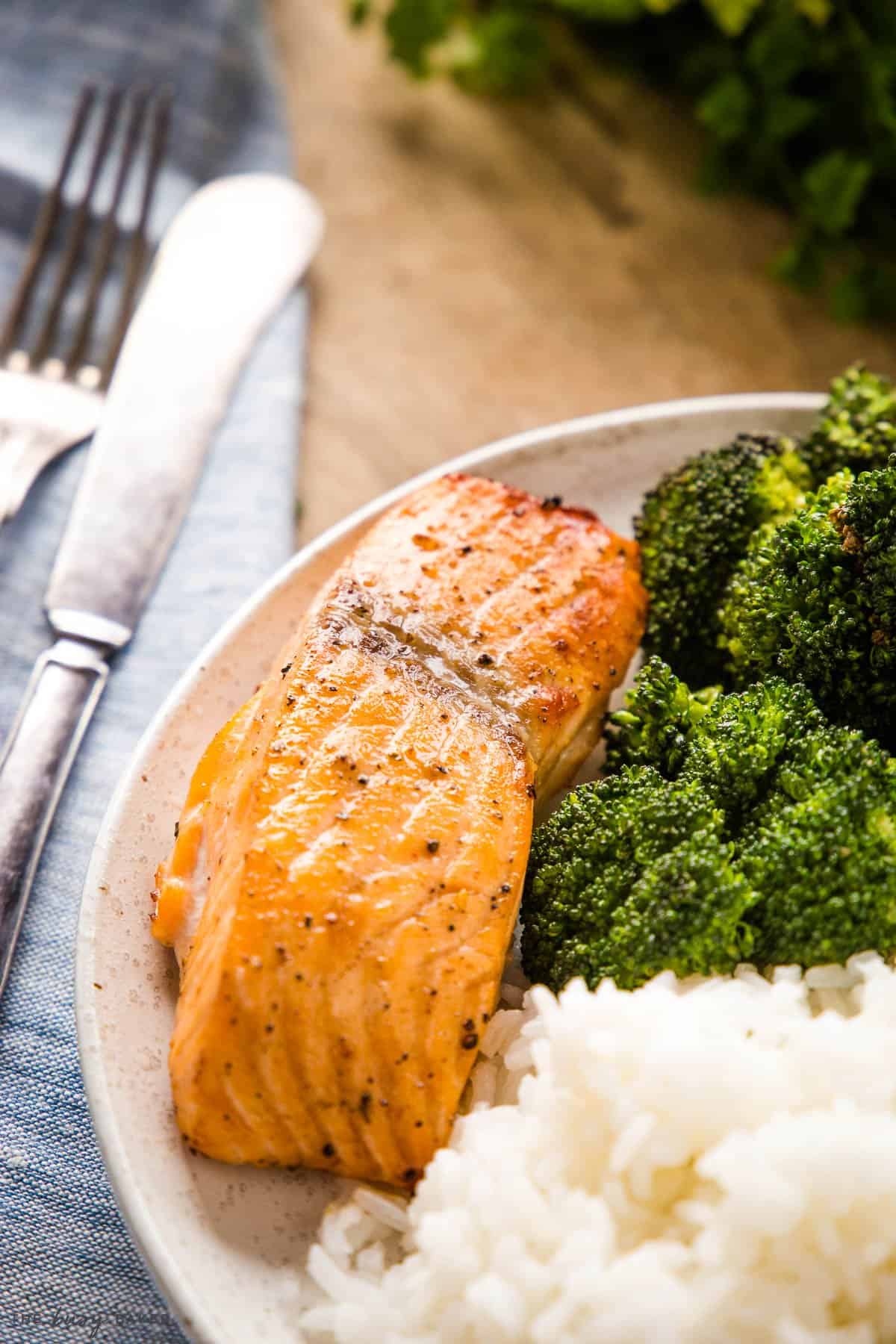 If you're in the market for an air fryer, we'd recommend these ones (affiliate links):
You'll also need these items to make Air Fryer Salmon (affiliate links):
fresh or frozen salmon filets
olive oil
lemon juice
salt and pepper
garlic powder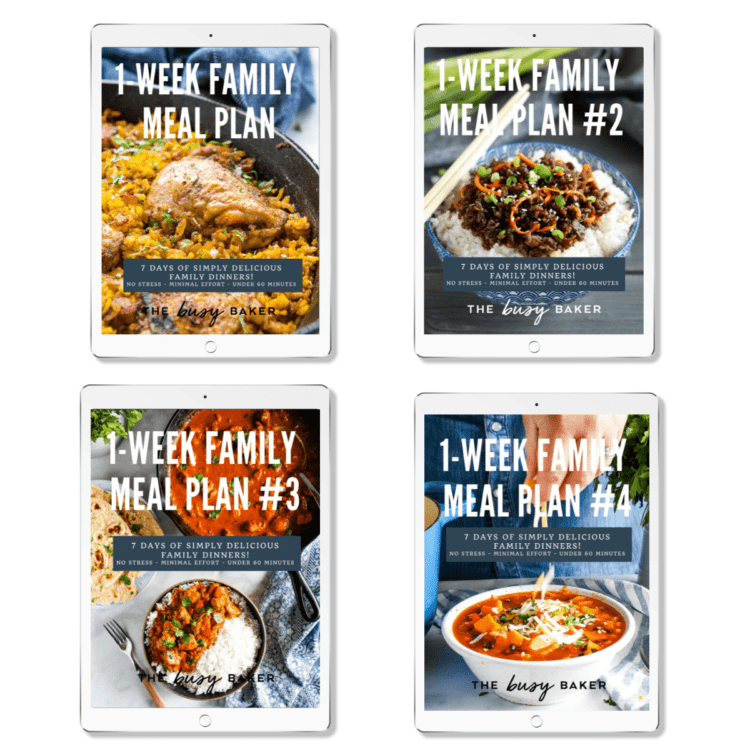 Looking for more?
TRY OUR MEAL PLANS!
Let us do the work for you with 7 days of deliciously easy family dinners, grocery lists, meal prep guides and MORE!
Buy 2, save 20%!
Buy 3, save 30%!
Buy 4 or more, save 40%!
Click here to learn more!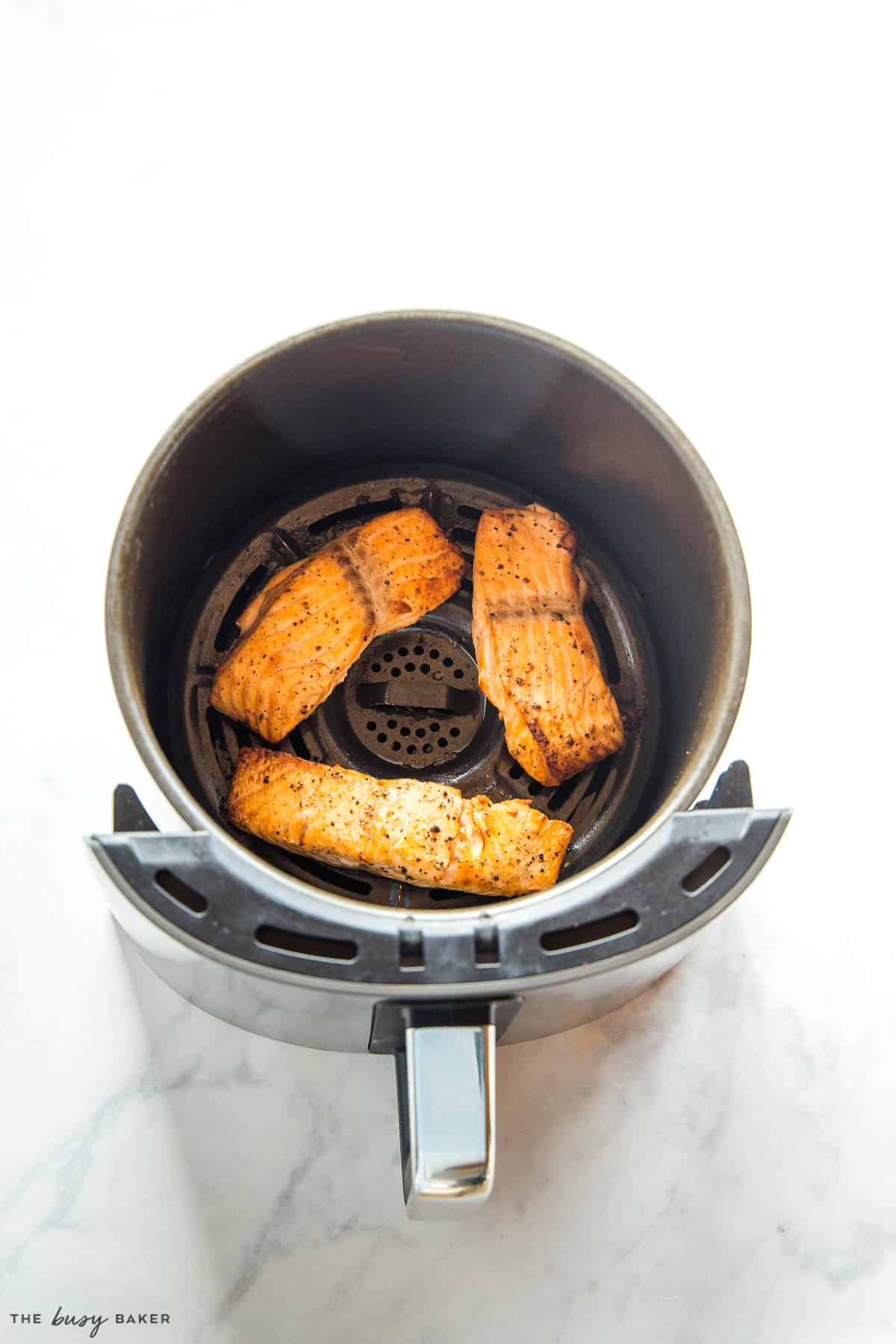 Time needed: 20 minutes
Follow these steps for the perfect Air Fryer Salmon every time!
Preheat your Air Fryer.

Preheating the Air Fryer while you're seasoning the fish helps cut down on cooking time.

Pat the salmon fillets dry.

Seasoning sticks better to dry salmon, and excess moisture prevents the outside of the salmon fillet from crisping up while cooking.

Don't overcrowd your Air Fryer.

Leaving space between the salmon fillets allows steam to escape and creates a crispy exterior.

Use an instant-read thermometer.

They key to perfectly cooked salmon is always testing the internal temperature with an instant-read thermometer. Salmon is perfectly cooked when the internal temperature reads 57 degrees Celsius or 135 Fahrenheit.
Our favourite intstant-read thermometers for recipes like this are this thermometer from ThermoPro and this thermometer from Lavatools.

Check after 5-6 minutes to avoid overcooking.

If your salmon fillets are small or thin, check the internal temperature after 5-6 minutes to see if they're close to being done. Cook for an additional 3-4 minutes or until the salmon reaches the correct internal temperature.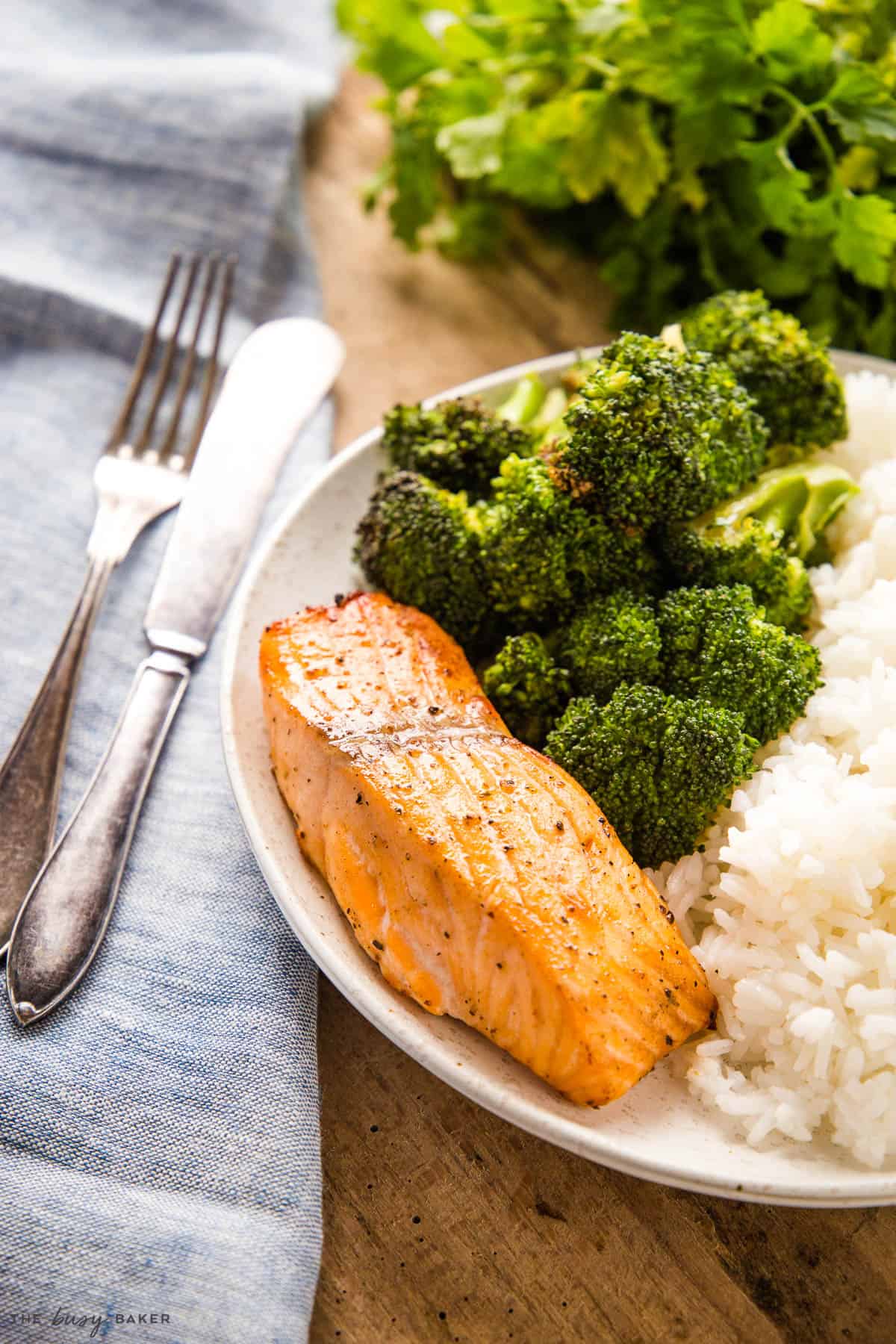 Can I make this recipe with frozen salmon?

Yes! If you don't have time to thaw your salmon fillets ahead of time you can make this recipe with frozen ones.
Preheat your Air Fryer to 170 degrees C (340 F). Rinse your fillets under warm water to get rid of any excess ice. Follow steps 2-4 in the recipe above. Air Fry at 170 degrees Celsius (340 F) for 10-15 minutes, (depending on the thickness of the fish) checking the internal temperature of the fillets at the 10 minute mark, as outlined above in the recipe.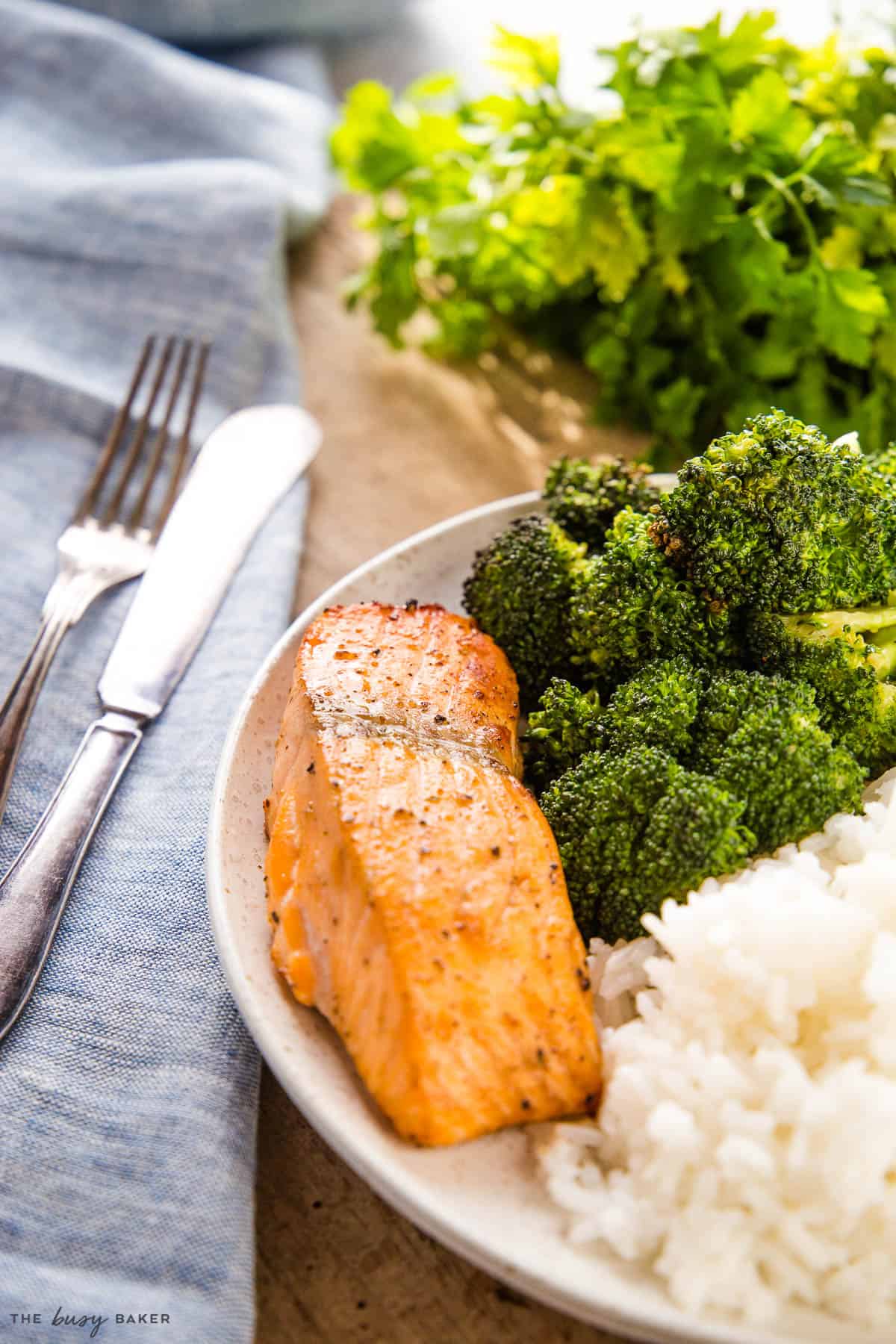 ---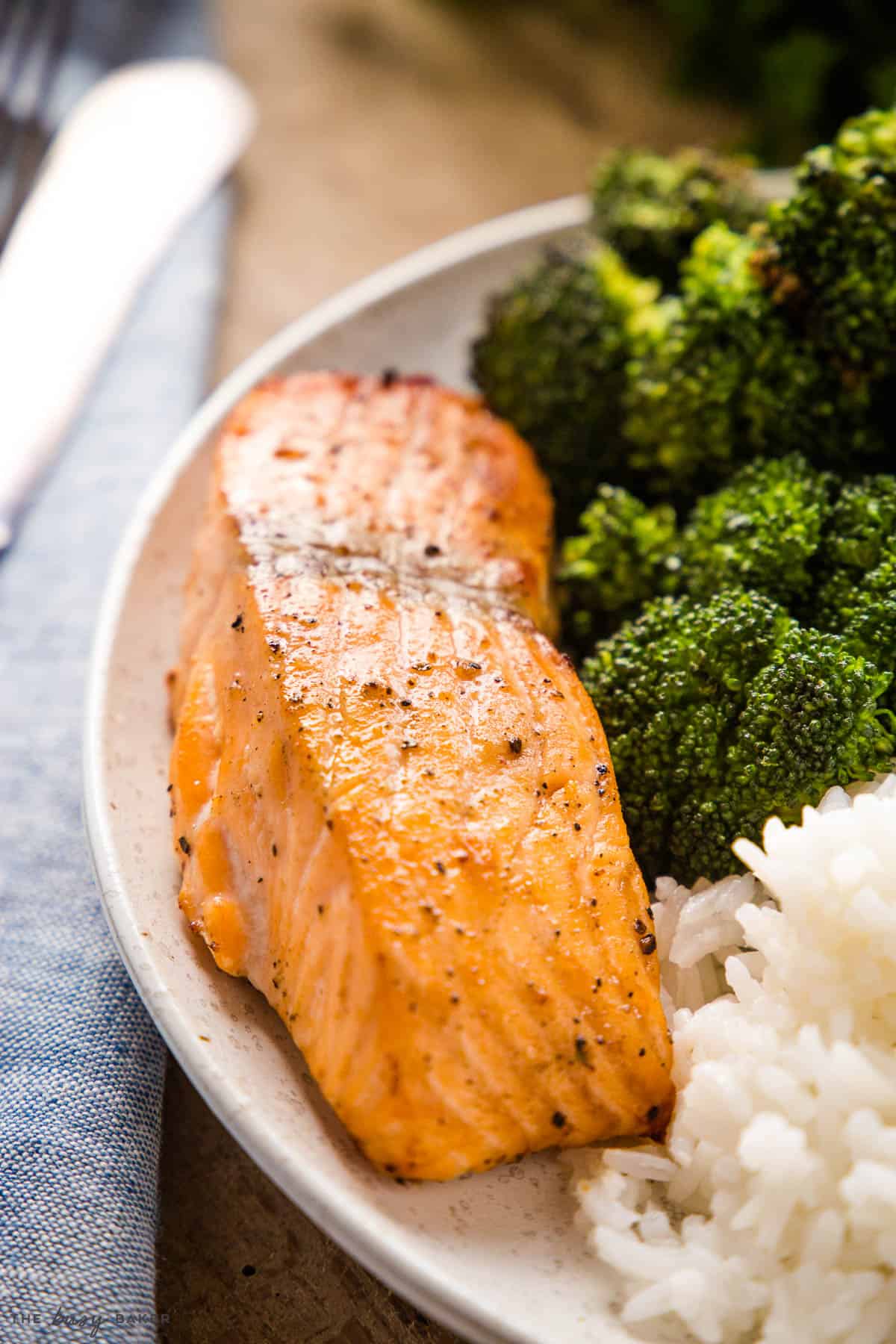 We hope you love this Air Fryer Salmon recipe! Let us know in the comments below, what's your favourite way to prepare Salmon? We'd love to know!