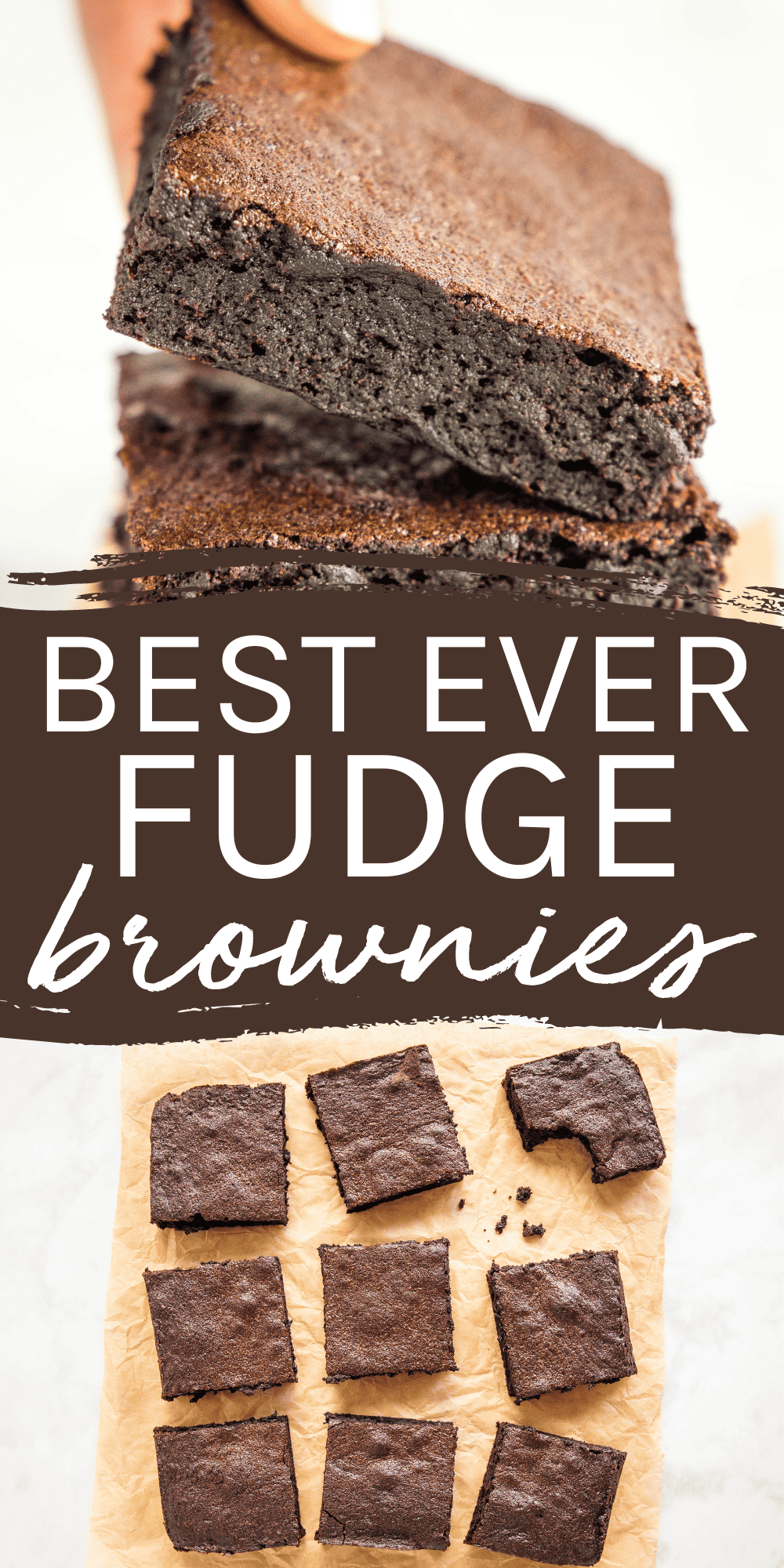 This Easy Brownies recipe makes the BEST fudgy homemade brownies ever! Soft, moist, fudgy and super easy to make in one bowl. The perfect easy from-scratch brownie recipe – you'll never make brownies from a box again!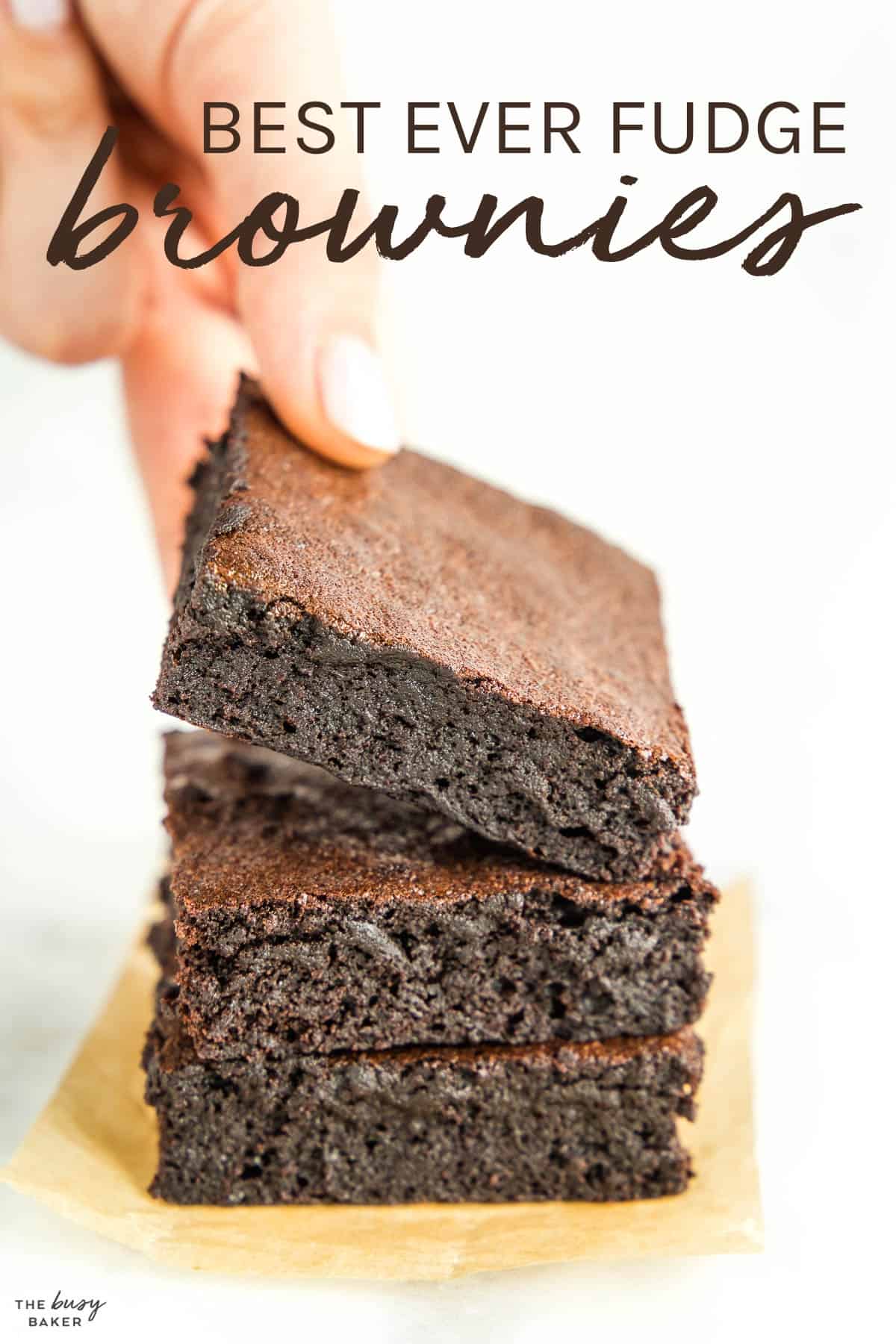 Estimated reading time: 11 minutes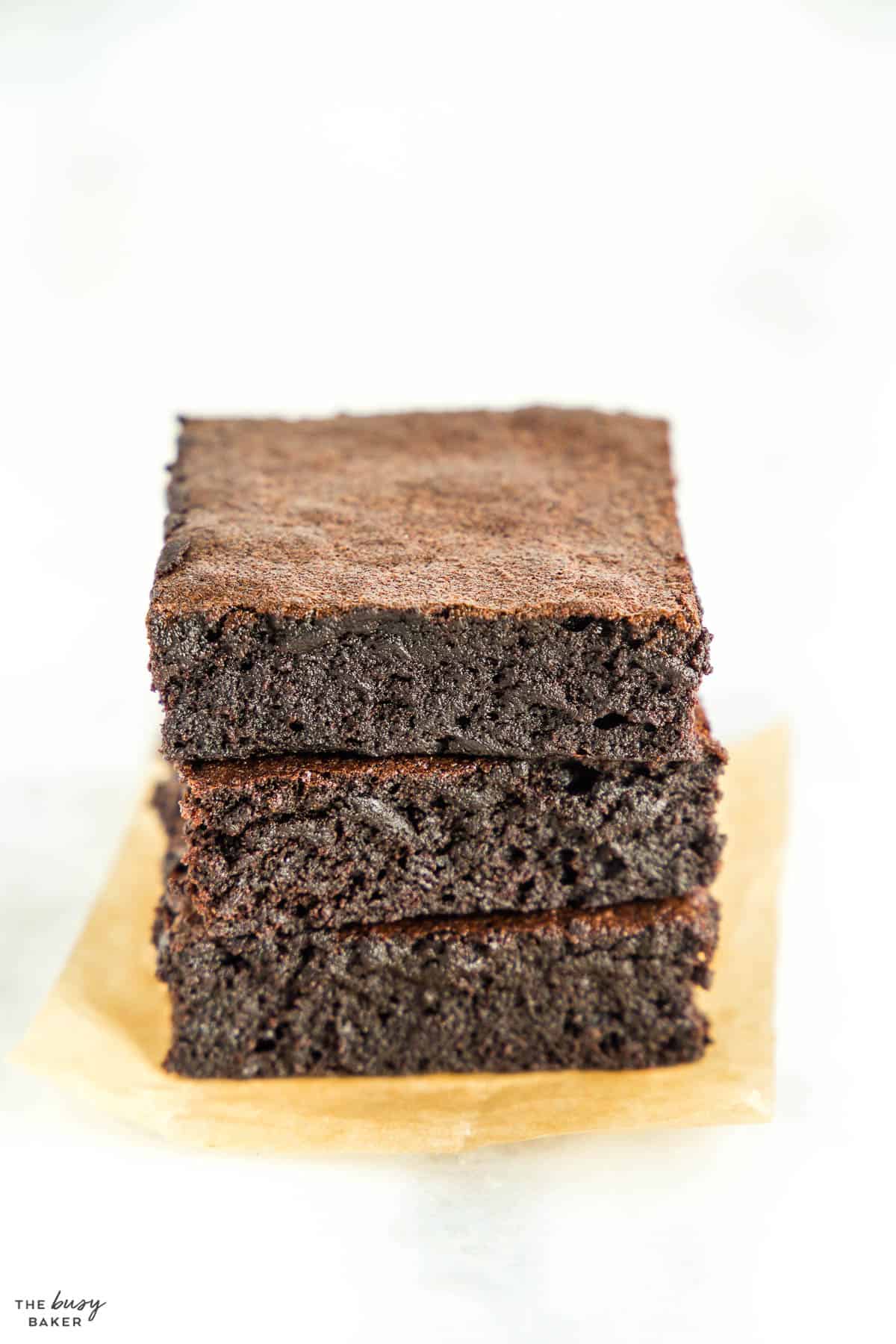 There's nothing quite as comforting and delicious as a batch of homemade brownies. They're moist, dense and oh so chocolatey – absolutely irresistible. This Easy Brownies recipe is one we've been making for almost 10 years. It's truly the perfect brownie recipe, especially if you're into fudgy, moist brownies that melt in your mouth.
And maybe the best part of this recipe is just how ridiculously easy it is to make. One bowl, about 5-10 minutes of prep time, and a few basic ingredients is all that stands between you and the best brownies of your life. Trust us, this Easy Brownies recipe is so good, it'll have you reaching for seconds (and thirds)!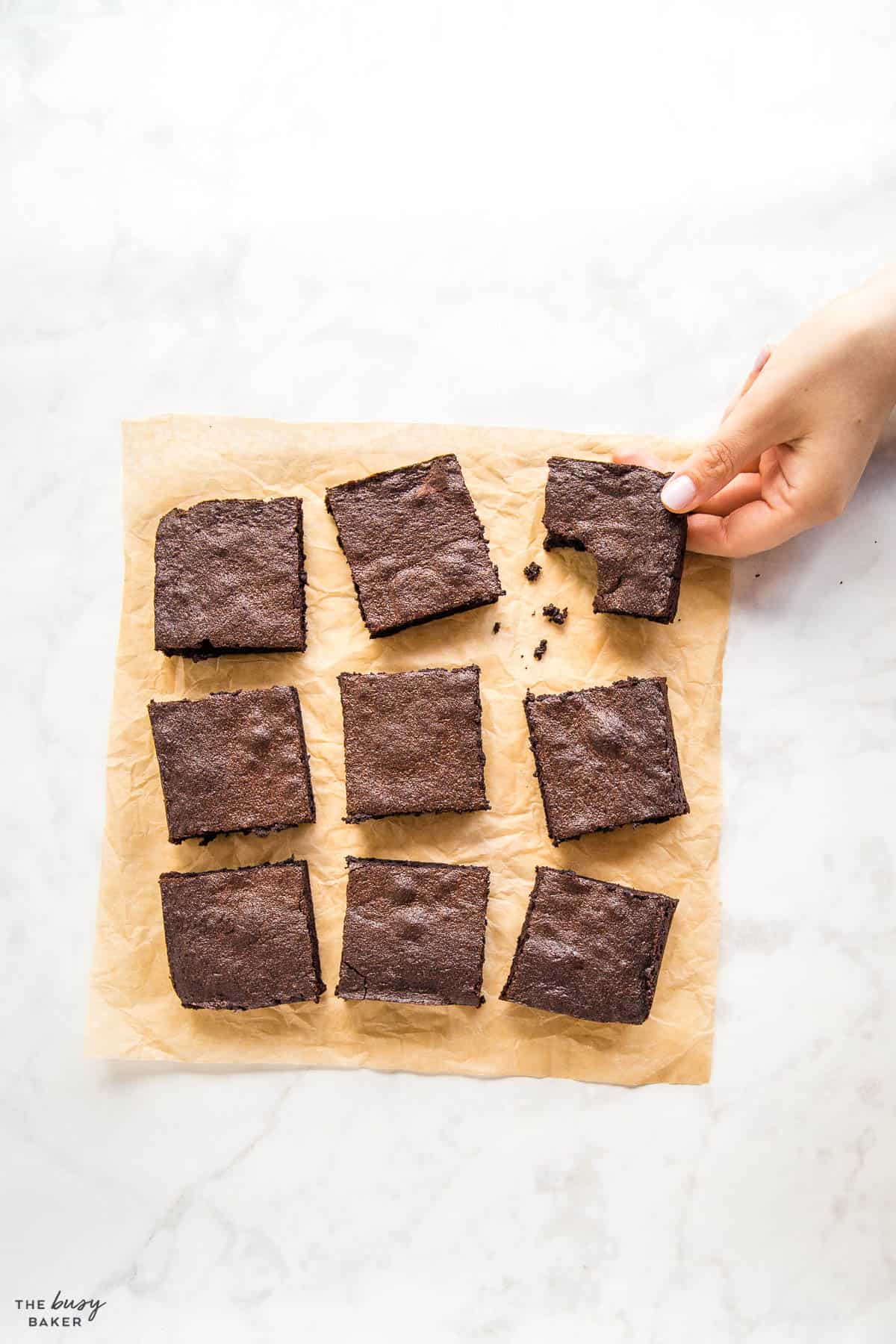 The secret to brownie baking is all in understanding the different kinds of homemade brownies and the science behind the recipes that create these three very different types of brownies. Let us break it down for you!
When it comes to homemade brownies there are really only 3 basic kinds: fudgy, cakey, and chewy. Here's a breakdown of the three brownie categories:
Fudgy Brownies: Fudgy brownies have a dense, moist interior that practically melts in your mouth. They're so moist, in fact, that they can sometimes seem underbaked when they come out of the oven. If you love a gooey, intensely chocolatey brownie like this, then fudgy brownies are for you.
Cakey Brownies: If you're into the lighter side of life, cakey brownies might be your jam. These brownies have a fluffier, more cake-like texture. Think of them as a cross between a brownie and a chocolate cake – a delicious compromise for those who enjoy a bit of levity in their desserts.
Chewy Brownies: If you're a texture fanatic, chewy brownies are your ticket to dessert nirvana. These brownies strike a balance between fudgy and cakey with a slightly drier crumb. If you're into a chewy brownie with a bit of frosting on top, you should check out our famous recipe for Grandma's Homemade Brownies (they're just a little bit fudgy and a LOT chewy!)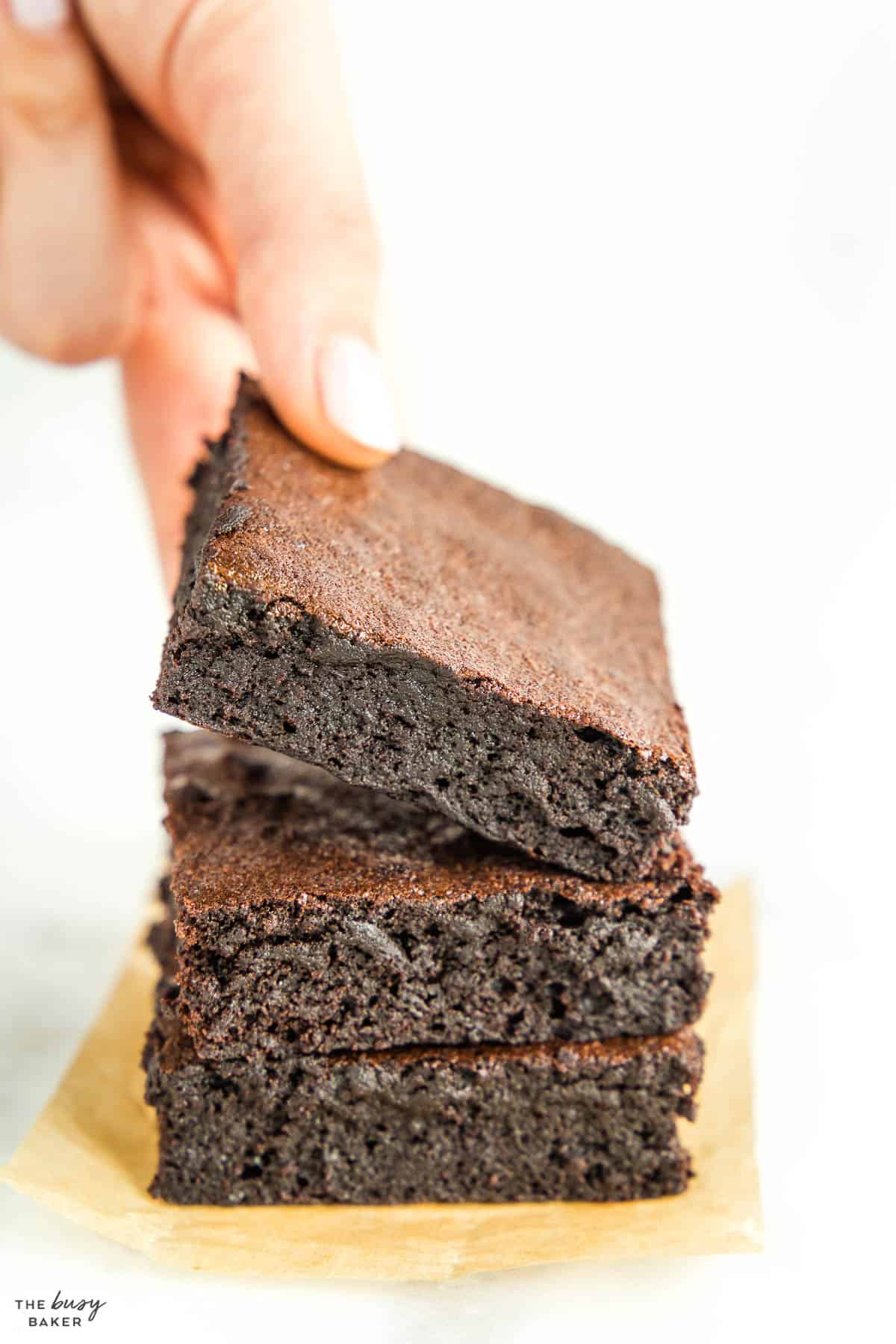 If you're after a delicious fudgy homemade brownie, the key to you success is all in the science – that is, in the ingredients and their amounts and how they work together. Here's how to tell brownie recipes apart:
Fudgy Brownies: if you're after a fudgy brownie, look for a recipe with less flour that calls for brown sugar (or a combination of white and brown sugar). Fudgy brownie recipes also call for more eggs and usually don't call for any leavener (baking soda or baking powder), as these ingredients would create more air in the batter, causing the brownies to lose their fudgy texture. Fudgy brownie recipes also usually call for a lot of butter or melted butter instead of oil because butter also contributes to the fudgy texture (oil creates a lighter texture than butter).
Cakey Brownies: these brownies often contain more flour than fudgy brownie recipes, and they often call for fewer eggs, vegetable oil instead of butter or melted butter, and they usually call for baking powder. When you add baking powder to your brownie batter it slowly creates a lot of air bubbles while the brownies bake, giving them a lot of lift and rise – just like a cake.
Chewy Brownies: these brownie recipes often look similar to cakey brownies but they sometimes contain a small amount of baking soda instead of baking powder. Baking soda causes brownie batter to rise quickly at the beginning of the baking process and then settle as it continues baking, creating a more chewy texture. Recipes for chewy brownies also often contain fewer eggs, vegetable oil instead of butter, and a little more flour than fudgy brownies. Chewy brownies are the middle ground between fudgy and cakey brownies because they're dense like fudgy brownies but aren't as moist and gooey.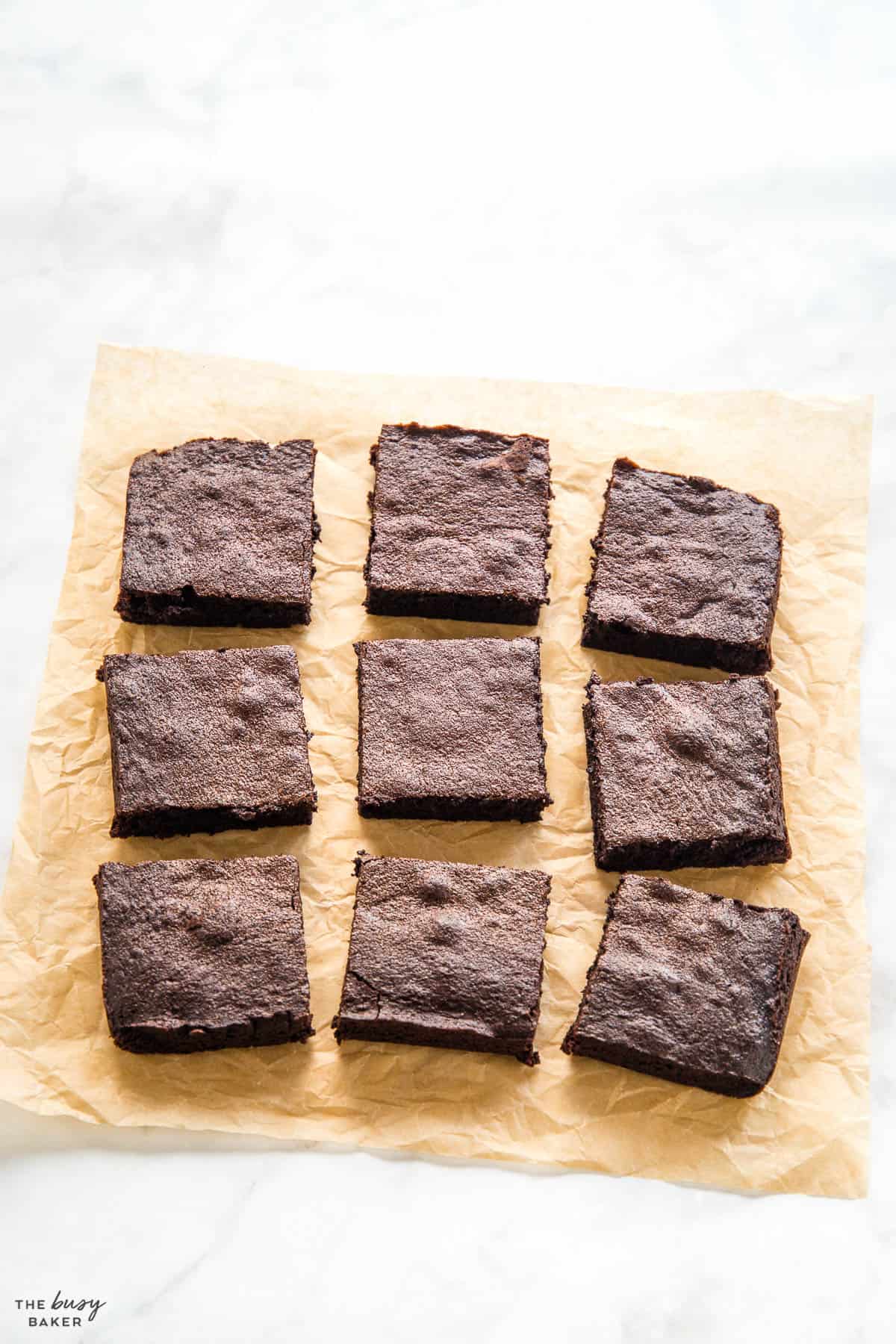 Here's a list of the ingredients you'll need to make these perfect fudgy homemade brownies (paid links):
Unsalted Butter – the melted butter in this recipe adds SO much richness and moisture, and it helps create the gooey, fudgy texture.
Granulated Sugar – adding white granulated sugar not only adds sweetness, but it also adds structure to the brownies, giving them their shape and helping them stay together.
Brown Sugar – the addition of brown sugar creates a lot more moisture than plain white sugar.
Vanilla Extract – vanilla may seem like a weird addition to a brownie recipe, but trust us: it intensifies the chocolate flavour in the best way!
Eggs – the addition of 2 eggs to this brownie batter makes it SO moist and creates a density that's unique to fudgy brownies.
All Purpose Flour – the flour adds structure to the brownies and the starch in the flour absorbs some of the moisture, giving the brownies the perfect texture.
Unsweetened Cocoa Powder – be sure to use unsweetened cocoa powder. It adds richness to the recipe, gives it an intense chocolate flavour, and adds to the moisture.
Salt – a little salt balances out the flavours in the recipe and tempers the sweetness.
If you're looking to take your brownies to the next level, here's a few additions we recommend:
Espresso Powder: Adding one tablespoon of instant espresso powder is something we do almost every time we make this recipe! Adding a little coffee doesn't change the flavour of the brownies very much but it intensifies the chocolate flavour like crazy and gives the most delicious end result!
Chocolate Chips or Chocolate Chunks: Adding up to 3/4 cup of chocolate chips or chocolate chunks to the brownie batter is a great way to add a lot more decadence to the recipe. Experiment with dark chocolate, milk chocolate, or even white chocolate!
Vegetable Oil: Adding just 2 teaspoons of vegetable oil to this recipe (no need to change any other ingredients) will have a magic effect on the outcome of the recipe. It creates a more crackly top on the brownies so if you're into that, a little vegetable oil is a great addition.
Whipping the eggs first: Another way to get a crackly top on your homemade brownies is to incorporate some air into your eggs before adding them into the batter with the other wet ingredients. Whisk them by hand with a fork or a whisk (or use a hand mixer if you prefer) for a minute or two and then add them to the batter. This will help you achieve a nice crackly top to your brownies.
Cheesecake Topping: If you want a super decadent variation on the basic brownie recipe, check out our Red Velvet Brownies recipe for a simple cheesecake topping you can swirl into any brownie batter just before baking to take it from a simple brownie to a cheesecake brownie! Trust us, you're going to LOVE this one!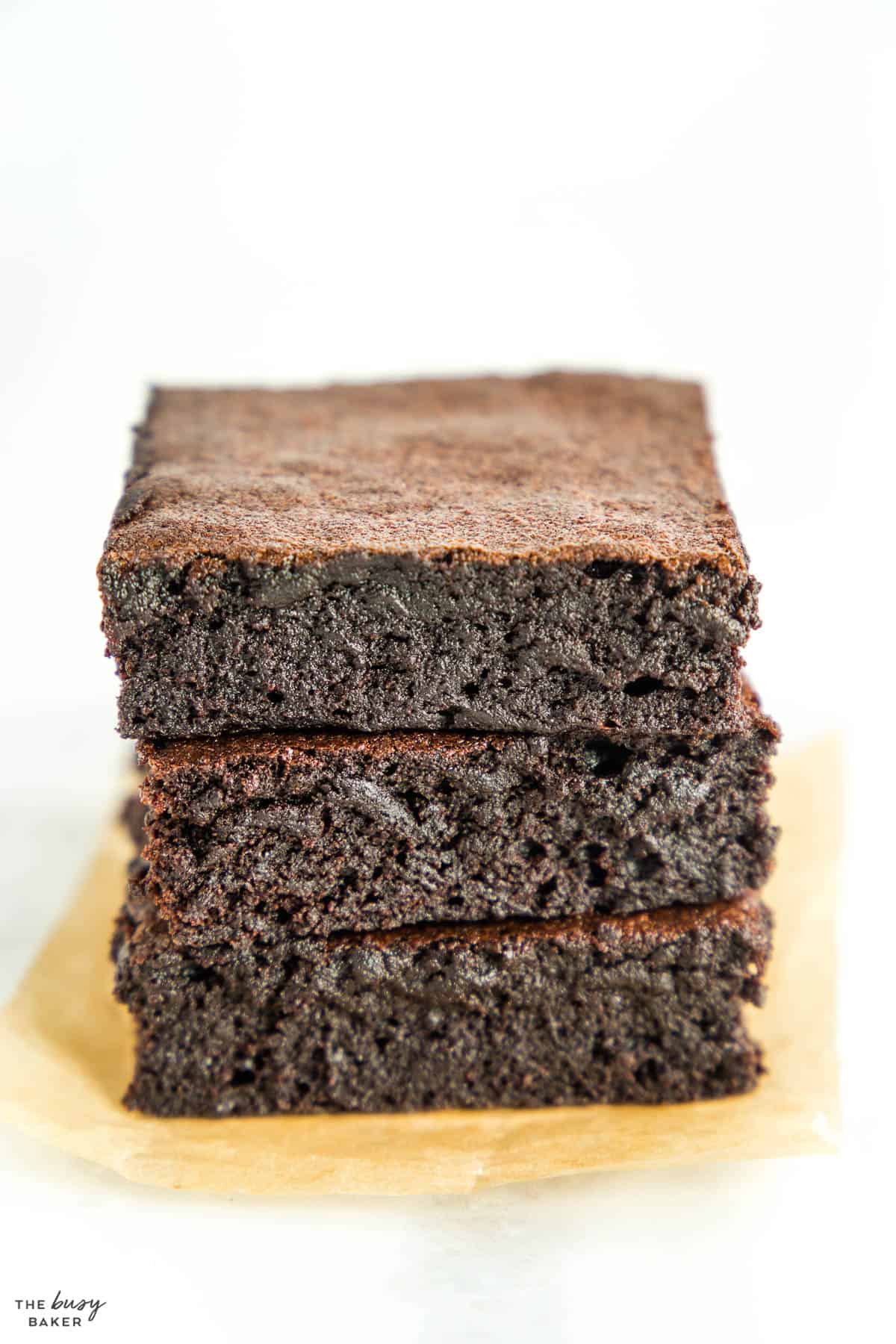 You won't need many kitchen items to make this recipe, but here's what we recommend having on hand (paid links):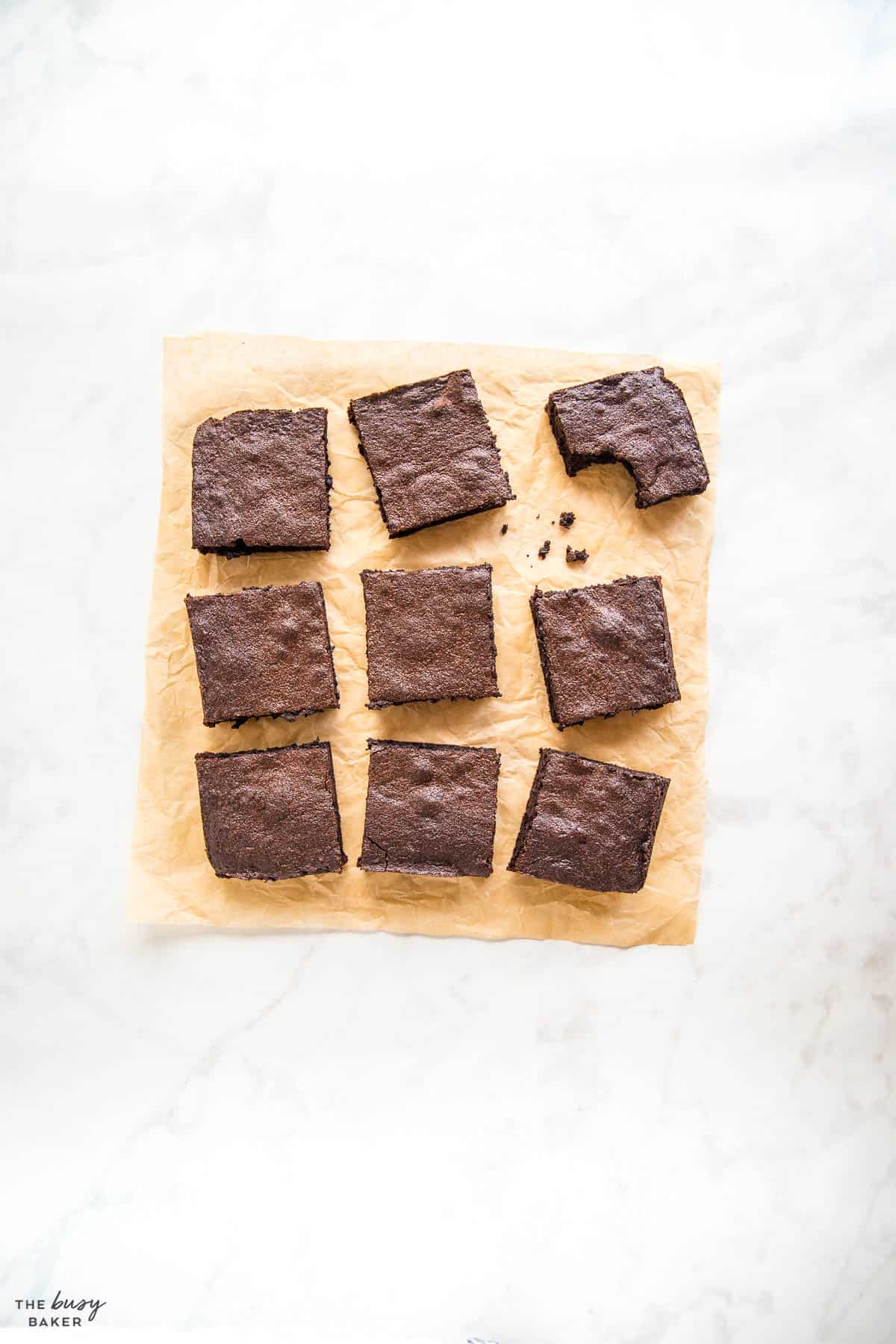 Time needed: 35 minutes
Follow these steps to make the perfect brownies from scratch!
Preheat your oven and prepare the baking pan.

Preheat your oven to 350 degrees Fahrenheit and grease your baking pan with baking spray. We recommend lining the pan with parchment paper as well for easy removal.

Start with melted butter.

Melt the butter in your mixing bowl in the microwave until liquid.

Whisk the wet ingredients together well.

Whisk the sugar, eggs and vanilla into the melted butter until completely smooth and combined.

Add the dry ingredients.

Add the flour, cocoa powder and salt on top of the wet ingredients and combine everything with a silicone spatula just until no streaks of flour remain.

Smooth out the top of the batter before baking.

Pour the batter into the pan and smooth out the top with your spatula or an offset spatula (if you have one).

Bake until set.

Bake them until the centre is slightly set. If the centre jiggles when you move the pan, bake for an additional few minutes until the centre is soft, but set.

Cool before enjoying.

Cool the them in the pan before slicing and serving,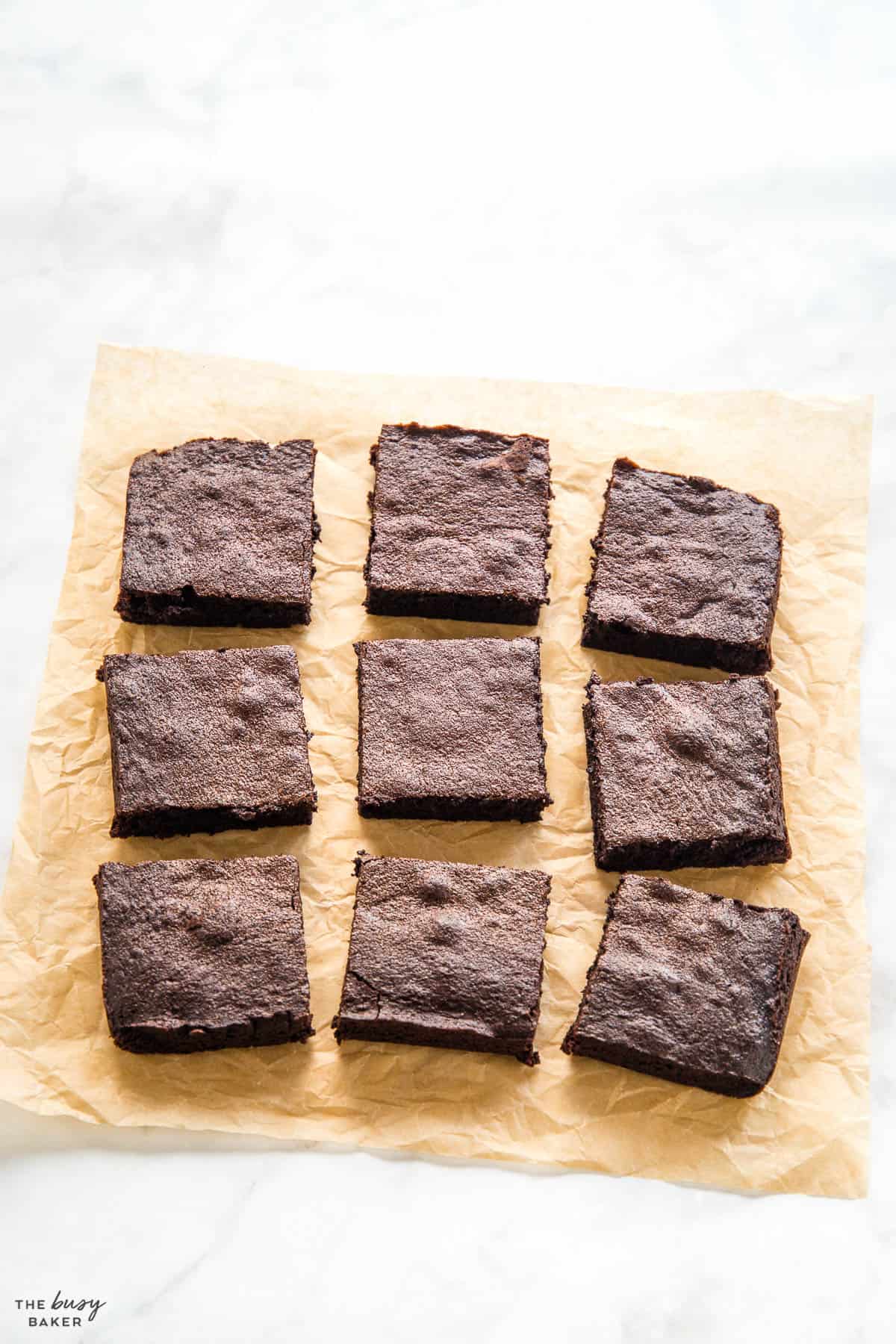 Why are my brownies dry and crumbly?

Dry, crumbly brownies are likely caused by over-baking, over-mixing, or by adding too much flour to the batter. Be sure to measure the flour correctly, avoid over-mixing the batter, and bake only for the time indicated in the recipe.
What are the three types of brownies?

The three types of brownies are cakey, chewy, and fudgy.
My brownies are too gooey in the middle. What went wrong?

Brownies that are too gooey are likely underbaked. If you cut into your brownies before they're completely cool they'll likely have a very gooey texture as they'll continue setting as they cool. Be sure to bake them until they're set in the middle and let them cool almost to room temperature before slicing.
Can I make brownies ahead of time?

Yes! Bake and store them in an airtight container for up to 24-48 hours before serving.
What makes a brownie fudgy?

A fudgy brownie is made with a higher moisture content and a lower flour content, making it ultra moist and dense on the inside.
Is it better to cut brownies hot or cold?

It's better to wait to slice your brownies until they're almost cooled to room temperature. Slicing into hot brownies can cause them to fall apart since brownies continue to bake in the pan even after they've been removed from the oven.
How long do brownies last?

Brownies last for about 3-4 days when stored in an airtight container at room temperature.
Can I freeze brownies?

Brownies can be frozen for up to 3 months in an airtight container or bag. We recommend placing a layer of wax paper or parchment paper between the layers of the brownies in the container to prevent sticking. Thaw them at room temperature.
How do you cut brownies without sticking?

When slicing, it's better to avoid a sawing motion with your knife a this can create a lot of crumbs. We recommend removing the brownies from the baking pan by lifting up the parchment paper. Place them on a cutting board and slice with a large knife in a downward motion.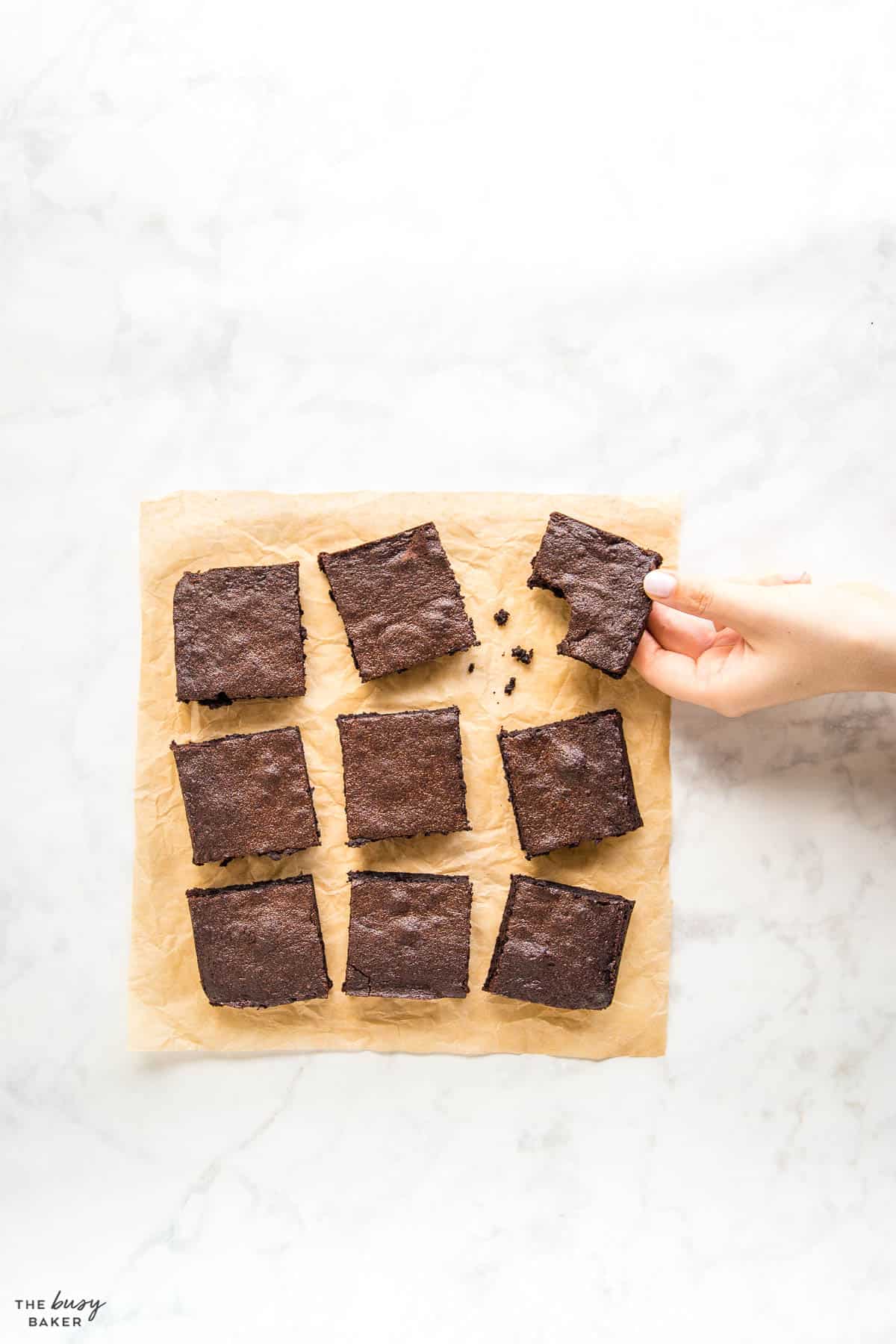 We hope you love this recipe as much as we do! Let us know in the comments below, what's your favourite kind of brownie: fudgy, chewy or cakey? We'd love to know!
If you made this, share a photo!
Are you trying this recipe? Use the comment form below to share your take; now with support for image uploads and comment voting!
Share a photo
Easy Brownies
A super easy from-scratch brownie recipe made in one bowl! This Easy Brownies recipe makes the BEST fudgy homemade brownies that are soft, moist, and oh so delicious!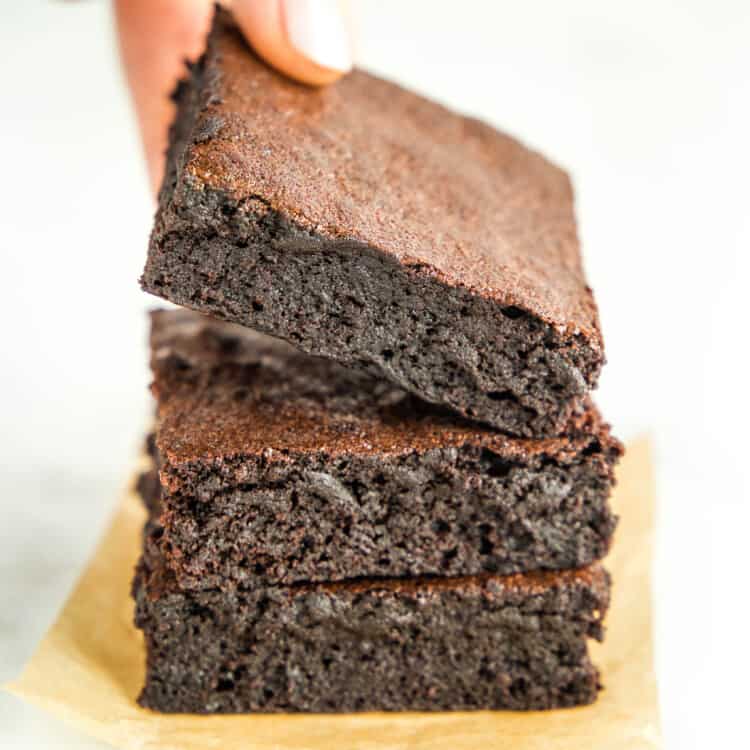 Recipe:

Instructions
Preheat your oven to 350 degrees Fahrenheit. Prepare an 8-inch by 8-inch square baking pan by greasing it with butter or baking spray and lining it with parchment paper for easy removal after baking.

Melt the butter in your mixing bowl in the microwave.

Add the sugar, eggs and vanilla to the melted butter and whisk very well to combine.

Add the flour, cocoa powder and salt on top of the wet ingredients and combine everything together with a silicone spatula.

Pour the batter immediately into the prepared pan and smooth out the top of the batter.

Bake at 350 degrees Fahrenheit for about 22-25 minutes, or until the centre is just barely set and not jiggly.

Let the brownies cool in the pan before removing them (using the parchment paper) and setting them on a cutting board.

Slice them using a large knife in a downward motion (avoid using a sawing motion as this can create a lot of crumbs). Enjoy!
Recipe:

Notes
Storage Instructions
Store the brownies in an airtight container at room temperature for up to 3-4 days.
Freezing Instructions
Freeze the brownies in an airtight container or freezer-safe bag with wax paper or parchment paper between the layers to prevent sticking. These brownies last well in the freezer for about 3 months.
Recipe:

Nutrition

Nutrition Facts

Easy Brownies

Amount Per Serving (1 brownie)

Calories 234

Calories from Fat 108

% Daily Value*

Fat 12g18%

Cholesterol 68mg23%

Sodium 43mg2%

Potassium 116mg3%

Carbohydrates 31g10%

Protein 3g6%

Vitamin A 375IU8%

Calcium 27mg3%

Iron 1mg6%

* Percent Daily Values are based on a 2000 calorie diet.

Notice: Nutrition is auto-calculated, using Spoonacular, for your convenience. Where relevant, we recommend using your own nutrition calculations.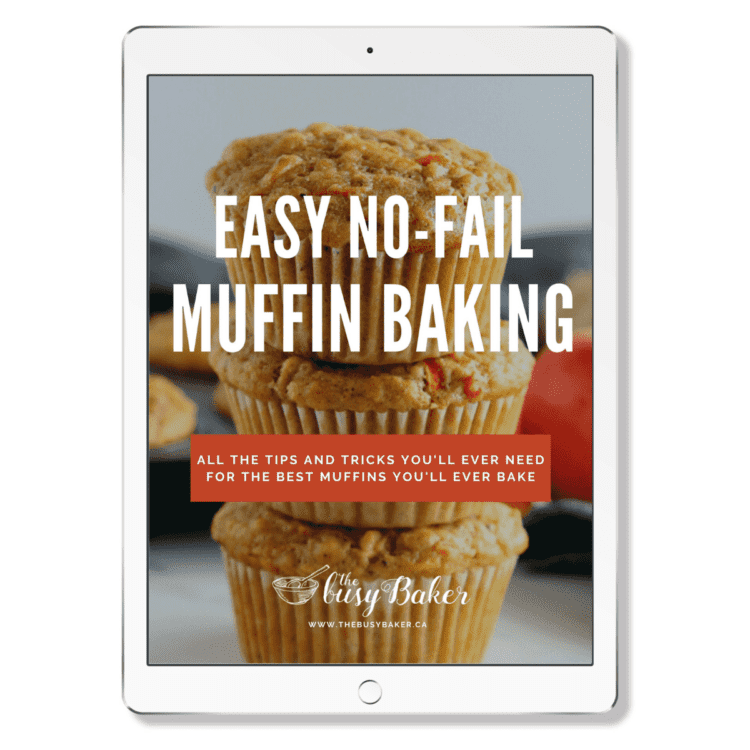 Looking for more?
EASY NO FAIL MUFFIN RECIPES AND BAKING TIPS
Get my easy no-fail muffin baking e-cookbook!
Click here to learn more!