Easy roasted chicken dinner, made in ONE pan! Clean-up is a snap when you make this one-pan chicken recipe. A healthy, kid-friendly, and gluten free chicken dinner.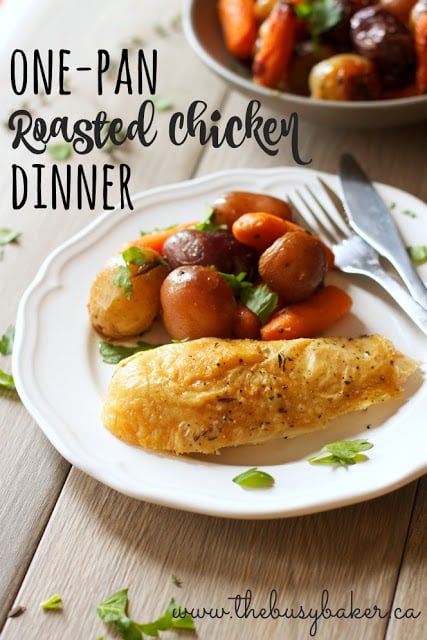 Easy One-Pan Dinners
Since I became a mom I LOVE one pan dinners. I just can't get enough of them. There's almost no better feeling than throwing dinner in the oven, forgetting about it for an hour and then coming back to a beautiful and delicious well-rounded meal that looks (and tastes) like you slaved away in the kitchen all day! This easy roasted chicken dinner is a weeknight staple in our family because it's a one-pan dinner that calls for healthy, fresh ingredients, and it's easy to customize according to your family's tastes, or whatever happens to be in your fridge that day. We love baby potatoes (especially the Terrific Trio baby potatoes from the Little Potatoes Company!) and carrots, so that's what I use most often, but you can always improvise with sweet potatoes, beets, parsnips, red onions, or any other root vegetable. And because the recipe calls for a small whole chicken, there are always lots of leftovers for easy lunches the next day! I love this easy roasted chicken recipe, and I know you'll love it too!
Looking for more easy meal ideas? Check out my Skinny Tex-Mex Mac and Cheese Skillet or this Chicken and Shrimp Paella! This recipe is adapted from Michael Smith's Roast Chicken and Root Vegetables.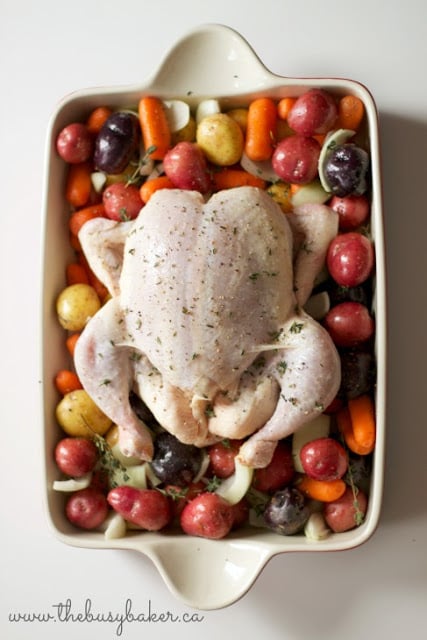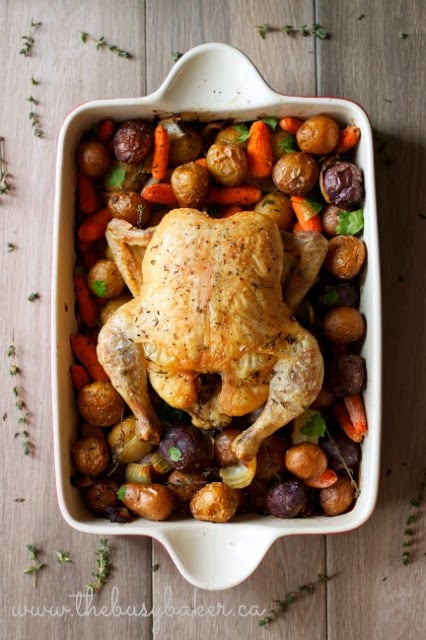 How delicious does this roasted chicken look??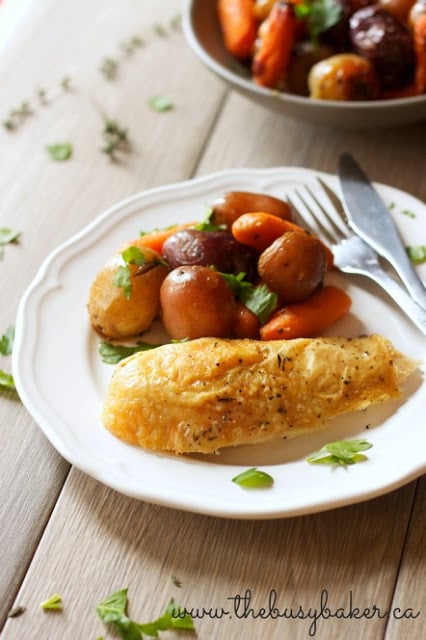 Easy Roasted Chicken Recipe Notes
The potatoes, onions, and carrots serve as the perfect "roasting rack" for the chicken, keeping the skin crispy and the meat moist and juicy. The vegetables absorb all the beautiful chicken flavour and the fragrance of the thyme.
If the skin is getting too crispy during cooking, place a sheet of aluminum foil lightly over the pan.
This is such a beautiful dish, yet it's so simple…but aren't the best dishes usually the simplest?
One Pan Easy Roasted Chicken with Potatoes
Easy roasted chicken dinner, made in ONE pan! Clean-up is a snap when you make this one-pan chicken recipe. A healthy, kid-friendly, and gluten free chicken dinner.
Print
Pin
Rate
Ingredients
5

pounds

roasting chicken

2

large

onions

chopped into large chunks

6

cloves

garlic

peeled and sliced

1

lb

baby carrots

3

lbs

baby potatoes

a few sprigs of fresh thyme

a few pinches each of salt and pepper

fresh parsley for garnish
Instructions
Preheat your oven to 350 degrees Fahrenheit.

Peel and chop your onions and garlic and throw them in a large roasting pan or casserole dish. Add the baby potatoes and carrots, and a few sprigs of thyme, along with a pinch or two of salt and pepper and toss. Spread the vegetables out evenly in the bottom of the pan.

Rinse your chicken and pat it dry with some paper towel. Season the skin well with a few pinches of salt and pepper and rub some of the fresh thyme leaves onto the skin as well.

Once the oven has reached 350 degrees Fahrenheit, place the pan in the oven and roast for about 1 hour and 20 minutes (or 20 minutes for every pound of chicken). It's a good idea to test the thigh with a meat thermometer to be sure it has reached 163 degrees Fahrenheit. (It will continue to cook to 165 as it sits after cooking)

Once the chicken is done, simply remove the pan from the oven, let the chicken rest for several minutes, then carve it up and serve alongside the roasted vegetables with a sprinkling of fresh parsley!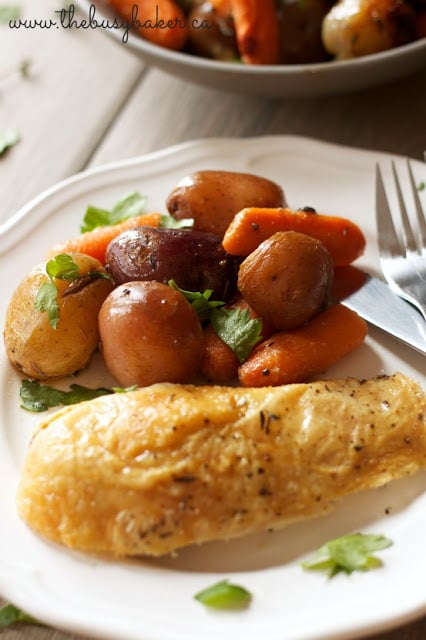 Roasted lean meats and vegetables are always good choices on Weight Watchers, and a serving of this Roasted Chicken Dinner (4 oz, of chicken, skin removed, and 1.5 cups of vegetables) is approximately 9 Weight Watchers Smart Points (although it's always a good idea to weigh and measure for yourself!). I hope you enjoy this one pan chicken dinner! Let me know in the comments below, what's your favourite back-to-basics simple dinner?
Like this easy chicken dinner recipe? Try my Paprika Chicken Thighs with Roasted Root Vegetables and Kale, or this delicious Asian-inspired Honey Garlic and Lime Chicken!