This Glazed Chocolate Donut Bundt Cake tastes just like everyone's favorite coffee shop donut! It's the perfect chocolate bundt cake recipe: quick and easy, moist and fluffy, and oh so chocolatey! And the simple and easy sugary glaze just puts this dessert over the top! Watch the video below to see how I make it, and don't forget to scroll down to the end of this blog post for the full printable recipe!
NEVER MISS A POST! FOLLOW ME ON:
*I originally shared this AMAZING recipe with my readers in October 2016. I'm re-sharing it today with a brand new tutorial video, making it even easier for you to make it at home in your own kitchen!
I've mentioned before that if I had to choose between salty and sweet I'd choose salty every time. Given the choice between a bowl of buttery popcorn and a piece of cake the popcorn would win, hands down, every single time. But donuts? Now that's another story entirely.
I don't know exactly what it is about donuts that makes them so much more delicious than other sweet treats, but whatever it is is fine with me!! I've actually already shared my love of donuts with you several times, like when I shared these yummy Skinny Chocolate Donuts with you, or my all time favourite (and one of the most popular recipes on my blog) these Old Fashioned Cinnamon Sugar Cake Donuts. To be honest, I don't think I've met a donut recipe I haven't liked!
When it comes to donuts I don't discriminate, but one of my all time favourite donuts is a tender chocolate cake donut coated in a crispy, crackly, sugary glaze. This Glazed Chocolate Donut Bundt Cake is all those things and more!! I've been trying for years to perfect a glaze like this for my home baking and I'm happy to say I'm finally pleased with the texture – it's perfectly sweet and thin, not at all like a frosting – it may just be the best glaze ever. And paired with tender, moist chocolate cake…who could resist??
The recipe for this Glazed Chocolate Donut Bundt Cake is actually the same recipe as my No-Fail Chocolate Layer Cake. It's pretty much the best chocolate cake recipe you'll ever come across, and as they say – if it ain't broke, don't fix it. I use different versions of this recipe for cakes and cupcakes of all shapes and sizes and it turns out perfectly every single time. It's been in my recipe collection for over ten years and it's not going anywhere anytime soon! I even made a version of it for a friend's birthday here in Romania a few weeks ago without measuring cups and measuring spoons and it still turned out beautifully! If that's not a good cake recipe, I don't know what is!!
And don't think for a second about skipping the last ingredient in this Glazed Chocolate Donut Bundt Cake recipe – trust me, it is what makes this cake something special! Between this amazing chocolate cake and the perfect glaze, you're going to be in donut-inspired heaven before you know it!
NEVER MISS A POST! FOLLOW ME ON:
I hope you enjoy this Glazed Chocolate Donut Bundt Cake recipe! Let me know in the comments below, what's your favourite indulgent dessert to make at home?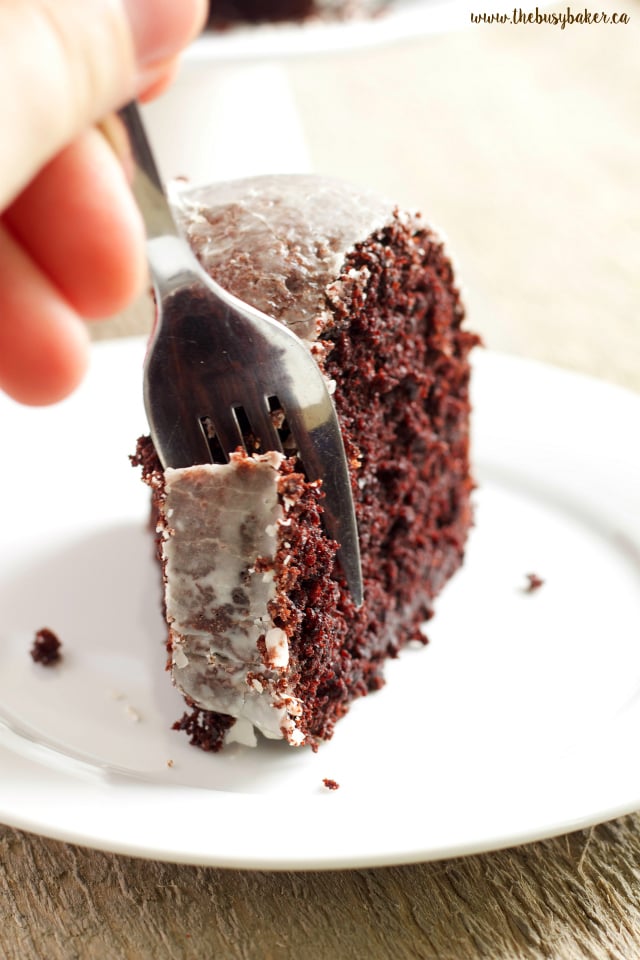 Looking for even more delicious desserts??? Try the ones I've linked below!
These Double Chocolate S'mores Cookies are extra decadent!
My Grandma's Fudge Brownies are the easiest brownies you'll ever make and they're SO delicious!!
Kitchen Products I recommend:
Save
Save
Save