*This post is sponsored by Circulon Canada. Although I have received compensation, all opinions are my own.
This Skinny Scrambled Eggs Benedict with Low Fat Hollandaise Sauce is the perfect healthy Eggs Benedict recipe featuring low fat English Muffins topped with lean Canadian bacon, fluffy scrambled eggs and the creamiest low fat Hollandaise sauce ever!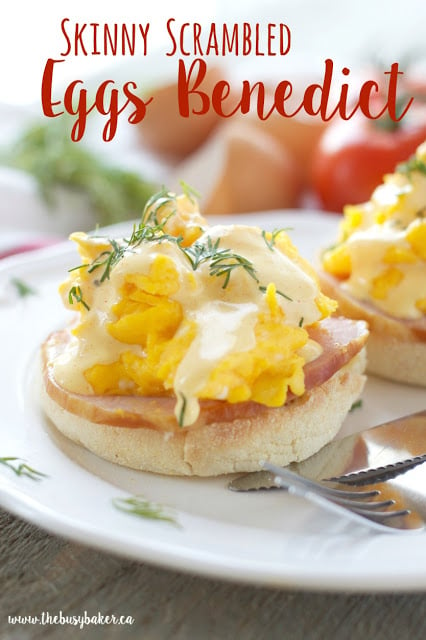 NEVER MISS A POST! FOLLOW ME ON:
The first time I ever tried Eggs Benedict I almost couldn't believe how delicious it tasted! I was pretty sure Hollandaise sauce was the most tasty thing on the planet…that is, until I discovered just how much butter is used to make it (cue sad trombone music here).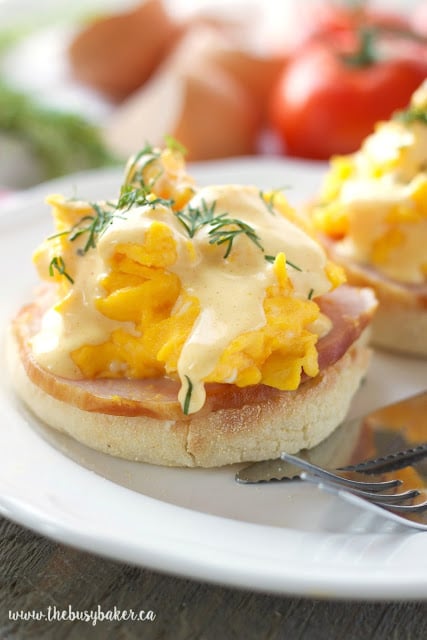 Now don't get me wrong, I love butter. I mean, you can't possibly make delicious treats like these ones without a little bit (okay, a lot) of butter. But that much butter at every meal? No way. In my quest for a healthy lifestyle I've been experimenting with new ways to reduce the amount of saturated fat and empty calories in my diet without sacrificing flavour, which is why I'm so excited to be partnering with Circulon Canada today to bring you this delicious recipe for Skinny Scrambled Eggs Benedict with Low Fat Hollandaise Sauce with no added fat!
Yes, you read that correctly – fluffy scrambled eggs and creamy Hollandaise sauce with no added fat thanks to Circulon's non-stick technology and a secret ingredient! I love this recipe just about as much as I love my new Circulon cookware, and I know you will too!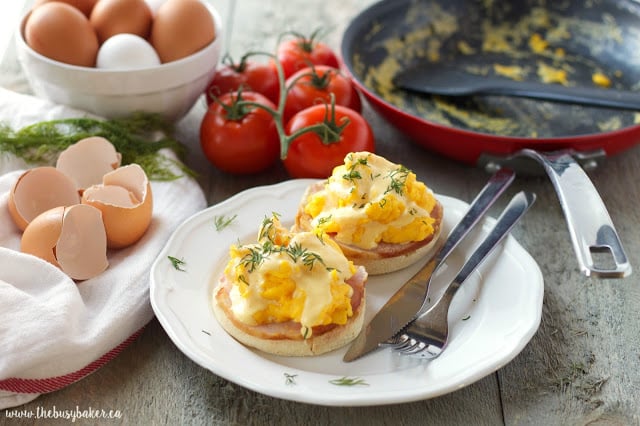 When Circulon Canada reached out to me and asked if I wanted to try their cookware I'll admit, I was a little bit skeptical. I've tossed out at least 6 non-stick skillets from other brands in the last 12 years because non-stick cookware is usually poor quality and they just don't perform as well as other types of cookware. I've been testing the Circulon Prime 10-inch Skillet and the Circulon Hard Anodized Jumbo Electric Griddle for over a month now and it only took about 2 uses before I was completely sold!
Circulon's total Non-Stick System with its hi-lo groove design is unlike anything I've used before, but it really works! It protects the non-stick cooking surface from scratches so you can actually use metal utensils, and it helps the food release from the cooking surface very easily. And the best part – Circulon's cookware is free of PFOA (Perfluorooctanoic Acid), a controversial ingredient found in a lot of popular non-stick cookware on the market. I've used the 10-inch skillet almost every day since it arrived on my doorstep (sometimes multiple times each day!) and there are no signs of wear on the cooking surface.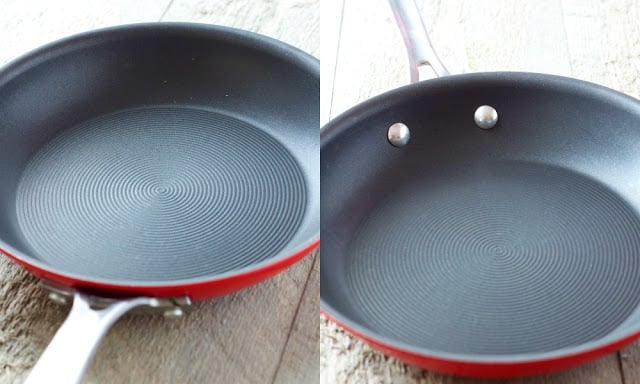 Another thing I really appreciate is the quality of the construction – it's pretty heavy-duty for daily use, and the heavy bottom prevents warping and provides a nice even heat distribution. You can tell by the appearance of the bottom of the skillet how well I've used it this month (and how much I need to clean my stove…yikes. Keeping it real here folks!)!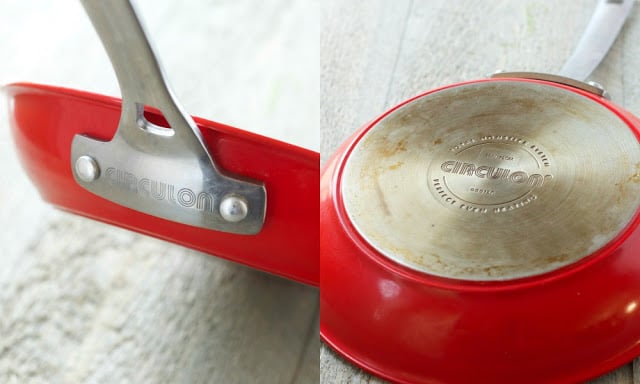 I've tested many different foods using my new Circulon cookware, and even my Healthy Buttermilk Pancakes turned out perfectly on the griddle, even though the recipe contains no fat at all! However, I knew the true test for this skillet would be eggs. Could it really stand up to scrambled eggs with not one drop of added fat to prevent sticking? You're about to find out!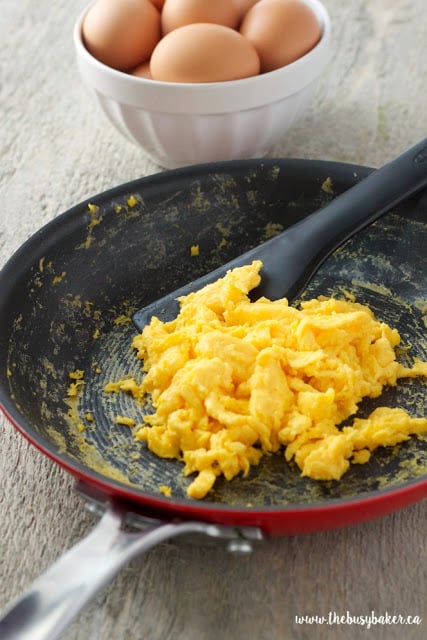 After using this Circulon cookware for the last month, I can definitely say I love it! And I look forward to trying out other pieces from their cookware collection in the future! This Skinny Scrambled Eggs Benedict with Low Fat Hollandaise Sauce was a huge success and I know you're going to LOVE this recipe!
This lightened-up Hollandaise sauce recipe was inspired by this one by Carlsbad Cravings.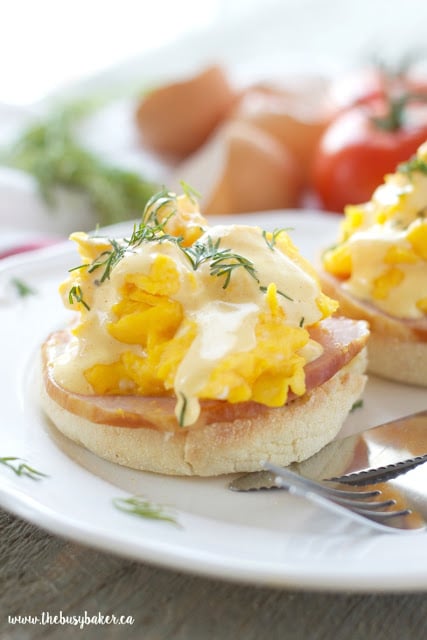 I hope you enjoy this recipe for Skinny Scrambled Eggs Benedict with Low Fat Hollandaise Sauce! Let me know in the comments below, what would you enjoy with this delicious Hollandaise?
NEVER MISS A POST! FOLLOW ME ON:
Like this recipe? You'll love these reader favorite recipes I have linked below!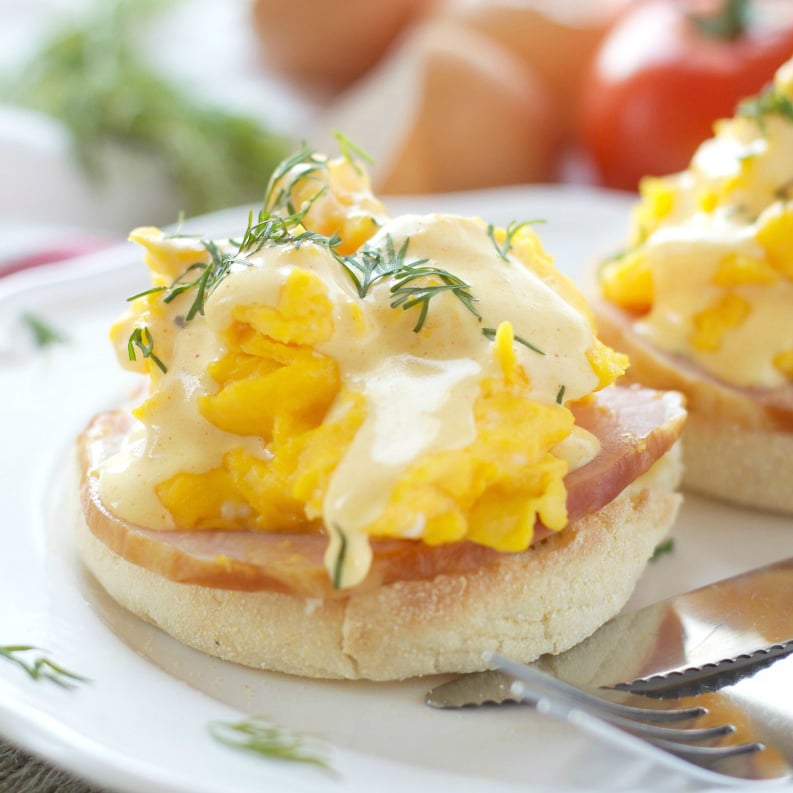 Skinny Scrambled Eggs Benedict with Low Fat Hollandaise Sauce
This Skinny Scrambled Eggs Benedict with Low Fat Hollandaise Sauce is the perfect healthy version of everyone's favorite Eggs Benedict!

Print
Pin
Rate
Ingredients
For each serving you'll need:
2

eggs

2

slices

of pan fried Canadian Bacon

1

English Muffin

, lightly toasted
For the low-fat Hollandaise (serves 6):
4

egg yolks

1

tsp

lemon juice

1

tsp

lemon zest

1

tsp

Dijon mustard

2

tbsp

dry white wine

a pinch each of sea salt and pepper

a small dash of paprika

(optional)

2/3

cup

fat free Greek yogurt

, at room temperature

fresh dill for garnish
Instructions
For the Hollandaise sauce:
Add the egg yolks to a heat-proof bowl and gently whisk them to break them up.


Add the lemon juice and zest, the Dijon, salt and pepper and the white wine. Whisk everything together to combine and then set the heat-proof bowl over a pot of gently simmering water (NOT boiling!).

Whisk the mixture constantly as it heats up. You'll notice it eventually start to thicken as you whisk, but continue to whisk until the mixture falls from your whisk in thick ribbons.


Continue whisking as you add the Greek yogurt slowly, a few tablespoons at a time until it's all incorporated.

Remove the pot from the heat and remove the heat-proof bowl from over the pot. Set the Hollandaise sauce aside for a moment while you prepare the scrambled eggs.
For the eggs:
Set your non-stick skillet over medium-high heat. Add 2 eggs to a bowl and whisk them until they're light and foamy. Once the skillet has heated turn the heat down to medium-low and add the eggs to the skillet using a heat-safe spatula to move the eggs around in the pan continuously as they cook.

Be gentle. Sweeping, folding motions help create fluffy scrambled eggs that aren't rubbery.

As soon as the eggs appear creamy, they're done. Overcooking also gives scrambled eggs their notoriously rubbery texture, which you'll want to avoid at all costs.
Assembly:
To finish off your scrambled Eggs Benedict, top the toasted halves of the English muffin with the pan-fried Canadian bacon and divide the scrambled eggs between the two English muffin halves. Pour 1 or 2 tablespoons of the Hollandaise sauce over the eggs and serve with a few sprigs of fresh dill!
Notes
This Scrambled Eggs Benedict is also great served with a slice of two of fresh tomato, or with a side of fresh fruit for something sweet!
Nutrition
Serving:
1
serving
|
Calories:
352
kcal
|
Carbohydrates:
19
g
|
Protein:
27
g
|
Fat:
17
g
|
Saturated Fat:
6
g
|
Cholesterol:
572
mg
|
Sodium:
527
mg
|
Potassium:
347
mg
|
Fiber:
1
g
|
Sugar:
3
g
|
Vitamin A:
757
IU
|
Vitamin C:
2
mg
|
Calcium:
173
mg
|
Iron:
2
mg
Save
Save
Save