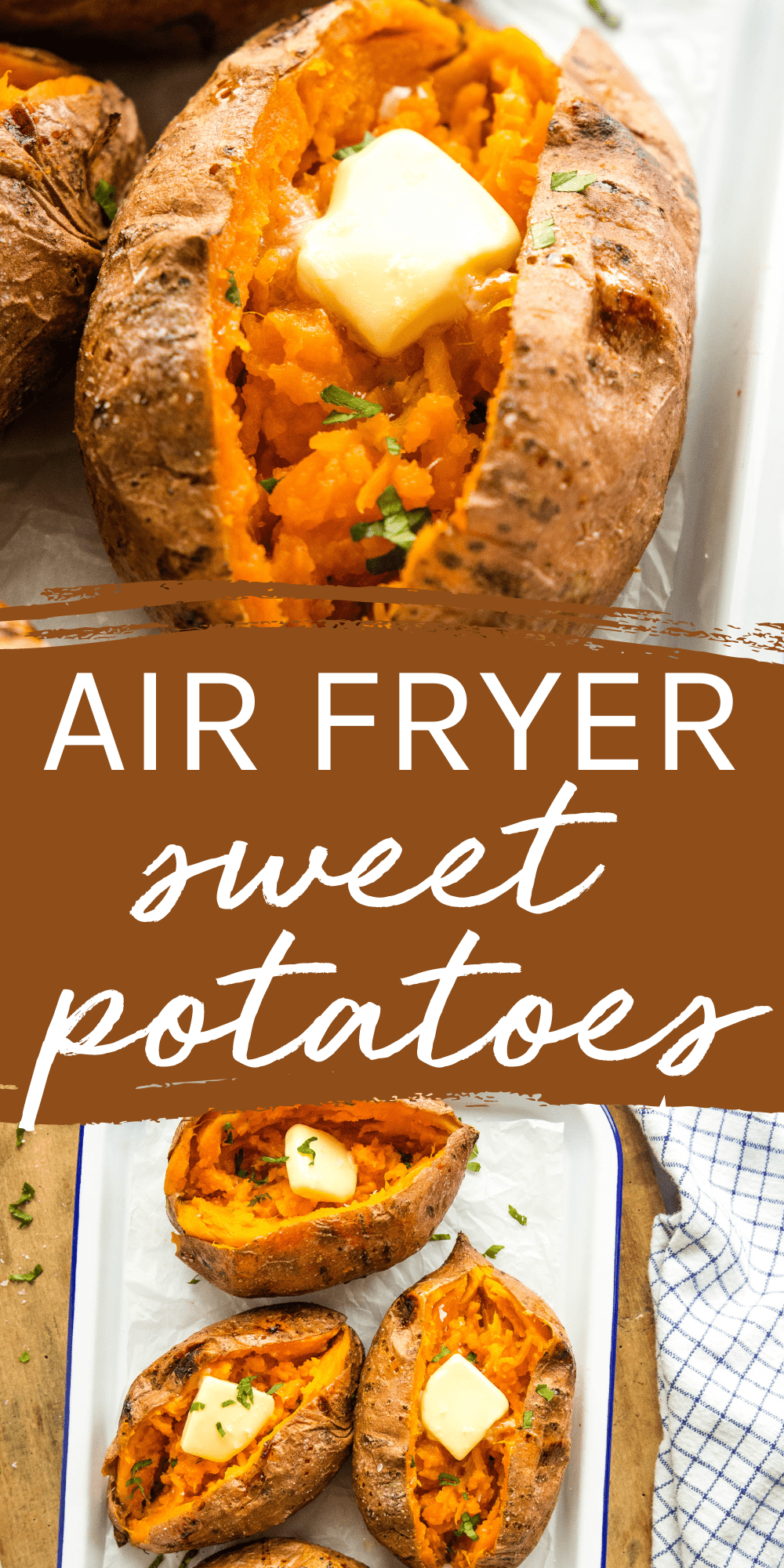 This Air Fryer Baked Sweet Potato Recipe is the best simple side dish – crispy skins, perfectly moist and fluffy sweet potato interior. A quick and easy recipe!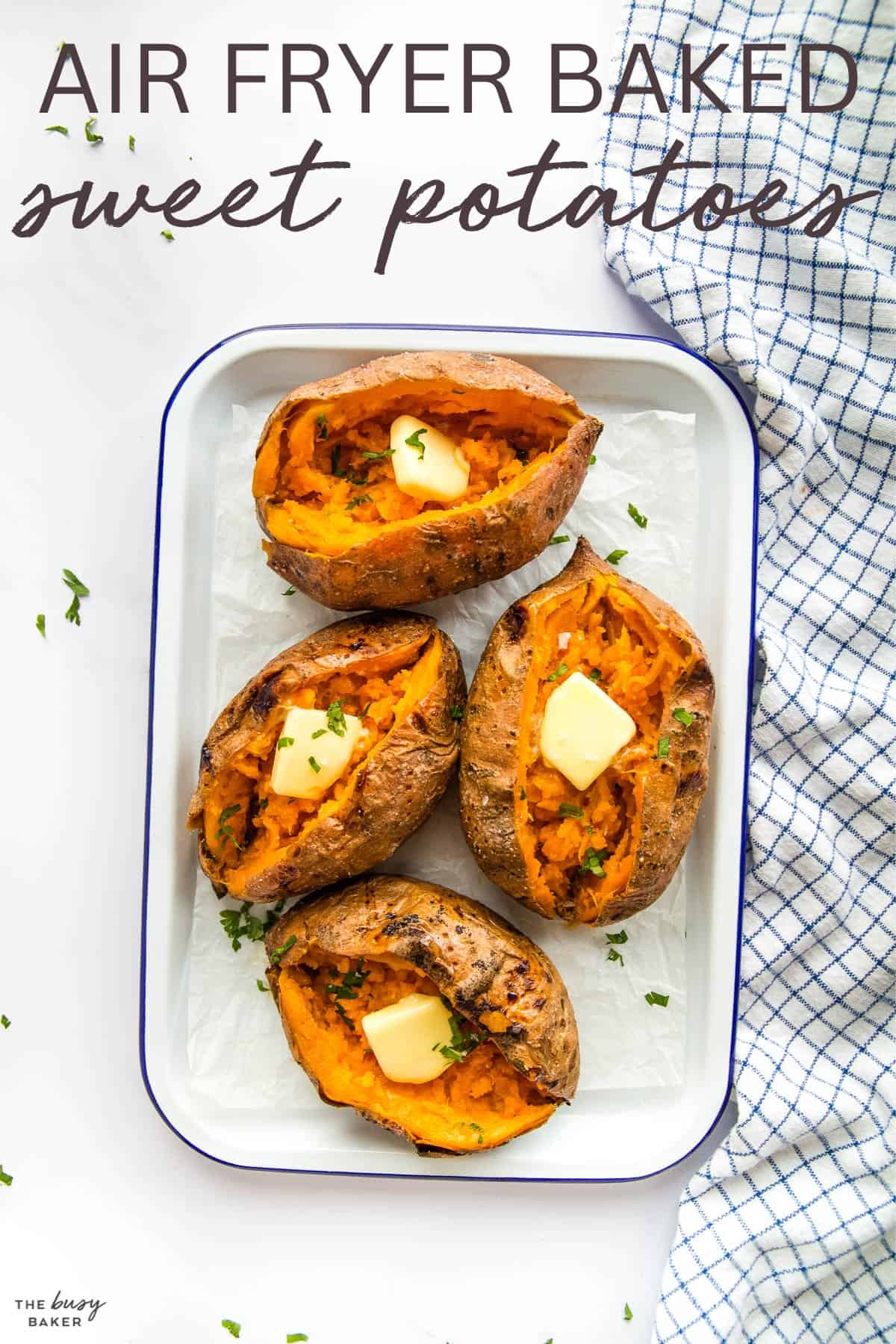 ---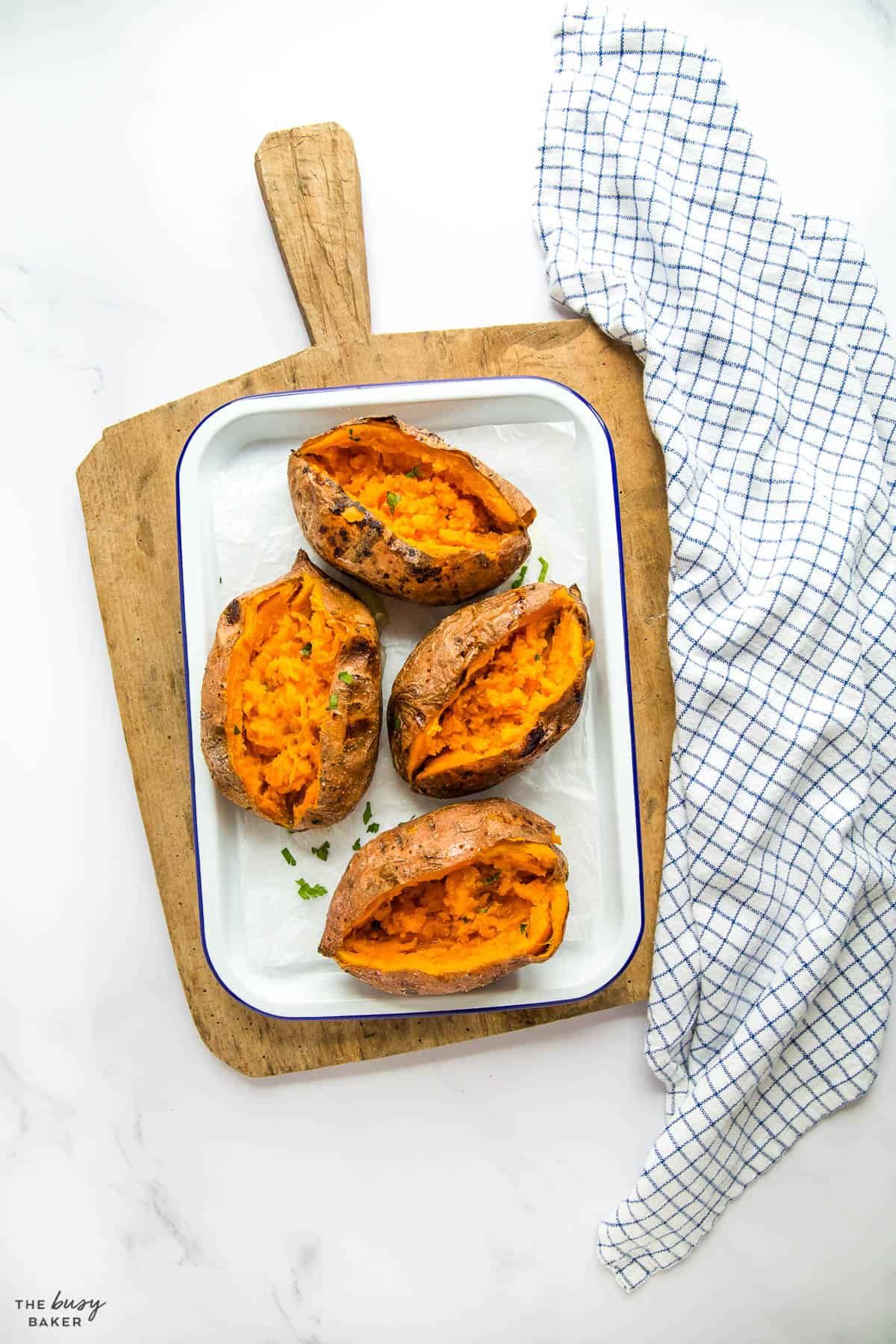 At The Busy Baker we LOVE to cut corners in the kitchen to save time and efforts, but only if those kitchen shortcuts don't sacrifice quality and flavour. This Air Fryer Baked Sweet Potato recipe is a family favourite we keep coming back to again and again – crispy skin, perfectly moist and fluffy sweet potato interior, and they're ready in a fraction of the time it would take to bake them in the oven!
Trust us, if you love sweet potatoes as much as we do, you're going to want to try this recipe!
And if you're as addicted to your air fryer as we are, stay tuned! We'll be sharing MANY more of our favourite delicious Air Fryer recipes here on The Busy Baker in the coming months. Subscribe to our Newsletter below so you won't miss a single one!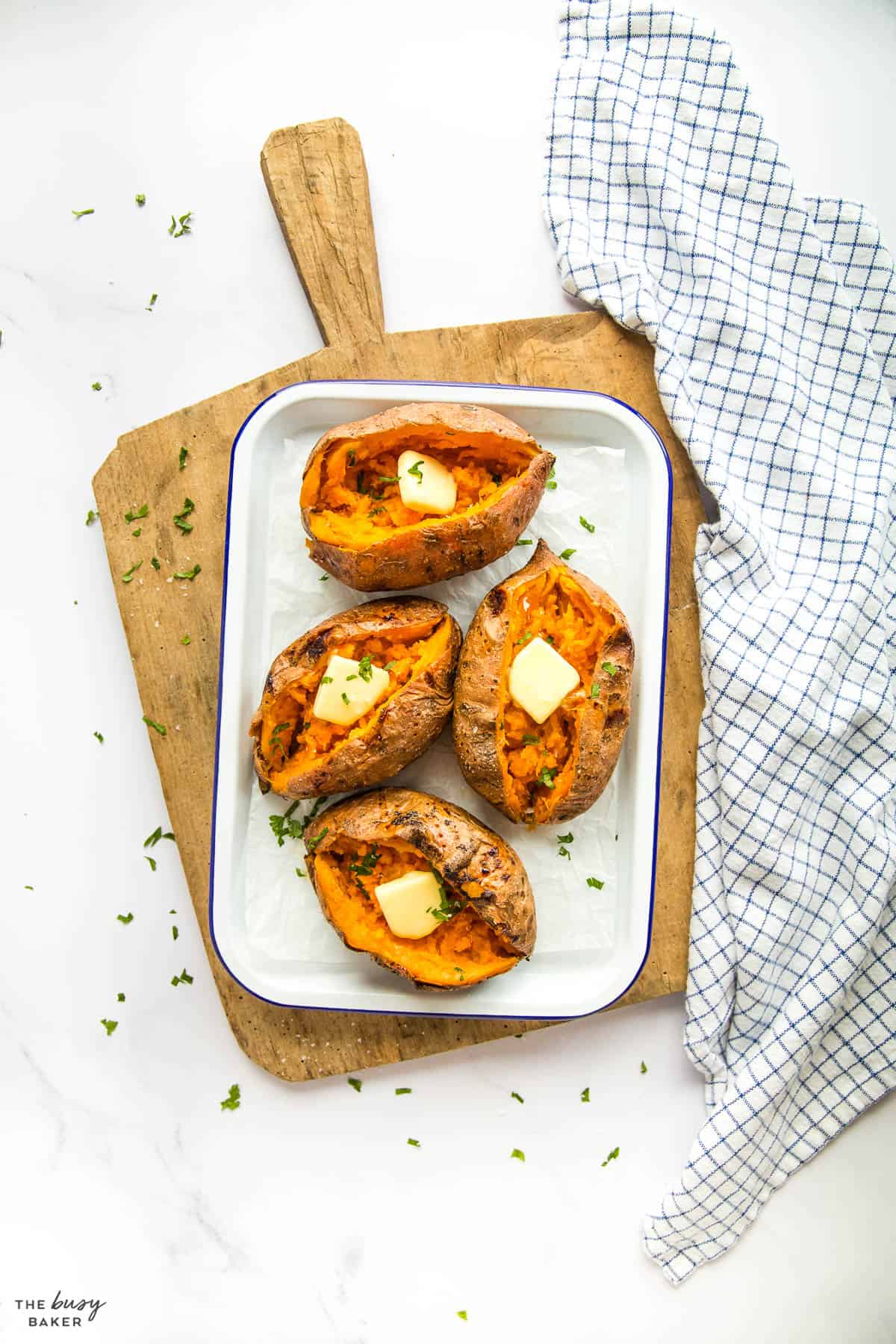 Whether you make baked sweet potatoes in the oven or the Air Fryer, it's possible to achieve a crispy baked potato skin and a delicious, moist and fluffy baked sweet potato interior. The main difference is in the amount of time it takes to bake a sweet potato. Air Fryer Baked Sweet Potatoes bake in about 30-40 minutes, depending on the size of the potato while in the oven they can take anywhere from 45 minutes to an hour or even more.
The Air Fryer also bakes the sweet potatoes evenly all the way through, resulting in an extra moist interior, and the skin on the Air Fryer baked sweet potatoes tends to be crispier without drying out the interior. Another big difference is the amount of energy required – Air Fryers require far less energy than an oven and Air Fryers produce a lot less radiant heat than an oven, so they won't heat up your entire kitchen!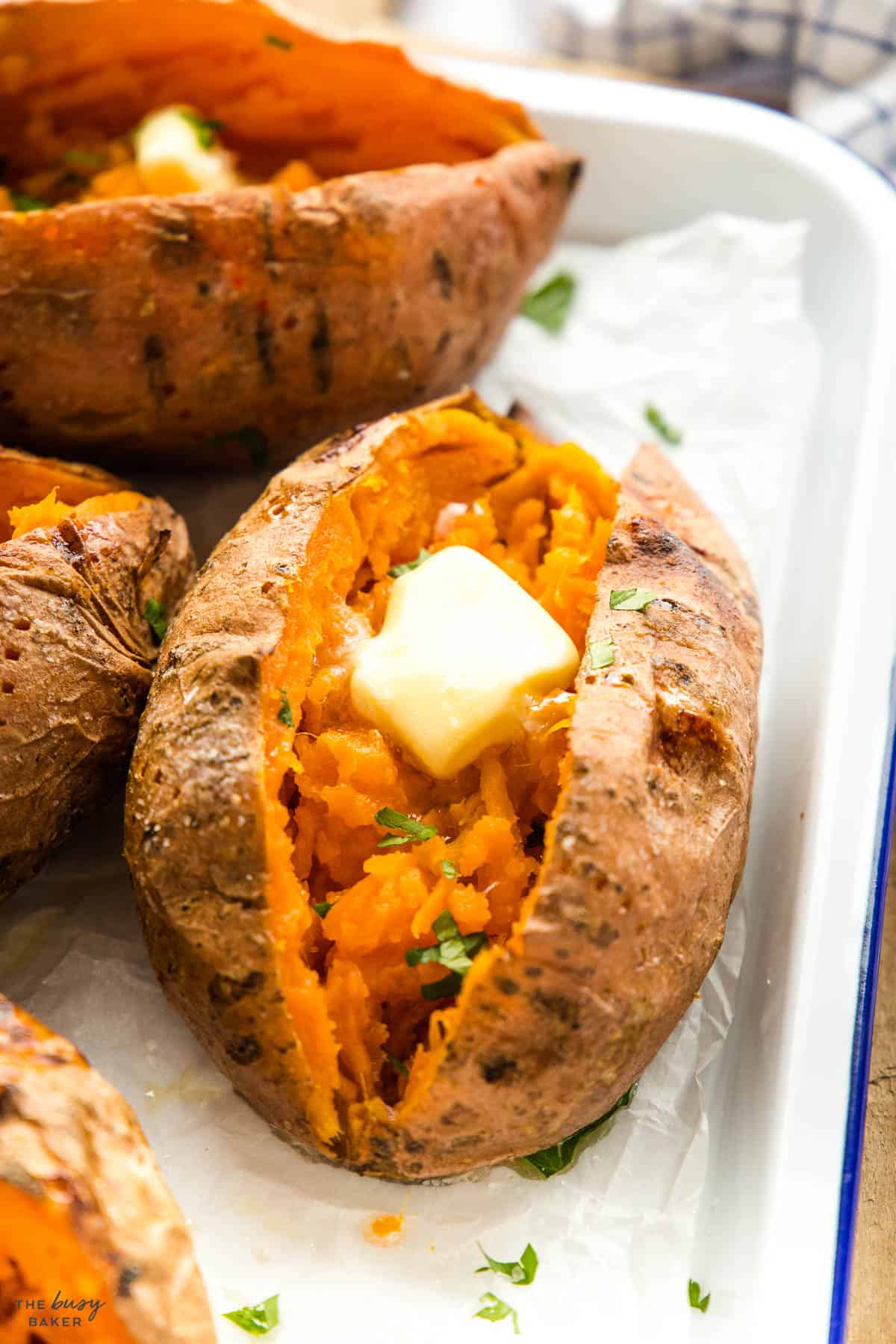 If you've been gifted an air fryer for the holidays and it's been sitting on your shelf collecting dust, or if you've been thinking about picking up an air fryer for awhile but haven't yet, we'd HIGHLY recommend getting started. An air fryer is a fantastic kitchen appliance for achieving that oven-crisp or fried texture in a fraction of the time with next to no added fat, and to be honest it's a kitchen appliance we'd have a hard time living without!
If you're looking for an Air Fryer for your kitchen these are the ones we recommend (affiliate links):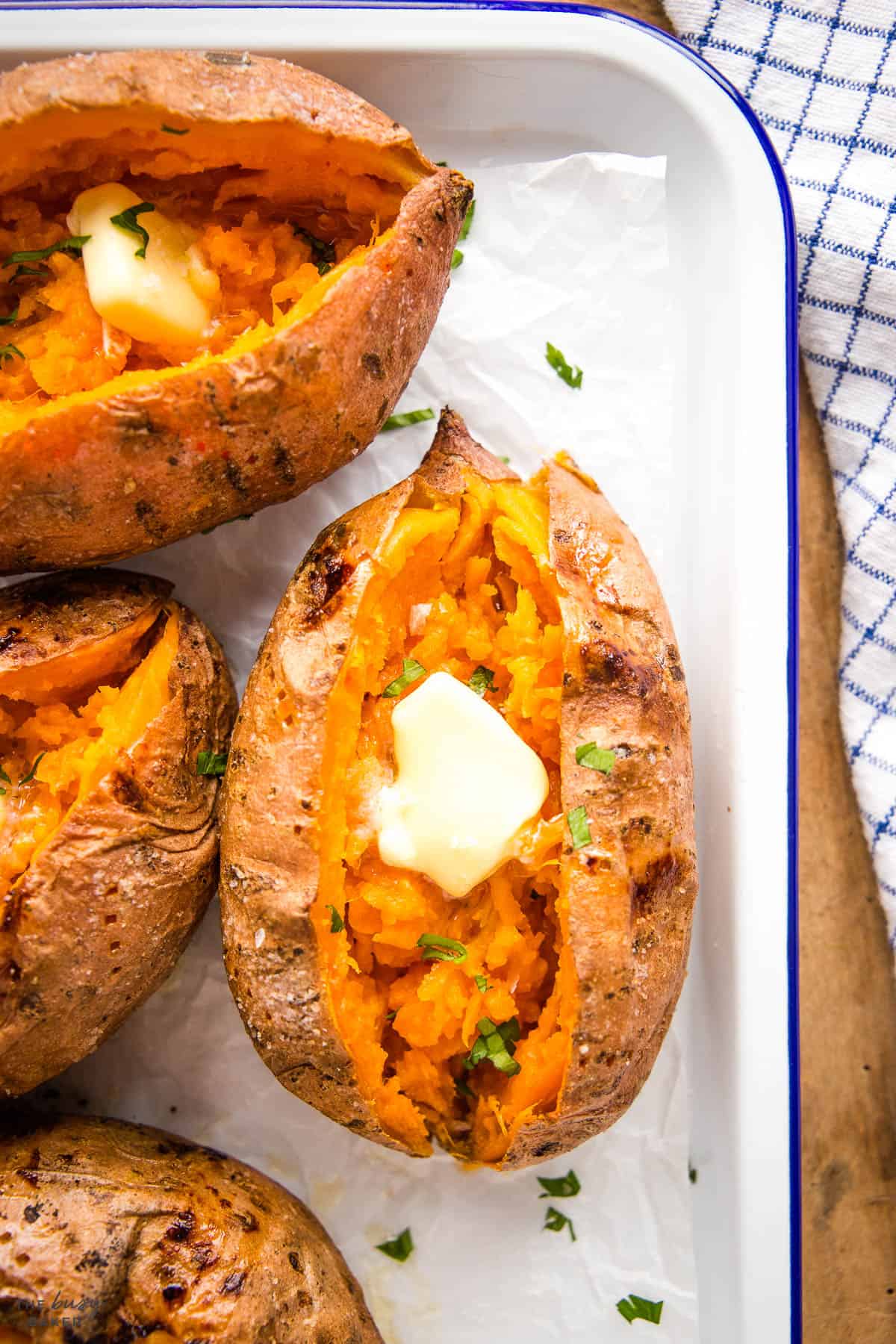 You'll also need these items to make this recipe (affiliate links):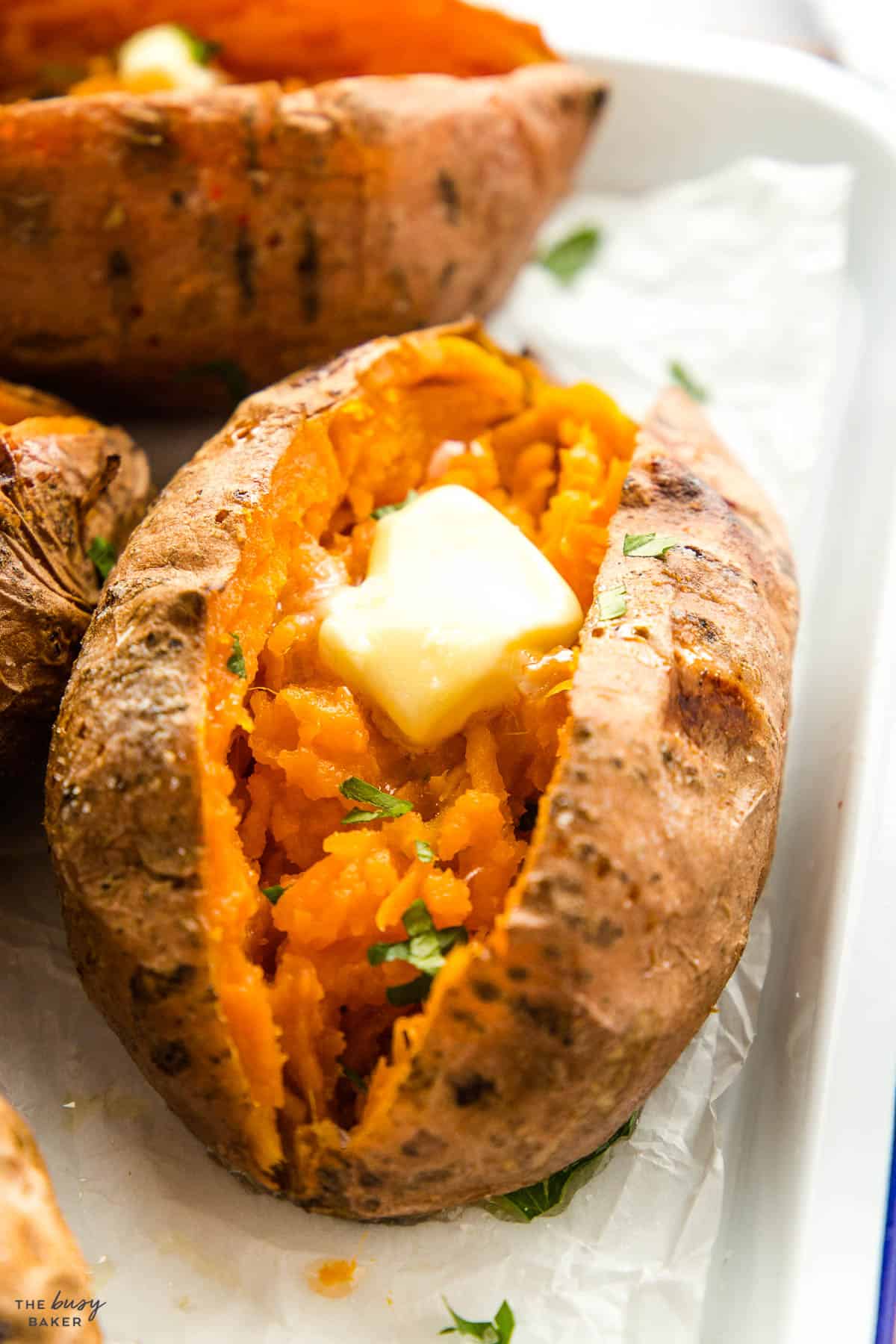 You'll only need 3 ingredients to make these Air Fryer Baked Sweet Potatoes:
medium or large whole sweet potatoes
vegetable oil
salt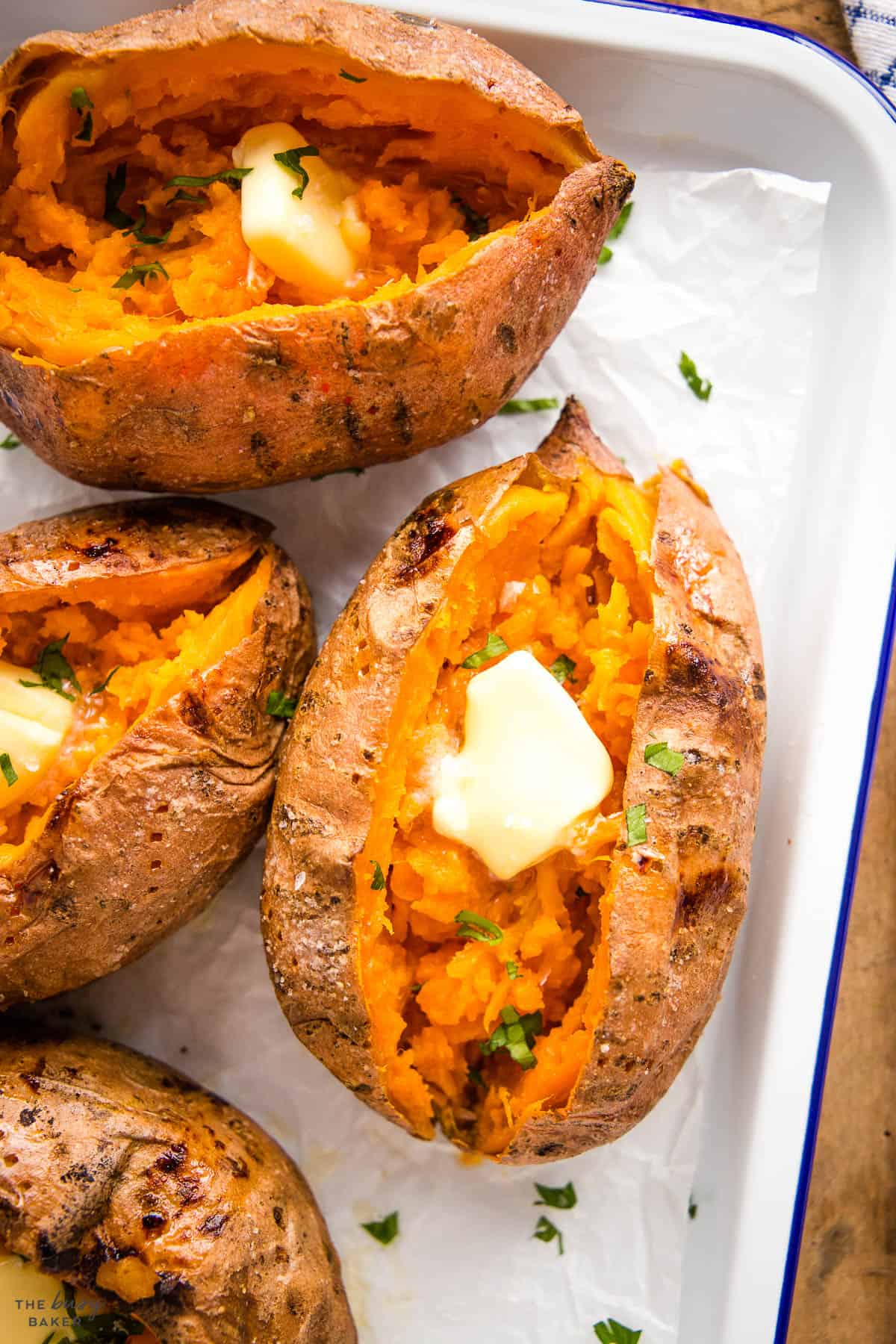 Time needed: 45 minutes.
Follow these tips for the perfect sweet potatoes cooked in your air fryer!
Wash and dry the potatoes well!

The key to crispy potato skins is to clean them and dry them well before using. Don't skip this step!

Preheat your Air Fryer.

Preheating the Air Fryer before adding the sweet potatoes cuts down on cooking time.

Dock the sweet potatoes with a fork.

Poking holes in the sweet potatoes on all sides helps moisture escape, allowing the skins to stay crispy and the sweet potatoes to cook more quickly and evenly.

Massage them with oil and salt.

A little bit of oil goes a long way to making the potato skins nice and crispy, and the salt helps draw out the moisture so the potatoes cook quickly.

Flip halfway through cooking.

Turn the sweet potatoes after 15-18 minutes to help them cook evenly.

Enjoy immediately.

They're best enjoyed right out of the air fryer while the insides are hot and the skins are crispy. Top with some butter, sea salt, and cracked pepper, or whatever toppings you love!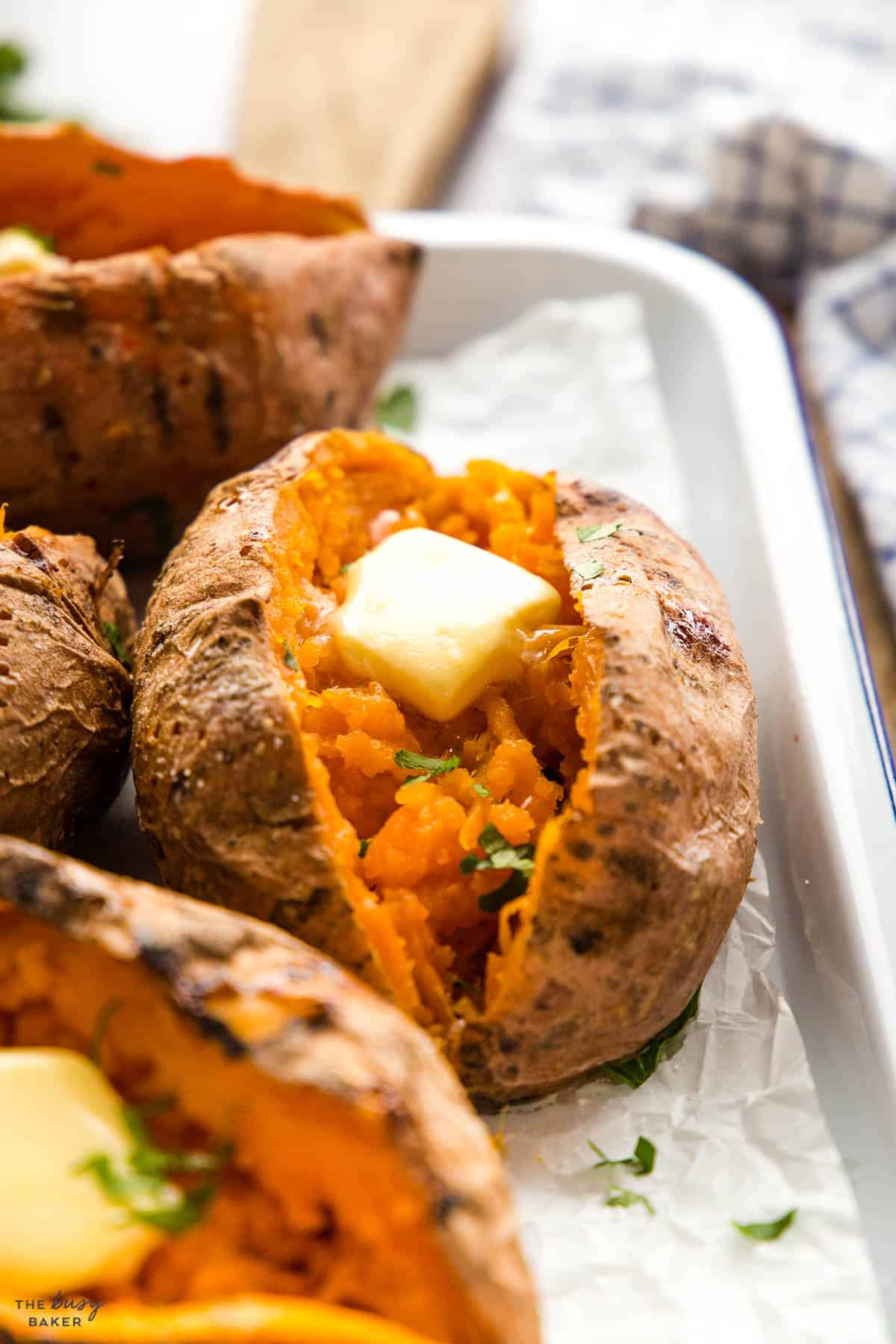 What is the best temperature to bake sweet potatoes?

Baking sweet potatoes at 390-400 degrees Fahrenheit will give you the best results.
How much time does a sweet potato take to cook?

Baking a sweet potato in the Air Fryer takes about 35-45 minutes, depending on the size of the sweet potato. In the oven it takes about 45-60 minutes.
Can you eat sweet potato skin?

Yes. Keep the skins on your sweet potatoes for added flavour, fibre and crispiness.
How do I know when my sweet potato is done?

When you can poke a fork or a sharp knife (like a paring knife) into the centre of the sweet potato very easily and it's tender all the way through, it's done.
What's the best way to reheat baked sweet potatoes?

For best results, reheat baked or Air Fryer sweet potatoes in the Air Fryer for about 3-4 minutes. This will help them maintain an ideal texture.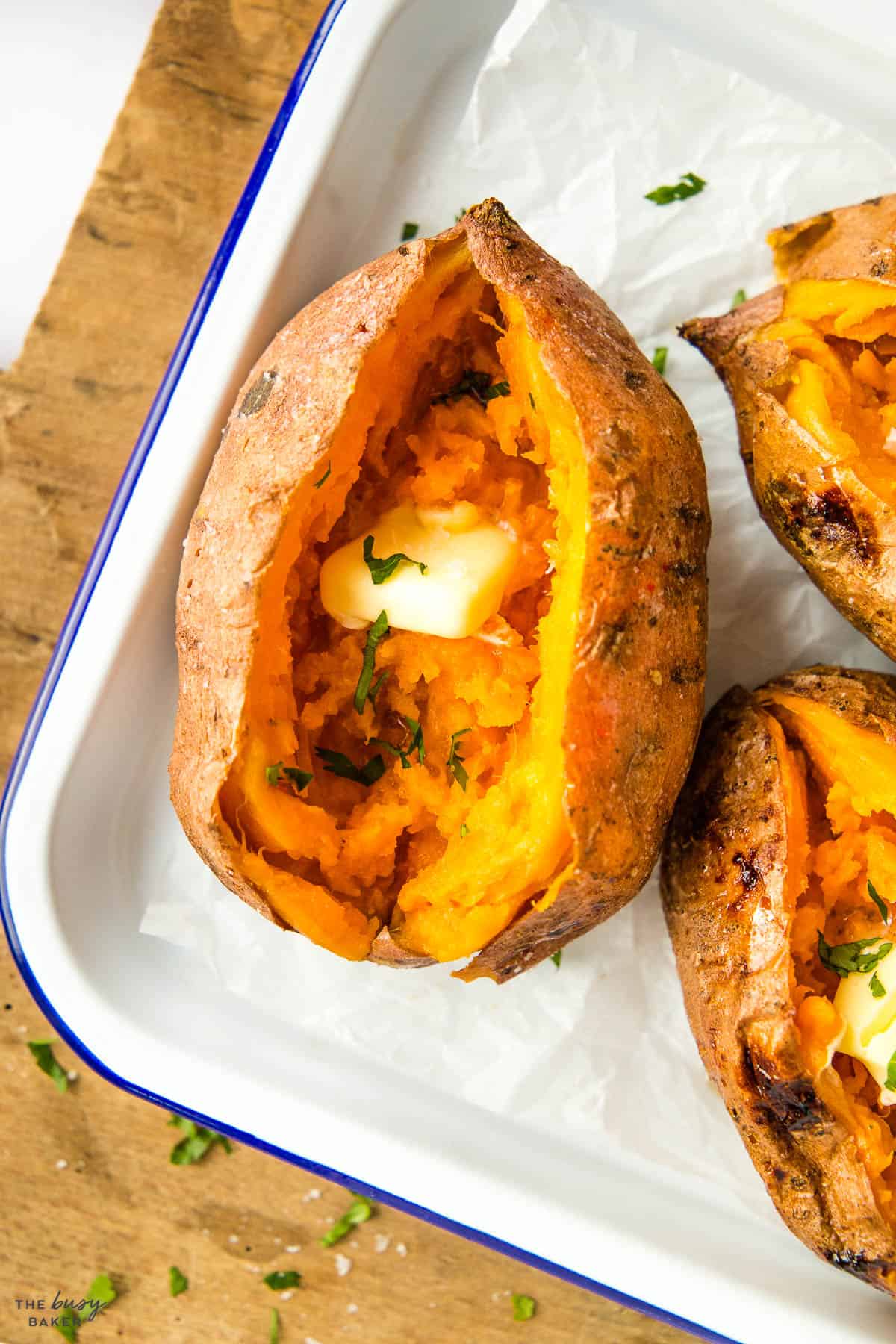 ---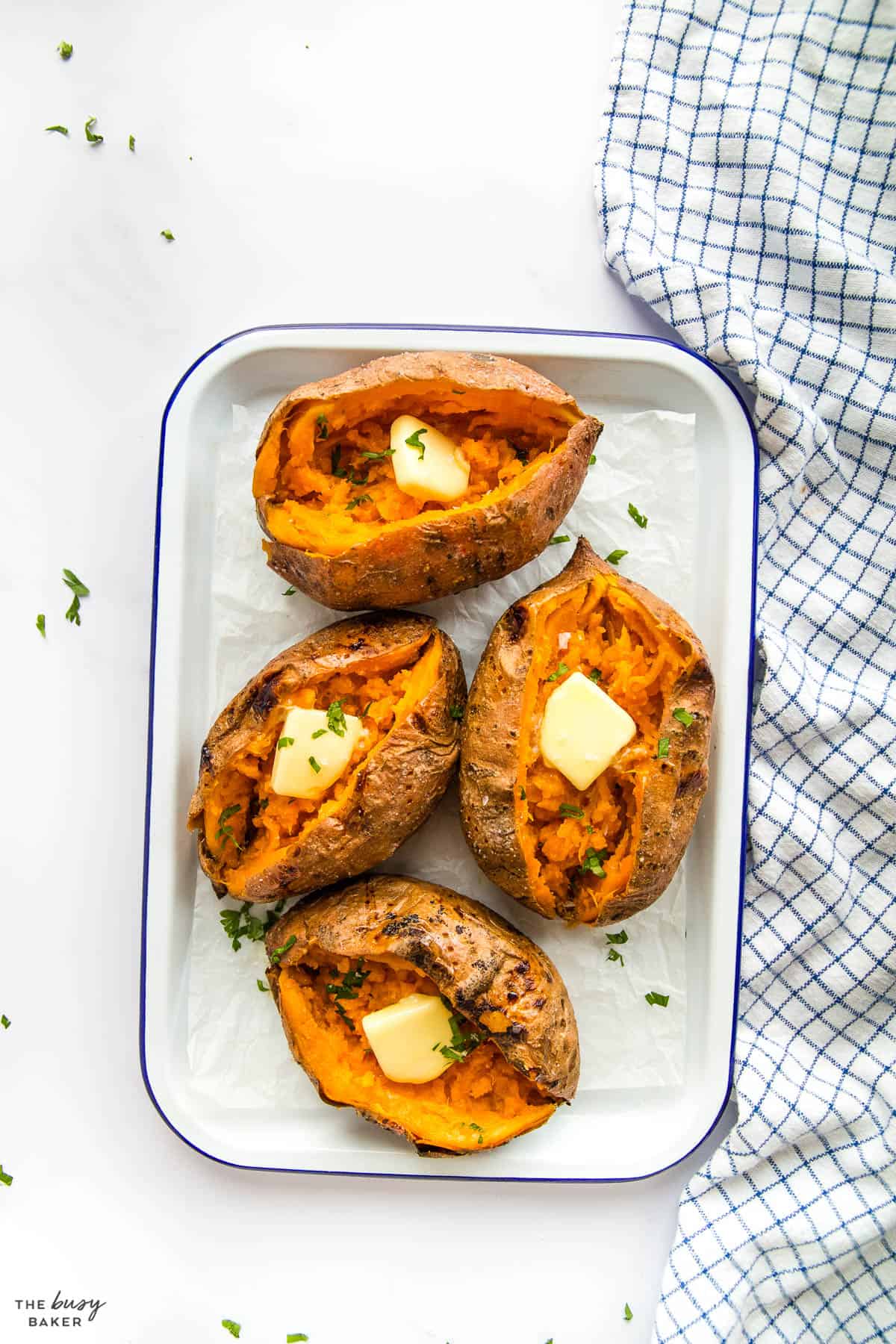 We hope you love this recipe as much as we do! Let us know in the comments below, what's your favourite Air Fryer recipe? We'd love to know!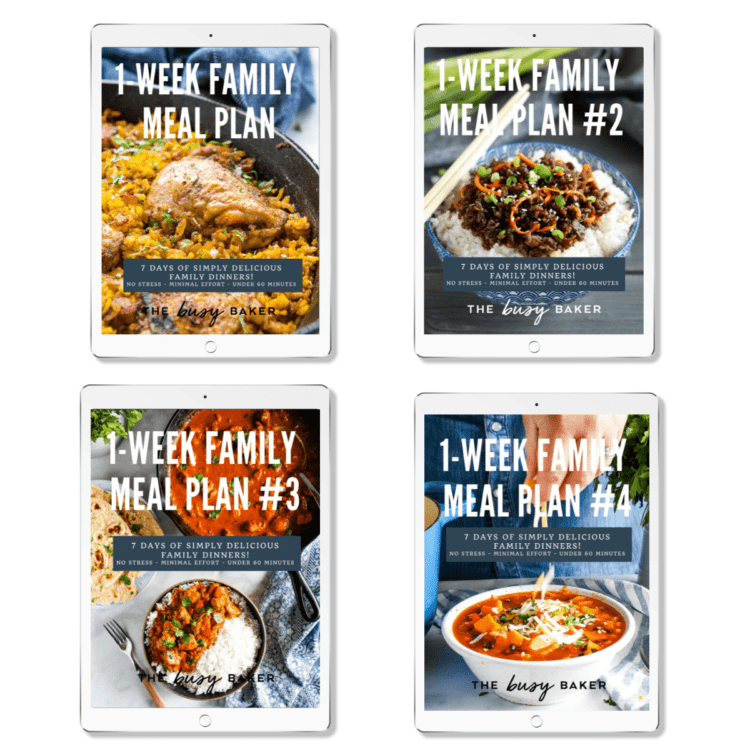 Looking for more?
TRY OUR MEAL PLANS!
Let us do the work for you with 7 days of deliciously easy family dinners, grocery lists, meal prep guides and MORE!
Buy 2, save 20%!
Buy 3, save 30%!
Buy 4 or more, save 40%!
Click here to learn more!
If you made this, share a photo!
Are you trying this recipe? Use the comment form below to share your take; now with support for image uploads and comment voting!
Share a photo
Air Fryer Baked Sweet Potatoes
This Air Fryer Baked Sweet Potato Recipe is the best simple side dish – crispy skins, perfectly moist and fluffy sweet potato interior.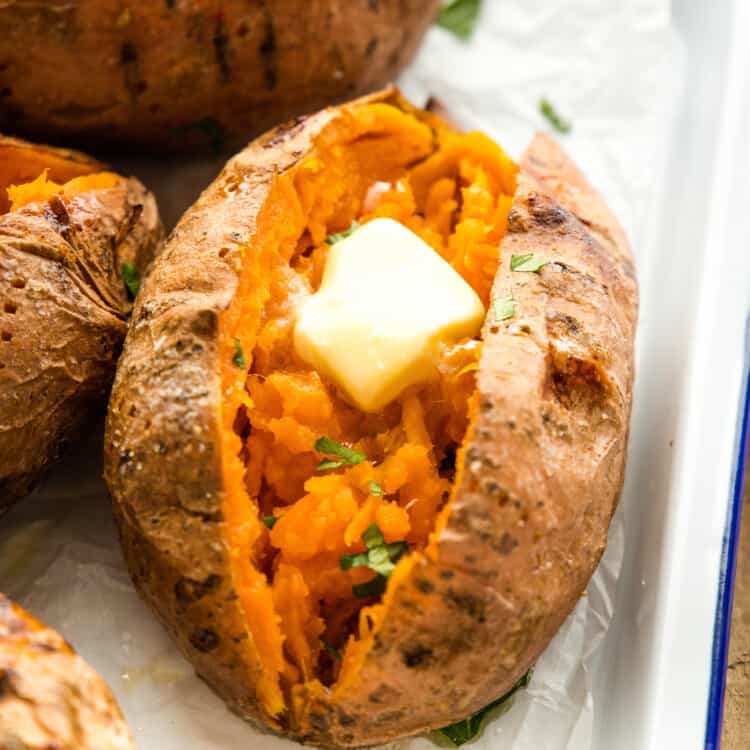 Recipe:

Ingredients
4

medium

sweet potatoes

2

tsp

vegetable oil

(or other neutral oil such as grapeseed oil)

2

tsp

salt
Recipe:

Instructions
Preheat your Air Fryer to 200 degrees Celsius (or 390 degrees Fahrenheit) while you get everything else ready.

Wash your sweet potatoes with a vegetable scrubber or clean kitchen cloth and some warm water.

Dry them well with paper towels and make sure they're as dry as possible. Poke them all over using a fork.

Add the oil to your potatoes and massage the skins well. Place your potatoes in your air fryer in one layer with some space between them.

Air fry at 200 degrees Celsius (or 390 degrees Fahrenheit) for 35-45 minutes depending on the size of your potatoes, flipping them after 15-18 minutes.

Test them after 30 minutes with a knife or a fork. If they are soft in the middle, your potatoes are done. If not, place them back in for 5-minute intervals until done.

Serve with butter, fresh cracked pepper and sea salt. Enjoy!
Recipe:

Notes
Reheating instructions
Reheat in the Air Fryer for about 3-4 minutes or until warmed through. It's best to reheat the sweet potatoes before they've been cut open, to keep the moisture inside.
Storage instructions
These baked sweet potatoes are best enjoyed right after they come out of the Air Fryer, but feel free to store any leftovers in the fridge for up to 3 days and reheat before serving.
Recipe:

Nutrition

Nutrition Facts

Air Fryer Baked Sweet Potatoes

Amount Per Serving (1 potato)

Calories 295

Calories from Fat 99

% Daily Value*

Fat 11g17%

Cholesterol 30mg10%

Sodium 1377mg60%

Potassium 765mg22%

Carbohydrates 45g15%

Protein 4g8%

Vitamin A 32412IU648%

Vitamin C 5mg6%

Calcium 72mg7%

Iron 1mg6%

* Percent Daily Values are based on a 2000 calorie diet.

Notice: Nutrition is auto-calculated, using Spoonacular, for your convenience. Where relevant, we recommend using your own nutrition calculations.