This
Best Ever Vanilla Bean White Cake
is one of the
best birthday cake recipes
I've ever made. Tender vanilla cake with fluffy frosting, made with real vanilla beans!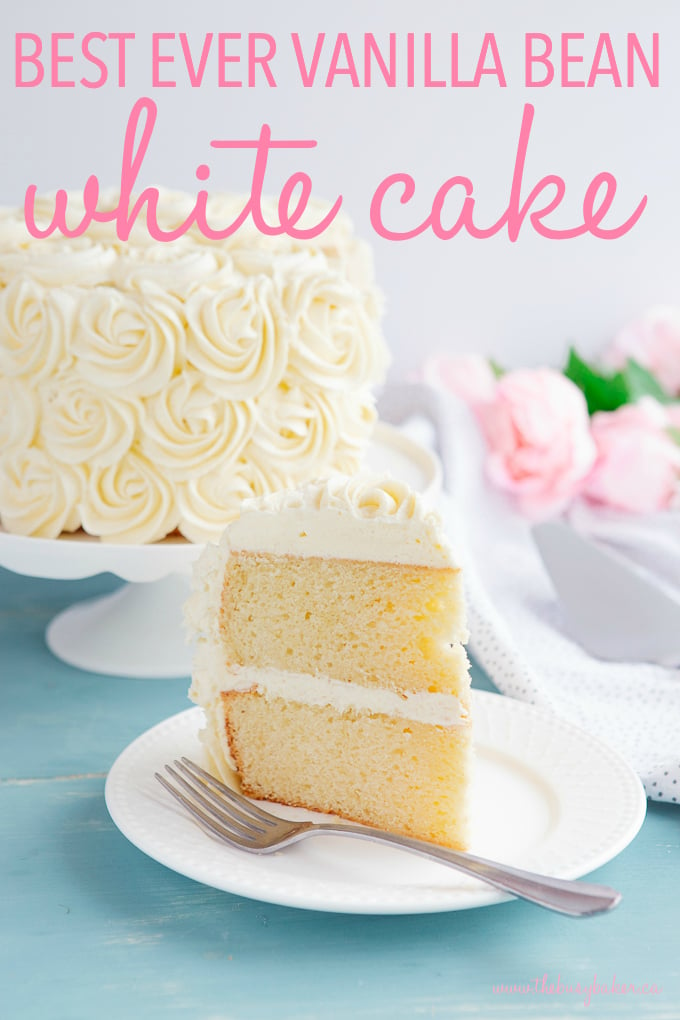 NEVER MISS A POST! FOLLOW ME ON: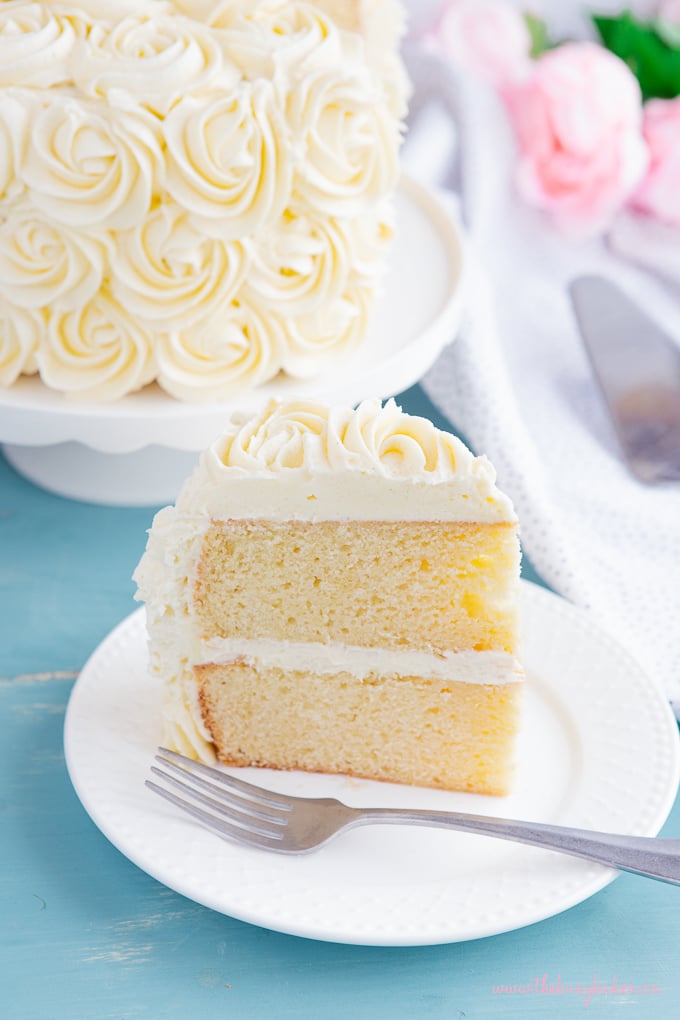 There is no better reason to bake a cake than to celebrate a birthday, especially if it's the birthday of someone special. This Best Ever Vanilla Bean Birthday Cake is my go-to birthday cake recipe for special friends and family members!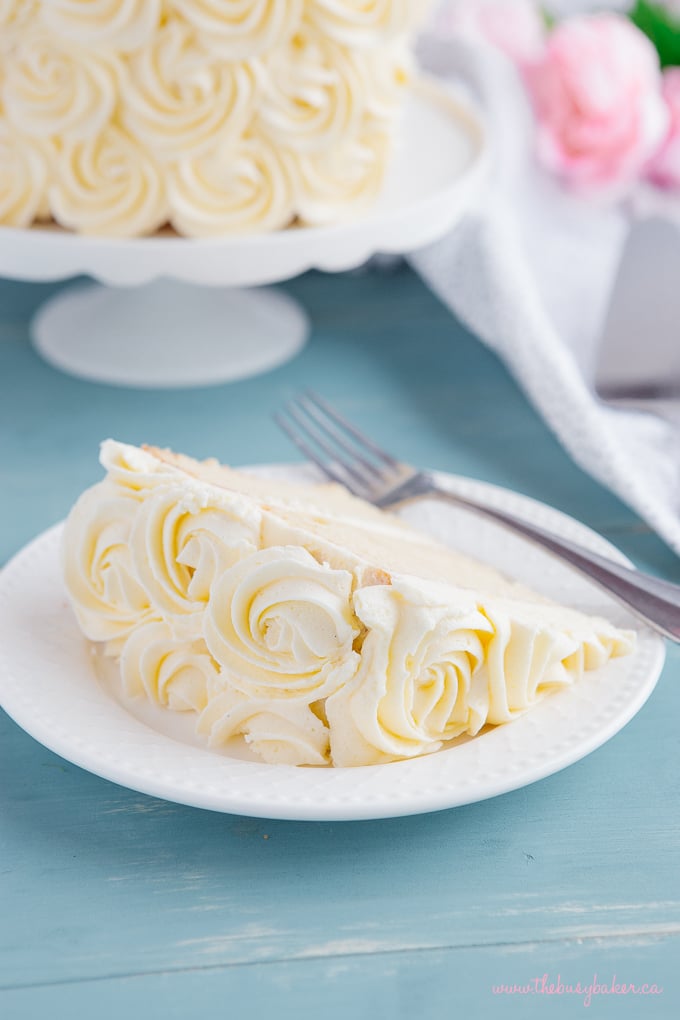 As I've gotten older, I've begun to cherish birthdays in a different way. I look forward to others' birthdays so much more than my own, not because I'm afraid of becoming another year older, but because it reminds me of how I've been so blessed to have such amazing people in my life as friends and family.
It was actually my birthday yesterday, and in honour of my birthday I'm re-sharing this old Vanilla Cake recipe I first posted on the blog in 2015 – I've updated the recipe over the years to make it even better, and I know you're going to LOVE it!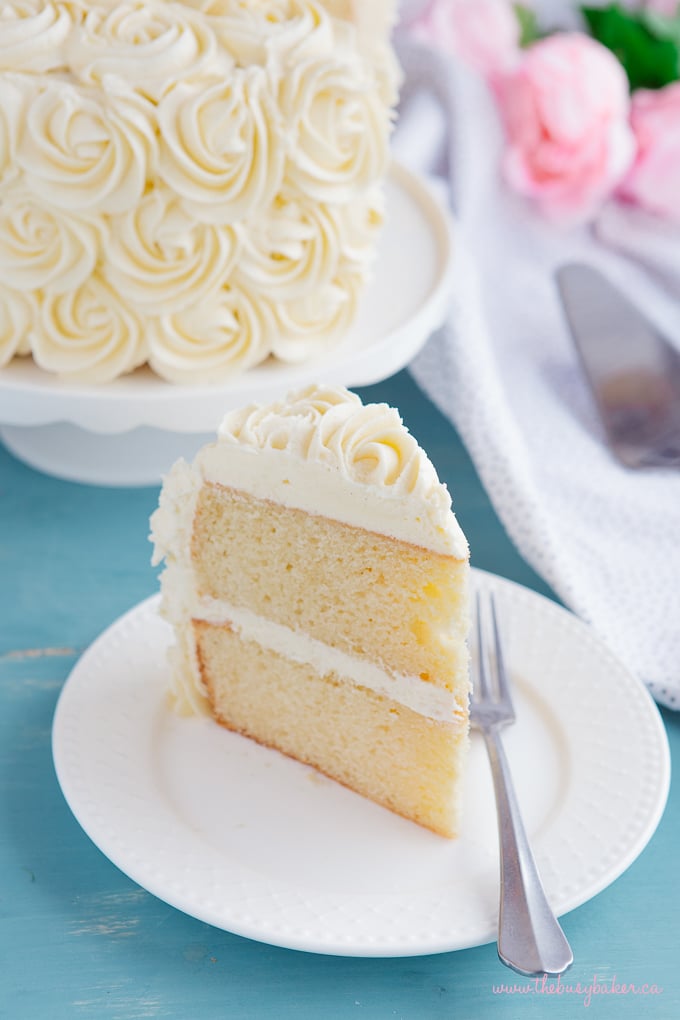 Birthdays are a great reason to celebrate the people we love and shower them with a little extra kindness and attention…and birthday cake (because is it really a birthday without cake??!?)! The very first time I made this Best Ever Vanilla Bean White Cake recipe was for a very dear friend of mine. If you know her, you would agree that this birthday cake suits her perfectly: it's sweet and beautiful with a classic, simple elegance.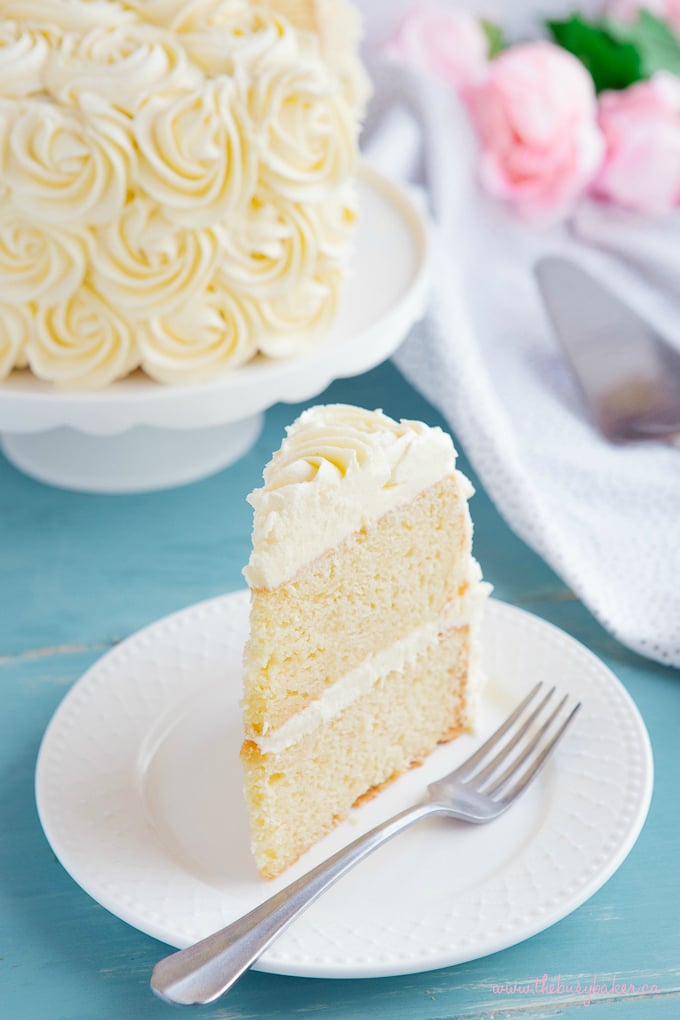 And it's not only perfect for birthdays – this Best Ever Vanilla Bean White Cake is great for bridal showers, baby showers, or any party that needs a simple, elegant touch. And you can easily make this recipe with or without the frosting roses…if a more traditional or rustic cake is your style, simply spread the frosting on as normal!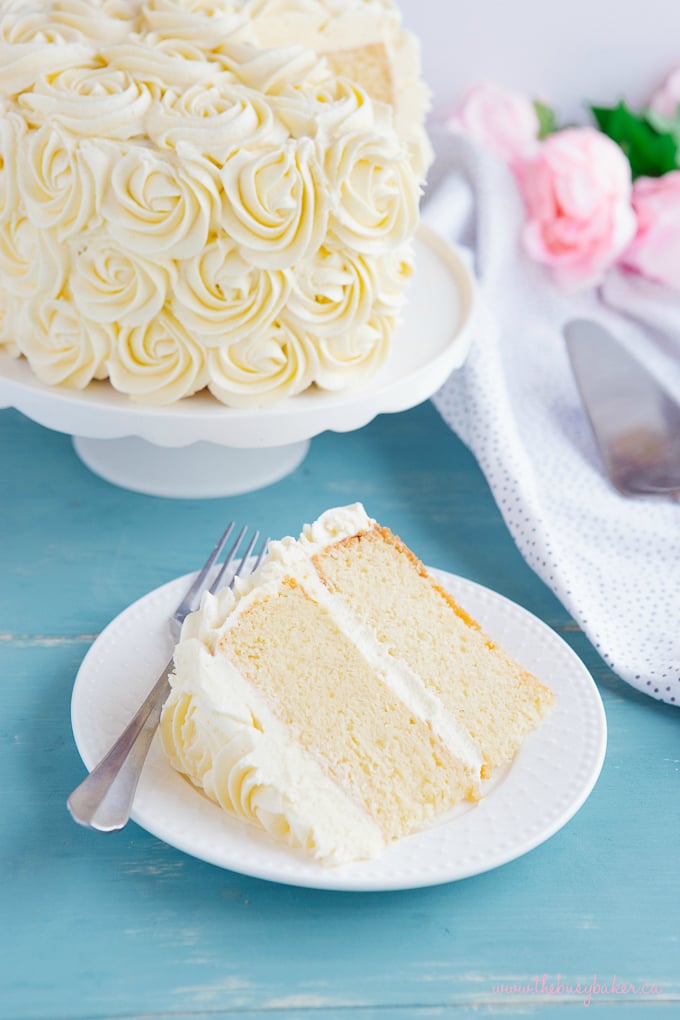 Before I first made this Best Ever Vanilla Bean White Cake I had admired rosette cakes for years and years on Pinterest and in bakeries. I was inspired by my food blogger friend Olivia from Liv for Cake and her
rosette cakes
and I decided to try my hand at it – turns out it's easier than it looks!! If you're not into rosettes you can feel free to simply spread the frosting on if you'd prefer that look (check out
this post
for an idea on how to do that effectively).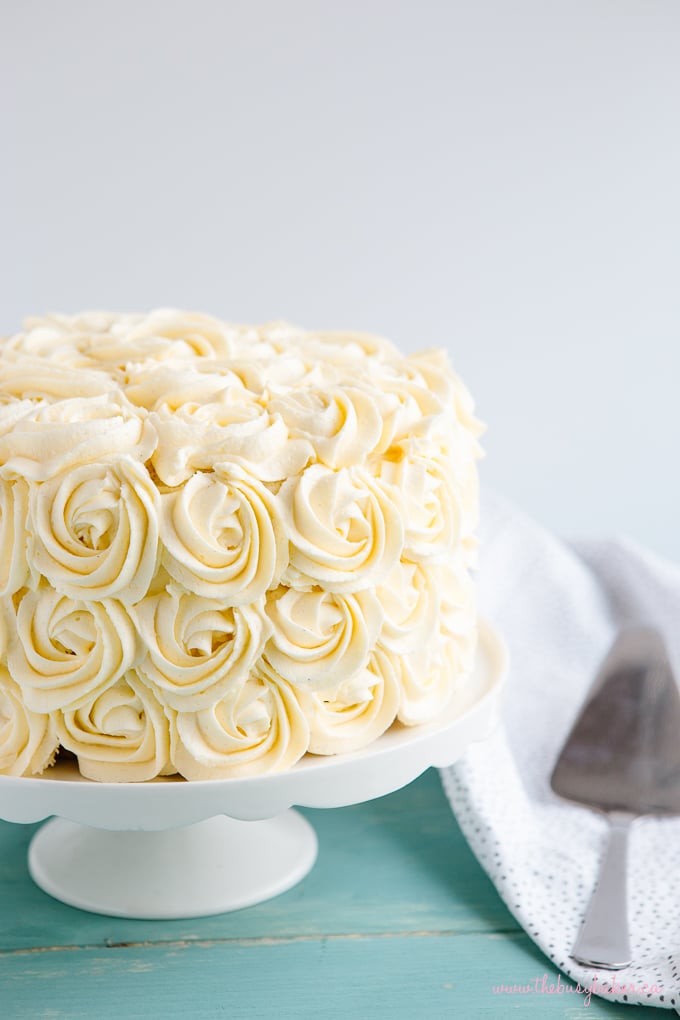 I hope you love this Best Ever Vanilla Bean White Cake as much as we do! Let me know in the comments below, what's your favourite cake to make for special occasions? I'd love to know!
KITCHEN PRODUCTS I RECOMMEND:
Be sure to use real vanilla beans or vanilla bean paste in this recipe!! I recommend the Madagascar Vanilla Bean Paste (affiliate link). It's the best one I've found at the best price point, and it's usually cheaper on Amazon than it is at baking supply stores!
Looking for more delicious desserts? You'll LOVE these!
If you made this, share a photo!
Are you trying this recipe? Use the comment form below to share your take; now with support for image uploads and comment voting!
Share a photo
Best Ever Vanilla Bean White Cake
This Best Ever Vanilla Bean White Cake is one of the best birthday cake recipes I've ever made. Tender vanilla cake with fluffy frosting, made with real vanilla beans!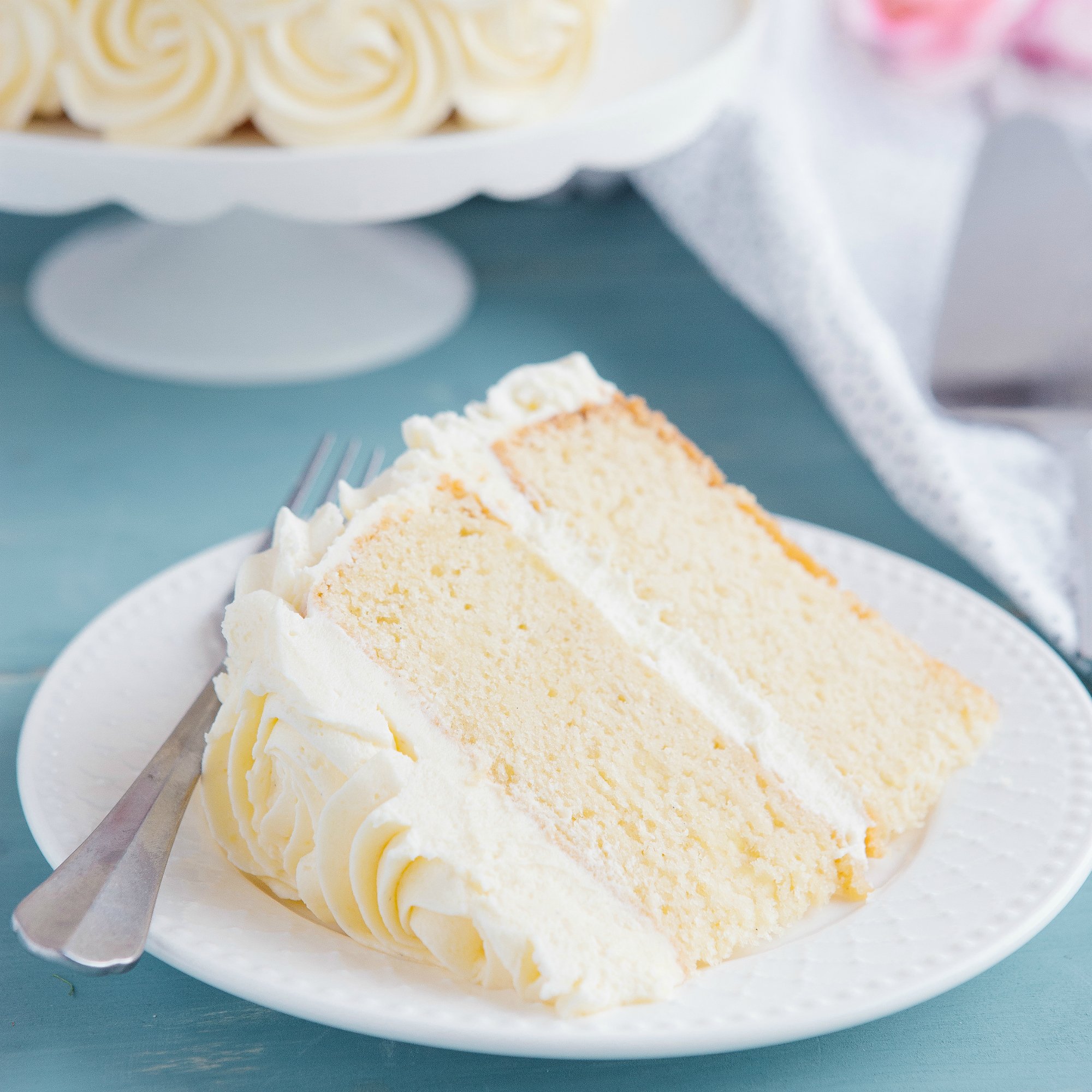 Recipe:

Ingredients
For the cake:
1-2

tablespoons

each, butter and flour for preparing the cake tins

1

cup

unsalted butter

softened to room temperature

2

cups

granulated sugar

3

eggs

at room temperature

3

egg yolks

at room temperature

1 1/4

cup

buttermilk

at room temperature

3

tablespoons

vegetable oil

1

teaspoon

vanilla bean paste

or use the seeds from 1 vanilla bean

3 1/4

cups

all purpose flour

1

tablespoon

baking powder

1 1/2

teaspoons

baking soda

1

teaspoon

salt
For the frosting:
1 1/4

cups

unsalted butter

softened

6

ounces

cream cheese

plain, full fat, at room temperature

6 to 7

cups

powdered sugar

sifted to remove lumps

a pinch of salt

up to 4

tablespoons

heavy cream

2

teaspoons

vanilla bean paste

or the seeds from one whole vanilla bean
Recipe:

Instructions
For the cake:
Grease and flour two 9-inch round cake pans (with high sides) or three 8-inch round cake pans (with high sides), lining the bottoms with parchment paper rounds for easy release.

In the bowl of your stand mixer (or in a large bowl using a hand mixer) whip the butter on medium high speed until very smooth. Add the sugar and mix on high speed until fluffy and creamy. The sugar will start to dissolve into the butter a little bit during this creaming process, so you should be able to feel the grains of sugar getting smaller.

Add the eggs and egg yolks one at a time, mixing well after each addition. Scrape down the sides of the bowl regularly at this stage to make sure everything is mixed well.


Mix in the oil and vanilla bean paste on low speed.


Measure the buttermilk into a liquid measuring cup and and set aside.


Measure and sift the flour, baking powder, baking soda and salt into a separate bowl and combine with a wire whisk.

Add the dry ingredients and the buttermilk alternatively while the mixer is running on low speed. Add 1/3 of the dry ingredients, half the milk, another 1/3 of the dry ingredients, the other half of the milk, and the remaining dry ingredients.

Turn the speed of the mixer to medium-low and mix until the batter is smooth (about one minute).

Pour the batter into the prepared cake pans and bake at 325 degrees Fahrenheit for about 29-34 minutes, or until a toothpick inserted into the middle of one of the cakes comes out clean.

Cool the cakes in the pans for about 5-7 minutes and then turn them out onto cooling racks to cool completely.

Once the cakes are cool, store them wrapped in plastic wrap in the fridge until ready to frost. They should be refrigerated for at least 1 hour before frosting.
For the frosting:
Beat the butter and cream cheese together on high speed until light and fluffy and smooth.

Sift the powdered sugar and slowly add, one cup at a time, mixing after each addition. Add the sea salt and mix until incorporated.

Add the vanilla bean paste and then the heavy cream, slowly one tablespoon at a time, until incorporated and the mixture reaches spreadable consistency.

Mix the frosting on medium-high speed for about 1-2 minutes, or until the frosting becomes very smooth and spreadable.

Reserve about 1 1/2 cups of frosting for the crumb coat (the initial coat of frosting) and place the rest of the frosting in a piping bag fitted with a star tip. Set aside.

Trim the cakes (if necessary) to level them, using a serrated knife. Place one cake, right side up, on a plate or cake board.

Add a large dollop of frosting on top and spread it out to reach the edges of the cake. Place the other cake on top of the frosting, upside down so the flat side faces up.

Add the remainder of the frosting (the 1 1/2 cup you reserved for the crumb coat) to the top of this cake and spread it over the top and down the sides of the cake, making sure to smooth it out to fill in any holes or cracks in the cake to create a very smooth edge.

Remove any excess frosting - it's fine if the cake is showing through, you'll cover this with the final coat of frosting.

Place the cake in the fridge to chill for about 45 minutes. Refrigerating the cake will cause the butter and cream cheese in the frosting to harden and it will create the perfect canvas for the second coat of frosting.

Remove the cake from the fridge and get ready to frost! If you're not into rosettes you can feel free to simply spread the remaining frosting on if you'd prefer that look.

For the rosettes, pipe a round, spiral shape beginning from the middle and moving to the outside. Follow my friend Liv For Cake's tutorial HERE.

Start piping the rosettes on the side of the cake and begin at the very bottom. Pipe a row of rosettes along the bottom and then offset your second row so it fills in the empty spaces.


On the top of the cake, pipe the rosettes around the outside first and then work your way in, offsetting the rows to fill in the gaps. Make sure you pipe the rosettes close together so they're almost overlapping each other. This will ensure you don't have many empty spaces to fill. It's also a good idea to end your rosettes in the gap where the next row will fill. This will hide the scraggly ends of the rosettes and create a really clean look.

Once you've finished frosting your rosettes, chill the cake for another 1-2 hours before serving to set the frosting. After you pull it out of the fridge it will be quite hard, so it's a good idea to let it sit at room temperature again for about 15 minutes before slicing and serving.
Recipe:

Notes

It is possible to make only two 8-inch round cake layers with this recipe, however they will be quite tall and trimming might be required. Use cake pans with high sides (I use springform pans) for this recipe, especially if you're making 2 8-inch layers only.

Please keep in mind that I am definitely not a professional baker or cake decorator and many of my rosettes aren't perfect (so yours don't need to be either!)! What helped me immensely when preparing for this cake was to practice frosting rosettes on a piece of parchment paper on the counter. This helped me to know how to space them properly and how to offset the rows to prevent big gaps. And the best part is, you don't have to waste the frosting you use to practice...just scrape it off the parchment with a spatula and dump it back in the bowl! You can even correct your mistakes this way as you're frosting the cake. Since the crumb coat layer is hard and cold from the fridge, if one of your rosettes looks funny, just scrape it off and try again. And remember...it doesn't have to be perfect. The style of this cake is beautiful, but it's also rustic and homemade-looking, and that's kind of the point.

Store the cake in the fridge until ready to serve (let sit out at room temperature for 15 minutes before slicing to let the frosting relax).
Recipe:

Nutrition

Nutrition Facts

Best Ever Vanilla Bean White Cake

Amount Per Serving (1 serving)

Calories 930

Calories from Fat 423

% Daily Value*

Fat 47g72%

Cholesterol 202mg67%

Sodium 436mg19%

Potassium 221mg6%

Carbohydrates 122g41%

Protein 8g16%

Vitamin A 1449IU29%

Calcium 113mg11%

Iron 2mg11%

* Percent Daily Values are based on a 2000 calorie diet.

Notice: Nutrition is auto-calculated, using Spoonacular, for your convenience. Where relevant, we recommend using your own nutrition calculations.
*This cake recipe was adapted from one of Bon Appetit's recipes. The frosting recipe is my own.
**This post may contain affiliate links. If you follow an affiliate link and go on to purchase that product, I will be paid a small commission at no additional cost to you. Please be assured that I'll only advertise products or services that I use and believe to be worthy of my endorsement.**