This No Fail Homemade Angel Food Cake is the BEST homemade angel food cake recipe that's tender, fluffy, and easy to make with my pro tips! It's WAY better than a box mix!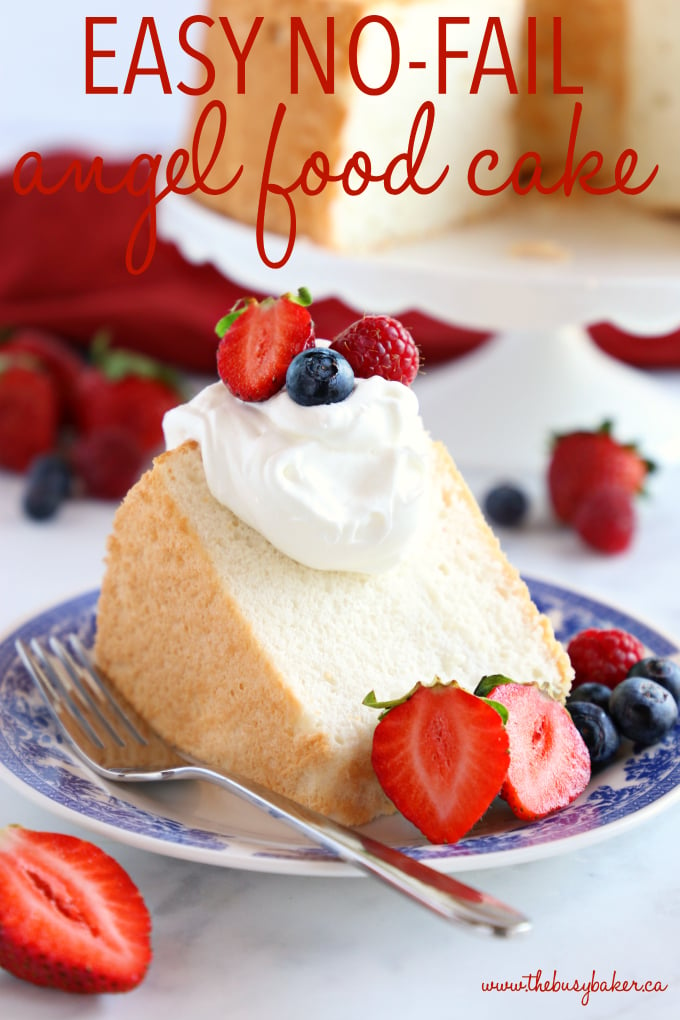 NEVER MISS A POST! FOLLOW ME ON: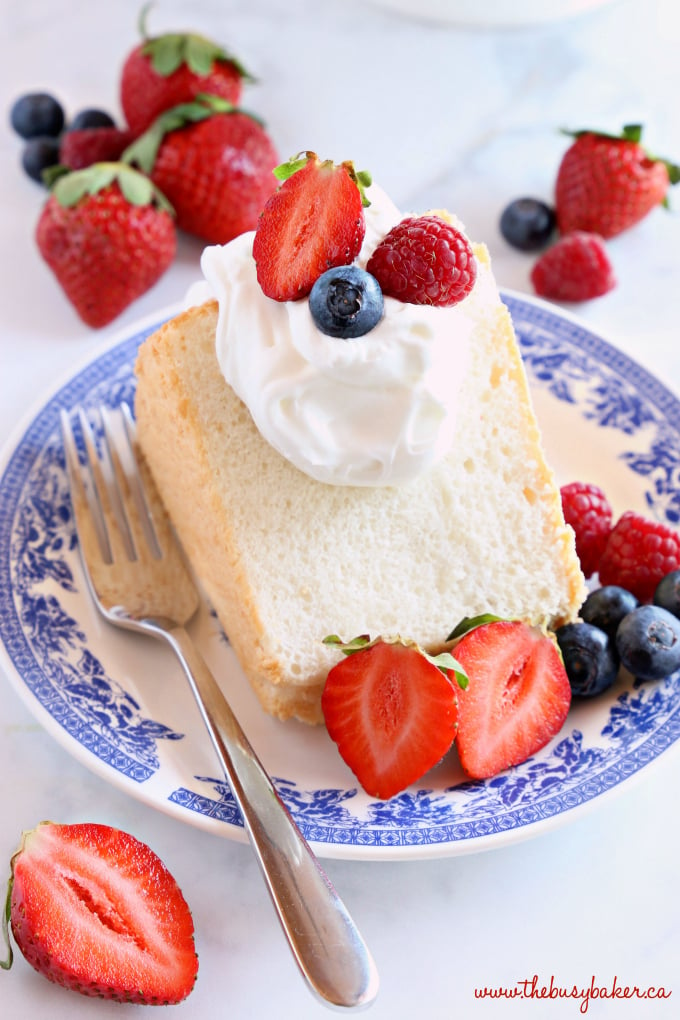 If I had to pick a favourite dessert of all time and
cheesecake
was off the table, Angel Food Cake would be a sure winner. It's fluffy, tender, and has the perfect sweet flavour to go with all those fresh berries we're enjoying this time of year! If I'm honest, I avoided making it from scratch for YEARS, only because I'd heard horror stories about how difficult it can be to get a homemade Angel Food Cake just right with the perfect amount of height, and with boxed mixes so readily available I took the easy way out. Since moving to Europe a few years ago where cake mixes are non-existent, I've had to perfect my homemade Angel Food Cake recipe and I'm happy to say I was totally wrong – homemade Angel Food Cake can be SO easy to make and my no-fail recipe is truly amazing. With a few simple tips and tricks, a No Fail Homemade Angel Food Cake is an easy summer dessert to add to your baking repertoire!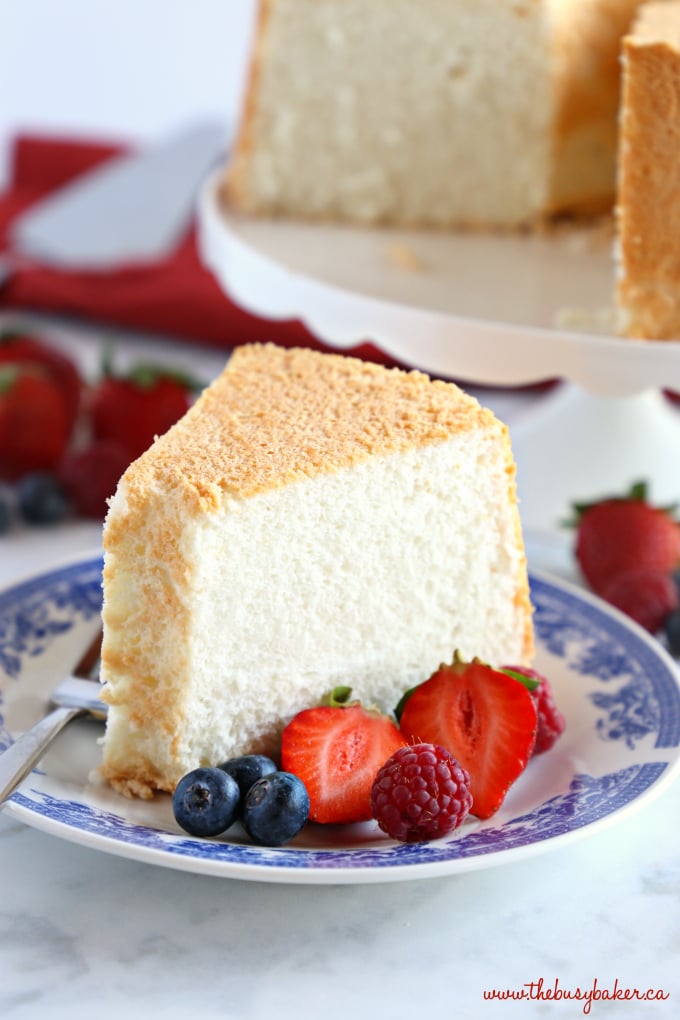 Throw away that boxed Angel Food Cake mix and try these simple tips to make sure your homemade Angel Food Cake turns out perfectly, just like mine!
DON'T GREASE your pan! Use a 10-inch fluted aluminum tube pan (also known as an Angel Food Cake pan) and pour that batter right into it – no greasing required! Greasing the pan would prevent the cake from rising up in the oven as the batter would have nothing to cling onto as it bakes. And don't worry, removing the cake is easy with a thin knife or offset spatula.
WHIP those egg whites! This recipe calls for 12 egg whites!! Whip them up to peaks as stiff as you can get, and don't forget the cream of tartar. It lends stability to the egg whites. My favourite Kitchen Aid Mixer does a fabulous job of this – check it out HERE (affiliate link)!
SIFT your dry ingredients twice or three times! You want anything you add to the whipped egg whites to be as light as possible to keep the volume of the batter. No clumps here!
FOLD with a whisk! Using a whisk to fold the dry ingredients into the whipped egg whites will help the mixture keep its volume. Don't forget to be VERY gentle and add the dry ingredients in 3-5 additions to ensure maximum volume!!
Cool it upside-down with lots of air flow! This ensures the cake keeps its height and doesn't fall as it cools!
SLICE with a serrated knife! When it comes time to serve, cut the cake with your favourite serrated or bread knife. This will cut through the cake with little effort, keeping as much height as possible.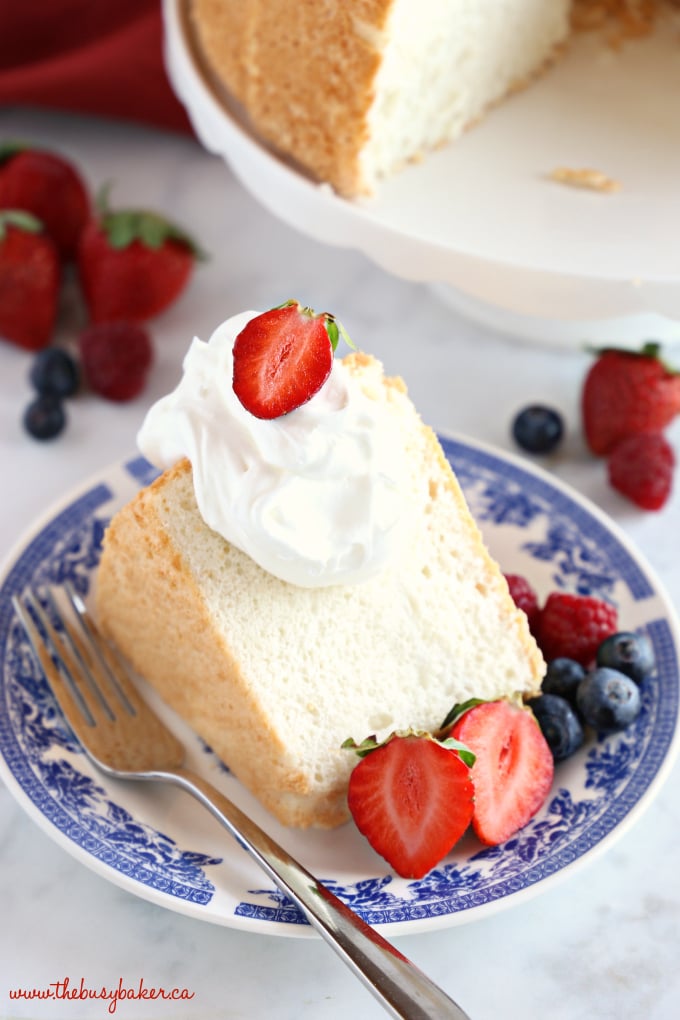 Since I stopped using boxed cake mixes for my Angel Food Cakes, this No Fail Homemade Angel Food Cake recipe has become one of my favourite go-to recipes! It is absolutely stellar, and it's far tastier and prettier than anything I've ever whipped up from a box. And if I'm honest, it's not really that much more difficult to make! If you need a great Angel Food Cake pan for this recipe and you don't have one, you can find my favourite one
HERE
(affiliate link). It's basic, works fantastically every time, it's easy to clean, and it won't break the bank!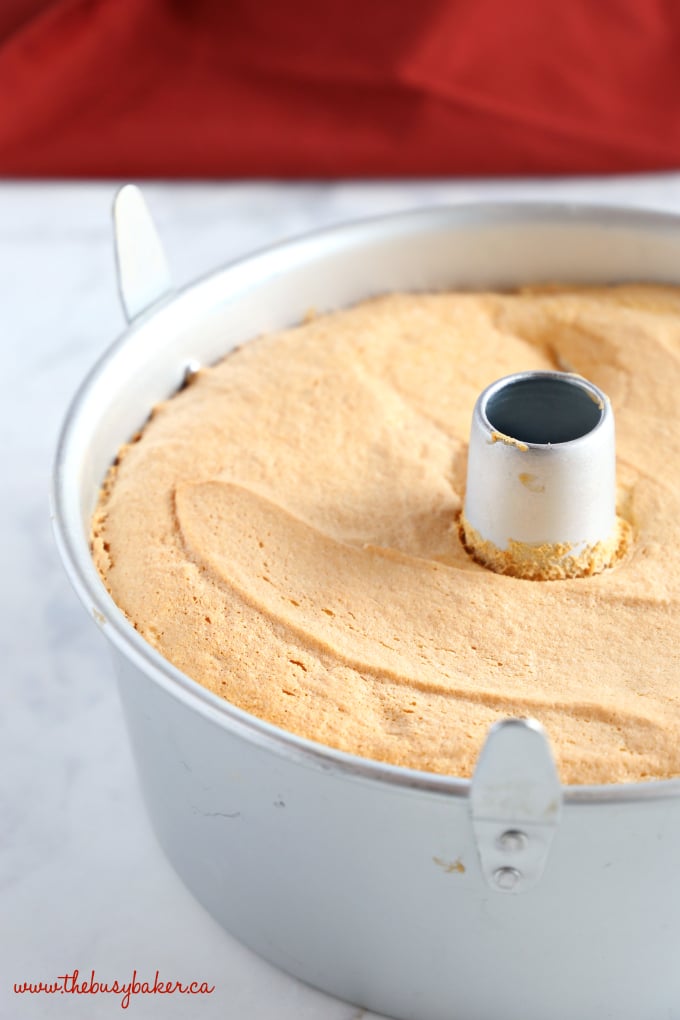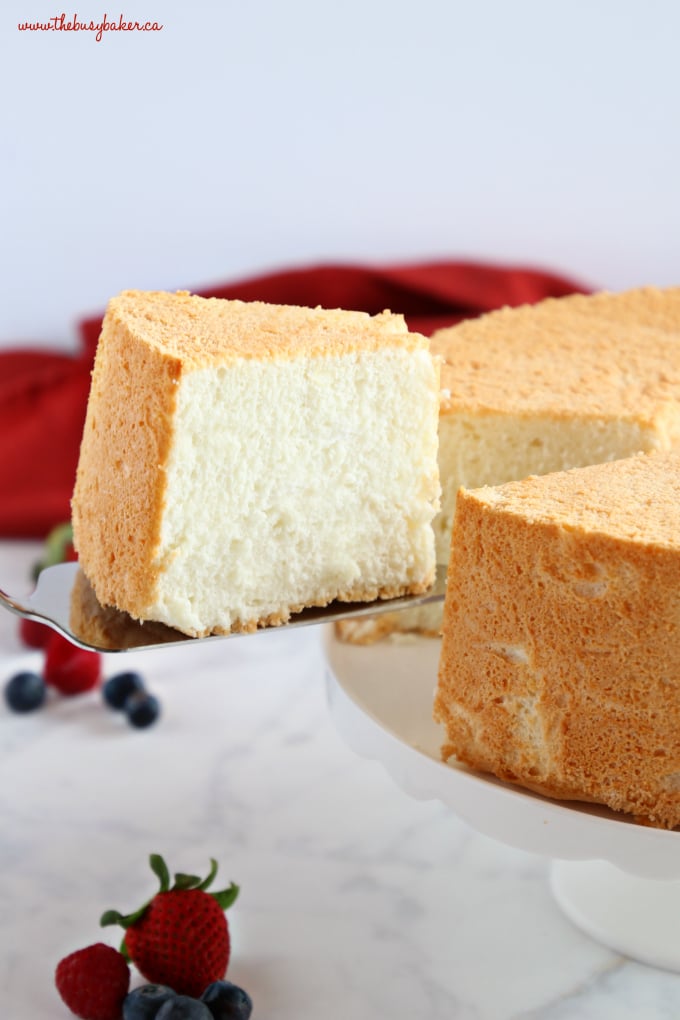 NEVER MISS A POST! FOLLOW ME ON: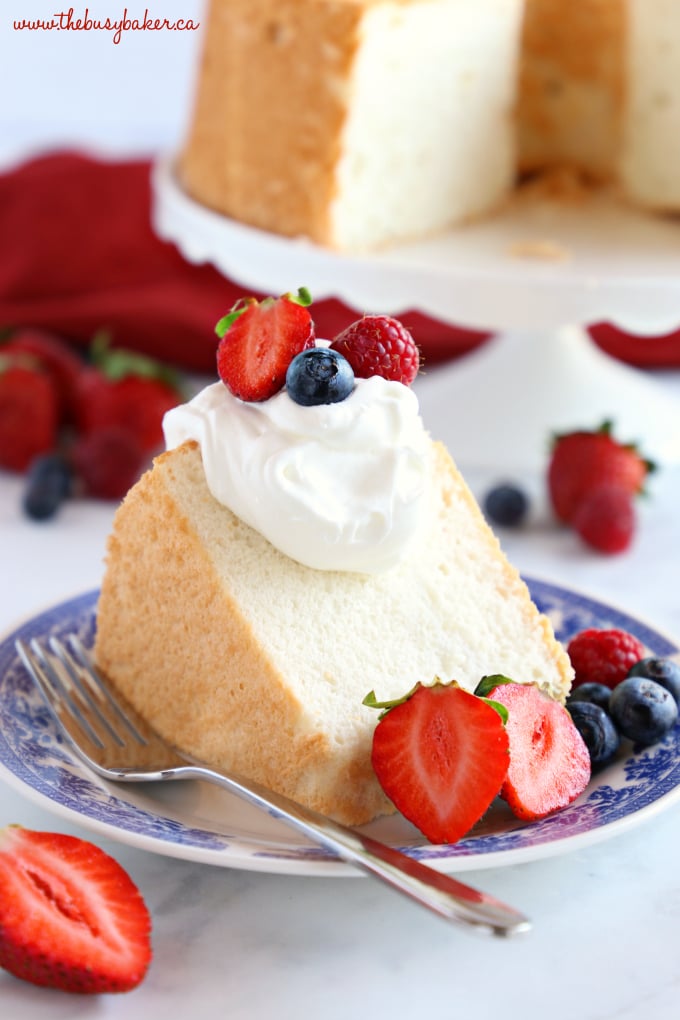 KITCHEN PRODUCTS I RECOMMEND:
Looking for more delicious recipes? You'll LOVE these:
Recipe Video
Watch the video below to see exactly how I make this recipe. You can find more delicious recipe videos on my
YouTube channel
If you made this, share a photo!
Are you trying this recipe? Use the comment form below to share your take; now with support for image uploads and comment voting!
Share a photo
No Fail Homemade Angel Food Cake
This No Fail Homemade Angel Food Cake is the best homemade angel food cake recipe that's tender and fluffy, and easy to make with my pro tips!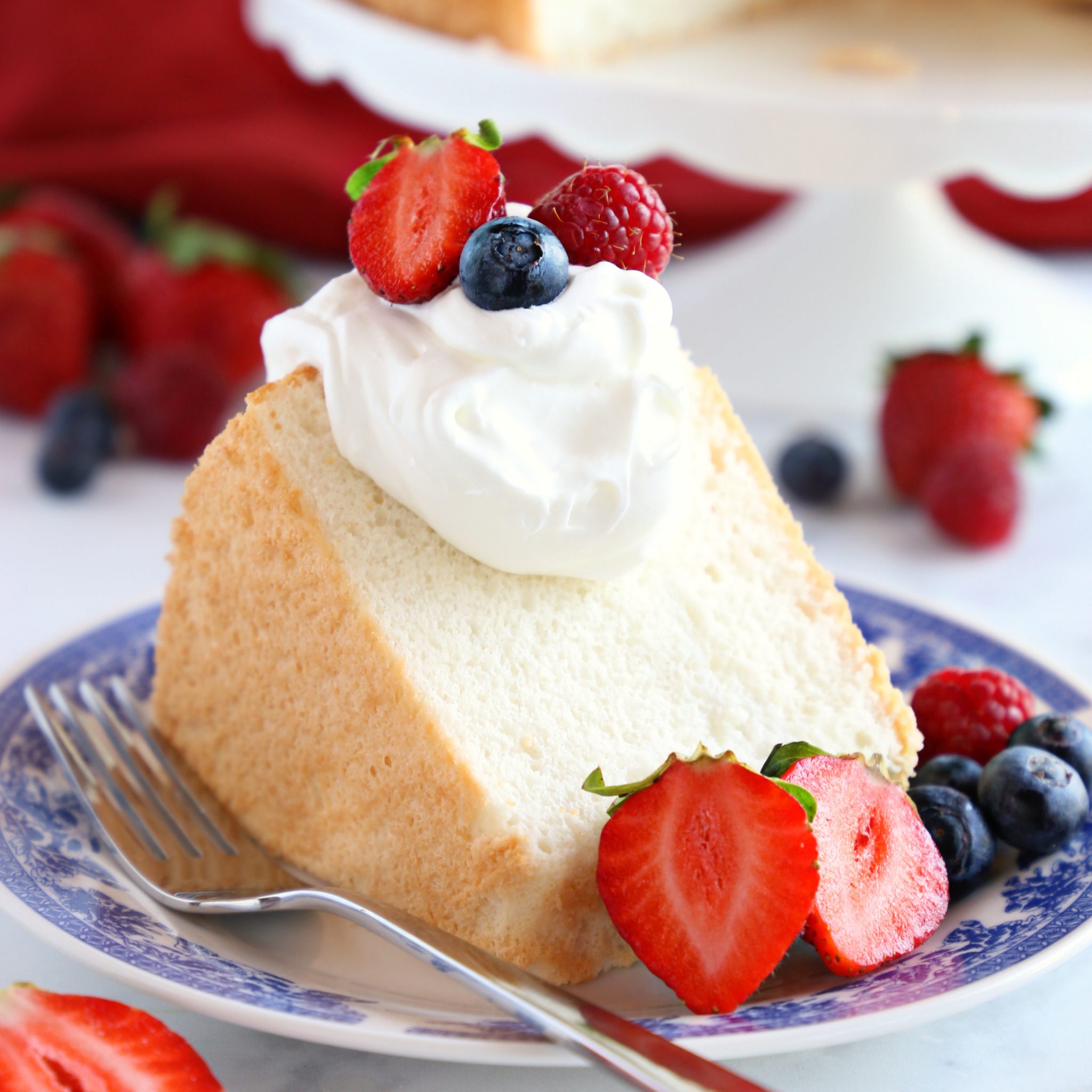 Recipe:

Ingredients
1 1/2

cup

all purpose flour, minus 2 tablespoons

2

tablespoons

cornstarch

1 1/2

cup

powdered sugar

12

egg whites, at room temperature

3/4

teaspoon

cream of tartar

a pinch of sea salt

3/4

cup

powdered sugar

1

teaspoon

real vanilla extract

berries or your favourite fruit sauce, and whipped cream for serving
Recipe:

Instructions
Preheat your oven to 325 degrees Fahrenheit.

Measure the flour, cornstarch and 1 1/2 cup powdered sugar very carefully into a large bowl. Whisk together with a wire whisk.

Sift the flour mixture into another large bowl using a fine sieve or flour sifter. Sift the flour mixture back into the first bowl and then again into the second bowl (so, you're sifting the mixture 3 times). Set aside.

Add the egg whites to a large mixing bowl, or to the bowl of your stand mixer fitted with the whisk attachment.

Whip on medium speed until foamy. Add the cream of tartar and salt.

Continue whipping on high speed until soft peaks form.

While continuing to whip on medium-high speed, add the 3/4 cup powdered sugar slowly - about 2 tablespoons at a time - until it's fully incorporated.

Increase the speed to high and whip until hard peaks form, adding the vanilla as it whips.

Using a wire whisk, fold the flour mixture into the whipped egg whites about 1/4 cup at a time, making sure to fold very gently and slowly, so as not to deflate the egg whites. This is a critical step, so take care and take your time.

Pour the batter slowly into an un-greased 10-inch Angel Food Cake or Tube Pan and smooth out the top carefully.

Bake for 35-40 minutes at 325 degrees Fahrenheit, or until the top of the cake is golden brown and the cake springs back when you touch it gently.

Invert the cake to cool (turn it upside down) on a glass to promote air flow. Cooling the cake upside down with lots of airflow will ensure that it doesn't fall as it cools and that it maintains its grand height.

Let the cake cool completely to room temperature (I let it cool for at least an hour) before slicing and serving with fresh berries (or your favourite fruit sauce) and whipped cream.
Recipe:

Notes

Store this cake in an airtight container for up to 3 days.
Recipe:

Nutrition

Nutrition Facts

No Fail Homemade Angel Food Cake

Amount Per Serving (1 serving)

Calories 167

Calories from Fat 9

% Daily Value*

Fat 1g2%

Sodium 51mg2%

Potassium 97mg3%

Carbohydrates 36g12%

Protein 5g10%

Calcium 4mg0%

Iron 1mg6%

* Percent Daily Values are based on a 2000 calorie diet.

Notice: Nutrition is auto-calculated, using Spoonacular, for your convenience. Where relevant, we recommend using your own nutrition calculations.
*I've adapted this recipe from Anna Olson's version from her cookbook
Bake with Anna Olson
(affiliate link).