Who doesn't love a good ice cream or frozen yogurt? It's the perfect summer dessert because it's cool, smooth and refreshing but I can't even count the number of times I've experienced regret over a bowl of the stuff…seriously, it's just not that good for you. It's either ridiculously high in fat and sugar or it's full of unhealthy ingredients that somehow magically create the texture of the full-fat version. Really, the only way to go is to make it yourself!
This homemade Blackberry Mint Frozen Yogurt is fresh-tasting, fat-free, contains only 4 ingredients and is sweetened naturally with only fresh fruit and honey! It's the perfect tasty no-guilt treat for summer!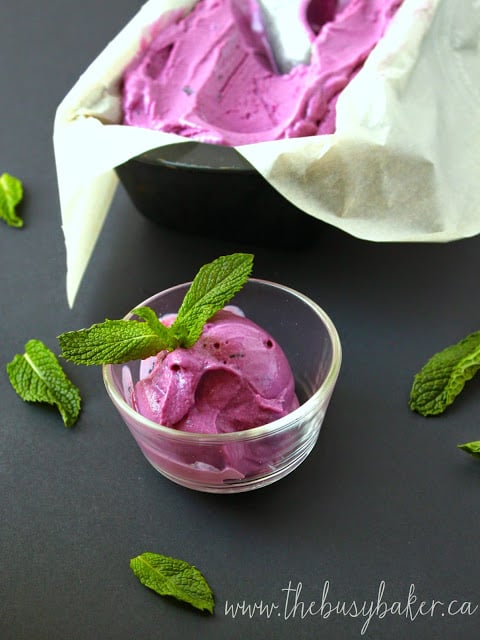 You'll need:
MY LATEST VIDEOS
2 cups fresh blackberries, washed and dried (you could also use frozen blackberries here, but make sure they're thawed completely and drained of any excess liquid).
1/2 cup honey
6-7 whole mint leaves
3 cups 0% Greek Yogurt, plain and unsweetened
2-3 tbsp finely chopped mint leaves
To make:
Add the blackberries and the honey to your blender.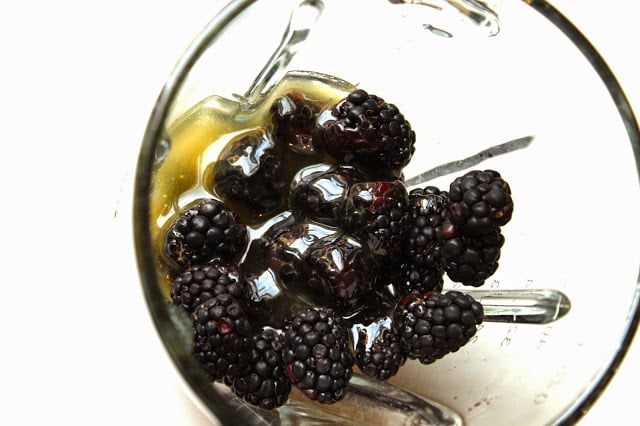 Blend on high for about 1 minute, or until the mixture is pureed.
Add the whole mint leaves and blend again for about 45 seconds, or until the mint leaves have disappeared.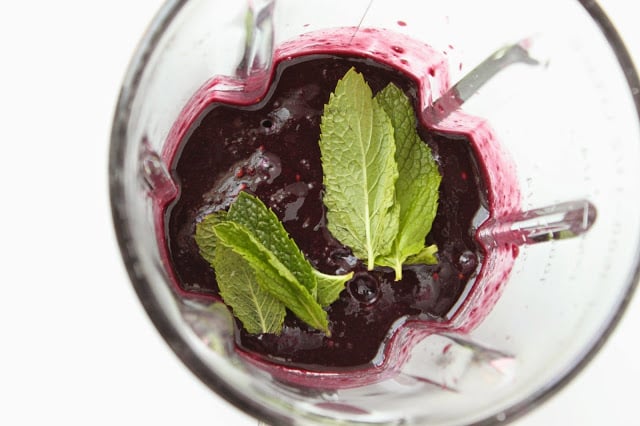 Pour the mixture through a strainer into a large bowl. "Help" it through the strainer using a rubber spatula, making sure to push as much of the fruit puree through the strainer as possible while leaving the blackberry seeds behind (along with any large pieces of the mint leaves that might not have pureed).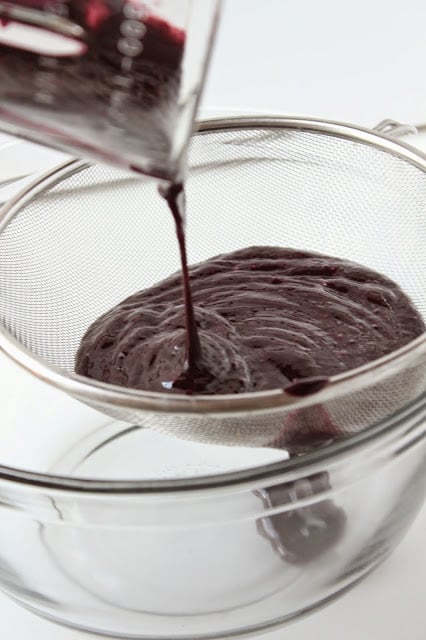 Once you've strained the fruit mixture, add the Greek yogurt to the bowl and mix it in well with a wire whisk. It's important that you use Greek yogurt for this recipe and not simply plain yogurt. Greek yogurt is extra thick and contains less water; using Greek yogurt will ensure that this frozen yogurt keeps its shape as it freezes.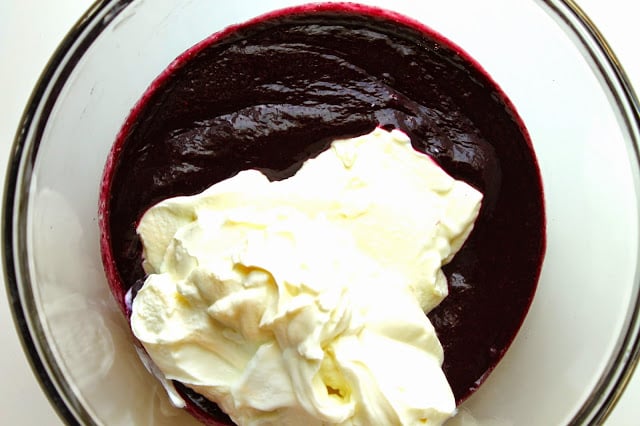 Chop the remaining mint leaves until you have about 2-3 tbsp.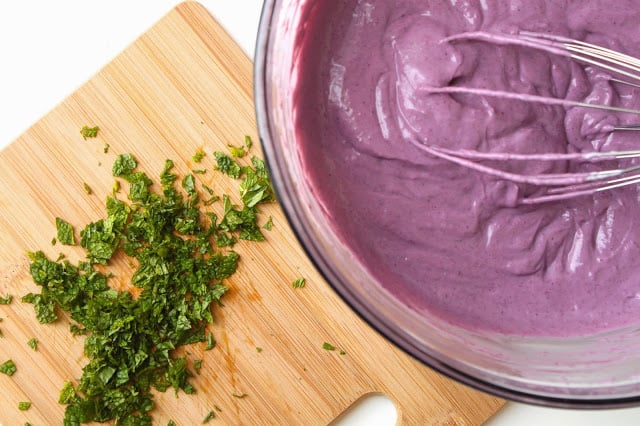 Add the chopped mint leaves to the yogurt mixture and stir them in as evenly as possible with the wire whisk.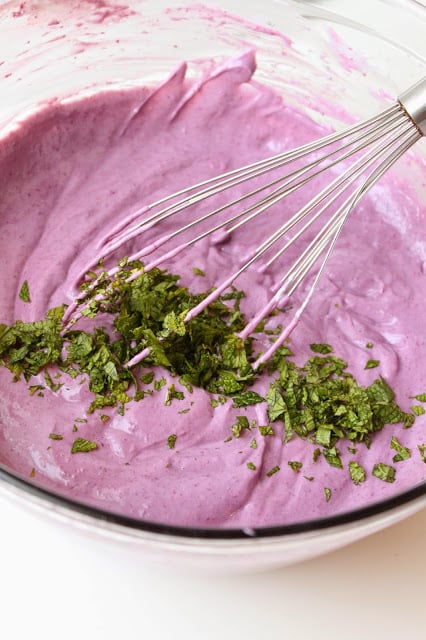 Once the mint leaves are mixed in well, transfer the mixture to the bowl of an ice cream maker and process according to the manufacturer's directions.
My ice cream maker is the KitchenAid Ice Cream Maker Attachment
for my KitchenAid Artisan Stand Mixer
. If you already own a KitchenAid stand mixer (any version) the ice cream maker attachment is really a worthy investment. It's much more economical than stand-alone ice cream maker appliances, it's small and easy to store, and it's super easy to use and keep clean. And you can use it to make any kind of frozen dessert.
Because of the low fat content in this recipe, I processed the yogurt mixture for about 15 minutes, stopping every now and then to check on it (and, let's be honest, have a taste test!) and ended up with the perfect soft-serve texture.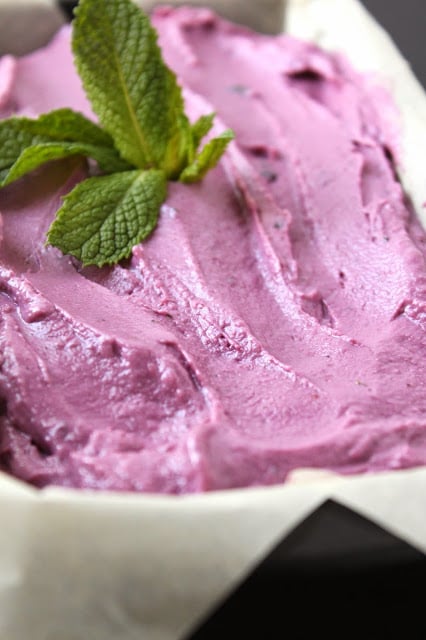 It's a good idea to serve it immediately after you've reached soft-serve texture, but if you'd prefer a harder texture, just transfer the frozen yogurt to a freezer-safe container and freeze for an additional 45-60 minutes.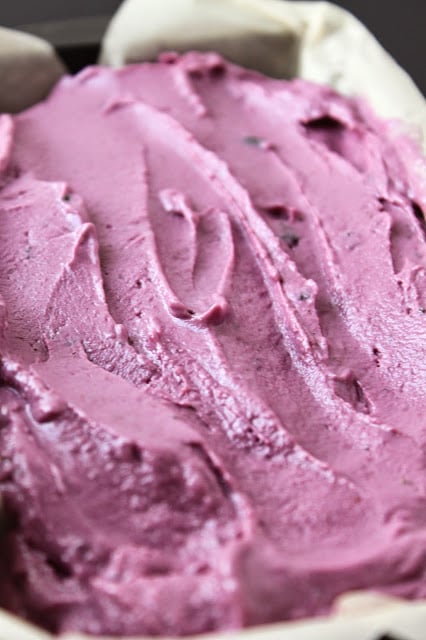 This frozen yogurt keeps well in the freezer for several weeks, but it will become very hard as it freezes for a long time (because of the high water content and low fat content). If you're serving it at a later date, simply take it out of the freezer about an hour in advance to let it soften enough to serve.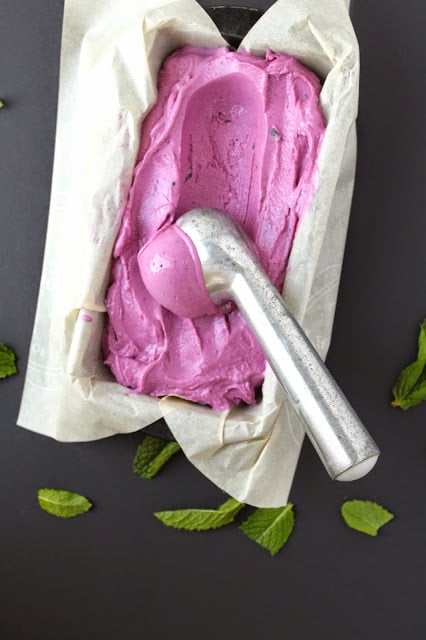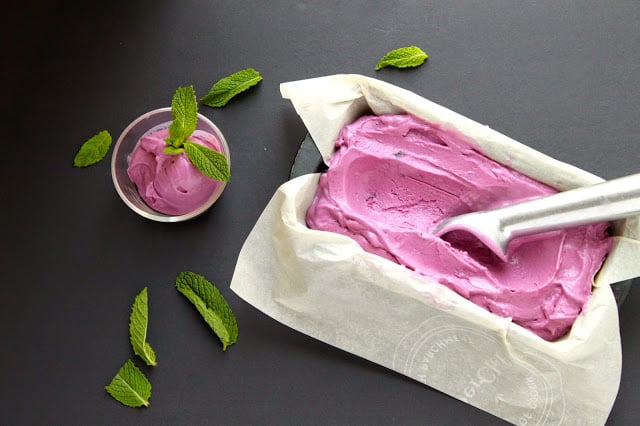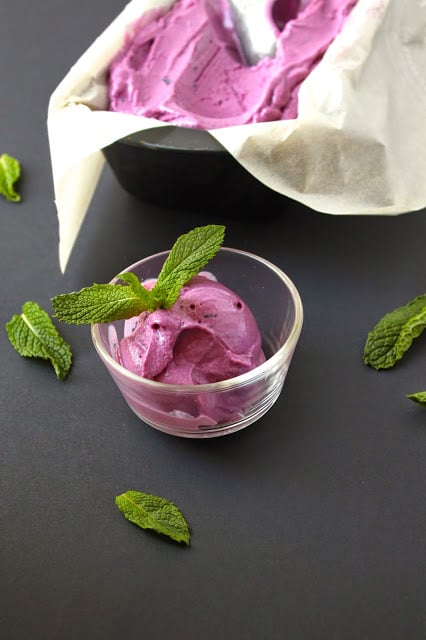 This frozen yogurt is really the perfect summer treat because it's super yummy and flavourful but it's also very healthy! This recipe makes approximately 10 half-cup servings, and at only 2 Weight Watchers PointsPlus per serving you can definitely afford to enjoy this healthy refreshing treat!
I hope you enjoy this one! Do you have a favourite summer frozen treat? Let me know in the comments below!