This shop has been compensated by Collective Bias, Inc. and its advertiser. All opinions are mine alone. #CreateYourBowl #CollectiveBias
These Breakfast Burrito Bowls are a delicious way to enjoy all your favourite Mexican flavours with a breakfast-style twist! They make a great addition to brunch, but they're also perfect for when your family is craving breakfast for dinner! These Breakfast Burrito Bowls are a fun meal to make and enjoy, and they are so easy to customize to everyone's tastes. You're going to love them!
Hungry for more?
Pin this recipe on Pinterest!
Follow me! Like my page on Facebook!
Subscribe! Click here to get free recipes by email!

If I could only eat one meal over and over again for the rest of my life it would definitely be breakfast. Our family eats breakfast for dinner at least once every week and it's always the only night when we're not fighting with our kids to eat their dinner…and sometimes they even ask for seconds! It's a parenting miracle really.
Which is why I'm so glad to be partnering with OLD EL PASO today to bring you these delicious breakfast-inspired mini burrito bowls! I couldn't help but jump that the chance to create a new breakfast-for-dinner meal with OLD EL PASO's Mini Tortilla Bowls and just as I suspected, everyone in the family LOVED every delicious bite!
It's a good thing that the Mexican Food Aisle at my local
Loblaw's store was well stocked with OLD EL PASO Mini Tortilla Bowls!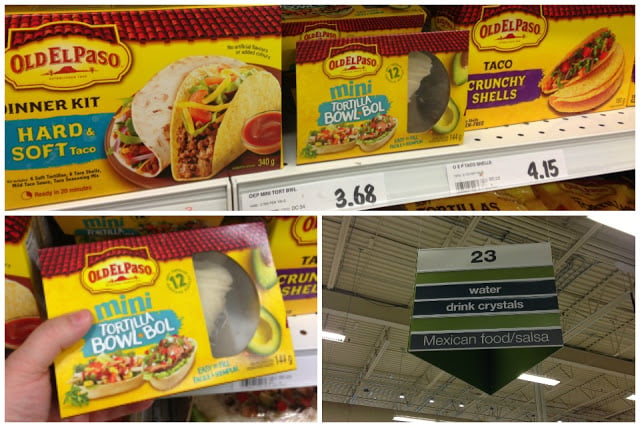 If you've ever watched a young child try to eat a homemade burrito you will agree that these OLD EL PASO Mini Tortilla Bowls are one of the greatest inventions ever. Every time I make fajitas or burritos for dinner the first few bites my kids take go quite smoothly and then all of a sudden half the contents of their burritos end up on the floor, on the table, on their laps, or pretty much anywhere except in their mouths. Mexican food is unbelievably delicious but it's messy business for a 2-year-old, let me tell you!! But these OLD EL PASO Mini Tortilla Bowls make eating Mexican food so much easier for little hands and they also make the prep and the cleanup a lot more enjoyable for mom and dad!!
And because OLD EL PASO Mini-Tortilla Bowls stand up on their own, the kids can even help fill them with all their favourite fillings! Our kids love eggs, so scrambled eggs and cheese were a definite must for our breakfast burrito bowls. I also added sauteed bell peppers cooked fajita-style and bacon, breakfast sausage, and some avocado on top for creaminess. And of course, salsa and sour cream on the side for dipping!
Breakfast Burrito Bowls (makes 12 mini bowls)
You'll need:
6 slices of bacon
6 breakfast sausages, casings removed
3 bell peppers, sliced thinly
juice of half a lime
1/2 tsp low sodium taco seasoning
6 eggs
a pinch of salt and pepper
3/4 cup shredded cheese of your choice
1 avocado, chopped
1 tablespoon chopped cilantro
1 package OLD EL PASO Mini Tortilla Bowls (contains 12)
To make:
Cook the bacon in a skillet over medium heat until it's done to your preference. Drain the fat and add the breakfast sausages to the skillet, still over medium heat. Break them up with a wooden spoon (remember to remove the casings!) into small chunks as they cook. Once they're cooked through, remove them from the pan and drain the fat, but don't wipe the pan out. The few drops of fat will be useful in cooking the vegetables.
Add the sliced peppers to the skillet and turn the heat to medium high. Add the lime juice and the taco seasoning and saute the peppers until they soften slightly and blacken on the edges.
Remove the peppers to a plate and scramble the eggs in the same skillet with a pinch of salt and pepper.
Divide the eggs, bacon, sausage, and sauteed vegetables between the tortilla bowls. Sprinkle the cheese over each of the tortilla bowls and add a few chunks of avocado and some chopped cilantro to the top of each as well.
Serve immediately while the burrito bowls are warm with another squeeze of lime juice and some sour cream and salsa on the side!
How delicious do these mini breakfast burritos look?? I love that they're a twist on the traditional – they make mealtime so much fun!
One of the best things about this recipe is its versatility! I used a combination of bacon and sausage, and I also added both cheddar and Monterey Jack cheeses and every combination was delicious, so feel free to customize this recipe to your family's tastes and use your favourite breakfast meats and cheeses, or improvise with other toppings!
Hungry for more?
Pin this recipe on Pinterest!
Follow me! Like my page on Facebook!
Subscribe! Click here to get free recipes by email!