This waffle iron recipe for hash brown waffles uses homemade hash browns to create delicious waffles that are soft on the inside and crispy on the outside. Waffle iron hash browns are delicious for breakfast, brunch, or a side dish for dinner.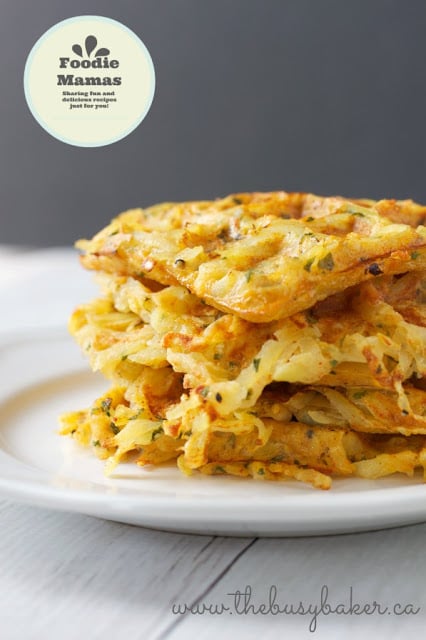 Waffle Iron Recipes
I've seen so many creative ways to use a waffle iron in my Pinterest feed and I just had to try something different. And this month's #FoodieMamas theme is breakfast potatoes, so I'd say it was perfect timing! It's easy to get into a rut in the kitchen and make the same old recipes over and over again without trying anything new. Last week, I decided it was time to think outside the box and this waffle iron recipe for Hash Brown Waffles was the result!
Waffle Iron Hash Brown Ingredients
These hash brown waffles are made with just a few simple, healthy ingredients and they're cooked to crisp perfection in minutes using your waffle iron. They're great served with your favourite breakfast meat and some fresh fruit, or even a fried egg and some homemade salsa for a healthy, wholesome savory breakfast. Our family loves waffle iron hash browns and I know you're going to love them too!
Looking for more healthy breakfast recipes? Bake some Scrambled Eggs Benedict with Low Fat Hollandaise Sauce, or make a batch of Healthy Buttermilk Pancakes.
NEVER MISS A POST! FOLLOW ME ON:
To make hash brown waffles, you'll need:
Yukon Gold potatoes
large egg
garlic powder
dried parsley flakes
sea salt
black pepper
Melted butter or canola oil spray (or your favourite oil spray) for greasing your waffle iron. I like to use my Misto Oil Sprayer.
Waffle iron
Tips for Making Homemade Hash Browns
Wash and peel the potatoes and then grate them using a cheese grater or in a food processor, using the grater plate.
Wrap them in a clean kitchen towel and squeeze out as much water as you can. This is a critical step to creating crispy hash browns!
Since waffle iron hash browns are the perfect addition to a savory breakfast, our favourite way to enjoy them is with some fresh salsa and an egg or two.
This recipe makes 8 square hash brown waffles and each waffle is only 2 Weight Watchers PointsPlus, making it a delicious and filling addition to your breakfast that will help you stay on track! I hope you enjoy this waffle iron breakfast potatoes recipe! Please check out all the other #FoodieMamas breakfast potato recipes below!!
NEVER MISS A POST! FOLLOW ME ON:
How to Make Hash Brown Waffles