This Easy Restaurant Style Blender Salsa is one of my favourite recipes! It's so easy to make – just throw all the ingredients in the blender and serve! This Easy Restaurant Style Blender Salsa tastes so fresh and it's perfect for dipping with tortilla chips, or serving alongside all your favourite Mexican dishes!
NEVER MISS A POST! FOLLOW ME ON:
Mmmmm salsa. There's just nothing quite like a good homemade salsa when you're craving Mexican food, and I'm pretty sure tortilla chips and salsa might make my list of the top 5 foods of all time (I don't have an actual list, but if I did they'd be on it). Tortilla chips and GOOD salsa, that is.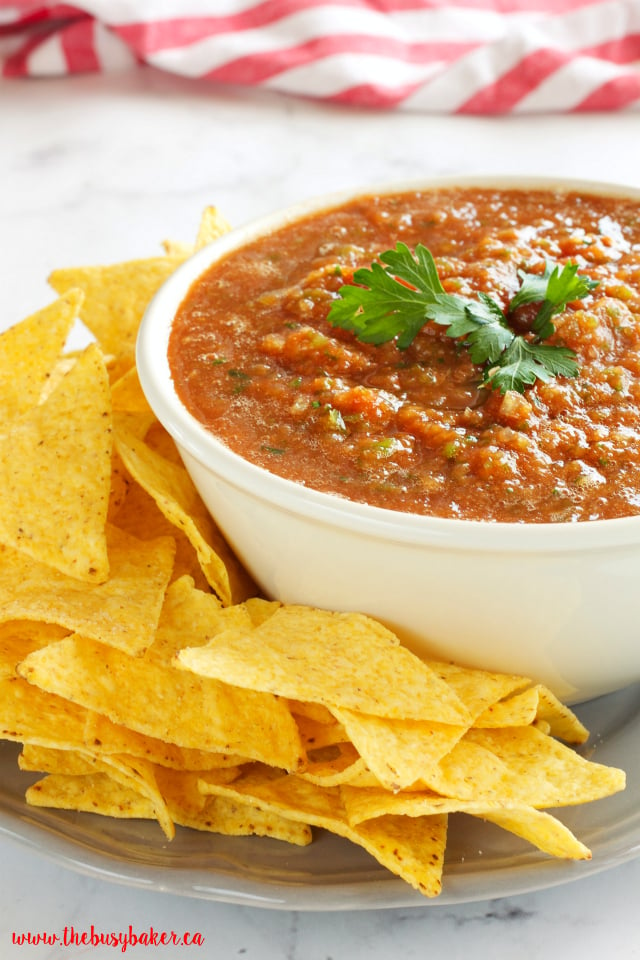 My mom made a massive match of her homemade salsa every year from the tomatoes that grew in our garden and so I grew up enjoying delicious homemade salsa before I ever tried any other kind. She would spend several days canning salsa every summer so we'd have enough to last our family a whole year, and during my teenage years my friends would often come over just to enjoy some of my mom's salsa. It's THAT good.
I've never tried a jar of salsa from the grocery store that even compared to my mom's salsa recipe, and since we moved to Romania several months ago my salsa search has come to a screeching halt. Of course I wasn't able to grow tomatoes this year since we moved in the middle of the summer, and I don't actually have the supplies for canning yet so I can't make my mom's recipe. And let me tell you, we've tried several brands of store-bought salsa here and they've all been ultra disappointing. Don't ask me why, but they all taste like ketchup and vinegar and not at all like the delicious savoury salsa we're used to enjoying. Talk about disappointment!
And that's where my search for a quick and easy homemade salsa recipe began. I knew there had to be a way to make homemade salsa minus all the hassle of canning – I've seen several restaurant-style blender salsa recipes and I was determined to try as many as I had to until we found a winner.
This Easy Restaurant Style Blender Salsa Recipe is my new favourite salsa recipe and I make it almost weekly it's SO good! I've adapted it from Averie Cooks, changing a few of the ingredients according to the tastes of my husband and kids and adding a green bell pepper for some additional flavour and nutrition. We eat it as a dip with tortilla chips, with these Easy Oven-Baked Chicken Fajitas that usually make their way onto our weekly meal plan, and even for breakfast on eggs or in breakfast burritos. Trust me, if you want an easy peasy salsa recipe, this is the one for you!
I hope you like this Easy Restaurant Style Blender Salsa recipe! Let me know in the comments below, what's your favourite way to enjoy fresh homemade salsa?
NEVER MISS A POST! FOLLOW ME ON:
Looking for more delicious Mexican recipes? You'll love my favourites that I've linked below!
These Easy Oven-Baked Chicken Fajitas make their way onto our meal plan almost every week!
These Mexican Taco Dip Wonton Cups make a delicious appetizer!
These Mexican-Style Quinoa Stuffed Peppers make the perfect easy weeknight meal!
Save Save Save