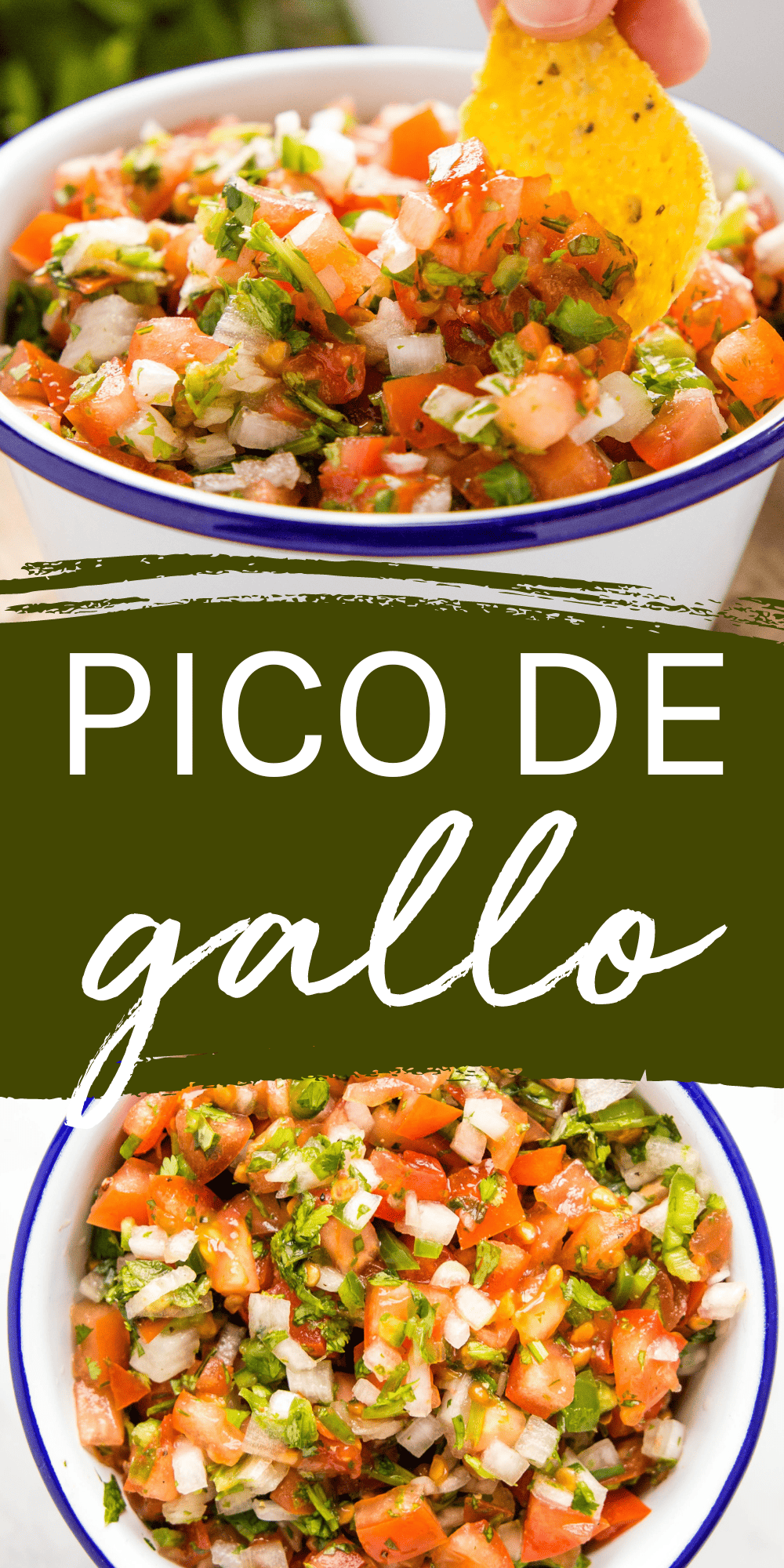 This homemade Pico de Gallo recipe is a refreshing and tangy homemade Mexican dish that's served as a condiment or dip and made with fresh tomatoes, cilantro, onion, jalapeño and lime. It's perfect for dipping, and it makes a delicious topping for your favourite Mexican dishes. An easy-to-make recipe with our step-by-step guide and pro tips!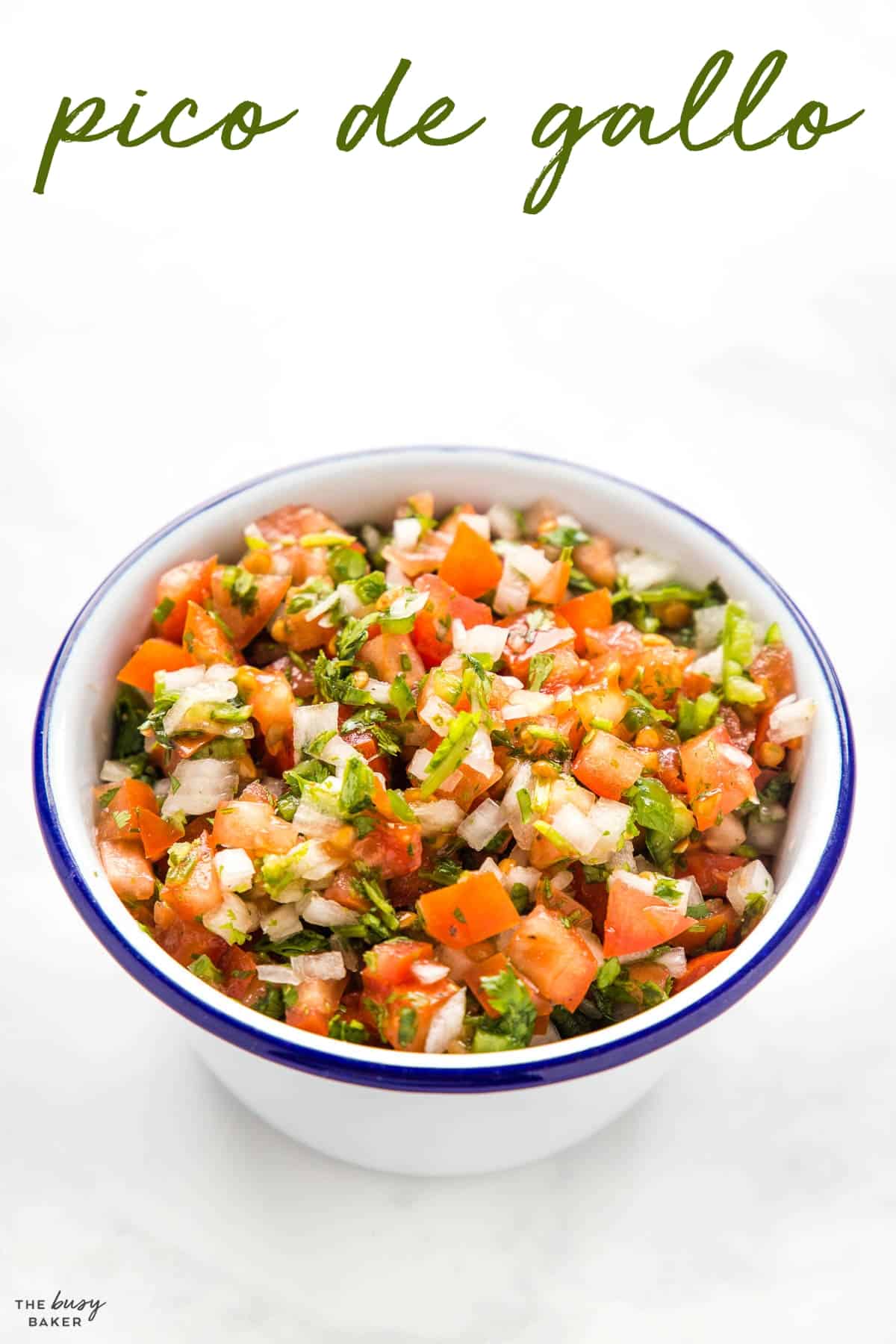 There are a few recipes in The Busy Baker kitchen that just scream summer and this Homemade Pico de Gallo recipe is right at the top of that list. It's the ultimate in summer freshness and it's perfect served with all your favourite Mexican or Tex Mex dishes or all on it's own as a dip with your favourite tortilla chips and a side of homemade guacamole.
Although you can make it any time of the year we believe summer is the best time because of all the fresh, local produce available. The BEST pico de gallo is always made with high quality fresh tomatoes found in the peak of summer and fragrant fresh cilantro, of course. Trust us, you've GOT to try this recipe!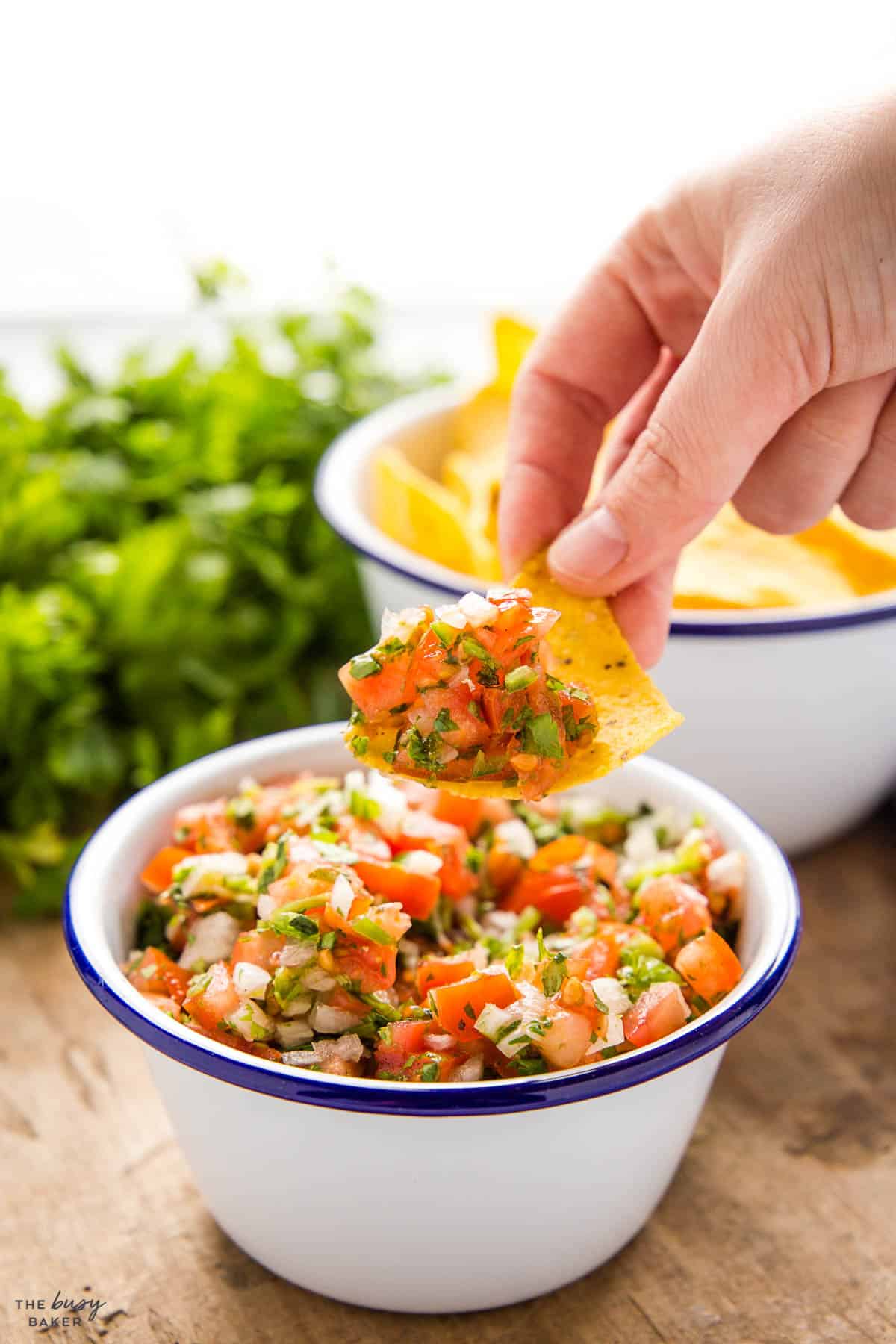 Pico de gallo is a popular Mexican condiment that's often called salsa fresca or salsa cruda, because it's made with fresh chopped ingredients instead of cooked ingredients.
It's often served as a dip with tortilla chips and as a condiment or topping for everything from traditional Mexican enchiladas, tacos, and fajitas to Tex Mex-style grilled meats, grilled fish, and even hot dogs and hamburgers.
Pico de Gallo and salsa are both popular Mexican condiments, but they have different ingredients, preparation methods, and texture. Here are the key differences between them:
Ingredients:

The essential ingredients of pico de gallo include fresh tomatoes, onions, jalapeños or serrano peppers, cilantro, lime juice, and salt. It focuses on using diced raw ingredients.
Salsa recipes can vary significantly, but they often include cooked or roasted ingredients such as tomatoes, onions, garlic, and various types of peppers. Additional ingredients like spices, herbs, and fruits are also sometimes added.

Texture:

Pico de gallo has a chunky and crisp texture due to the diced and fresh ingredients.
Salsa can have different textures, ranging from chunky to smooth, depending on the recipe. It can be blended, pureed, or cooked, which gives it a softer, more saucy and fluid consistency.

Preparation:

Pico de gallo is typically prepared by dicing the ingredients into small, uniform pieces and then mixing them together in a bowl. It is generally served immediately after preparation, or within a day or two of preparation, to maintain its freshness.
Salsa recipes often involve cooking or roasting the ingredients, followed by blending or pureeing them into a smooth or chunky sauce. Some salsas require simmering or marinating to develop their flavours.

Flavour:

Pico de gallo has a distinctly vibrant and fresh flavour. The raw ingredients provide a crisp and tangy taste, and the lime juice adds an intense citrus flavour. It has a mild to moderate spiciness, depending on the variety of hot peppers used in the recipe.
Salsa flavours can vary widely depending on the recipe. Cooked or roasted ingredients bring out deeper and richer flavours, and added spices and other ingredients can give it a more complex taste. Salsas can range from mild to extremely spicy.

Serving:

Pico de gallo is often served as a topping or condiment for various Mexican dishes such as tacos, fajitas, grilled meats, or as a dip for tortilla chips. It adds a very refreshing and crunchy element to any dish.
Salsa is used in a broader range of dishes because it can be served as a dip, used as a sauce for enchiladas, burritos, or quesadillas, or incorporated into other recipes as a marinade, for example.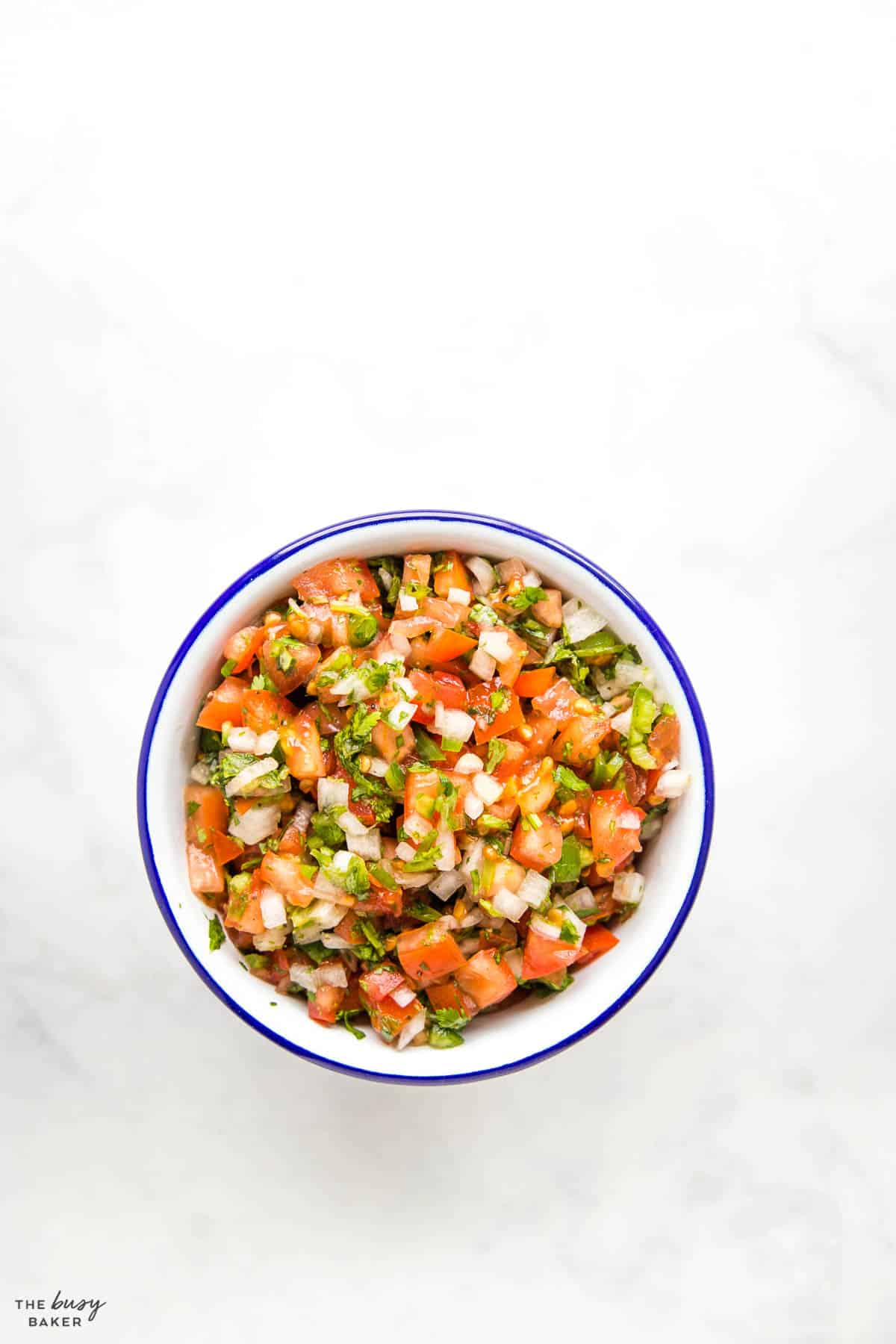 Making homemade pico de gallo or salsa fresca is pretty simple and requires only a few simple kitchen tools (affiliate links):
Looking for more?
EASY HEALTHY SUMMER ENTERTAINING RECIPES AND COOKING & BAKING TIPS
Get my easy healthy summer entertaining e-cookbook!
Click here to learn more!
Here is a list of the ingredients you'll need to make homemade pico de gallo or salsa fresca. Remember, the quality of the ingredients is essential for flavour, so choose high-quality and fresh produce to maximize the flavour in this recipe!
roma tomatoes
white onion
jalapeño peppers
fresh cilantro
limes
salt
pepper (optional)
Get creative and try one of these 6 variations on the traditional pico de gallo recipe, each with its own unique twist and flavour!
Mango: Add diced ripe mango to the traditional recipe – the sweet and juicy mango adds a tropical touch and balances the heat from the peppers.
Corn and Black Bean: Incorporate some cooked corn kernels and black beans to add a heartiness and smoky flavour, with lots of extra texture and protein.
Pineapple: Mix in some diced fresh pineapple – the sweet and tangy pineapple complements the savoury ingredients and brings a refreshing twist to the salsa.
Avocado: Add some diced avocado right before serving. The creamy and buttery texture of the avocado adds richness and a smooth contrast to the crispness of the other ingredients.
Watermelon: Combine some diced watermelon with the traditional ingredients for some added juiciness and freshness that pairs well with the spicy jalapeños.
Cucumber: Incorporate some finely diced cucumber into the mixture. The cool and crunchy cucumber adds a refreshing element, making it even more perfect for hot summer days.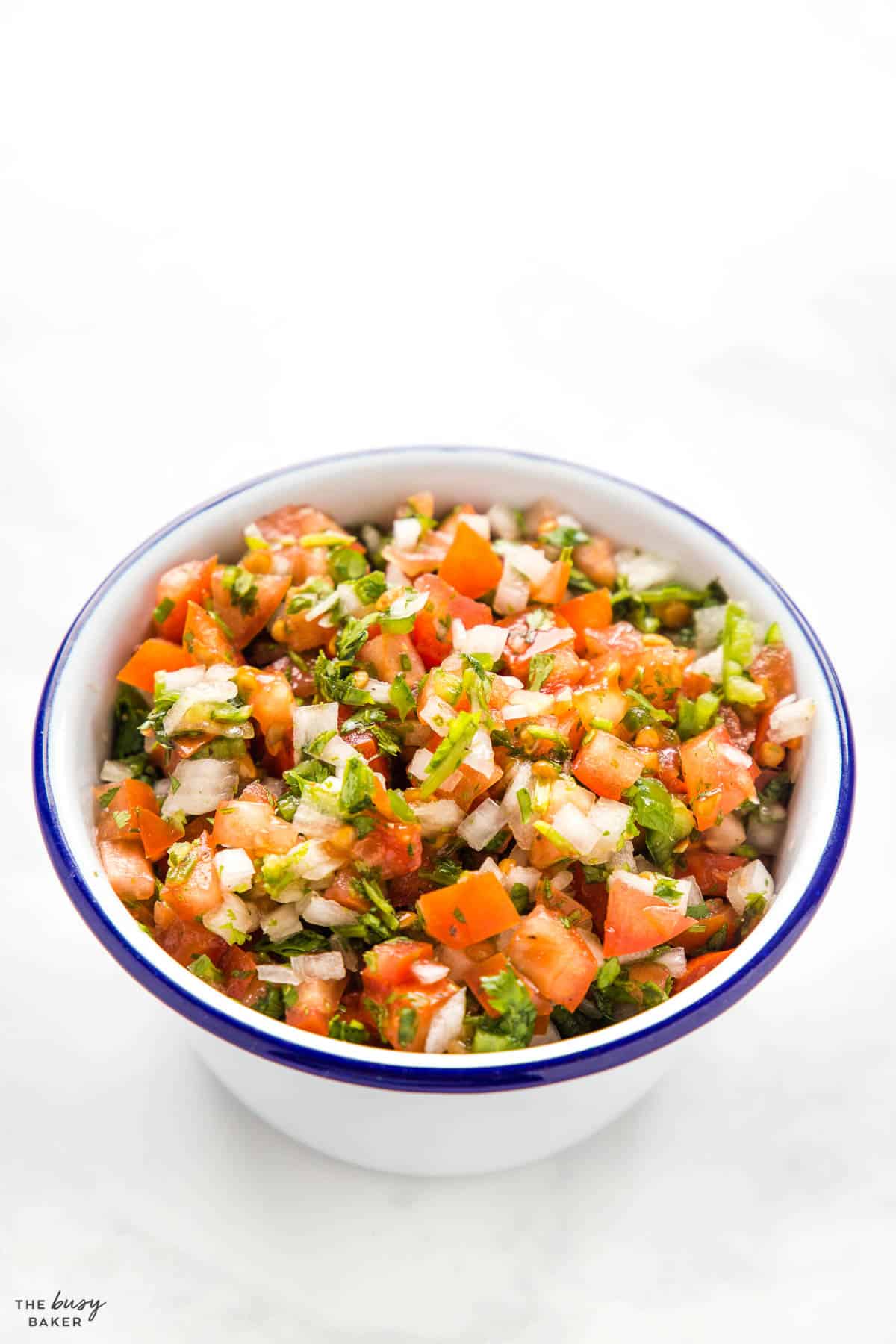 Time needed: 20 minutes
Follow these easy steps and tips for the perfect homemade pico de gallo recipe every time!
Select fresh, high-quality ingredients.

In recipes that feature only a few fresh ingredients, selecting the freshest, in-season, ripe ingredients is critical. Choose juicy fresh tomatoes and bright green cilantro for the ultimate in freshness and flavour.

Remove the seeds.

Removing the seeds from the tomatoes and jalapeños prevents it from developing a bitter flavour, and removing the seeds from the tomatoes prevents it from becoming watery.

Chop everything the same size.

The best pico de gallo is made with diced ingredients that are all the same size. This gives it its uniform texture and flavour.

Very finely chop the cilantro.

To make sure the cilantro doesn't add a bitter flavour, chop it very finely so it releases all its oils.

Serve immediately.

Pico de gallo is best served the day it's made, but it can be stored in the fridge and served up to 3 days after preparing. For best results, serve within 24 hours.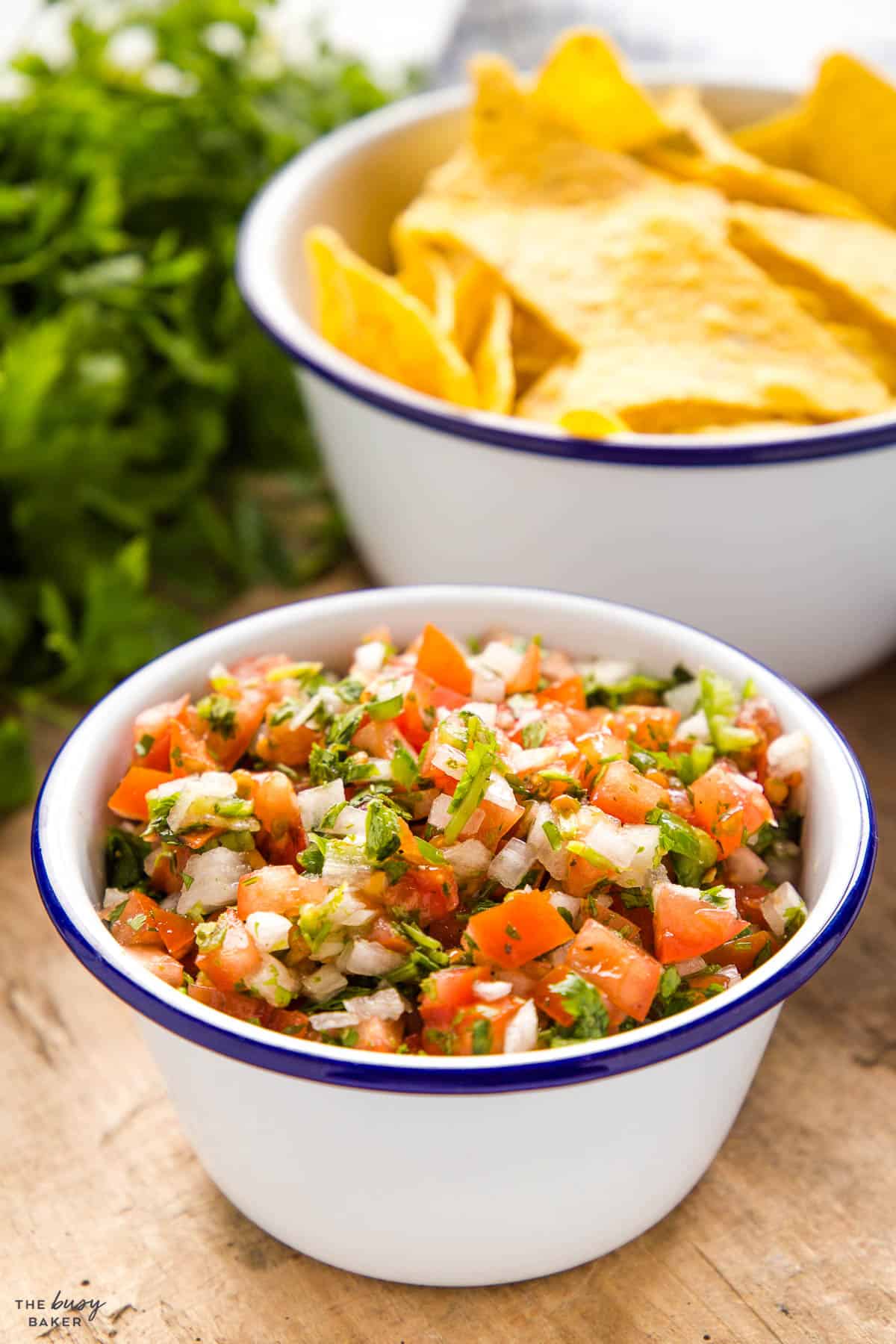 Can I make Pico de Gallo ahead of time?

It's best enjoyed fresh, but you can prepare the diced ingredients in advance and store them separately. Mix everything together just before serving to maintain the freshness and texture.
How long does Pico de Gallo last?

It's most flavourful when enjoyed immediately or within 24 hours. However, if properly stored in an airtight container in the refrigerator, it can typically last for 1-3 days. Keep in mind that the texture may become softer over time.
Can I adjust the spiciness of Pico de Gallo?

Control the level of heat by adjusting the amount of jalapeño peppers used. For a milder version, remove the seeds and membranes of the peppers before dicing.
What are some serving suggestions for Pico de Gallo?

It can be served as a dip with tortilla chips, a topping for tacos, fajitas, grilled meats, or as a flavourful addition to soups and salads.
What does "Pico de Gallo" mean?

It translates to "rooster's beak" in Spanish. It is believed by some that the name originated from the way the salsa is traditionally eaten – by using thumb and forefinger to pinch and scoop it up, resembling the pecking motion of a rooster.
Is Pico de Gallo good for you?

Yes! It's made with fresh ingredients and no added fat.
Why is my Pico de Gallo bitter?

Not chopping the cilantro finely enough can cause bitterness, but be sure to remove the seeds from the tomatoes and the jalapeño pepper to prevent bitterness, too.
How many calories in Pico de Gallo?

One 1/2 cup serving contains 19 calories.
Why is my Pico de Gallo watery?

Tomatoes release water when they're chopped and left to sit, so expect it to become slightly watery the longer you store it after preparing.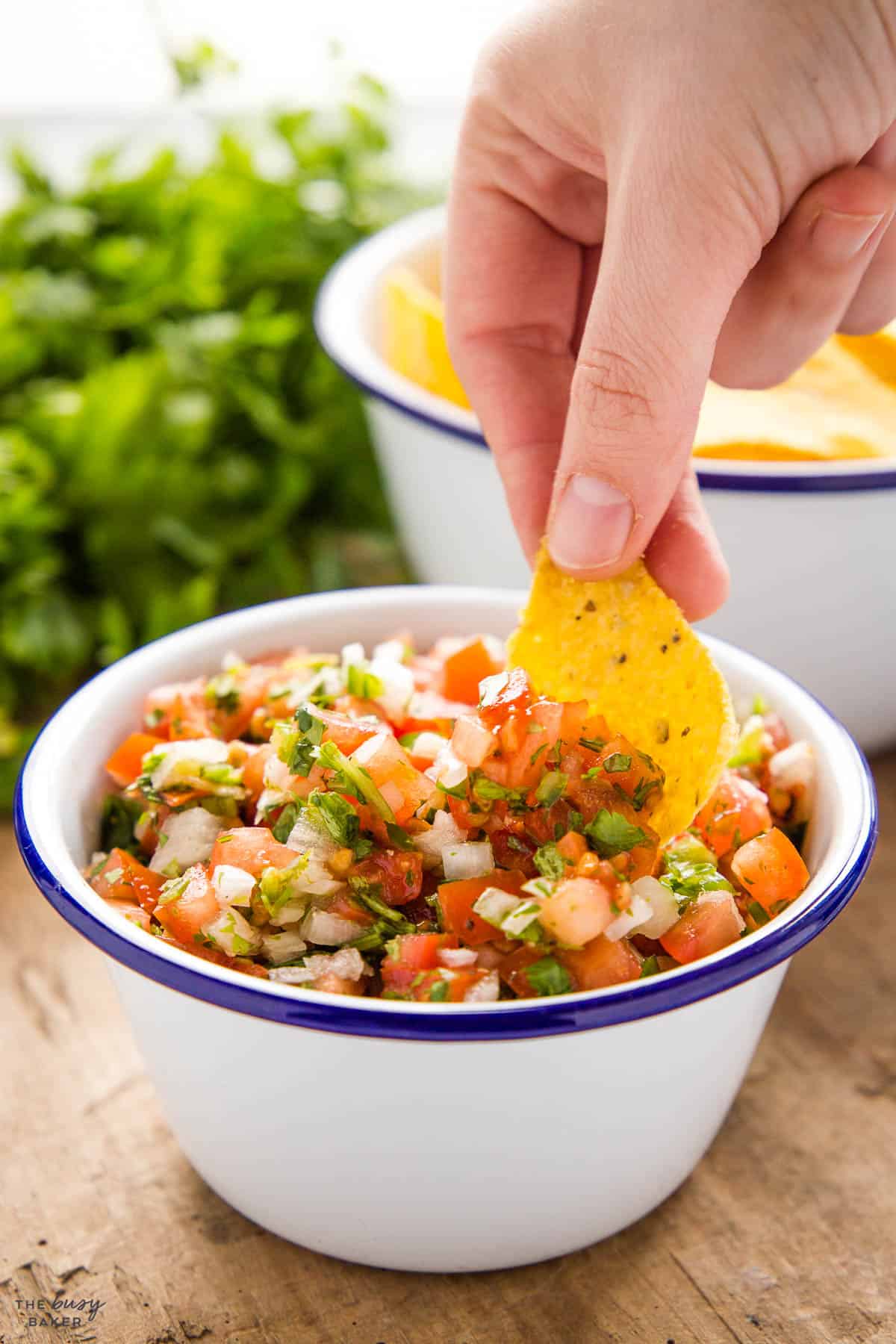 We hope you love this recipe as much as we do! Let us know in the comments below, what's your favourite dip or sauce for summer? We'd love to know!
Watch the video below to see exactly how we make this recipe. You can find many more deliciously simple recipe videos on our YouTube channel!
If you made this, share a photo!
Are you trying this recipe? Use the comment form below to share your take; now with support for image uploads and comment voting!
Share a photo
Pico de Gallo
Made with fresh tomatoes, cilantro, onion, jalapeño and lime, this homemade Pico de Gallo recipe is the perfect refreshing & tangy Mexican condiment or dip!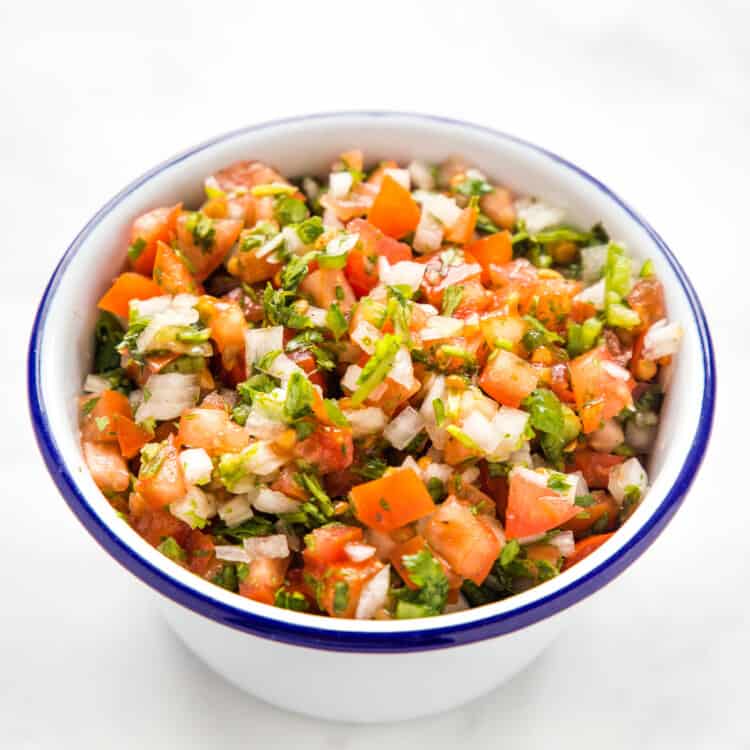 Recipe:

Instructions
Wash and dice the tomatoes, removing the seeds inside. Finely dice the white onions. Chop the cilantro very finely.

Wearing gloves, remove the seeds from the jalapeño peppers and finely chop them.

Mix all the ingredients together in a bowl, adding the zest and juice of the limes and seasoning everything with the salt (and pepper, if using).

Serve immediately with tortilla chips or store in the fridge until ready to serve with your favourite Mexican dishes.
Recipe:

Notes
Make-Ahead Instructions
To make this recipe ahead, simply make as directed and store in the fridge for up to 24 hours before serving.
Storage Instructions
Store in an airtight container in the fridge for 2-3 days.
Recipe:

Nutrition

Nutrition Facts

Pico de Gallo

Amount Per Serving (0.5 cup)

Calories 19

Calories from Fat 1

% Daily Value*

Fat 0.1g0%

Polyunsaturated Fat 0.05g

Monounsaturated Fat 0.02g

Sodium 198mg9%

Potassium 152mg4%

Carbohydrates 5g2%

Protein 1g2%

Vitamin A 496IU10%

Vitamin C 14mg17%

Calcium 14mg1%

Iron 0.3mg2%

* Percent Daily Values are based on a 2000 calorie diet.

Notice: Nutrition is auto-calculated, using Spoonacular, for your convenience. Where relevant, we recommend using your own nutrition calculations.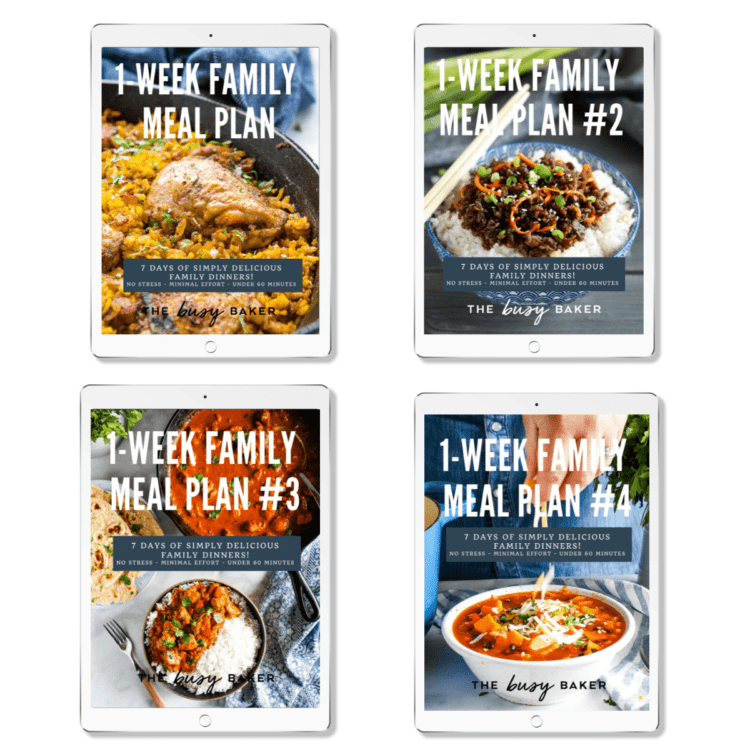 Looking for more?
TRY OUR MEAL PLANS!
Let us do the work for you with 7 days of deliciously easy family dinners, grocery lists, meal prep guides and MORE!
Buy 2, save 20%!
Buy 3, save 30%!
Buy 4 or more, save 40%!
Click here to learn more!