This Easy Guacamole recipe is the best guacamole you'll ever taste. It's packed with only 4 fresh, healthy ingredients & it's ready in minutes.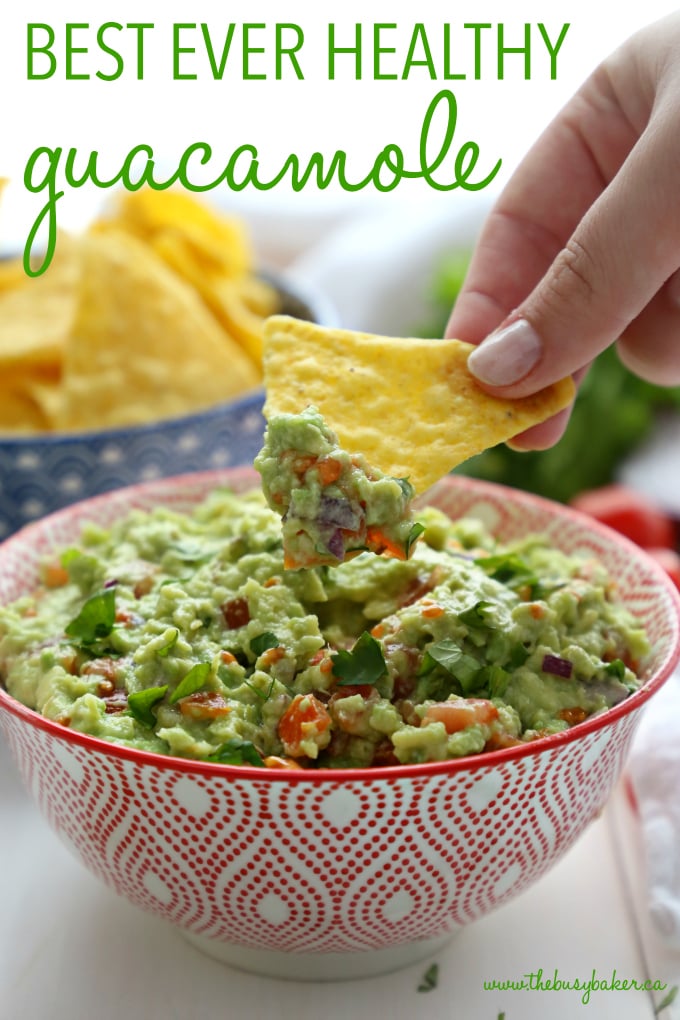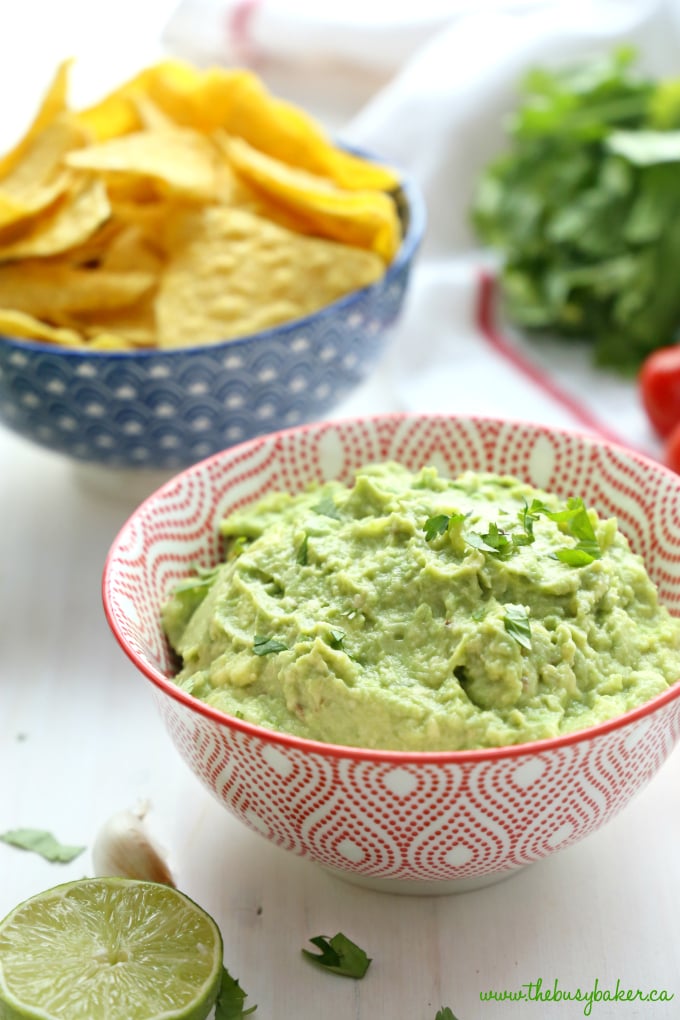 Avocado is a staple food in our house and it has been for years. With 2 kids under 6 years old, it's important to have foods in our diet that are nutrient-dense and full of healthy fats for those growing bodies and minds. We love adding avocados to our smoothies, making avocado toast, and adding avocados to our tacos or fajitas. But our favourite way to enjoy avocados these days is by making this Easy Guacamole and eating it as a snack with fresh veggies and tortilla chips!
Traditionally guacamole is made with only avocados and sea salt, but in typical North American fashion, I add fresh garlic and lime juice to this Easy Guacamole, and we enjoy it for lunch with some sliced veggies, corn tortilla chips, whole grain crackers, or on sandwiches and wraps, and for dinner as a condiment alongside other Mexican dishes. And with Cinco de Mayo coming up, it's the perfect time to enjoy it!
For those of us who make guacamole at home one of the most frustrating things is when it turns brown! Let us help you prevent this kitchen mishap so you can make it ahead of time, or enjoy leftovers without it turning brown!
Why do avocados turn brown? Oxidation! When avocados are cut or mashed, they come into contact with oxygen in the air. This interaction triggers a natural process known as oxidation. Essentially, the oxygen reacts with enzymes present in the avocado, causing the exposed flesh to turn brown. It's the same process that turns apples brown when they are sliced.
How to prevent guacamole from turning brown:
Avoid Over-ripened Avocados: Prevention starts from the very beginning. To give your guacamole the best chance at staying green, use avocados that are perfectly ripe but not over-ripe. Overripe avocados are more prone to browning, so try to use them when they are just right – not too firm and not too mushy.
Limit Exposure to Air: The key to keeping guacamole green is to minimize its contact with air. The less surface area exposed, the slower the oxidation process. So, the first rule is to minimize the time the mashed avocado is exposed to air during preparation and serving.
Plastic Wrap: To keep your guacamole from browning in the fridge, press a layer of plastic wrap directly onto the surface of the guacamole. Make sure there's no air trapped between the guacamole and the plastic wrap. This creates a barrier that prevents oxygen from reaching the avocado, effectively slowing down the oxidation process.
A Ziploc Bag: We like adding our guacamole to a Ziploc bag for storage in the fridge, instead of a bowl. Push all the extra air out of the bag (create a vacuum seal) and it should stay nice and green for several days.
Water: believe it or not, adding a small layer of water on top of the guacamole in your storage container (don't forget the lid too!) can also prevent oxidation. When you're ready to serve just pour the water off the top, skim off any bits that look a bit water-logged, stir, and serve.
Lemon or Lime Juice: Citrus fruits like lemons and limes contain ascorbic acid (vitamin C), which acts as an antioxidant. When you add a splash of lemon or lime juice to your guacamole, it helps to protect the avocado from browning. The citric acid slows down the enzymatic browning process, keeping your guacamole fresher and greener for longer. The more citrus you add, the more slowly it will brown. This can affect the flavour, so be careful not to add too much!
Remember, even with these preventative measures, some browning might still occur eventually, but by following these tips, you'll significantly extend the life of your vibrantly green, homemade guacamole. Happy dipping!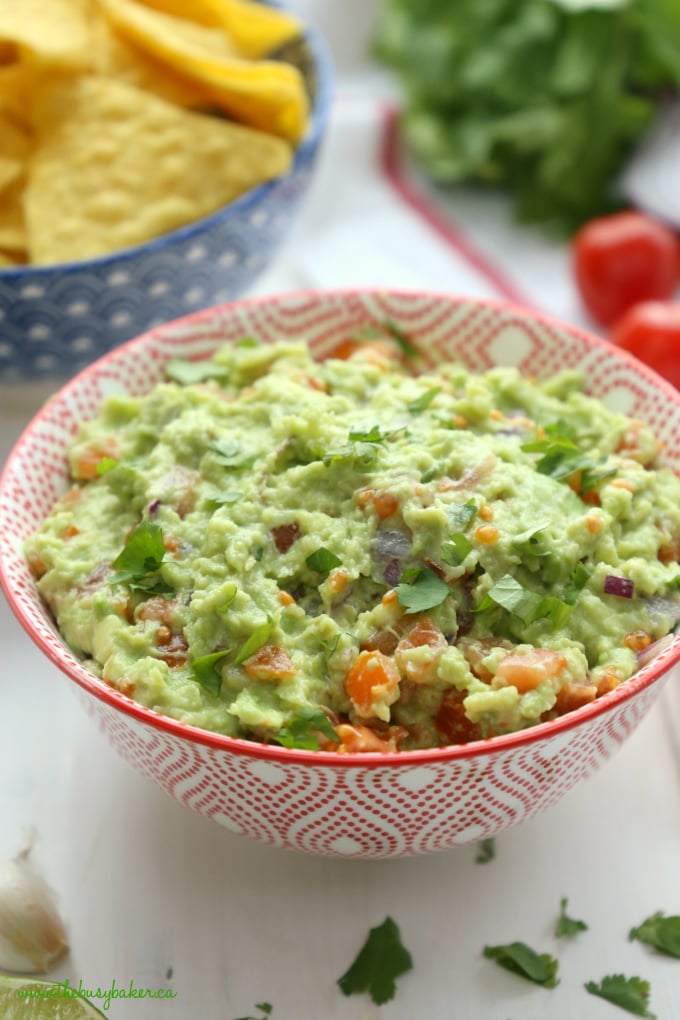 Making this homemade guacamole recipe is so easy, you'll only need 4 basic ingredients!
ripe avocados
fresh garlic
fresh lime
salt
There are so many ways you can make this easy Guacamole recipe even better and to your family's tastes. Try some of these add-ins to take your guac to the next level!
Diced

Red Onions

Chopped Fresh Tomatoes

Chopped Fresh Cilantro

Diced Red, Yellow, or Orange Bell Peppers

Lime Zest

Cumin or chili powder
Pico de Gallo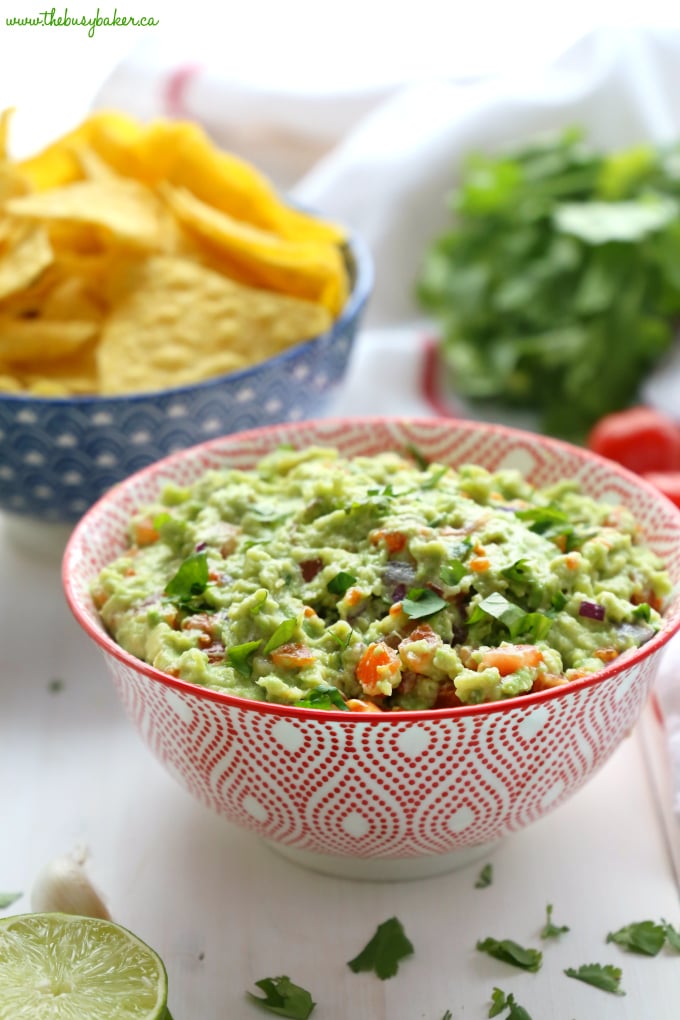 Here are the kitchen items you'll need to make this fresh homemade guacamole recipe (paid links):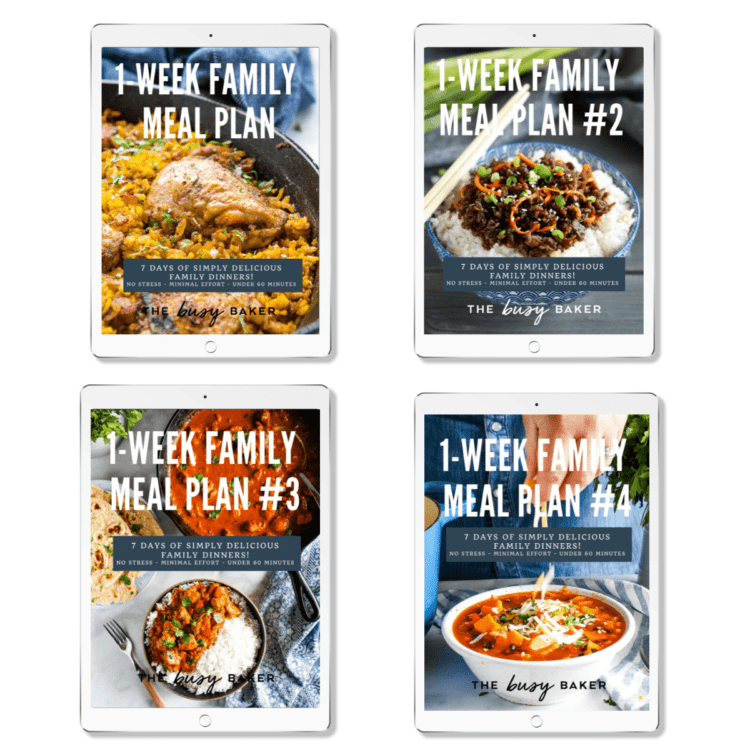 Looking for more?
TRY OUR MEAL PLANS!
Let us do the work for you with 7 days of deliciously easy family dinners, grocery lists, meal prep guides and MORE!
Buy 2, save 20%!
Buy 3, save 30%!
Buy 4 or more, save 40%!
Click here to learn more!
Time needed: 10 minutes
Follow these steps for making this homemade guacamole recipe.
Choose the best avocados.

Choose avocados that are perfectly ripe, and not over-ripe or under-ripe. The avocados should be soft and bright green.

Mash the avocados.

Mash the avocados well to add most large lumps.

Add the garlic, lime, and salt.

Press or finely mince the garlic, add the lime juice, salt and stir. Taste and add a little more lime and/or salt if desired.

Enjoy immediately.

Serve it immediately for best results.

Prevent it from browning,

Use one of the tips outlined in the blog post (above) to prevent the guacamole from browning when stored in the fridge.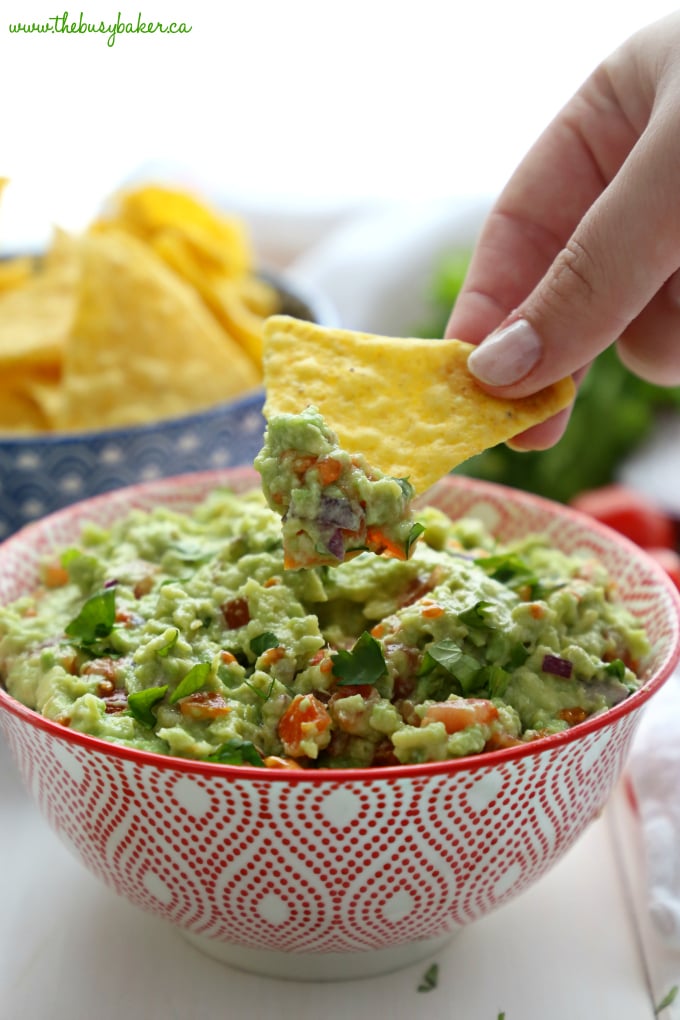 Can you freeze guacamole?

Yes, you can freeze guacamole. Place it in an airtight container, leaving some space for expansion, and store it in the freezer. Thaw it in the fridge before using, and give it a good stir before serving.
How long does guacamole last in the fridge?

Properly stored guacamole can last in the fridge for about 2-3 days. However, it's best to consume it as soon as possible for the freshest taste.
Is guacamole good for you?

Yes, guacamole is generally considered healthy. Avocados are a good source of healthy fats, vitamins, and minerals. However, the overall healthiness also depends on the other ingredients added, like salt and any additional flavourings or chips used for dipping.
How to keep guacamole from turning brown?

Guacamole turns brown because of oxidation, so prevent browning by covering the guacamole with a layer of plastic wrap pressed onto the surface.
What is guacamole made of?

Guacamole is made of avocado, lime, salt and garlic.
What to eat with guacamole?

We suggest eating guacamole with veggies or tortilla chips for dipping, or as a condiment with all your favourite Mexican dishes like fajitas, burritos, etc.
Is guacamole gluten-free?

Yes, guacamole made with standard ingredients is naturally gluten-free. However, always check the labels of store-bought guacamole or any additional ingredients used to ensure they are gluten-free.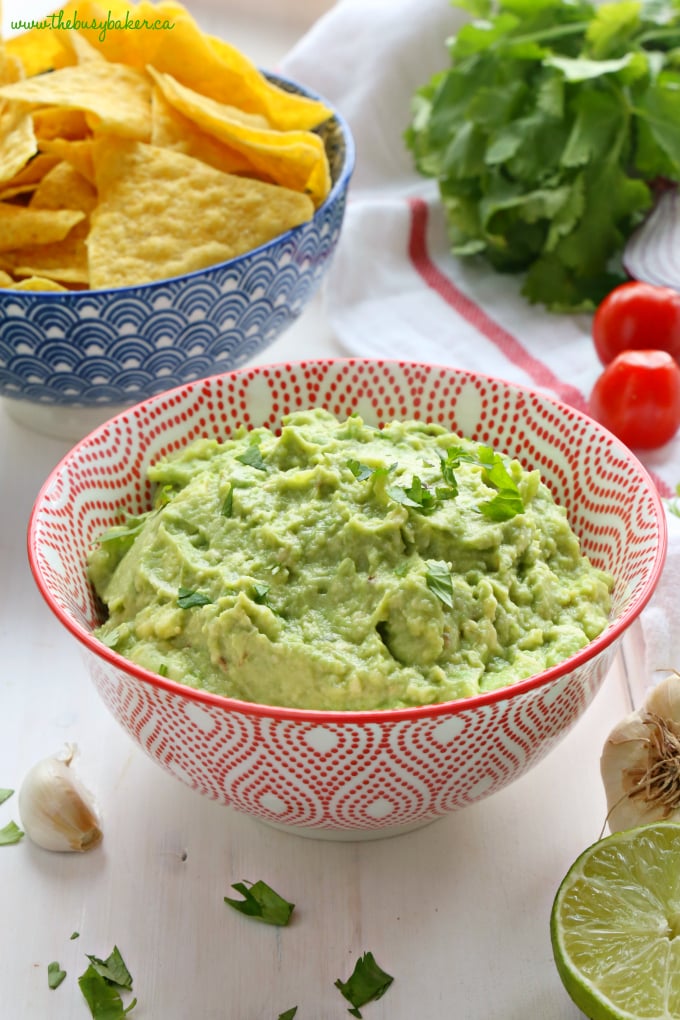 I hope you enjoy this recipe as much as we do! Let me know in the comments below, what's YOUR favourite way to make guacamole at home? I'd love to know!
Watch the video below to see exactly how we make this recipe. You can find many more deliciously simple recipe videos on our YouTube channel!
If you made this, share a photo!
Are you trying this recipe? Use the comment form below to share your take; now with support for image uploads and comment voting!
Share a photo
Easy Guacamole
This Easy Guacamole recipe is made with only 4 fresh, healthy ingredients & it's ready in minutes. The best and easiest guacamole you'll ever make!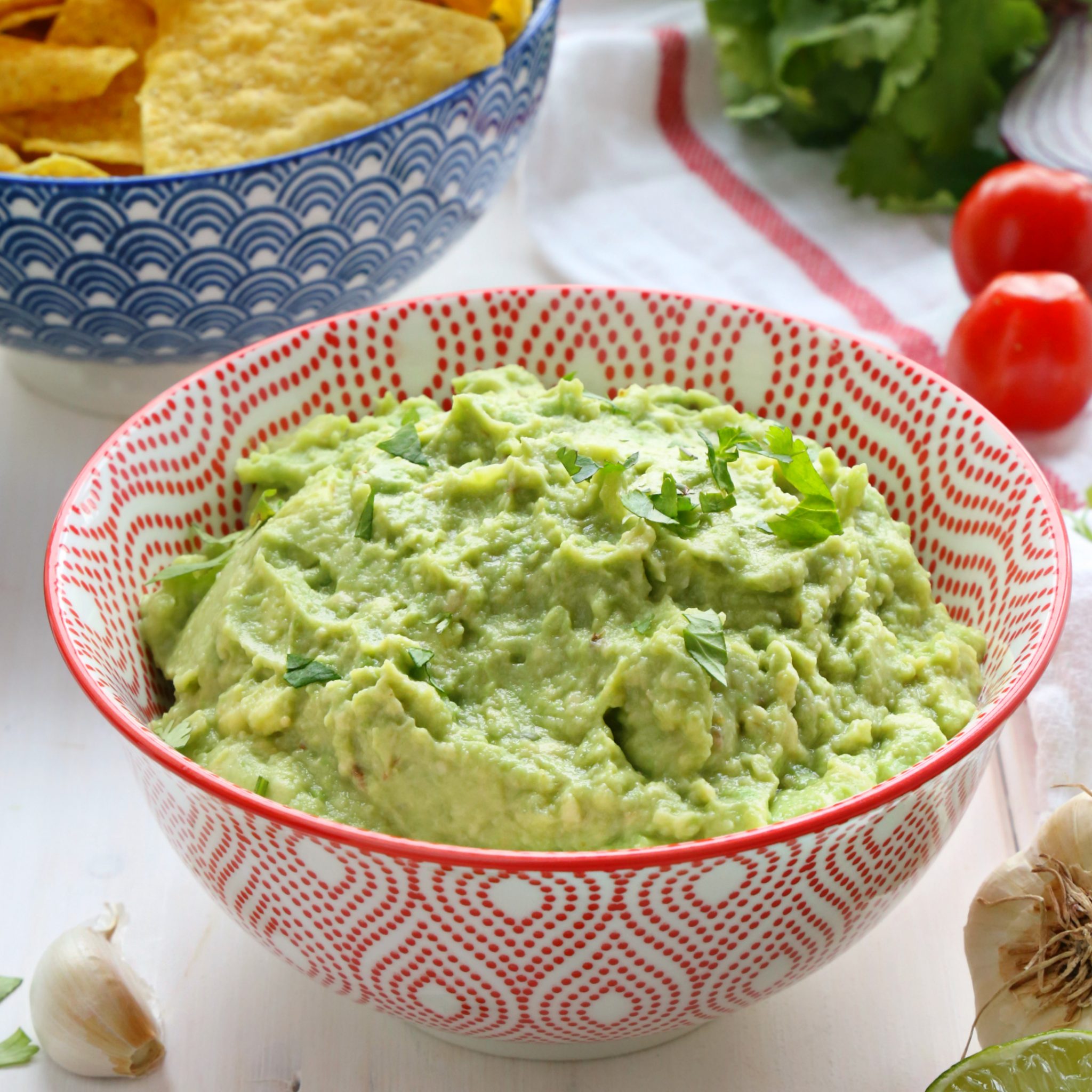 Recipe:

Ingredients
2

ripe avocados

2

cloves

of fresh garlic

1

lime

a pinch or two of sea salt (to taste)

cilantro for garnishing (optional)
Recipe:

Instructions
Peel the avocados and cut out and discard the pit. Add the green fleshy part to a bowl.

Finely chop or, better yet, press the garlic using a garlic press. The smaller the pieces of garlic, the better.

Wash and halve the lime, and squeeze its juice into the bowl over the avocados and the garlic.

Add a few pinches of salt to the bowl.

Mash everything together with a fork just until the avocados are smooth with a few small chunks.

Give it a taste and if you think it needs a little more personality, add another pinch of salt and give it a quick stir.

Garnish with a little bit of fresh cilantro and that's it!
Recipe:

Notes
Storage Instructions
This guacamole is best enjoyed right after it's made. Store it in an airtight container in the fridge for up to a few hours in advance of serving. To help prevent browning, use one of the many tips outlined in this blog post.
Recipe:

Nutrition

Nutrition Facts

Easy Guacamole

Amount Per Serving (1 serving)

Calories 168

Calories from Fat 135

% Daily Value*

Fat 15g23%

Sodium 8mg0%

Potassium 505mg14%

Carbohydrates 11g4%

Protein 2g4%

Vitamin A 147IU3%

Vitamin C 15mg18%

Calcium 20mg2%

Iron 1mg6%

* Percent Daily Values are based on a 2000 calorie diet.

Notice: Nutrition is auto-calculated, using Spoonacular, for your convenience. Where relevant, we recommend using your own nutrition calculations.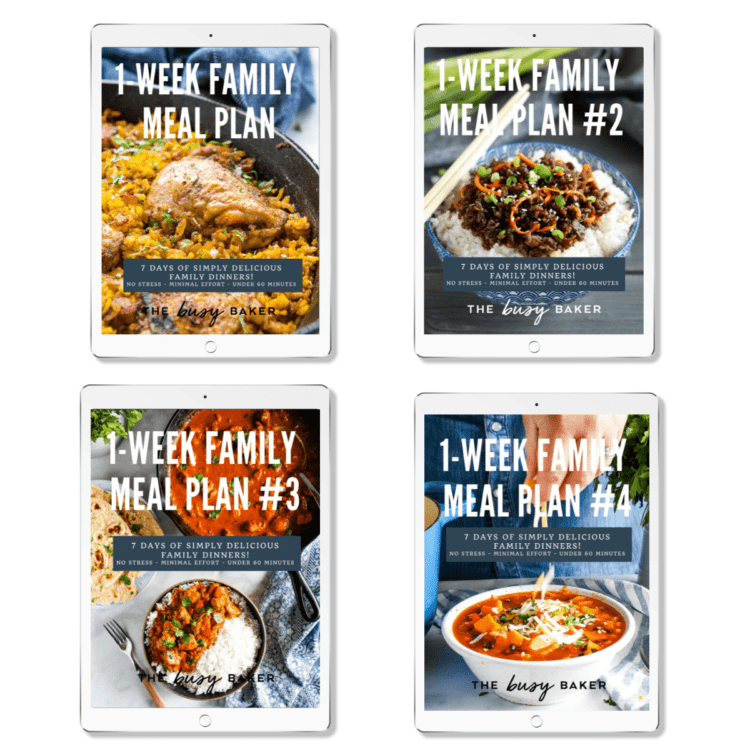 Looking for more?
TRY OUR MEAL PLANS!
Let us do the work for you with 7 days of deliciously easy family dinners, grocery lists, meal prep guides and MORE!
Buy 2, save 20%!
Buy 3, save 30%!
Buy 4 or more, save 40%!
Click here to learn more!