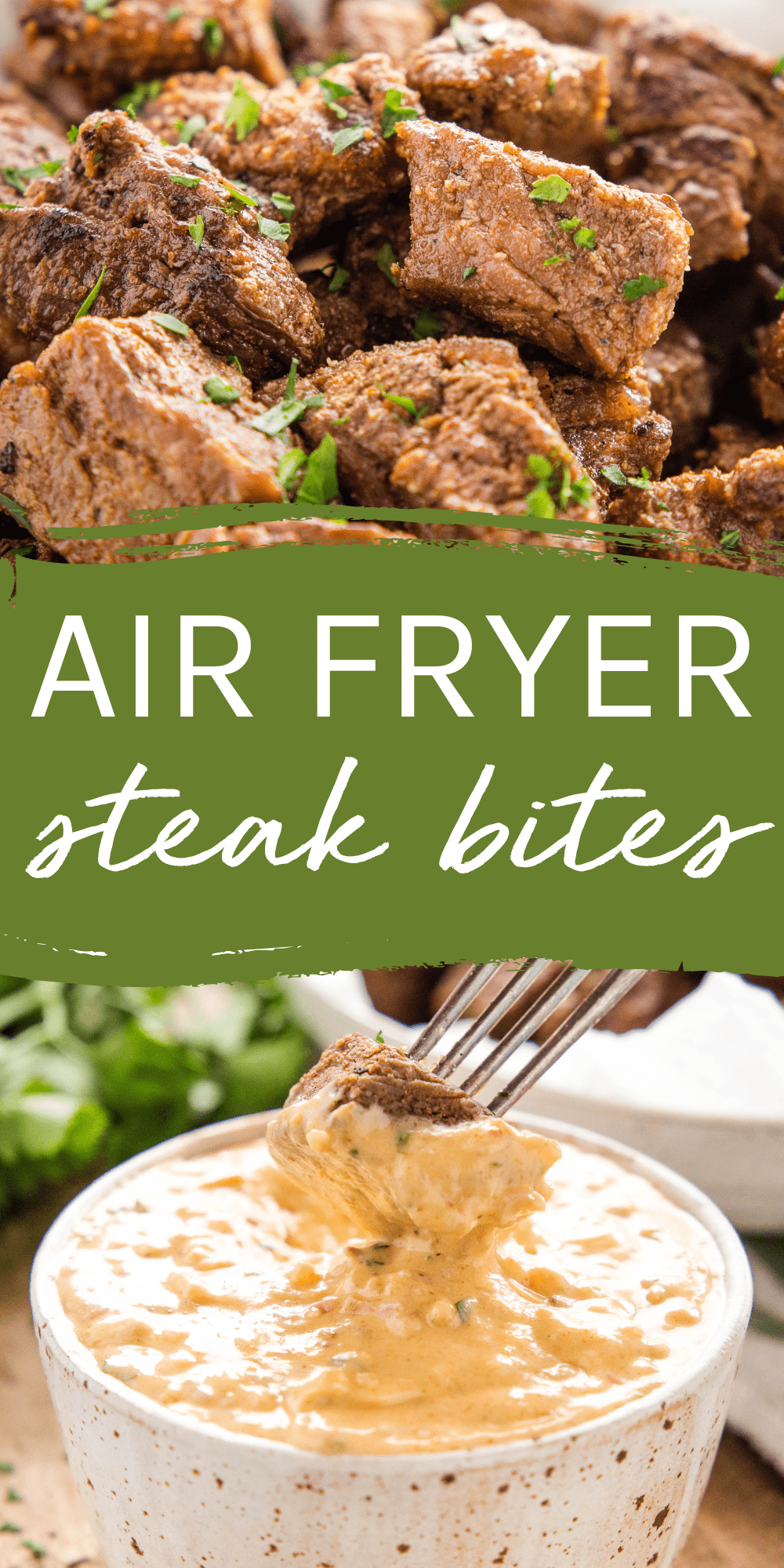 This Air Fryer Steak Bites recipe is the perfect snack, appetizer or main dish that's meaty and juicy and ready in 10 minutes! Serve them with your favourite dipping sauce or add them to sandwiches, wraps, salads or pasta.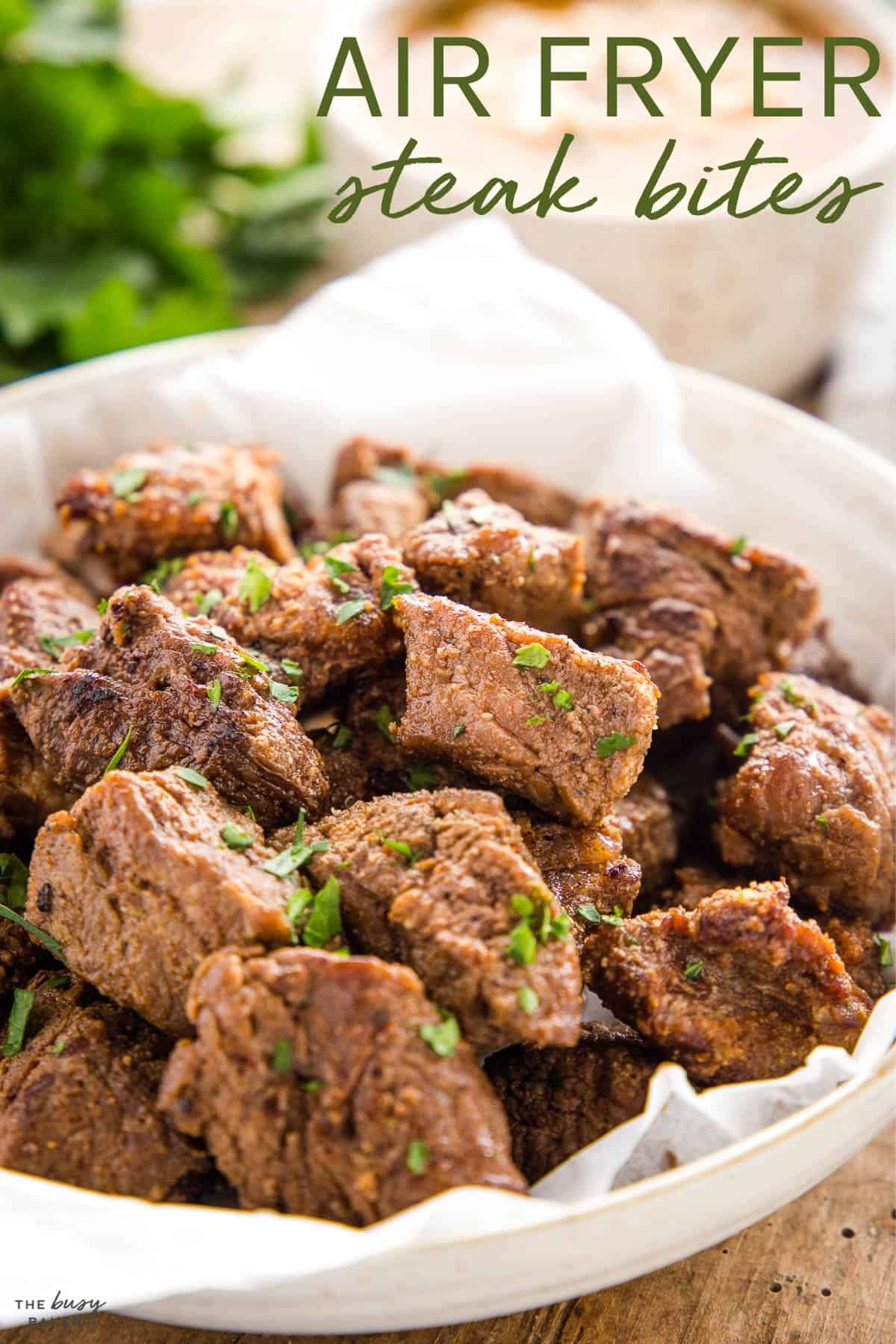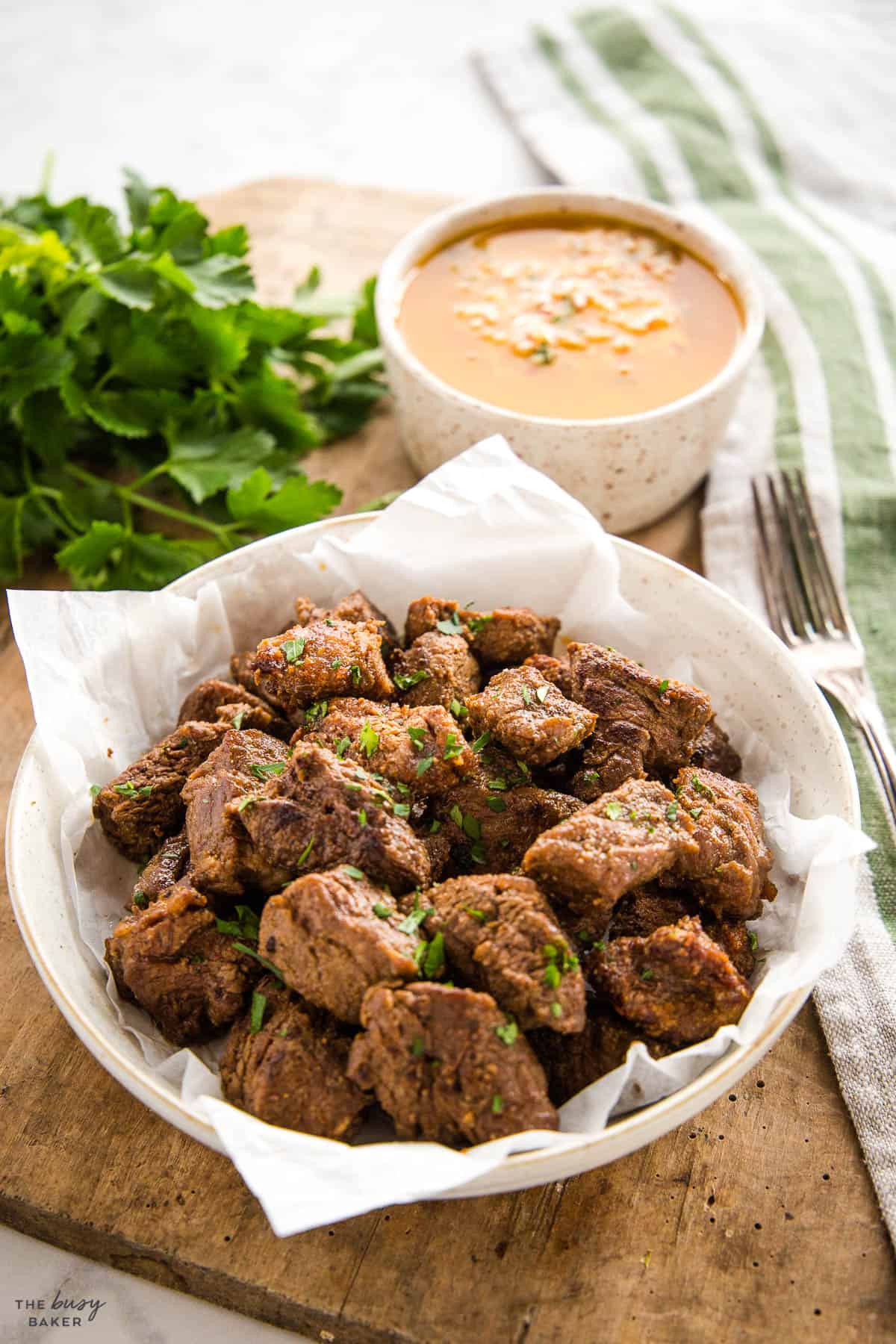 Steak is one of our love languages, and this Air Fryer Steak Bites recipe is one of our favourites! In our opinion, there's only one thing better than juicy, tender and perfectly cooked steak, and that's juicy, tender and perfectly cooked steak that's already in bite-sized pieces!
And as if steak bites couldn't get any better, making them in the air fryer is where it's at. If you're looking for a delicious, restaurant-quality dish that's as easy to make as it is tasty, you've GOT to try these steak bites!!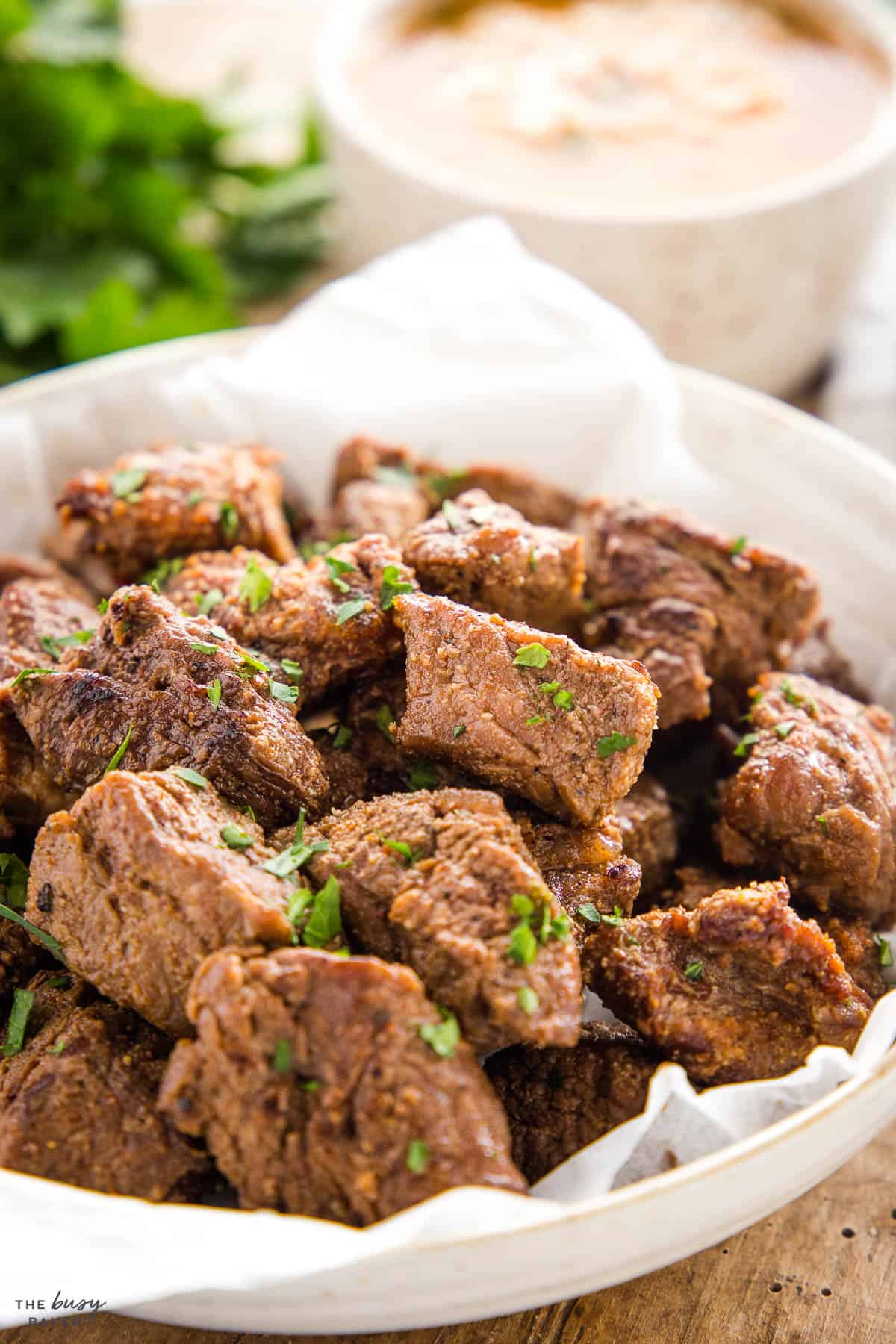 When making steak bites, choosing a high-quality cut of steak that's tender and juicy is key. We recommend a high-quality cut of beef like sirloin, ribeye, or flank steak.
Avoid stewing beef you can find at the grocery store that's already cut into chunks – this beef is tough and chewy and is meant to be braised in liquids over a long period of time, like in a soup or stew.
---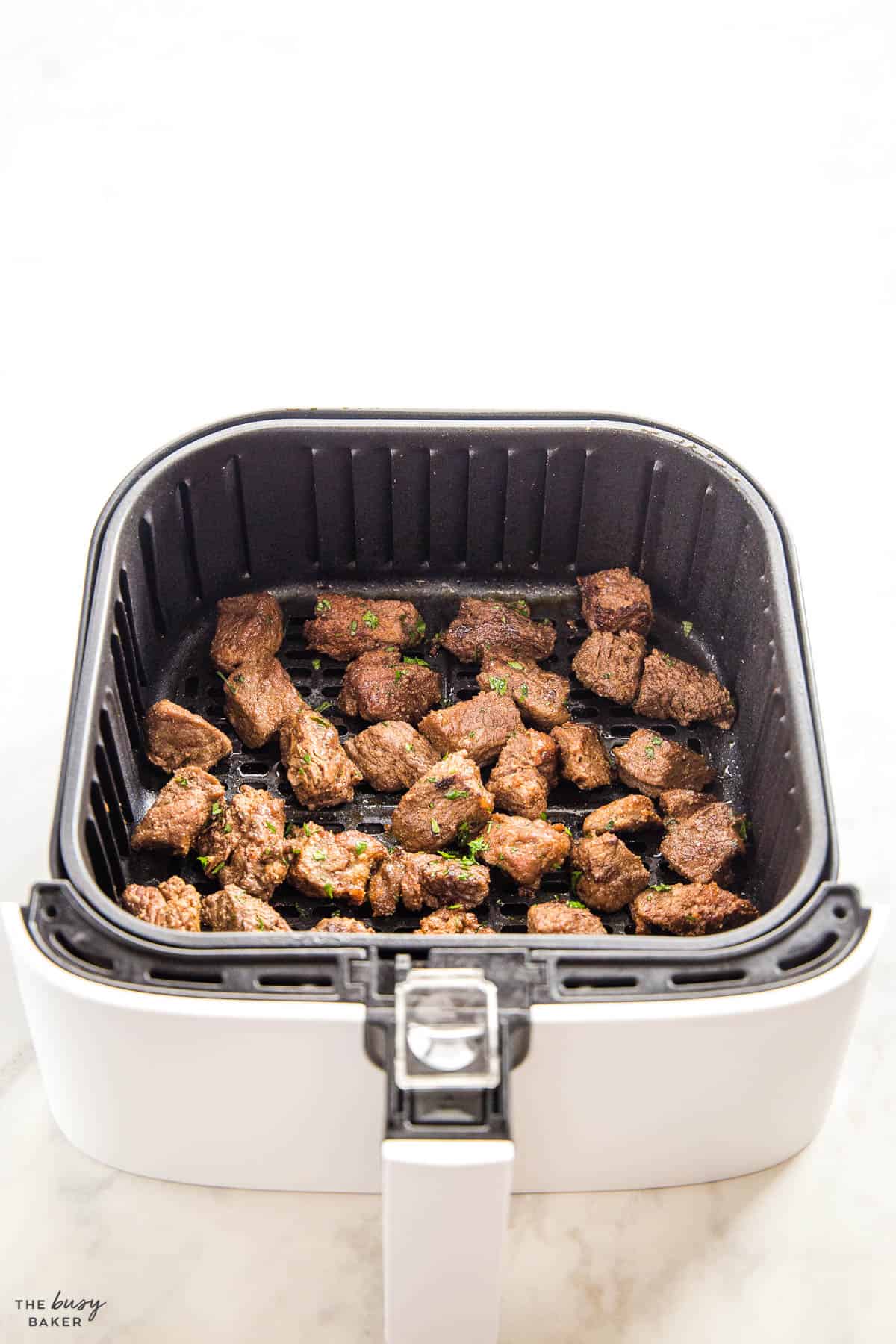 If you've been gifted an air fryer for the holidays and it's been sitting on your shelf collecting dust, or if you've been thinking about picking up an air fryer for awhile but haven't yet, we'd HIGHLY recommend getting started. An air fryer is a fantastic kitchen appliance for achieving that oven-crisp or fried texture in a fraction of the time with next to no added fat, and to be honest it's a kitchen appliance we'd have a hard time living without!
Here are a few air fryers we recommend (affiliate links):
In addition to an air fryer, you'll need these kitchen items (affiliate links):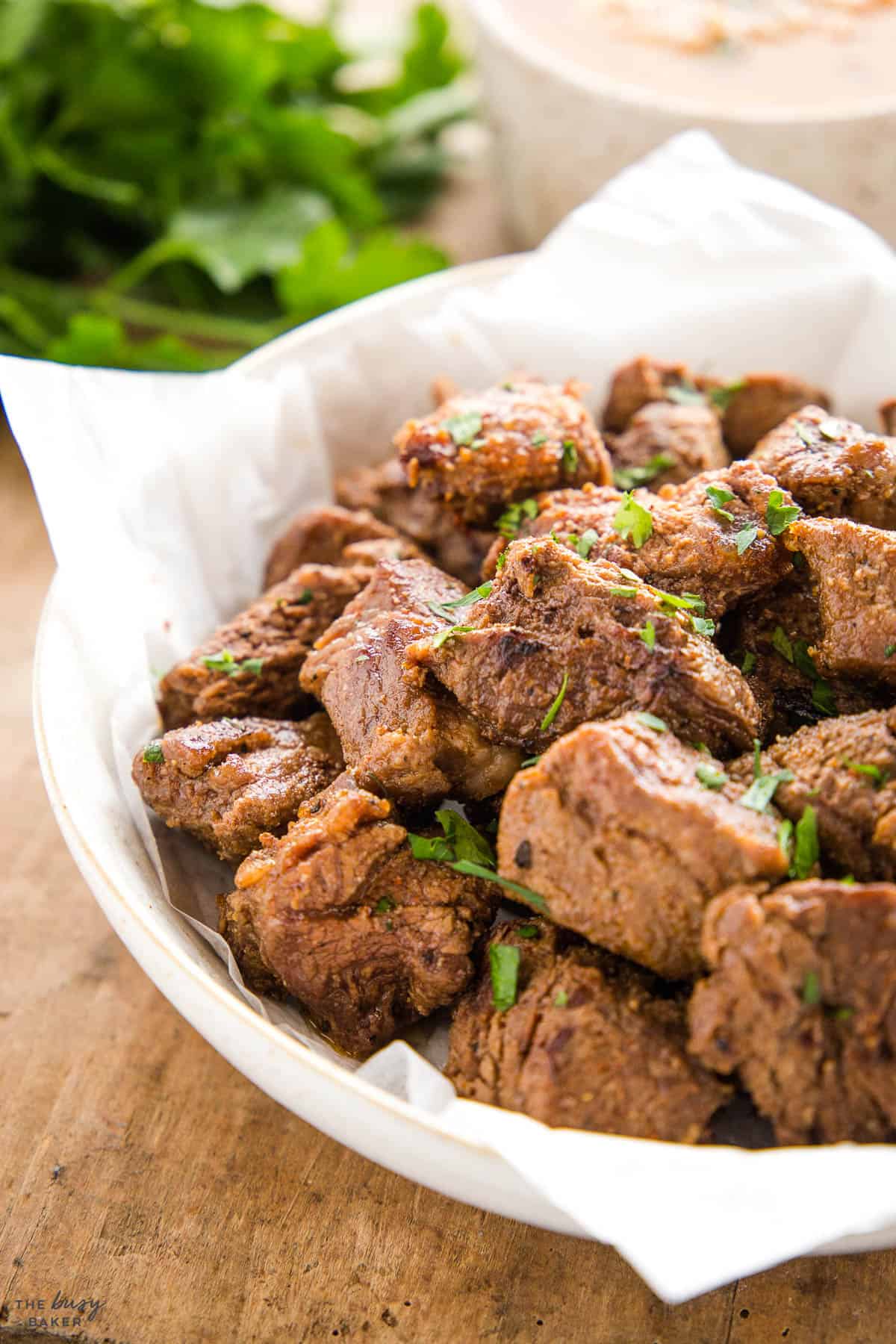 To make this recipe you'll need:
sirloin steak
salt
pepper
olive oil
Worcestershire sauce
garlic powder
Garlic Butter – Season them with garlic, butter, and herbs, giving them a rich and savoury flavour.
Blue Cheese – Top them with crumbled blue cheese after cooking, which adds a tangy and creamy flavour, or dip them in your favourite blue cheese dressing!
Cowboy Butter – make our famous Cowboy Butter recipe and use it as a dipping sauce for these delicious steak bites!
Teriyaki – Marinate the steak in a sweet and tangy teriyaki sauce, which adds a delicious Asian-inspired flavour.
Cajun – Seasoned with my easy homemade Cajun spice mix for a spicy and flavorful kick.
BBQ – Season with your favourite BBQ seasoning and brush with BBQ sauce halfway through cooking for a smoky flavour.
Chimichurri – Top them with a zesty and tangy chimichurri sauce, made with fresh herbs, garlic, vinegar, and oil.
Garlic Parmesan – Coat them in a mixture of fresh garlic, parmesan cheese, and breadcrumbs, which adds a crispy and flavourful crust.
Honey Mustard – Combine some honey and mustard and brush it on halfway through cooking to add a delicious sweetness and extra moisture.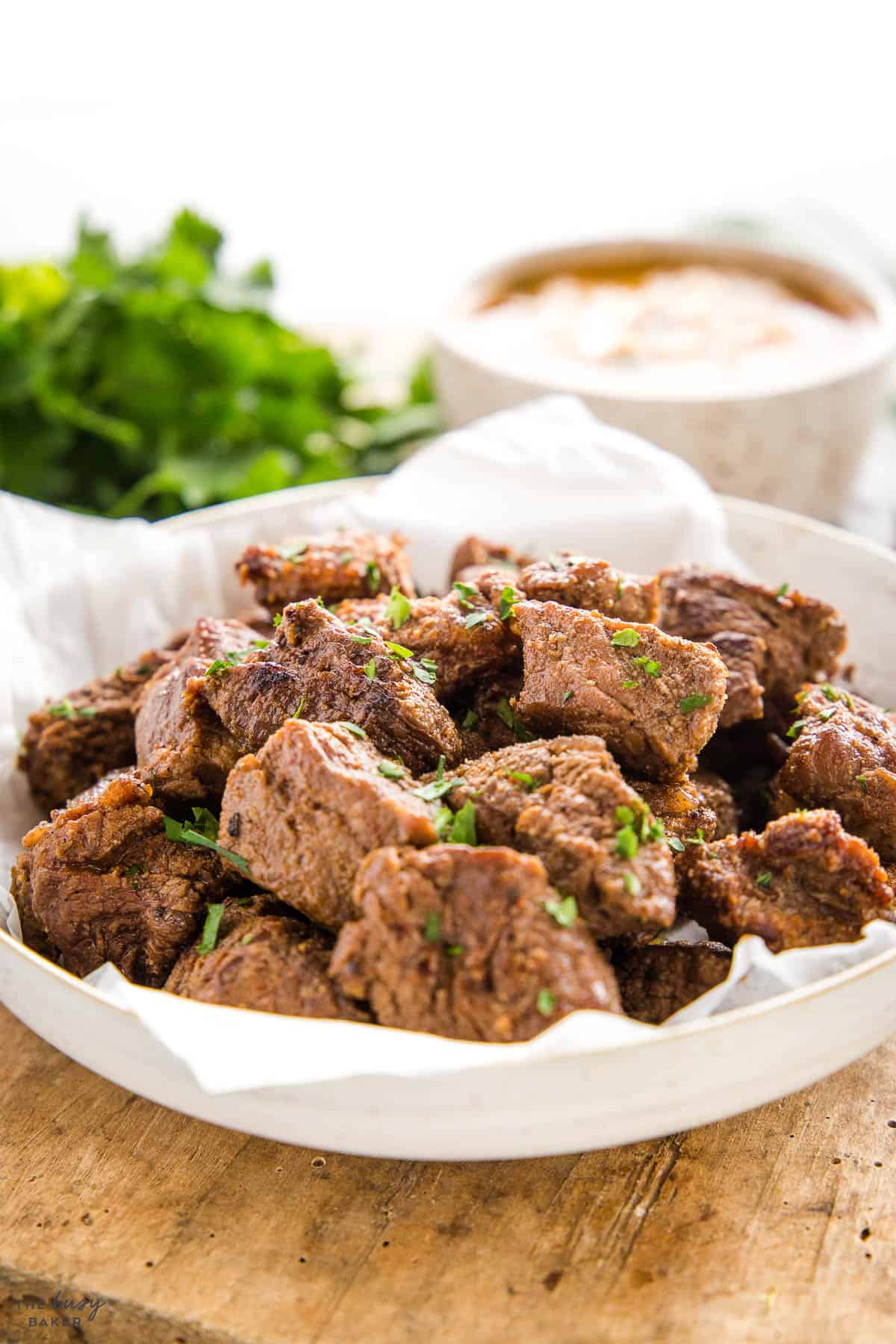 Time needed: 10 minutes
Follow these steps for the PERFECT garlic steak bites!
Preheat your air fryer.

Preheating your air fryer encourages browning and cuts down on cooking time. It's one of the best air fryer cooking secrets!

Cut the steak into chunks.

Make sure the steak bites are the same size for even cooking.

Pat the steak dry.

Use kitchen paper towel to pat the steak bites dry on all sides. This will help them brown and caramelize on the outside while staying juicy on the inside.

Season well.

Toss in the seasonings before cooking.

Don't overcrowd the air fryer.

Be sure to leave room between the steak bites while air frying so they caramelize, not steam.

Use an instant-read thermometer.

Test the steak bites' internal temperature to see if they're done after a few minutes of cooking. This will prevent them from becoming over-cooked.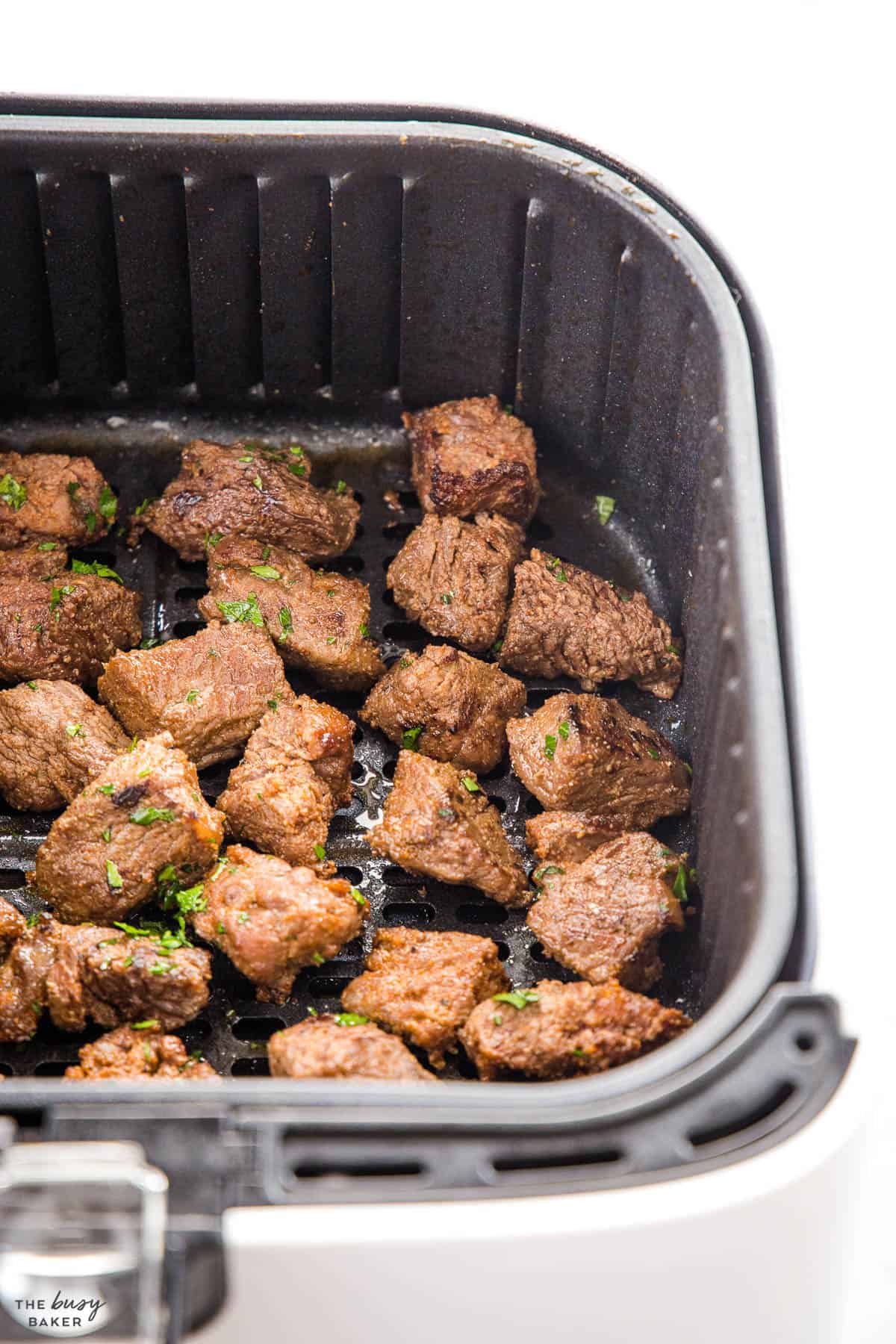 How to make tender steak pieces?

Be sure to cook steak bites at a high temperature for a short amount of time. Also, use an instant read thermometer to test the internal temperature of the steak bites to avoid over-cooking.
Can I make this recipe ahead of time?

We recommend making these steak bites right before enjoying for optimum flavour. They can be made ahead of time, stored in the fridge, and reheated in the air fryer for 1-2 minutes.
What is the best cut of steak to use for steak bites?

Sirloin, ribeye or flank steak are the best cuts of beef to use for tender, juicy steak bites.
Are steak bites healthy?

Steak bites can be healthy if you choose a lean cut of beef and trim any excess fat before cooking.
How many steak bites should you serve per person?

One serving of steak bites is about 6 steak bites.
---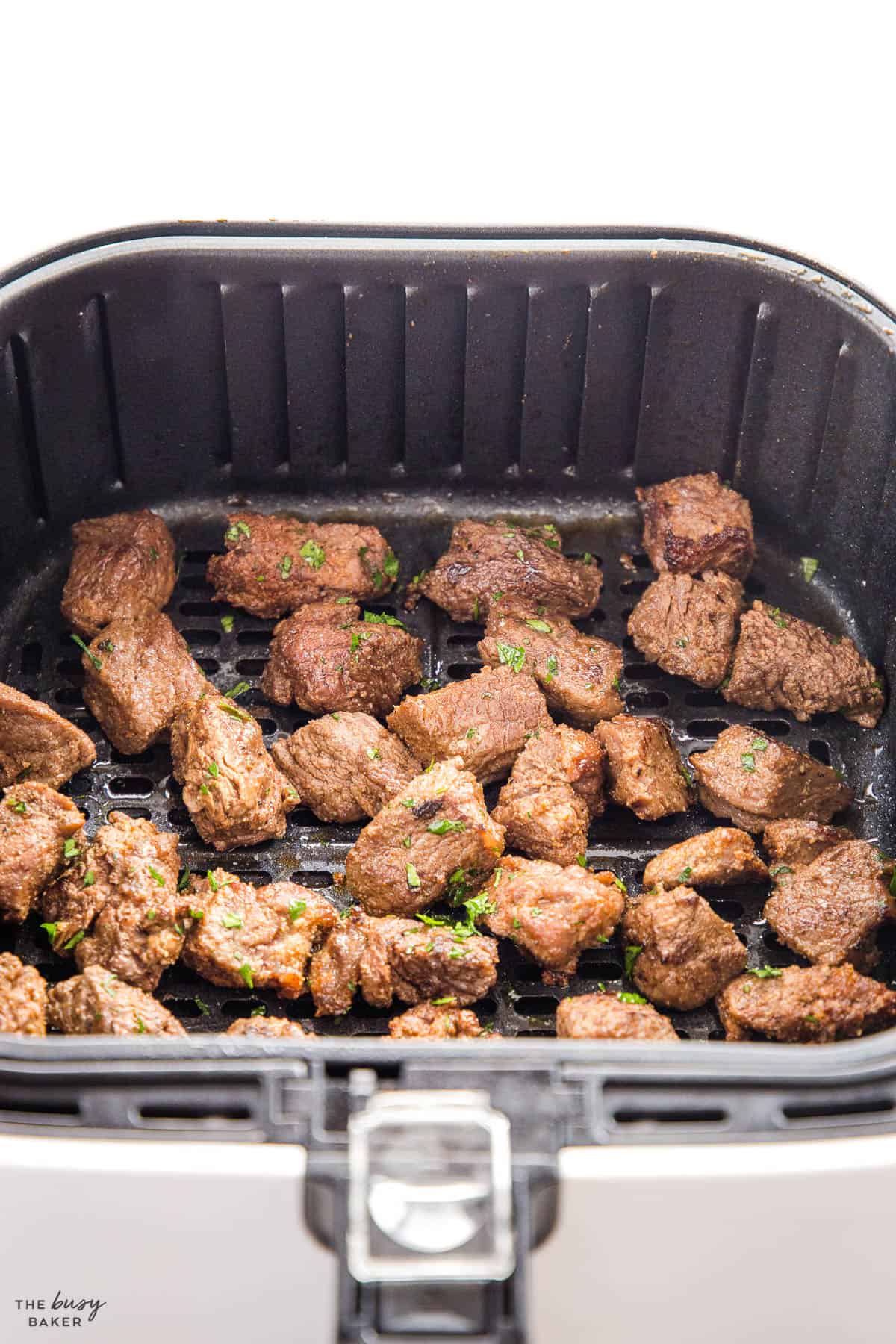 We hope you love this garlic steak bites recipe as much as we do! Let us know in the comments below, what's your favourite way to enjoy steak? We'd love to know!
If you made this, share a photo!
Are you trying this recipe? Use the comment form below to share your take; now with support for image uploads and comment voting!
Share a photo
Air Fryer Steak Bites
This Air Fryer Steak Bites recipe is a quick and delicious snack, appetizer, or main dish that's juicy, tender and perfect for dipping! Add them to sandwiches, wraps, salads, or pasta, or enjoy them dipped in garlic butter. Ready in 10 minutes!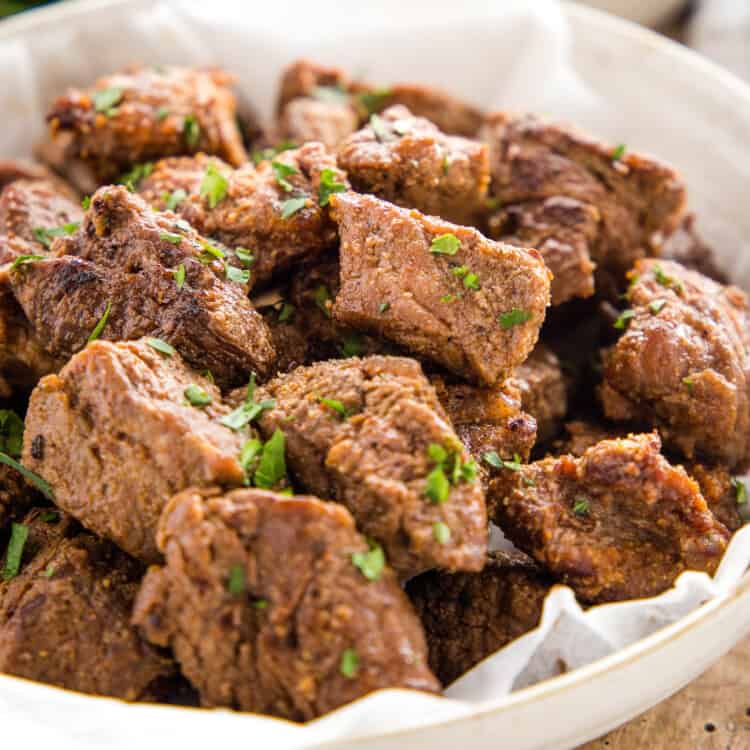 Recipe:

Instructions
Pat your steaks dry with paper towels and cut them into 1 inch cubes.

Add the steak cubes to a bowl along with the rest of the ingredients. Mix well, to coat them on all sides.

Set aside to marinate for about 3-4 minutes while you preheat your air fryer to

400

°F

(200 degrees Celsius) . You can also marinate the steak for 2-4 hours in the fridge, if desired.

Spray the air fryer basket with cooking spray and add your steak cubes to the air fryer without overcrowding, making sure there's a little bit of space between the pieces. You might have to cook them in batches if your air fryer isn't big enough.

Air fry for 3 minutes, shake or flip and air fry for another 3-4 minutes or until the internal temperature of the steak cubes reaches

135

°F

(57 ℃) for medium rare,

145

°F

(63 ℃) for medium and

155

°F

(68 ℃) for medium well.
Recipe:

Notes
Storage Instructions
Store these steak bites in the fridge for 3-4 days in an airtight container or in the freezer for up to 3 months.
Reheating Instructions
Reheat them in the air fryer, at 400 degrees Fahrenheit (200 degrees Celsius) for 1-2 minutes.
Recipe:

Nutrition

Nutrition Facts

Air Fryer Steak Bites

Amount Per Serving (6 pieces)

Calories 374

Calories from Fat 162

% Daily Value*

Fat 18g28%

Cholesterol 138mg46%

Sodium 750mg33%

Potassium 815mg23%

Carbohydrates 1g0%

Protein 50g100%

Vitamin A 5IU0%

Vitamin C 0.4mg0%

Calcium 70mg7%

Iron 4mg22%

* Percent Daily Values are based on a 2000 calorie diet.

Notice: Nutrition is auto-calculated, using Spoonacular, for your convenience. Where relevant, we recommend using your own nutrition calculations.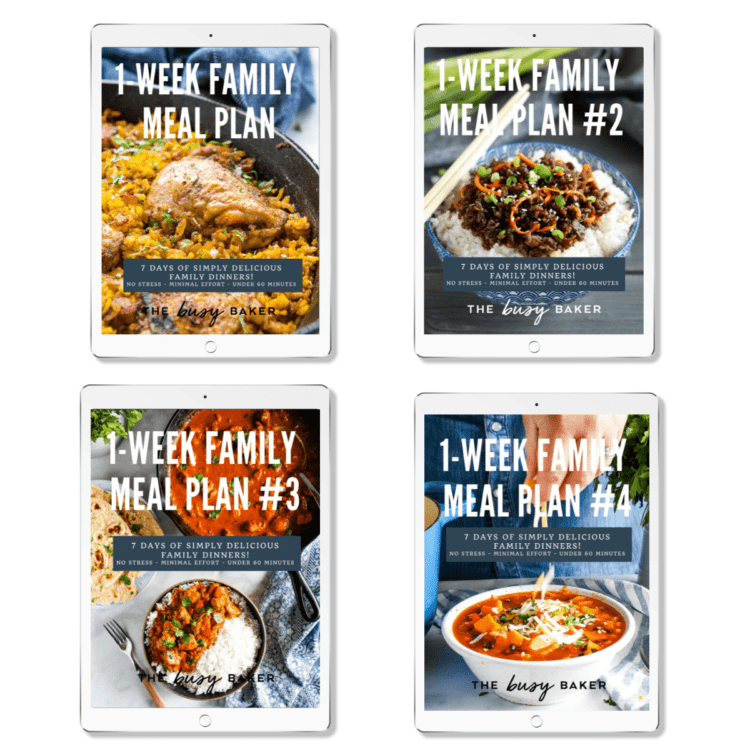 Looking for more?
TRY OUR MEAL PLANS!
Let us do the work for you with 7 days of deliciously easy family dinners, grocery lists, meal prep guides and MORE!
Buy 2, save 20%!
Buy 3, save 30%!
Buy 4 or more, save 40%!
Click here to learn more!