I'm excited to be participating in the Great Food Blogger Cookie Swap this year! I received amazing cookies from Korena from Korena in the Kitchen, Elaine from Flavour and Savour, and Kim from The Finer Cookie that we enjoyed very much, and I got to send these Earl Grey Shortbread Cookies with Lemon Glaze to 3 different bloggers too! Shortbread was always a staple at my grandma's house. We'd celebrate our family's Scottish heritage by mixing dough and using my grandma's shortbread press to make the most delicious shortbread cookies. We made shortbread together often but it was at Christmastime when I most remember making it (and eating it!), and so I knew I had to make shortbread for this cookie swap! Shortbread recipes call for uncomplicated ingredients like butter, sugar and flour but there are many different methods to create that tender, buttery cookie with just the right amount of sweetness and the perfect texture. These Earl Grey Shortbread Cookies are so simple and delicious, and I know you're going to love them!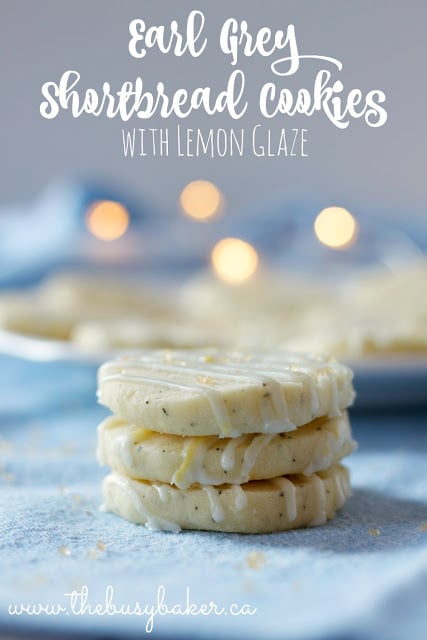 Looking for more cookie recipes? Try my Ginger Molasses Cookies or my Monster Cookies!
You'll need:
1/2 cup unsalted butter (slightly cooler than room temperature)
1/3 cup sugar
1/2 tsp sea salt
1 tsp lemon zest
half the contents of one Earl Grey tea bag
1 cup all purpose flour
MY LATEST VIDEOS
3 tbsp milk
3/4 cup powdered sugar
2 tsp lemon zest
turbinao sugar for garnish (optional)
To make:
Add the butter and the sugar to the bowl of your stand mixer fitted with the paddle attachment. Cream the butter and sugar together on medium high speed until the mixture is pale in colour and becomes slightly fluffy.
Add the lemon zest, the salt, and the earl grey tea leaves and mix on medium speed until they're all incorporated (scrape down the sides and bottom of the bowl to be sure).
Add the flour and mix on low speed just until it's incorporated and no streaks of flour remain.
Dump the contents of the bowl onto a clean work surface and shape the dough into a log about 3 to 3.5 inches in diameter. Once the dough is starting to form a log shape, wrap the log of dough in a piece of plastic wrap and roll the log gently in the plastic wrap to create a smooth cylinder. Smooth the ends as best you can and with the dough firmly wrapped in plastic wrap, place it in the fridge for 1-2 hours.
Once 1-2 hours have passed, preheat your oven to 325 degrees Fahrenheit and remove the dough from the fridge. Prepare your baking pans by lining them with parchment paper.
Remove the log of dough from its plastic wrap and slice a tiny bit off both ends so they're clean and smooth. Slice the log into 18 slices, cutting as evenly as possible. It's a good idea to rotate the log each time you make a slice because this helps it keep its round shape.
Shape the cookies a little bit with your fingers, just to make sure there's no flat side left from the slicing and they're completely circular. Place them on your prepared baking trays and bake them for about 22-24 minutes at 325 degrees Fahrenheit or until you see the edges turning the slightest bit of golden brown. Cool them on the baking sheet for about 5 minutes and then transfer them to a cooling rack to cool completely.
Once the cookies have cooled completely, whisk together the milk, powdered sugar and lemon zest in a small bowl and drizzle it over the cookies using your whisk. Sprinkle a little bit of turbinado sugar over each of the cookies for a little bit of sparkle, and serve!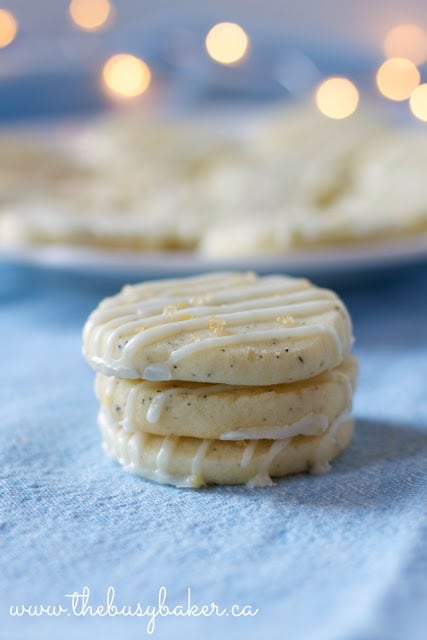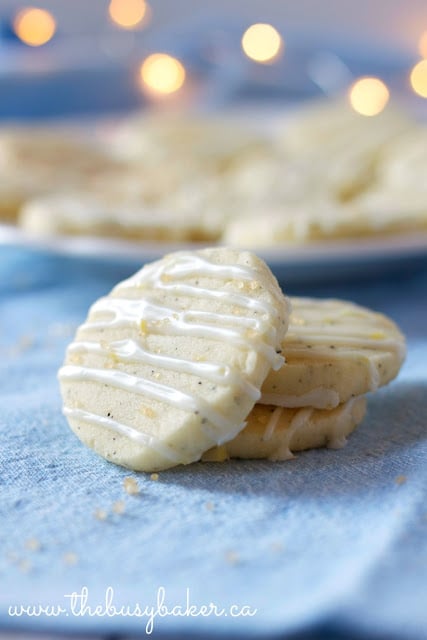 These cookies are as delicious as they are gorgeous! They're perfect for the holidays because they're bite-sized and they're so warm and fresh-tasting with the deep flavour of the Earl Grey and the light lemon flavour. And the consistency of the shortbread is perfectly soft and it practically melts in your mouth.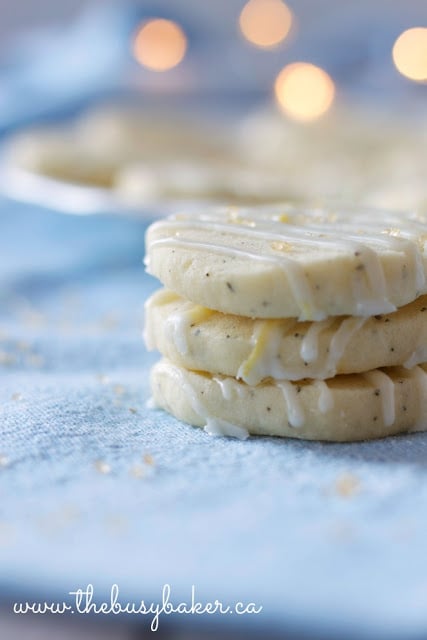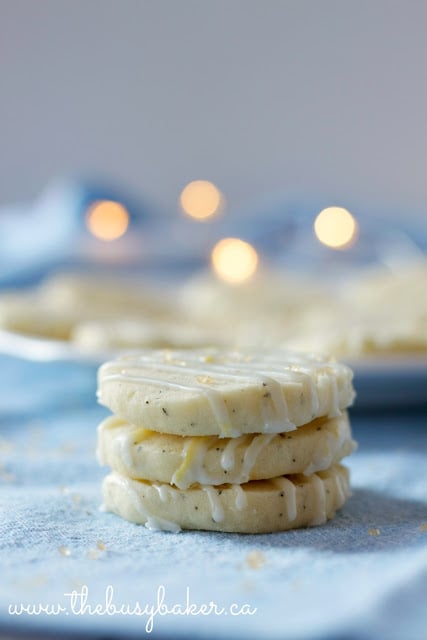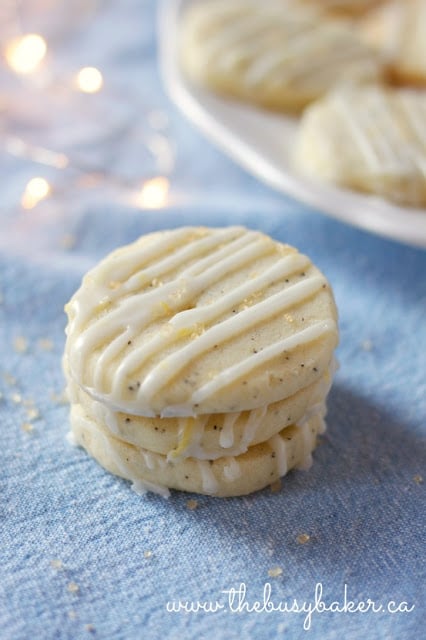 These cookies are perfect with a cup of tea, and because they're only 5 Weight Watchers SmartPoints each, they're a great little treat for the holidays (4 SmartPoints without the glaze!).
I hope you enjoyed this recipe! It was fun to participate in The Great Food Blogger Cookie Swap!