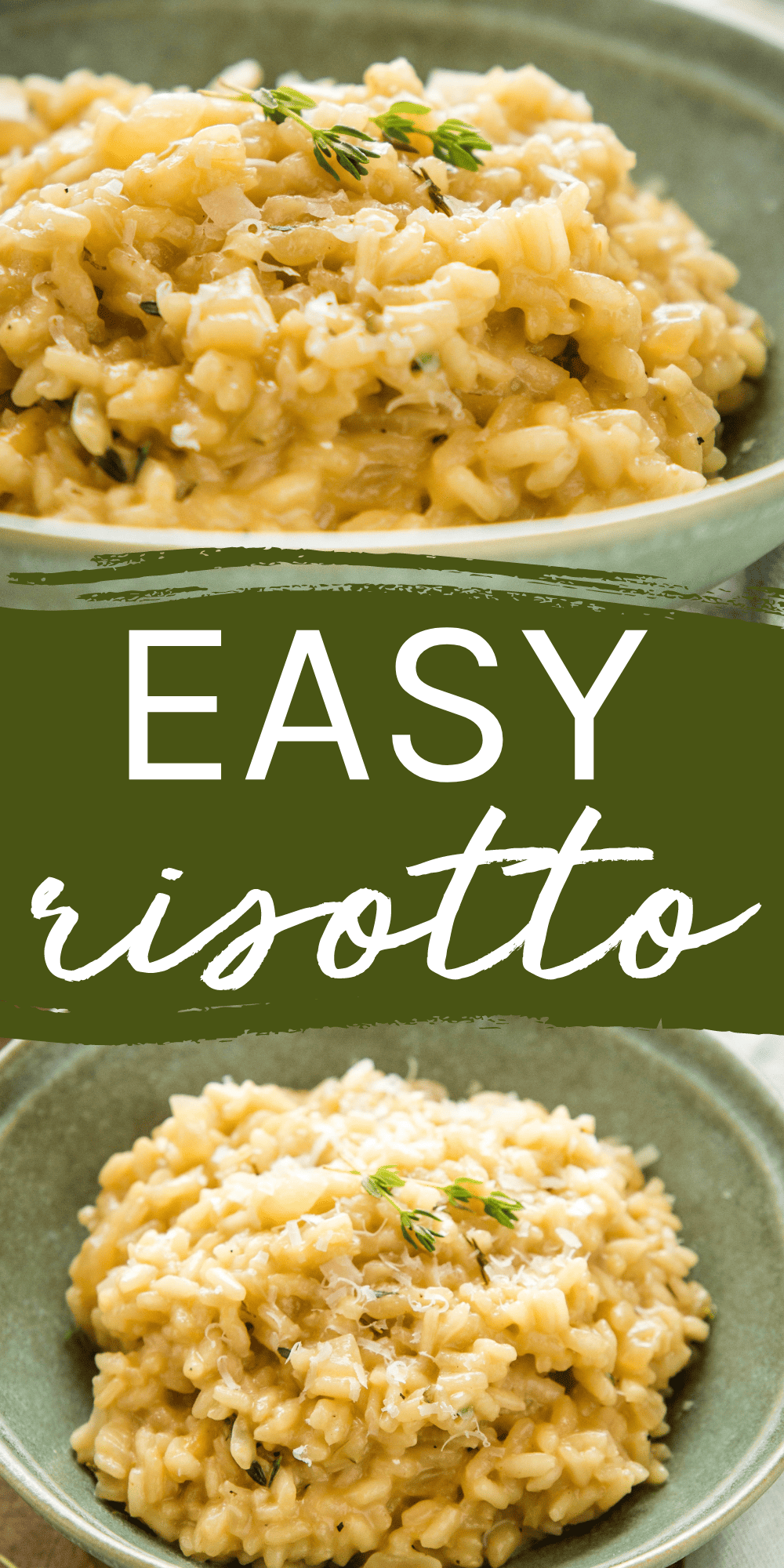 This Easy Risotto recipe is the best simple risotto that's easy to make in 20 minutes or less! The perfect restaurant-quality side dish that's easy enough for a busy weeknight!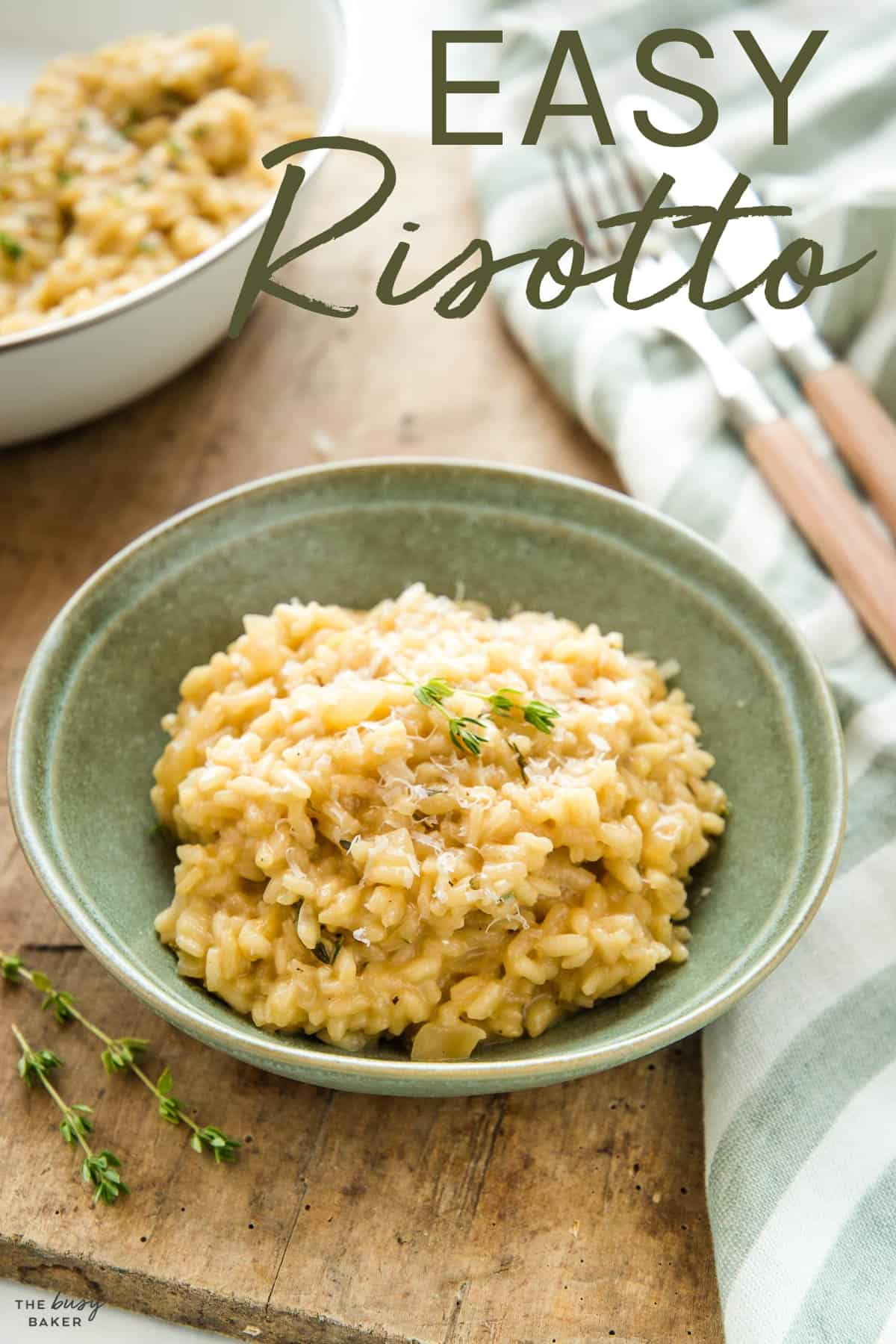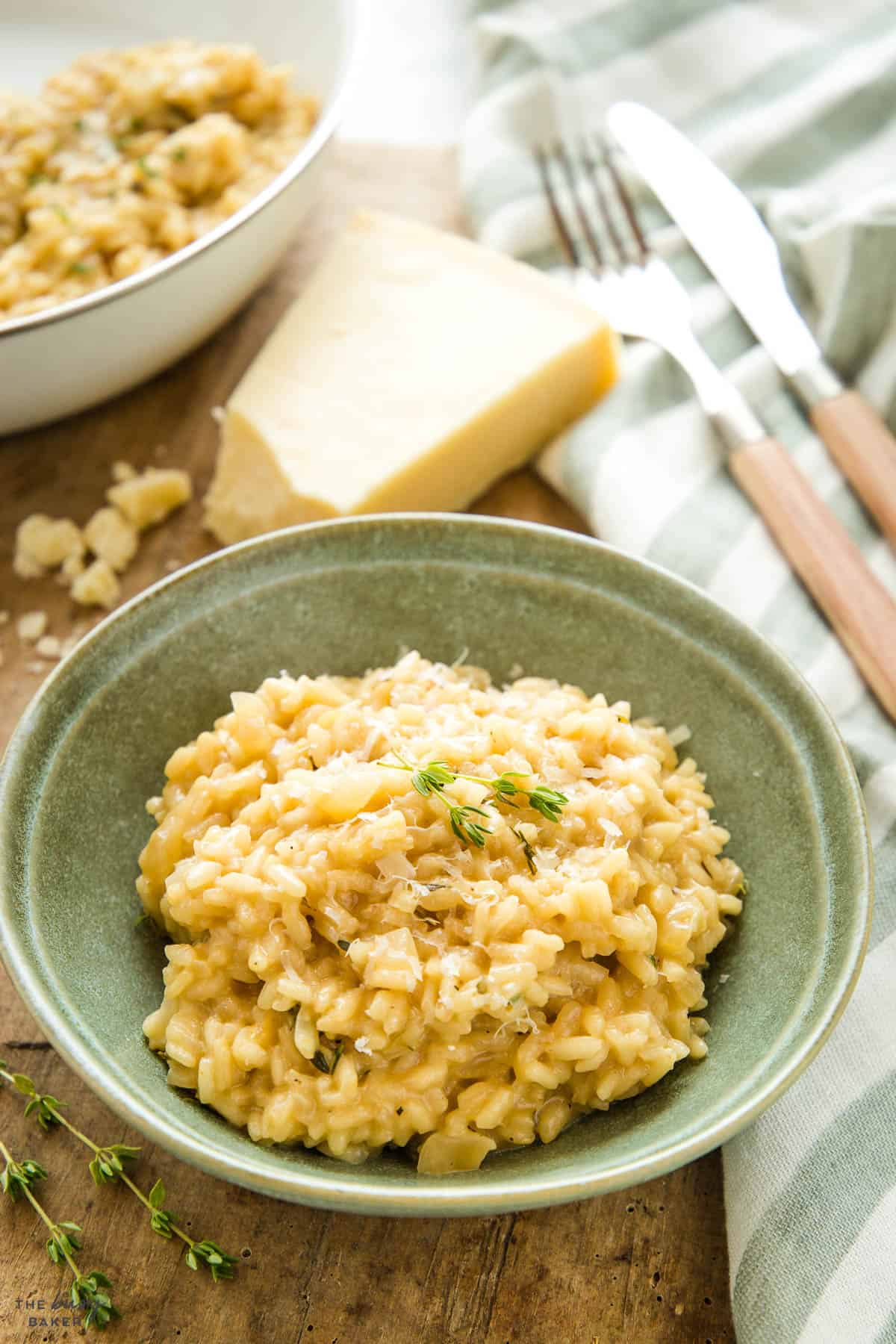 Risotto is one of our favourite side dishes to make because it's an elevated, restaurant-style dish but at the same time it's totally accessible and easy to make – even for beginners in the kitchen. This Risotto recipe is classic and simple, but it's so delicious and flavourful. Trust us, you're going to LOVE this recipe!
Risotto is a creamy Italian rice dish made with starchy short-grain rice and broth or stock. It contains no gluten since it's made with rice, and it can easily be made vegan, vegetarian, and dairy-free.
The creamy sauce is created by cooking the rice slowly as the hot liquid is added little by little while stirring to coax the starch out of the rice. It's a truly delectable dish with endless flavour possibilities!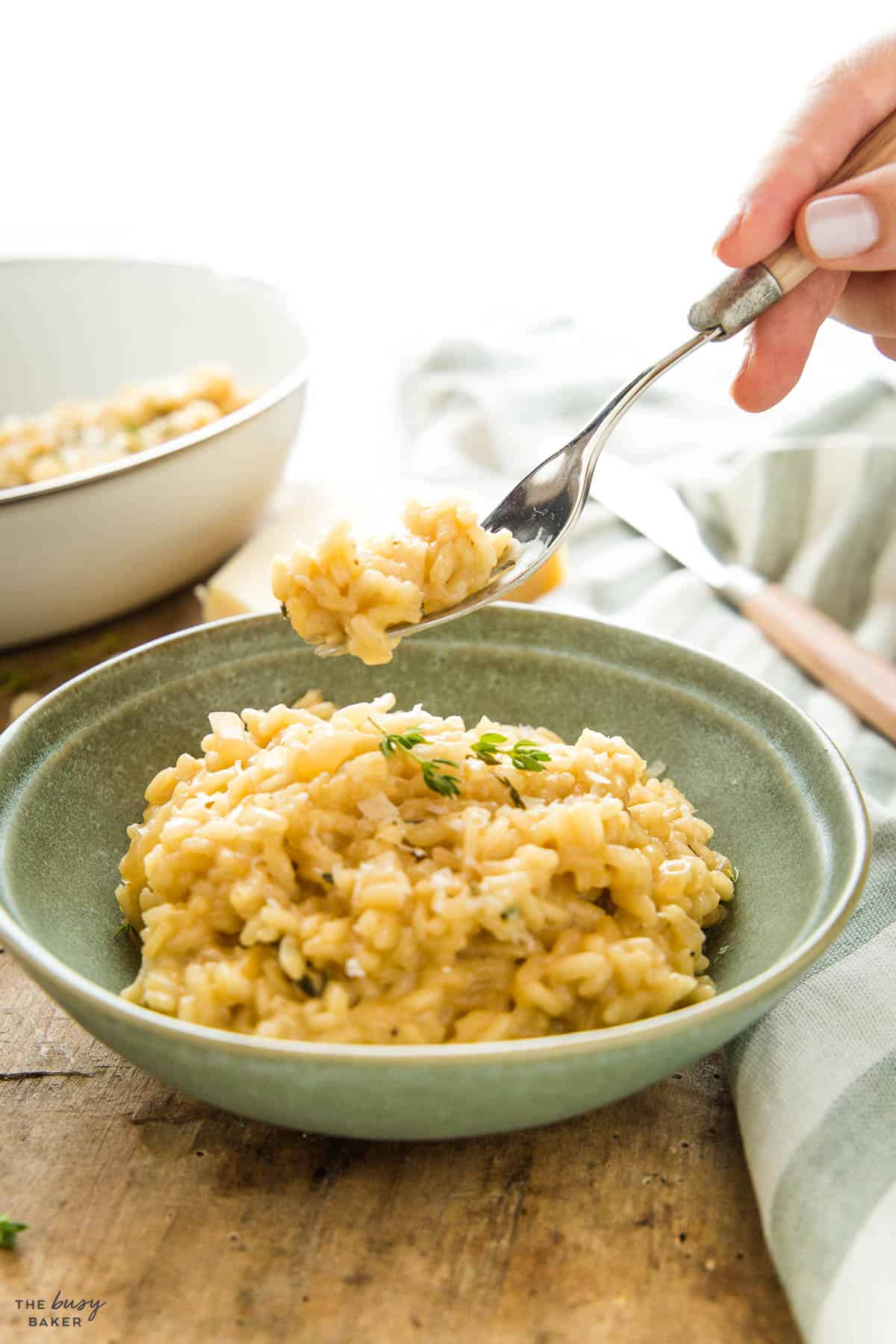 Making risotto at home doesn't have to be a complicated process – here are all our Dos and Don'ts for making homemade Risotto. Let us simplify the science behind this delicious dish for you so you can make the perfect risotto at home every single time!
Risotto is made with a starchy rice called Arborio rice or Risotto rice. Be sure to choose the correct rice, as other varieties of rice (such as Jasmine, long grain, or Basmati) don't contain enough starch and won't work in risotto recipes.
NEVER rinse the Arborio rice before making risotto. Rinsing the rice will remove a lot of the starch, and the starch is what creates the creamy sauce.
Toast the rice in the pan with the onions, garlic, and other flavours before adding in the liquid.
Avoid overcooking the rice. Cooking the rice to al dente is best because it will be soft, but it'll keep its shape and prevent the risotto from becoming soupy or gluey.
Always use HOT chicken or vegetable stock or broth when making risotto. If you add cold or even room temperature liquid to the risotto as it cooks, it cools down the rice which slows or even stalls the cooking process. For the rice to cook slowly and evenly, the liquid you add must be hot.
Use stock or broth instead of water. Water doesn't add much flavour, but chicken or vegetable stock or broth adds a ton of flavour which adds to the dish. Use a stock or broth that's low in salt, if desired.
Add the liquid slowly, not all at once. The beauty of this dish is the creamy sauce that forms as the rice cooks slowly, releases its starch, and absorbs the liquid. Add the liquid no more than 1 cup at a time.
Choose butter, not oil, for sautéing the onions and garlic. Butter creates a lot of flavour and it helps create a smooth, creamy sauce.
Add some wine for tons of flavour! The wine cooks off as the risotto cooks and adds a deep flavour.
Finish with Parmesan cheese. Adding fat at the end makes the creamy sauce smooth and rich. If you want to skip the cheese, add a tablespoon or two of butter for a similar effect.
Choose the right pan. A heavy-bottom skillet works best because it provides even heat distribution, which is critical for the slow cooking process.
Choose the right temperature. Cooking over high heat will cause the liquid to absorb too fast and will leave the rice undercooked. Medium heat is your friend for this recipe!
Don't over-stir or under-stir. Stir about once every 30-seconds or so. Any more than that and you might end up with risotto stuck to the bottom of the pan.
Avoid overcooking. Once all the liquid has been added and absorbed you'll be left with a creamy sauce. Remove the risotto from the heat once the rice has finished cooking and the sauce is still a bit thin.
Add the Parmesan after the risotto has been removed from the heat. This prevents the cheese from hardening and the risotto from becoming glue-y and dry in texture.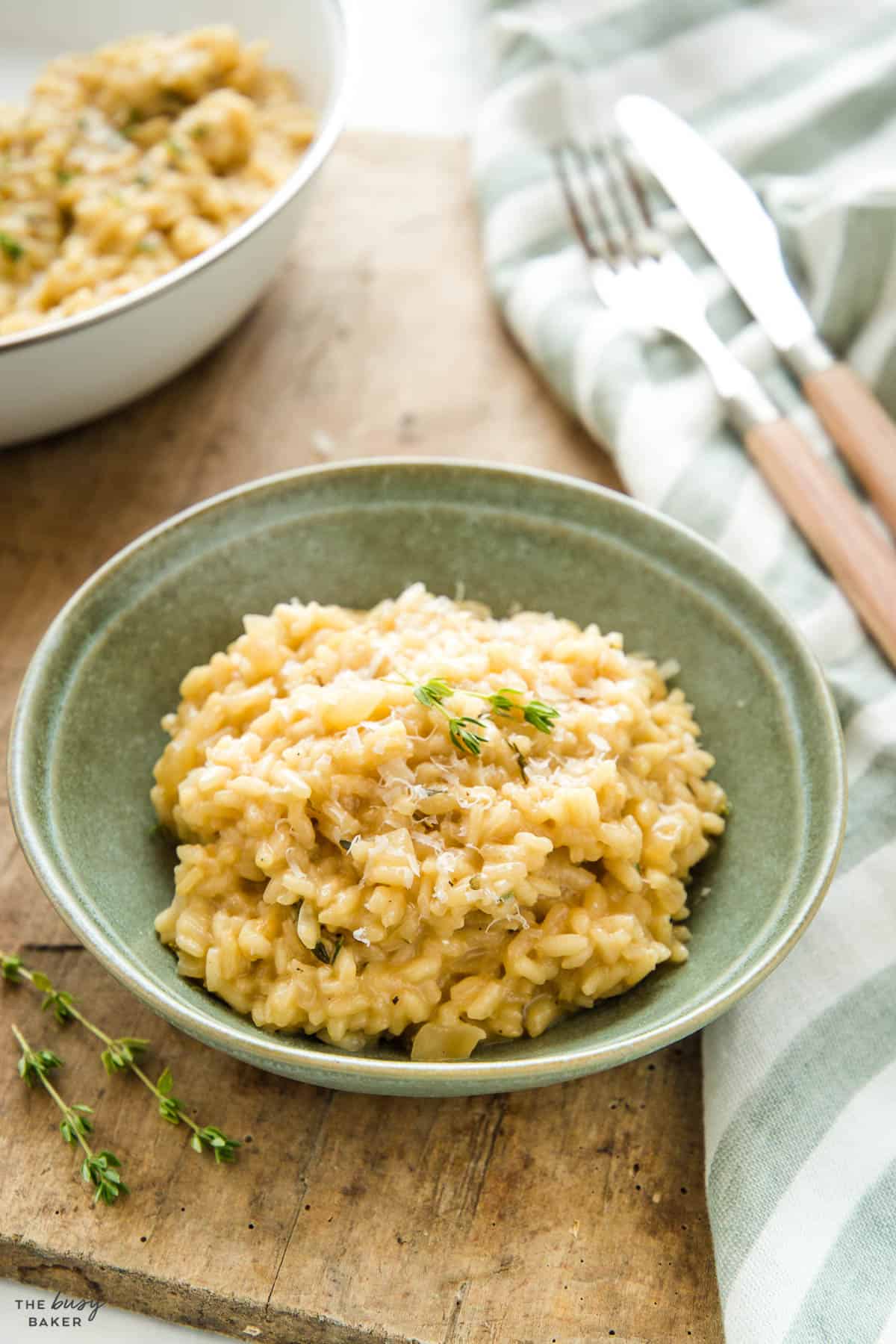 Here's a list of the basic kitchen equipment you'll need to make this recipe at home in your own kitchen (paid links):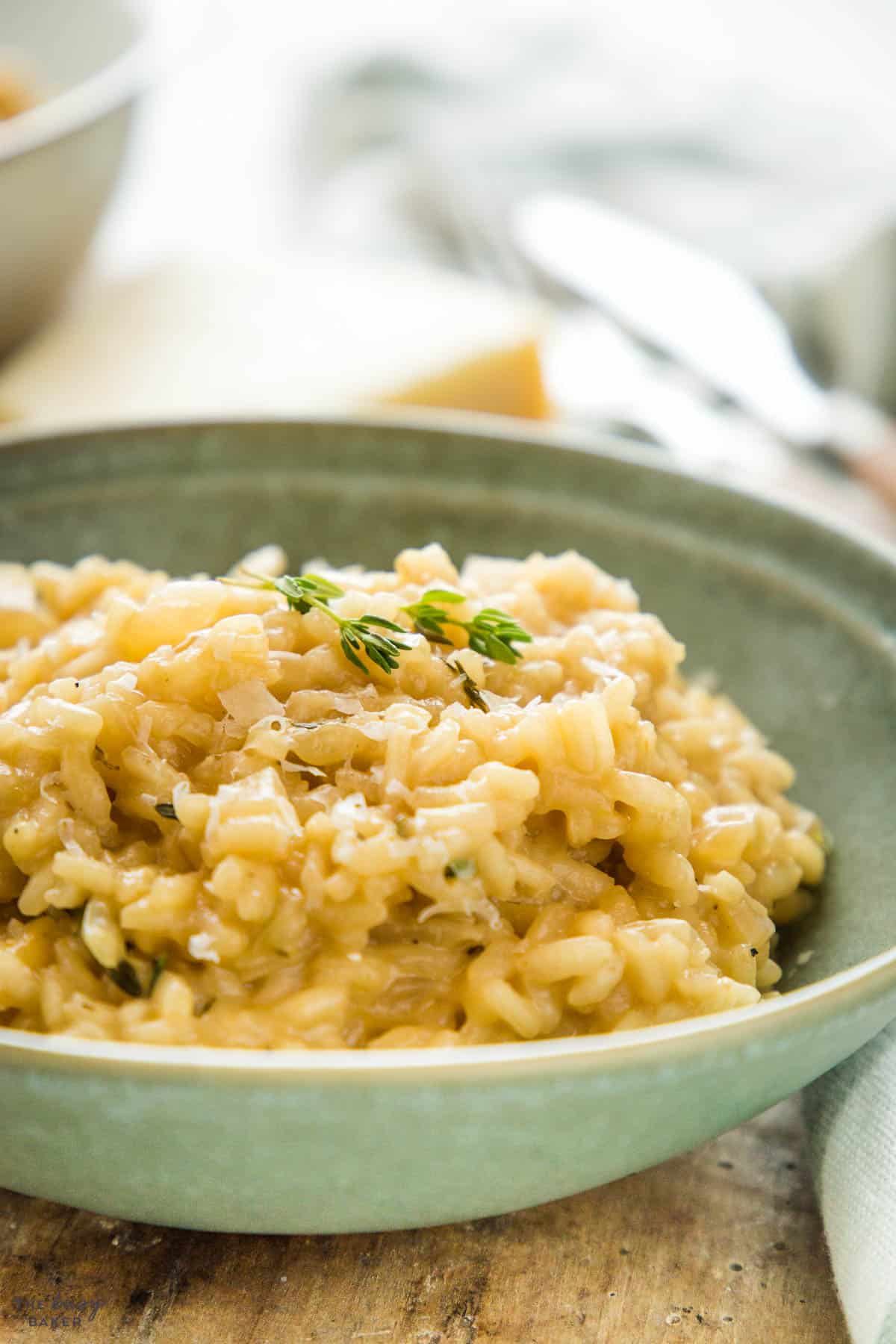 In order to make risotto at home, here's a list of the ingredients you'll need:
2 tablespoons butter
1 medium onion, finely diced
2 cloves garlic, finely minced or pressed
1 tablespoon fresh lemon juice
1 teaspoon chopped fresh thyme (dried thyme also works)
a pinch or two of salt and pepper
1/4 cup white wine
1 cup Arborio rice (also called risotto rice)
4 cups hot chicken or vegetable stock
1 cup freshly grated Parmesan cheese
There are so many different flavours that compliment our basic recipe. Try one of these ideas!
Mushroom – our Mushroom Risotto recipe is absolutely delicious!
Butternut Squash – Try our delicious Butternut Squash Risotto recipe, also known as Risotto alla Zucca.
Tomato Basil – Saute some cherry tomatoes with the onion and garlic and continue the recipe as directed. Add some fresh basil at the end with the Parmesan cheese.
Roasted Red Pepper and Thyme – add some chopped roasted red peppers and fresh thyme with the onions and garlic for a sweet and fragrant variation on the original recipe.
Seafood – saute your favourite seafood blend with mussels, clams, calamari and scallops with the onions and garlic. Remove them from the pan when cooked through and add them back in at the end when the risotto is finished.
Lemon Asparagus – add some chopped asparagus, lemon juice and lemon zest in with the onions and garlic. Remove the asparagus from the pan before cooking the rice and add the asparagus back in at the end when the risotto is finished.
Peas and Saffron – also known as Risotto alla Milanese, adding frozen peas and some saffron to the risotto as it cooks creates a delicious flavour and colour!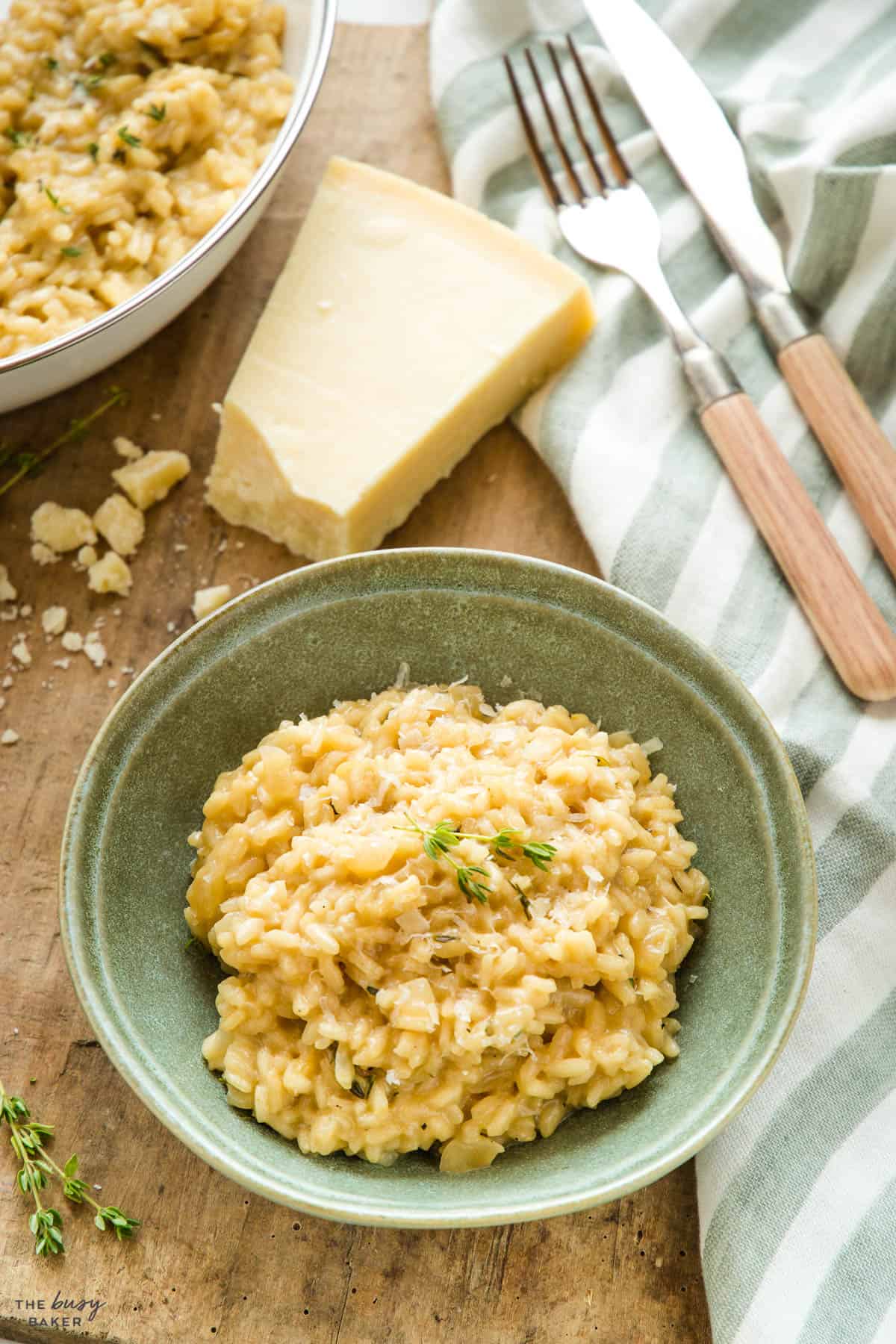 Time needed: 20 minutes
Follow these steps for the perfect creamy risotto every time!
Heat the pan over medium heat.

Choose a heavy-bottom pan for even cooking and set it over medium heat.

Sauté the onion and garlic in butter.

Add the butter to the pan and saute the onion and garlic until soft.

Toast the rice.

Add the lemon juice, thyme, salt and pepper, and the rice and toast the rice, letting it take on the flavours.

Add the wine.

Add the wine and stir well until the wine cooks off.

Add the liquid a little at a time.

Heat the stock in a separate pot and add it 3/4 cup to 1 cup at a time, stirring well every 30 seconds or so until the stock is absorbed. Continue adding stock 3/4 cup to 1 cup at a time, stirring between each addition.

Avoid over-cooking.

Once the rice is cooked to al dente, remove it from the heat. The sauce should be creamy and smooth. Stir in the Parmesan cheese.

Serve immediately.

Enjoy it while hot and while the sauce is creamy, just after the parmesan melts.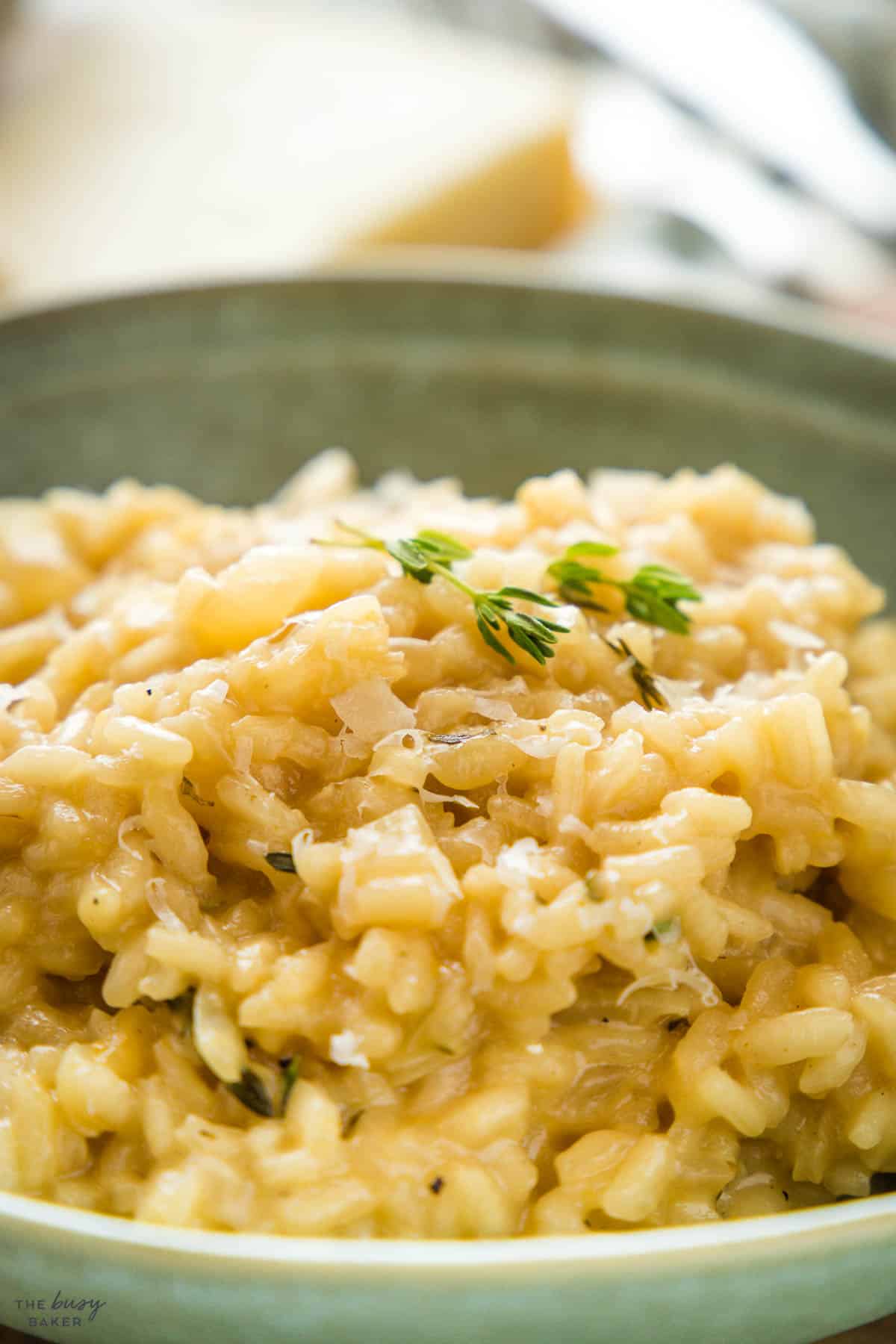 Is risotto gluten-free?

Yes, it's generally gluten-free as it is made from rice, which doesn't contain gluten. However, always check the labels of store-bought stock or any other added ingredients.
Is risotto rice or pasta?

It's made from rice, not pasta.
What is risotto made of?

It's is made from short-grain starchy rice and hot stock or broth to create a creamy rice dish.
How to cook risotto?

Risotto is cooked on the stove top in a pot or pan. It's important to add the liquid to the rice a little at a time while stirring regularly.
Is risotto healthy?

It can be a healthy side dish if it's eaten in moderation and made with healthy ingredients like veggies, low fat stock, and fresh Parmesan cheese.
What type of rice is best for risotto?

Arborio rice is most commonly used for making any risotto recipe due to its high starch content, which helps in creating the creamy sauce this dish is known for. Other rice varieties like Carnaroli and Vialone Nano also work well.
Can I use long-grain rice for risotto?

We don't recommend using long-grain rice like Basmati or Jasmine as they don't have the high starch content necessary for achieving the perfect creamy texture.
Why do I have to keep stirring the risotto?

Continuous stirring helps to release the starches in the rice, contributing to the creamy texture of the dish. It also helps to ensure that the rice cooks evenly.
Do I have to use wine? Can it be substituted?

While traditional recipes often include white wine or vermouth, it can be substituted with extra broth, stock, or even a splash of lemon juice for acidity. The wine does add a delicious flavour but it isn't necessary if you don't cook with alcohol.
Why does the stock need to be hot?

Using hot or very warm stock helps maintain a consistent cooking temperature, which is essential for the even absorption of the liquid by the rice grains.
How do I know when the risotto is done?

You'll know it's done when the rice is al dente—tender but still with a slight bite to it. The overall dish should be creamy but not too runny or with a glue-y consistency.
Can risotto be made in advance?

Risotto is best served fresh, immediately off the stove. However, if you must prepare it in advance, cook it until it's almost done and finish the last few minutes of cooking just before serving.
Can I freeze risotto?

While freezing is possible, the texture may suffer upon reheating. It's generally best to enjoy it right after cooking.
How much liquid do I need for risotto?

It's best to add about 3-4 cups of liquid for every cup of arborio rice.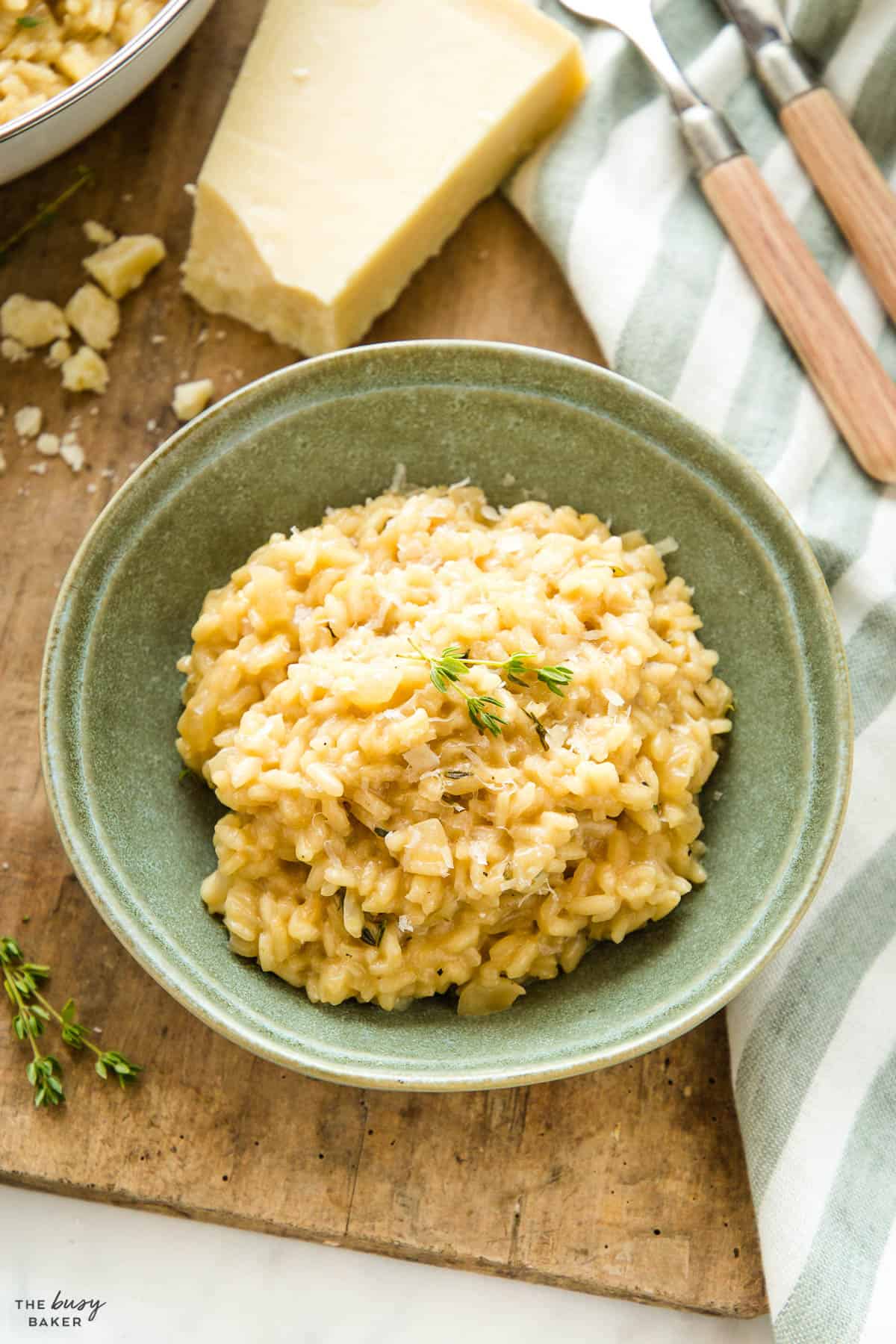 We hope you love this recipe as much as we do! Let us know in the comments below, what's your favourite restaurant-quality recipe to make at home? We'd love to know!
If you made this, share a photo!
Are you trying this recipe? Use the comment form below to share your take; now with support for image uploads and comment voting!
Share a photo
Easy Risotto
A restaurant-style side dish with basic ingredients, this Easy Risotto recipe is the perfect weeknight side dish – it's simple to make in 20 minutes or less!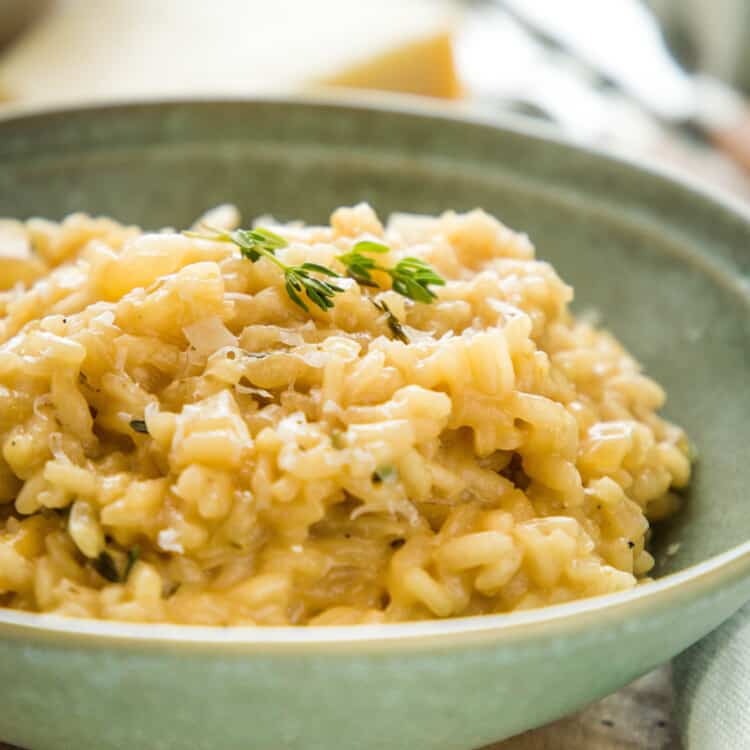 Recipe:

Ingredients
2

tablespoon

butter

or other vegan butter substitute

1

medium

onion, finely diced

2

cloves

garlic, finely minced or pressed

1

tablespoon

fresh lemon juice

1

teaspoon

chopped fresh thyme (dried thyme also works)

a pinch or two of salt and pepper

1/4

cup

white wine

1

cup

Arborio rice (also called risotto rice)

4

cups

hot chicken or vegetable stock

1

cup

Parmesan cheese

optional (or add 1-2 tablespoons butter instead)
Recipe:

Instructions
Heat a large skillet over medium heat and add the butter.

Once the butter is melted, add the onion and garlic and sauté until the onion is soft and translucent.

Add the lemon juice, thyme and salt and pepper.

Add the wine and stir as the wine reduces (cook for about 3 minutes until the wine reduces).

Turn the heat to medium-low and add the rice. Toss the rice in the onion mixture until it's coated and move it around the pan for about 1 minute.

Add the hot chicken stock (or vegetable stock) about 1 cup at a time, stirring constantly and waiting until the stock is absorbed by the rice until you add another 1 cup.

Repeat the process above until all the stock has been added and absorbed by the rice and a creamy sauce has formed, stirring constantly throughout. This should take approximately 15 minutes.

Serve immediately with freshly grated Parmesan cheese and freshly chopped thyme or parsley.
Recipe:

Notes
Storage Instructions
To store any leftovers, simply add them to an airtight container and store them in the refrigerator for up to 2-3 days.
Reheating Instructions
To reheat any leftovers, simply reheat in the microwave or add to a skillet with a splash or two of stock or water.
Freezing Instructions
We don't recommend freezing this recipe as it's best enjoyed right after it's made.
Recipe:

Nutrition

Nutrition Facts

Easy Risotto

Amount Per Serving (1 serving)

Calories 366

Calories from Fat 108

% Daily Value*

Fat 12g18%

Cholesterol 32mg11%

Sodium 1388mg60%

Potassium 125mg4%

Carbohydrates 47g16%

Protein 13g26%

Vitamin A 872IU17%

Vitamin C 4mg5%

Calcium 311mg31%

Iron 2mg11%

* Percent Daily Values are based on a 2000 calorie diet.

Notice: Nutrition is auto-calculated, using Spoonacular, for your convenience. Where relevant, we recommend using your own nutrition calculations.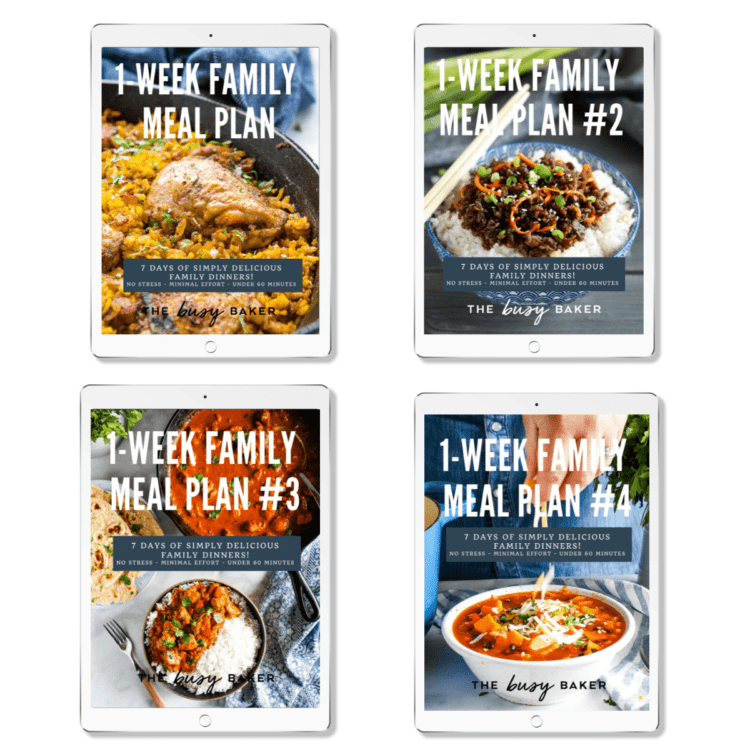 Looking for more?
TRY OUR MEAL PLANS!
Let us do the work for you with 7 days of deliciously easy family dinners, grocery lists, meal prep guides and MORE!
Buy 2, save 20%!
Buy 3, save 30%!
Buy 4 or more, save 40%!
Click here to learn more!