These Skillet Butter Tart Bars are a sweet and delicious dessert inspired by the classic Canadian butter tart! A tender shortbread base topped with chewy butter tart filling baked to perfection in a cast iron skillet, topped with some vanilla ice cream and a drizzle of caramel sauce – these Skillet Butter Tart Bars will have you in Canadian dessert heaven!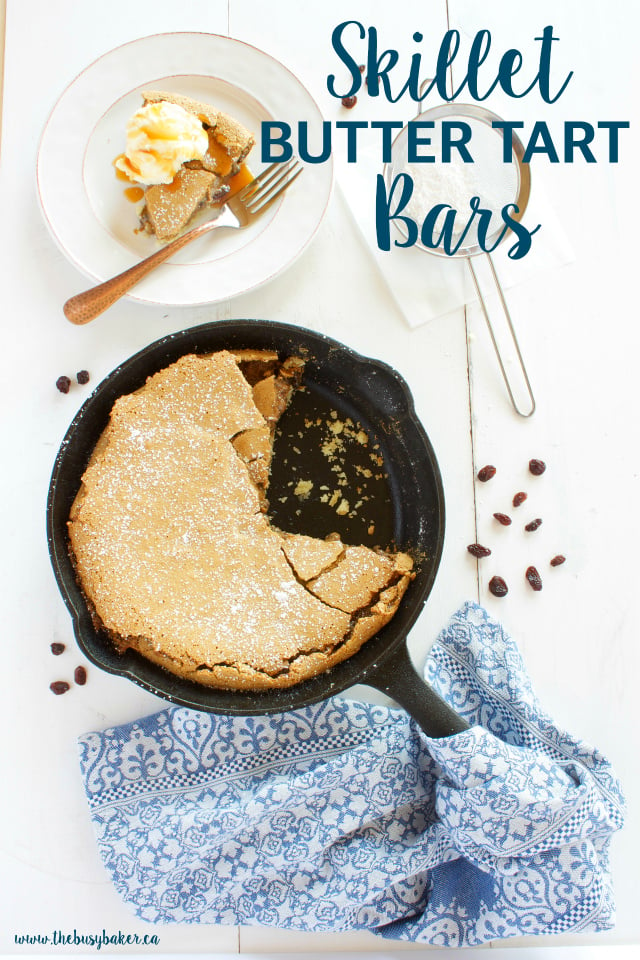 NEVER MISS A POST! FOLLOW ME ON:
If you've been following The Busy Baker for awhile now, you probably already know that I'm Canadian. I grew up in Canada and have lived there most of my life, but our family has been living in Eastern Europe for the last year (more about that
HERE
). We absolutely LOVE where we live at the moment, but of course there are plenty of days that have us missing Canada and missing our family and friends back "home".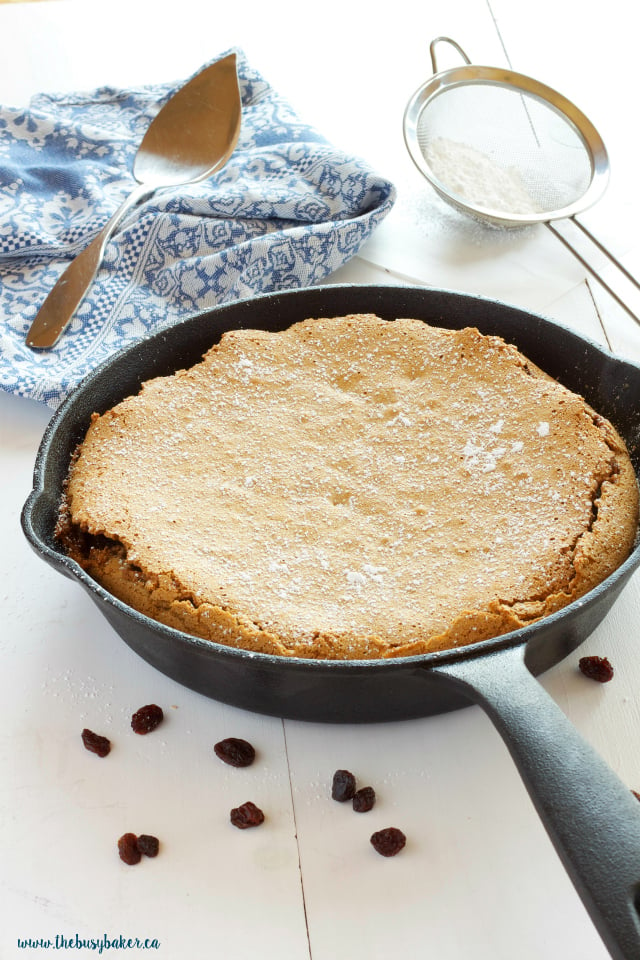 My cooking style has certainly evolved since we moved over a year ago, mainly out of necessity. People in this part of the world eat very locally and seasonally, simply because there's no other way to eat, and so we've adopted a similar lifestyle because many ingredients typically found in North America just aren't readily available here. Of course, I love pulling out my recipe box that I brought with me from Canada and making some of our old favorite recipes from time to time so our family can enjoy some of those familiar flavors that remind us of home. And it's totally worth every now and then it to splurge on the "expensive" Muscovado brown sugar that's only available in a few stores here – it's imported from Mauritius (an African island in the Indian Ocean), but it's the only variety of brown sugar here that's exactly the same as the brown sugar in North America, which means all my recipes turn out exactly like they do when I make them in Canada.
If you're from Canada too, or perhaps if you're a butter tart fan, you're probably familiar with the whole Raisins vs. No Raisins debate. I grew up hating raisins and so if I'm honest, I didn't actually try a butter tart for the first time until I was a teenager and I realized not everyone makes butter tarts with raisins like my family does! So, feel free to leave the raisins out of this recipe if that's more your style, but I've added them to these Skillet Butter Tart Bars simply because that's how my grandma would have made them and because I've grown to love (read: tolerate) them. And also because I'm married to a raisin-lover and have two raisin-loving kids…go figure!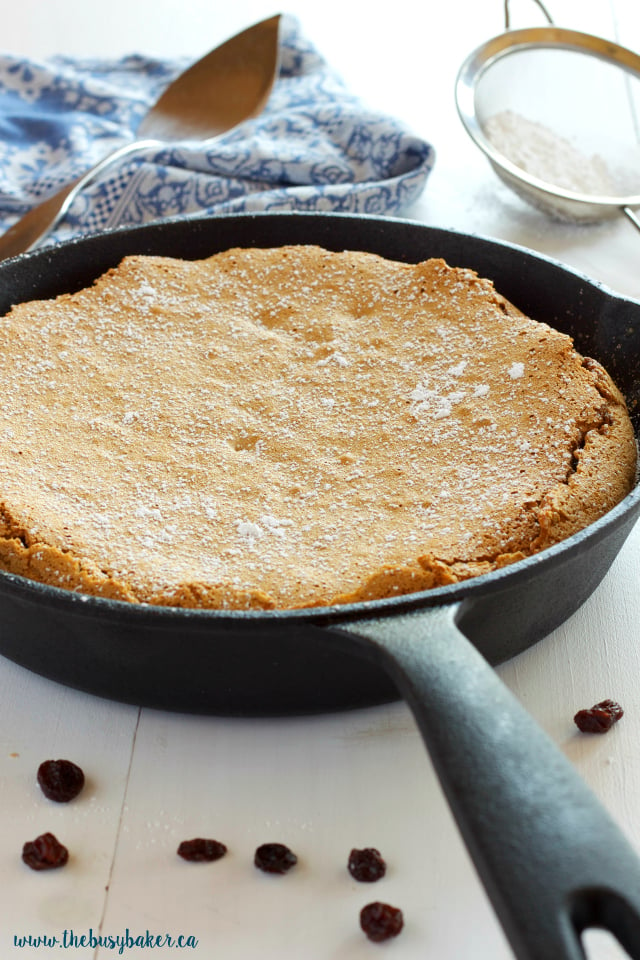 The delicious crackly crust on these Skillet Butter Tart Bars is simply divine, and the melt-in-your-mouth filling is equally delicious. There's just something about baking in a cast iron skillet that adds such a depth of flavor that just can't be achieved any other way. If you don't bake or cook in cast iron, you should DEFINITELY start!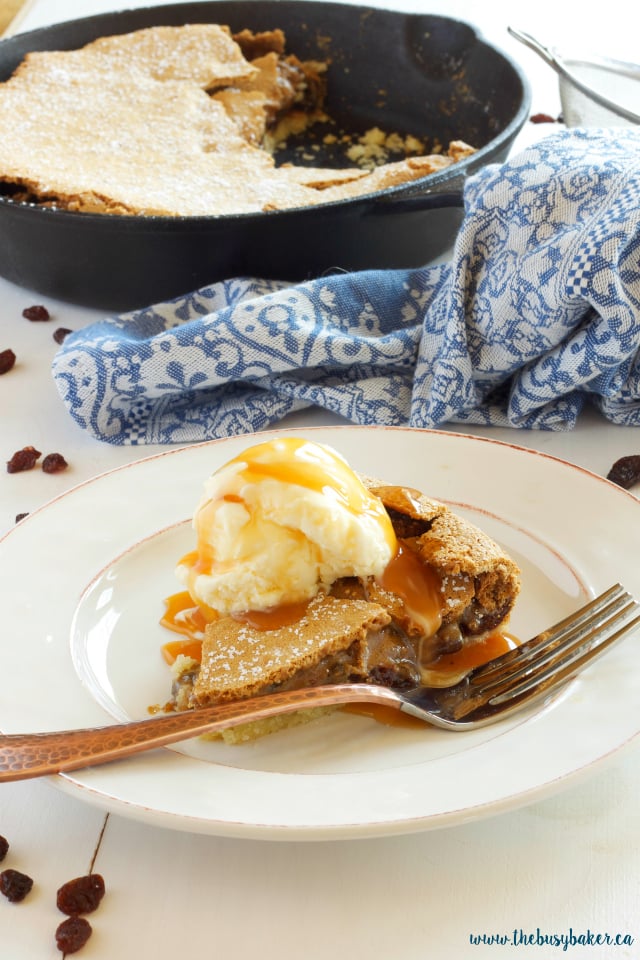 Whether or not you have Canadian roots, these Skillet Butter Tart Bars will certainly be a hit at your table! And be sure to top them with a delicious scoop of creamy vanilla ice cream and a drizzle of caramel sauce to finish them off. No one will be able to resist this decadent Canadian dessert!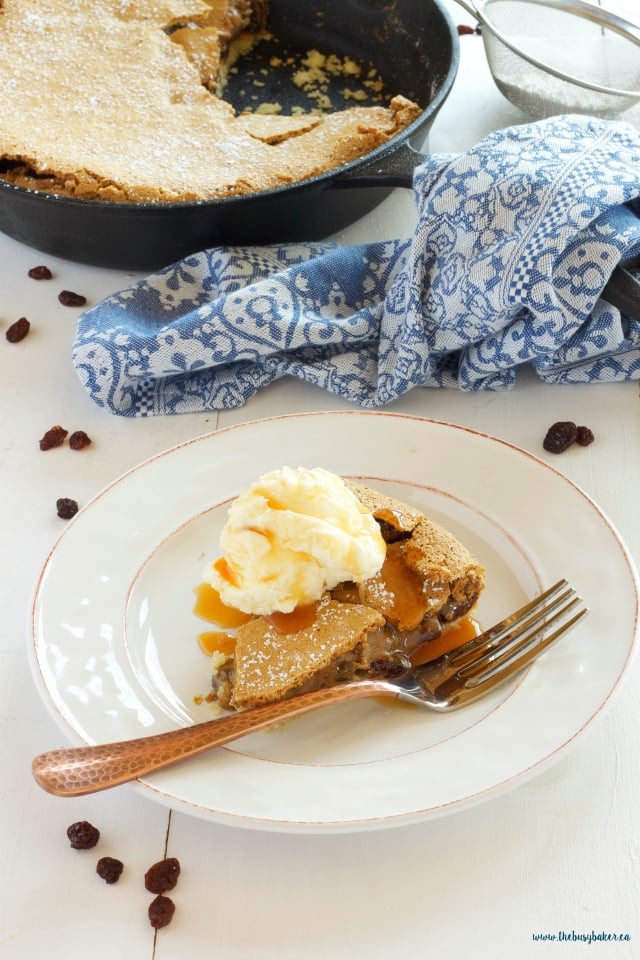 NEVER MISS A POST! FOLLOW ME ON: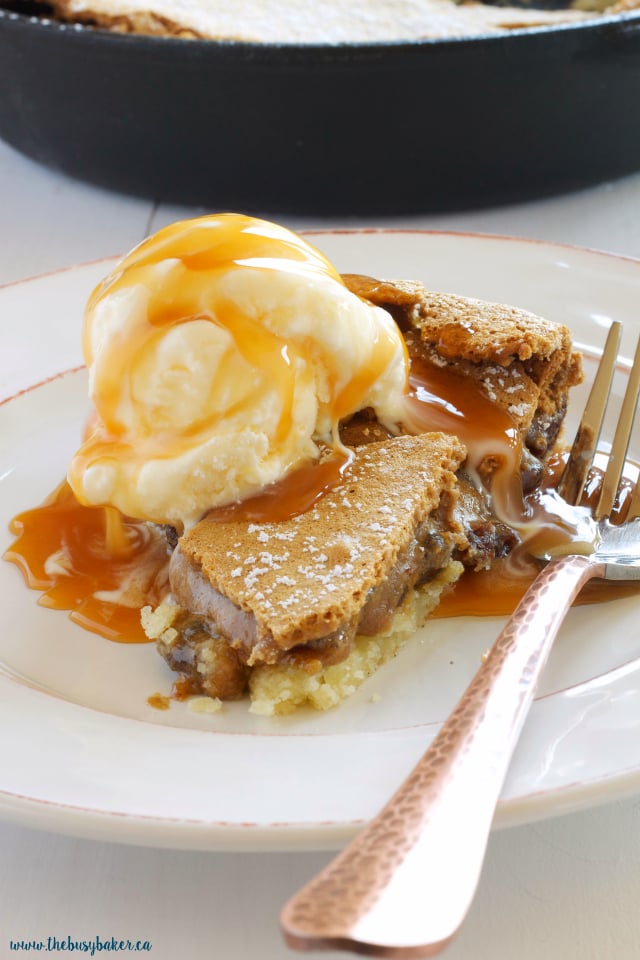 I hope you like this Skillet Butter Tart Bars recipe! Let me know in the comments below, what's your favorite dessert recipe from your culture or country? I'd love to know!
Before you grab the recipe for these Skillet Butter Tart Bars, check out these other delicious recipes I have linked below!
These
Pumpkin Swirl Skillet Brownies
are simply to die for!!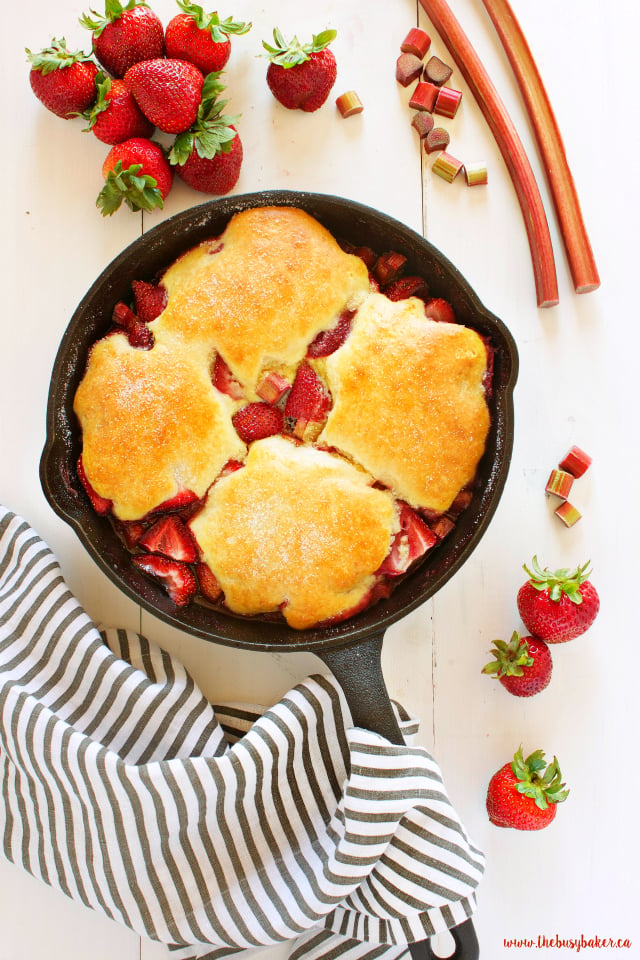 Try my
Strawberry Rhubarb Skillet Cobbler
for something fresh and delicious!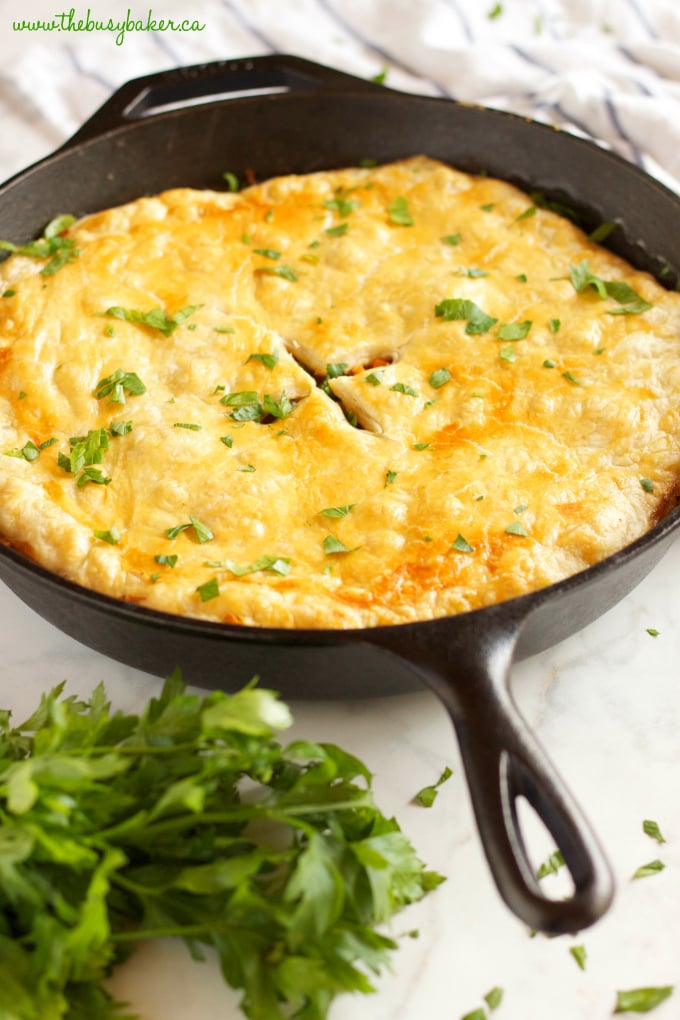 This
Easy Skillet Chicken Pot Pie
is a super simple weeknight meal that's pure comfort food!!
Kitchen Products I recommend: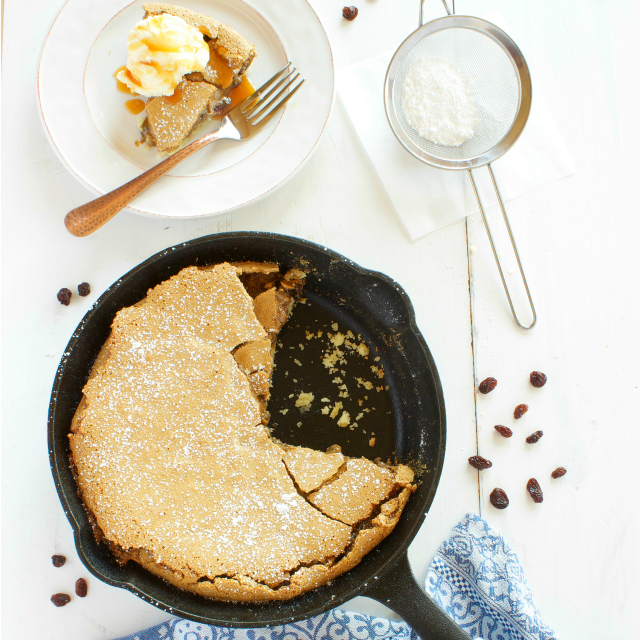 Skillet Butter Tart Bars
These Skillet Butter Tart Bars are just like classic Canadian butter tarts with a tender shortbread base, chewy butter tart filling, ice cream and caramel!
Print
Pin
Rate
Ingredients
For the shortbread base:
1/2

cup

unsalted butter, at room temperature

3

tablespoons

sugar

1

cup

all purpose flour
For the butter tart filling:
2

eggs

1 1/2

cups

brown sugar

1

teaspoon

vanilla

3

tablespoons

flour

1/2

teaspoon

baking powder

1

cup

raisins (optional)

a dash of cinnamon

a pinch of salt
For serving:
vanilla ice cream

caramel sauce

powdered sugar for dusting
Instructions
For the shortbread base:
Preheat your oven to 350 degrees Fahrenheit.


In a medium bowl, cream the butter and sugar with a wooden spoon.


Add the flour and mix until combined.


Press this mixture into a 10-inch greased cast iron skillet and bake at 350 degrees for 15 minutes.

For the butter tart filling:
Meanwhile, whip the eggs, the brown sugar and the vanilla until the mixture becomes light and fluffy (several minutes).


Fold in the flour and baking powder with a rubber spatula.


Fold in the raisins (if desired) and the cinnamon and salt.


Pour the filling over the hot shortbread base just after it comes out of the oven and bake for an additional 25-28 minutes, or until the filling has puffed up and formed a crust. Be careful not to underbake - this will cause the filling to collapse when it's removed from the oven.


Allow to cool at room temperature for at least 20 minutes before slicing and serving with a dusting of powdered sugar, vanilla ice cream and caramel sauce.

Notes
Because the filling for this dessert is egg-based, it appears to puff up quite quickly in the oven giving the illusion that it's fully baked before it actually is. Ensure your oven temperature is a correct 350 degrees Fahrenheit and it should take 25 minutes to bake fully on the inside.
Nutrition
Calories:
2883
kcal
|
Carbohydrates:
474
g
|
Protein:
28
g
|
Fat:
102
g
|
Saturated Fat:
61
g
|
Cholesterol:
571
mg
|
Sodium:
235
mg
|
Potassium:
896
mg
|
Fiber:
4
g
|
Sugar:
357
g
|
Vitamin A:
3312
IU
|
Calcium:
456
mg
|
Iron:
11
mg
Save