This Strawberry Rhubarb Skillet Cobbler is a family favourite! It's a recipe I borrowed from one of my grandma's old cookbooks and it's one I make again and again. Perfect for seasonal strawberries and rhubarb, this cobbler is sweet, easy to make, and absolutely delicious with a scoop of vanilla ice cream or some whipped cream!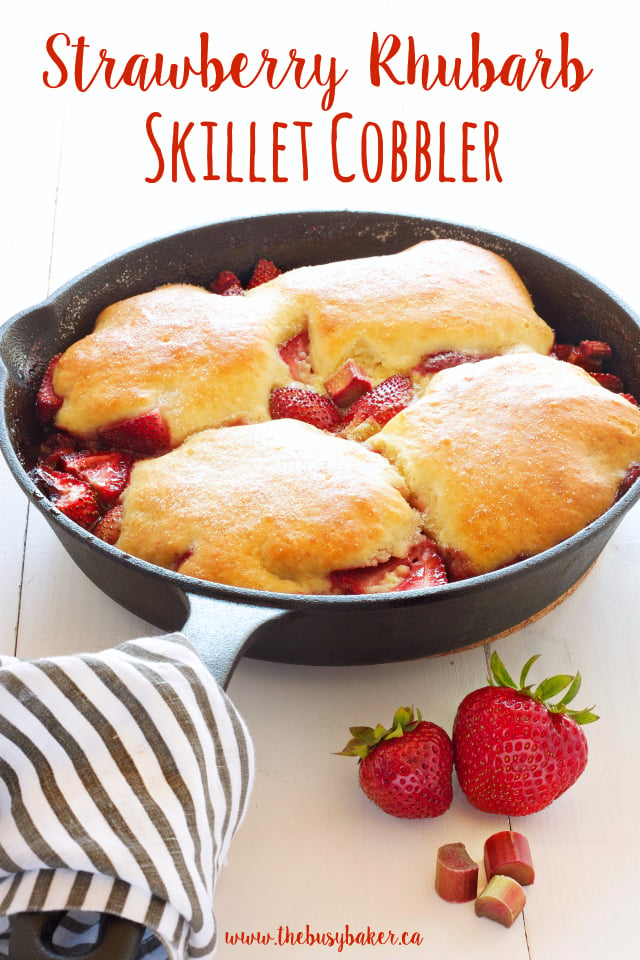 NEVER MISS A POST! FOLLOW ME ON:
I don't know about your summer, but mine is getting a little bit crazy! As I mentioned in a
previous post
, we're making a
big move as a family
and it's coming up very quickly! We leave in less than a month and so right now we're in the middle of all kinds of preparations, including lots of get-togethers with friends and family to say goodbye. As always, I've been busy in the kitchen preparing food to share and this Strawberry Rhubarb Skillet Cobbler has been my staple dessert recipe because it is SO easy to make (and totally delicious!)!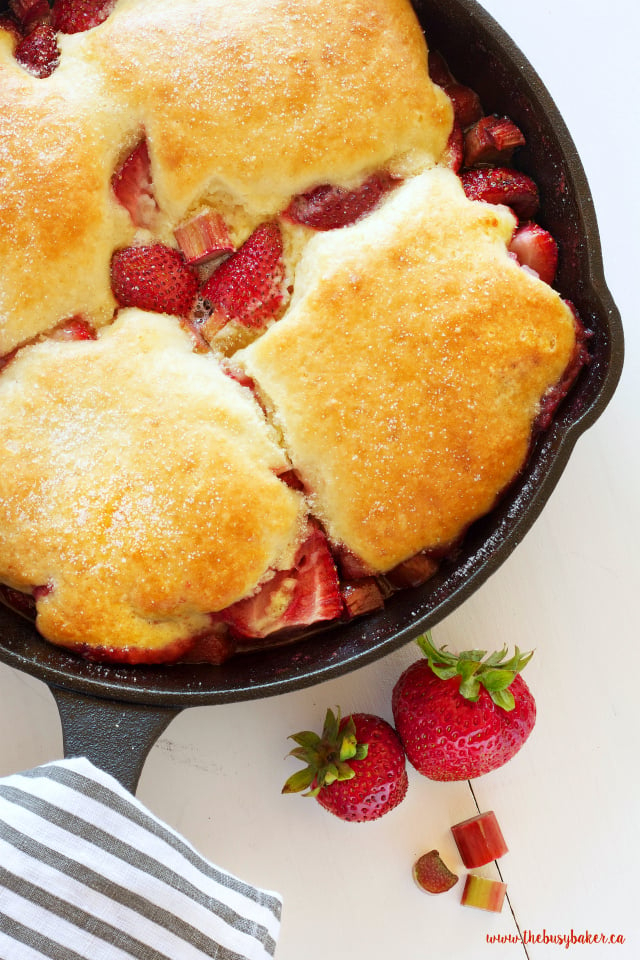 Is there anything better than a fruit-inspired dessert in the summertime? I don't think so. Especially one made with fresh fruit that happens to be in season! The strawberries have been so plentiful lately, and I haven't even had to go to a strawberry farm like in past years…don't tell my mom but the kids and I have been raiding the strawberry patch in her backyard garden on almost a daily basis! And don't even get me started on the rhubarb!! If you're
following me on Snapchat
you may have watched my daring rhubarb foraging adventure in the yard (daring only because I had to brave the mosquitos). Thankfully, my mission was successful and it resulted in this delicious strawberry rhubarb dessert and only a few mosquito bites.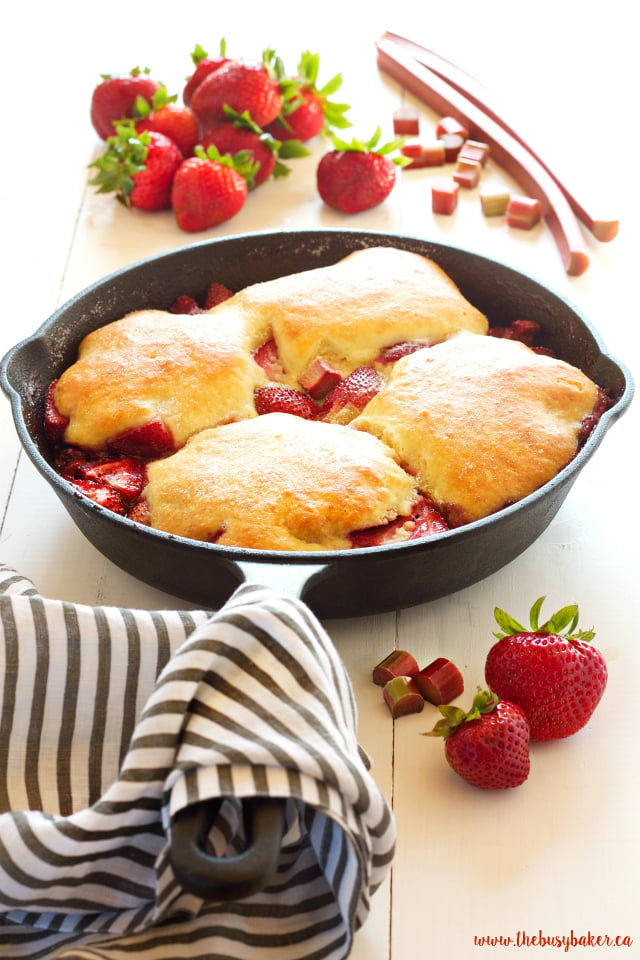 Fortunately for me, I grew up in the mosquito capital of Canada (or maybe unfortunately, depending on how you look at it) so I'm used to fending off the bugs in the garden. I learned at an early age that garden adventures yielded fresh, delicious results so I'll gladly take a few mosquito bites in exchange for this Strawberry Rhubarb Skillet Cobbler. I'm sure once you try it you'll agree!!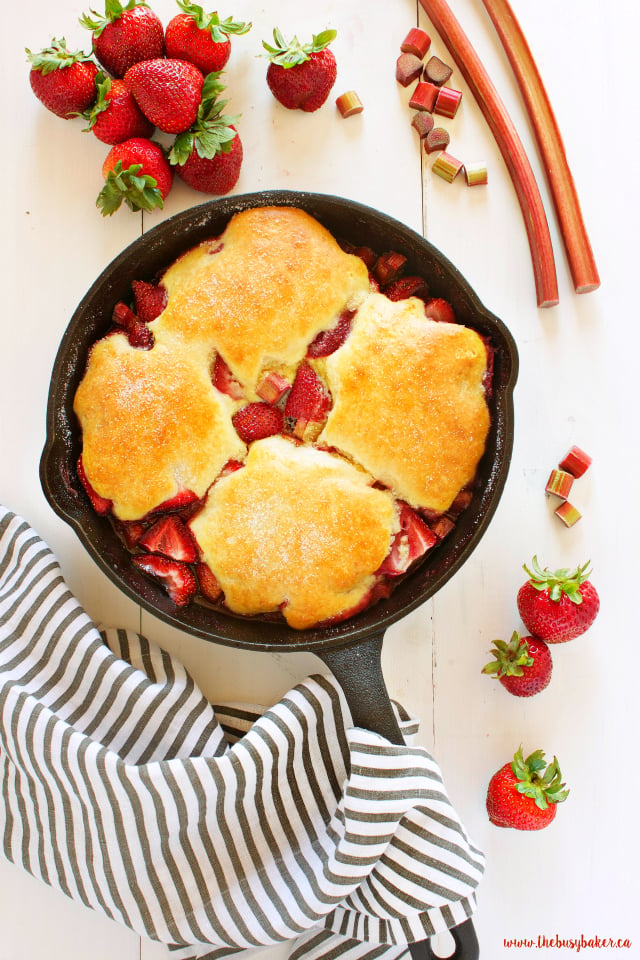 It's such a great dessert for summer when fresh strawberries are in season, but if you're fortunate enough to be able to get fresh strawberries throughout the year then you can enjoy it anytime. And of course it goes without saying, it's best to serve it with some delicious ice cream or whipped cream, but you can also enjoy it all on its own!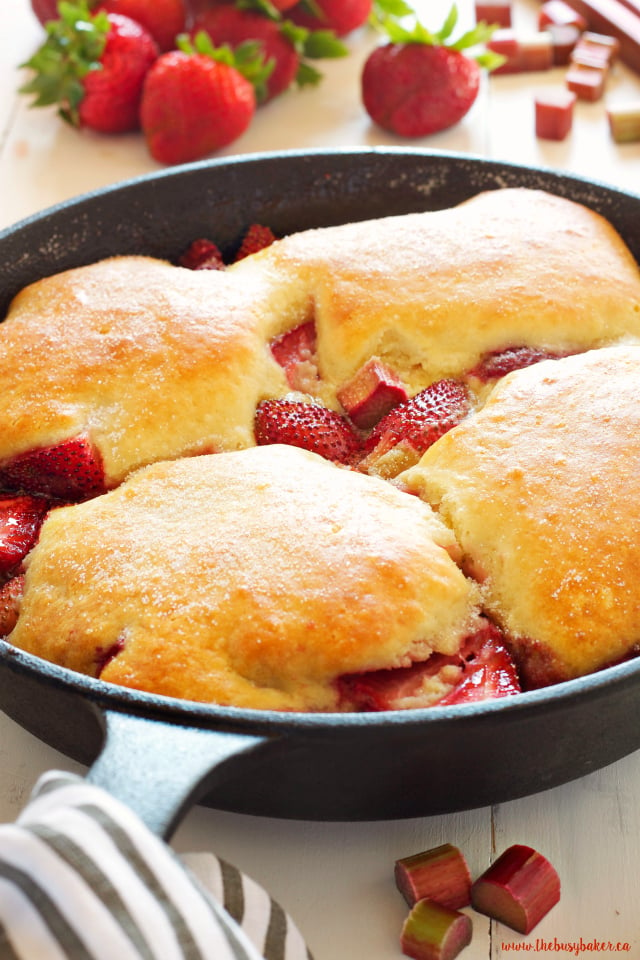 NEVER MISS A POST! FOLLOW ME ON: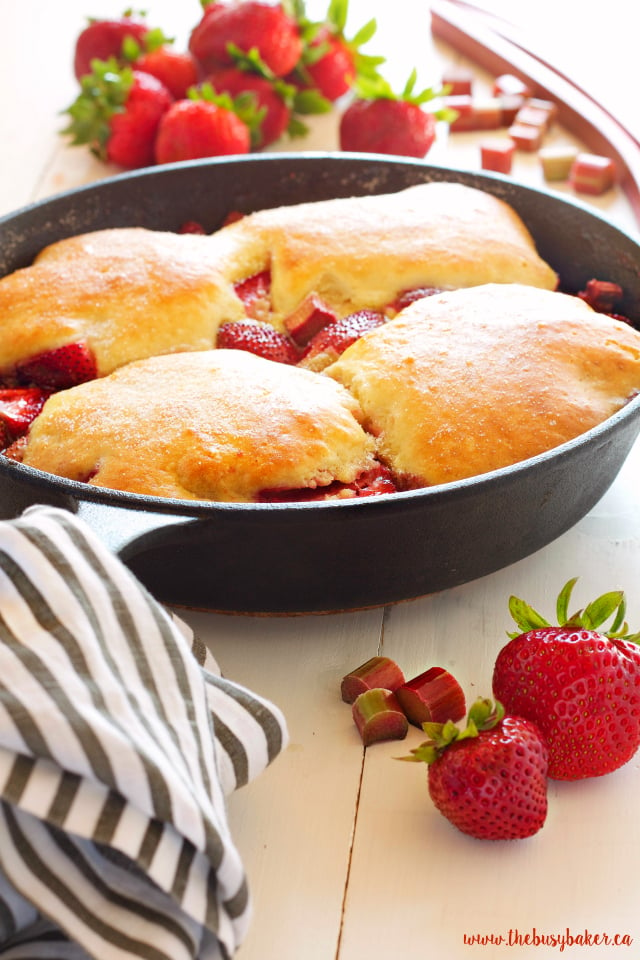 I hope you enjoy this recipe! Let me know in the comments below, what's your favourite way to enjoy strawberry and rhubarb in the summertime? Like this Strawberry Rhubarb Skillet Cobbler recipe? You'll love the reader-favourite recipes I've linked below!!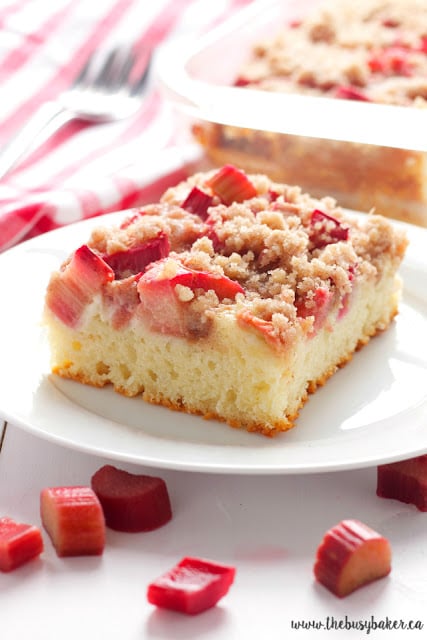 This
Rhubarb Streusel Cake
is one of my family's favourite dessert recipes and we always look forward to rhubarb season just so I can make it!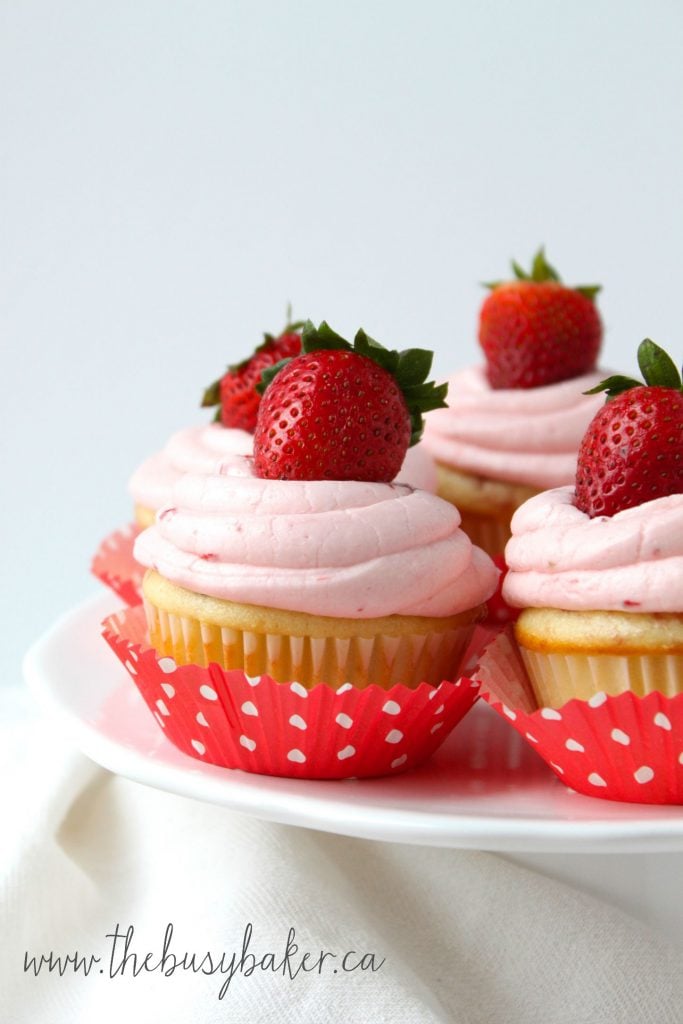 These
Strawberry Swirl Cupcakes with Fresh Strawberry Buttercream
are the PERFECT dessert for summer parties!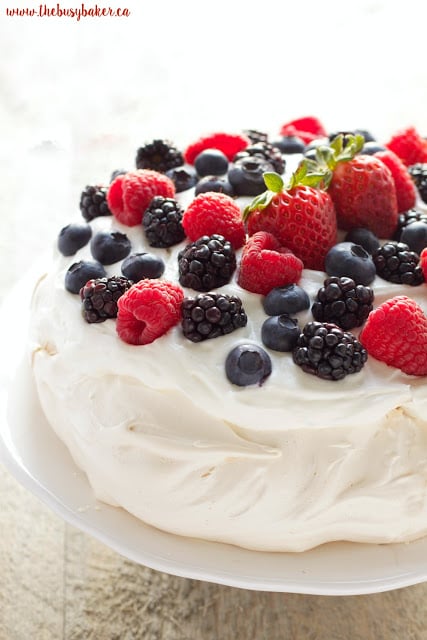 My
Perfect Pavlova
recipe is the easiest and most stunning gluten-free dessert ever!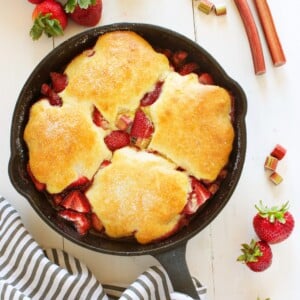 Strawberry Rhubarb Skillet Cobbler
This Strawberry Rhubarb Skillet Cobbler is everybody's old-fashioned family favorite summer dessert recipe featuring fresh sweet strawberries and rhubarb!
Print
Pin
Rate
Ingredients
2

tablespoons

butter

2

cups

chopped fresh rhubarb

5

cups

halved fresh strawberries

2

tablespoons

white sugar

1

cup

all purpose flour

1 1/2

teaspoons

baking powder

3

tablespoons

white sugar

1/2

tsp

sea salt

1/4

cup

melted butter

1/4

cup

whole milk

1

egg

beaten

1-2

teaspoons

white sugar for garnish

optional
Instructions
Preheat your oven to 400 degrees Fahrenheit.

Heat a medium (8-9 inch) cast iron skillet over medium heat and add the 2 tablespoons of butter. In a large bowl, toss the fruit with the 2 tablespoons of white sugar and add the fruit to the skillet once the butter has melted. Toss the fruit in the melted butter, then remove the skillet from the heat.

In a medium bowl combine the flour, baking powder, white sugar and sea salt with a wire whisk. Add the melted butter, whole milk and beaten egg and stir the mixture until it's combined and smooth.

Spread out the fruit into the bottom of the skillet and dollop the topping over the fruit in 4-6 large dollops.

Bake the cobbler at 400 degrees Fahrenheit for 22-26 minutes, or until the top is golden brown and the fruit is bubbly.

While the cobbler is hot, sprinkle the top with 1-2 teaspoons of white sugar.
Notes
Serve with a big scoop of ice cream or whipped cream after the cobbler has cooled slightly.
Nutrition
Serving:
1
serving
|
Calories:
281
kcal
|
Carbohydrates:
38
g
|
Protein:
5
g
|
Fat:
13
g
|
Saturated Fat:
4
g
|
Cholesterol:
38
mg
|
Sodium:
335
mg
|
Potassium:
448
mg
|
Fiber:
4
g
|
Sugar:
17
g
|
Vitamin A:
567
IU
|
Vitamin C:
74
mg
|
Calcium:
119
mg
|
Iron:
2
mg
Save