This Rhubarb Streusel Cake recipe is an old fashioned, tender cake made with fresh rhubarb and a sweet & crispy streusel topping!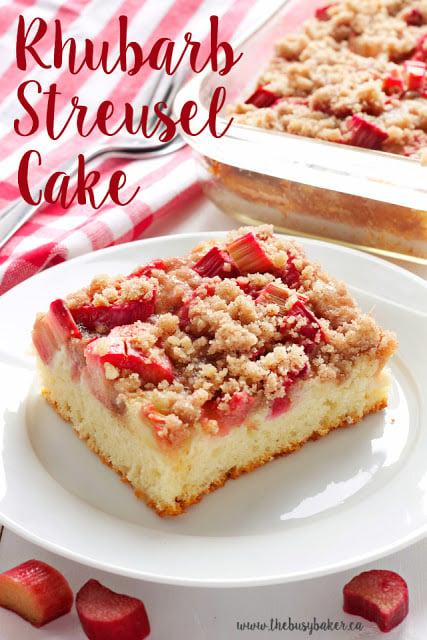 This Rhubarb Streusel Cake recipe is tender and moist, and topped with a sweet and crunchy streusel topping with just a hint of warmth from a little cinnamon. My grandma used to make different versions of this cake all summer long at the lake using whatever fruit she had on hand of course, so making streusel cakes likes this always makes me think of her.
The tang of the rhubarb is perfectly balanced with the sweetness of the streusel topping. Desserts like this stand the test of time, and for good reason. It just doesn't get any better than good old butter and sugar and really, why would you even try to modernize something so simple and tasty? Sometimes you just need a good, old-fashioned cake like Grandma used to make! I know you're going to love this recipe!
Here at The Busy Baker we absolutely LOVE rhubarb. It's one of those underrated ingredients that we just never use enough of, especially at this time of year when it's plentiful and overrunning gardens everywhere! Rhubarb is just such a delicious addition to cakes, pies, muffins, jams…the list is endless, and it's such a summery fruit!
Here are some more of our favourite rhubarb recipes: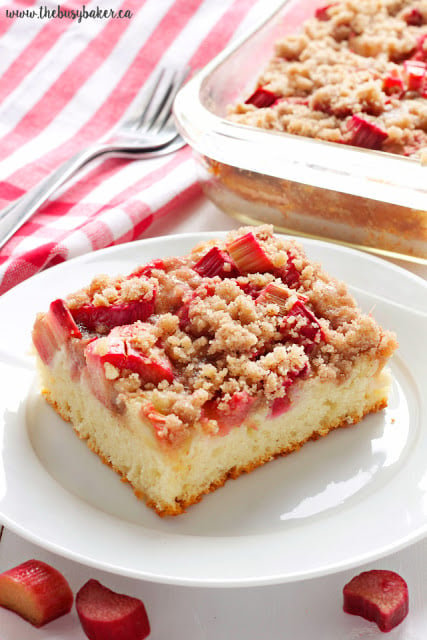 Here are the ingredients you'll need to make this rhubarb cake recipe (paid links):
unsalted butter
granulated sugar
eggs
milk
sour cream
chopped fresh rhubarb
cinnamon
Here's what you'll need in your kitchen to make this recipe (paid links):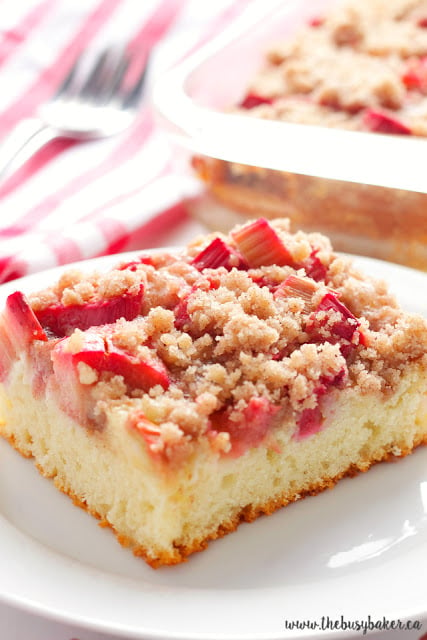 Time needed: 1 hour and 10 minutes
Follow these steps for the best rhubarb cake.
Prepare the ingredients first.

Chop your rhubarb and measure out your wet and dry ingredients. Be sure the eggs, butter, and sour cream are at room temperature.

Make the streusel topping.

Prepare the streusel topping next, combining the ingredients until it's crumbly, and set it aside.

Preheat your oven.

Preheat your oven to 350 degrees Fahrenheit.

Make the cake batter.

Make the cake batter as directed in the recipe, mixing just until combined.

Bake to perfection.

Smooth the cake batter into the prepared pan, top with the rhubarb, then top with the streusel topping and bake.

Cool, then serve.

Cool the cake almost to room temperature before slicing and serving.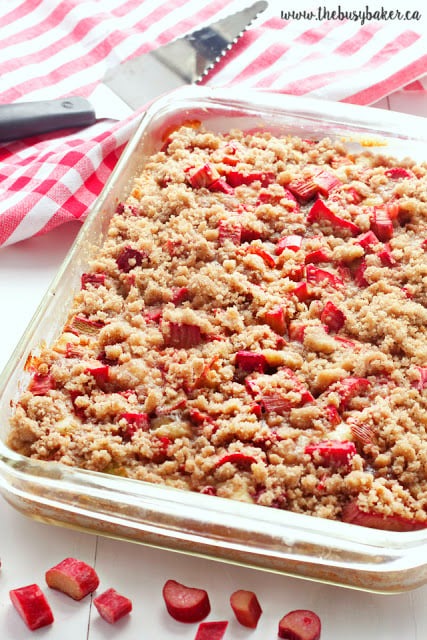 Should rhubarb be cooked before baking?

No, it's not necessary to cook rhubarb before baking. Simply cut into small pieces and add to your favourite baked goods.
How do you cut rhubarb for a cake?

Wash the rhubarb stalks and slice them into small pieces about 1 centimetre thick.
Why is rhubarb used in baking?

Rhubarb is tart which contrasts beautifully with the sweetness in cakes, muffins and other baked goods.
How do you store rhubarb streusel cake?

Rhubarb streusel cake can be stored at room temperature in an airtight container.
Can you freeze rhubarb streusel cake?

Yes, you can freeze rhubarb streusel cake in an airtight container for up to 3 months. Thaw at room temperature, uncovered, to prevent excess condensation from forming on the top of the cake while it thaws.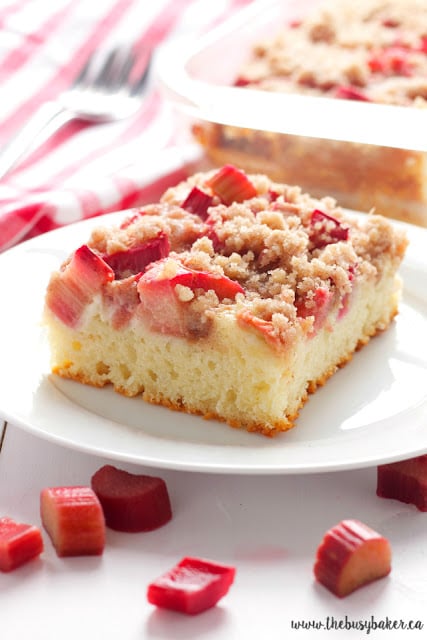 We hope you enjoy this Rhubarb Streusel Cake recipe as much as we do! Let us know in the comments below, what's your favourite old-fashioned, tried and true dessert? We'd love to know!
Watch the video below to see exactly how we make this recipe. You can find many more deliciously simple recipe videos on our YouTube channel!
If you made this, share a photo!
Are you trying this recipe? Use the comment form below to share your take; now with support for image uploads and comment voting!
Share a photo
Rhubarb Streusel Cake
Just like Grandma used to make – an old fashioned, tender cake made with fresh rhubarb and a sweet & crispy streusel topping. This Rhubarb Streusel Cake is a family favourite!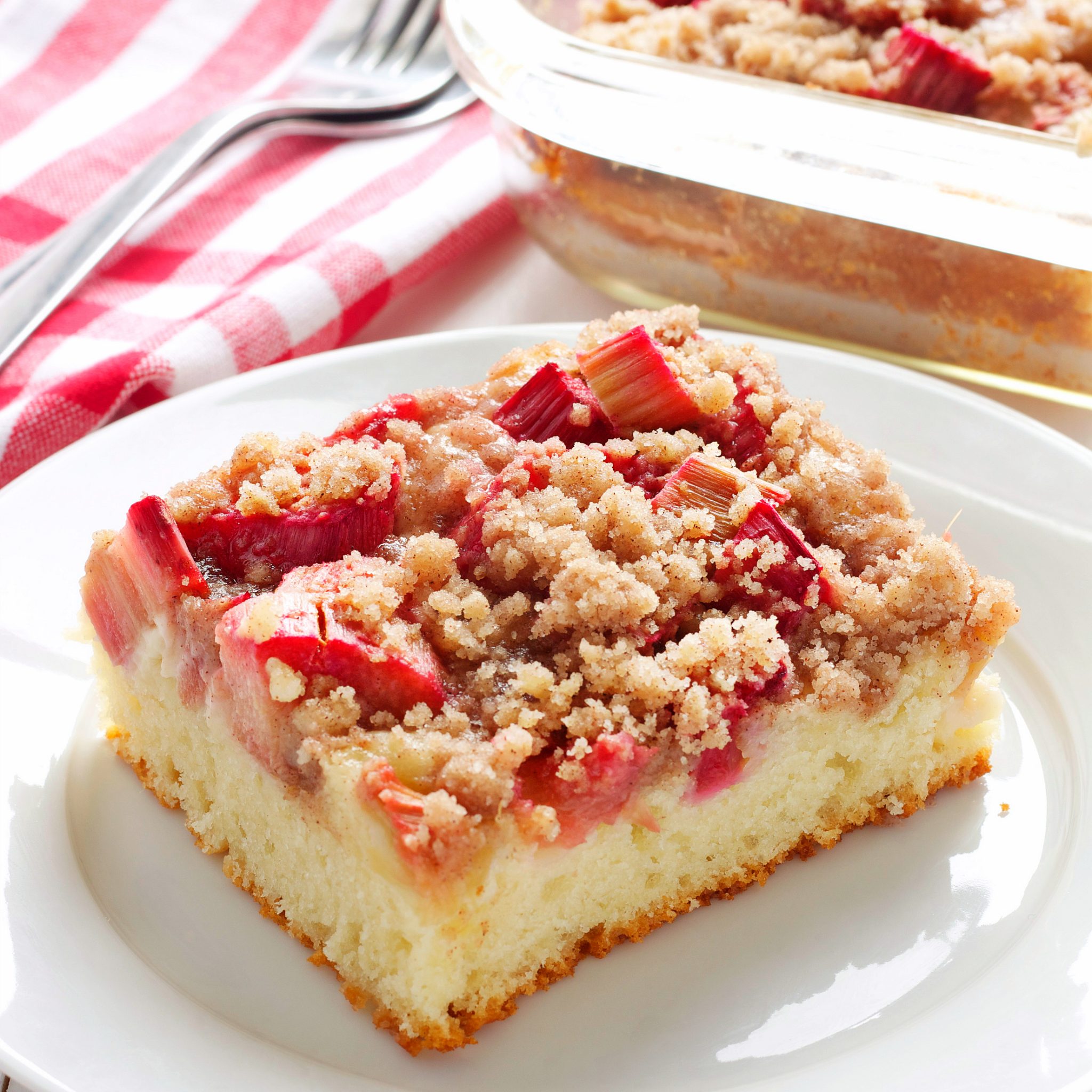 Recipe:

Ingredients
For the streusel topping:
Recipe:

Instructions
Preheat your oven to 350 degrees Fahrenheit.

Wash 3-4 stalks of rhubarb and chop them into bite sized pieces (you'll need about 2 and a half cups of chopped rhubarb to cover the cake.). Set them aside in a bowl while you prepare the cake batter.

Add the butter and the sugar to the bowl of your stand mixer and beat them together until the mixture is fluffy and becomes a pale colour (about 4-5 minutes). It's important that the butter is at room temperature before you begin. This will allow it to integrate properly with the other wet ingredients.

Feel free to use a hand mixer if you prefer.

Add the eggs and the vanilla and beat them in on medium speed until the mixture is smooth. It's a good idea to scrape down the bowl periodically to make sure everything is incorporated evenly.

Add the milk and sour cream and beat in these ingredients on low speed until they're combined.

To a separate bowl add the flour, the baking powder and the salt and mix these ingredients together with a fork or a wire whisk. Once they're all incorporated, dump the flour mixture into the bowl of the stand mixer with the wet ingredients. Turn the mixer on low and watch the batter come together. As soon as you see the batter form with streaks of flour throughout, turn off the mixer and remove the bowl.

Over-mixing at this stage can cause an overly dense and dry cake with large air bubbles, which you definitely don't want. Using a rubber spatula, scrape down the sides of the bowl by hand and gently fold in the remaining flour. Be sure to stop folding as soon as everything is combined.

Grease a 9×13 rectangular glass cake pan with some butter and pour the batter into the pan, using the spatula to push the batter into the corners and even out the surface. Don't worry, the batter will seem thick but it's supposed to be like that.

Spread the rhubarb over the top of the batter.

In a clean bowl mix together the flour, sugar and cinnamon for the streusel topping. Add in the melted butter and mix everything together with a fork until the mixture becomes crumbly.

Sprinkle the streusel mixture over the cake and the rhubarb, making sure to spread it at evenly as possible and into all the corners.

Bake the cake at 350 degrees Fahrenheit for 47-50 minutes. When it's finished baking the topping will be slightly browned on top, the rhubarb will be bubbly, and when you insert a toothpick into the centre of the cake it will come out clean.

Try to let the cake cool in the pan for at least 20 minutes before cutting into it…if you can wait that long!
Recipe:

Nutrition

Nutrition Facts

Rhubarb Streusel Cake

Amount Per Serving (1 serving)

Calories 342

Calories from Fat 135

% Daily Value*

Fat 15g23%

Cholesterol 65mg22%

Sodium 108mg5%

Potassium 210mg6%

Carbohydrates 47g16%

Protein 5g10%

Vitamin A 528IU11%

Vitamin C 2mg2%

Calcium 85mg9%

Iron 2mg11%

* Percent Daily Values are based on a 2000 calorie diet.

Notice: Nutrition is auto-calculated, using Spoonacular, for your convenience. Where relevant, we recommend using your own nutrition calculations.