Chocolate beet cupcakes are one of the desserts that are healthy that will fool almost any chocolate cupcake lover! Moist chocolate cupcakes made with cocoa and beets, topped with low fat fluffy cream cheese frosting!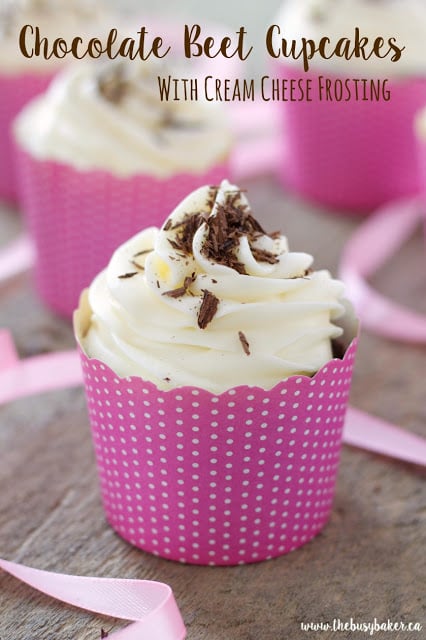 I'm celebrating today! My one-year "blogiversary" is approaching quickly and I'm having a hard time believing that I've already been blogging for almost a whole year!! But before I hit my one-year milestone, I've hit another milestone first…my 100th post!
That's right, The Busy Baker has posted 100 recipes this year and that is definitely a reason to celebrate! And what better way to celebrate than with cupcakes, am I right?? And in the spirit of making healthy choices, I've put a healthy spin on these Chocolate Beet Cupcakes so they're not entirely guilt-inducing.
Looking for more desserts that are healthy? You'll love these Chocolate Spice Fig Truffles or these Healthy Berry Coconut Popsicles.
What Makes Chocolate Beet Cupcakes Healthy?
Chocolate beet cupcakes are full of fresh beets, so they're incredibly healthy, moist and decadent. The low fat cream cheese frosting is super fluffy and sweet. They're a great Valentines Day treat but really, they're perfect for any occasion!
Are Beets Good for You?
You can't beat beets! They're a very healthy vegetable that provides nutrients that your body can't get anywhere else. A few of the key health benefits of beets include:
High in nitrates (which your body turns into nitric oxide), beets assist in improving circulation and regulating blood pressure
Rich in betaine and B-vitamins, including folate, which helps prevent heart disease
Nitric oxide relaxes and dilates your blood vessels, which in turn increases blood flow to the brain. This could mean better brain function!
Betaine (also found in spinach and quinoa) can help cleanse and reduce the amount of fat in your liver.
Want more Betaine in your diet? Try these Greek-style quinoa burgers or Mexican-style quinoa stuffed peppers!

NEVER MISS A POST! FOLLOW ME ON:
This chocolate cupcakes recipe was inspired by Anna Olson's Red Velvet Cake recipe that you can find here.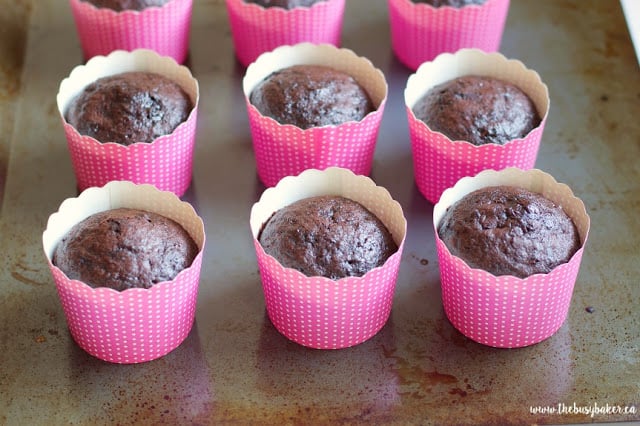 Important note about the cupcakes: The texture of chocolate beet cupcakes is much more dense than regular chocolate cupcakes. However they're still light enough to spring back to the touch. Be sure to let them cool completely before you frost them!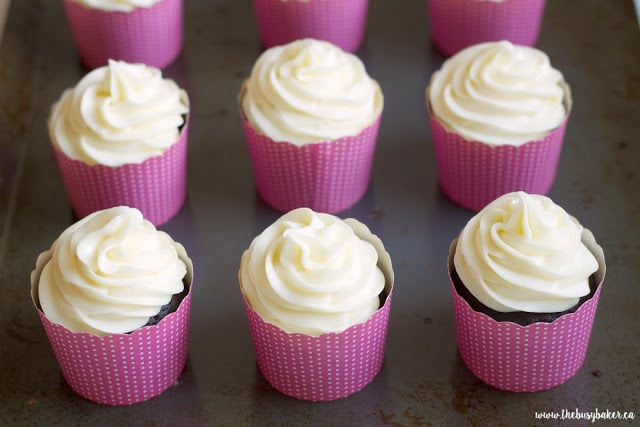 I baked the chocolate beet cupcakes in sturdy paper baking cups, but you can also bake them in traditional cupcake liners. If you use the baking cups, place them directly onto a sheet pan for baking rather than into a muffin tin.
Chocolate Beet Cupcakes with Low Fat Cream Cheese Frosting
This recipe was inspired by Anna Olson's Red Velvet Cupcakes recipe. Moist chocolate cupcakes made with fresh beets and cocoa, topped with low fat, fluffy cream cheese frosting.
Print
Pin
Rate
Ingredients
6

tbsp

finely shredded beets

1/2

cup

milk

1

tsp

white vinegar

1/2

tsp

vanilla extract

1

egg

3

tbsp

canola oil

1

cup

all purpose flour

1/2

tsp

baking powder

1/2

tsp

baking soda

1/4

tsp

salt

3

tbsp

cocoa powder

6

tbsp

white sugar

4

tbsp

brown sugar
For the frosting:
6

oz

low fat cream cheese

at room temperature

4

tbsp

butter

at room temperature

3

cups

powdered sugar

1

tbsp

milk

any variety

shaved dark chocolate for garnish

optional
Instructions
Preheat your oven to 350 degrees Fahrenheit and line a 12-cup muffin tin with your favourite paper liners.

Add the finely shredded beets to a large bowl, along with the milk, vinegar, vanilla, the egg, and the canola oil. Whisk these ingredients together until they're combined.

In a separate bowl, combine the flour, baking powder, baking soda, salt, cocoa powder and sugars with a wire whisk until there are no visible lumps.

Add the dry ingredients to the wet ingredients and using a rubber spatula, fold the dry ingredients into the wet ingredients just until no streaks of flour remain and everything is evenly incorporated (be sure the scrape down the sides of the bowl well!).

Divide the batter between the 12 paper liners. I used stiff paper cupcake baking cups, but regular paper liners work well too. If you're using paper cupcake cups like I did, just place them directly onto a baking sheet.

Bake the cupcakes at 350 degrees Fahrenheit for about 18-22 minutes or until a toothpick inserted into the middle of one comes out clean.

Remove pan from oven and allow cupcakes to cool completely before frosting.
To make the frosting:
Whip the cream cheese and the butter on high speed using a stand mixer (a hand mixer will do just fine too!). Add the powdered sugar 1/2 cup at a time and mix on high speed until the mixture achieves the texture of stiff frosting.

Add the milk 1 teaspoon at a time as you mix on high speed, just until the frosting softens in texture enough that it becomes creamy enough to pipe. The exact amount of milk and powdered sugar will vary every time because of the temperature of the butter and cream cheese, so feel free to add a little less or more milk or powdered sugar to achieve the perfect piping texture.

Add the frosting to a piping bag fitted with a large star tip and pipe the frosting onto the cooled cupcakes in a swirl design. Garnish with shaved chocolate (if desired) and serve.
Notes
The texture of these cupcakes is more dense than a regular chocolate cupcake, however they're still light enough to spring back to the touch. Be sure to let them cool completely before you frost them!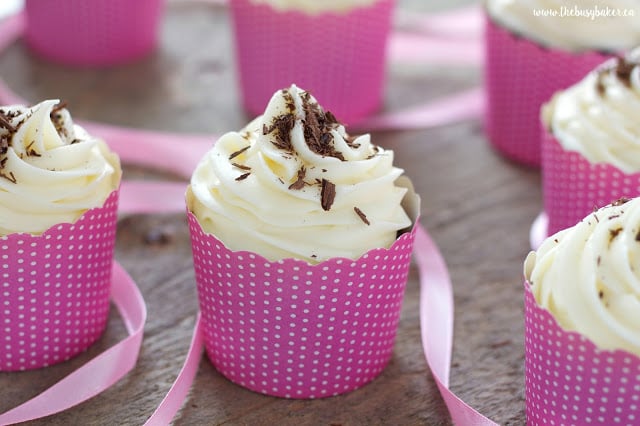 Like this easy but impressive dessert recipe? Try this showstopping Vanilla Bean Rosette Cake or these delicious Strawberry Swirl Cupcakes with Fresh Strawberry Buttercream!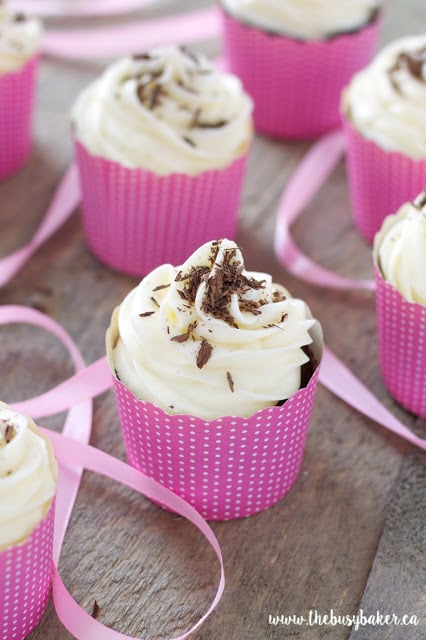 These are beautiful, rich-tasting healthy chocolate cupcakes, perfect for any celebration. They're a great Valentines Day treat! No one would ever guess they're low fat and full of fresh beets!!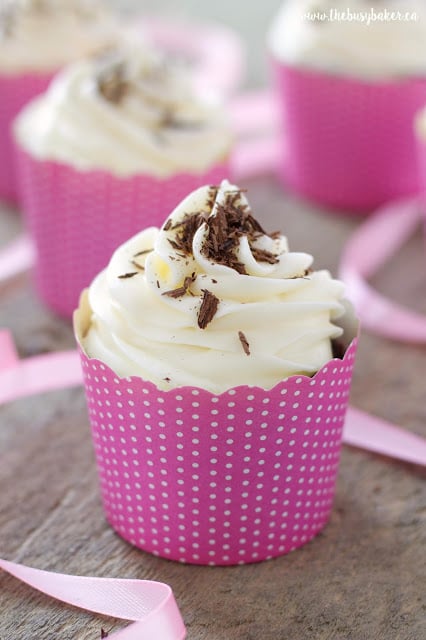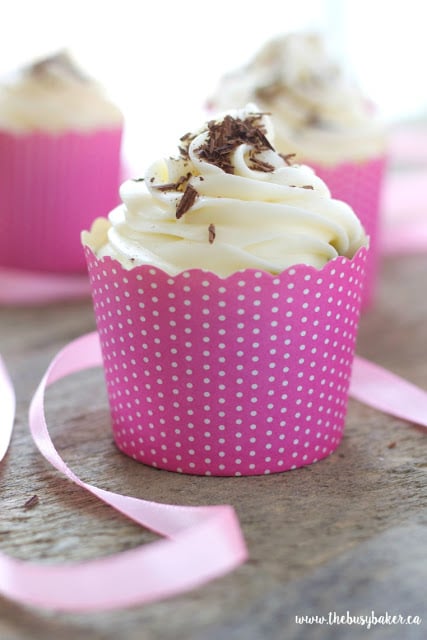 Nutritional Information for the Chocolate Beet Cupcakes Recipe
Chocolate Beet Cupcakes with Low Fat Cream Cheese Frosting are 14 Weight Watchers Smart Points each (5 Smart Points without the frosting!), making them a great alternative to most full-fat buttercream-laden cupcakes that can be as many as 27 Smart Points each!
I really hope you enjoy this recipe! Let me know in the comments below, what's your favourite way to hide vegetables in sweet treats?
Like this cupcakes recipe? Try these Pumpkin Spice Cupcakes or my Apple Caramel Cupcakes!
NEVER MISS A POST! FOLLOW ME ON: