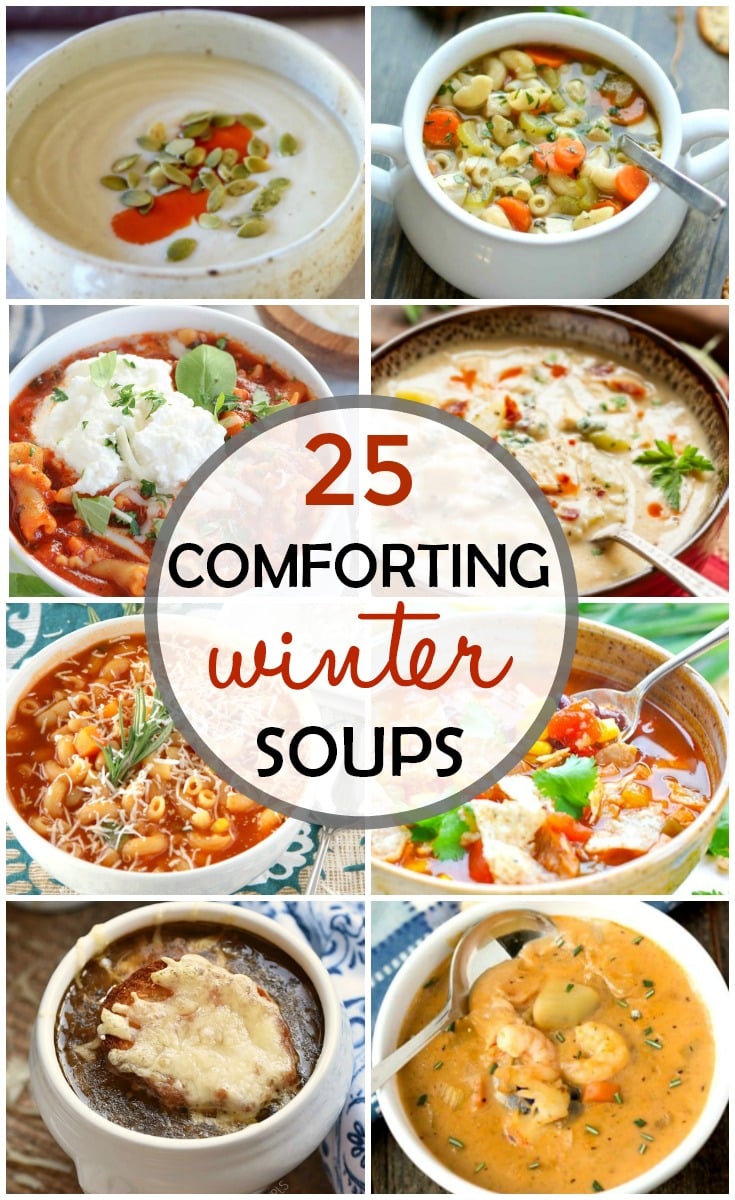 Winter soups are a necessity, especially for anyone living in a cold winter weather area. A bowl of warm soup is cold weather comfort food, and we have enough soup recipes here to keep you warm all winter long!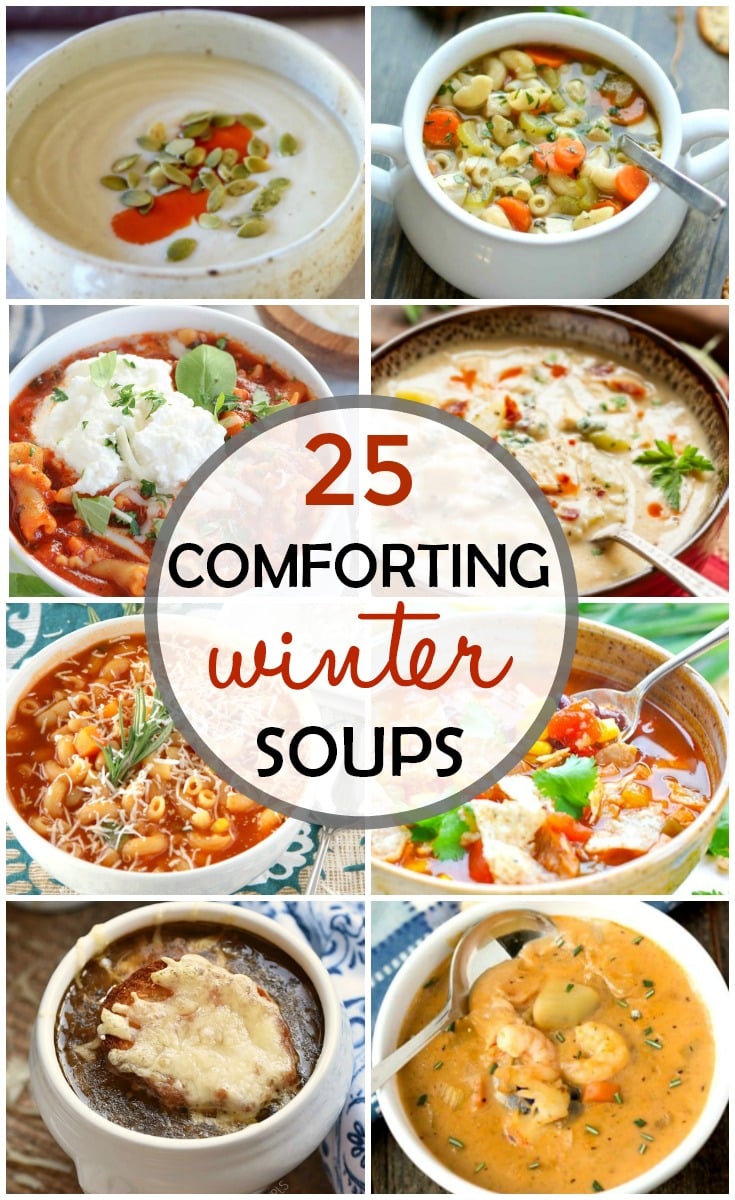 NEVER MISS A POST! FOLLOW ME ON:
Comforting Winter Soups
Have you ever wondered what the difference is between summer and winter soups? Other than the temperature of the soup itself, there isn't much difference between winter soups and summer soups. Take creamy mushroom soup, as an example; it's hearty, warm, and comforting on cold days, but still light enough that it's completely appropriate to enjoy in the summer too. On the other hand, there are thick chowders, chili, and stick-to-your-ribs soups and stews that will do nothing but weigh you down on a hot summer day. Those hearty and comforting winter soups are exactly what we're sharing with you today! To get the recipe for any of these winter soups, either click directly on the recipe photo, or on the link beneath the photo. If you want to save any of the winter soups to a Pinterest board, please click through to visit the site where the recipe is located and pin the recipe from there. OK. Who's ready for some cold weather comfort food? Here are some of our favorite winter soups!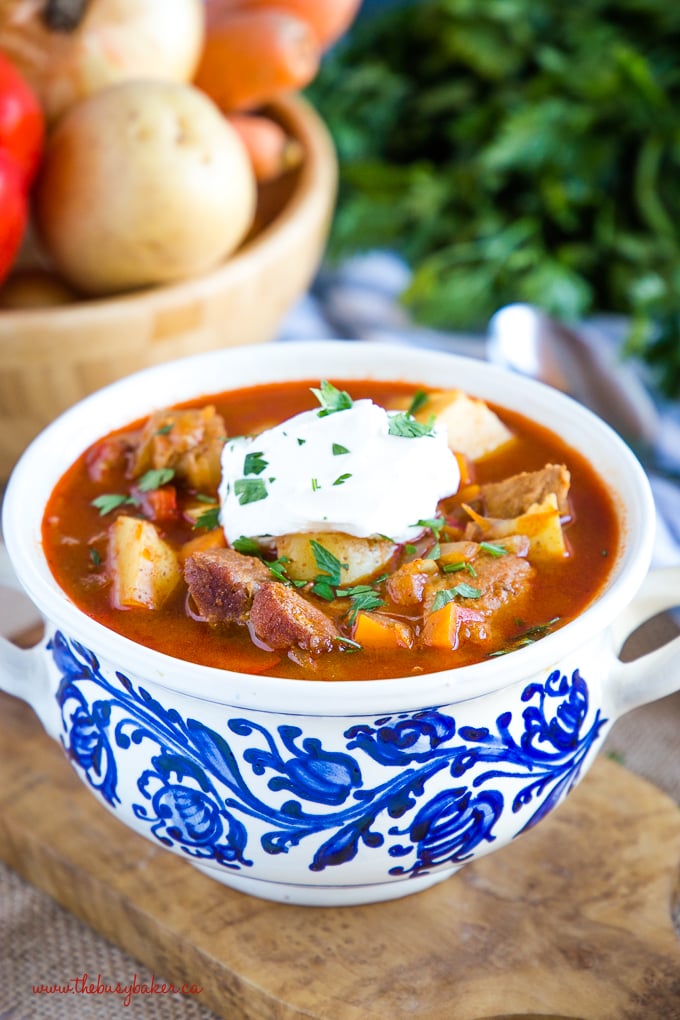 Homemade Hungarian Goulash Soup from The Busy Baker
This Goulash soup recipe is the perfect classic cold-weather soup. It's hearty, full of flavour, and so easy to make!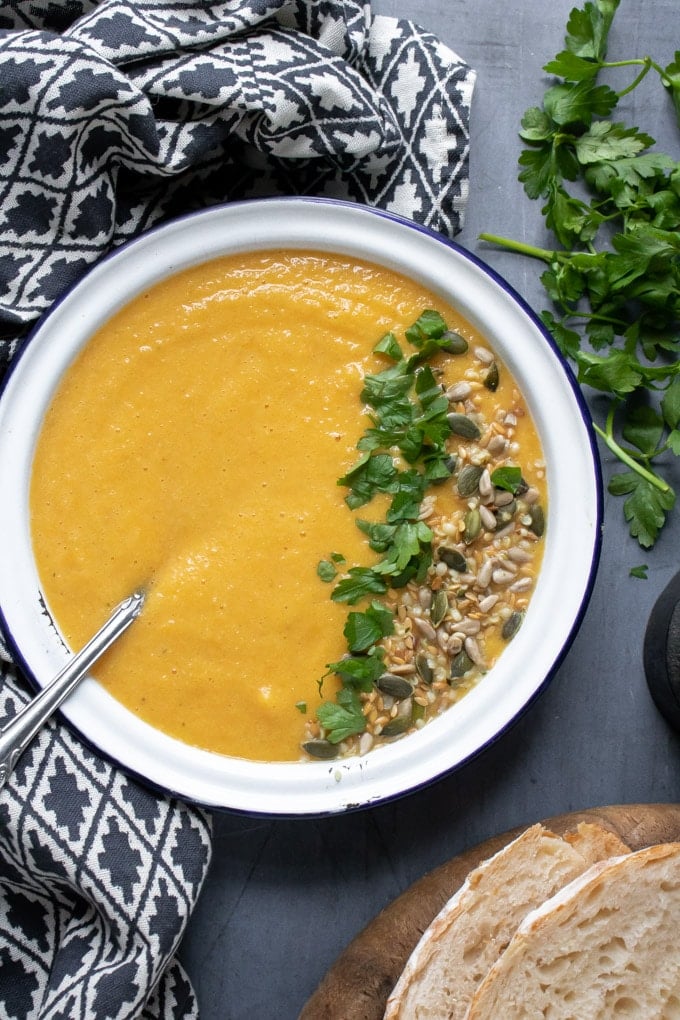 Vegan Lentil Soup from Veggie Desserts
This lentil soup is velvety smooth, creamy, nourishing and packed with protein! Ready in less than 25 minutes.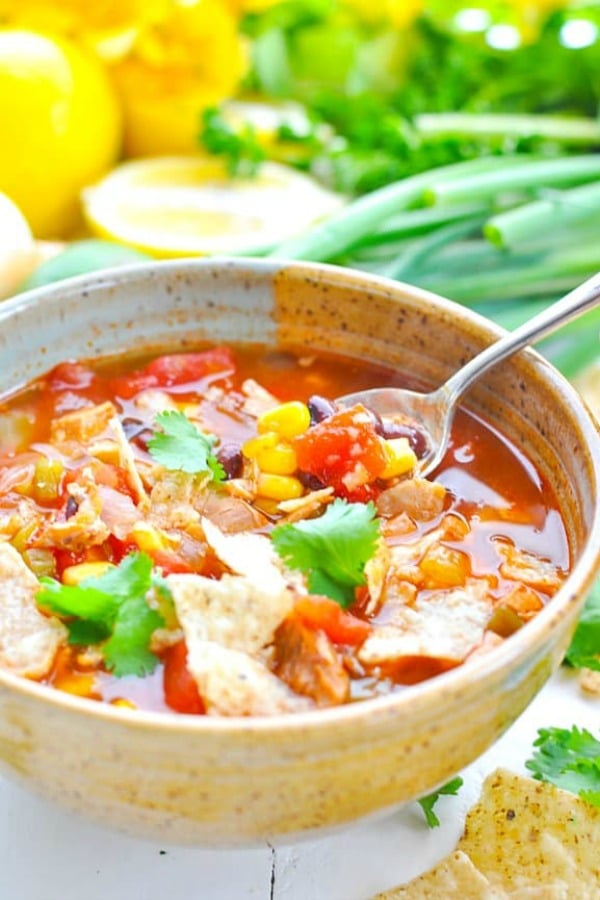 Easy Chicken Tortilla Soup (Instant Pot, Slow Cooker or Stovetop) from The Seasoned Mom
A bonus of this winter soup is that it can be prepared in an Instant Pot, a slow cooker, or on the stovetop! It's full of flavor, but it's also very healthy.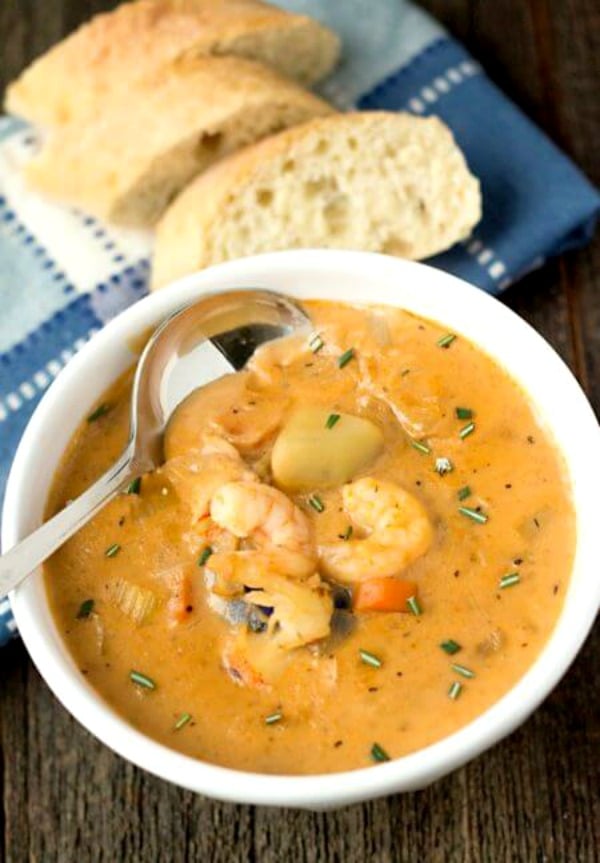 Creamy Seafood Chowder with Homemade Seafood Stock from It's Yummi
This hearty seafood chowder is one of those comforting winter soups that says, "I'll stick with you through the cold, Friend!"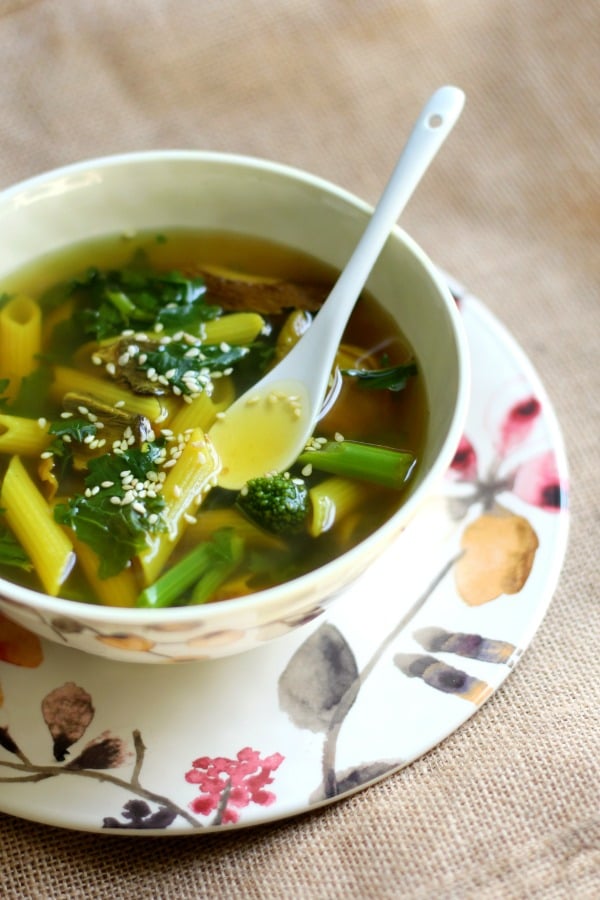 Tummy Healing Soup For One from Strength and Sunshine
When you're not feeling well, this Tummy Healing Soup will hit the spot and help cure whatever ails you're facing.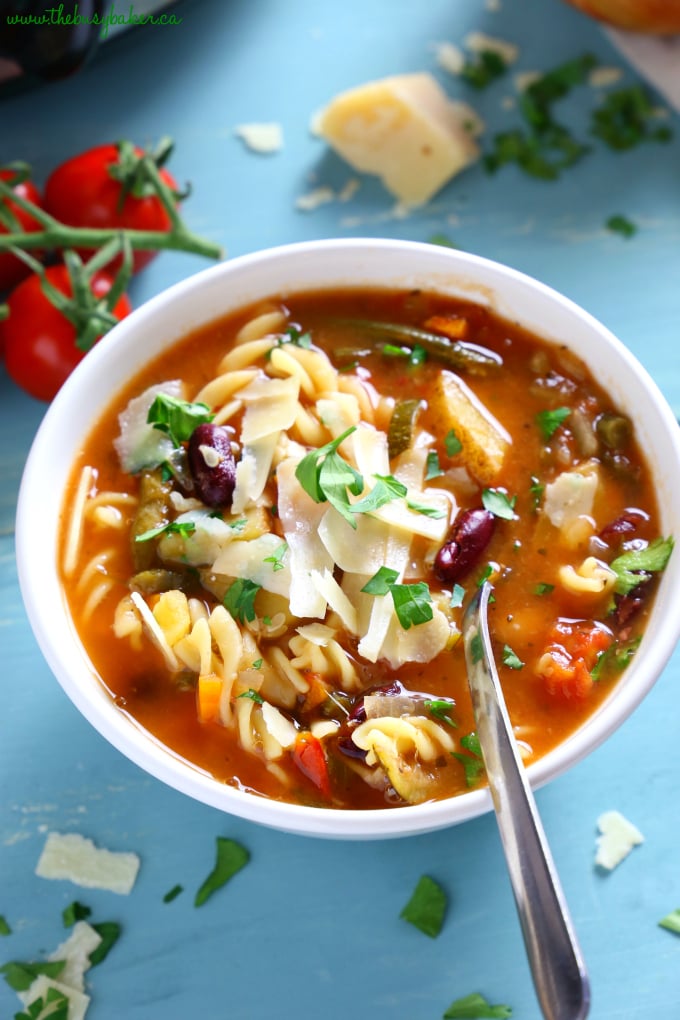 Slow Cooker Minestrone Soup from The Busy Baker
This delicious winter soup is thick, comforting, and packed full of vegetables! It's flavourful and easy to make, and it's the perfect way to warm up on a cold day!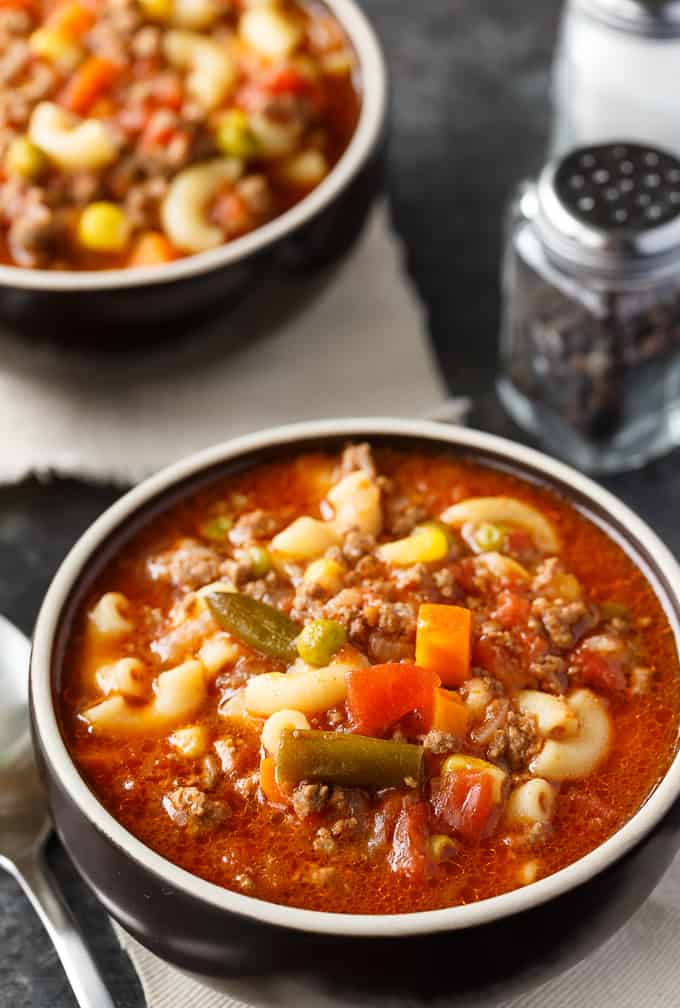 Busy Day Soup from Simply Stacie
This soup is a busy weeknight meal that practically cooks itself! Bake a batch of dinner rolls to sop up the goodness.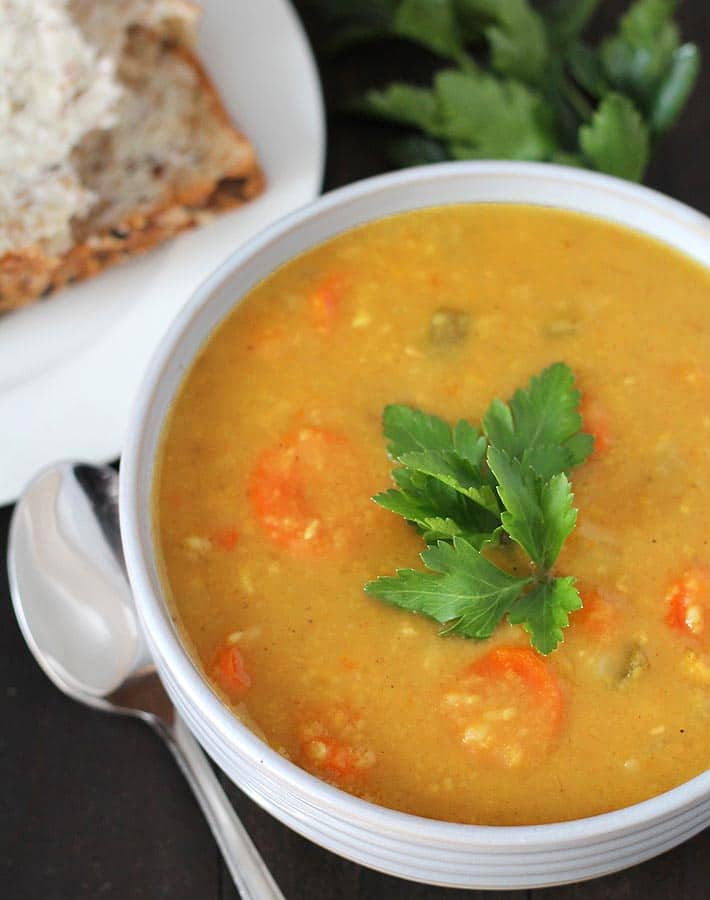 Curried Instant Pot Split Pea Soup from Delightful Adventures
This flavourful soup is perfect for lunch or dinner, and if you don't have an Instant Pot, don't worry! There are stovetop instructions included as well.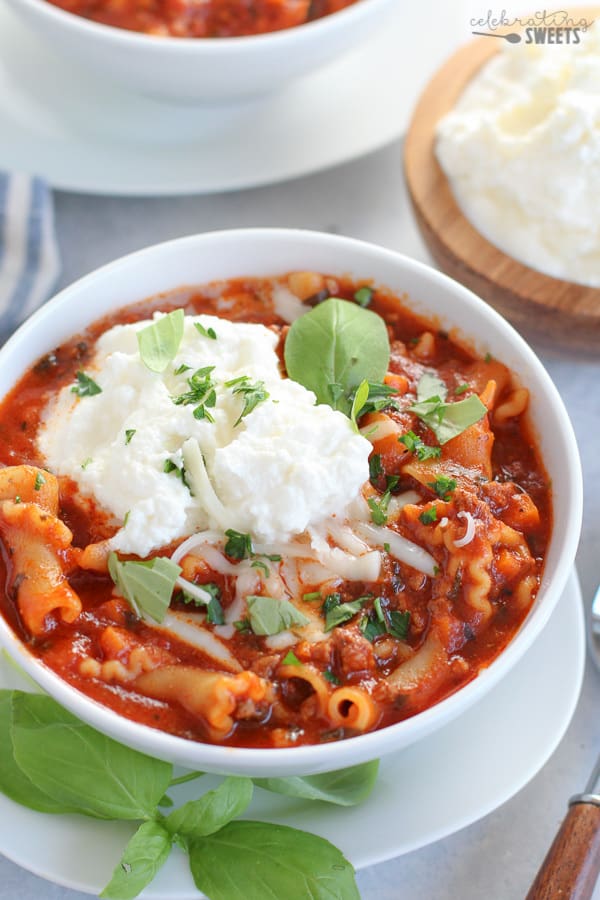 Lasagna Soup from Celebrating Sweets
Lasagna may be the best ever comfort food, but all of the labour involved in making it… UGH, who has the time?? This soup has all of the taste of the classic comfort food.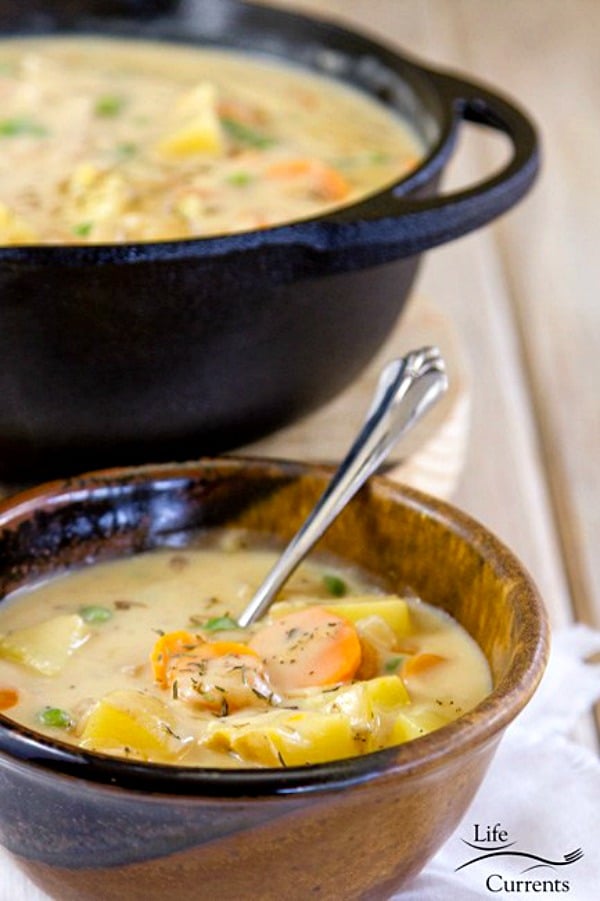 Mom's Vegetarian Pot Pie Soup from Life Currents
Nobody makes winter soups like mom, and pot pie? It's the PERFECT comfort food. Grab a spoon and dig into this goodness.
Vegan Ramen Noodle Soup from Glue & Glitter
This cozy bowl of ramen soup is ready to eat in about 30 minutes. It's packed with flavour and is the perfect supper when you're feeling under the weather.
Crockpot Potato Bacon Leek Soup from The Busy Baker
This winter soup is delicious, home-style comfort food at its finest – with a healthy twist! It's easy to make in your slow cooker and it makes a quick weeknight meal or lunch.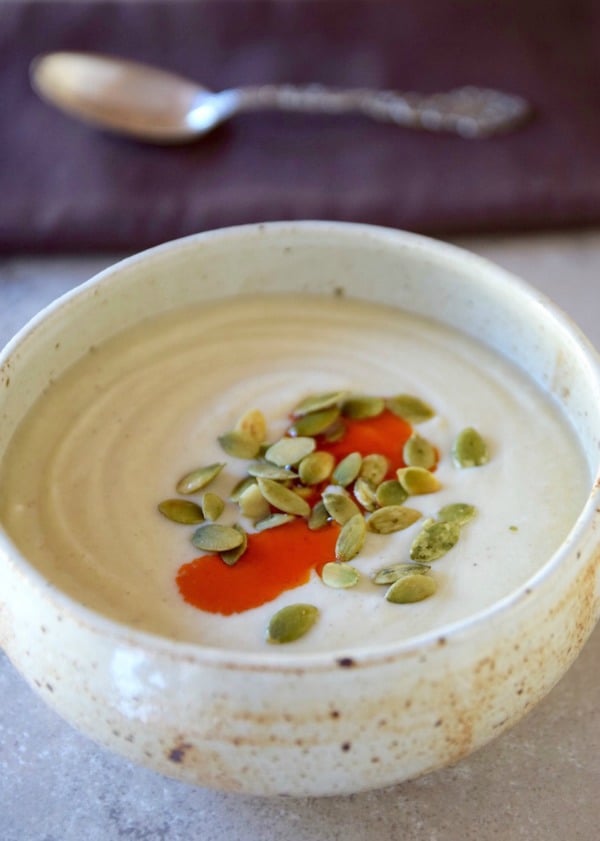 Roasted Cauliflower Soup with Chili Oil and Pumpkin Seeds from Tasting Page
Friendly PSA: Winter soups do not need meat to be considered comforting. This vegan cauliflower soup is proof positive that healthy food can also be delicious!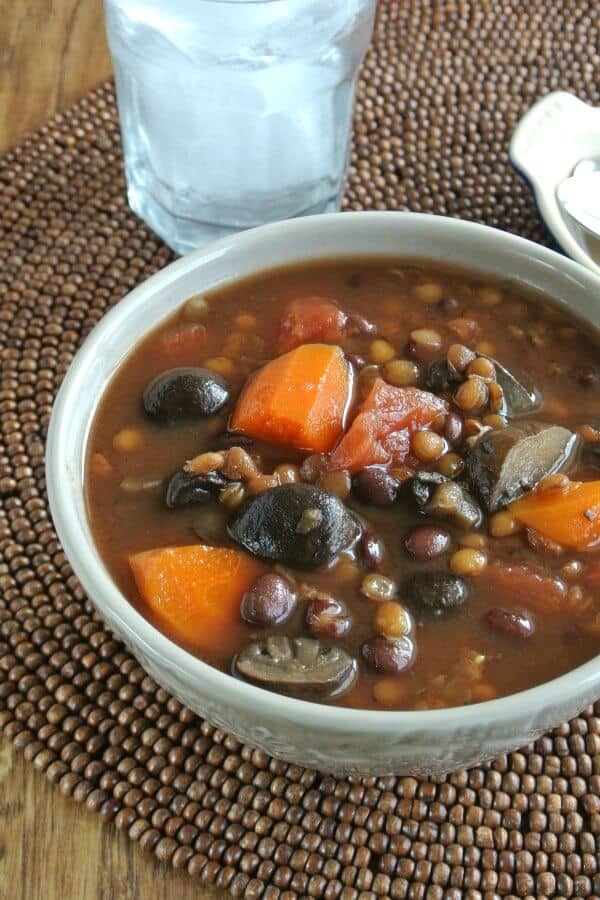 Slow Cooker Lentil Vegetable Soup from Vegan in the Freezer
Kick off your shoes and let your slow cooker make dinner tonight. This healthy soup is packed with protein and nutritious veggies!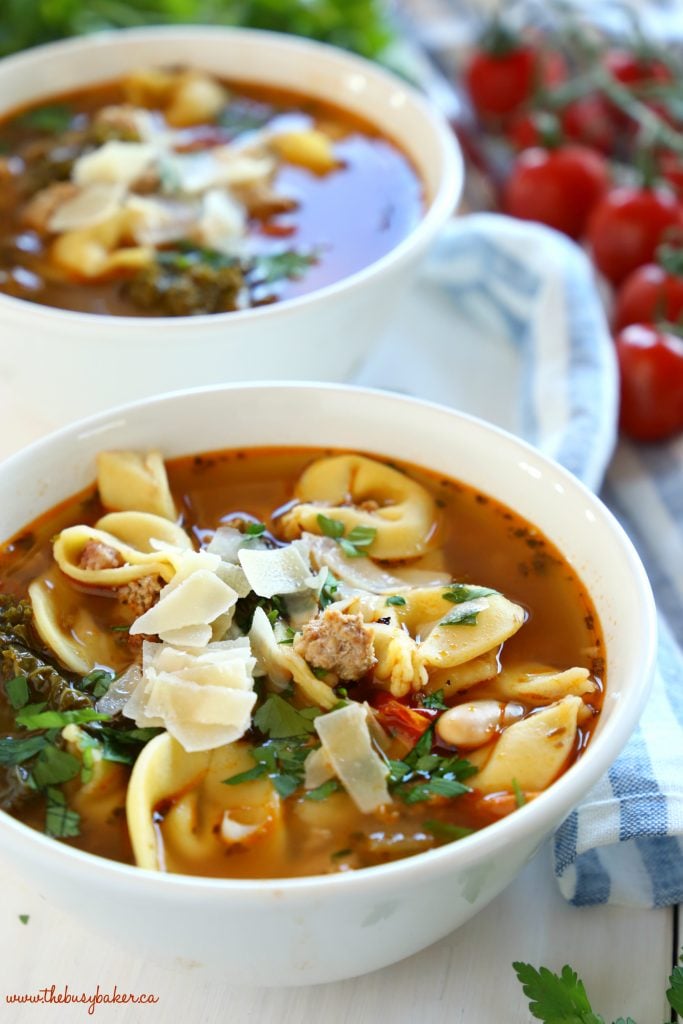 Italian Sausage Tortellini Soup from The Busy Baker
This rustic soup is packed with fresh, wholesome ingredients and bursting with Italian flavours. It's hearty, filling, and is so easy to make!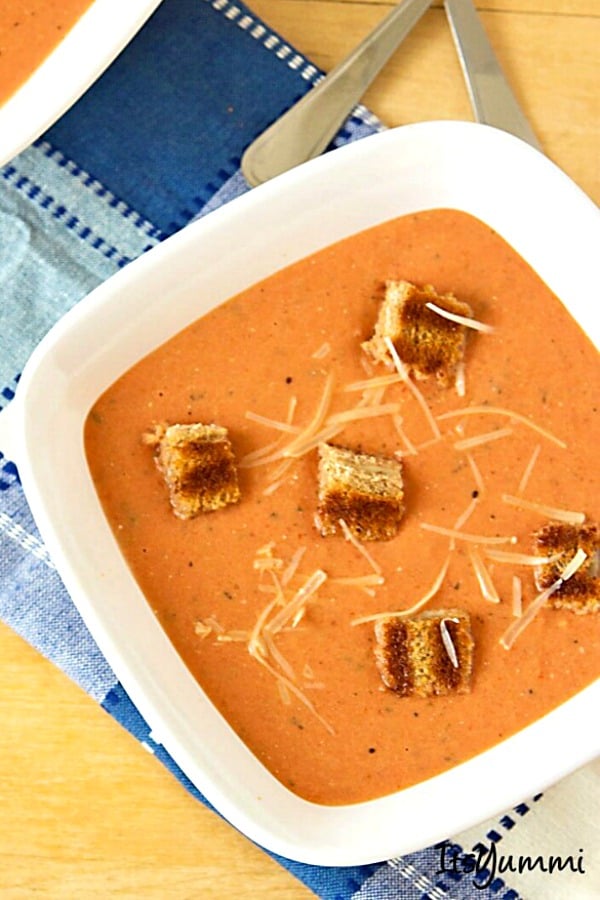 Creamy Tomato Soup with Grilled Cheese Croutons from It's Yummi
Show of hands: When it's cold outside, who craves grilled cheese sandwiches and tomato soup? This recipe combines them both into one delicious meal!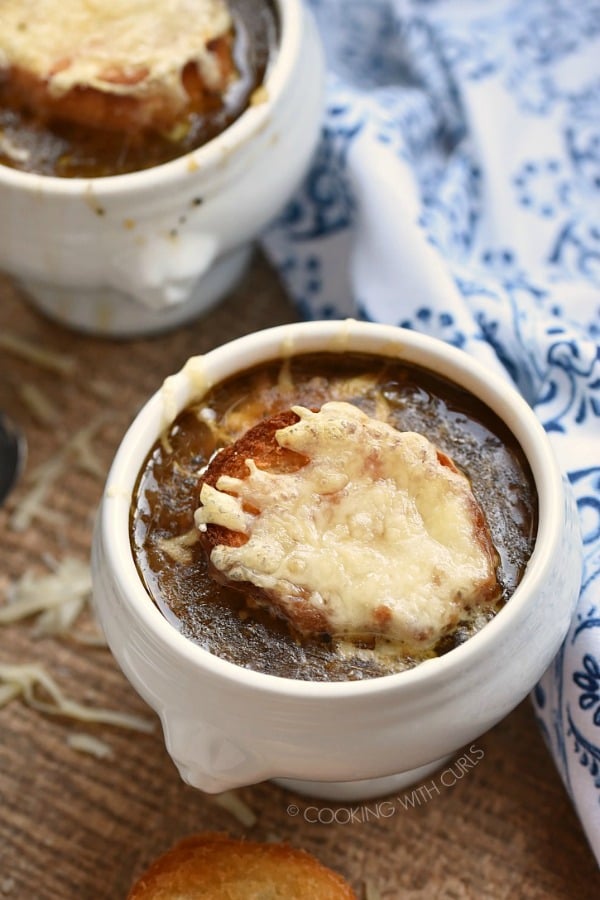 Instant Pot French Onion Soup from Cooking with Curls
French onion soup is one of the winter soups that will warm you up from the inside out. We'd like extra cheese on ours, please!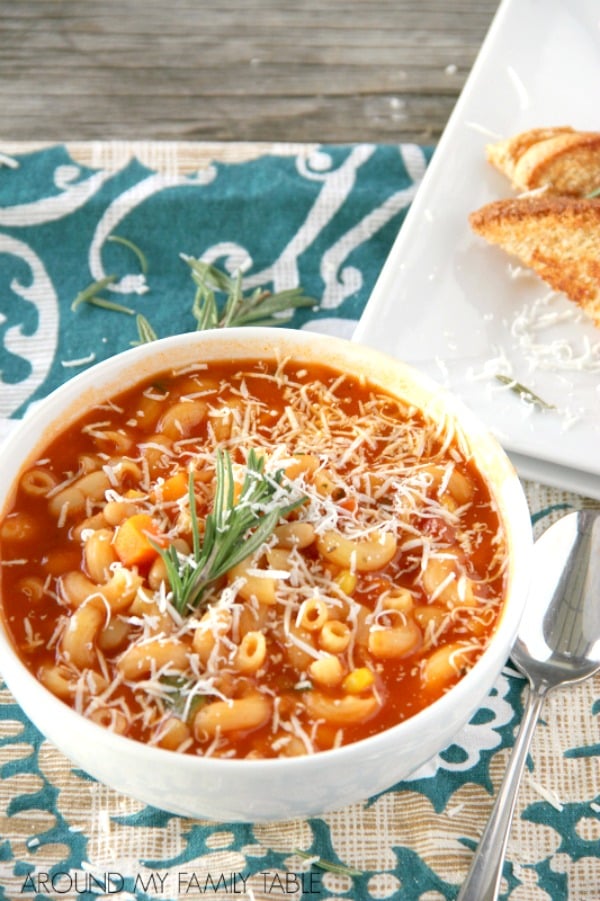 Tomato Noodle Soup from Around My Family Table
This comforting soup is a kid-friendly favourite! Rich, beefy tomato soup with corn and pasta. Mmm, mmm, good!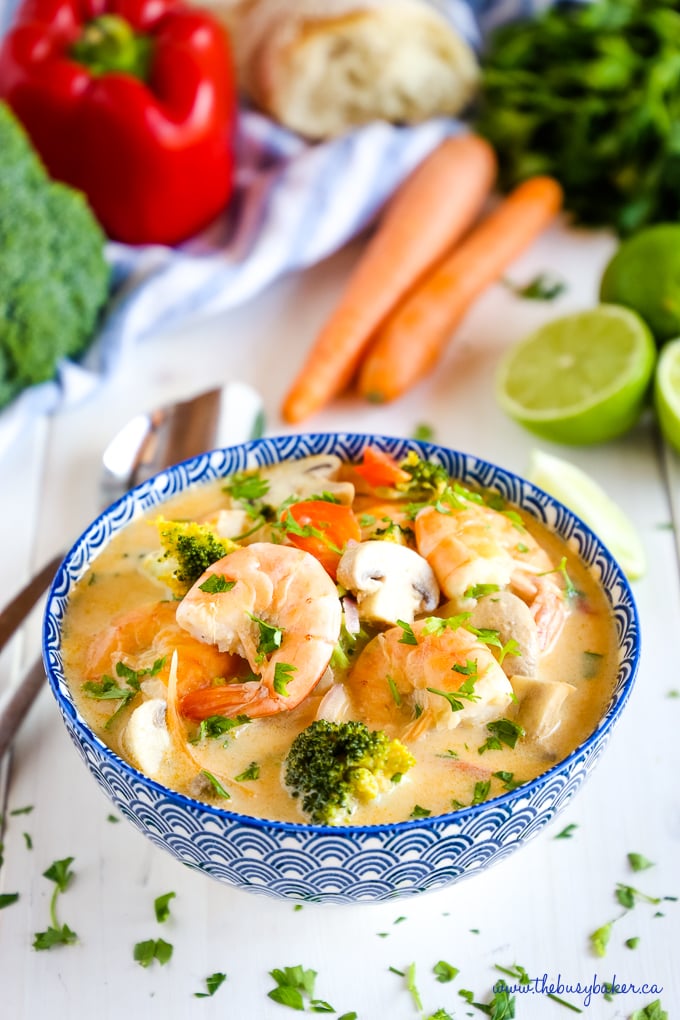 Thai Coconut Curry Shrimp Soup from The Busy Baker
This shrimp soup is packed with vegetables and bursting with Thai flavours! It's dairy-free and comes together in 30 minutes or less!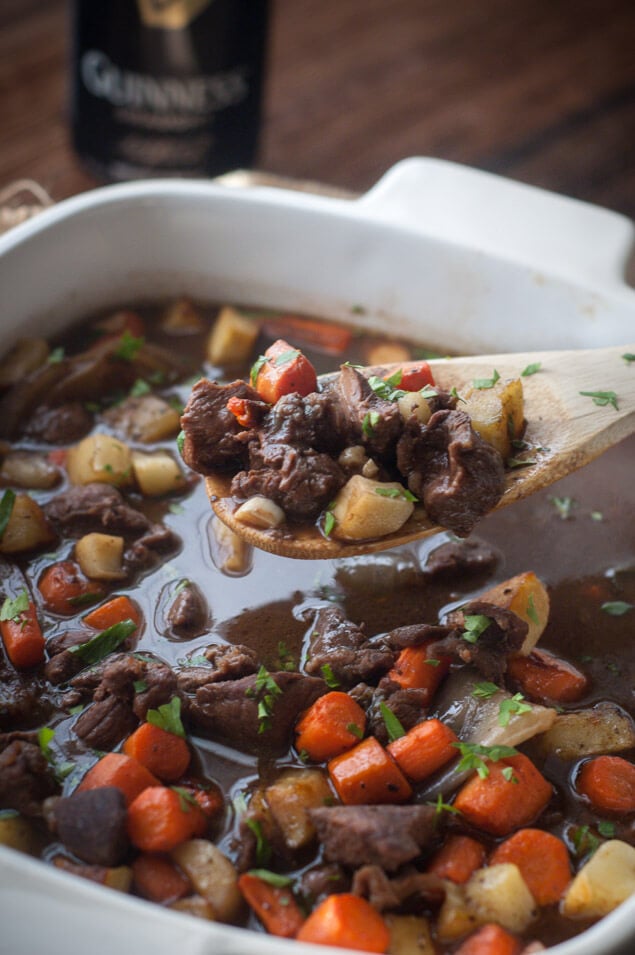 Slow Cooker Irish Beef Stew from The Adventure Bite
When it's cold and miserable outside, head in for a bowl of rich, beefy soup with tender carrots and potatoes. Just like mom's pot roast, but it's easier to make!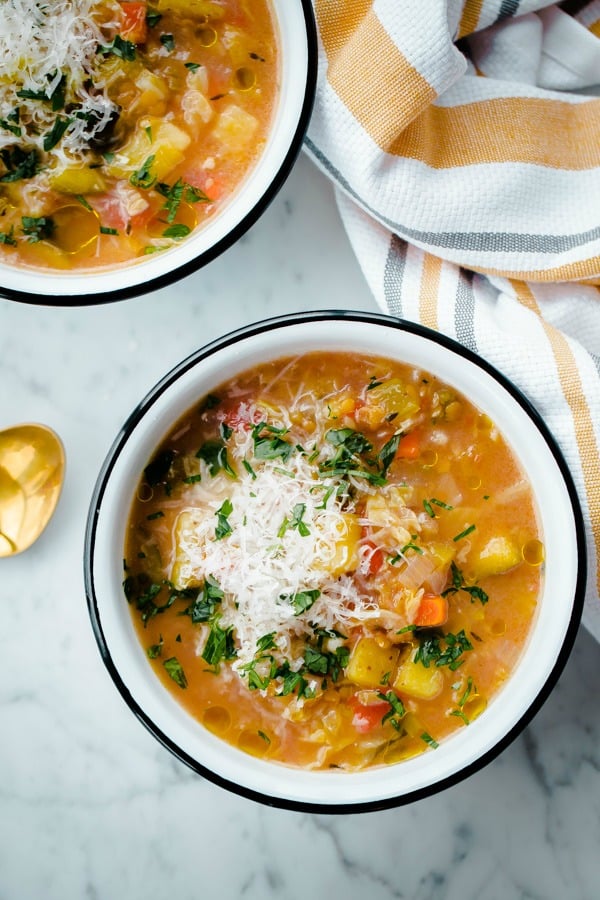 Slow Cooker Winter Vegetable Soup with Red Lentils from A Beautiful Plate
This healthy crockpot soup is packed with vegetables, red lentils, and finished with a drizzle of olive oil, chopped parsley, and Parmigiano-Reggiano cheese.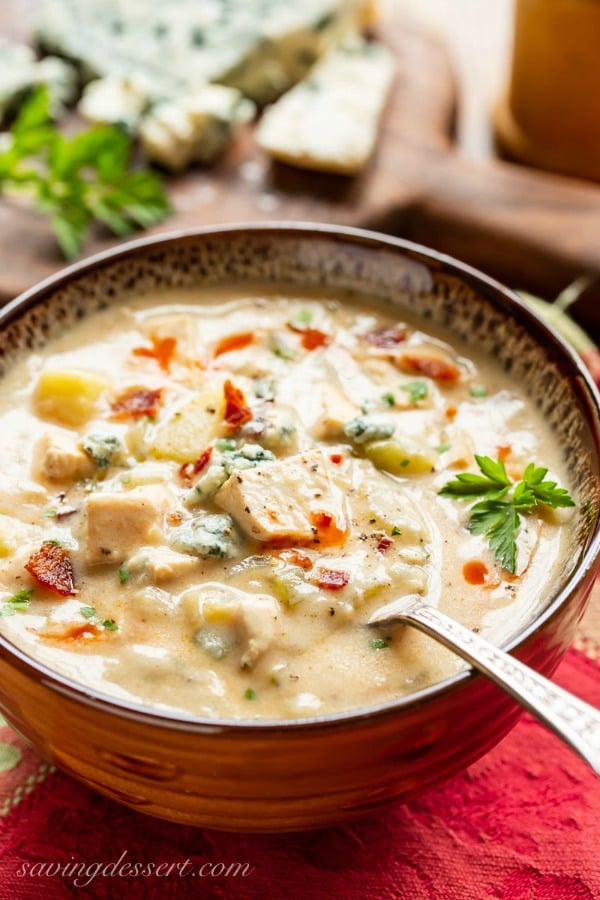 Buffalo Chicken Chowder from Saving Room for Dessert
This creamy chowder is filling, rich, flavorful and super comforting, making it a perfect choice on cold winter days.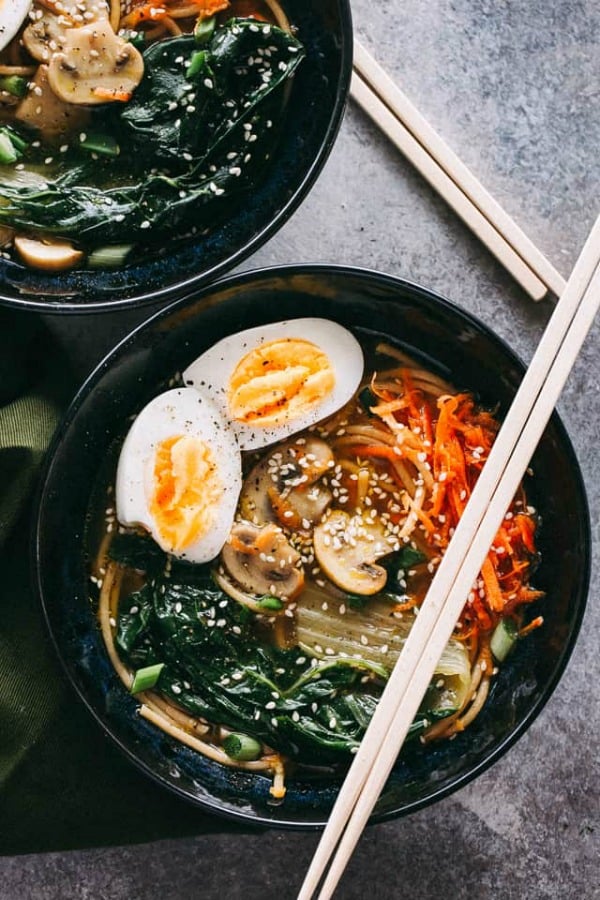 Soba Noodle Soup from Diethood
Simple and easy this 30-minute winter soup is prepared with mushrooms, noodles, and greens. Slurp!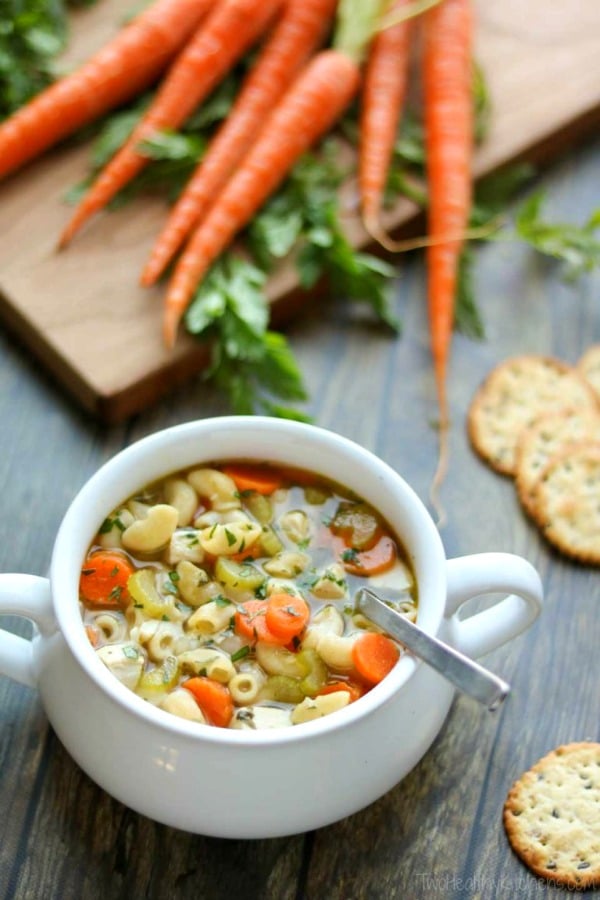 Quick and Easy Chicken Noodle Soup (made with Rotisserie Chicken) from Two Healthy Kitchens
When we're sick and laid up in bed on a cold day, is there anything more comforting than a bowl of chicken noodle soup? We don't think so!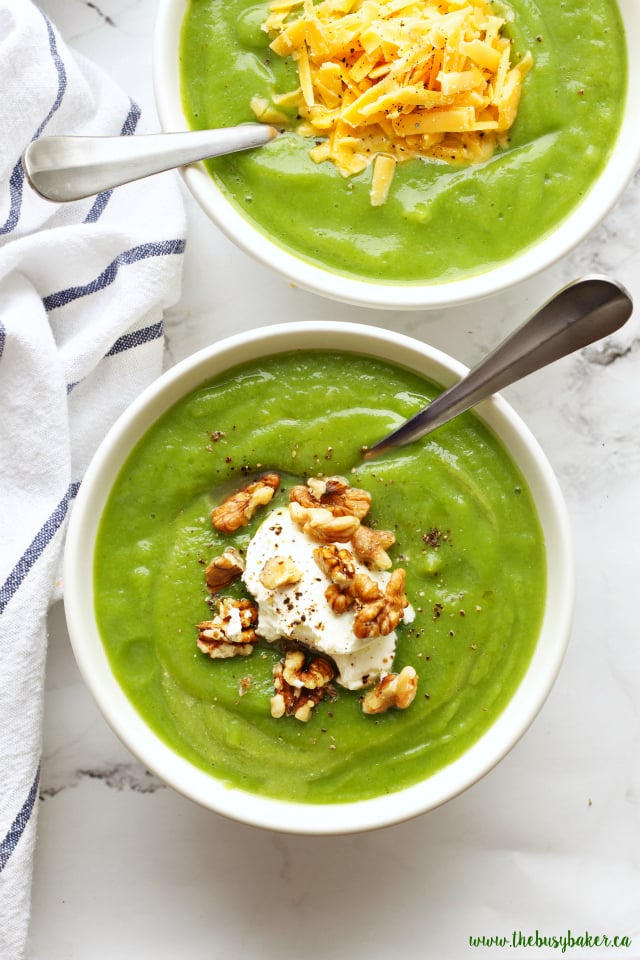 3-Ingredient Broccoli Soup from The Busy Baker
This soup is everything its title suggests: it's SUPER healthy, SUPER easy to make, and only calls for 3 simple ingredients, yet it's one of the most delicious, comforting winter soups.
NEVER MISS A POST! FOLLOW ME ON: