This Crock Pot Vegetarian Chili is a staple recipe in our family! It's a super easy healthy chili recipe – just dump all the ingredients in your slow cooker, set it and forget it, and in a few hours you'll have a delicious meal to warm you up from the inside out!
NEVER MISS A POST! FOLLOW ME ON:
Can you believe we're more than halfway through January 2017 already?? It feels like it was just a few days ago that we were watching the New Years fireworks and enjoying the prospect of a fresh new year. I don't know about you, but our first few weeks of 2017 have been good but full of challenges. We just can't seem to shake whatever this silly virus is and it just keeps hanging on in the form of a cough we just can't quite seem to get rid of!
I've been doing my best to continue with life as normal, playing outside in the gorgeous winter weather with the kids and trying to enjoy winter while it's here. But I'm finding myself more tired than I usually am as my body fights this cold and I'm using it as an excuse to pull out my slow cooker as many days of the week as I possibly can. And to drink tea. Lots of tea!!
I used to have a love-hate relationship with my Crock-Pot and so for several years I hardly used it and it sat collecting dust in the bottom of my kitchen cupboard – quite frankly I don't know what I was thinking…I'd just had a baby, I was completely exhausted, and I wasn't using pretty much the best kitchen tool ever invented!! Needless to say, my Crock-Pot and I are now on speaking terms again and I don't quite know what I would do without it these days!!
I love trying new recipes in the slow cooker and adapting my favourite stove-top recipes into slow cooker versions to save myself some time and headache on those busy days. I've made different versions of this Crock Pot Vegetarian Chili for years and this latest version is by far my absolute favourite one yet! It's so easy to throw together and the flavours are amazing. And it's so chunky and meaty you won't even miss the meat!
I'm not a huge fan of kidney beans, and I absolutely adore white beans of all kinds so that's why I didn't include kidney beans in this Crock Pot Vegetarian Chili recipe. But feel free to swap out the white beans for kidney beans if you prefer, and even add other beans if you desire; black beans would be delicious in this chili, and even a couple handfuls of chopped sweet potato would be amazing (just be sure to add a little extra vegetable stock in that case!). The possibilities really are endless!
One of our favourite ways to enjoy this chili is by itself, but I've also shared another amazing idea that you've GOT to try!! These Vegetarian Chili-Stuffed Sweet Potatoes make a delicious meal any night of the week and they're my kids' favourite way to enjoy this Crock Pot Vegetarian Chili!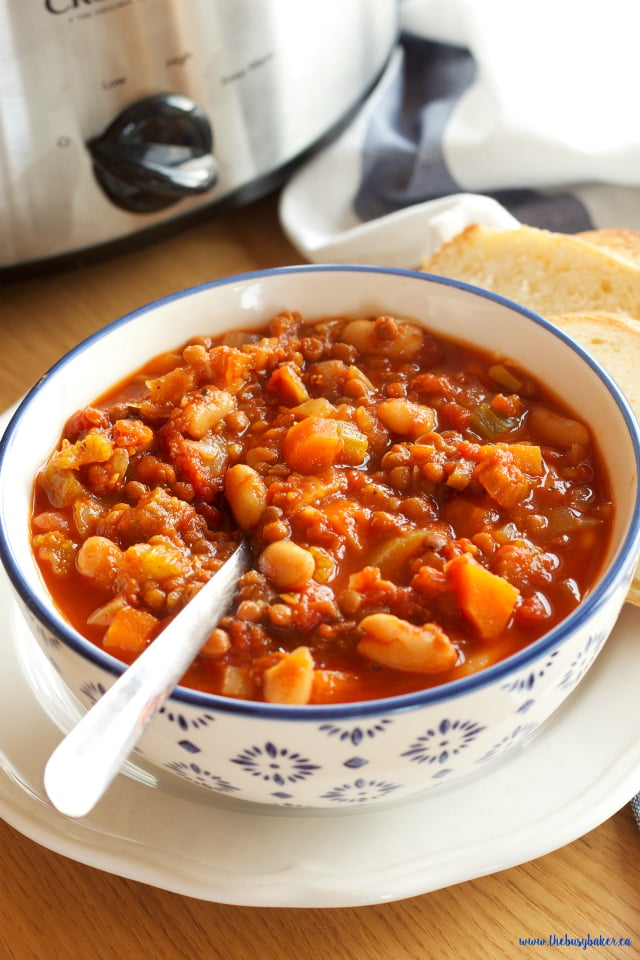 NEVER MISS A POST! FOLLOW ME ON:
I hope you enjoy this recipe! Let me know in the comments below if you'd like to see more Crock Pot recipes on thebusybaker.ca!
Looking for more delicious and healthy soups like this? Try these:
Save Save Save Save