This elderflower syrup recipe makes a sweet floral base for creating delicious drinks and desserts. Make this recipe for a taste of summer!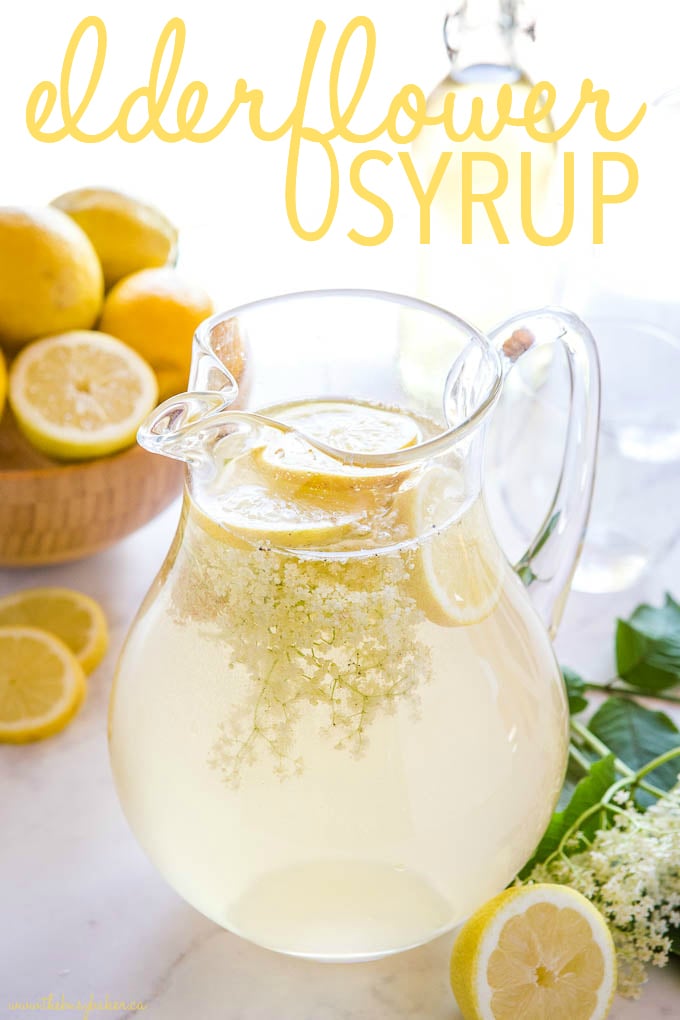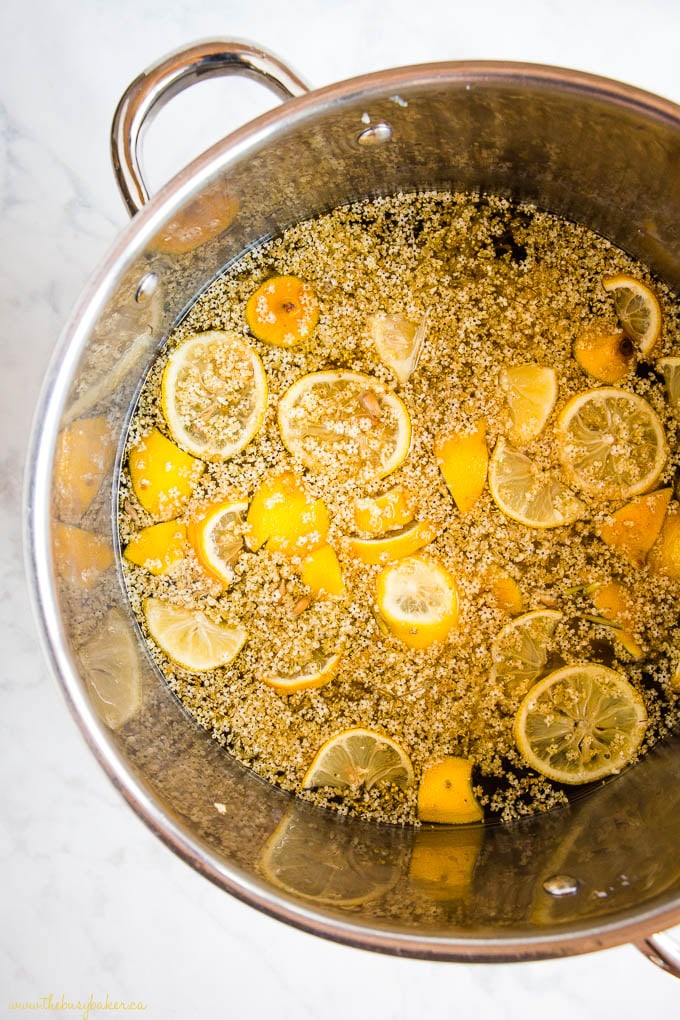 Delicately floral and citrusy, elderflower syrup is perfect for making an elderflower cordial, an elderflower cocktail, baked goods, and more! While you can buy it at specialty food and natural food stores, why would you if you can make it yourself!? It's fun to make with this easy elderflower syrup recipe. And, it's nice to have on hand whenever you want to use it in your favourite recipes and drinks. This floral syrup is more common in Europe than in North America. In Germany it's called Holunderblütensirup or Holundersirup.
In Romania, where we live, it's known by several names: Sirop de Soc, Suc de Soc, and even Socata when it's been fermented. Whatever you call it, if you've ever wanted to bottle summer to enjoy year-round, this is the recipe for you! In the late spring/early summer it's an absolute staple you'll find in so many European kitchens. Here in Romania, Sirop de Soc or Elderflower Syrup is a very popular drink syrup made from brewing lemons and elderflower blossoms in a homemade simple syrup. It makes a delicious Elderflower Cocktail or Elderflower Cordial, and we just know you're going to LOVE it!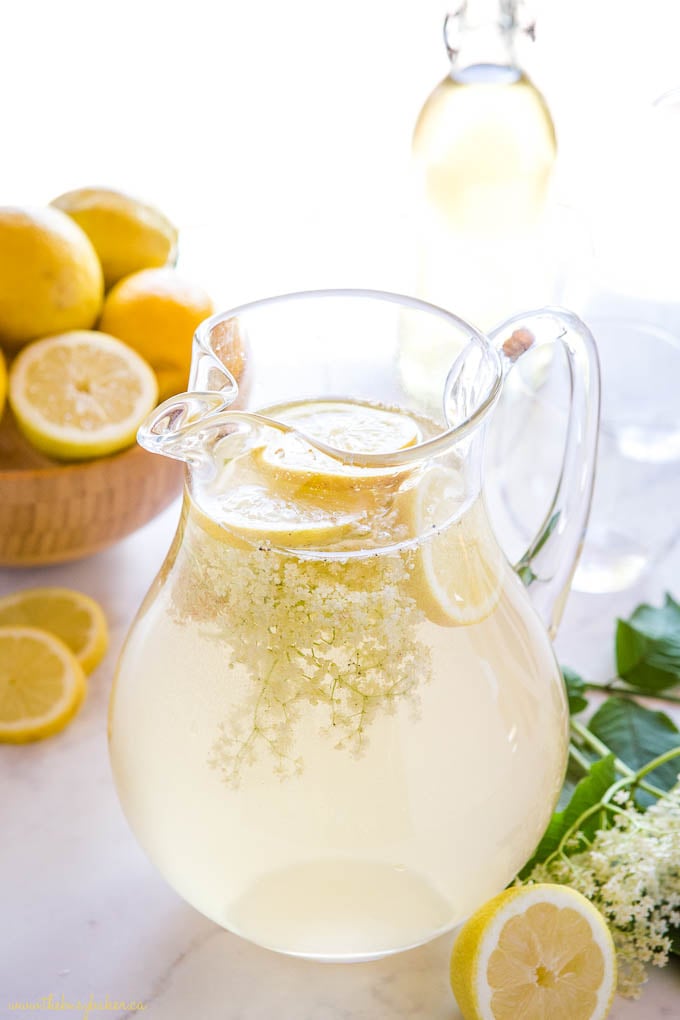 Elderflowers are the fragrant, tiny, star-shaped white flowers that grow on Elder trees and bushes. They grow wild throughout North America, Europe, Asia, and Australia. However, it's also possible to cultivate them in your own backyard! If you don't like foraging, consider planting a few cuttings — they're also beautiful landscape plants. Elder cuttings are available to purchase online and at many plant nurseries. And, while fresh flowers aren't always available everywhere, dried elderflower is easy to find online. Used in traditional medicine for centuries, these delicate little flowers also have high culinary value.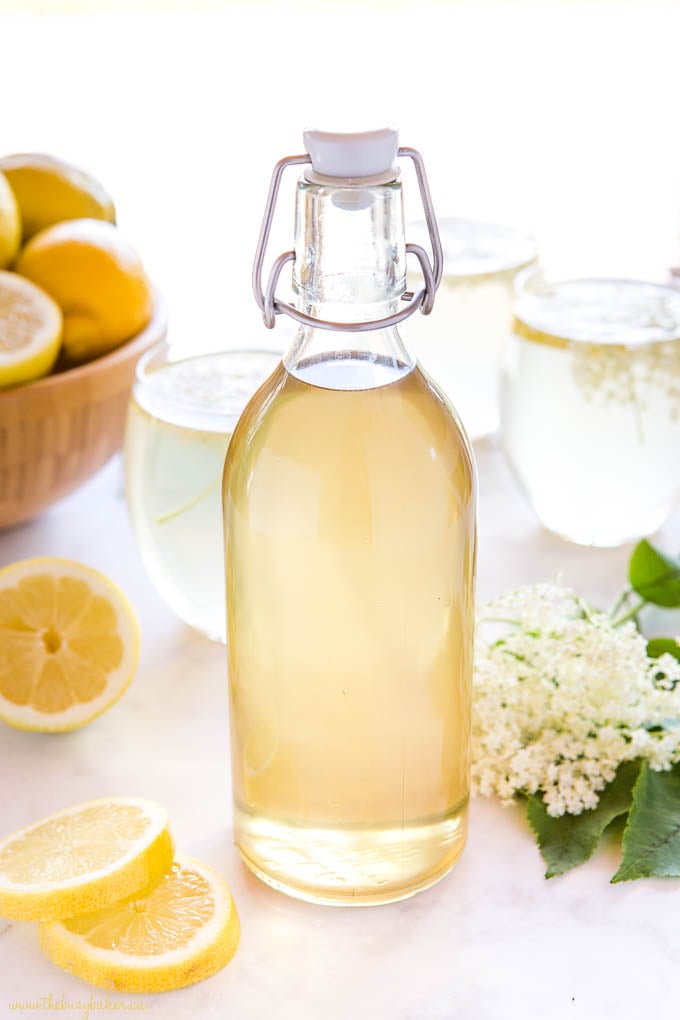 These beautiful blooms have a delicate floral taste with a hint of fruity citrus. Many people say they taste like summer! However, don't eat them raw! In their raw state the flowers (and resulting berries) are slightly toxic. On the other hand, cooking or preserving them neutralizes the toxicity. The leaves, bark, and stems of the plant are also toxic and should not be consumed. When preparing the flowers for this recipe, cut as much of the stem away from the large cluster of flowers as possible.
If you're lucky enough to have these shrubs growing wild in your area (or garden) you can gather your own fresh flowers. If the elderberry shrubs you want to harvest blossoms from are on public land, ask someone if foraging is allowed. Elders often grow on the side of the road. Consequently, those flowers are usually near exhaust fumes. It's best to harvest elderflowers from an area away from vehicle traffic. Only take a few bunches from each shrub. This ensures plenty of berries will form later on in the summer. Look for recently opened blooms that are fresh and white or creamy white in colour. Also, avoid blooms with browning edges. Using scissors or gardening snips, cut the stem of the blossom bunch just below where it meets the main stem. After that, inspect for insects or debris and give a gentle shake to dislodge any that may be in the flowers. Finally, don't wash or rinse the flowers. This removes the pollen (and most of the flavour).

To make this elderflower syrup recipe you'll need (affiliate links):
To make this homemade syrup recipe, you'll need these ingredients:
water
granulated sugar
lemons
elderflower blossoms
citric acid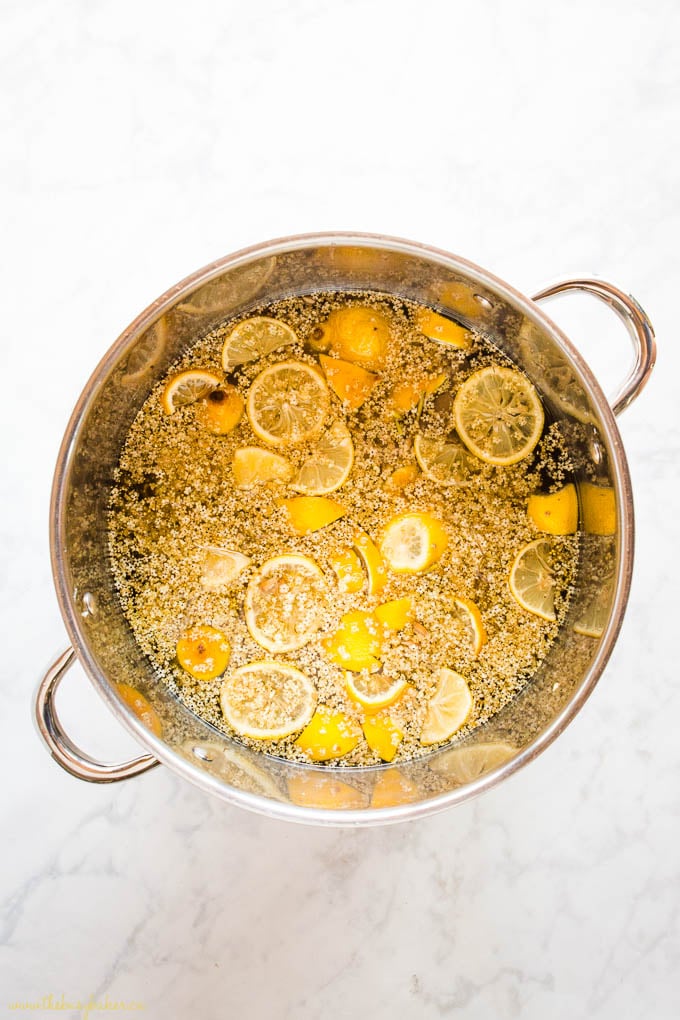 Time needed: 2 days and 10 minutes
While it's a simple process, making the syrup will take a couple of days, so plan ahead.
Create a simple syrup.

First, make a simple syrup of sugar, water, citric acid, and lemons.

Add sugar syrup to flowers.

Next, pour the hot syrup over elderflower blossoms. Stir well to combine.

Steep the mixture.

Cover and let the mixture sit for 48 hours. Meanwhile, stir the mixture a couple of times each day.

Strain and bottle the syrup.

Finally, strain the mixture using a fine mesh strainer lined with cheesecloth.

Serve.

Make an elderflower cocktail or elderflower cordial by mixing the syrup to taste with water or sparkling water. Serve with lemon slices.
The result? A beautiful, clear, yellowish syrup ready to use in your favourite recipes. This elderflower syrup recipe can also be preserved for longer shelf life. Just follow safe and proper canning procedures. Store unopened bottles of syrup in a cool, dark place. Preserving this way ensures the syrup remains shelf-stable for up to 1 year. Once opened, store in the refrigerator and consume within 2-3 weeks.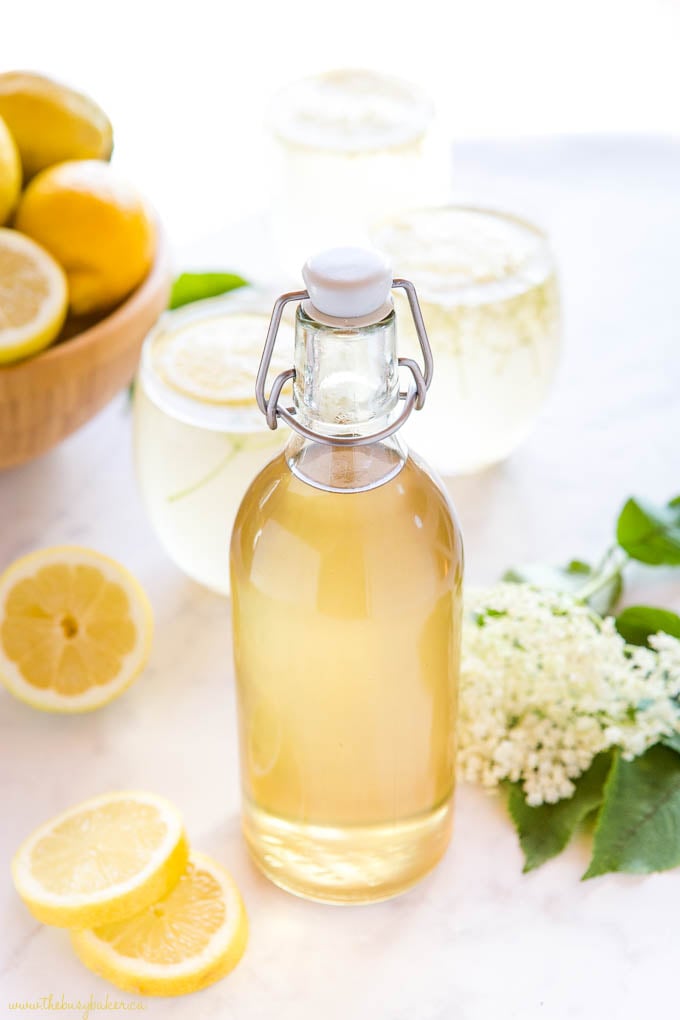 This simple elderflower syrup recipe is a lovely and welcome addition to many drinks and other treats. From beverages to baking, here are a few ways to use it!
Add to sparkling water for a sweetened, fizzy drink or elderflower cordial
Combine with Prosecco or champagne for an elegant elderflower cocktail party drink
Sweeten hot or iced tea with it
Give a floral boost to fresh lemonade
Infuse a lovely floral flavor into whipped cream or buttercream frosting
Use in muffins, scones, cakes, etc.
Make ice pops for hot summer days
Add floral notes to ice cream
Anywhere you'd like the floral flavour of summer is perfect for using this easy elderflower syrup. Keep it on hand to enjoy the taste of summer year round or give as a thoughtful gift to family and friends. I like to serve pretty summer beverages like this in these stemless wine glasses (in the photo below) because they're just so classy and beautiful (affiliate link)! And they're pretty inexpensive too!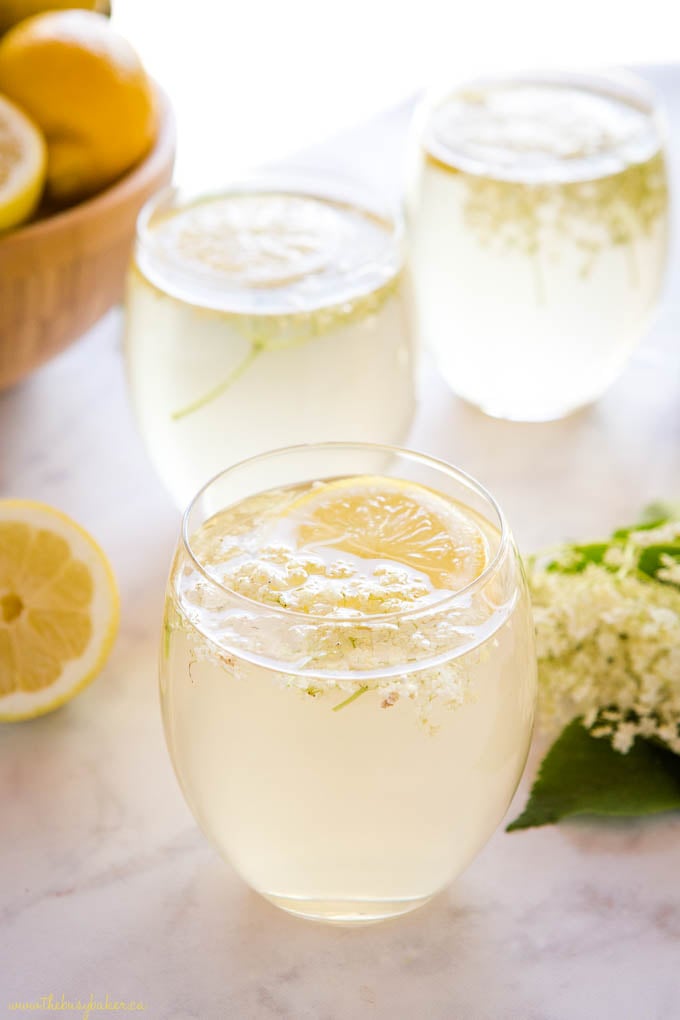 What is elderflower syrup good for?

Elderflower syrup is good for making homemade drinks, cocktails and cordials.
What is elderflower syrup made of?

Elderflower syrup is made from simple syrup, lemons, and elderflower blossoms.
What does elderflower taste like?

Elderflower has a very sweet, floral taste that's a little bit tropical and somewhat similar to pears.
Is there alcohol in elderflower syrup?

There is no alcohol in elderflower syrup if made according to the recipe.
Is elderflower syrup sweet?

Elderflower syrup is surprisingly sweet. It makes a delicious sweet drink when mixed with regular or sparkling water.
Does elderflower syrup go bad?

Yes, elderflower syrup can go bad if it's not stored properly in the refrigerator in a jar or other airtight container, or if it's kept at room temperature and not properly canned and sealed according to food-safe rules.
How long does elderflower syrup last?

Elderflower syrup lasts for about 2-3 weeks in the refrigerator. When canned using the proper canning process it can be shelf stable for up to one year.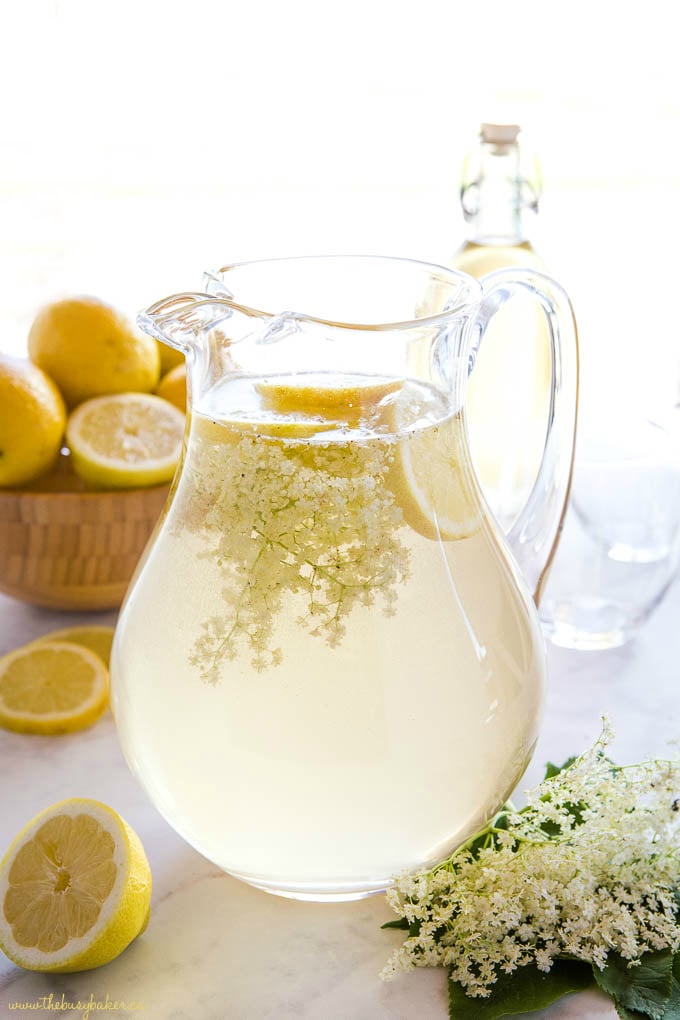 I hope you love this elderflower syrup recipe as much as we do! Let me know in the comments below, what's your favourite homemade drink for summer? I'd love to know!
If you made this, share a photo!
Are you trying this recipe? Use the comment form below to share your take; now with support for image uploads and comment voting!
Share a photo
Homemade Elderflower Syrup Recipe
This elderflower syrup recipe makes a sweet floral base for creating delicious drinks and desserts. Make this recipe for a taste of summer!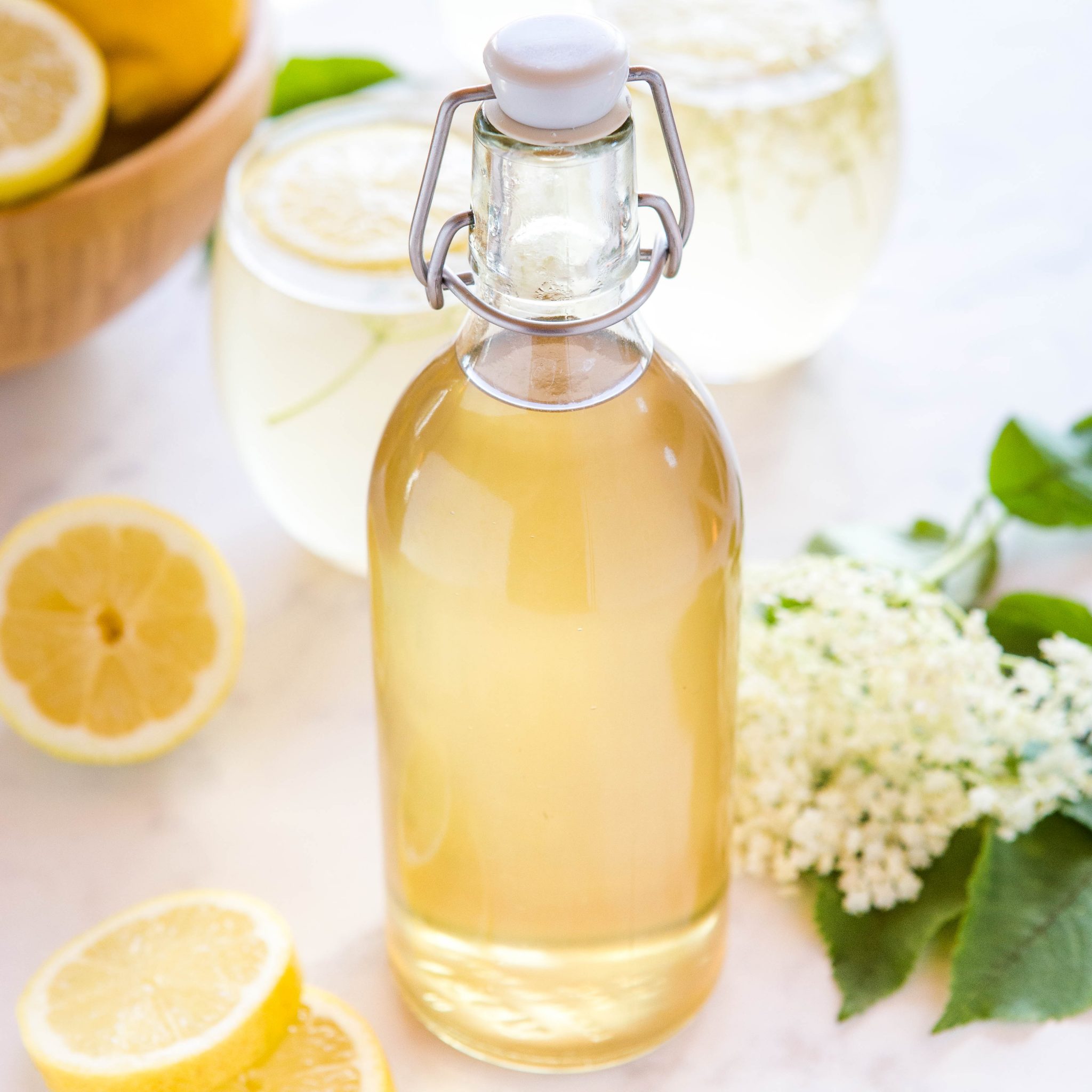 Recipe:

Ingredients
2

lemons

sliced or cut into chunks

15

Elderflower Blossoms

leaves and stems removed as much as possible

1

kilogram

granulated sugar

(approx. 5 cups)

1

liter

water

(approx. 4 cups)

20

grams

citric acid

(approx. one rounded tablespoon)
Recipe:

Instructions
Add the lemon slices and elderflower blossoms to a large heat-safe pot or large jar with a lid that's at least 2 litres (8 cups) in size.

In a separate pot, add the sugar, water and citric acid and let the mixture come just to a boil (make sure all the sugar has dissolved).

Pour the sugar syrup slowly over the lemons and elderflower blossoms and stir well to combine.

Let the mixture come to room temperature and cover with a lid (make sure the lid is airtight, so use plastic wrap if necessary).

Let the mixture sit for 48 hours, stirring a couple of times each day.

After 48 hours, strain the mixture through a strainer and cheesecloth to remove any impurities. You'll be left with a clean-looking syrup that's slightly yellow in colour.

Add this syrup to a pot and bring it to a boil. Turn the heat down so the mixture sits at a low boil for about 10 minutes.

Add the hot syrup to prepared jars or bottles for canning (this syrup is shelf-stable if proper canning procedures are followed), or store in an airtight container in the fridge for up to 2 months.
To serve:
Mix with still or sparkling water at a syrup to water ratio of 1:8 (about 1/2 cup/120 ml of syrup for every 4 cups/1 litre of water)
Recipe:

Notes

This recipe yields about 4 to 5 cups of syrup.

To serve, add about 1/2 cup of syrup for every 4 cups of water and adjust to your taste.

The nutrition information for this recipe is for approximately 1/4 cup of syrup (when mixed with 2 cups water).

This syrup can be preserved and shelf-stable for up to one year if proper canning procedures are followed.
Recipe:

Nutrition

Nutrition Facts

Homemade Elderflower Syrup Recipe

Amount Per Serving (0.25 cups)

Calories 200

Calories from Fat 9

% Daily Value*

Fat 1g2%

Sodium 3mg0%

Potassium 15mg0%

Carbohydrates 51g17%

Protein 1g2%

Vitamin C 6mg7%

Calcium 4mg0%

Iron 1mg6%

* Percent Daily Values are based on a 2000 calorie diet.

Notice: Nutrition is auto-calculated, using Spoonacular, for your convenience. Where relevant, we recommend using your own nutrition calculations.