This Healthy Lemonade recipe is a delicious homemade all-natural summer drink that's free of refined sugars & made with only 3 simple ingredients!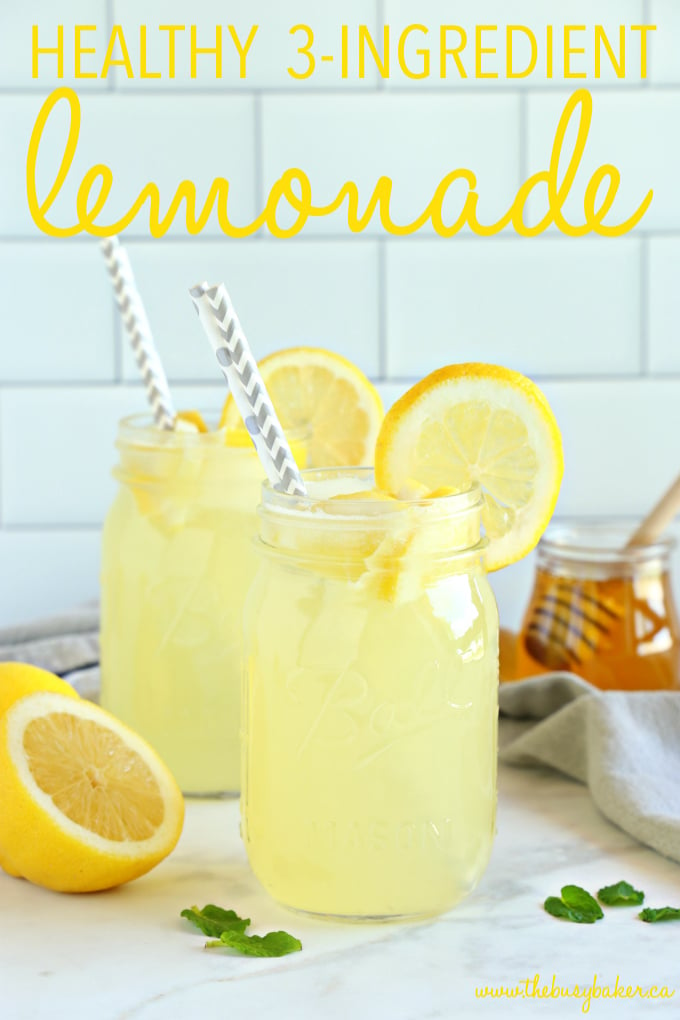 If there's one drink that's quintessentially summer, it's lemonade. Here in Europe, outdoor cafes are packed all summer long with tourists and locals drinking fresh, homemade lemonade and this Healthy Lemonade recipe is just as good (if not better!) than any street-side lemonade you'll find.
It's made with only 3 basic ingredients, it's sweetened with honey so it's free of refined sugar, and it's easy to make in minutes on a hot summer day. It's perfect for adults and kids and it's ultra refreshing – trust us, it'll become your new favourite summer drink too!!
When life gives you lemons, making lemonade is DEFINITELY the way to go! Lemons are not only bursting with so much delicious flavour, but they're also packed with Vitamin C and antioxidants, making them a healthy choice.
Staying hydrated is very important in the summer, and a refreshing glass of healthy lemonade can be a delicious way to give your body the fluids it needs for a hot summer day.
And when it comes to sweetening your lemonade, honey is a great choice. It's a liquid sweetener, so it dissolves easily in liquid, and it adds a lot more flavour than sugar. It also contains nourishing properties and health benefits that sugar doesn't, and because honey tastes sweeter than sugar you'll probably find yourself adding less honey than you would sugar to your lemonade, simply because honey has so much more flavour.
Looking for more?
EASY HEALTHY SUMMER ENTERTAINING RECIPES AND COOKING & BAKING TIPS
Get my easy healthy summer entertaining e-cookbook!
Click here to learn more!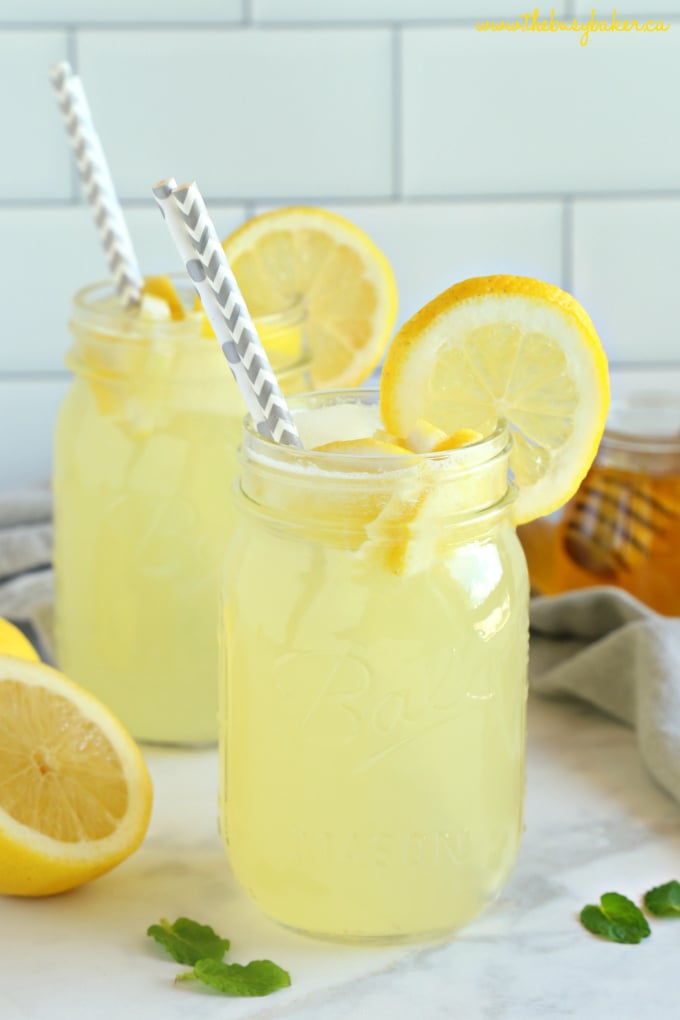 Here are the kitchen items you'll need to make healthy homemade lemonade (affiliate links):
To make this super easy and healthy homemade lemonade recipe, you'll need these ingredients:
water
fresh lemons
honey
ice and lemon slices for serving (optional)
Strawberry: Add a handful of fresh strawberries to your lemonade and blend them together for a refreshing twist. The natural sweetness of strawberries complements the tartness of lemons, creating a delightful flavour combination. Try our Healthy Strawberry Lemonade recipe!
Mint: Infuse your lemonade with a handful of fresh mint leaves. The cool, invigorating taste of mint adds a burst of freshness to your drink, making it a perfect choice for hot summer days.
Spicy Ginger: Grate some fresh ginger and add it to your lemonade for a zingy and spicy twist. Ginger not only adds a pleasant heat but also provides potential digestive benefits, making this variation both flavourful and soothing.
Pomegranate: Add a splash of pomegranate juice and some pomegranate seeds to your lemonade mixture for a delicious pomegranate lemonade! Try our Healthy Pomegranate Lemonade recipe!
Blueberry: Toss in a handful of juicy blueberries to your lemonade and watch it transform into a vibrant, purple-hued beverage. Blueberries bring their natural sweetness and a dose of antioxidants to the mix, creating a visually appealing and healthy drink. Try our Healthy Blueberry Lemonade Recipe!
Pineapple: Add chunks of fresh pineapple to your lemonade to transport yourself to a tropical paradise. The tropical sweetness of pineapple pairs beautifully with the tang of lemons, resulting in a sunny and exotic drink for summer.
Watermelon: Add a few chunks of watermelon into your lemonade mixture for a delicious and fruity watermelon lemonade. Trust us, the kids in your life will LOVE this one!
Raspberry: Drop a handful of ripe raspberries into your lemonade and give it a gentle stir. The vibrant pink colour and the burst of tangy sweetness from raspberries make this variation a crowd-pleaser. For an extra fizzy touch, top it off with some sparkling water. Try our Healthy Raspberry Lemonade recipe!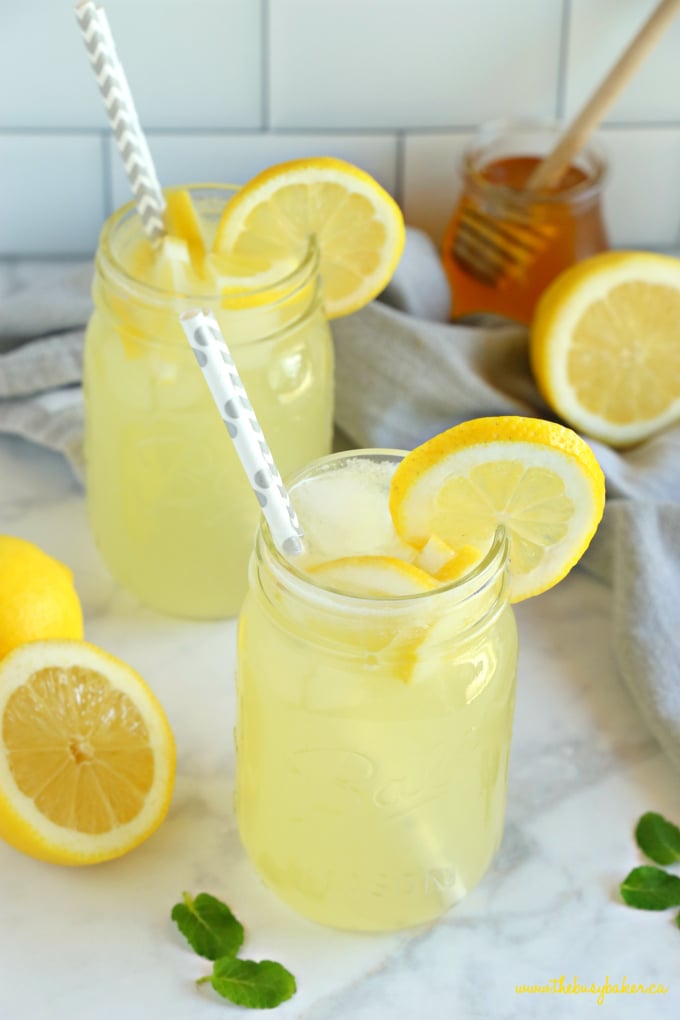 Time needed: 10 minutes
Follow these steps to make this homemade lemonade recipe, the healthy way!
Squeeze the lemons for fresh juice.

Squeezing real lemons will give you so much more flavour than bottle lemon juice. Be sure the lemons are fresh and roll them on a hard surface before slicing and squeezing to get as much juice as you can.

Blend the lemon juice and honey.

Use your blender to blend the honey and lemon juice together. This will make a kind-of syrup that will mix well with the water to create the lemonade.

Stir together with water or sparkling water.

Stir the honey and lemon mixture together with cold water or cold sparkling water, if you prefer sparkling lemonade.

Serve over ice.

Fill your glasses with ice, pour the lemonade and serve.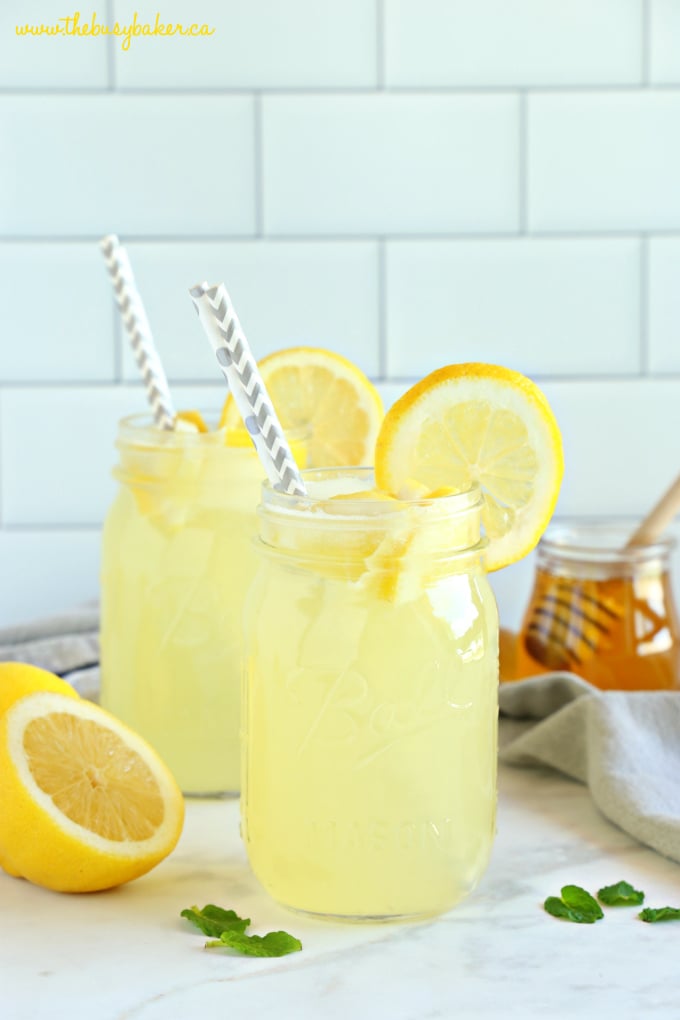 Can I use bottled lemon juice for homemade lemonade?

While fresh lemon juice is better, you can use bottled lemon juice if fresh lemons are not available. Just make sure to choose a high-quality brand without any additives or preservatives or added sugar. Keep in mind that bottled lemon juice may have a slightly different taste compared to freshly squeezed.
What is the best ratio of lemons to water for lemonade?

We recommend a ratio of 1 part lemon juice to 4 parts water. You can adjust the proportions based on how tart or diluted you prefer your lemonade.
How can I make my lemonade healthier?

Consider using natural sweeteners like honey, maple syrup, or stevia instead of refined sugar. You can also experiment with adding fruit like berries or watermelon for some added sweetness.
Can I make lemonade without sugar?

Yes, you can make lemonade without sugar by using alternative sweeteners like honey, agave syrup, or stevia. These options provide sweetness without the refined sugar content. Adjust the amount of sweetener according to your taste preference.
How long does homemade lemonade last?

We recommend drinking this lemonade within one week, as long as it's stored in the fridge in an airtight container.
I hope you love this Healthy Lemonade recipe as much as we do! Let me know in the comments below, what's your favourite homemade summer drink? I'd love to know!
Watch the video below to see exactly how we make this recipe. You can find many more deliciously simple recipe videos on our YouTube channel!
If you made this, share a photo!
Are you trying this recipe? Use the comment form below to share your take; now with support for image uploads and comment voting!
Share a photo
Healthy Lemonade
You'll only need 3 basic ingredients to make this refreshing Healthy Lemonade recipe! It's all natural, free of refined sugars, and easy to make in minutes!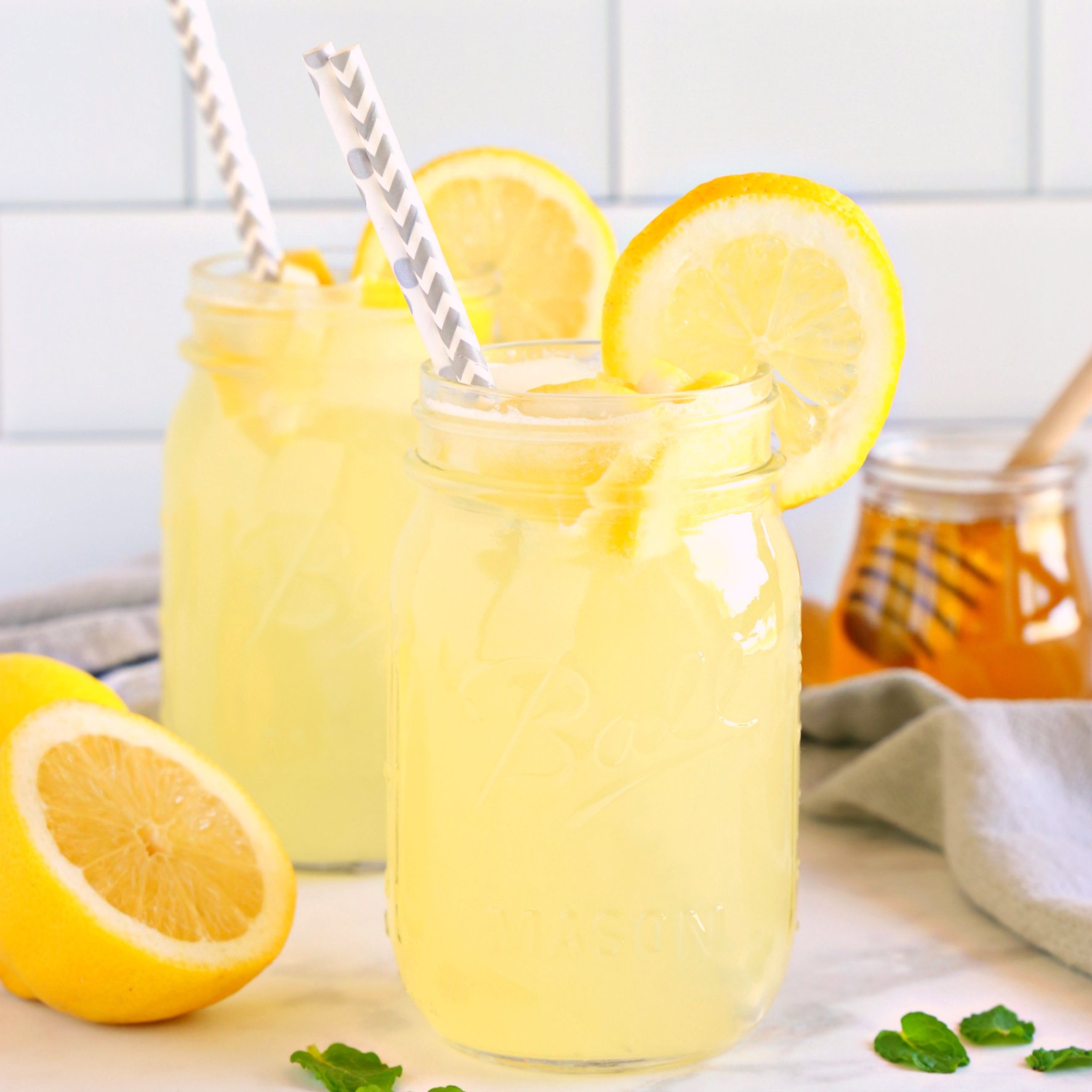 Recipe:

Ingredients
5

fresh lemons

1/3

cup

honey

or other vegan honey substitute

4

cups

cold water (or sparkling water if desired)

ice and lemon wedges for serving
Recipe:

Instructions
Juice the lemons and add the juice to a blender along with the honey.

Blend the lemon juice and honey until smooth.

Add the lemon juice and honey mixture to a jug along with the water and stir well.

Add ice and lemon wedges, and serve.
Recipe:

Notes
Storage Instructions
Store this lemonade in the fridge in a jug or airtight container for up to one week.
Recipe:

Nutrition

Nutrition Facts

Healthy Lemonade

Amount Per Serving (1 cup)

Calories 125

Calories from Fat 9

% Daily Value*

Fat 1g2%

Sodium 4mg0%

Potassium 201mg6%

Carbohydrates 36g12%

Protein 2g4%

Vitamin A 30IU1%

Vitamin C 72mg87%

Calcium 35mg4%

Iron 1mg6%

* Percent Daily Values are based on a 2000 calorie diet.

Notice: Nutrition is auto-calculated, using Spoonacular, for your convenience. Where relevant, we recommend using your own nutrition calculations.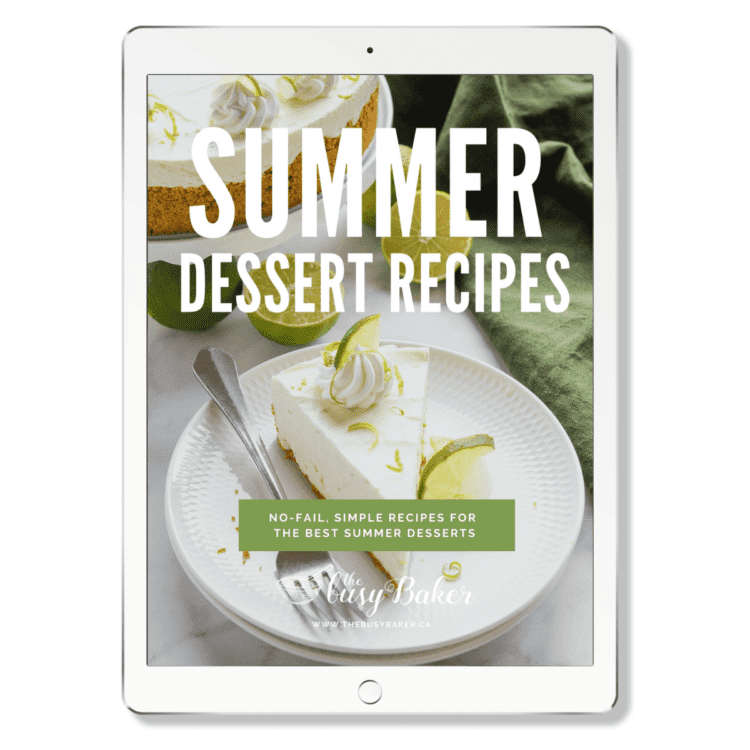 Looking for more?
EASY AND DELICIOUS SUMMER DESSERT RECIPES YOU'LL LOVE!
Get my no-fail summer dessert recipes e-cookbook!
Click here to learn more!