This breakfast casserole is a healthy twist on an old family favourite, because sometimes you just need some egg and cheese goodness in the morning!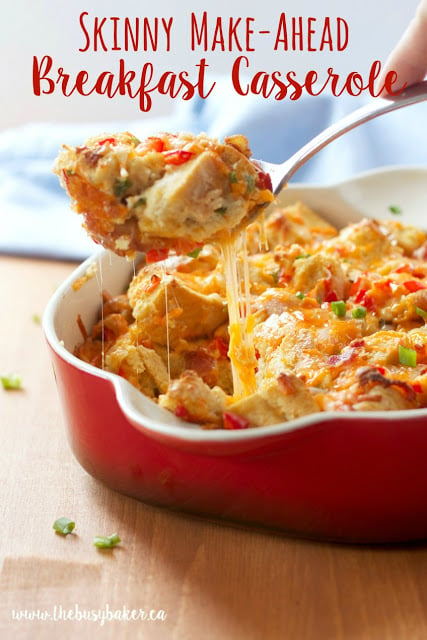 Hungry for more?
Breakfast has always been my favourite meal of the day and lately I've loved sharing all my favourite breakfast recipes with you, like these Pomegranate Granola Parfaits or this Mango Citrus Smoothie Bowl! This breakfast casserole is a departure from the sweet breakfast recipes I've been posting lately. It's deliciously savoury and full of eggs and cheese, and the best part? It's easy to throw together the night before so there's no fussing the next morning! And really, who wouldn't want to wake up to this?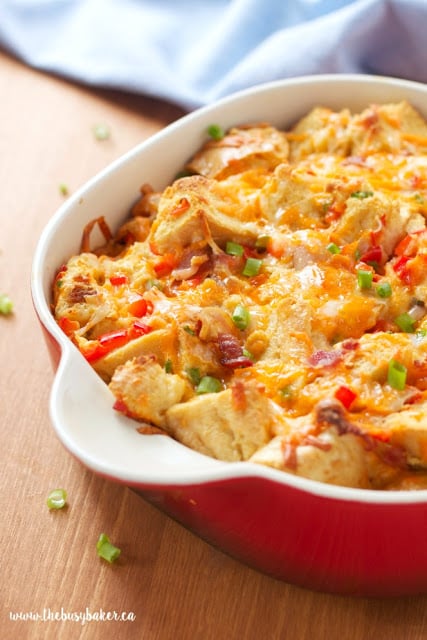 I've adapted this recipe from a family favourite by removing most of the fat (who needs 1/2 cup of melted butter poured over their breakfast anyway, right?) and creating more flavour by adding some real bacon, fresh veggies and spice. And instead of a typical layered strata-style breakfast casserole, I cut the bread into large cubes and toss everything together in a large bowl before dumping it into the baking dish. It just doesn't get any easier than that, does it??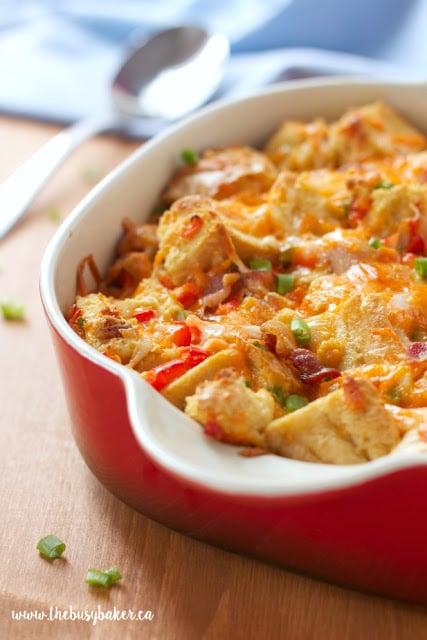 Skinny Make-Ahead Breakfast Casserole (serves 6)
MY LATEST VIDEOS
You'll need:
1/2 loaf of French bread, cut into 2-inch cubes (whole grain French bread also works great here!)
1 large red pepper, diced
1/2 large green pepper, diced
1/4 cup chopped green onion, plus more for garnish
4 slices cooked bacon, chopped
1 1/4 cup skim milk
4 eggs
1 cup reduced fat shredded cheddar cheese (farmer's marble cheese also works great!)
1/2 tsp dried mustard
1/2 to 1 tsp of Sriracha
1 1/2 tsp Worcestershire sauce
a pinch or two of salt and pepper
a few sprays of canola oil for the baking dish (I like to use my Misto Oil Sprayer

for this job!)
To make:
If you're baking the casserole right away, preheat your oven to 350 degrees Fahrenheit. If you're making it the night before, skip this step!
Add the bread cubes, the diced peppers, chopped green onions and chopped bacon to a large bowl.
In a separate bowl, whisk together the milk, the eggs, the dried mustard, the Sriracha, the Worcestershire sauce, and the salt and pepper.
Pour the milk and egg mixture over the bread and veggies and add 3/4 cup of the shredded cheese.
Toss everything together until the bread has absorbed all the liquid and everything is evenly combined.
Spray a square baking dish (approximately 9×9 size) with some canola oil spray. I use my Misto Oil Sprayer
for this job, because it allows you to use very little oil and avoid all those unhealthy propellants found in most conventional oil sprays.
Dump the whole mixture into the baking dish, spread it out as evenly as possible and top it with the remaining 1/4 cup of shredded cheese. If you're going to wait until morning to bake the casserole, simply cover it with plastic wrap and place it in the fridge. If you're going to enjoy it immediately, simply place it in your oven heated to 350 degrees Fahrenheit and bake for about 45 minutes until the top is slightly brown and crispy and the cheese is melted and bubbly.
If you're making this casserole ahead of time and placing it in the oven right out of the fridge, it's a good idea to add the casserole straight from the fridge to your cold oven and let the casserole and the dish heat up as the oven preheats. This is a great trick to preventing your casserole dish from cracking and it helps keep the baking time about the same.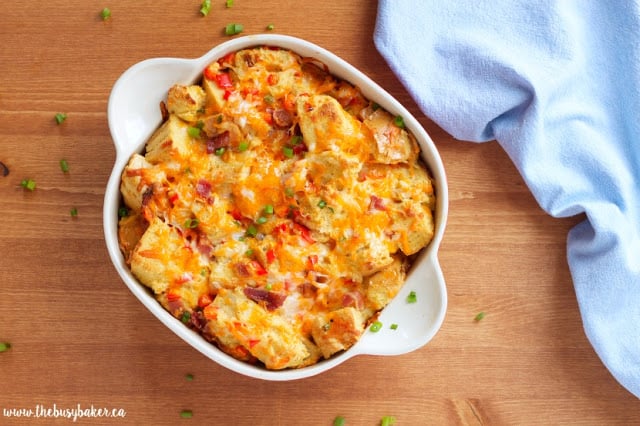 When you remove the casserole from the oven, simply let it sit for about 5 minutes before serving, and garnish it with a sprinkling of freshly chopped green onions for added freshness!
Like this recipe? You'll love my Skinny Scrambled Eggs Benedict or these Roasted Red Pepper Phyllo Quiche Cups!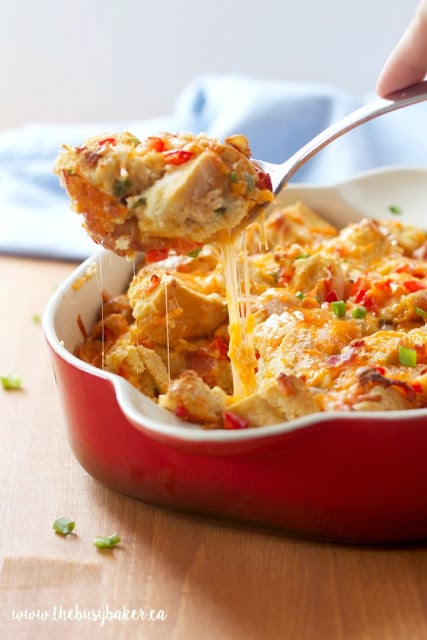 All that cheesy goodness is only 6 Weight Watchers SmartPoints, making it a great breakfast option when you're craving comfort food!
I hope you like this recipe! Let me know in the comments below, what's your favourite savoury breakfast lately?
Hungry for more?