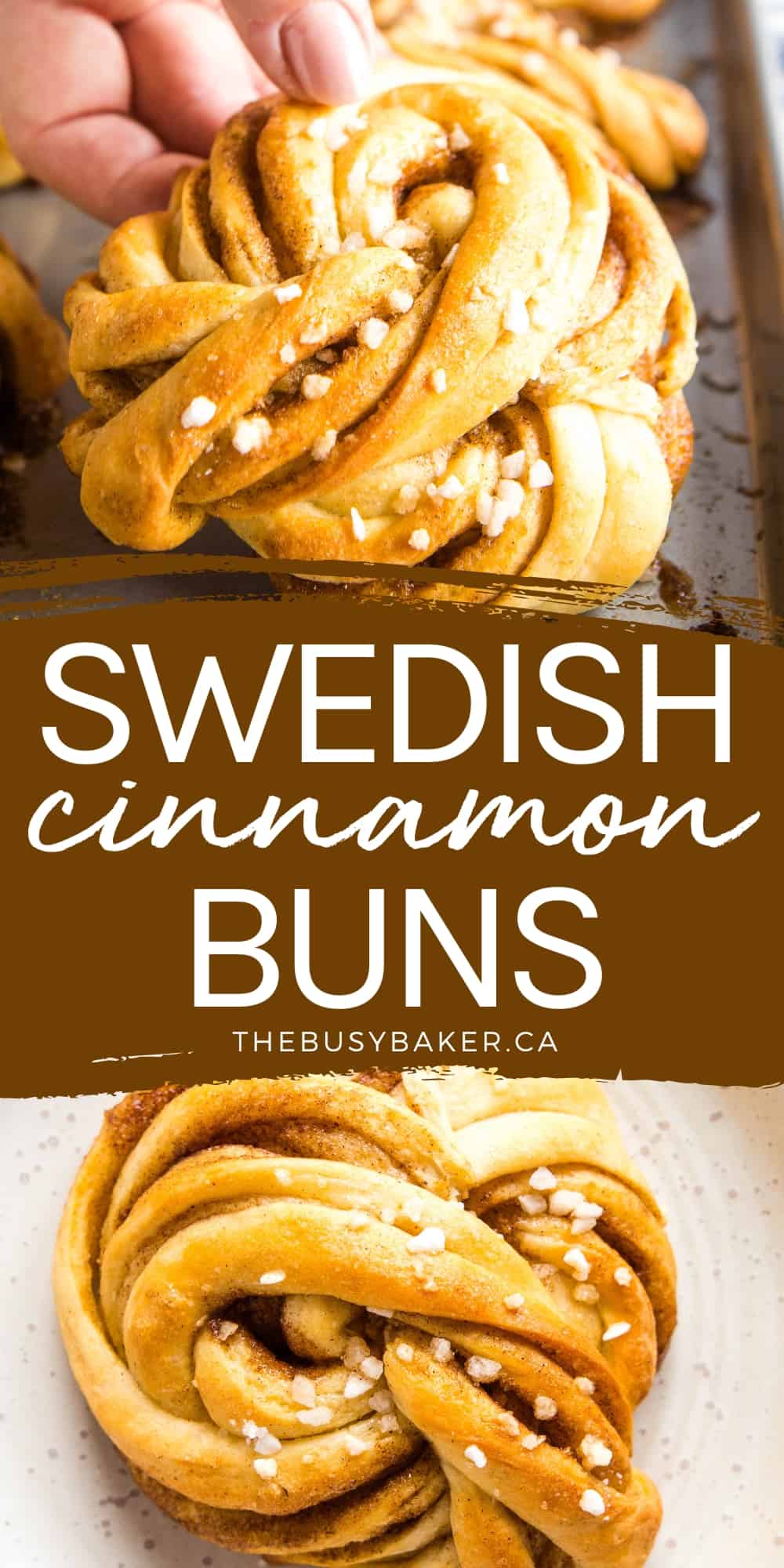 These Swedish Cinnamon Buns (Kanelbullar) are the perfect sweet treat made from a soft cardamom-infused dough with a buttery cinnamon cardamom filling!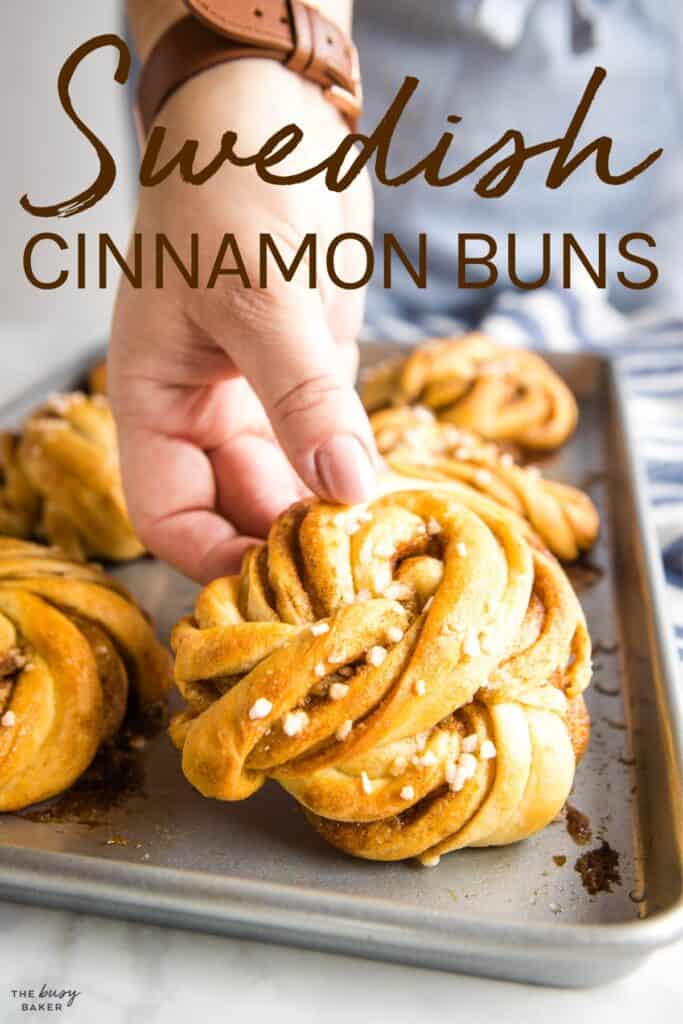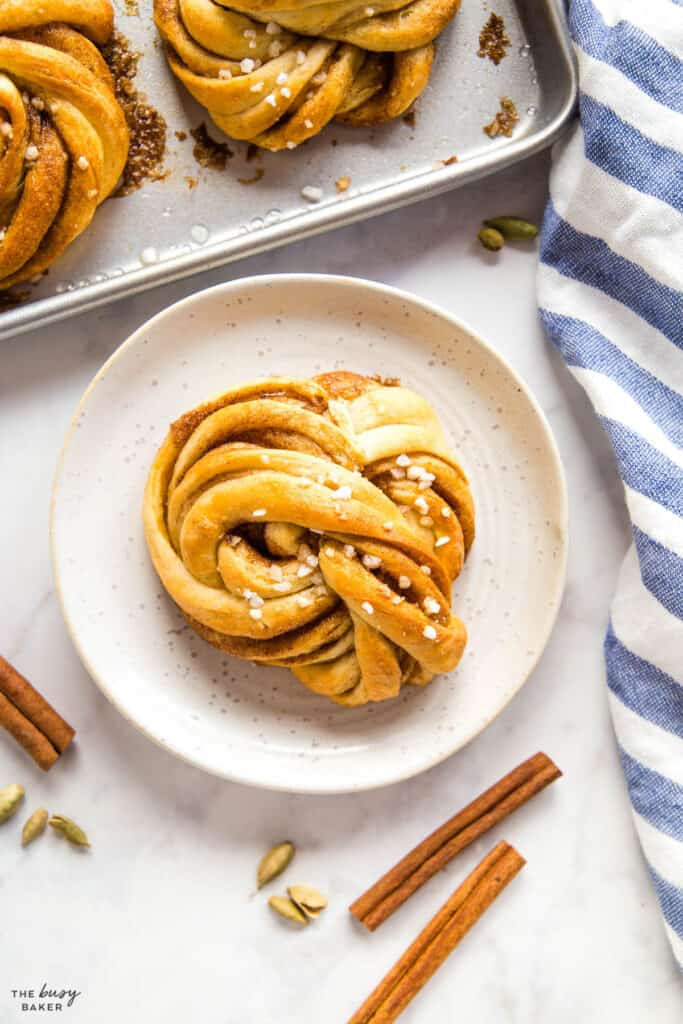 ---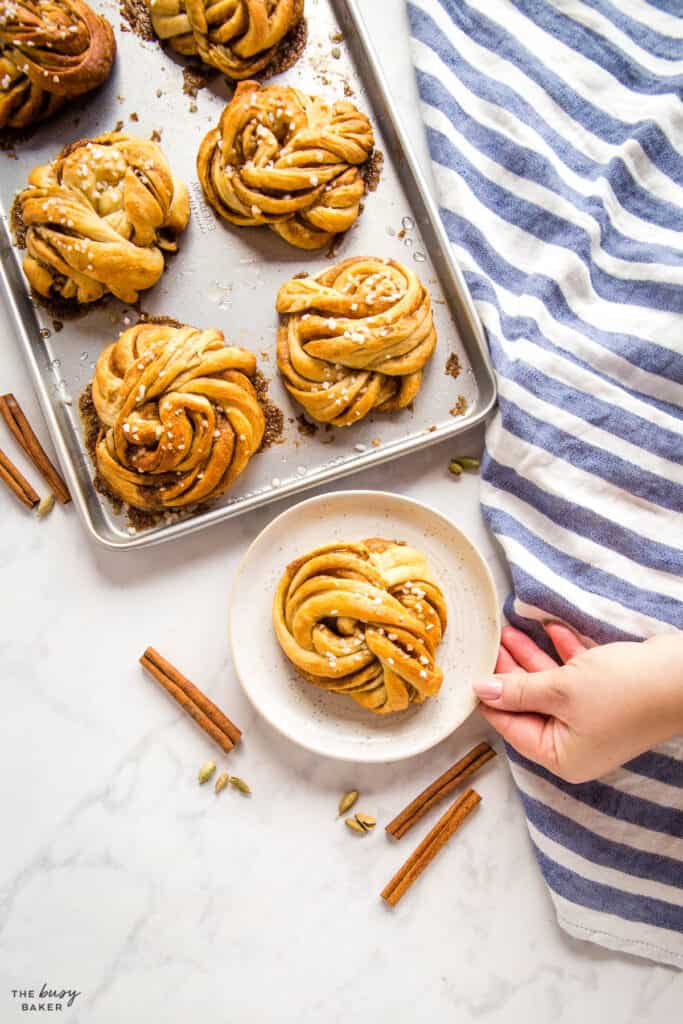 These Swedish Cinnamon Rolls (Kanelbullar) are unbelievably delicious, totally gorgeous, and they're the perfect thing to bake for the holidays! We're so excited to be sharing this recipe with you today!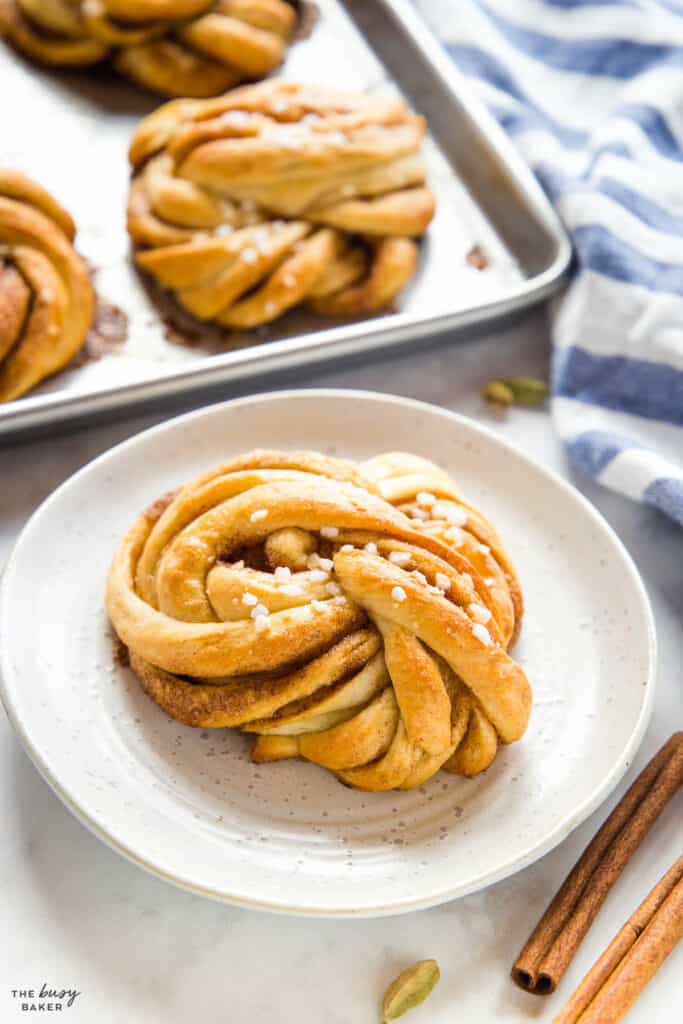 When it comes to cinnamon buns, Europe really does it best (in our opinion!). Bakeries here are full of amazingly delicious treats and pastries that are more flavourful than overpoweringly sweet, and we are here for it. These Kanelbullar or Swedish Cinnamon Buns are classically European, and they're very similar to the kind of bun you'd find in almost any bakery in Northern Europe.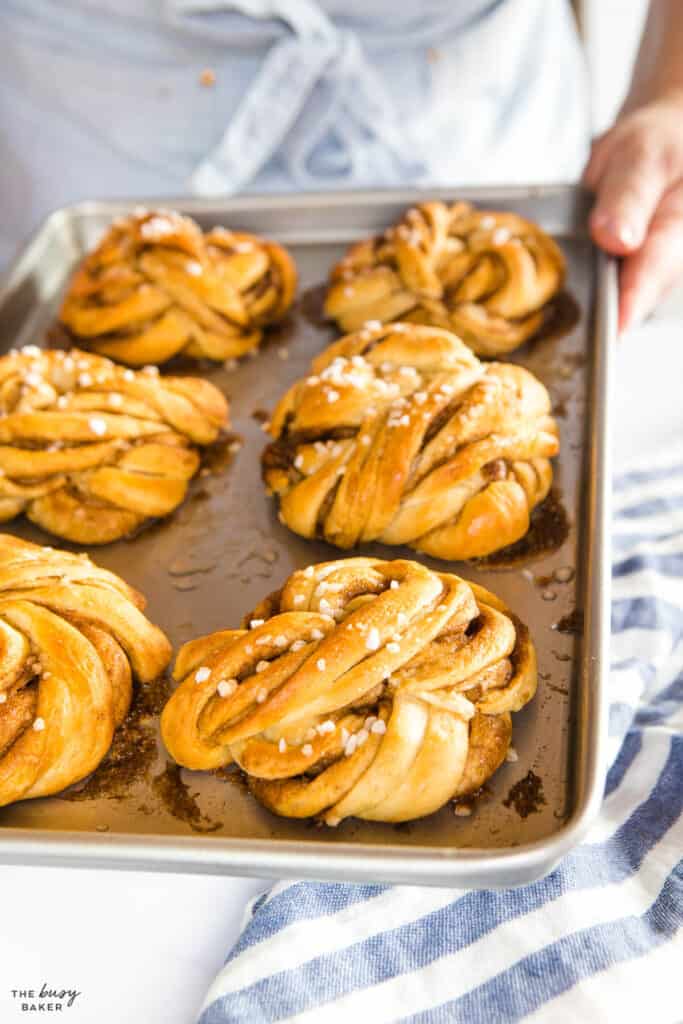 We love enjoying recipes like this around the holidays because they're perfect for enjoying with a cup of coffee or tea while you sit by the fire on a snowy afternoon (doesn't that sound heavenly!?), and they're also an impressive addition to a holiday breakfast or brunch spread.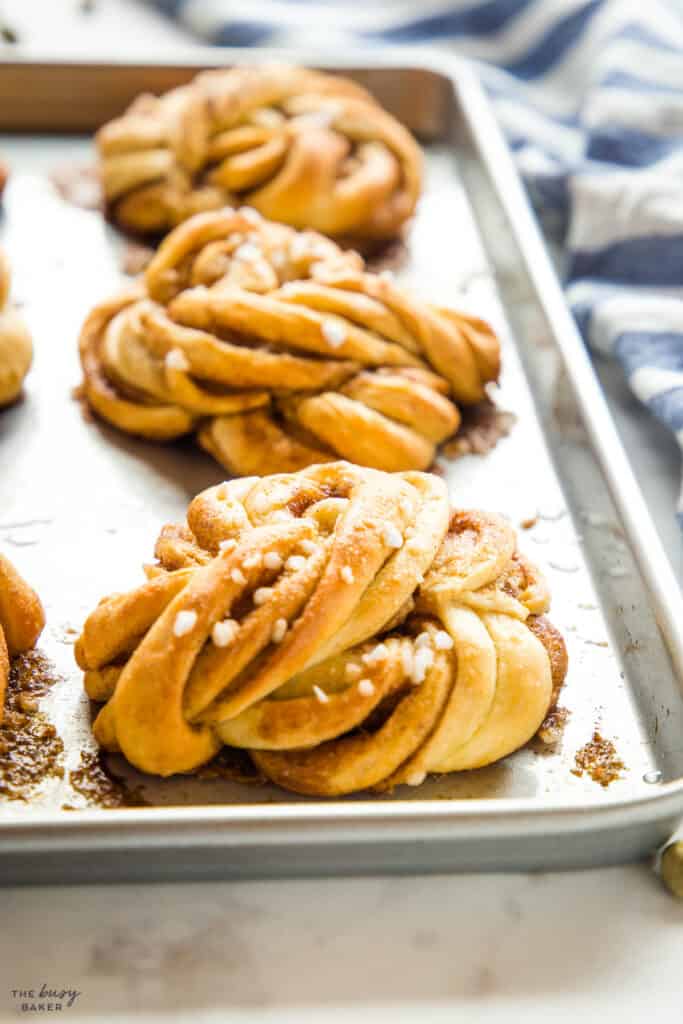 To make this recipe you'll likely need these kitchen tools (affiliate links):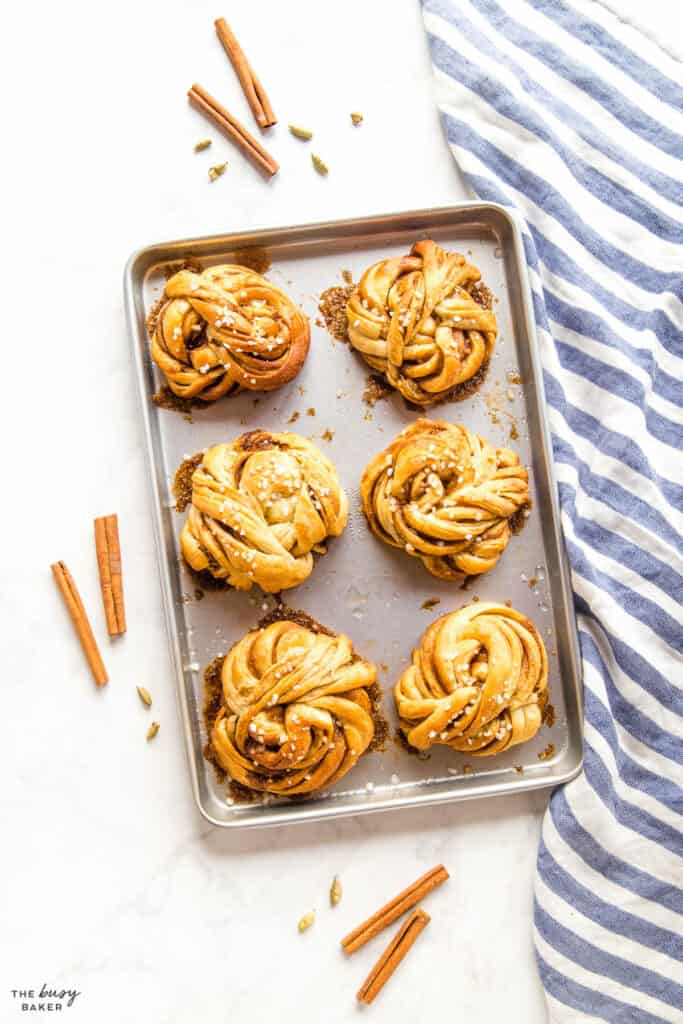 all purpose flour
salt
eggs
melted butter
milk
granulated sugar
active dry yeast
softened butter
brown sugar
ground cinnamon
ground cardamom
pearl sugar or crushed nuts (optional)
Time needed: 2 hours and 25 minutes
Follow these tips for the perfect Swedish cinnamon buns every time!
Use warm milk.

In order to achieve a fluffy dough that rises well, the temperature of the wet ingredients when they hit the yeast is critical: too cold, and the yeast won't be able to grow; too hot and the liquid will kill the yeast. Both of these situations will cause your dough to be tough and dry, and you'll be lucky if it rises at all.

Go for a sticky dough.

Cinnamon bun dough should be tacky to the touch, but not so sticky that it's very messy. It should pull away from the sides of the mixing bowl easily and the bowl should appear fairly clean. If the dough appears too sticky, continue kneading and add flour one tablespoon at a time until the dough reaches that tacky texture.

Don't forget the cardamom.

Ground cardamom gives these buns their distinct flavour!

Grease your work surface.

Turn the dough out onto a very lightly greased work surface rather than flouring the work surface. This makes the dough easy to roll out and it helps the surface of the dough to remain soft instead of drying it out like adding more flour would do. I like to spritz my counter top with a little bit of vegetable oil or baking spray to make sure the dough doesn't stick and it works like a charm!

Brush with egg wash and sprinkle with pearl sugar.

The egg wash helps the buns brown evenly and the pearl sugar gives these buns a unique look that's traditionally European.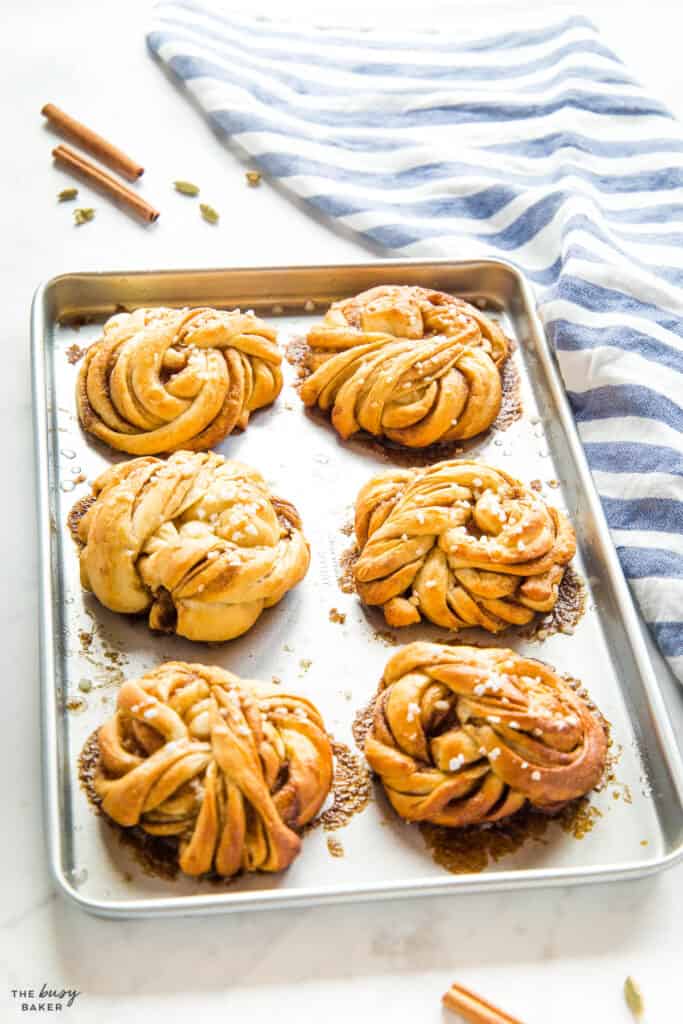 Where did Cinnamon Buns originate?

Nobody really knows exactly, although many people believe they originated in Sweden! It is likely cinnamon buns originated in Northern Europe.
What are Swedish Cinnamon Buns made of?

Swedish Cinnamon Buns are made from a soft dough made with eggs and infused with cardamom for a unique flavour.
Can I make Swedish Cinnamon Buns ahead of time?

In order to make this recipe in advance of serving, simply make the dough as directed and allow it to rise in the bowl in the fridge overnight. Form the buns and bake the next day as directed in the recipe.
What makes Swedish Cinnamon Buns different from other Cinnamon Buns or Cinnamon Rolls?

Swedish Cinnamon Buns are often made in a unique twist formation, although sometimes they are formed the same way as other cinnamon buns or rolls. The addition of cardamom to the dough and filling gives them a distinct and unique flavour.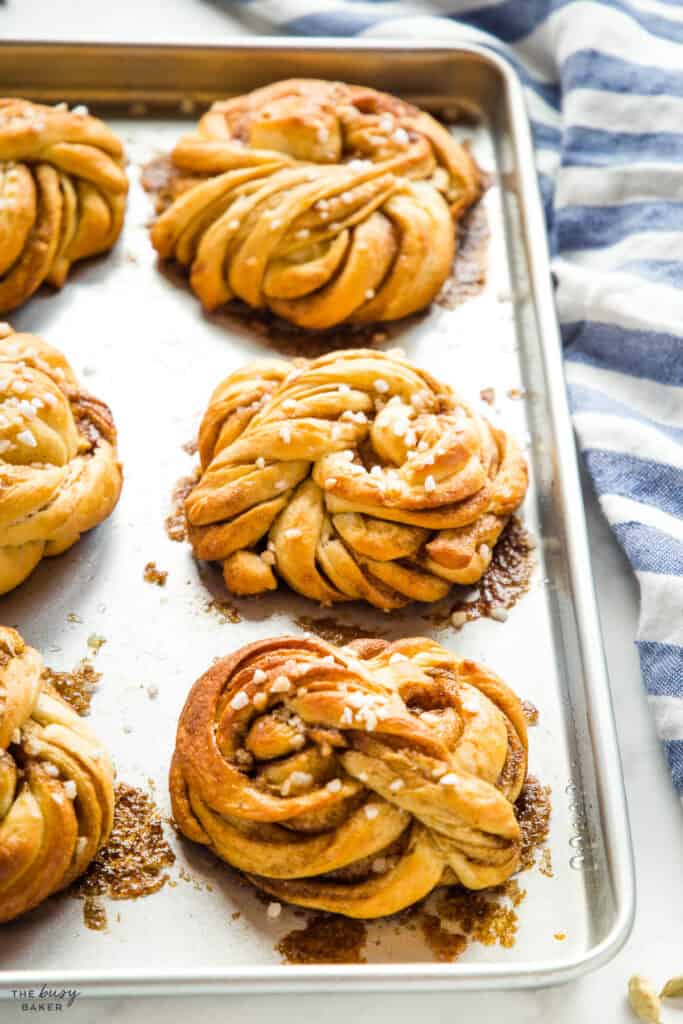 ---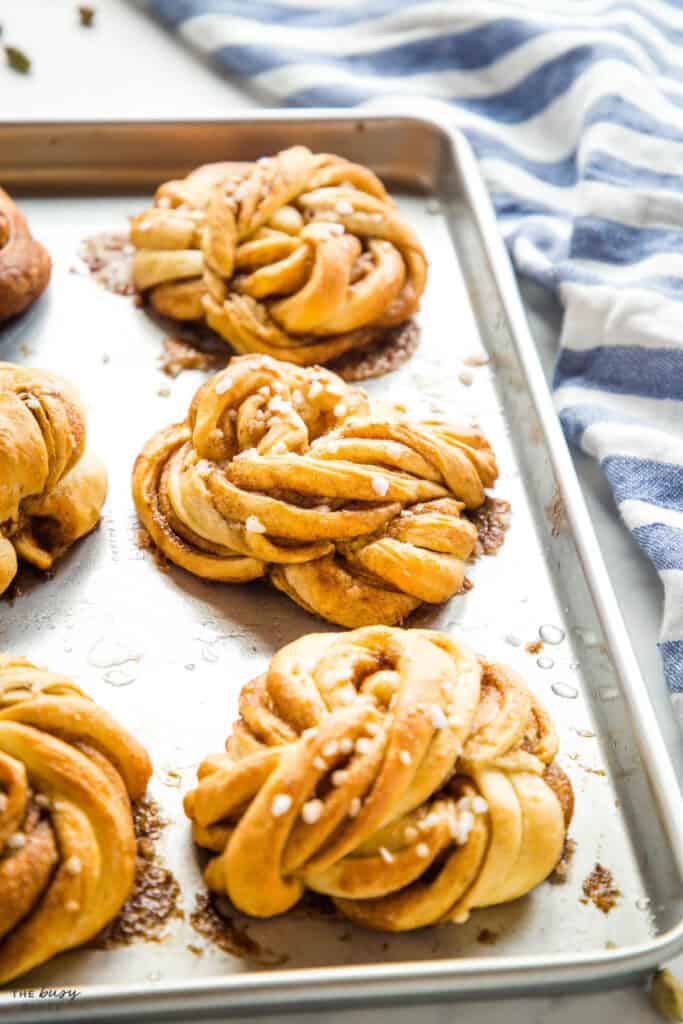 We hope you love this Kanelbullar recipe as much as we do! Let us know in the comments below, what's your favourite thing to bake for holiday breakfasts or brunches? We'd love to know!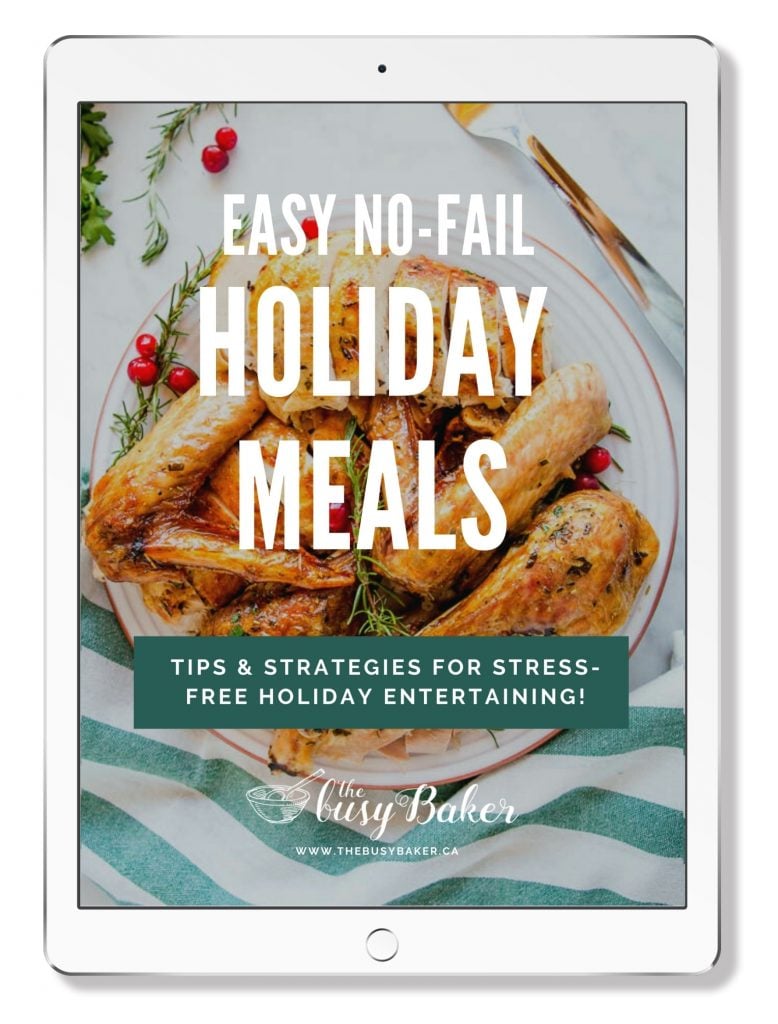 LOOKING FOR MORE EASY STRESS-FREE HOLIDAY MEAL IDEAS AND RECIPES?
GET MY EASY NO-FAIL HOLIDAY MEALS E-COOKBOOK!
If you made this, share a photo!
Are you trying this recipe? Use the comment form below to share your take; now with support for image uploads and comment voting!
Share a photo
Swedish Cinnamon Buns (Kanelbullar)
These Swedish Cinnamon Buns (Kanelbullar) are the perfect sweet treat: a soft cardamom-infused dough with buttery cinnamon cardamom filling!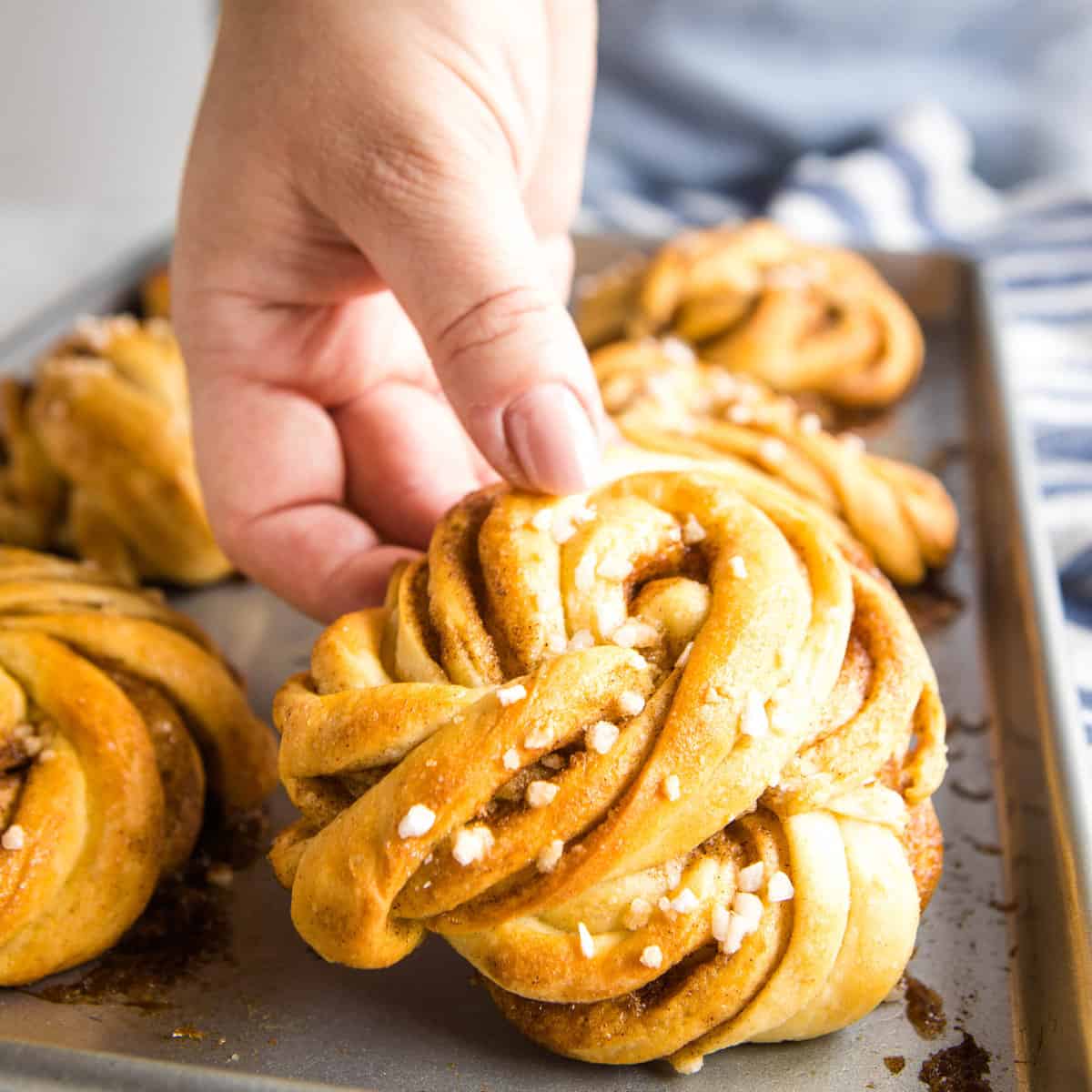 Recipe:

Ingredients
Also Needed:
1

egg beaten with 1 tbsp water

for brushing on before baking

baking spray

pearl sugar or crushed nuts for topping
Recipe:

Instructions
Into the bowl of your stand mixer, measure out the 3 1/2 cups all purpose flour, the salt and the cardamom. Mix these two together for a few seconds, just until they're combined.

Next, melt 1/3 cup butter in a saucepan on the stove over medium heat. If you're thinking to cut a corner here and melt your butter in the microwave instead, don't do it! If the liquid is too hot, it will kill the yeast. Once it's melted and starts to bubble, remove it from the heat and stir in the 1/3 cup sugar until you can see and feel the grains beginning to dissolve in the hot butter. Add the milk slowly, stirring constantly. You're looking for the milk and butter mixture to be about 105 degrees Fahrenheit, but if it feels only slightly warm to the touch (slightly above room temperature) you're good to go.

When your wet ingredients have reached the ideal temperature, add the yeast, stir gently, and let sit for 5 minutes.

Pour the wet ingredients into the dry ingredients in the bowl of a stand mixer, along with the egg. Make sure your stand mixer is fitted with the dough hook attachment.

Turn your mixer on low and watch the ingredients combine. After about a minute you should see a sticky dough starting to come together. If you need to turn the mixer off and scrape down the sides and bottom of the bowl, now's your chance.

Turn up the mixer speed slightly and allow the mixture to knead the dough for about 2 minutes. The dough should be tacky to the touch, but not so sticky that it's very messy. It should pull away from the sides of the bowl easily and the bowl should appear fairly clean. If the dough appears too sticky, continue kneading and add flour, one tablespoon at a time, until the dough reaches that tacky texture.

If you don't have a stand mixer, you can knead the dough by hand on a lightly floured work surface for 5 minutes after the wet and dry ingredients are combined.

Cover the bowl with some plastic wrap and move it to a warm place in your kitchen to rise for about 1 hour. It should have doubled in size after about 1 hour.

Once you notice your dough has risen fully, and before you do anything with it, grease a large baking sheet with some butter (you can use two medium sheet pans or one large one).

Turn the dough out onto a work surface that's been very lightly greased with vegetable oil. Using a rolling pin, roll out the dough evenly until you have a 40 centimetre square (40cm by 40cm).

In a separate bowl, combine the softened butter, brown sugar, cinnamon and the cardamom until it forms a paste. Spread the brown sugar and cinnamon mixture evenly over the dough all the way to the edges.

Fold the square of dough in 1/3 of the way on one side and then the other, like you'd fold a piece of paper or a letter.

Using a pizza cutter or pastry cutter, slice the dough rectangle into 12 long strips.

Take each strip, fold it in half, twist well and then wrap it around your hand one and a half times, tucking the end under securely. Repeat this with all 12 strips until you've formed 12 buns. Click here for Jamie OIiver's visual tutorial of how to create a similar twist.

Place the buns on the prepared baking sheet(s) and space them out well (they spread as they bake).

Cover the pan with a clean kitchen towel and set them aside to rise for about 15-20 minutes. Preheat your oven to 350 degrees Fahrenheit (175 degrees Celsius).

Once the rolls have risen for 20 minutes (no longer), very lightly brush the tops with some egg wash (beat one egg with 1 tablespoon of water) and sprinkle with some pearl sugar or crushed nuts. Place them in the oven to bake for about 18-20 minutes, or until they're a nice even golden brown.

Remove the pan from the oven and let the buns cool on the pan for about 15 minutes before serving.
Recipe:

Notes

**Because my oven is European, I bake using a jelly roll-sized baking sheet or a quarter sheet. In this case, only 6 of these buns fit on each baking sheet. If you use a half sheet or large baking sheet, you should be able to fit all 12. I recommend spacing the buns as shown in the photos.
Recipe:

Nutrition

Nutrition Facts

Swedish Cinnamon Buns (Kanelbullar)

Amount Per Serving (1 serving)

Calories 349

Calories from Fat 126

% Daily Value*

Fat 14g22%

Cholesterol 62mg21%

Sodium 274mg12%

Potassium 145mg4%

Carbohydrates 50g17%

Protein 7g14%

Vitamin A 488IU10%

Vitamin C 0.2mg0%

Calcium 67mg7%

Iron 2mg11%

* Percent Daily Values are based on a 2000 calorie diet.

Notice: Nutrition is auto-calculated, using Spoonacular, for your convenience. Where relevant, we recommend using your own nutrition calculations.