These Best Ever Starbucks Pumpkin Scones are everyone's favourite fall treat for pumpkin season! And they taste even better than Starbucks' Pumpkin Scones – they're more moist and tender, and even more delicious!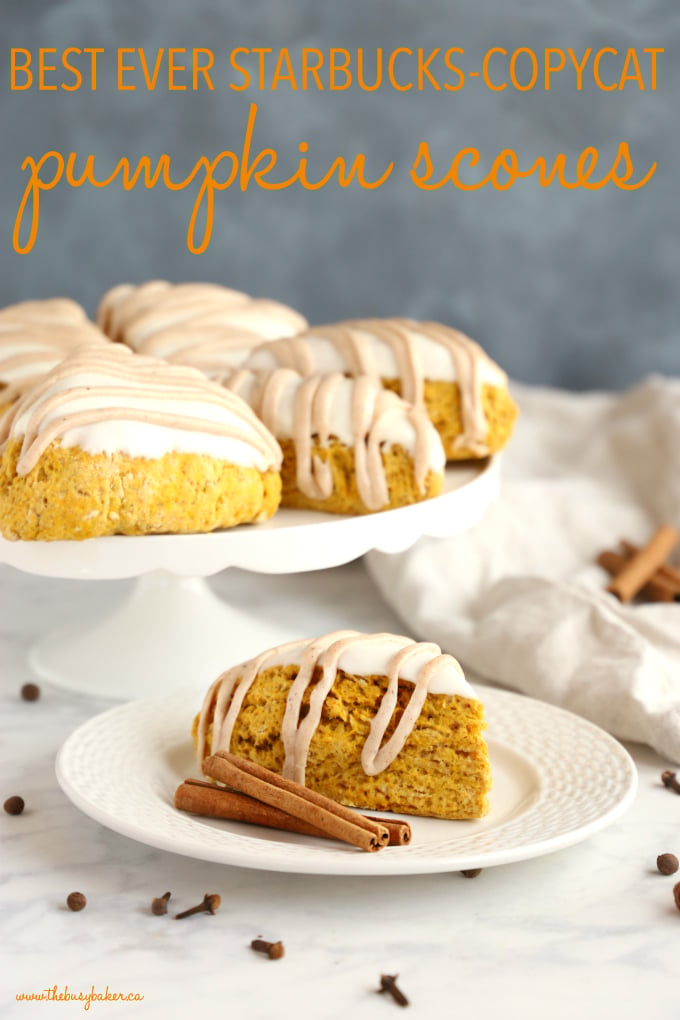 NEVER MISS A POST! FOLLOW ME ON: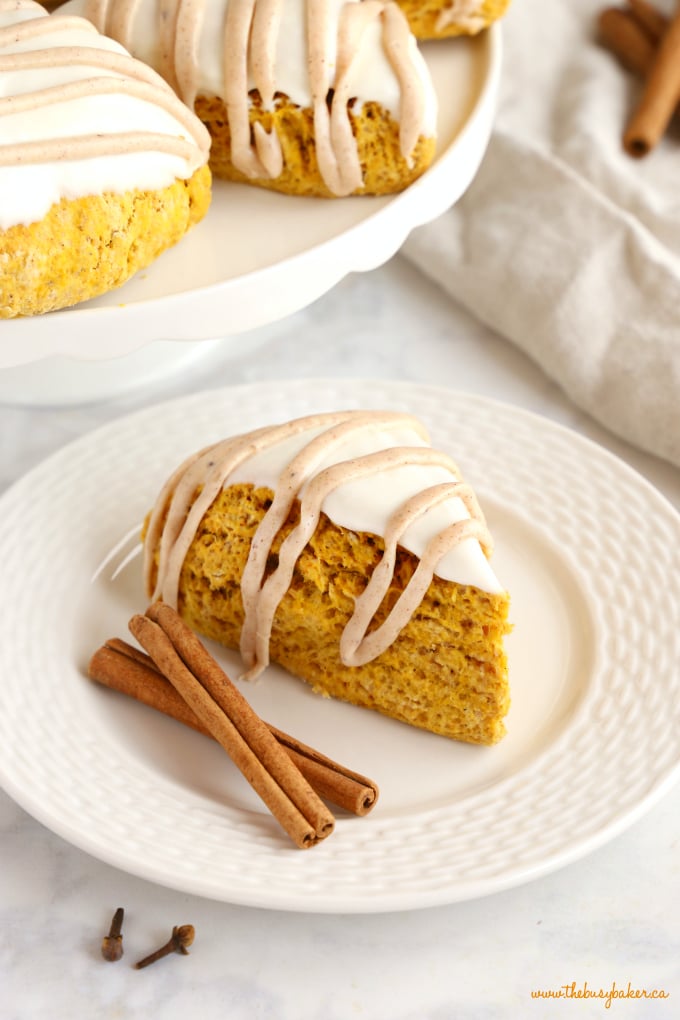 If I had to nail down my favourite fall recipe of all time it might have to be these Best Ever Starbucks Pumpkin Scones. I've mentioned before that I'm not much of a coffee fan, but that didn't stop me from frequenting the Starbucks drive through several times a week on my way to work (in my previous life when I had a "real" day job, that is). Aside from their Pumpkin Spice Lattes, their Pumpkin Scones were the real reason I went so often. That is, until I started making these delicious scones at home myself!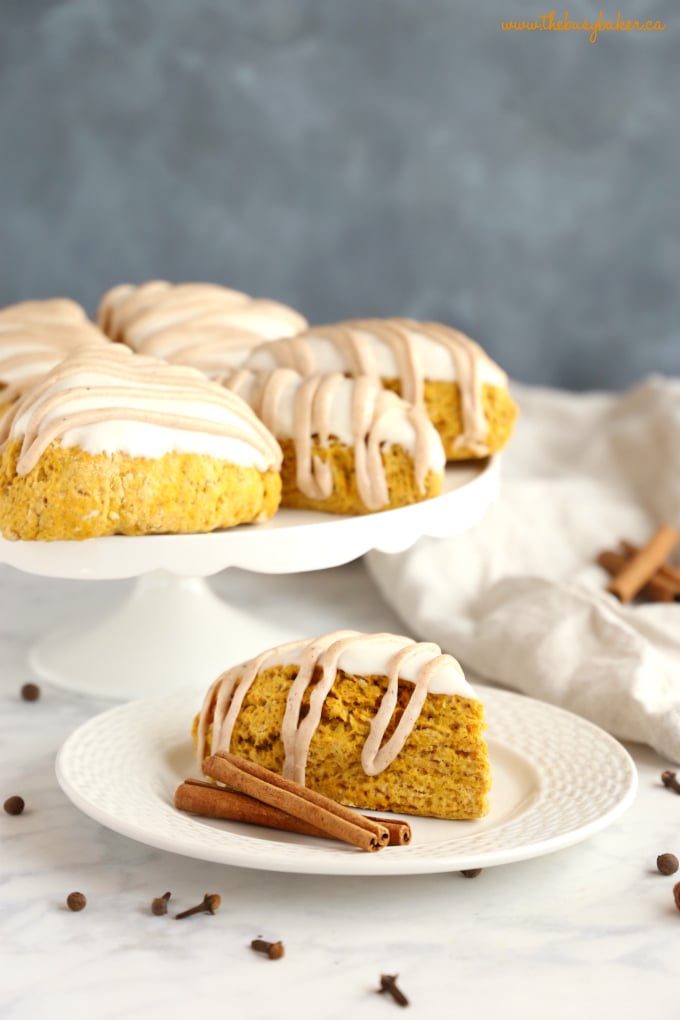 I've been making these Best Ever Starbucks Pumpkin Scones for years and years and funnily enough they were actually what prompted me to start this blog in the first place! Yes, you read that right…I made these scones for some friends one day and one of them remarked that I needed to start a food blog to share all my delicious recipes like this. Almost 4 years later, here we are and I'm FINALLY getting around to sharing these amazing Best Ever Starbucks Pumpkin Scones with YOU!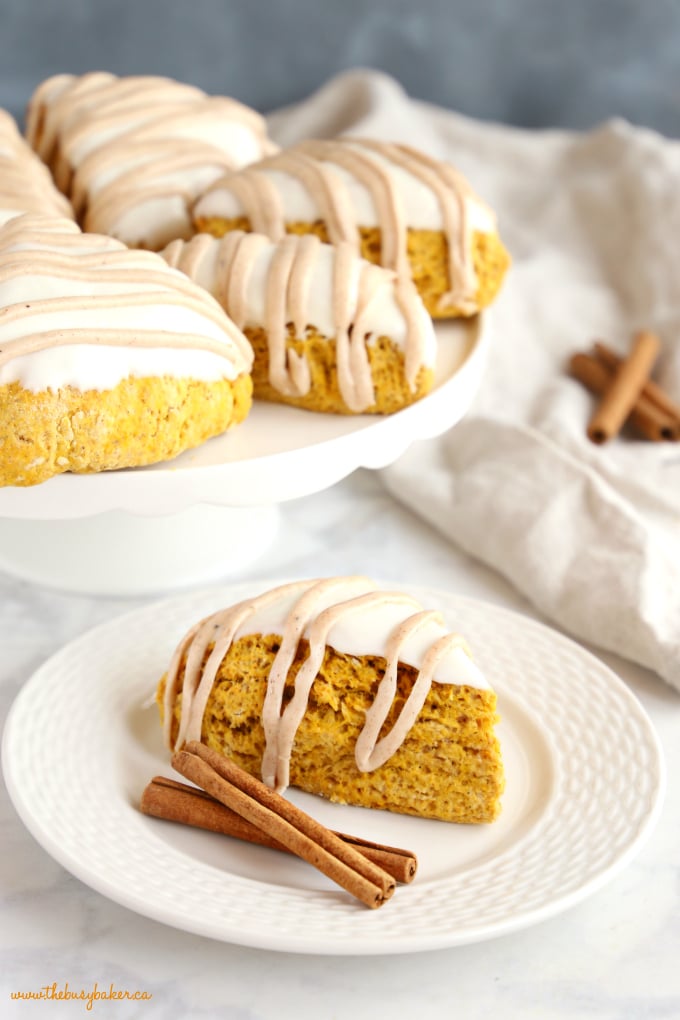 Trouble in scone paradise? Try my BEST tips for delicious, flaky, moist scones every single time:
Use COLD butter! – Cold butter straight from the fridge is what helps create those flaky layers you see in bakery scones. Using warm or room temperature butter will cause your scone dough to be too liquid-y and you'll end up with a mushy mess!
Use your HANDS! – The best way to combine the dry ingredients and the butter is with your hands, using quick rubbing motions. Pick up a handful and rub it once between your hands to create small sheets of butter instead of tiny clumps. This will help create those flaky layers!
FOLD, don't knead! – When the dough is just about mixed (when you still see flour!), pour it out onto a work surface and fold it in half, and in half again (and again…) until everything is combined. This will also create those delicious layers and prevent the dough from becoming dry.
Don't over-mix! – Nobody likes a tough, dry scone. Mix just until the flour almost disappears and you'll be left with flaky layers and a nice, tender scone!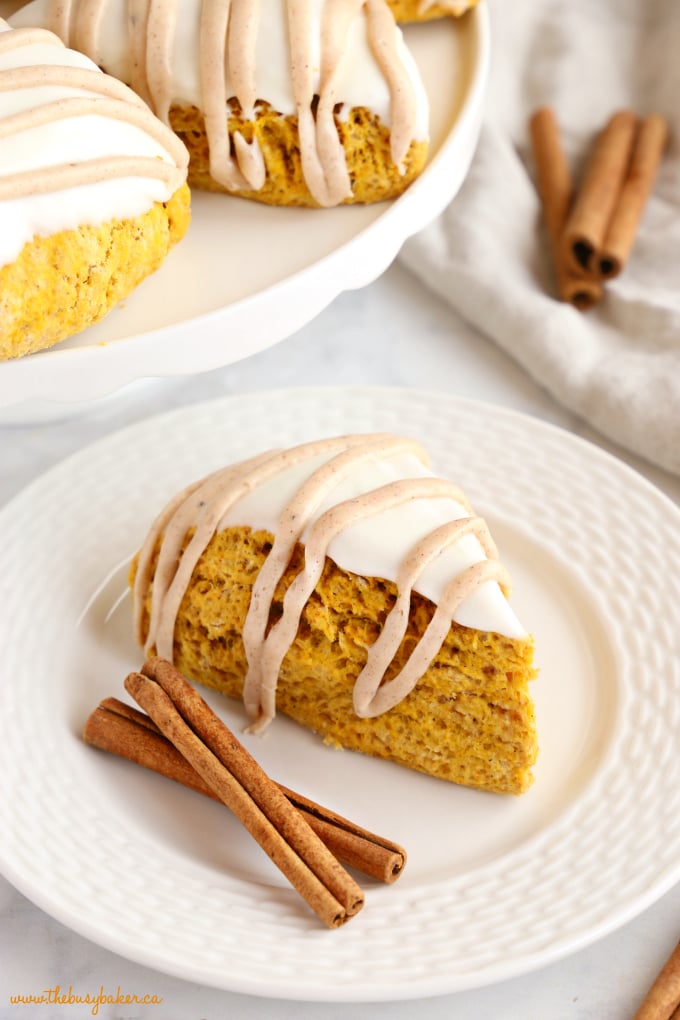 NEVER MISS A POST! FOLLOW ME ON:
I hope you love these Best Ever Starbucks Pumpkin Scones as much as we do! Let me know in the comments below, what's your favourite fall recipe? I'd love to know!
Kitchen Products I recommend:
Recipe Video
Watch the video below to see exactly how I make this recipe. You can find more delicious recipe videos on my YouTube channel
Best Ever Starbucks Pumpkin Scones
These Best Ever Starbucks Pumpkin Scones are everyone's favourite fall treat for pumpkin season! And they taste even better than Starbucks' Pumpkin Scones!
Print
Pin
Rate
Ingredients
For the scones:
1/2

cup

pumpkin puree (canned pumpkin puree is best)

1

egg

1/4

cup

whipping cream

2

cups

all purpose flour

1/3

cup

white sugar

1

tablespoon

baking powder

a pinch of salt

1

teaspoon

ground cinnamon

1/2

teaspoon

nutmeg

1/4

teaspoon

allspice

1/4

teaspoon

ground ginger

1/4

teaspoon

ground cloves

1/3

cup

cold, unsalted butter
For the glaze:
2

cups

powdered sugar

2-3

tablespoons

whipping cream

2

pinches

ground cinnamon

1

pinch

each of ground cloves and ground nutmeg
Instructions
Preheat your oven to 375 degrees Fahrenheit and prepare a large baking sheet by lining it with parchment paper.

In a medium bowl, combine the pumpkin puree, egg and whipping cream with a fork. Set aside.

In a separate bowl, combine the flour, sugar, baking powder, salt, cinnamon, nutmeg, allspice, ginger, and cloves with a wire whisk.

Cut the cold butter into cubes and add to the flour mixture.

Using your hands, pick up a handful of the flour mixture and butter cubes and rub your hands together only once before dropping the mixture back into the bowl. Repeat this process until all the butter has turned into thin sheets distributed throughout the flour mixture.

Pour the pumpkin mixture into the flour and butter mixture and mix together with a rubber spatula gently until it's mixed about half way.

Dump the half-mixed dough onto a floured work surface. Using your hands, pick up half the dough and fold it over the other half. Continue working the dough in this folding motion, very gently, until almost all the flour is incorporated. As you do this, slowly create a round shape about 2 inches thick.

Slice the round dough into 8 triangular pieces and place them on the prepared baking sheet.

Bake for about 20-22 minutes at 375 degrees Fahrenheit, or until the scones have puffed up slightly and are firm to the touch. If the scones start to brown on top, remove them from the oven so they don't over-bake.

Let the scones cool on the pan for a few minutes, and then transfer to a cooling rack to cool completely.

While the scones are cooling, make the glaze by combining the powdered sugar and whipping cream in a medium bowl. Add the powdered sugar first and whisk while adding the whipping cream one tablespoon at a time until a thick glaze forms.

Divide the glaze into 2 separate bowls. Leave one bowl aside (this will be the white glaze) and to the second bowl add the cinnamon, cloves and nutmeg and whisk to combine (this will be the spice glaze).

When the scones are cool, dip them upside down into the white glaze until the glaze coats the top of the scones.

Set on a plate or cooling rack and let the glaze dry for about 5 minutes.

Add the spice glaze to a small piping bag or ziploc bag and snip off the end. Pipe the spice glaze on top of the white glaze to create a lined pattern, or any pattern you wish.

Discard any remaining glaze and allow the scones to sit for about 15 minutes before enjoying, so the glaze can harden just slightly.

Store in an airtight container for up to 2 days, or enjoy them while they're fresh for best results!
Nutrition
Serving:
1
serving
|
Calories:
386
kcal
|
Carbohydrates:
65
g
|
Protein:
4
g
|
Fat:
13
g
|
Saturated Fat:
8
g
|
Cholesterol:
56
mg
|
Sodium:
17
mg
|
Potassium:
230
mg
|
Fiber:
2
g
|
Sugar:
38
g
|
Vitamin A:
2814
IU
|
Vitamin C:
1
mg
|
Calcium:
91
mg
|
Iron:
2
mg